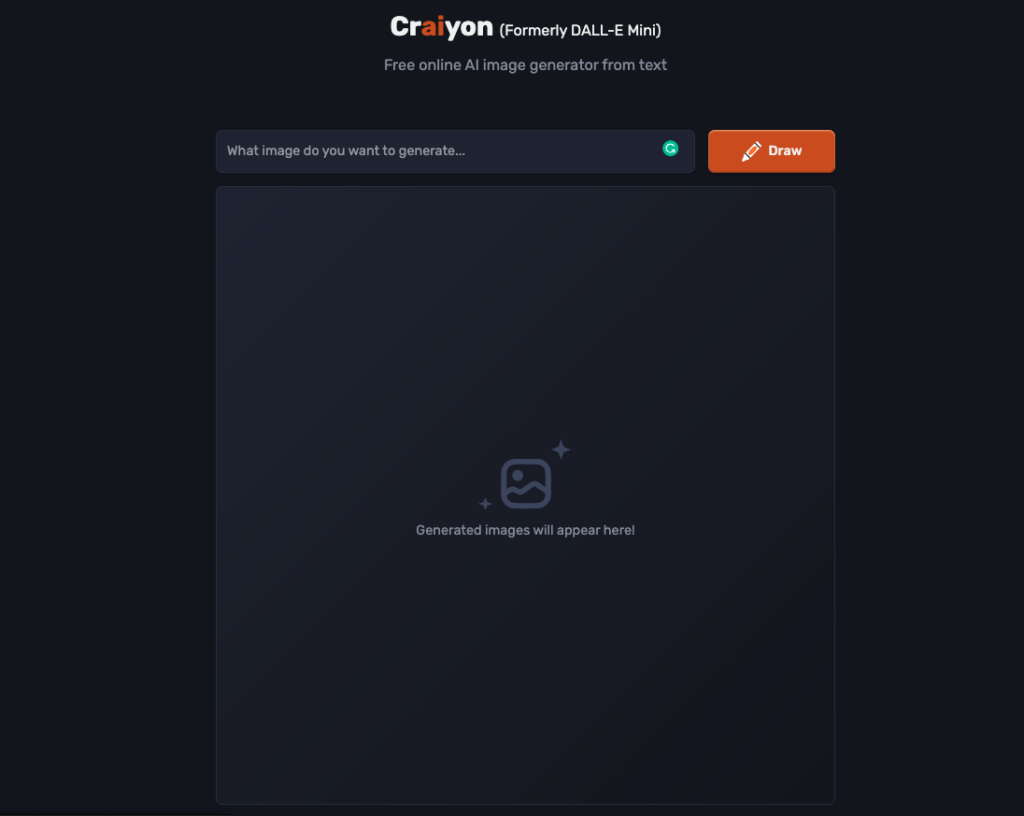 Craiyon (DALL-E Mini) is an AI art generator that turns your text prompts into original images in a matter of seconds.
The workflow of Craiyon is simple:
Come up with a text input.
Let the AI generate an image for the input.
Enjoy the result!
Besides generating images, you can print your masterpiece on a t-shirt using Craiyon's print-on-demand services.
This is a comprehensive review of Craiyon. I'll show you how to use the tool and assess the quality of its outputs. Besides, I discuss some better alternatives than Craiyon.
Don't forget to check my complete review of the best AI art generators.
Let's jump into it!
Rating
| | |
| --- | --- |
| Rating | 3.0/5 |
| Price | Free forever |
| Ease of use | 5.0/5 |
| Features | 2.8/5 |
| Output Quality | 3.2/5 |
| Mobile App | Yes (Android App only) |
| Social Media Features | No |
| Best for | AI experimenting and prompt design |
Craiyon In a Nutshell
Craiyon is one of the first AI art generators that popped up in the market back in 2022.
This tool uses DALL-E Mini technology behind the scenes to generate images from simple text inputs.
Unlike most AI image generators, Craiyon lets you generate images for free.
The tool is supported by ads, though. This means you shouldn't use any ad-blocking software to be able to use the tool.
Key Features
AI-powered image generator.
Print-to-t-shirt services.
Associated forum for sharing images.
Getting Started
Starting with Craiyon is relatively easy.
Head over to Craiyon website.
Make sure no ad-blocking software is running.
Come up with a text prompt.
Wait for a couple of seconds.
Your first AI-generated art is ready.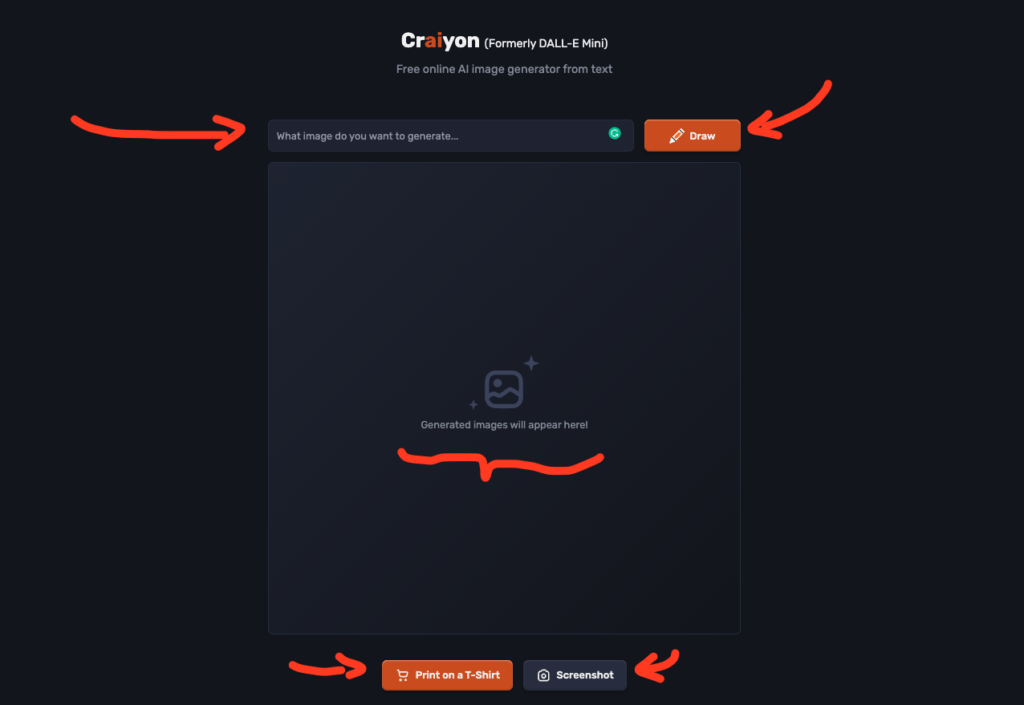 My Experience
Because Craiyon is a free AI image generator, there's no reason why you should not give it a try.
⚠️ Notice that Craiyon is not the best AI image generator out there.

The newest paid AI art tools that I've tried are far superior! Make sure to read my complete guide to choosing the best AI art generator.
I'll try Craiyon with 10 different inputs to see how it performs.
Example 1.
A painting of a cat
Output: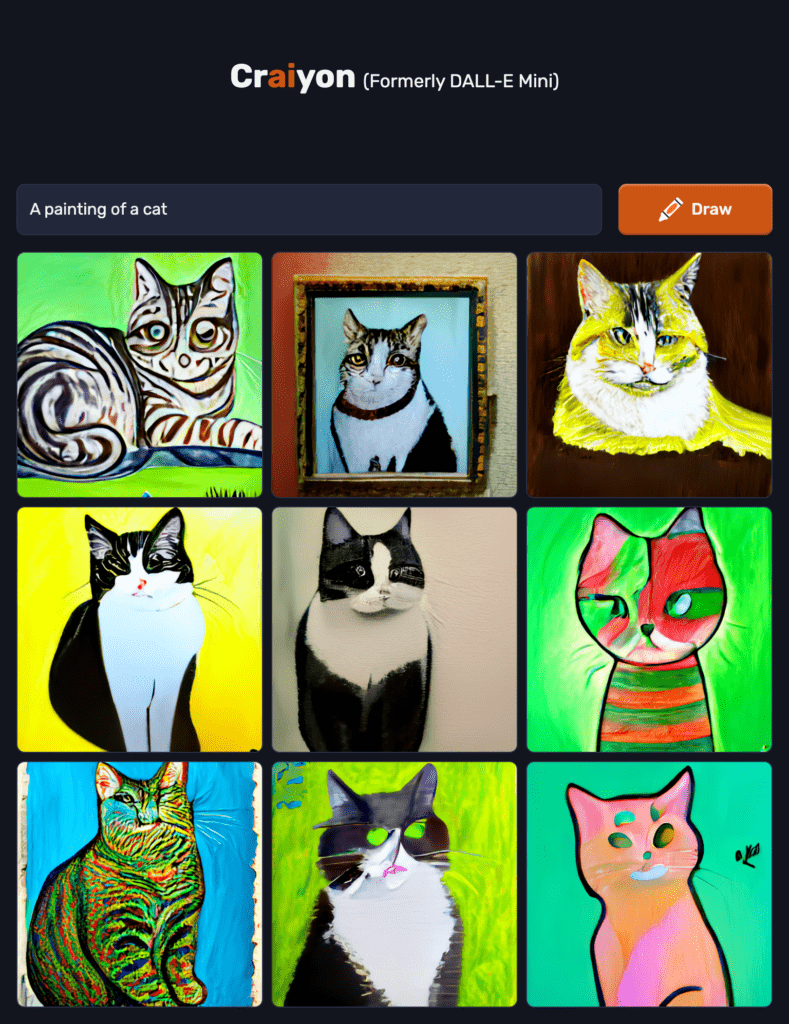 Example 2.
A painting of a furry old cat in the middle of a field during sunset, ultra-realistic
Output:
Example 3.
A painting of a furry old cat in the middle of a field during sunset, ultra-realistic, cubism, pointillism, street-level view
Output:
Example 4.
Watercolor painting of African savanna, springtime, vibrant, rainy, beautiful panoramic view, bright
Output:
Example 5.
A misty mystic wonderland in a distant galaxy, reflections, evening, sunset, planets, beach, palms, ocean, 8k
Output:
Example 6.
Stunning Japanese Landscape painting, rainbow-colored waterfall from the clouds, in the style of Paul Cezanne and Ivan Shishkin, Beksinski, Leonid Afremov, Alcohol Ink Painting, Minimalistic, fantasy, rainbow colors, psychedelic colors
Output:
Example 7.
melancholic landscape, darkness, digital painting, expressionistic, breathtaking, ultra-detailed, Blake Neubert, HQ, 8k, award-winning, a masterpiece, Artstation, crisp quality, dof, hdr, fantasy
Output: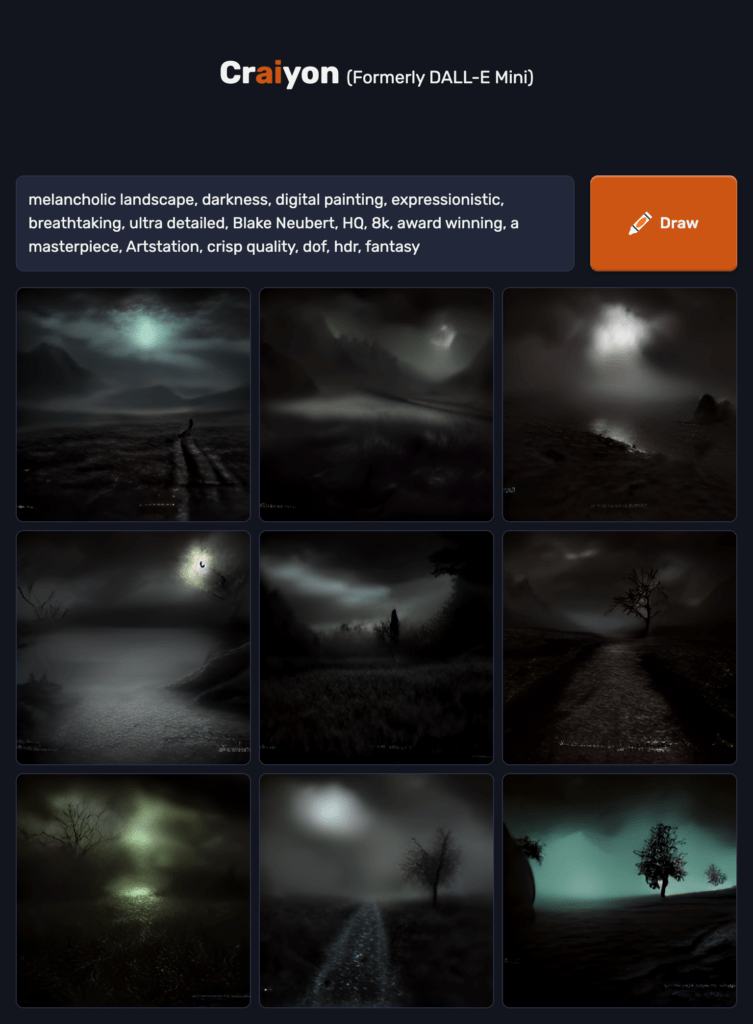 Example 8.
City white landscape, stormy clouds, surreal
Output: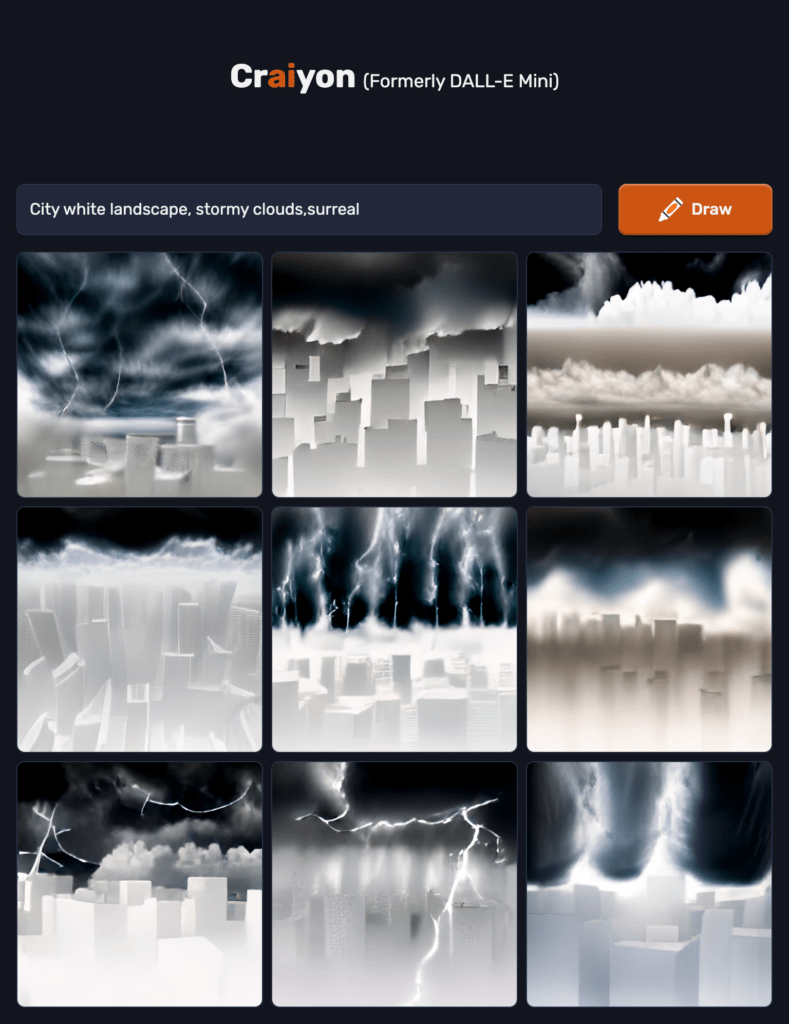 Example 9.
Beautiful Art Deco woman, in an elegant pastel blue hat, between blue and green flowers, in the style of Catherine Abel.
Output:
The faces look strange. Craiyon clearly can't do a great job of generating human-like creatures!
Example 10.
Fantastic landscape, stream, houses in the distance, foggy morning, trees, birches, bushes, summer, sun, clear, soft glow,
Output:
After generating these 10 sets of images, it's time to share my opinion about it.
Craiyon is clearly a sophisticated AI algorithm that can produce images we couldn't have imagined a couple years back. But after Craiyon was introduced, AI technology has taken steps even further and more impressive tools have popped up.
Towards the end of 2022, DALL-E, MidJourney, and Stable Diffusion took the world of art by storm. With these technologies and tools, you can generate even more realistic/artistic images even more quicker.
For example, let's borrow the 4th prompt and generate an image with Deep Dream Generator—one of the best (paid) AI art generators: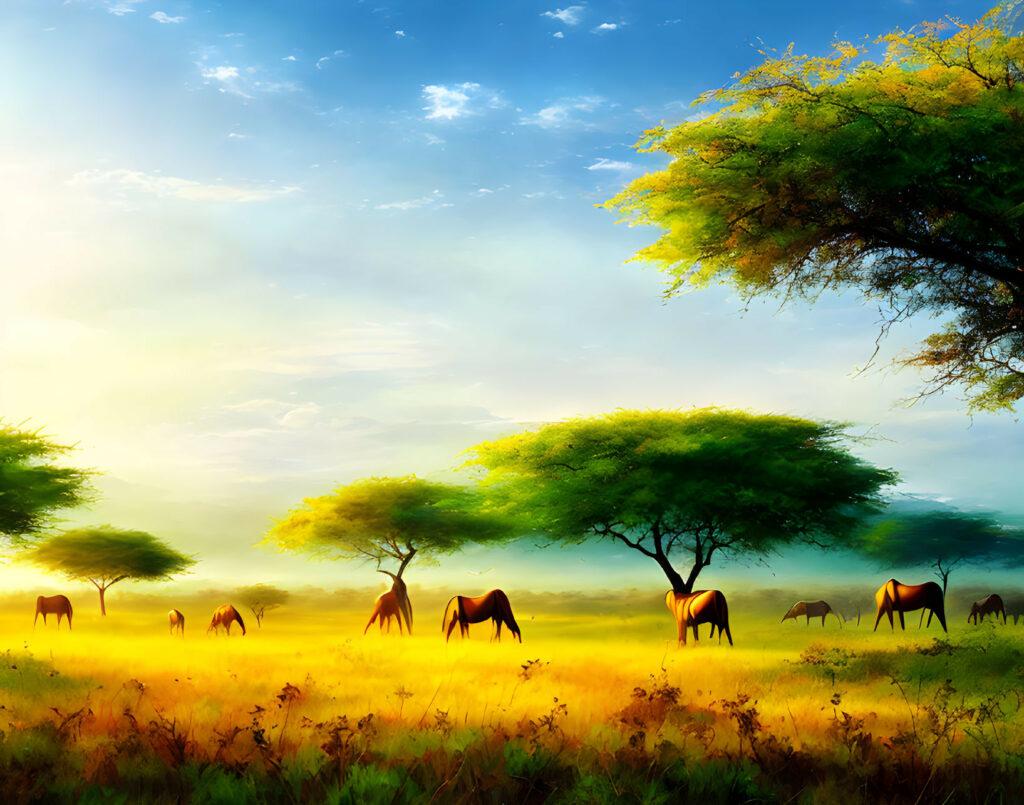 As you can see, this image is much better looking than any one of those I generated with Craiyon.
So even though Craiyon is impressive (and free!) it's not as great as some of the best AI art generators on the market.
Read also the best AI art generators.
Restrictions of Craiyon
You are free to use the images for personal purposes such as sharing with friends or printing on a T-shirt, as long as you abide by the Terms of Use.
Note that craiyon.com must be credited for the images.
To use the images for commercial purposes, please check the "Commercial Licenses" section in the Terms of Use.
Pricing
Craiyon is free to use!
Because Craiyon is supported by ads, you need to disable adblockers to use the tool.
Pros and Cons
| Pros | Cons |
| --- | --- |
| Free to use | Not the best AI art generator |
| Fast image generation | Littered with ads |
| Simple UI | No style presets or templates |
| Decent outputs | No accounts/image saving |
| Print-on-demand services | |
Who Is Craiyon Best For?
I think Craiyon is a wonderful demonstration of how to use AI to generate images. It can be a good option to train your input design (prompt engineering) skills—with Craiyon, you can easily see how radically the quality changes with better input.
Because the output is not even close to as good as the best tools on the market, you should consider a paid tool (or a free trial to one).
My Art Looks Bad—What Did I Do Wrong?
Does your AI-generated art look bad? That might be a consequence of bad input design.
When you generate images with AI, you need to be careful with your inputs. If you give input like "A cat" or "Cats playing", you leave too many gaps for the AI to fill in.
A much better input would be something like "A furry old cat standing on a field, moonlight, 8k, closeup".
This is just one example of input design (or as some call it, prompt engineering).
The more detailed you are with your inputs, the better and more accurate the outputs tend to become. Remember that this is not always the case either. Sometimes the AI might produce an outstanding image with a simple prompt like "cats eating" etc.
Read my complete guide on how to use AI art generators to get better results.
Final Verdict
Craiyon is a great demonstration of the power of AI in image generation. But because the tool is free and doesn't use the latest advancements in AI, it's less impressive than other tools, like Jasper Art or NigthCafe.
I'd definitely give it a try, but I'd also consider trying some of the paid tools with a free trial. You get far superior results.
Read Also