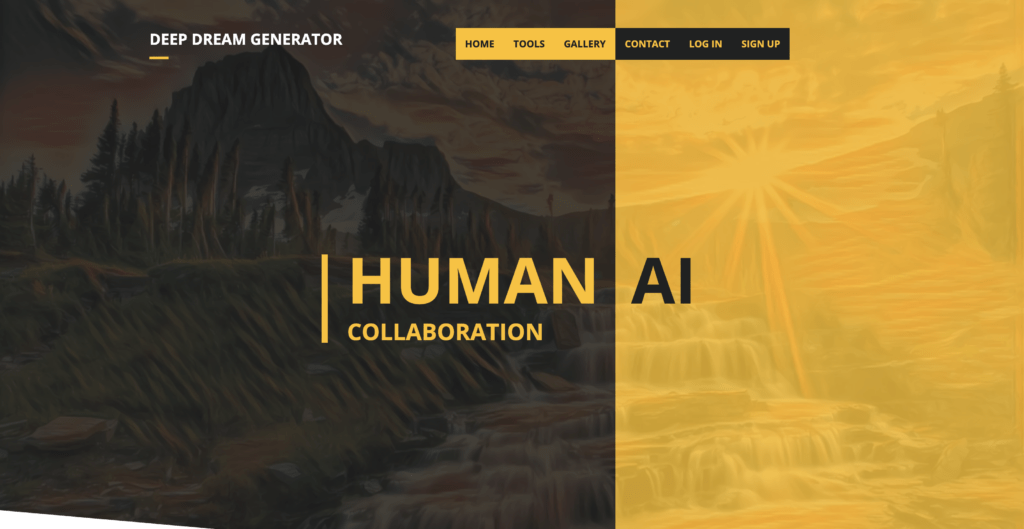 Deep Dream Generator combines an AI art generator and a social media app. You can turn simple text inputs into unique images in a matter of seconds.
Besides, you can share the artwork with your Deep Dream Generator network, like others' creations, and follow interesting AI artists.
This is a comprehensive review of Deep Dream Generator. You will learn how to generate images and how to use social features in the app. I've also rated the tool to give you a good overall view of the tool.
Don't forget to check my complete review of the best AI art generators.
Let's jump into it.
Deep Dream Generator Overview
| | |
| --- | --- |
| Rating | 4.4/5 |
| Price | $19.00/month |
| Ease of use | 4.3/5 |
| Features | 4.7/5 |
| Output Quality | 4.5/5 |
| Mobile App | No |
| Social Media Features | Yes |
| Best for | Artists looking to generate images and build a social network |
In a Nutshell
Deep Dream Generator is an AI art generator that turns simple text inputs into images.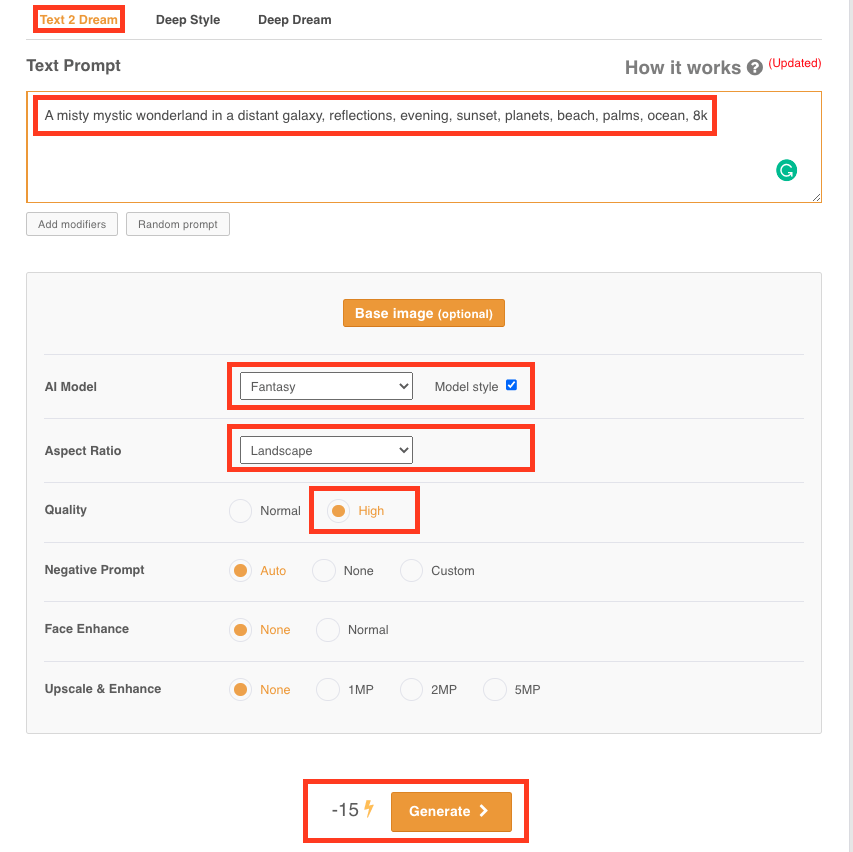 The output images are the results of the imagination of AI. The images are unique—no duplicate piece exists.
The tool gives you three art-generating modes and a ton of advanced control features to tweak to fine-tune your art.
Deep Dream Generator is also a social media for AI-generated art. You can create a profile, publish images, and like and follow other creators.
Key Features
Here are the most notable features of Deep Dream Generator.
Powerful AI.
Different AI generator modes. You can choose the AI-generating mode between three modes:

Text 2 Dream for turning text inputs into images.
Deep Style for generating an image from a base image.
Deep Dream for generating abstract and psychedelic art.

Free trial. Deep Dream Generator offers a free trial with which you can generate ~10 images (varies based on the quality settings and configurations).
Social features. You can create a profile and share your art there. Besides, you can follow other artists and like their work. There's a feed and a trending section where you can explore art.
My Experience
Getting started with Deep Dream Generator is easy. All you need to do is create a free account and generate images.
You get 50 free credits in your free plan.
If you generate images of small size, you can generate ~10 images with the free trial.
There are three main image-generating modes: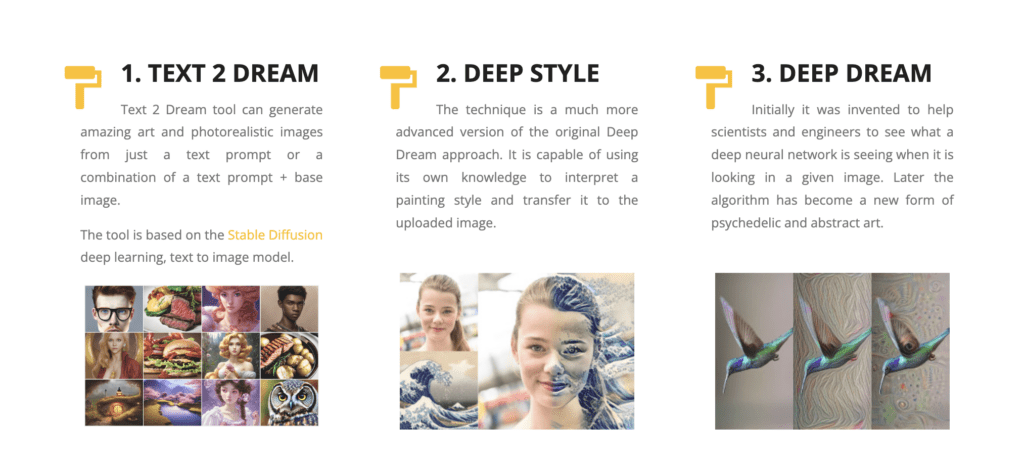 I tested all these features and will share the results below.
Keep in mind that AI art generators utilize randomness to generate unique images. This means if you use my inputs, you get entirely different results. This can affect your initial experience!
Generating Images with Deep Dream Generator
There are three image-generating modes in Deep Dream Generator:
Text 2 Dream
Deep Style
Deep Dream
Besides, there's an array of custom settings you can tweak in these AI image-generating modes.
In the following sections, I will show you how the image-generating modes work and what kind of results they produced in my hands.
1. Text 2 Dream
Let's start with the Text 2 Dream mode. As the name suggests, this mode lets you convert a simple input text to an image (or dream as they call it).
You can also choose a based image for the text-to-image generator. But this is optional.
I tried the Text 2 Dream feature with the following input and settings: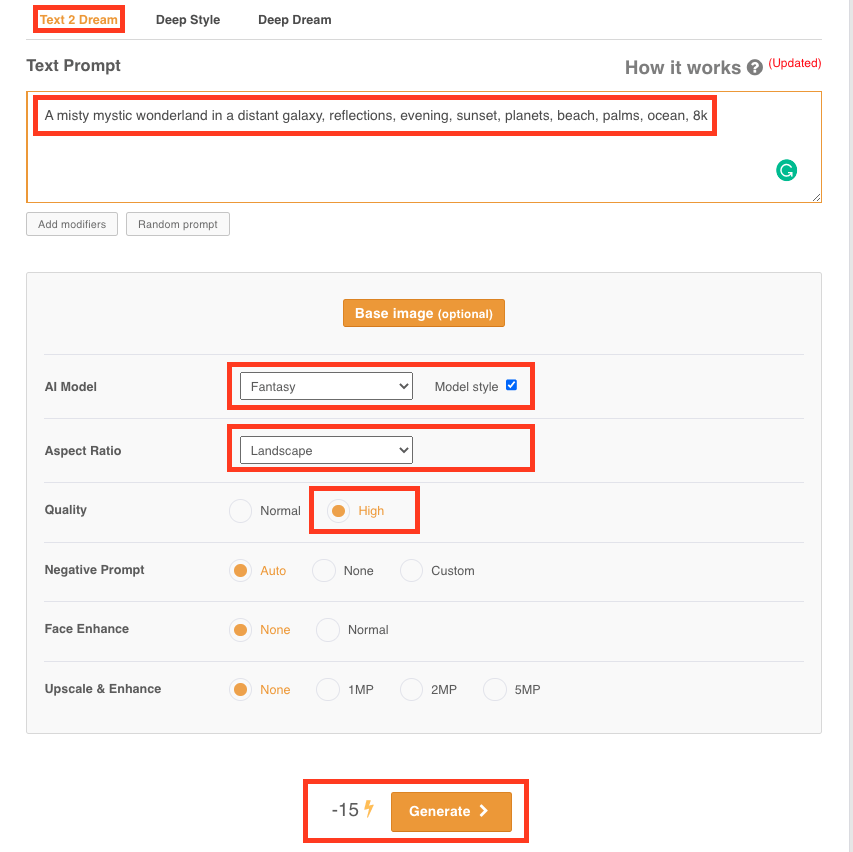 Next to the generate button, there's a negative score. This was confusing for me at first, but it now makes sense—it refers to the number of credits you lose per image generated. Because I asked for a high-quality image, the tool spends 15 credits.
After I hit "Generate", the tool took a couple of seconds and rendered this output: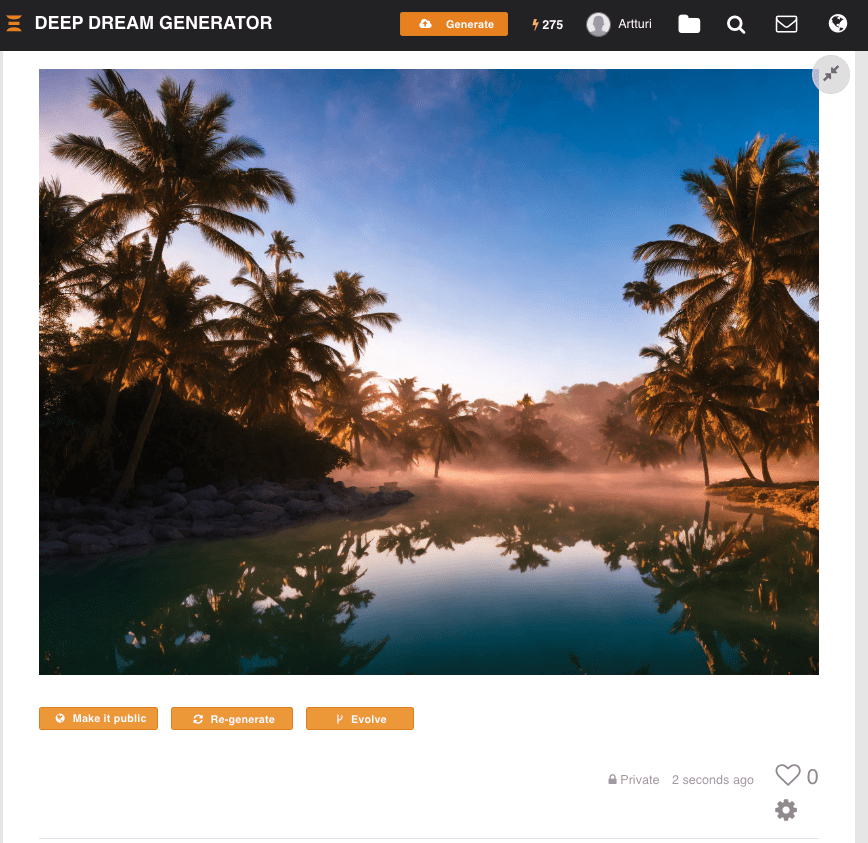 This one looks super cool and detailed.
Even though the image looks more or less perfect to me, it's not that much of a mystery wonderland on a distant galaxy but rather a picture of a cold morning in the jungle.
Nonetheless, it's very impressive that you can generate something like this with AI in seconds.
Also, remember that the output depends on the input. Bad input design skills can lead to bad or inaccurate AI-generated results.
Also, luck plays a role here. If I regenerate the image, I get a completely different result. Here I've asked Deep Dream Generator to regenerate the image above twice: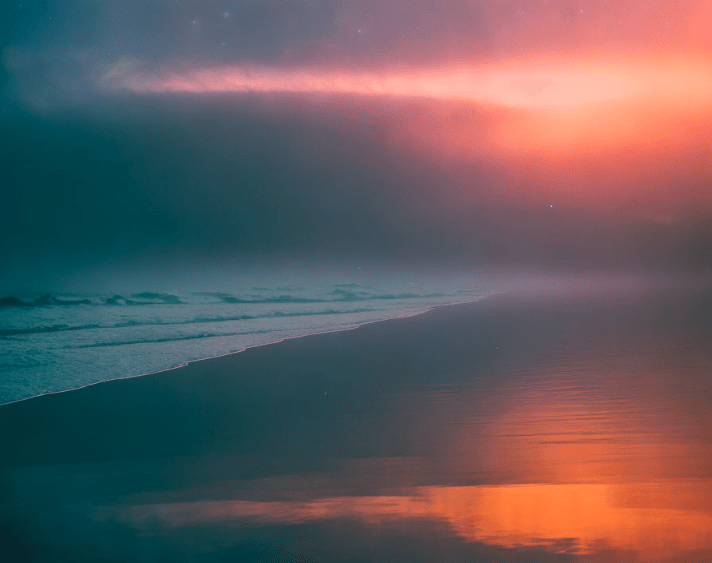 As you can tell, the results look entirely different now. Even though I liked all three images, I think the issue is that the tool didn't quite capture the fantasy-style wonderland I had in my mind.
2. Deep Style
Next, let's take a look at the Deep Style mode.
This mode combines an input image with a style of your choice.
This mode asks you to provide a base image and pick an art style. Then it takes about 30 seconds to render a stylized version of your image.
For example, let's try this feature on my picture: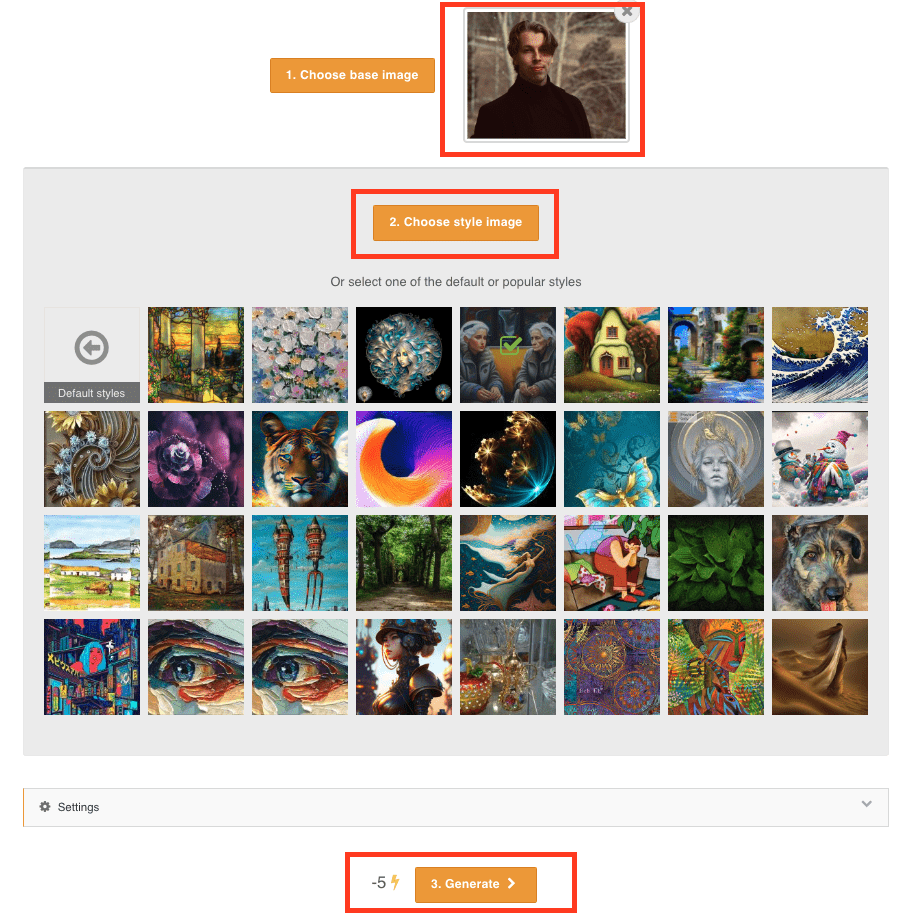 Output: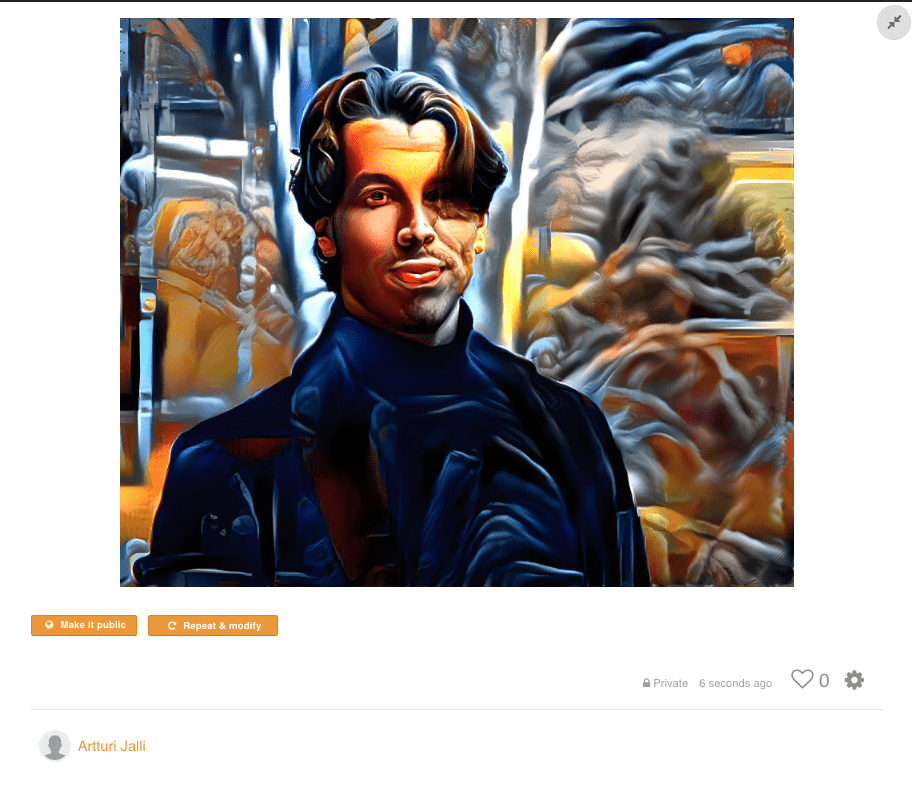 This looks cool but in my eyes, it's not that impressive. I actually think I could generate something like this back in 2015 with a free photo editing app by using a filter. Still cool, though.
3. Deep Dream
Last but not least, let's try the Deep Dream mode.
This is the abstract art generator tool. It was initially designed to show what a neural network sees in an image. But later it became a psychedelic image generator feature.
Here's an example input: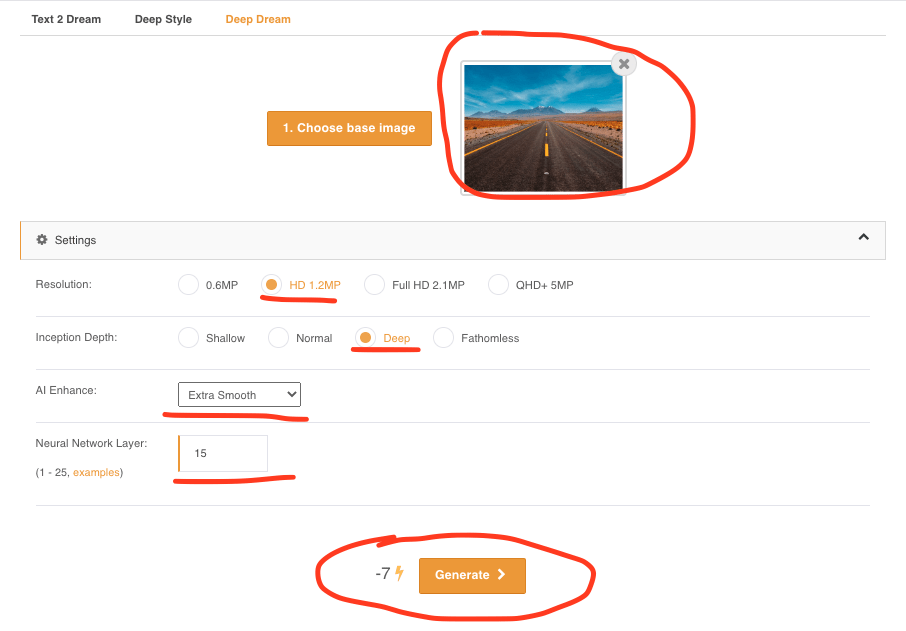 And here's the output: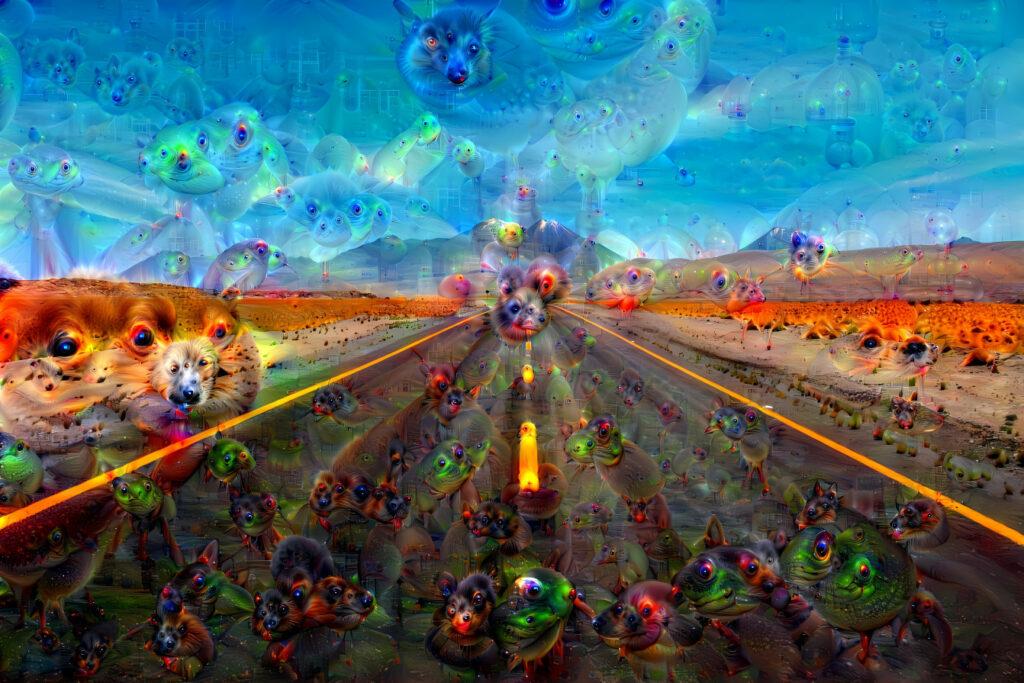 The result is quite trippy, to be honest—but that's what I think it's supposed to be. I think the core idea of this feature is to get a sneak peek into the deepest dreams of an AI. So the result is what the AI sees when it looks at this image.
I took it a step further, clicked "Go Deeper" and chose the inception depth as "Fathomless".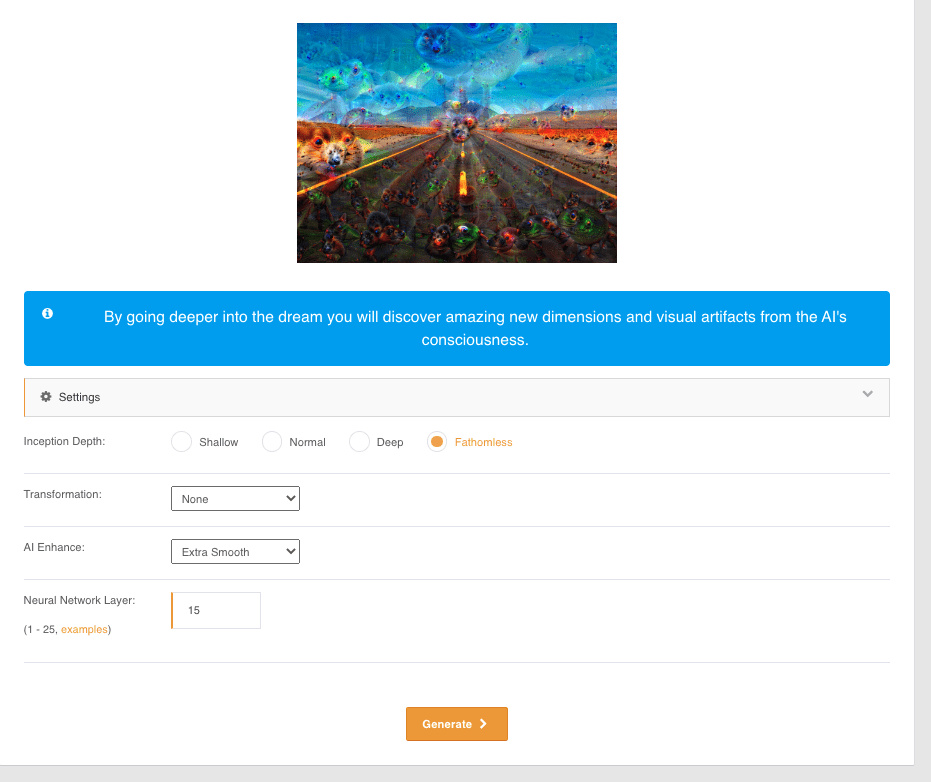 Here's the output: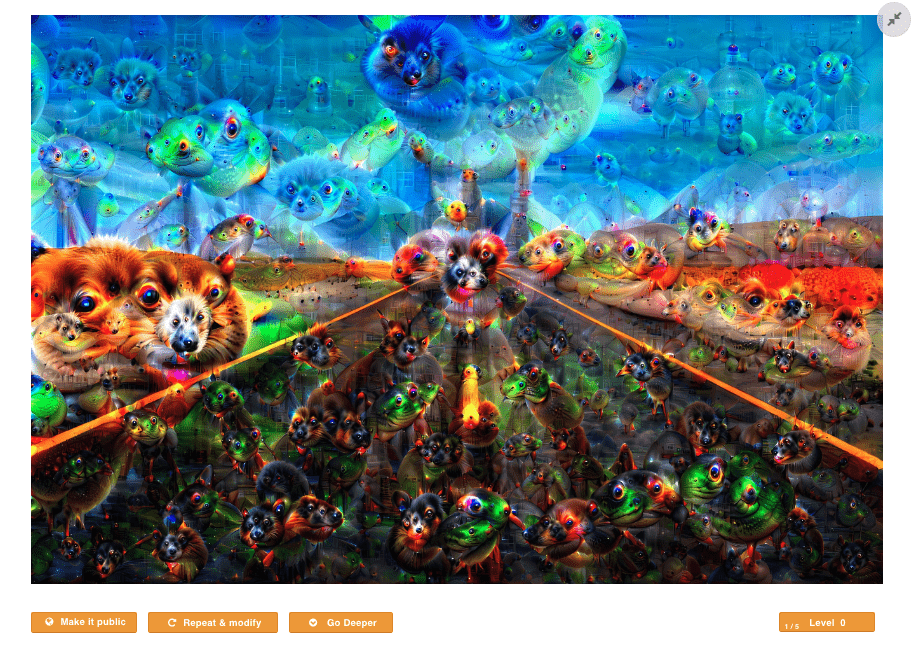 Now those strange-looking creatures are even more apparent in the image.
It looks like a combination of every animal you know. There are some owls, horses, moles, snakes, platypi, raccoons, and even some fish-like creatures.
You can use this feature for abstract art, but I can't really see myself using this particular feature.
One of the coolest things about Deep Dream Generator is that it's like a social media app for sharing AI images.
Profile
When you sign up for Deep Dream Generator, it creates a profile for you. This is where all your generated images go.
You can customize the profile by choosing a cover image and a profile image and adding some bio about yourself.
Here's what my profile looks like: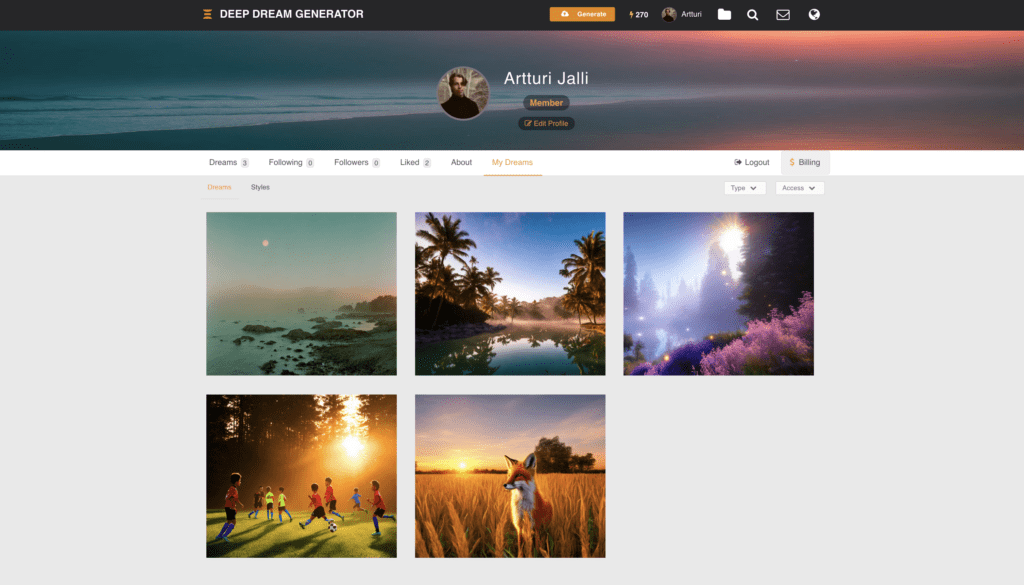 By the way, your images are private by default. So none of your work is shared without your permission. You can click an image on your profile and edit its accessibility settings to make it public.
Feed
Similar to other social media apps, there's a feed on Deep Dream Generator. You can like images and follow people who have generated images you prefer. Besides, you will see the prompts they've used to generate the masterpieces.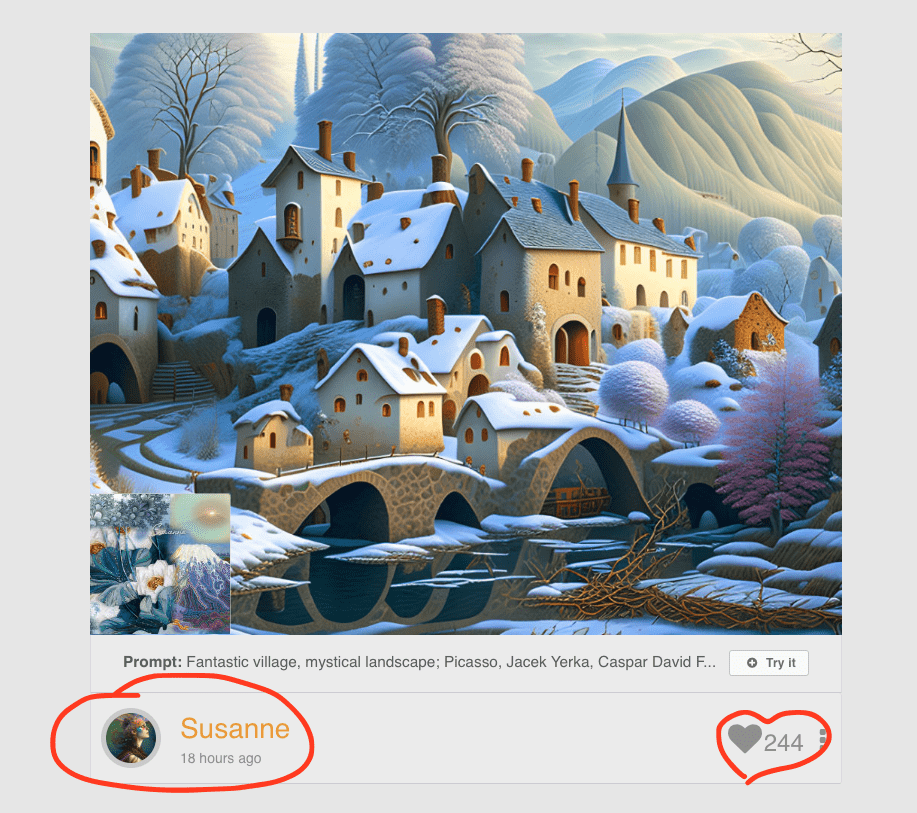 By clicking the user profile, I can see their other posts, followers, and likes.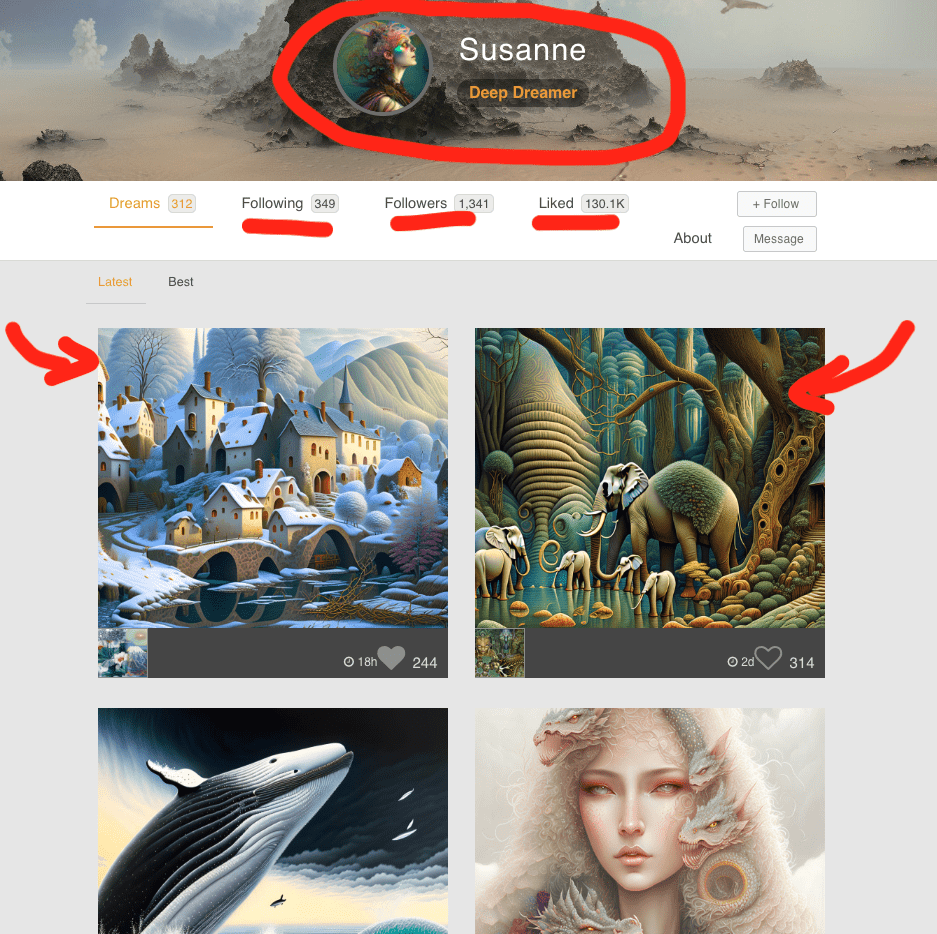 Restrictions
You can freely use the generated images in your blog posts, videos, or anywhere else. But you don't own the copyrights—anyone else can use your images anywhere they want.
Notice that you need a paid plan if you want to use Deep Dream Generator images commercially.
Last but not least, it's your responsibility to not generate art that reminds other people's work. Also, do not generate and publish images that remind some other person, such as a celebrity, without their consent.
Pricing

There's a free trial for Deep Dream Generator. You can generate up to 10 images in the free trial. After spending the free trial, there are three premium plans:
Advanced: $19/mo
Professional: $39/mo
Ultra: $99/mo
Pros and Cons
Like any other AI generator, there are both pros and cons to Deep Dream Generator. Here's a short summary of what I liked and what I disliked about DDG:
| Pros | Cons |
| --- | --- |
| Generates creative and photorealistic images | Doesn't understand prompts that well |
| Easy to use | Pricey |
| Free trial | Deep Dream mode is a bit unclear |
| Different styles, settings, and modes | Requires prompt crafting skills |
| Social features | To use the images, you need a paid plan |
Who Is This Tool Best For?
Deep Dream Generator is a good tool for anyone looking to generate art or images using AI. But I think the ideal use case is definitely for someone who also wants to take part in a community.
As I showed you, Deep Dream Generator is a social media app for AI-generated imagery. You can interact with other AI artists by following and liking their artwork.
The accessible free trial makes it a great tool for beginners who're just messing around.
My Art Looks Bad—What Did I Do Wrong?
Did the Deep Dream Generator not meet your expectations in image quality?
If you're a beginner in AI-generated art, this is most likely due to the lack of your input design skills.
To put it short, AI can't read your thoughts. You need to be very specific and detailed with your inputs to deliver the message to the AI.
Here's an example of a bad input:
A painting of a cat
Here's a good input:
A painting of a furry old cat in the middle of a field during sunset, ultra-realistic, cubism
Writing the right type of input is called input design (prompt engineering).
It takes some practice to learn input design skills. In other words, you won't be able to generate those awesome images you see in the demos right off the bat.
And don't get me wrong—you might generate a stunning piece of art with bad input like "Cats playing". It's just unlikely.
Read my complete guide on how to use AI art generators to get better results.
Final Verdict
Deep Dream Generator is an awesome social media app for generating and sharing images generated with AI.
So not only do you get to generate images with AI but also follow and like other artists. Definitely worth checking if you're interested in building a community and portfolio of AI-generated art.
The different art modes, profile customization, social features, and custom configurations make Deep Dream Generator a complete AI art app.
The free trial is quite extensive—make sure to check it out!
Deep Dream Generator Alternatives
Looking for powerful and perhaps a little cheaper alternatives to Deep Dream Generator?
Make sure to check these powerful AI art generators:
These three are in my opinion the best AI art generators on the market.
Read Also