To submit a Medium story to a publication, you need to be the author of the publication.
Given you are an author of a publication, you can submit your story by following these steps:
Write a story.
Click the three dots on the top right of the story.
Select "Add to publication"
Choose an available publication from a list.
Click "Submit".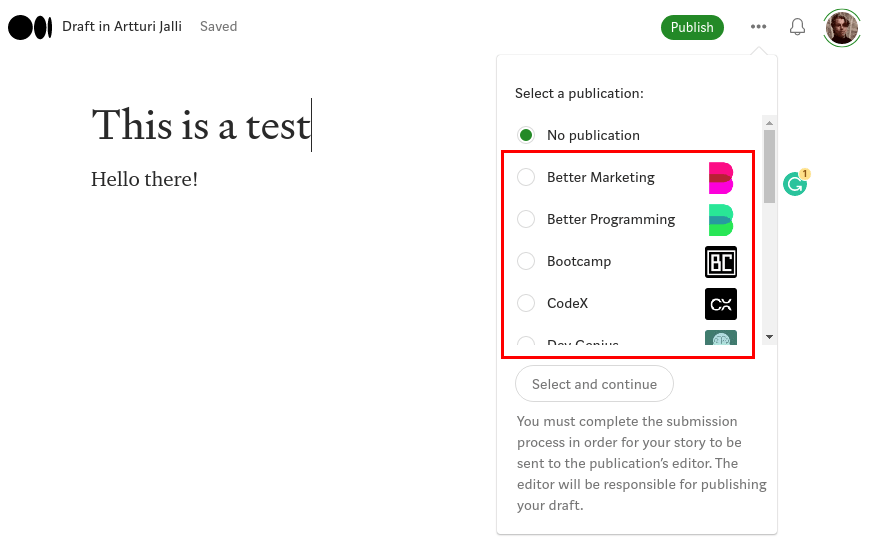 If the above list is empty, you are not in any publication.
In this case, you need to apply for the publication(s) of your choice. Unfortunately, there is no generic application you can submit. Instead, each publication works differently.
In this guide, you learn how to apply and submit stories to Medium publications.
How to See Which Publications I Belong to?
If you do not know/remember which publications you already can write, an easy way to check is by:
Start writing a new story.
Click the three dots on the top right.
Click "Add to publication".
See a list of publications.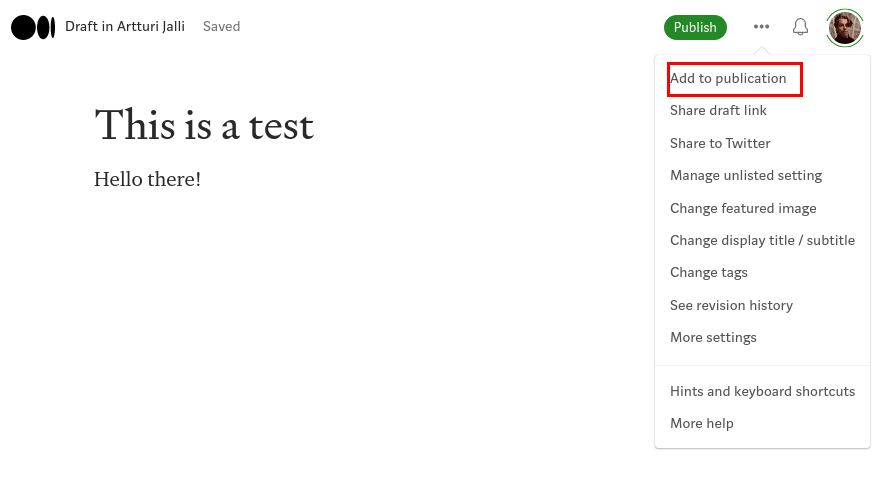 If this list is empty, then you do not belong to any publication where you could submit a story.

How to Apply to a Medium Publication?
Unfortunately, there is no generic way to apply to a publication on Medium.
Each publication's application process is different.
With the 150+ articles I have published in more than a dozen of publications, I have seen it all.
Some publications:
Approach you and ask if you want to join their publication. This rarely happens but if it does, it is likely after you have self-published a great article.
Silently add you as a writer. The only way to notice this is by checking which publications you belong to.
Require you to submit an article draft via email.
Asks you to fill in a form with a link to the article draft.
Do not accept submissions at all.
So there are quite a few different methods when it comes to accepting submissions and new writers.
Anyway, there is no generic "Apply" button on Medium publications.
How It Usually Works
The most general advice when applying for a publication is to:
Head over to the publications home page.
Look for a page that says "Write for Us", "Submit", "Collaborate", "Contribute", or something similar.
Open the page and read the instructions carefully!
For example, let's take a look at one of the most popular publications, Start it up: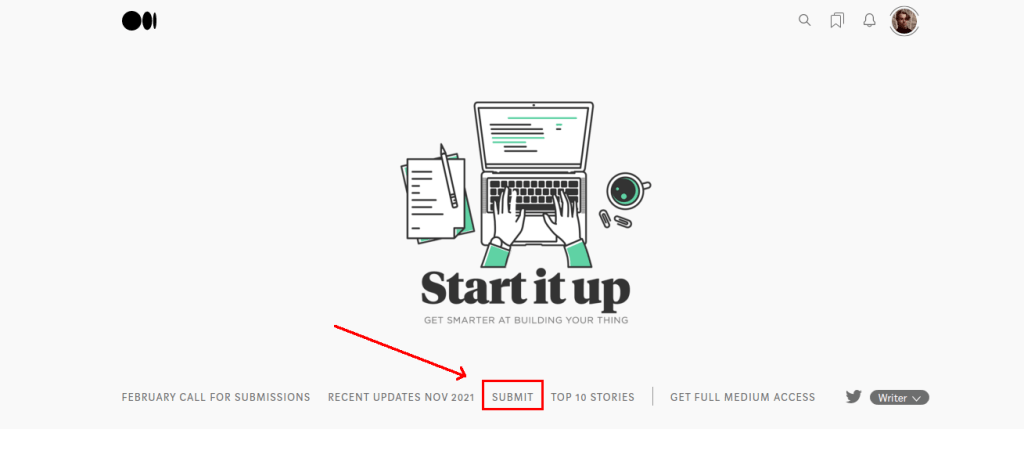 In the navigation menu, there is a section that says "Submit". This opens up a page that explains the application process for the publication.
Not All Publications Accept New Writers
Remember, not all publications accept writers!
This is because the most popular publications already have a ton of writers and tens of thousands of stories to review each year.
Each article is reviewed by a publication member voluntarily without being compensated.
Not All Stories Get Accepted to Publications
Once you get accepted to a publication, you must keep in mind the guidelines and best practices of the publication.
To find out these, you need to look for the homepage once again. Usually, the publication-specific instructions are also in the "Write for Us" section.
If you do not adhere to these guidelines, your story is not going to be accepted even if you are a writer on the publication.
Personally, I have had my stories rejected for two reasons:
Topic covered already.
Story irrelevant to the audience.
Some publications let you know whether your story got accepted or rejected.
But it is not always like this.
Sometimes only time will tell.
How to Find Active Publications on Medium?
There is no way to filter active publications by whether they accept new writers or not.
However, there are comprehensive and regularly updated articles of active publications on Medium.
For example, here is an updated list of 47 publications that accept new writers. Better yet, this article also covers how to apply/submit to each of these publications.
How to Get Paid for Stories in a Publication?
To make money on Medium, you have to be accepted to the Medium partner program.
After this, you can start earning money based on member reading time and other factors.
When it comes to earning money, it does not matter whether you publish your story in a publication or not.
In both cases, all you need to do is put your content behind the paywall.
To do this, click the "Publish" or "Submit" button on the top-right of your story. This opens up a window that looks like this: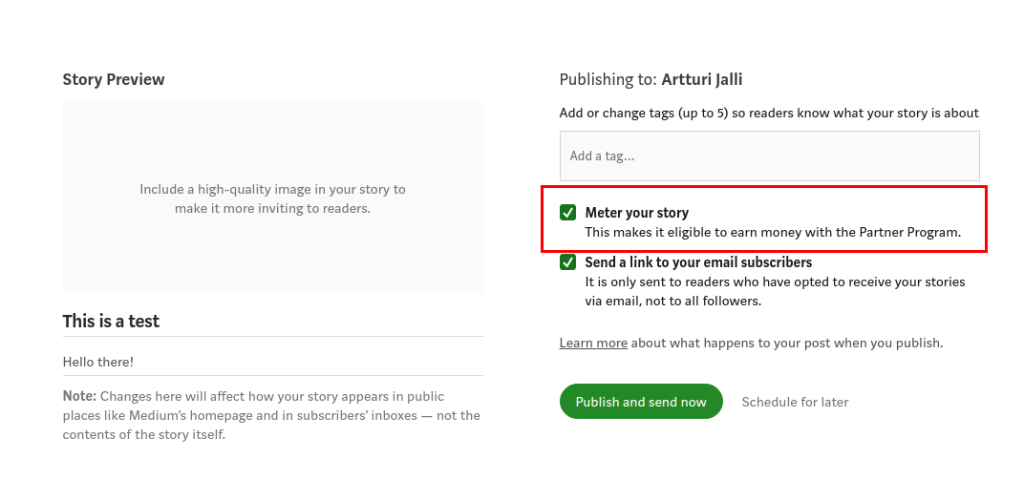 To put the content behind the paywall, select the "Meter your story" tab.
Now the story is eligible to earn money be it on a publication or not.
By the way, if you are looking for a complete guide on how to write on Medium, I highly recommend reading this article:
This article goes through all the basics and nuances of Medium in great detail.
Last but not least, let's talk about why Medium publications are the way to go.
Why Use Medium Publications?
So far we have covered all the hassle it takes to get accepted as a writer on a Medium publication.
At this point, you might think "I'm not going to stress about publications, I'll just self-publish my content".
This is a big mistake.
To make money on Medium, 99% of the time you have to use a publication.
I have personally published over 150 stories on a Medium publication during 2021-2022.
To put it in perspective:
The best self-published story has only made me $40,00.
The best story I have published on a publication has earned me $800,00+.
This is not just one example.
In general, I see 10-20 times more views and earnings on stories submitted to publications.
But why is there such a great difference?
Popularity
The top publications on Medium are closing in on 1M followers.
If you publish a story relevant to the publication's niche, there is potential to get massive attention.
Think about a publication with 1M followers. Even if only 1% of the followers read your story, you'd still rack up 10,000 reads which (usually) means hundreds of dollars.
Speaking of publications and niches, make sure to learn why you do not need to stick with one niche on Medium.
If you self-publish a story on Medium, there is a great chance that even the best story goes under the radar.
This is true even if you have hundreds or even thousands of followers. Based on my experience, only 5-10% of my followers read my stories.
Quality Control
In addition to the potential, the best reason to submit to publications is to validate your story quality.
If you are a new writer, you may not know whether your writing is of high enough quality.
Medium publications reject a great portion of submitted stories. Of course, there are many other reasons why they do this, but one of them is the quality of the writing.
If you manage to get your piece published in a publication, you are doing things right.
Why You Should Not Use Publications on Medium?
The biggest drawback of submitting to a publication is the hassle.
First of all, it takes time to find and read the submission guidelines of a publication.
It also takes a while to fill in the submission form/email.
Then, it can take up to a week before someone reads and reviews your story.
This can be frustrating especially if you feel you want to get the story out as quickly as possible.
However, the pros of publishing on a publication are so rewarding in comparison to the cons that I highly recommend being patient and using publications.
Conclusion
Today you learned how to apply for a publication on Medium.
To recap, applying to a Medium publication varies from publication to publication. There is no generic "Apply Here" button.
Most of the time, there is a "Write for Us" (or something similar) call-to-action on a publication's home page. This is usually an article that describes the application process and guidelines.
When you are getting started on Medium, finding and getting accepted into publications can be a hassle.
However, it is worth spending your time on.
With publications, you can get hundreds of times bigger audience (and earnings) compared to self-publishing.
Thanks for reading.
I hope you get your story on publication soon!
Happy writing!
Further Reading