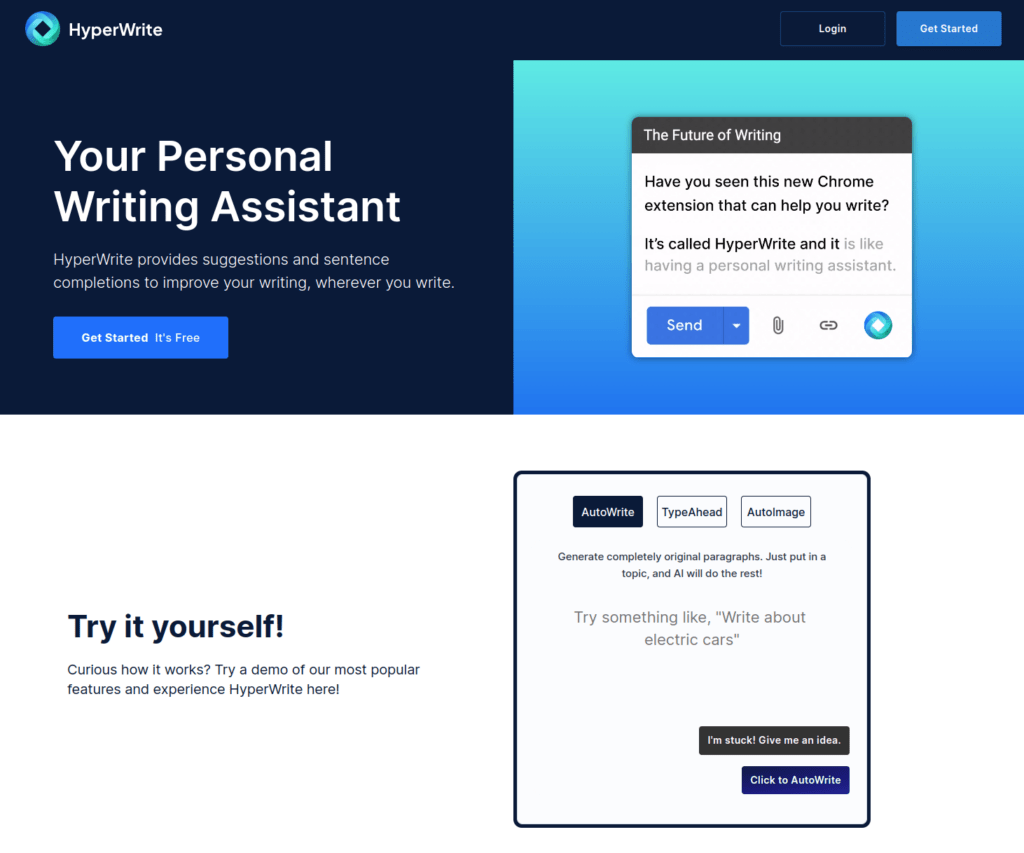 Hyperwrite is an AI assistant that finishes your sentences and speeds up your writing. This tool can generate blog posts, emails, summaries, or even rewrite chunks of text. Also, as a new addition, Hyperwrite has HyperChat which is a new type of AI chatbot that knows (almost) anything.
This is a comprehensive review of Hyperwrite.
I tried this tool extensively so that you don't need to double-guess its capabilities. Besides testing and reviewing the tool, I'll show you how you might want to use it, mention some alternatives, and much more.
They say Hyperwrite is one of the best and most accurate AI writers on the market. Today, I'm going to put it into a test for you.
💡 Make sure to read my comprehensive guide to the Best AI Writing Software.
Let's jump into it!
Getting Started with Hyperwrite
Getting started with Hyperwrite is simple. All you need to do is create a free (no credit card required) account from the homepage.

After signing up for free, you can fill out an optional survey.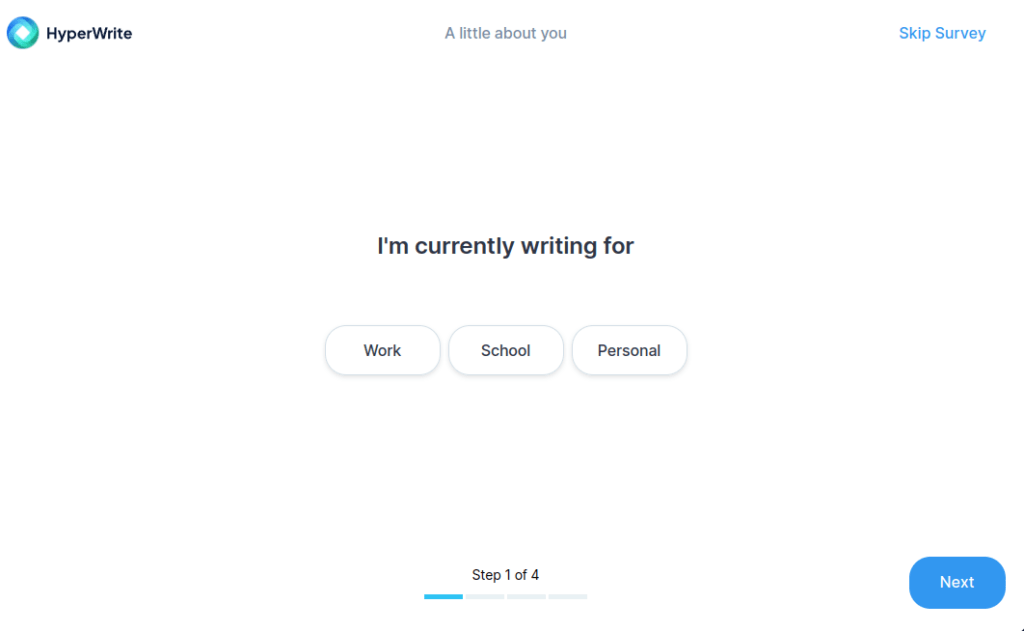 After the survey, you'll find yourself in the dashboard or home view of the app. As a fresh starter, the dashboard will look something like this.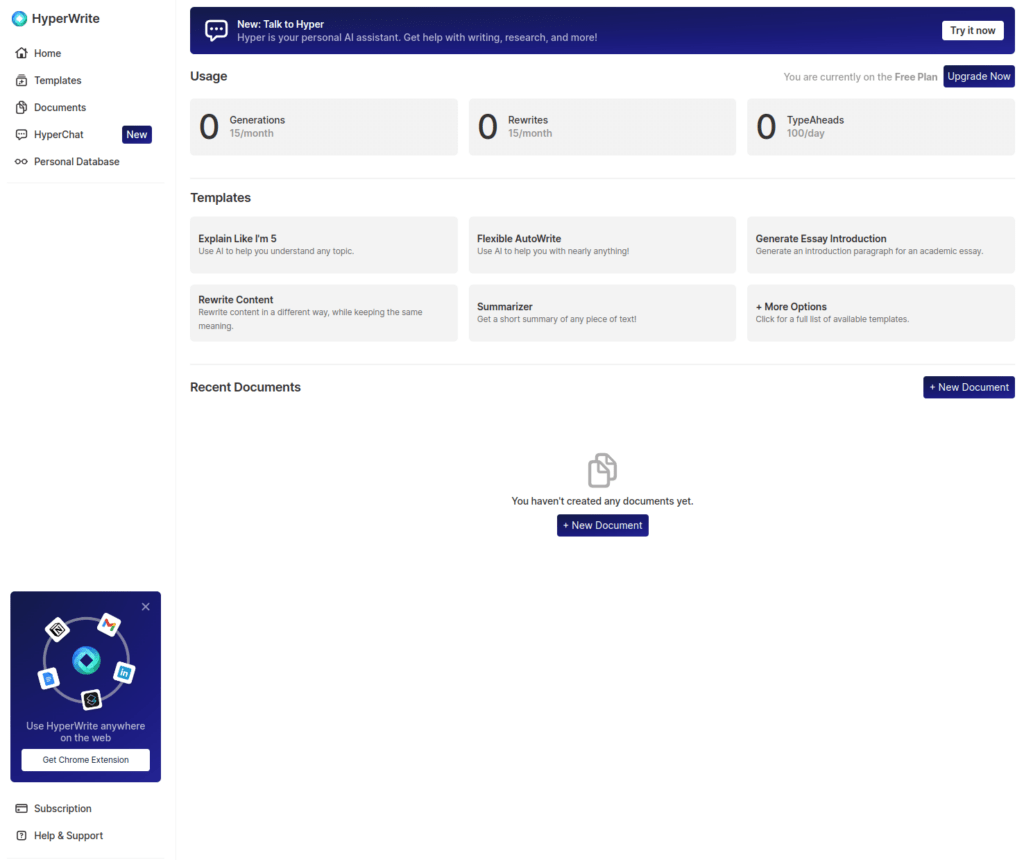 There are a whole bunch of features on Hyperwrite. If you click "+ More Options", you'll find this huge page of templates: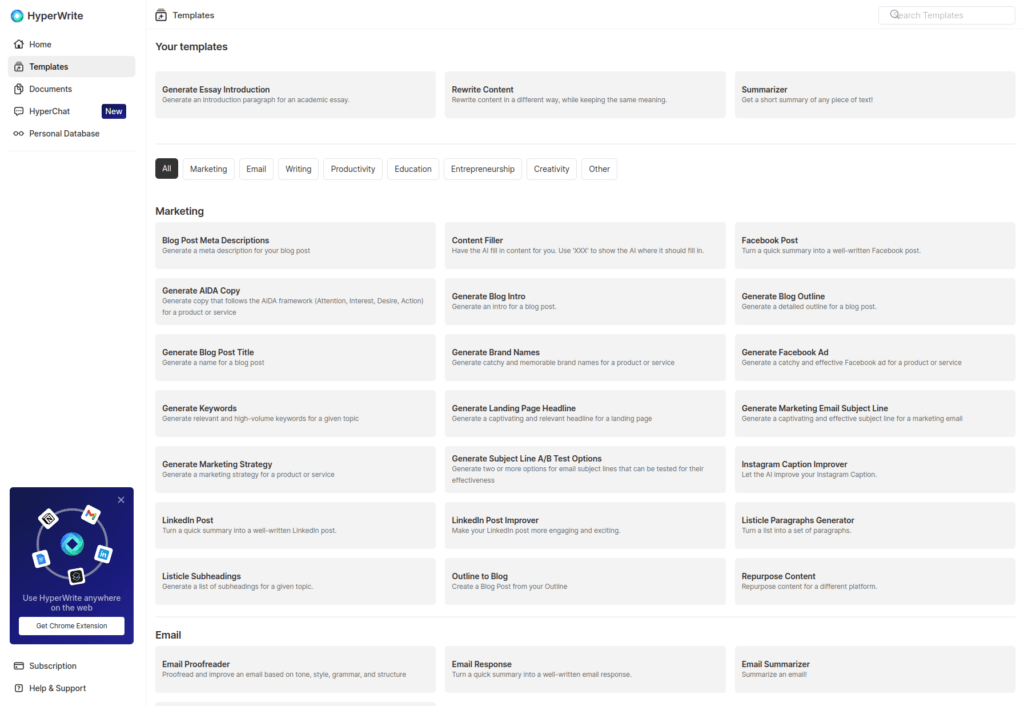 Also, notice that there's a brand new feature called HyperChat which is a ChatGPT-based AI chat and you can ask it about anything.
Notice also that you can use Hyperwrite's Chrome extension. This basically moves the app's logic into wherever you work, such as Word documents, email fields, or blog post editors just to name a few.
From there you can start experimenting with the tool.
In the next section, I put the tool to a real test.
My Experience with Hyperwrite
It's been mostly jargon and promises by this point. But whether the tool works or not is still unclear. In the following sections, I test the core features of Hyperwrite. Besides, I analyze the results to see how well the tool really did.
1. HyperChat
HyperChat is a chatbot that you can ask about anything.
Unlike ChatGPT, HyperWrite has the ability to capture facts beyond events in 2021, which is a commonly known shortcoming of ChatGPT.
Let's try HyperChat to see if it really works.
They say this feature knows the latest trends and news, so let's see how it does with Soccer. I'll ask how the WC 2022 final went:

Unfortunately, this answer is wrong yet convincing.
AI seemingly doesn't watch football. The WC final of 2022 ended 3-3 full time and Argentina won by penalties. Also, it was Argentina vs France, not Argentina vs Morocco. Besides, Messi didn't do a hat trick (unless you count the penalty shootouts).
All in all, the answer provided by HyperChat is absolutely wrong. Don't ask HyperChat about the latest news!
But let's give it the benefit of the doubt and ask another one. Let's test its math knowledge:

Absolutely nailed it! And it even gave the formula in text format. This is impressive.
Now that the AI seems to know what it's talking about, let's give it one more.

Absolutely nailed it once again! This information is correct and concise.
HyperChat clearly does well in common knowledge but is less impressive in covering the latest news.
So use it with care and don't use it as an ultimate source of truth!
If I had to use HyperChat, I would probably ask it questions to verify something I already know when doing research, but I wouldn't really trust it so much that I wouldn't Google things up.
HyperChat is a useful feature, for sure. But because it sometimes gets it completely wrong, it's not a good idea to fully trust it especially if you're unfamiliar with the topic.
That being said, I'll give it a solid 3.5/5.
Would be 4/5 but it got completely lost when I asked about WC finals which is one of the most talked-about events this year…
2. Rewrite Content
Let's try the rewrite feature which rephrases or rewrites the text in the AI's own words to make it more compelling.
For example, let's write a piece of text about learning how to play soccer and ask Hyperwrite to rephrase the piece to emphasize how important it is to play the game to learn.
Here's the input I give the tool: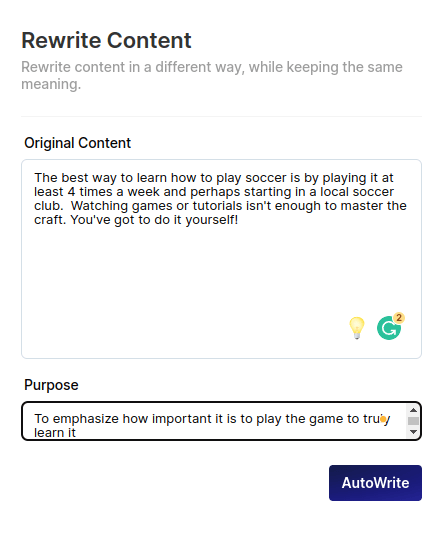 And here's the output: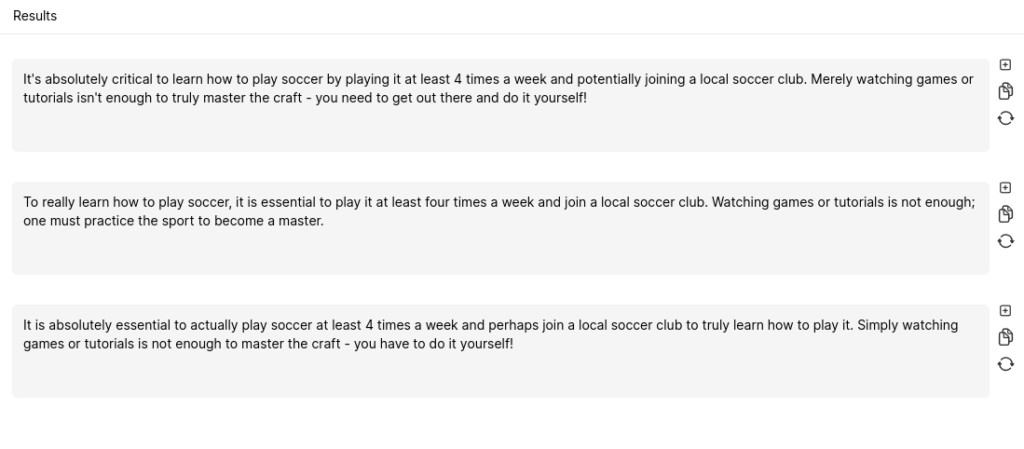 One thing I can tell from these sentences is that at least it didn't really improve the sentence.
But it did a great job. The outputs now emphasize the importance of practicing. The first example output is bad, though. The AI behind Hyperwrite clearly didn't fully understand what I said.
To be honest, I would love to have seen that some of these AI-generated rewrites would have started with something like "Practice makes perfect" because that's what I tried to say.
Nonetheless, the tool was able to spin my text in a really natural way without making it sound like it's been written by a bot (except for the first example).
I'll give this feature a 3.5/5.
3. Content Summarizer
One of the highlight features of HyperWrite is its ability to summarize longer walls of text into short and actionable pieces of content.
This can be useful if you're lazy and don't want to read an entire news article, Wikipedia text, or email, to mention a few.
Let me try to make it summarize my personal story into a sentence or two:
The whole input isn't visible, but basically, it's a 100-word summary of my journey as a content creator.
Here are the summaries the tool generated: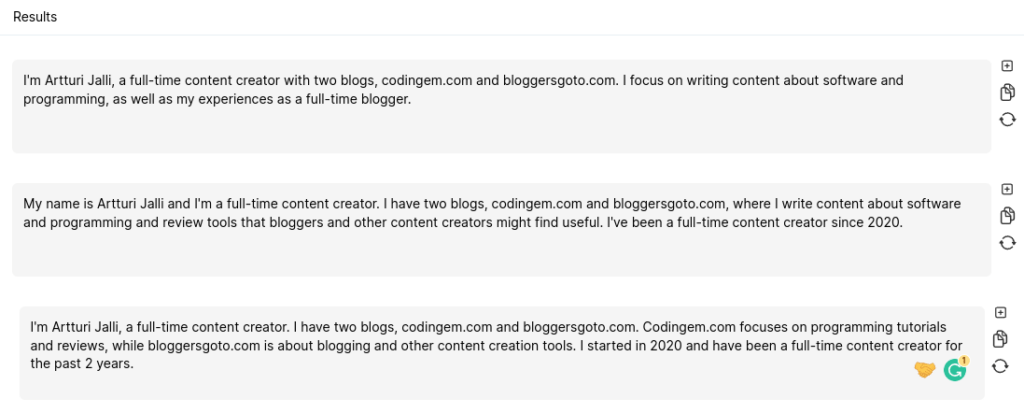 These summaries vary from 30 to 47 words in length, so those are definitely shorter than my input (100 words).
Also, the summaries are accurate. The first one says the most important parts but skips details about the sites I run, which is 100% fine as it's a summary anyways.
The last one is the longest outcome which also captures the names of the websites I work on besides summarizing who I am.
Based on these tests, I give this feature a 5/5.
Even though it's a 5/5 for me, make sure to always double-check the summaries. AI can sometimes create lies in a convincing manner. It's less likely in a summarizer feature, but it can still happen.
4. Autowrite & Typeaheads
Let's also try the auto-write feature where the AI generates new text based on a short input.
By the way, to access this feature, just click "New Document" on the home view of the Hyperwrite app. This opens up a new page that looks like this: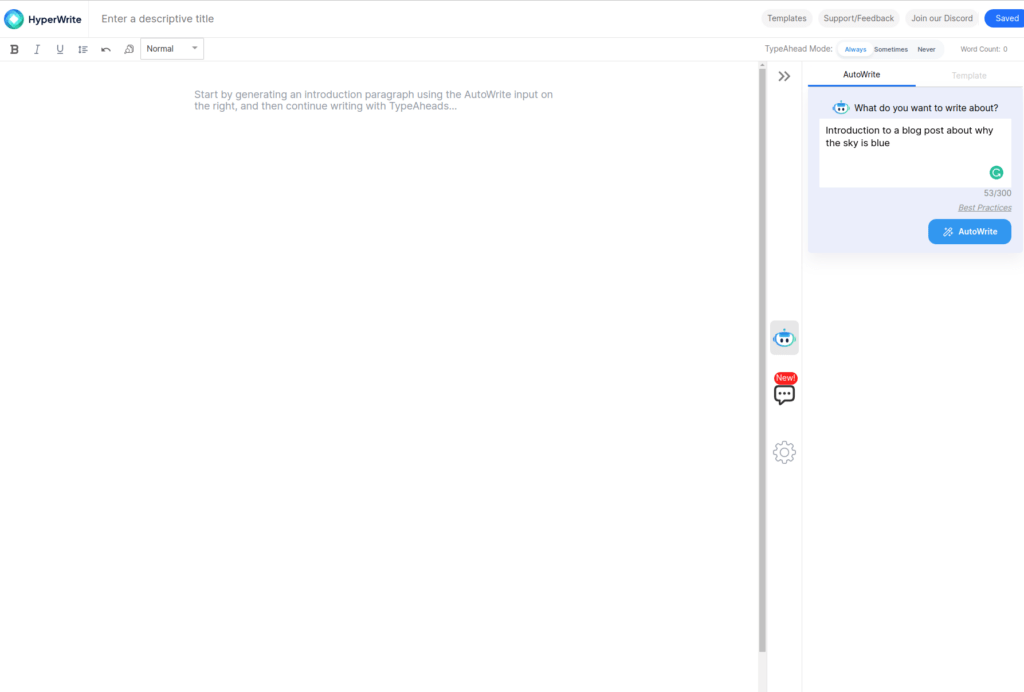 Here's my input: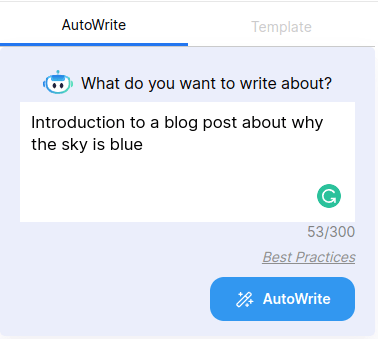 After clicking Autowrite, the tool takes a second to generate my introduction(s). When it's done, you can click to choose one of the auto-written chapters.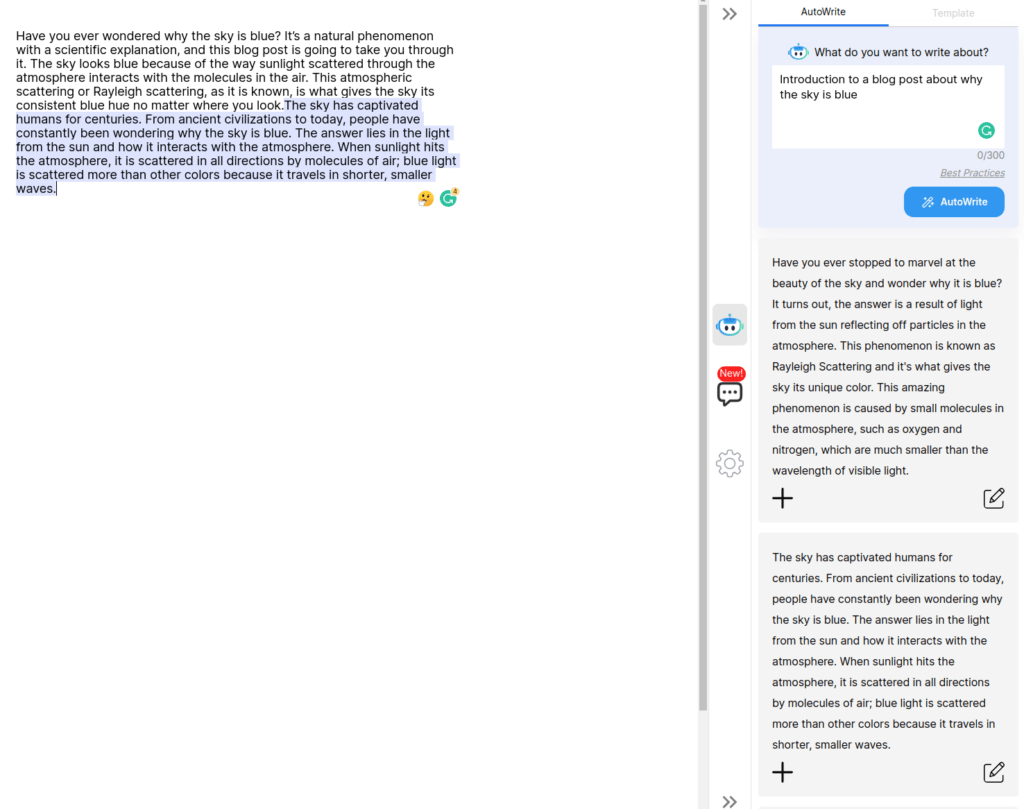 Besides this feature saving time, the AI-generated intros look really good to me. I could use these generations almost as-is!
But I noticed that this feature makes mistakes. The AI sometimes gets the facts wrong in a convincing manner.
Thus, it's important to do fact-checking and research instead of fully relying on the AI behind Hyperwrite! (By the way, this applies to all the other AI writers on the market too).
Now, let's try the associated core feature of Hyperwrite, which is typeahead.
In a Typeahead, the AI predicts what you're about to write and completes the sentence for you. To get started with this feature, all you need to do is start typing something in the Autowrite editor.
For example, take a look at the last line here:

The light gray text is a suggestion made by AI. This completion is decent!
Notice that the typeahead feature also places a number to the end, such as 1/2. This means it has a number of completions in mind.
As another example, here (in the last line) it seemingly suggests a sentence I might not be looking for:

But if I accept the changes (by hitting the right arrow key and typing a space), it actually starts to make more sense.
Take a look at the last line now:

It took me a while to understand how this feature works. At first, it felt like the AI was completely lost, but as I learned how to use the feature, it started to make sense.
This final sentence it generated is really good and I might even use that in this context.
My understanding is that this is one of the core features of Hyperwrite. If you're a slow writer or have writer's block, this feature might save the day and speed up your writing.
But to be honest, that last sentence took 10 seconds to write with the typeahead feature, and I could probably do it in that time without the feature.
Performance-wise, I have to give it a 4.5/5. But as a fast typer, I didn't really find it that practical.
So it's a 3.5/5 for me.
There are a ton of features I could review, but I'm going to keep it short and concise as I've now reviewed the core features and functions.
Pricing

Hyperwrite has simple and affordable pricing:
Free: $0/month with all features for a limited number of generations
Premium: $19.99/month for all features (unlimited!)
Ultra: $44.99/month for all premium features + support, more memory, and longer generations
What I Like about Hyperwrite
Hyperwrite is one of my favorite AI writing tools on the market. There are many things I like about it, such as the rich features, easiness, and free trial with great affordable paid plans.
1. Free Trial
The tool has an extensive free trial which is super useful and makes me trust the software more right off the bat!
I think it's only fair to let people test the AI writing capabilities before charging for it.
With the generous Hyperwrite free trial, you'll get a great idea of what the tool can do and what its limitations are in your particular use case.
2. Easy to Use
You need no technical skills to use Hyperwrite. From sign-up to first AI-generated content takes less than 30 seconds.
Besides, all the features work effortlessly. You choose a feature, type some input, click "Generate", and you're done.
Although you need to remember to make sure the content is actually good because AI makes mistakes.
3. Lots of Great Features
As you saw earlier, there is a library of features available in Hyperwrite.
I encourage you to try these features as you can quite freely explore the tool with the free plan. You might find some features more useful than others. Also, you might realize a completely new use case you might not have thought of before.
A feature-rich software like Hyperwrite improves productivity and saves you time in all sorts of writing tasks.
4. Super Affordable Pricing
Hyperwrite has one of the best if not the best pricing models out of all the AI writing tools I've reviewed. I think Rytr gets close but has a more limited feature set.
Also, unlike most AI writers on the market, Hyperwrite has an unlimited premium plan.
This means you don't have to worry about word limits. This is super nice as AI makes some mistakes and you might need to regenerate content sometimes.
Thanks to the unlimited plans, you don't need to worry about wasting credits or words.
What I Dislike about Hyperwrite
Similar to all the other AI writers on the market, Hyperwrite has its drawbacks as well.
1. The AI Makes Mistakes
Hyperwrite makes mistakes. This is not a Hyperwrite-specific thing as all the AI writers I've tested make mistakes and get lost.
But this is a downside you need to take into account. You need human intervention. There's no way to fully rely on AI to generate content.
Use Hypewrite as they suggest you use it–an AI writer, not an autopilot.
Check facts, fix errors, rephrase clumsy sentences, and regenerate bad content. Otherwise, you end up with text that is factually incorrect, inaccurate, or bot-like.
Even though the AI does a great job it can sometimes be hard to detect factual incorrectness because the AI is designed to be convincing even if it was wrong.
2. HyperChat Is Misleading
Don't get me wrong here. HyperChat is great. I could say it's one of the most impressive features of Hyperwrite.
But even though HyperChat is impressive and knows answers and how to explain them, it doesn't really work with the latest news and trends. This gives me mixed feelings about the feature. It's good but it can also mislead.
If you use HyperChat, use it with care and always double down on the facts and information it provides you with!
Final Verdict
Hyperwrite is one of my favorite AI writing tools on the market. It has a nice free trial and really affordable unlimited plans without word limits!
Besides, the tool does a really great job in many areas, such as rephrasing, auto-filling, generating summaries, and even writing blog post sections from scratch.
I believe this tool will save you time and effort. Using the tool is easy but you have to experiment a lot to find the perfect balance and use cases.
Just remember to be careful with AI. It makes mistakes in a convincing manner. Thus, you shouldn't blindly trust everything it says. Instead, you need to do fact-checks and read the content carefully through.
Make sure to read my take on AI writing in general!
Thanks for reading. Happy writing!
Read Also