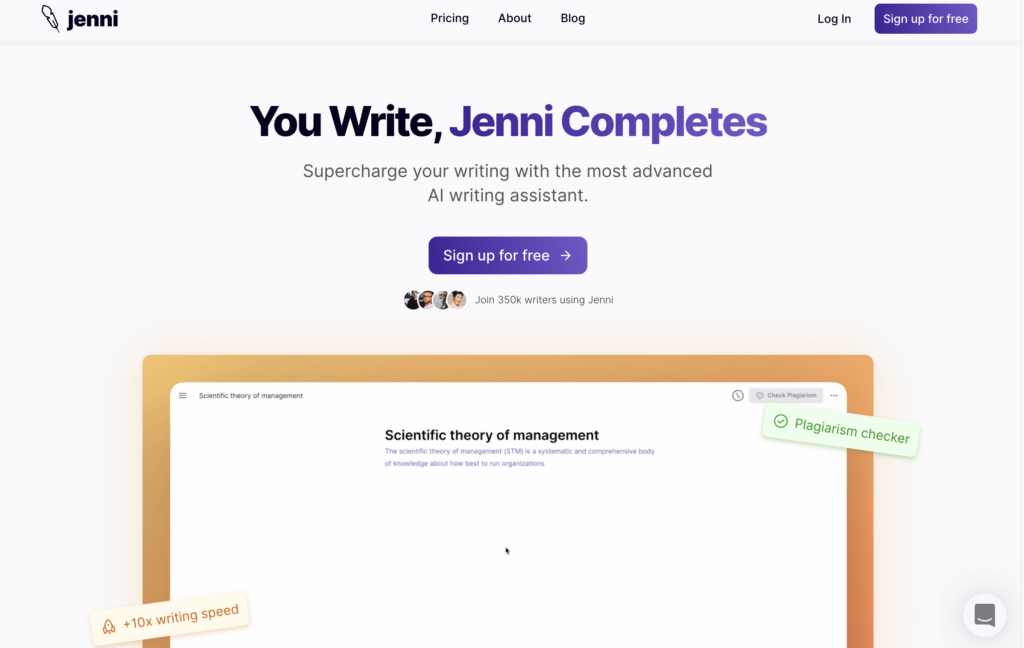 Jenni.ai is an AI writing assistant that generates content based on your short input. You can write blog posts, song lyrics, bios, ad texts, and more using state-of-the-art AI algorithms.
This is a comprehensive review of Jenni.ai.
I've run extensive tests on Jenni to see whether it actually performs as promised or not. Besides, you will learn how to start using Jenni.ai and what benefits/drawbacks there are of using an AI writer like Jenni. Last but not least, I quickly show some alternatives.
💡 Make sure to read my comprehensive guide to the Best AI Writing Software.
Let's jump into it!
What Is Jenni.ai?
Jenni.ai is a new type of AI writing assistant that generates original and unique content using the latest advancements in artificial intelligence.
With Jenni.ai, you can fight blank page syndrome, and generate content ideas or even entire blog posts at lightning speed.
As per Jenni.ai, their solution is the most advanced AI writing solution on the market. And that's exactly what I'm going to put into a test today!
Getting Started with Jenni.ai
Jenni.ai is an online software so there's no need to install anything. All you need to do to get started is sign up for the free trial which literally takes 15 seconds.
You can sign up from the Jenni.ai homepage.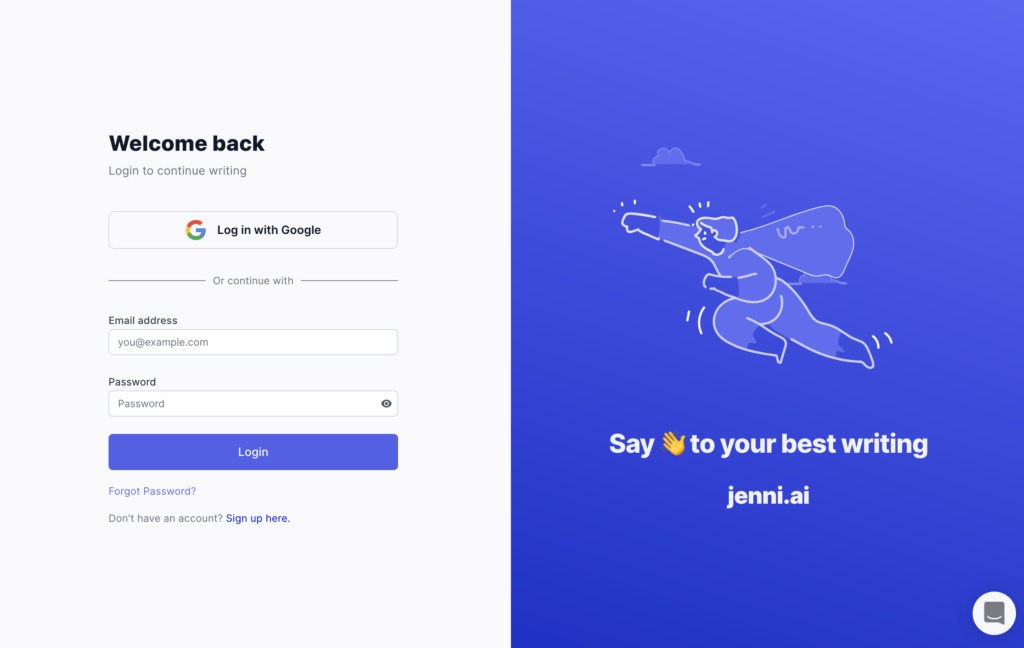 Key Features
Here are some of the main features of Jenni.ai:
AI autocompletion. Jenni uses AI to complete your sentences if you get stuck. Besides, you can of course ask Jenni to generate entire blog posts.
Plagiarsim-free content. There's a built-in plagiarism checker in Jenni.ai. This ensures that the AI-generated content is never copied from someone else.
Citations. Jenni.ai will find citations to back up facts by trustworthy resources.
Text transformations. You can rephrase or change the sentences with Jenni.ai.
The main feature of Jenni.ai is to help generate written content. The types of content Jenni can help you with include:
Blog posts
Essays
Emails
Personal statements
Stories
Speeches
My Experience with Jenni.ai
Jenni.ai is simple and intuitive to use. It's like a traditional plain and simple text editor with superpowers.
1. Workflow
To start generating content with Jenni, give the tool some input, such as the title of your blog post that you want to generate.

The tool encourages you to hit enter to start generating content. Once Jenni has generated a sentence or two, you can press the right arrow key to accept the generation. If you don't like the text, you can re-generate with CMD + J.
2. Example Blog Post
Here's a post I was able to generate in 60 seconds by using Jenni.ai: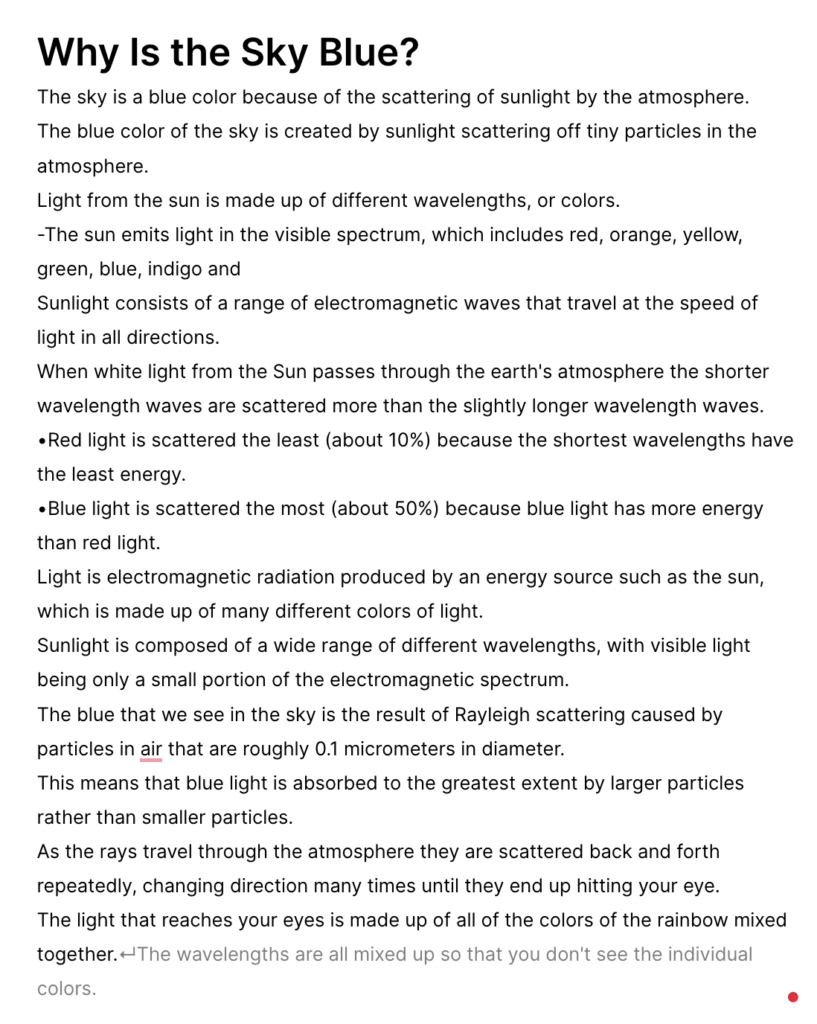 Whether all of this text actually holds true or not is something you need to double down on!
3. Accuracy
To me (a former physics student), the example generation looks decent and it's at least on the right track. (The percentages and details might be slightly off, though).
The main takeaway is that if I wanted to publish this short explanation, I would need to do the research to figure out whether what Jenni states is correct.
So even though the writing took 60 seconds I'd still need to spend 15-30 minutes researching the topic.
4. Originality?
Now how about the originality of the content? The AI can't just draw this good text out of the thin air, can it?
Well, the truth is that these days AI is so clever that it actually can!
But because AI is just a mathematical model that predicts the output, there's a chance it spits out words in the exact sequence someone else has done.
Jenni.ai warns this so that the authors would be wise enough to run the content through a plagiarism checker before going live.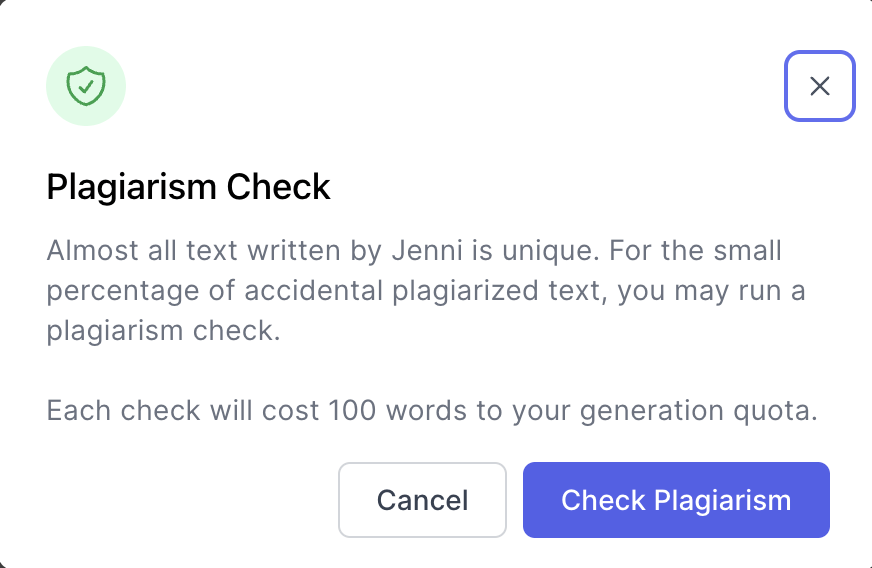 This is where Jenni does an excellent job. Jenni has a built-in plagiarism checker you can run the content through. You can find the duplicate checker in the top right corner of the Jenni.ai content editor view: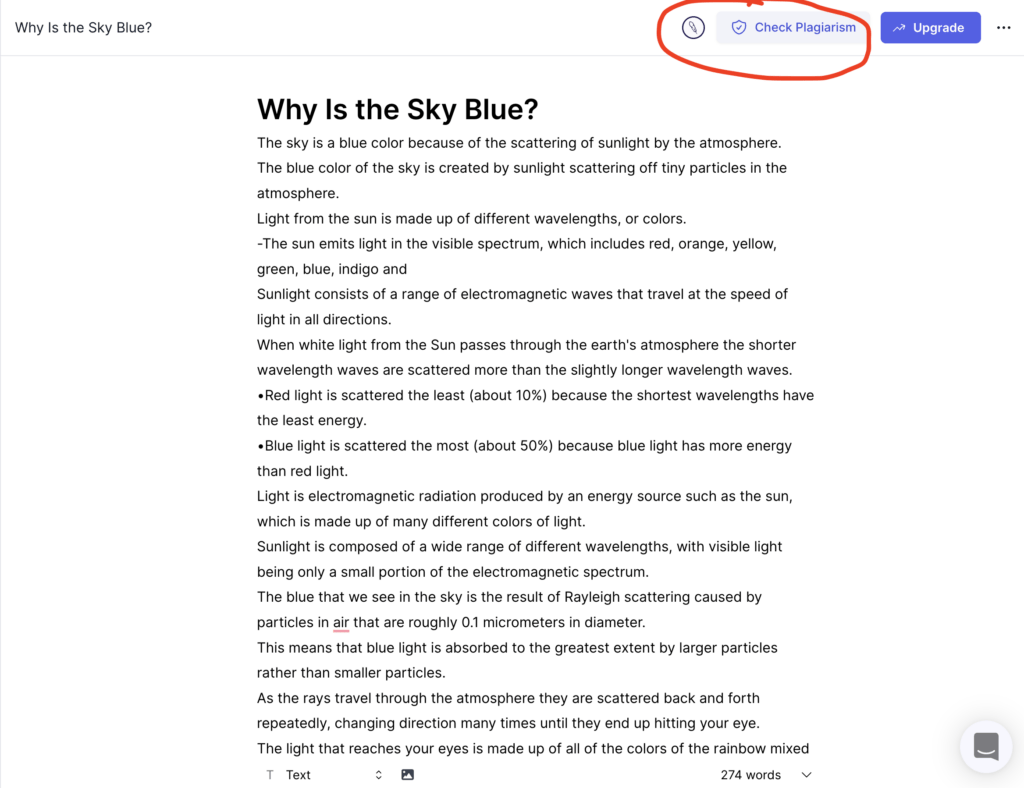 If you're running the free trial, you cannot use this feature because it's part of the paid plan.
This is not a problem, though. You can find an equally good plagiarism checker at DupliChecker.com.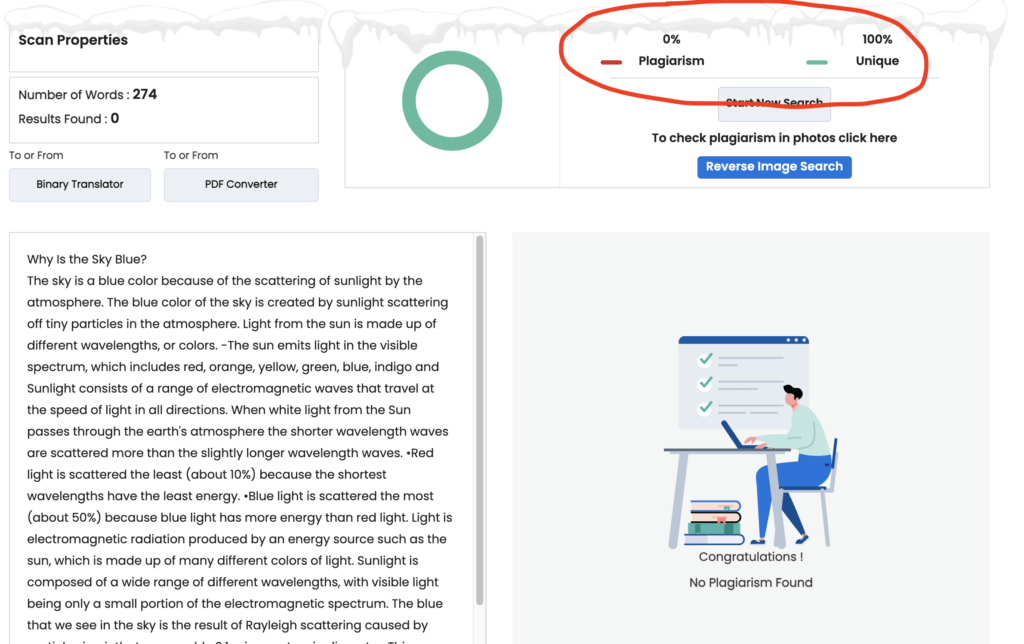 Next up, let's take a look at the pricing of Jenni.ai.
Pricing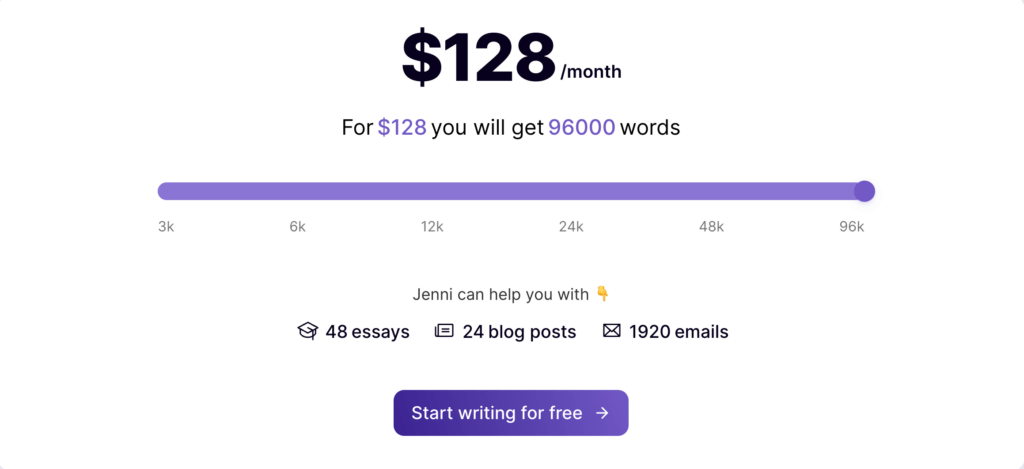 The pricing of Jenni.ai is simple. You can drag the word count slider on the pricing table to find the best plan for your use.
For example, if you want to be billed annually, there are 6 paid plans based on the number of words you want to generate:
3,000 words/mo for $6.00
6,000 words/mo for $12.00
12,000 words/mo for $21.00
24,000 words/mo for $39.00
48,000 words/mo for $71.00
96,000 words/mo for $128.00
What I Like about Jenni.ai
Jenni.ai is a simple and powerful AI writing tool in my eyes. It's easy to get started with and super easy to use.
Here are some things that I love about Jenni.
1. Simple
One thing that Jenni shines in is simplicity. From entering Jenni.ai's homepage to being a professional user of the tool literally takes a minute.
I mean look at it: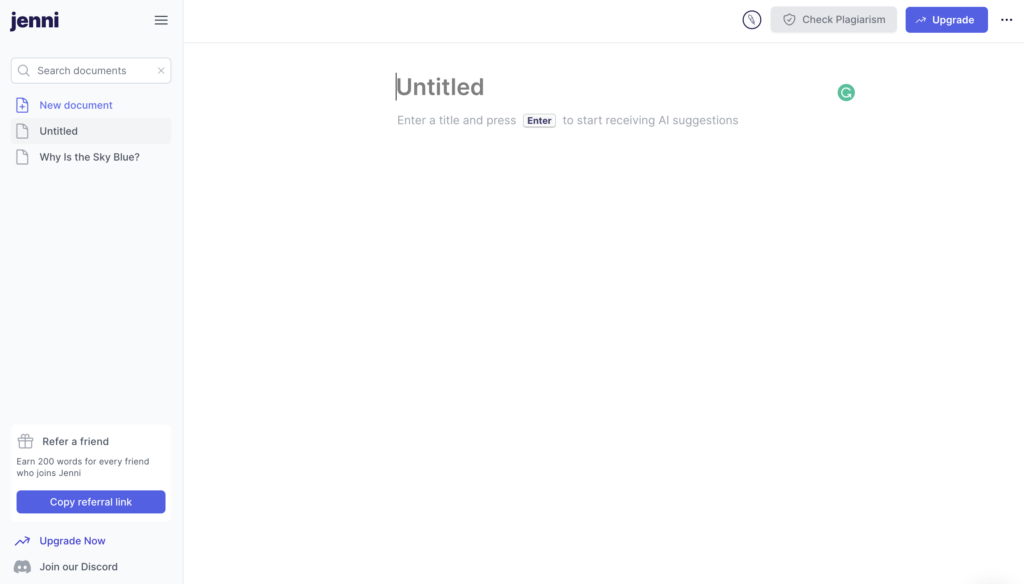 There are no bells and whistles but just a plain text editor with AI-writing capabilities that you can activate by pressing enter as you write.
This is as simple as it ever gets. Some other AI writing tools I have reviewed have so many options and templates that it's hard to focus on anything at first.
2. Free Trial
There's a great free trial for Jenni.ai with which you can easily make a decision about whether you want to pay for the tool or not.
3. Quick Content Generator
With Jenni, I was able to generate a ~300-word sample blog post in 60 seconds where normally it would take 10-20 minutes.
Besides, the content looks great and at least mostly accurate to me.
I can instantly tell that this tool might be a huge time saver for written tasks, such as blog posts, homework, or emails.
What I Dislike about Jenni.ai
1. Tricks/Limitations in Free Trial
I understand that Jenni.ai must make money and the free trial is limited, but I didn't really like some limitations.
For instance, you can't copy the generated content unless you're a paying member. So unless you take a screenshot and run it through an OCR, you can't really use the tool unless you pay for it.
As another critical limitation, the tool doesn't let you test the plagiarism checker before paying for it.
As a reviewer or new AI writing assistant user, I'd love to get a free trial that fully showcases the power of the tool. Other AI writing tools, like Jasper or CopyAI, offer much more comprehensive trials that allow you to test all the features.
2. Mistakes in Writing (applies to all tools, though)
This is not a Jenni-only thing, by the way, but it makes some mistakes as it writes.
The AI-generated content is good but not perfect. You need to be careful when using the tool!
This means you, the author, need to do the original research and fact-checks to actually provide value for your readers.
So even though the writing is probably 5-10 times faster with AI, the research phase is something you can't avoid and it always takes time.
But this depends on the use case too.
If you're writing a blog post or news article, the facts are super important.
On the other hand, if you're putting together a story, song, or perhaps even an email, facts might not matter that much which makes writing with AI super fast.
Nonetheless, Jenni.ai is an impressive application of natural language processing but it's by no means perfect. It can make writing quicker but fact-checking and error correction are still slow.
3. Very Limited Features
One of the main likes of Jenni.ai is its simplicity. But this is also a bit problematic. Besides the AI writing editor, there are really no other features in Jenni.
Other similar tools like Jasper or CopyAI offer a ton of templates, writing modes, and other cool and helpful features—yet the pricing is in the same ballpark as Jenni's.
Also, some tools offer an unlimited number of words to generate but in Jenni, this number is restricted to 96,000 words per month which would be very little for a writer like myself who writes 4,000-5,000 words a day without even touching AI.
Final Verdict
Jenni.ai is a great and simple showcase of the power of AI. It generates blog posts or other such written content pretty quickly with easy controls and simple UI.
But because of the lack of crucial features, such as templates or different writing modes, it's definitely not the best AI writing software out there.
I would definitely give Jenni a try because it's 100% free to test. But at the same time, I'd also try some other solution, such as Jasper.
Also, make sure to read a more comprehensive list of the best Jenni.ai alternatives.
Quick Guide to AI Writing
By the way, if you're new to AI-assisted writing, make sure to read this final chapter to learn some important aspects of it.
AI writing assistants are tools that use artificial intelligence algorithms to help people write more efficiently. AI writing tools like Jenni can perform a wide range of tasks, from simple grammar and spelling corrections to more advanced tasks such as summarization, translation, and even full-on content generation.
One of the main benefits of using an AI writing assistant is that it can help save time and effort.
For example, if you are working on a long document and want to check for errors or make sure that your writing is clear and concise, an AI writing assistant can quickly scan the text and make suggestions for improvements. This can be especially useful for writers who are working on tight deadlines or who have to produce a large volume of content on a regular basis.
AI writing assistants can also be useful for writers who are not native speakers of a language or who are working in a language that they are not completely fluent in.
In these cases, an AI writing assistant can help identify and correct grammatical errors, as well as suggest alternative word choices or phrases that may be more appropriate.
However, it is important to keep in mind that AI writing assistants like Jenni or Jasper are not a substitute for human writers.
While they can be useful for spotting errors and making suggestions for improvement, they do not have the same level of understanding and insight as a human writer. In addition, AI writing assistants may not always produce results that are completely accurate or appropriate, so it is important to use your own judgment and discretion when using these tools.
Thanks for reading! Happy writing!
Read Also