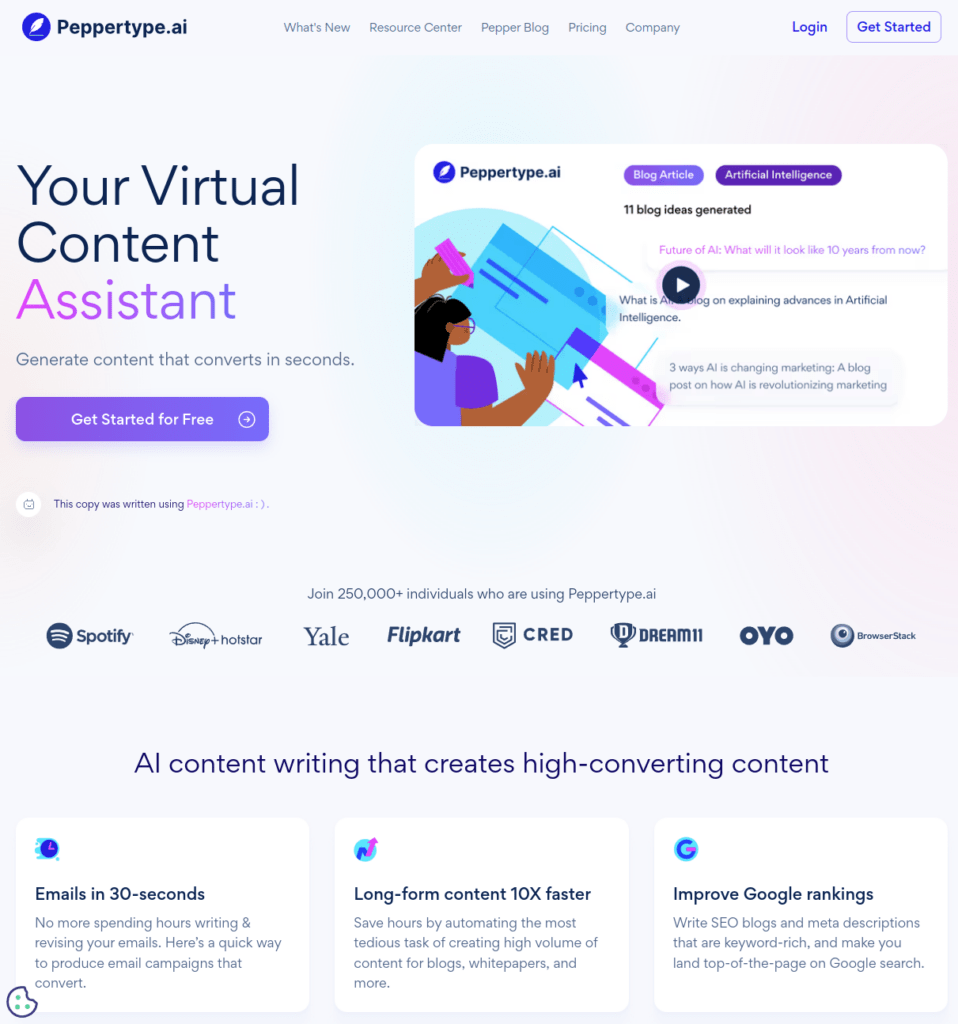 Peppertype is an AI writing tool that helps you write faster and be more creative.
It uses state-of-the-art AI algorithms to generate content from simple input. The generated content is unique and plagiarism-free. With Peppertype, you can generate long-form content 10 times faster than you would without it.
This is a comprehensive review of Peppertype.
I ran extensive tests on the tool so you don't have to. In this guide, you will learn what is Peppertype, how it performs, and how it compares to other popular AI Writing tools on the market.
💡 Make sure to read my comprehensive guide to the Best AI Writing Software.
Let's get started!
What Is Peppertype?
Peppertype.ai is an AI writing tool that uses artificial intelligence to help write faster.
It works by analyzing the text that you input and providing suggestions for alternative phrasing and wording to improve the overall quality and clarity of your writing.
Peppertype asks you to spend a couple of seconds to give it some input and it takes care of the rest.
One of the main benefits of using a tool like Peppertype.ai is that it can help you write more efficiently.
Providing suggestions for alternative phrasing and wording can help you avoid writer's block and find the right words faster. This can be especially useful for those who struggle with writing or who need to produce a lot of content in a short amount of time.
The main idea of this review is to test how good a job Peppertype really does.
Getting Started with PepperType
Getting started with Peppertype is simple. This is because there's a free trial you can start using right off the bat.
All you need to do is head over to Peppertype's homepage and create a free account. You don't even need to enter your credit card details to start using the tool.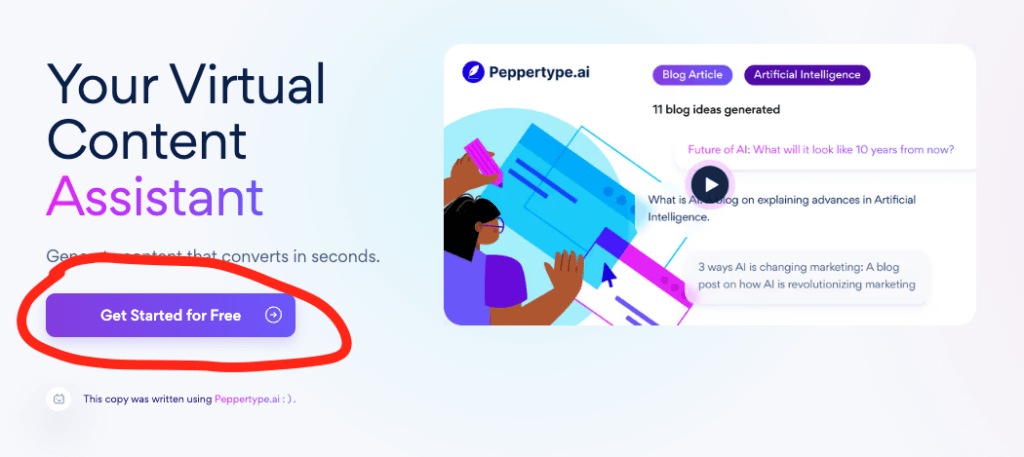 Now, let me share my experience with Peppertype.
My Experience with Peppertype
After creating an account with Peppertype, you'll land in the home view with all sorts of writing generator options.
Here's what the Peppertype dashboard looks like for me: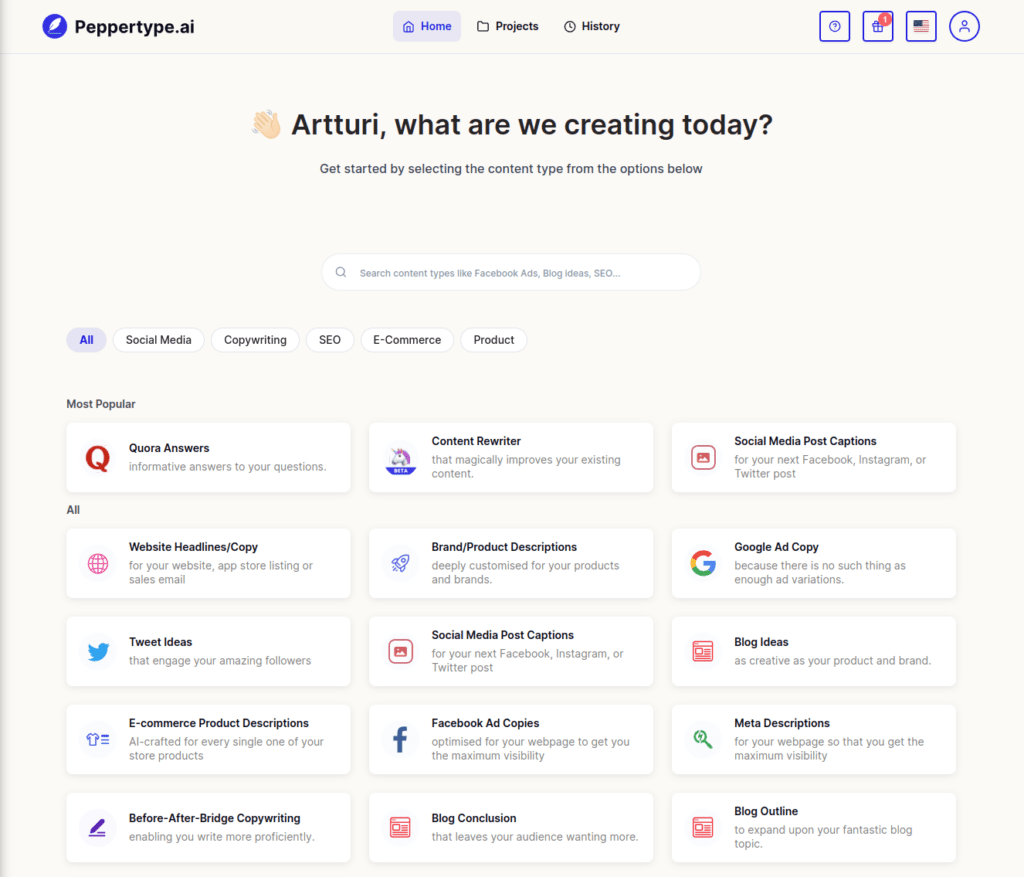 As you can tell, there are so many features and templates to choose from.
For this particular review, I'll review some of the most popular features as well as those I find useful as a blogger. That is to say, I'm not going to waste your time going through every bell and whistle but the most impactful stuff instead.
1. Quora Answers
One of the popular features of Peppertype is the Quora Answers generator.
I'm sure you're familiar with the Quora forums but in case you're not, it's a popular blog/forum where you can ask about anything.
Nevertheless, here I'm creating a new question about Why is Sky Blue: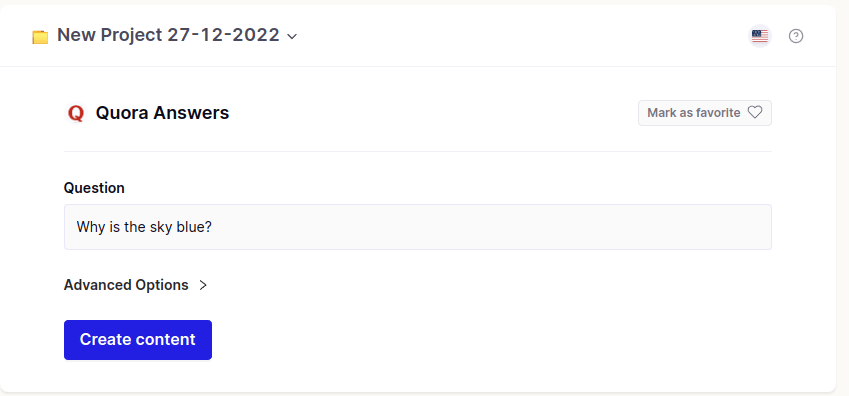 Here are the result outcomes: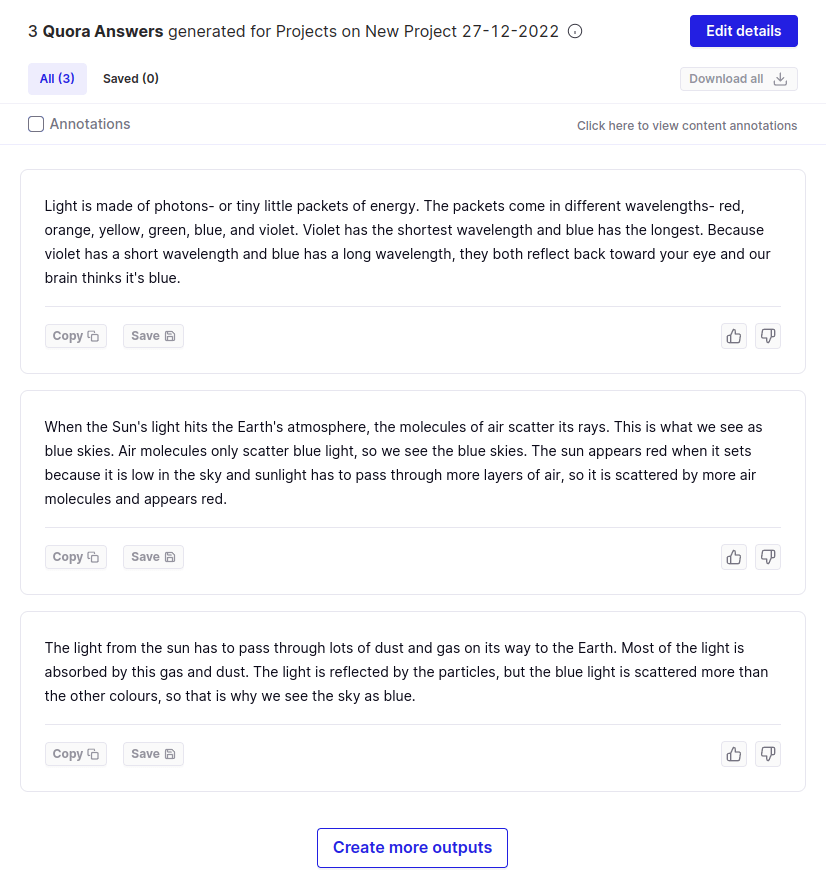 To me, these look like valid Quora answers which is impressive! Also, there are 3 options to choose from, so in case I don't like one, I can go with another.
But the problem is that the 1st answer is wrong and makes no sense. Yet it looks convincing and good…
Out of these three answers, the second one is closest to the truth, but it's still a bit unclear and doesn't really explain the phenomenon in a way that one could clearly understand. And we're not talking about rocket science here but some basic elementary school physics.
As a result, I'd definitely post none of these to Quora!
But is this a problem?
These AI tools are meant to be used as assistants instead of autopilots. These answers can give some direction and be very accurate. But most of the time you still need to do iteration, corrections, fact-checking, and more to get the job done.
This is a problem AI writing tools still have.
The source of truth is not defined in the language model and the algorithms know nothing about the topic.
They just predict answers based on the data fed into them. Usually, the predictions are correct or close to correct, but not always.
The less information there is about a topic, the higher the chance of AI missing it.
2. Content Rewriter
As the next test, let's rewrite a section with the Peppertype Content Rewriter feature.
For example, let's feed a section from this very blog post to Peppertype: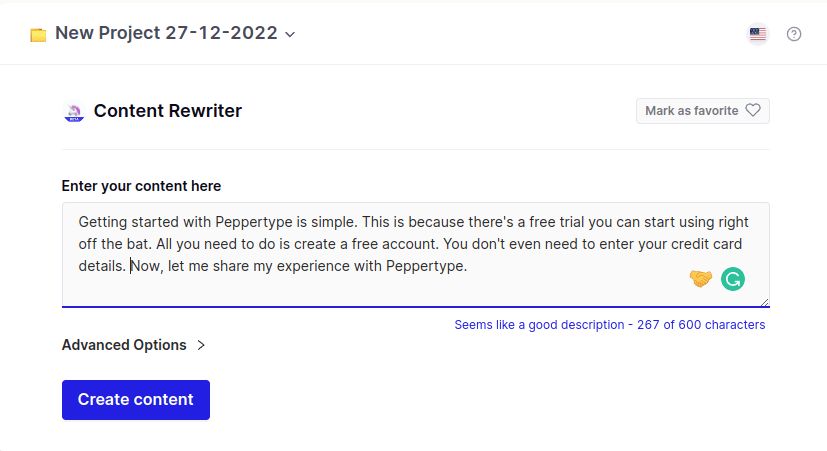 Here's the re-written result it produces: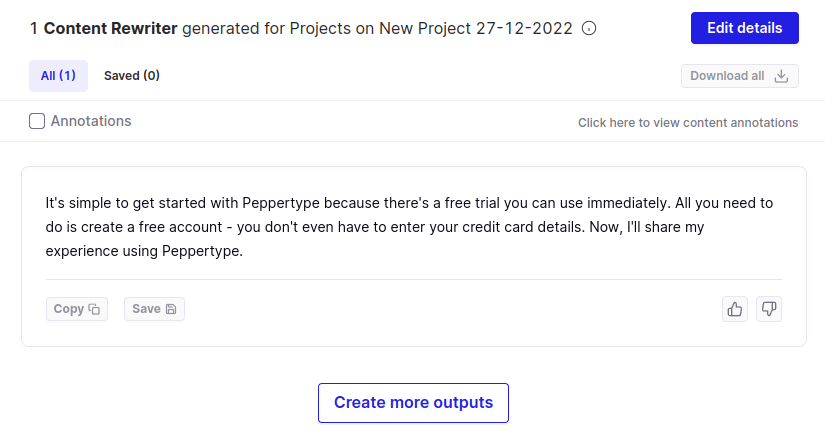 Pretty cool, isn't it?
I really like the newly formatted section and could just as well use it in this blog post. This feature can be useful if you are unhappy with a piece of text you (or the AI) just generated. The rewrite can add a nice final touch or choose better wording.
This is definitely a 5/5 feature!
Even though as a blogger it might be tempting to use this feature to spin other bloggers' content, please don't do it.

The only way to rank high is by providing something unique and valuable for the readers. Spinning content won't get you far.
3. Social Media Post Captions
One of the great features of Peppertype is the ability to generate short-form content, such as social media captions.
For example, let's caption a social media post from Ibiza: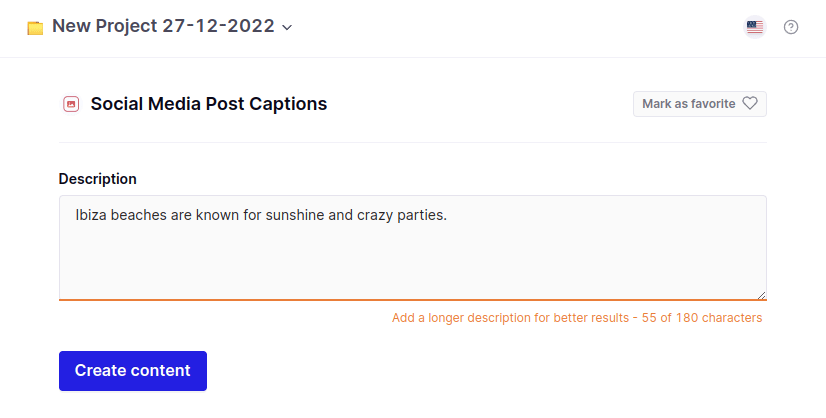 Here are the outputs. There are a whole bunch of suggestions as to what could be the caption of my social media post: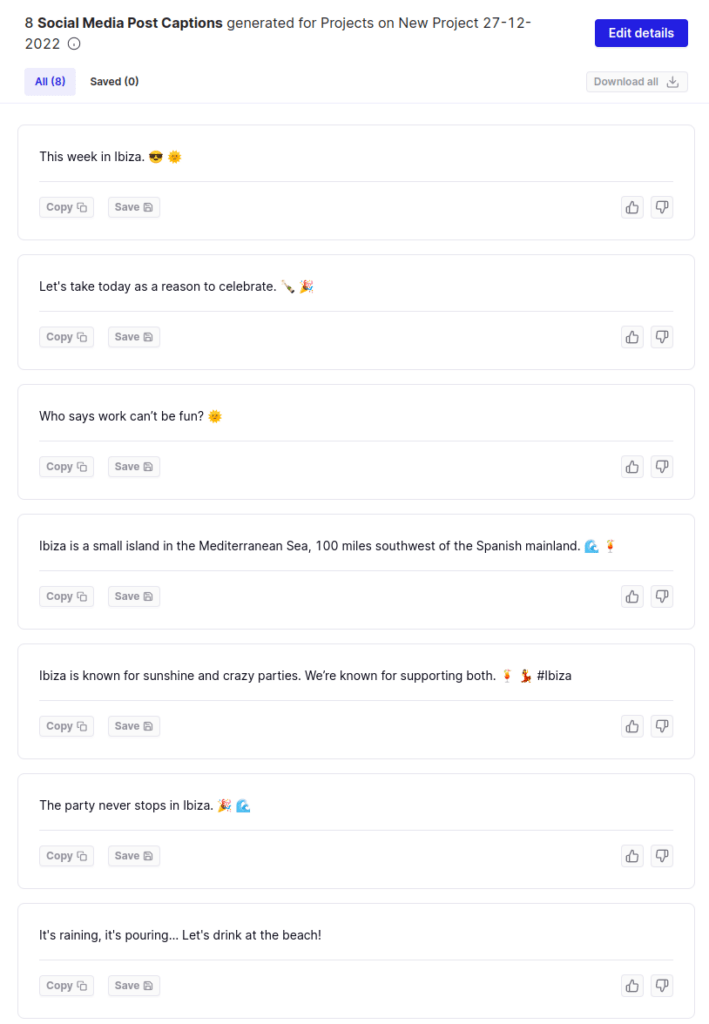 I like these. These are creative and look like something I could post on social media if I used one actively.
Of course, this is not rocket science and if you've used social media actively, you could probably come up with these much quicker yourself. But if you're new to the social media game or if you're just lazy, you can use AI.
Once again, a 5/5 feature in my eyes!
4. Blogging Features in Peppertype
Last but not least, let's take a more in-depth look at the blogging capabilities of Peppertype.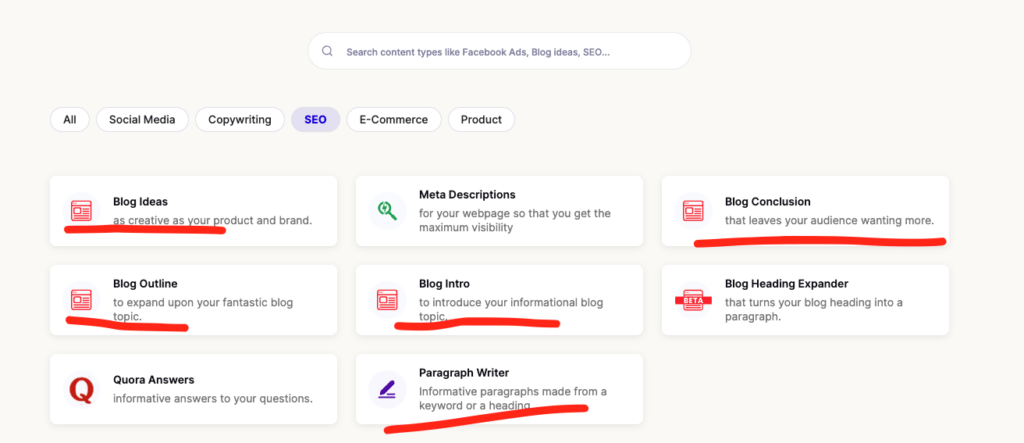 Every blog post begins with a concept that the writer wants to share with the audience. This could be based on personal experience, current events, a problem the writer wants to solve, or simply a topic that the writer is passionate about.
Once the writer has identified an idea, they will do research to gather more information and create an outline for their post.
From there, they will begin to write and organize their thoughts into cohesive and well-written pieces of content.
The final step in the process is to review and edit the post to ensure that it is clear, concise, and free of errors.
There are lots of parts here where AI could help us. Let's see how Peppertype helps us create a blog post.
4.1. Blog Ideas
I want to write a blog post for a Photo editor called Jasmin. But I have no idea what are some good topics.
Let's ask Peppertype.
To do this, all I need to do is tell what the product is and add a short description.
For example: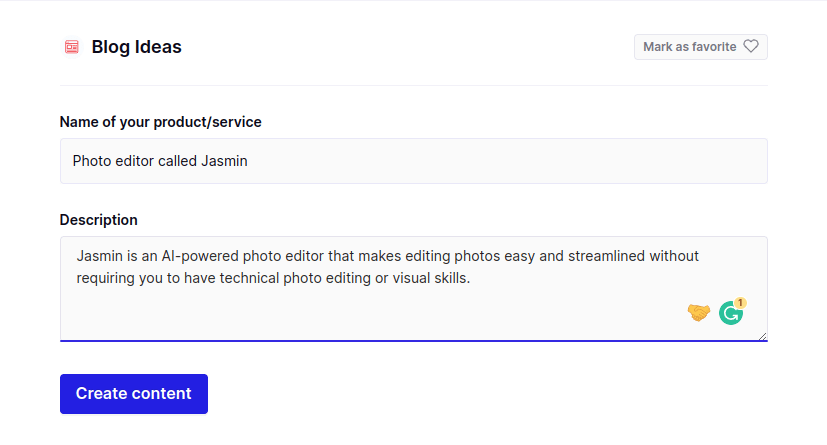 Here's a bunch of results that Peppertype generated in a matter of seconds: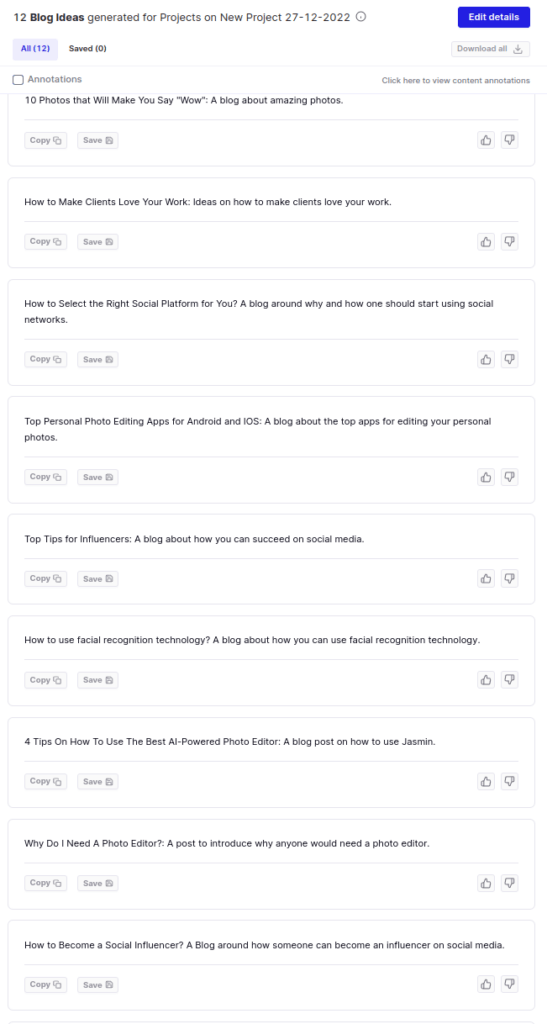 To me, pretty much all of these suggested topics seem like a good fit. I'll actually choose one of these and continue working on it in the next sections.
4.2. Blog Outline
Now that the blog post idea is there, let's generate an outline for it. I'm choosing one of the topics that Peppertype suggested in the previous section and ask for an outline: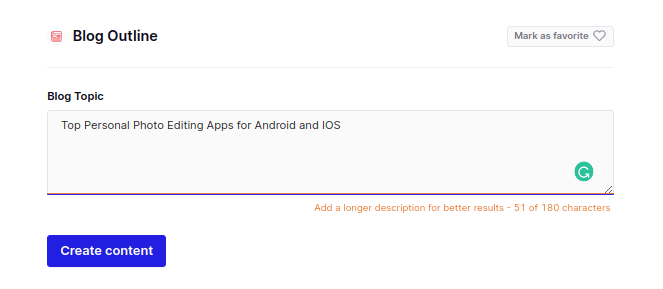 Here are the generated outlines: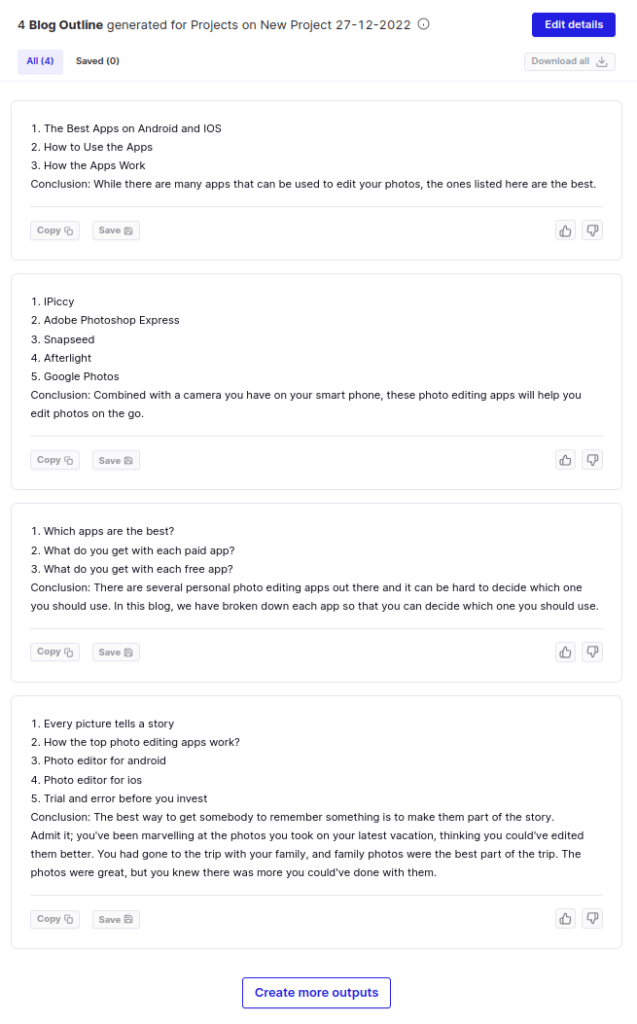 Once again, by a quick look, these look great and something I could use (with slight modifications, though).
To be fair, these talking points that the AI came up with are not set in stone. You can remove, rearrange, or even add new ones.
4.3. Blog Intro
Now that the outline and idea are set, let's create an intro chapter for our article: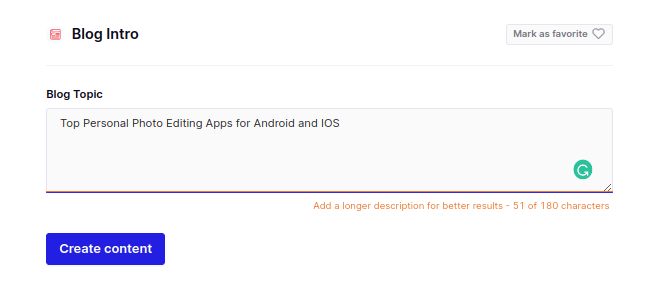 Once again, Peppertype comes up with more than one suggestion to make sure one of them meets the eye.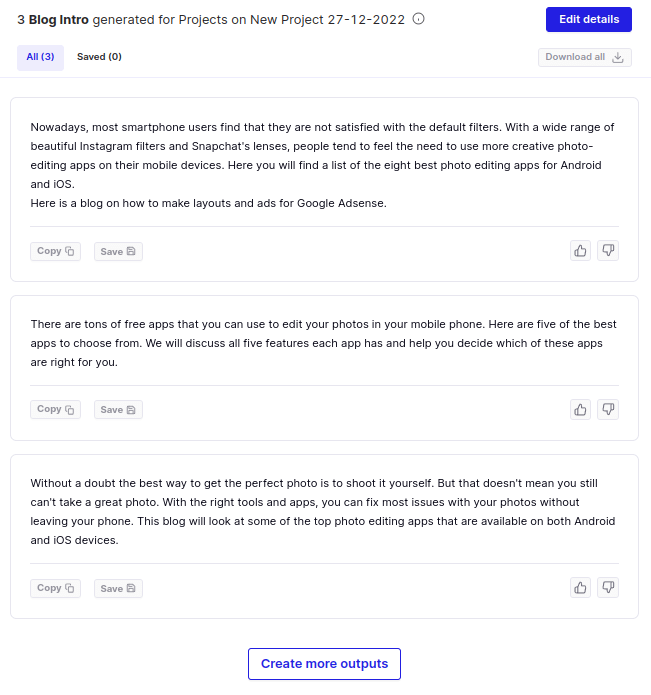 Notice that if none of these look good, you can edit the input or create more by using the button below.
Anyway, to me these intros look good or decent, at least. Really useful for someone who has no idea how to start a post.
But once again, you should fact-check/edit/come up with something more to add to these to make them complete.
4.4. Paragraph Writer
With the intro in place, let's try writing out one section of our blog post with Peppertype:

This time the tool automatically generated just one paragraph not to waste credits and time.
Here's the output: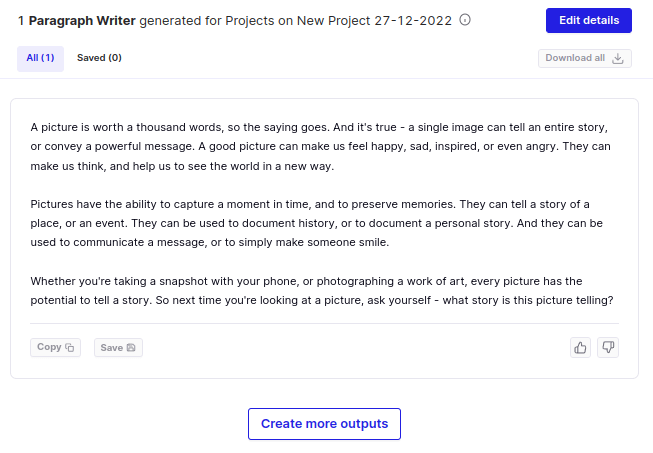 If you're unsatisfied, you can either edit the section, generate more paragraphs, or edit the input.
The above paragraph looks decent. I actually might use it as if I was writing about that topic.
Notice, however, that this paragraph is just generic jargon that's been regurgitated millions of times over the internet. It doesn't really add anything new to the table. As a content creator, adding value is in your hands. AI can't do that (yet).
To me, a paragraph generator like this works decently, but as a writer, I still have to do the work to bring in uniqueness and add value to the readers. So this is not a big time saver for me.
4.5. Blog Conclusion
Now we've been assisted by AI in every step of our blog post workflow. Last but not least, it's time to see how Peppertype comes up with a conclusion.
For example, let's add a summary to the same blog post I've been using throughout these examples: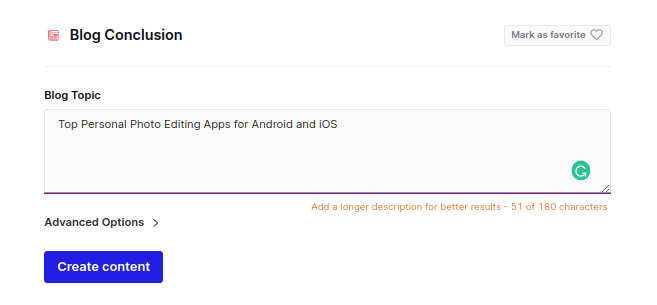 This time, Peppertype generated four options for a concluding paragraph: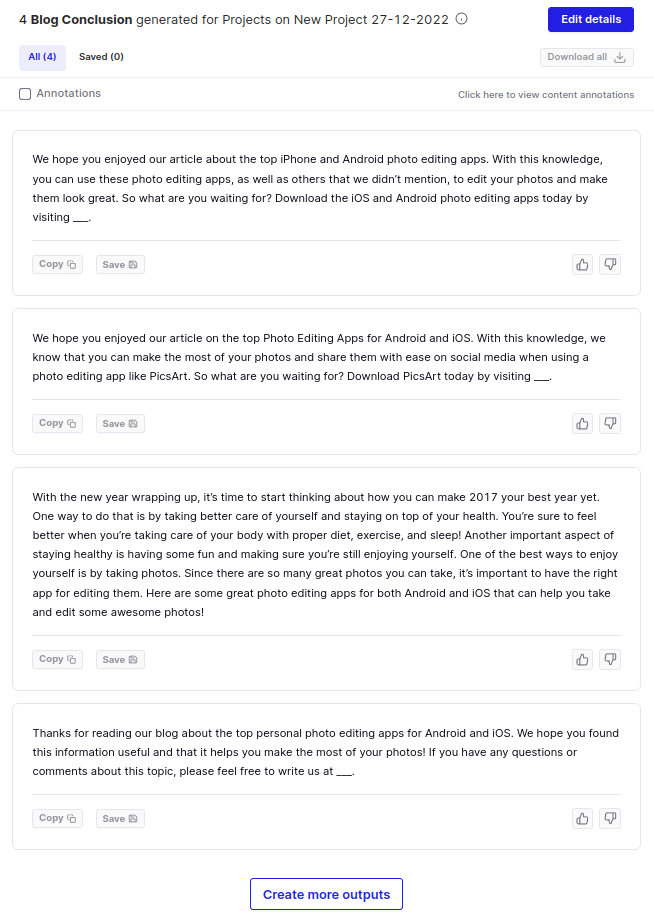 These look good considering the fact that the AI can't read the post (or my thoughts). But this paragraph is again generic jargon. Also, one variant mentions that 2017 is in the future which in reality was years ago…
Overall, these blogging features of Peppertype are a 4/5 for me.
You can overcome writer's block and come up with ideas much more quickly. But bringing value is in your hands. You still need to write a lot and do the work.
Pricing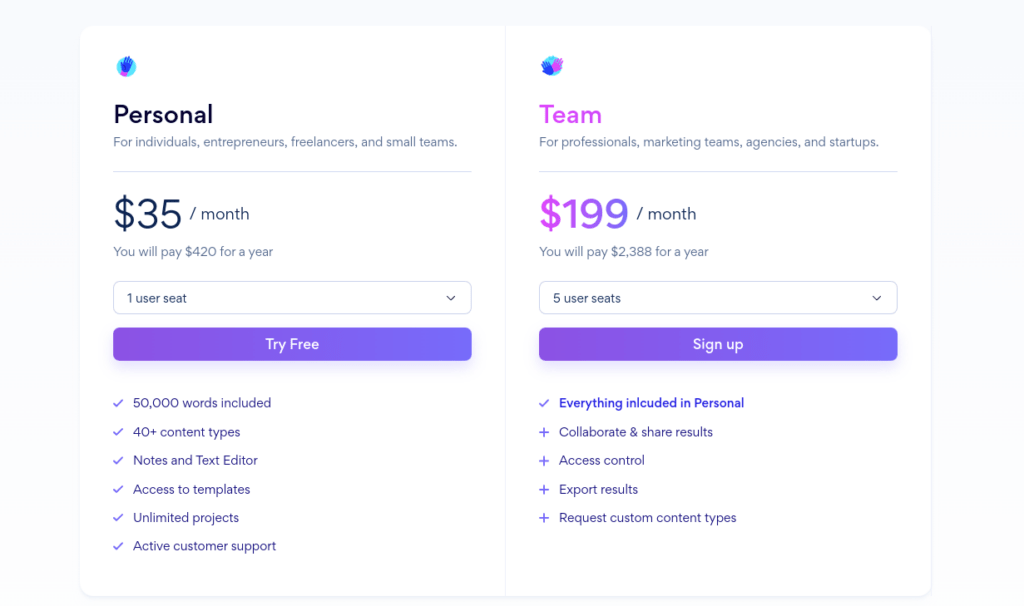 Peppertype has a simple pricing model with a Personal plan and a Team plan.
Personal plan with 1 user seat is $35/mo
Team plan with 5 user seats is $199/mo
Notice that the word limit is 50,000 words per month!
What I Like about Peppertype?
1. Free Trial
I always like it when the AI writing tools have a free trial.
This gives me the impression that the company in question doesn't want to charge me for something I might not find useful. Furthermore, it makes me think the company trusts its software so much that they're willing to give free trials.
In Peppertype, there's a free trial you can use to try all the key features and use cases. It doesn't even ask you to enter credit card details but just to sign up.
2. Versatile Features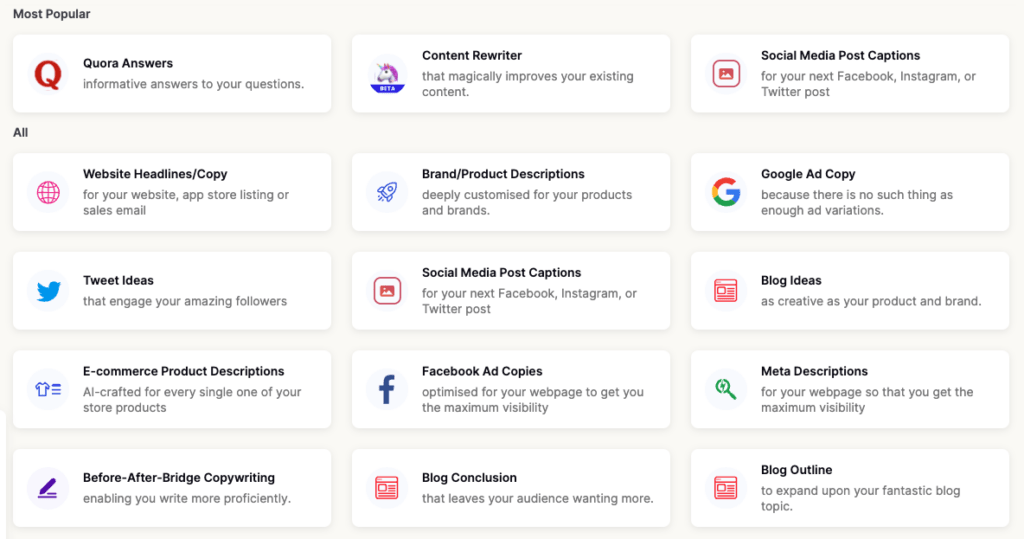 As you already saw in this review, there are tons of templates and features you might find useful. If I was you, I'd sign up for a free trial and experiment with as many of these features as the trial can hold. This way you can find the best features for your use cases.
Nonetheless, feature-rich AI writing software makes it easier to use. You can easily tell what you can do with the tool without having to come up with the use cases yourself.
In Peppertype, the features vary from blog posts to ads, to social media posts. There's something for anyone, for sure!
3. Makes Life Easier
Based on my extensive testing, Peppertype can help you overcome writer's block by giving a unique perspective to your writing. It can come up with topics, outlines, post ideas, and much more.
If you're in a hurry, have a blank page syndrome, or are looking to answer a tricky question, Peppertype's AI can help for sure. The AI gives you ideas and guidance as to what you could write about.
Just remember to treat the AI as an assistant, not as an autopilot!
What I Dislike about Peppertype?
1. Requires Human Intervention
Peppertype is not an autopilot. It makes mistakes and sometimes generates nonsense content that looks convincing but simply isn't of high enough quality.
This means you can't really use AI as much as you might imagine.
You might think that Peppertype makes writing 5-10 times faster. Perhaps it even can, but writing is the easy part of content creation. The research, visuals, and providing value are what really counts. This is the hard work you simply need to do—no AI can do it (at least not yet).
That being said, when generating something like song lyrics, poems, and social posts, facts might not matter. In these cases, the AI can truly boost your efficiency because you can use the AI-generated parts as is.
This downside was clearly present in the examples I generated with Peppertype.
The blog post-generating capabilities are limited to creating very generic and basic content. On the other hand, the social media post captions looked nice and I could use them as is.
2. Too Many Features?
One might say there are too many features in Peppertype—especially if using the tool for the first time.
I must say that I love the fact that there are many templates and features to choose from because it helped me identify the use cases for the tool.
But as a new user, having 100s of features might be a bit overwhelming. Especially with AI writing tools, the number of features might not need to be that high—you can describe what you want to do instead of using a template and the AI will still carry the task out nicely.
3. Price/Limitations
I think the pricing of Peppertype is fair, but the 50,000 words per month limit is a bit tidy.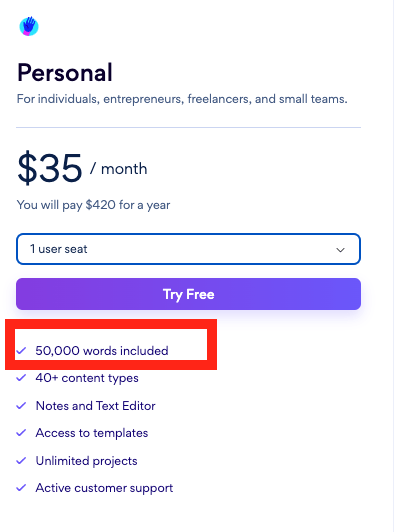 If you write social media posts or other types of short-form content, 50,000 words are more than enough. But if you're looking to create long and detailed blog posts, 50,000 words is very little. I write that in 2 weeks without touching AI.
Also, keep in mind that most of the words you generate are going to waste anyways. This is either due to the low quality or because you generate multiple variants. By a gut feeling, I'd estimate that out of those 50,000 generated words perhaps 5,000 would actually go into use.
So as a blogger, you'd pay $35/mo for 1-2 entire blog posts of content. For some, that's a great deal. For others, it's very limited.
Final Verdict
Peppertype is a useful and easy-to-use AI writing software. It has a whole bunch of text-generating templates and options to choose from.
Peppertype can help generate content ideas, social posts, blog posts, ad descriptions, and more. With Peppertype, you will never write alone again. Besides, your content is original and unique—the AI doesn't steal content but uses AI to generate it.
Thanks to the free trial, you can explore the main features of the software. Besides, the tool is easy to get started with and I'm sure you'll get the hang of it in minutes.
All in all, Peppertype helps you write faster but you can't fully rely on it. Double-check the content, do research, and explore!
Thanks for reading. Happy writing!
Read Also