Choosing the right text-to-image generator is important to create outstanding art, designs, or illustrations with no experience. This can be useful in websites, portfolios, blog posts, ads, and much more.
With the latest advancements in AI, it's possible to generate images from text in a matter of seconds. All you need to do is use your imagination in coming up with a prompt and let the AI take care of the rest.
This is a comprehensive guide to choosing the best AI text-to-image generator. I've tested and reviewed each tool on this list. In each review, I show you what kind of results each AI image generator produced. Besides, I assess the quality of the images and give you some tips too!
Make sure to read the updated and even more complete guide to choosing the best AI art generators.
This article is supported by readers. If you make a purchase through the links below, I might earn a small commission at no cost to you!
What Are We Looking at in This Guide?
This is a comprehensive guide to choosing the best AI text-to-image generator. In each review, I show you example use of the tools and assess the results. If you want to skip to the review of a particular tool, feel free to use the links below.
Anyway, let's jump into it!
Best Overall Text-to-Image Generator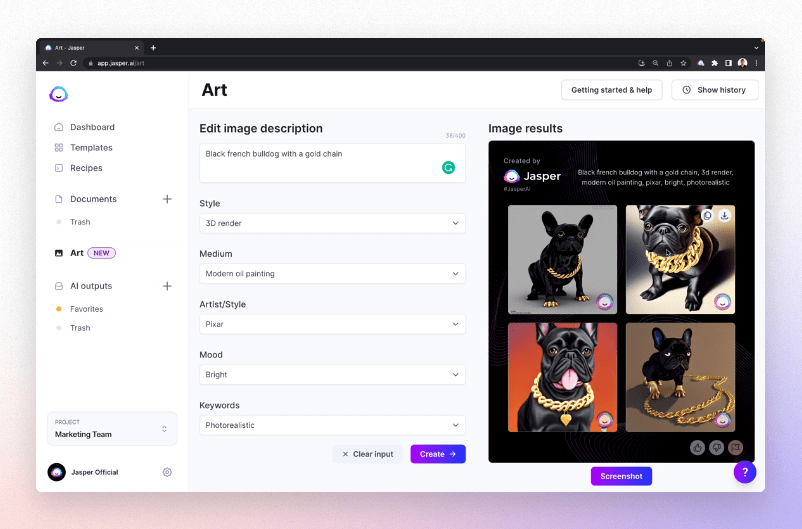 Jasper Art is the best overall AI text-to-image generator. This tool uses the latest advancements in AI to produce unique and great-looking images based on single text input.
To try the tool, you need to create a small text input that can be anything, such as a "rocket man jumping on Mars". The tool uses AI to convert this prompt to an image. Whether the image is photo-realistic, cartoonish, or painting-like, depends on your input. You can give it anything from 3D renders to acrylic paintings.
Jasper Art has some great built-in presets you can use. This means you don't even have to come up with the prompts, style, artist names, or such yourself. You can let the tool randomly generate amazing images for you.
The only real negative of this tool as opposed to other tools on this list is that Jasper Art doesn't have a free trial (although there is a money-back guarantee). This means you have to subscribe to a paid plan for using it straight away.
My Experience with Jasper Art
I tried Jasper Art and generated some AI-powered images with it. Because there is no free trial, I had to sign up to use the tool. But this process took no more than 30 seconds to complete.
Once I subscribed to a plan, I started messing with the tool.
Here is an example image I created using the prompt "Man walking on the moon in a thunderstorm":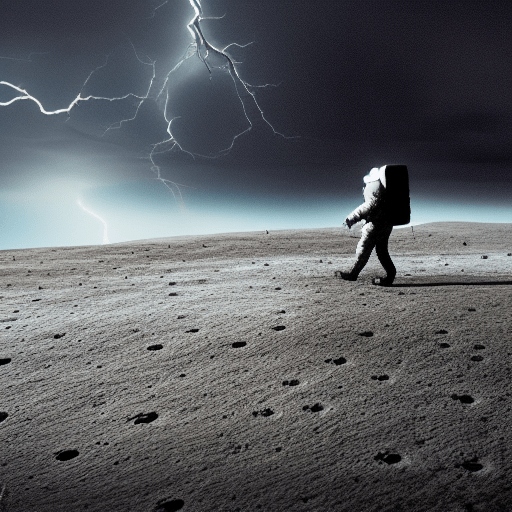 To illustrate how you can change the style, look at another creation I made. This time I wanted Jasper to generate an oil painting where a man walks on the moon in a thunderstorm. Here is the result: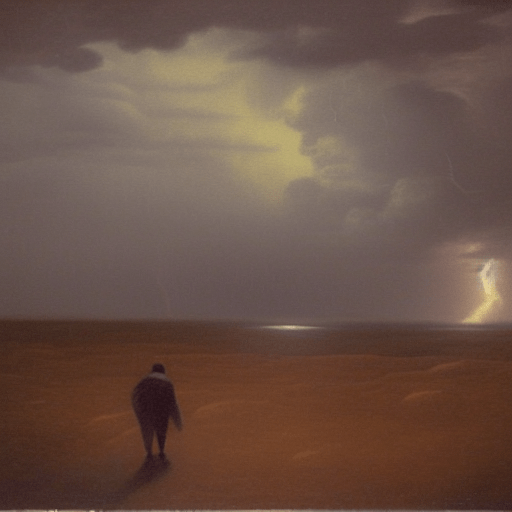 As you can tell, the result looks like a painting instead of a photo-realistic image. This highlights the power of the software. You can literally make it draw anything in any style. All you need is 15 seconds of spare time and a creative text from your deepest imagination.
Notice that there is a filter for generating illegal content! So don't even bother.
Key Features
Uses the latest advancements in AI to produce unique and original images from text
A big library of generated images you can take inspiration from
Lots of presets, such as style, era, mood, and such
Money-back guarantee
AI writing capabilities for automated content creation (make sure to read Jasper AI review)
Pricing
Jasper Art costs $20/month. At the time of writing, there is no free trial available. You can use my examples above to assess whether you want to try the tool or not 🙂
Best Free Trial and Exploration
Get a 5% discount by signing up using this link.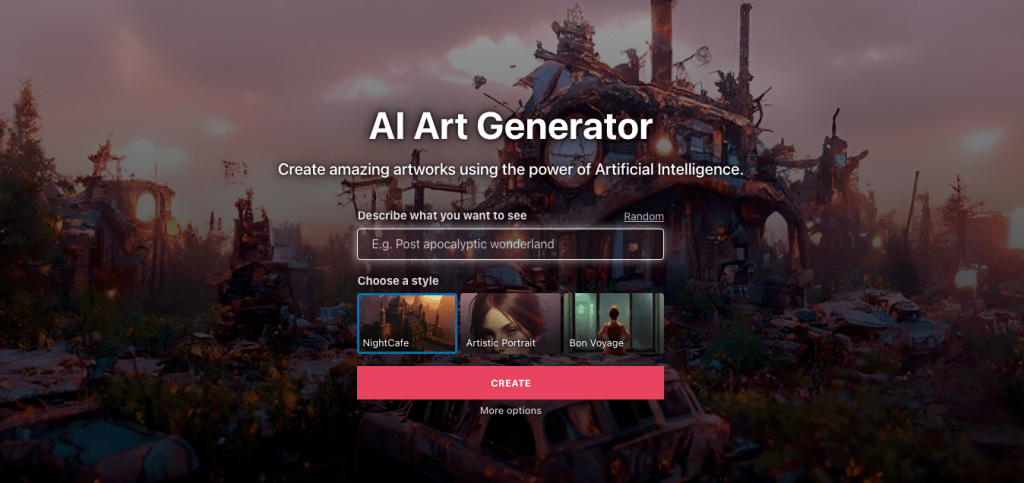 NightCafe is another awesome AI art generator. It's among the most popular AI art generators at the moment, and it's said this tool has more algorithms and capabilities than most other similar tools.
To use NightCafe, you don't need any artistic skills. The tool is easy to use. All you need to do is give it a text input and it will give you a stunning image back.
Unlike Jasper, NightCafe has a free trial! This is one thing I love about NightCafe—you don't have to pay for it before you're assured it's of high enough quality.
Here is a short description of the workflow of NightCafe as a first-time user:
Head over to the NightCafe website.
Come up with a description of an image you'd like to get.
Wait for 15-30 seconds.
Preview, download and enjoy the result.
One of the great features I like about NightCafe is the ability to evolve your creation. In other words, you can choose an image you like and change its size, colors, and other content to improve the image.
When you've used a couple of free image generations, you can either choose to purchase credits or a monthly subscription to continue generating images.
Before digging into the features and pricing, let's take a look at the results I was able to achieve with the NightCafe text-to-image generator.
My Experience with Night Cafe
NightCafe is super easy to use.
You can try the tool for free without signing up or entering your card details. The landing page is the AI text-to-image generator where you can just describe what you want to see.
Here is an example of an image I just generated using the prompt "Northern lights over Finland in the countryside":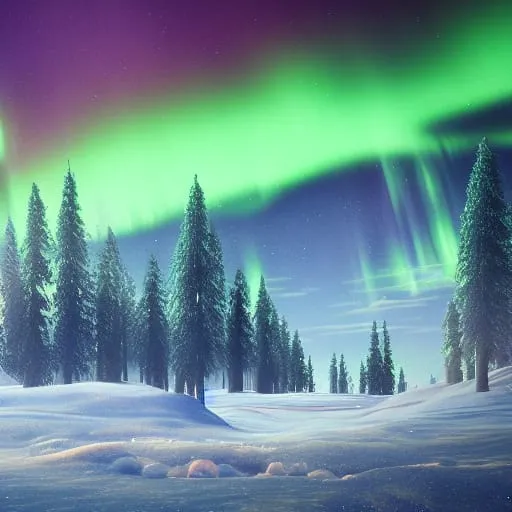 As you can tell, the result is pretty impressive. It looks like a painting of high quality.
By the way, you can design the inputs in such a way that the art style changes. For example, you can generate photorealistic images, paintings, cartoon-like images, and such.
Here is another acrylic painting of the northern lights I just generated with the tool.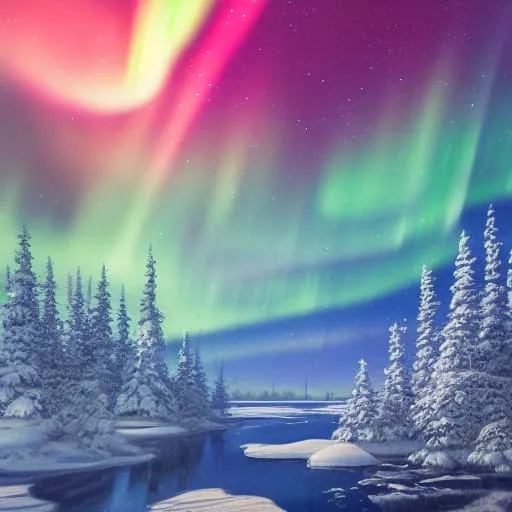 Now you might notice that the quality isn't quite there. This is because the generated images are 512×512 by default. But you can always use the tool to upscale the images to 2x or 4x bigger sizes, for example. This makes the images look great on bigger screens too.
For instance, here is a 2x version of the above image.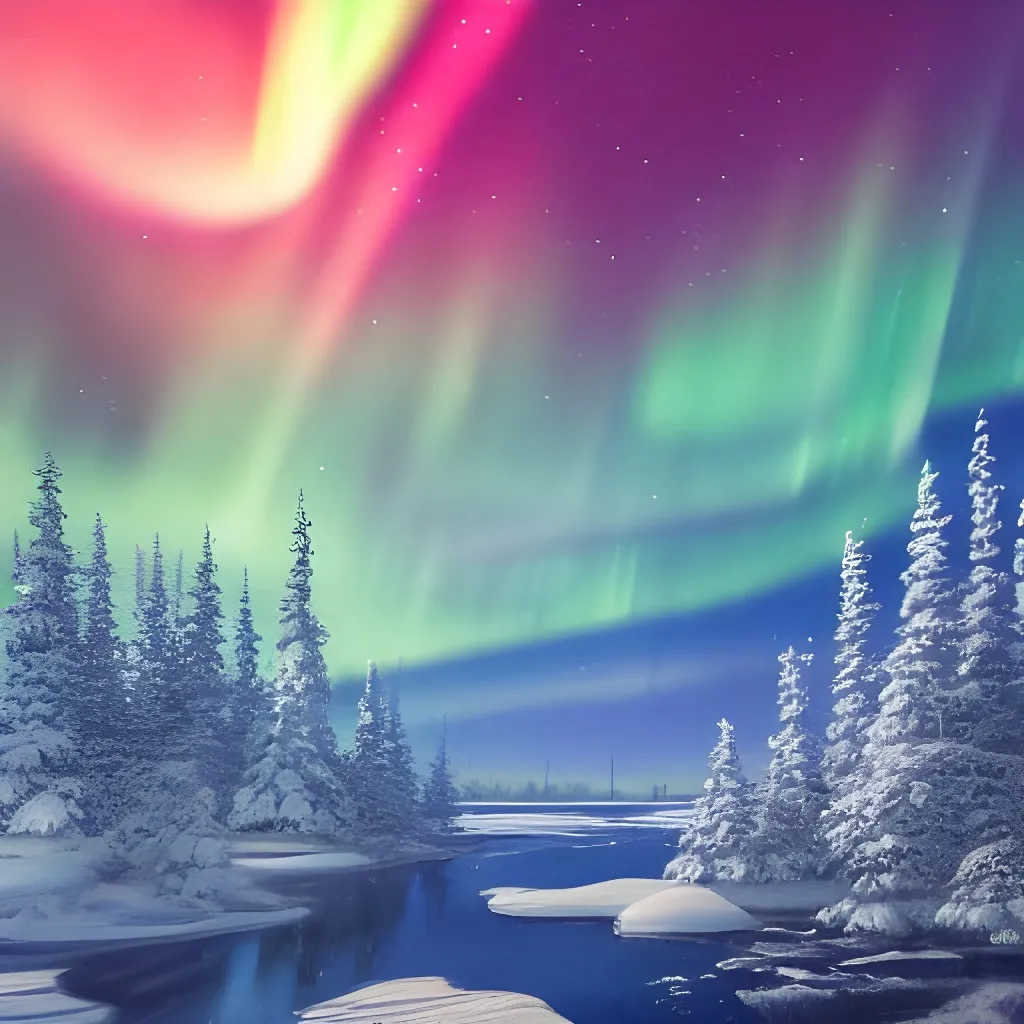 For the record, I could never produce such a beautiful piece of art. That's why I find this so impressive and I think it has future potential.
Key Features
Here are some of the most notable features of NightCafe:
100% ownership of the art you have generated.
A free trial for generating 10 images.
A bunch of AI algorithms that other text-to-image generators don't have.
Full control for advanced usage.
Helpful community and social sharing features.
Purchase a cool printed version of the image you've generated.
Video generating capabilities for producing AI-based video content.
Pricing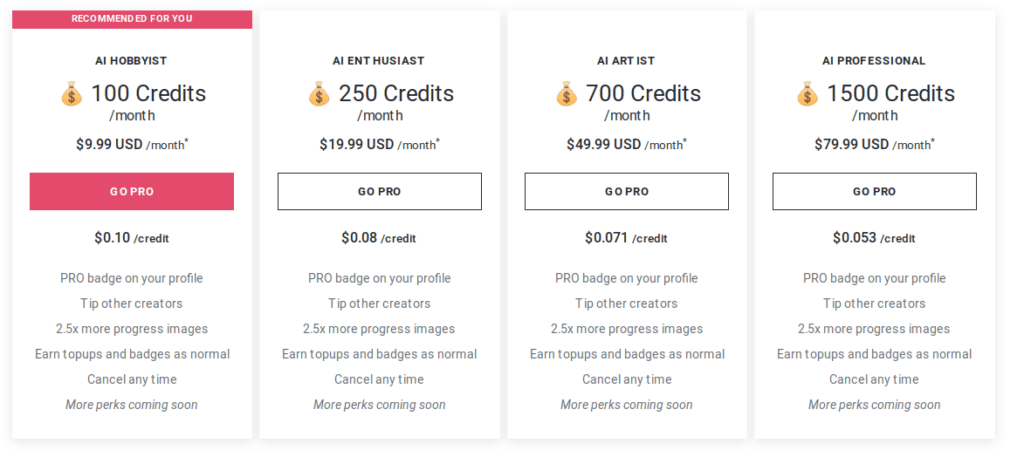 There is a 100% free no-signup trial to NightCafe!
When you've exhausted the free trial, you can continue generating images from text with credits. You can either purchase individual credits or subscribe to a monthly credit plan as follows:
AI Hobbyist: $9.99/month for 100 credits/month
AI Enthusiast: $19.99/month for 250 credits/month
AI Artist: $49.99/month for 700 credits/month
AI Professional: $79.99/month for 1500 credits/month
Get a 5% discount using my promo code CODINGEM.
3. MidJourney
Best for Photorealistic Images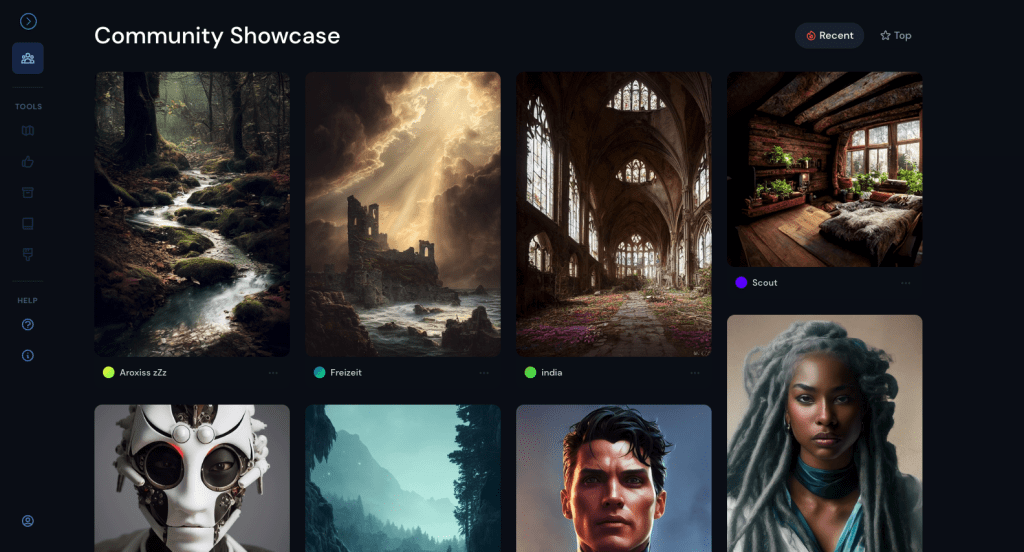 MidJourney is a unique text-to-image generator on this list. Unlike most of the other image generators, MidJourney doesn't rely on Stable Diffusion technology. This makes the outcomes of the generated images look pretty different from most of the tools on this list.
I find MidJourney to be the best AI text-to-image image generator with which you can generate photorealistic images.
Also, at the time of writing, MidJourney has a unique use. To use MidJourney, you need to be part of their Discord chat and use the Discord bots to generate images.
Even though MidJourney has an official website, there is no online trial. To use MidJourney, you need to join their community. But that's easy. All you need to do is have a Discord account and join the server via MidJourney's website.
Let's take a look at how you can generate images with MidJourney and what kind of results you can expect.
My Experience with Night Cafe
MidJourney isn't publicly available at the time of writing. But it's accessible with relative ease. You can join the beta version on their website by clicking "Join the beta". It's a Discord invitation.
If you don't have a Discord account, go create one!
The MidJourney beta is hosted on a Discord server. As a free user, you get 25 credits free with which you can generate images from text. This means you can generate 25 sets of images where each set has 4 different outcomes.
To generate an image, open up the MidJourney Discord channel and choose one of the "newbie" channels. Then send a message that starts with /imagine followed by the text input.
For example, here are images I generated by sending "/imagine A man walking on the moon during a thunderstorm".
These generations look pretty impressive, yet quite abstract, don't they? Also, I think the look is really unique when compared to the other tools mentioned on this list.
If you want to generate photorealistic images, you will need to tell that in the input you send! With this, the MidJourney AI knows you aren't looking for artistic paintings but realistic images instead.
I recommend checking what others have created with MidJourney. You can get some ideas for your prompts as well as see some fantastic AI-generated art. For example, check this generation out.
Key Features
Works on a Discord server through Discord bots.
Free trial of 25 image generations from text inputs.
The Beta version is accessible to anyone with Discord.
A huge community and millions of inspirational images and prompts.
Pricing
MidJourney has a free limited trial of 25 image generations. Besides, you have some options to buy a full membership.
The specific price is not disclosed but you can find more information about the membership from the MidJourney community on Discord or on their website.
4. Stable Diffusion
Best Free Solution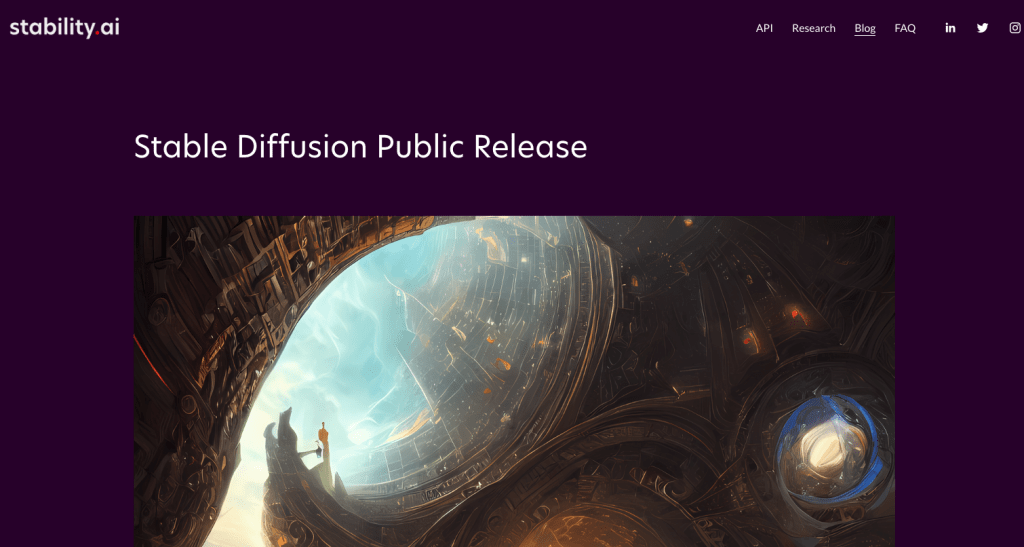 Stable Diffusion is the go-to image-generation model for most of the tools on this list (and most AI art generators in general).
Stable Diffusion is not a tool per se, but an image generation model. It's essentially an algorithm that maps your text to an image.
Stable Diffusion is open-source and free to use. It's relatively easy for developers to create web apps on top of this technology.
For example on this list, tools like Jasper, NightCafe, and Photosonic use Stable Diffusion behind the scenes.
But the reason why it's practically not free for you is because of the computational power you need.
If you possess some technical skills, have some spare time, and own a powerful GPU, you can set up the stable diffusion to run locally. This way you can use the model for free.
But for most of us, this is not the ideal way to interact with Stable Diffusion.
Instead, you can try to find free demo versions on the internet (with some limitations of course). Then you can also subscribe to one of the paid plans in Jasper or NightCafe for more seamless use.
I know, you're probably a bit confused right now, but I think it's fair to share the name of the technology most AI text-to-image generators use.
Let's take a look at my interaction with one of the free Stable Diffusion demos.
My Experience with Stable Diffusion
There are lots of demo versions of Stable Diffusion on the internet. For example, the one made by HuggingFace is the one I used.
I entered the tool with the prompt "Thunderstorm midnight over a big city".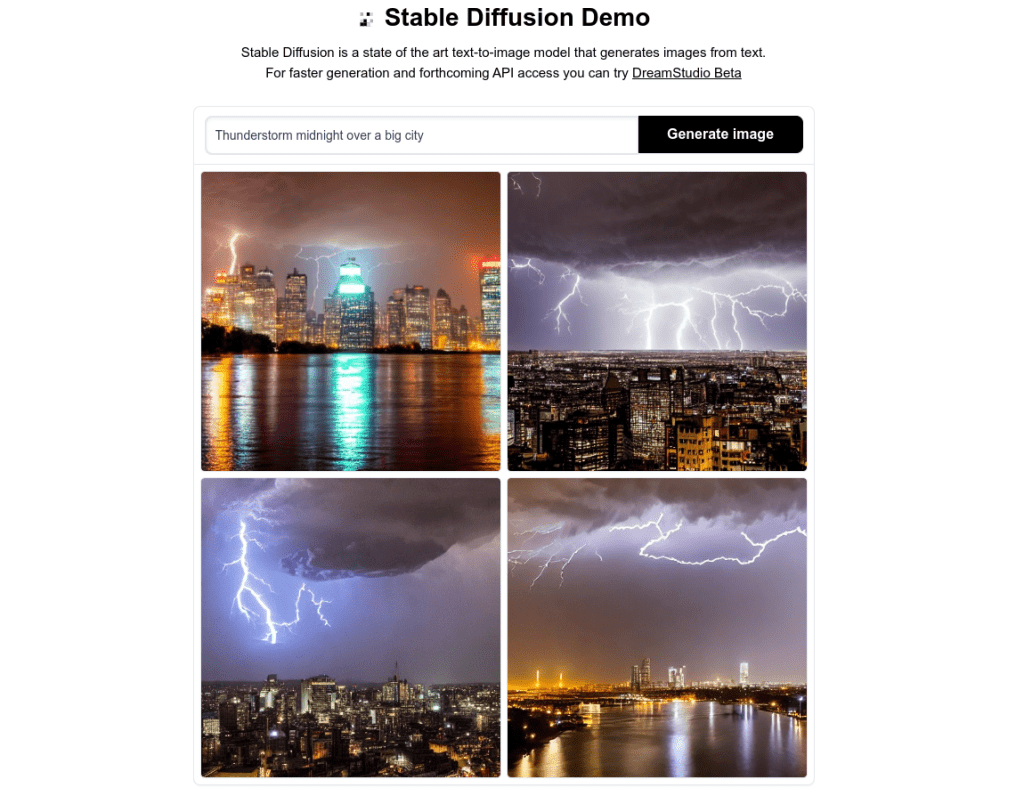 I mean look at it! A set of photorealistic images for free. One of these images would make a nice addition to a blog post about weather and storms.
For me, generating stock photos for free is a game changer. Previously, I've used services like Unsplash or Pexels. The issue with these is that the image banks are limited the more niche your topic is.
The fact that I don't have to worry about running out of stock images is fantastic.
The only downside to these free demos is the limitations. For instance, on the HuggingFace demo, you might have to wait for minutes or even hours depending on how many users are using it simultaneously.
Key Features
Let's talk about the capabilities of the Stable Diffusion text-to-image generator:
Text-to-image for converting short text inputs to images.
Image-to-image capabilities for enhancing, evolving and modifying images.
Stable Diffusion is an open-source project which means it's free to use.
Outpainting for extending original images.
Inpainting for erasing highlighted parts of images.
Upscale images to improve quality.
Attention and emphasis on highlighting specific words in the input text.
Loopback for inputting an output image back to the system to evolve it.
Pricing
Stable Diffusion is open-source and free!
There are free demos on the internet. But the free demos have limitations such as queue time and not having full feature sets available.
Because of the technical setup and computational power required, you will need to pay to use the Stable Diffusion model. For example, Jasper uses Stable Diffusion to generate images.
But if you have time, GPU, and skills, you can set up the Stable Diffusion model on your device locally and run it for free forever.
5. DALL-E 2
Best Promising New Technology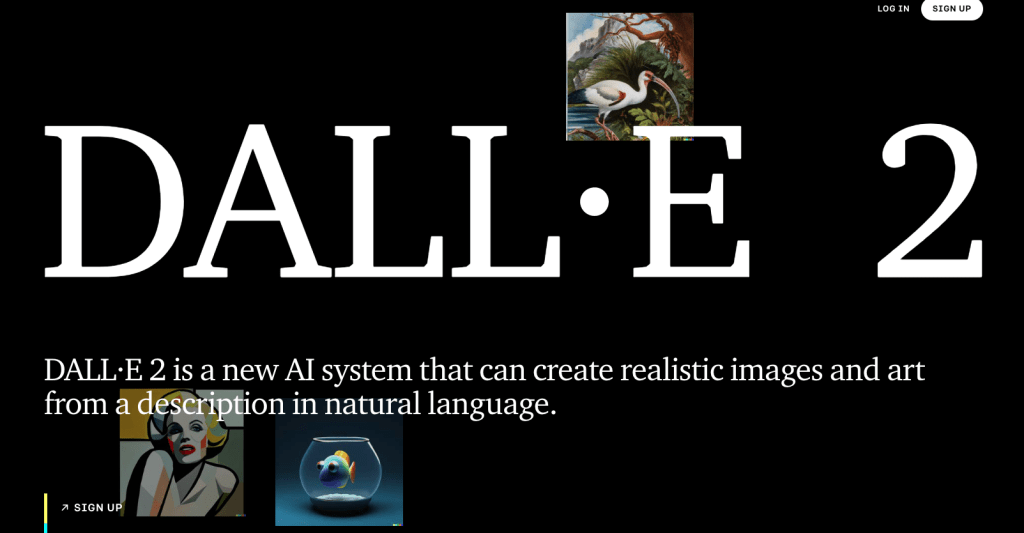 DALL-E is the only text-to-image generator on this list that requires you to join a waiting list to use. But I can assure you it's worth the wait. It took around 7 days for me to get accepted into the Beta release of DALL-E 2.
The reason why DALL-E 2 is behind a waiting list is safety. Thanks to the rapid developments in AI, impressive tools and solutions pop up, but their full potential is not known yet. Even though this is mainly a good thing, it can cause serious problems too in malicious users' hands. To be on the safe side, a lot of research and effort is put into making AI friendly and safe for all.
DALL-E 2 is an AI text-to-image model developed by OpenAI—one of the many companies founded by Elon Musk. OpenAI has trained DALL-E 2 to generate images from simple text prompts. The tool has seen millions and millions of images on the internet. Its neural networks use these training images as a basis to generate unique, original, and realistic images for you.
Similar to other AI text-to-image solutions, using DALL-E 2 is simple once you get the invitation to the beta version. All you need to do is come up with a short text input and the image model will generate you a set of images.
In the beta version of DALL-E 2, you have 50 credits you can spend to generate images. If you run out of credits, you can purchase more from OpenAI if you want to.
Let's take a look at my experience with DALL-E 2.
My Experience with DALL-E 2
To use DALL-E 2, you need to join a waiting list to get an invitation to use the beta version.
For me, it only took a week or so to get accepted. If you want to try it bad, there is no way around it—you have to wait. But I think the wait is worth it. Besides, you can explore other tools on this list.
This time around, I decided to try DALL-E 2 with a well-crafted prompt: "Mercedes Benz sports car driving on a neon road, 3D render, real-time ray tracing".
Here are the results the AI produced: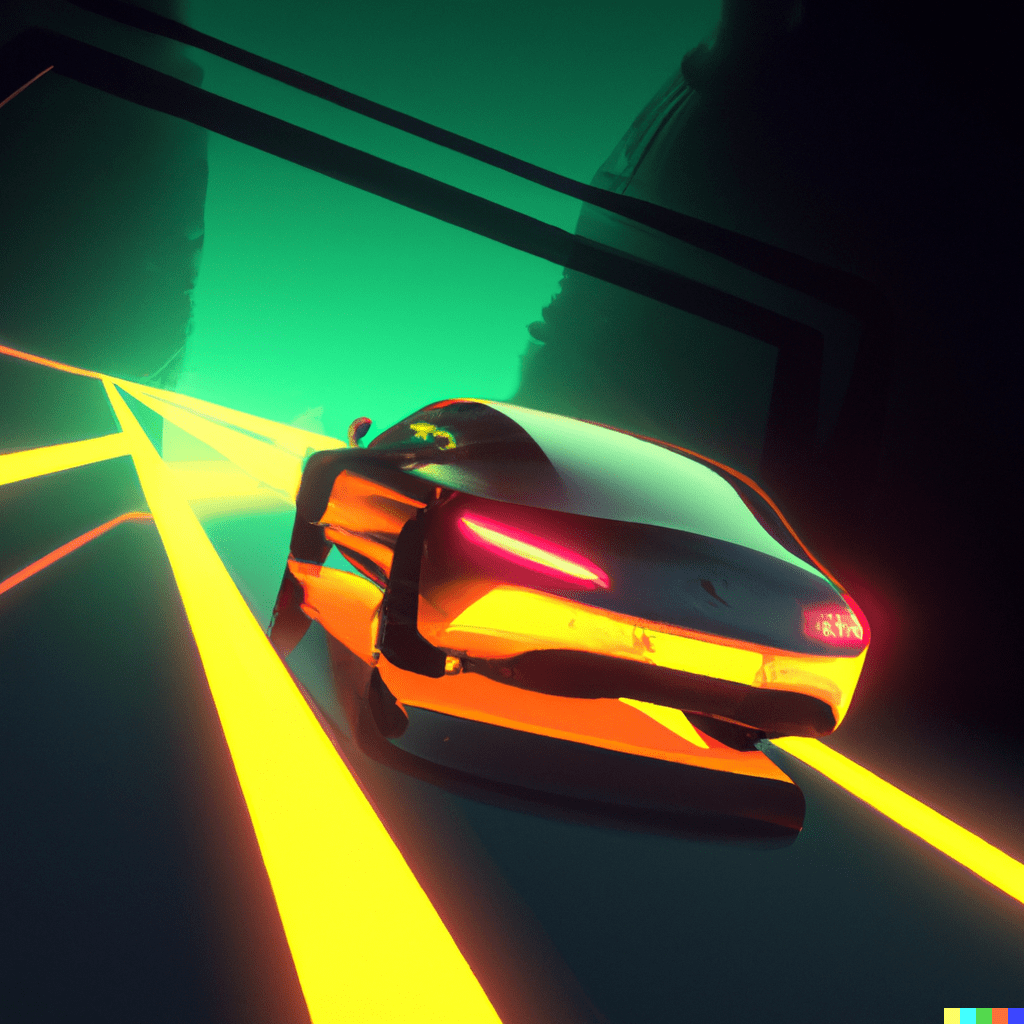 The AI can generate these types of images without any knowledge of physics, raytracing, or such. I find it super impressive. One thing I love about DALL-E 2 is its large user base (regardless of the waiting list). This helps you get a better understanding of what kind of images you can generate and how to design your inputs.
Also, you can find tutorials on how to use some other features of DALL-E 2, such as the outpainting.
Key Features
Access via a waiting list (anyone can join, just be patient with the invitation).
AI-powered text-to-image capabilities.
Great community and lots of tutorials.
Editing and retouching capabilities that are easy and intuitive to use.
Outpainting (letting AI focus on a certain part of an image).
Pricing
DALL-E 2 comes with 50 free credits to play around. Besides, you will get recurring free credits every month to play around with. If this is not enough, you can buy 115 additional credits for $15.
6. StarryAI
Best Text-to-Image Mobile App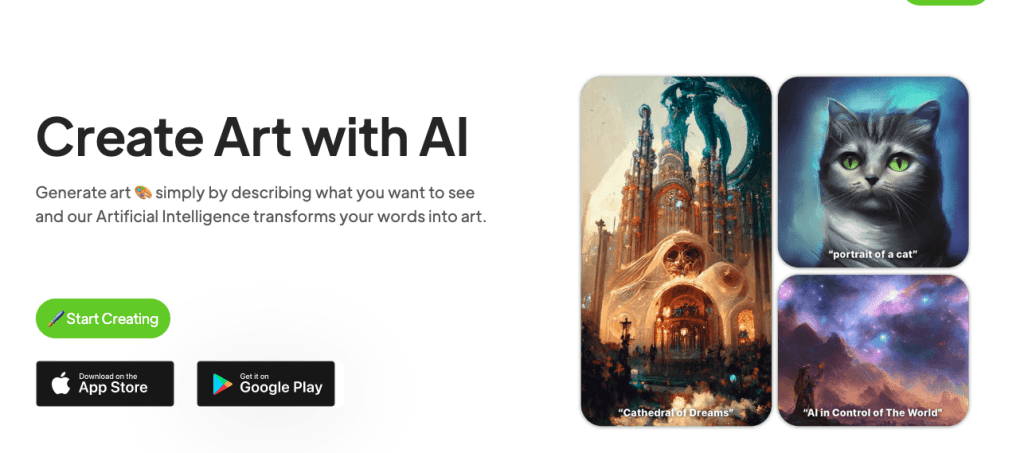 This list wouldn't be complete without a mobile app for AI text-to-image generation.
StarryAI is a mobile app for iOS and Android users. This software is free to use for 5 credits, which is awesome. You can generate art and images wherever you go as long as you've got a mobile device and an internet connection.
The underlying technology of StarryAI is Stable Diffusion—the model introduced earlier on this list. Thus, this tool is quite similar to other solutions on this list except for it's a mobile solution. That being said, let's jump into my experience where I show you what kind of results I was able to produce.
My Experience with Starry AI
Starry AI is a mobile app with which you can turn ideas into images with ease. You can easily download this lightweight app to your iOS or Android device. One great thing about the app is that you don't have to create an account or pay for using it. Of course, there is a paid plan, but you can experiment with the tool for free.
Here is an example of me generating images with a text prompt: "A rusty sports car stuck in the misty jungle".
These images look photo-realistic. If you don't pay close attention to it, you'd never be able to tell that the images aren't real. Because this is a mobile app, the aspect ratio is different than the images generated with other tools on this list.
One thing I didn't like is the fact you need to wait for a queue to empty to generate images. Even though on me it only took 15-45 seconds to generate the images, it can take significantly longer. I think you can overcome this issue with a paid plan.
Key Features
Mobile app for iOS and Android devices.
5 free credits to play around with.
Create photorealistic images with creative freedom in no time.
Pricing

StarryAI is free to use. Besides you can make in-app purchases for more credits to create freely! After you run out of credits, you can choose to purchase more for the following pricing:
Starry AI 1 Month Pro: $11.99
40 Credits Pack: $15.99
40 Credits Premium: $7.99
7. Photosonic
Best for Bloggers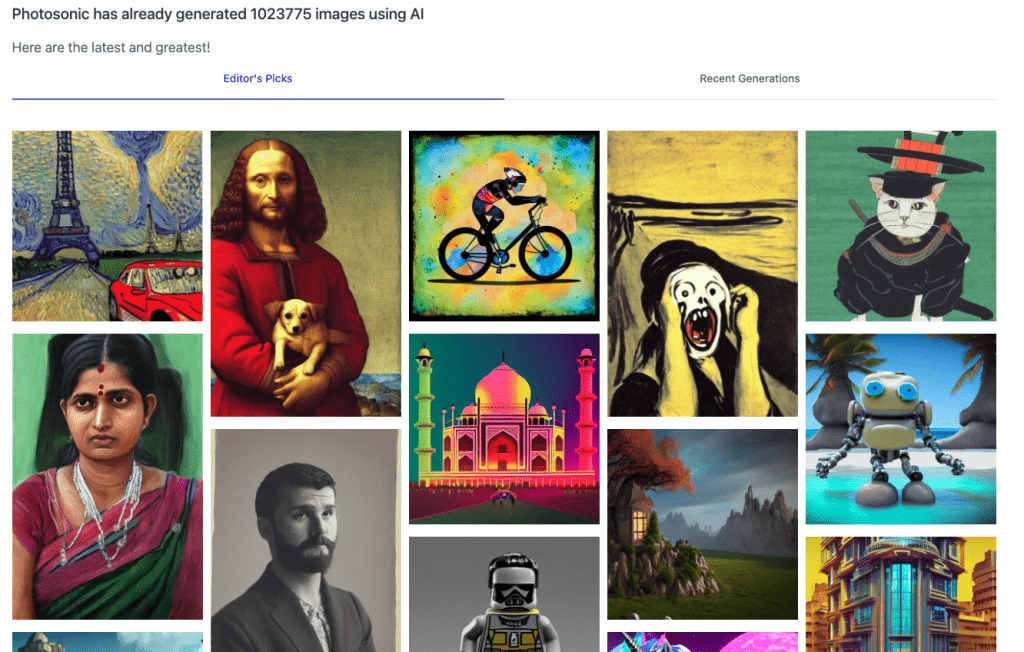 Photosonic is an AI text-to-image generator by Writesonic—a popular AI content writer.
The reason I consider this the best solution for bloggers is that you can try it for free. Besides, you can use it to generate stock photos that are unique and copyright-free.
Moreover, Photosonic is developed by Writesonic—an AI-powered content bot that creates unique blog post content, outlines, and more.
Photosonic is pretty similar to Jasper, to be honest. I think the best way to find which solution works best for you is simply by testing. One main advantage to Photosonic over Jasper is that you can generate a couple of images for free! But the drawback is the feature set. On Jasper, you have more blogging features to choose from.
Let me show you how the tool performed in my test use.
My Experience
To use Photosonic, you need to sign up! But after signing up, you can start using the app for free to generate 5 images. This is great as some similar solutions, such as Jasper, won't let you generate images for free.
Here are two images I generated with it using a text prompt: "Northern lights over Finland":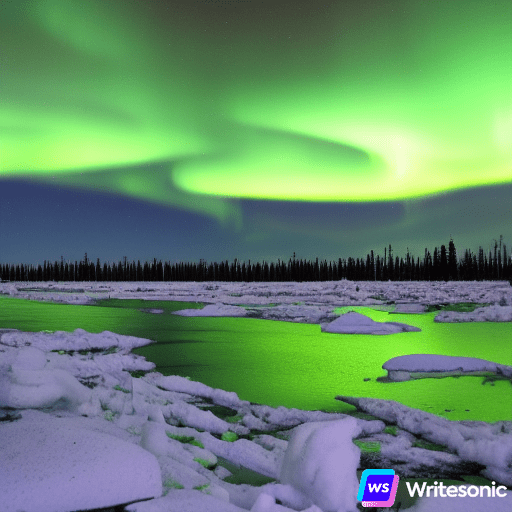 Both these images look photorealistic and you wouldn't be able to tell if they're actual photos or not unless taking a really careful look at them.
This makes the image generator a great fit for bloggers and content creators for generating unique stock photos.
Here is one more image I generated to show the Northern lights here in Finland: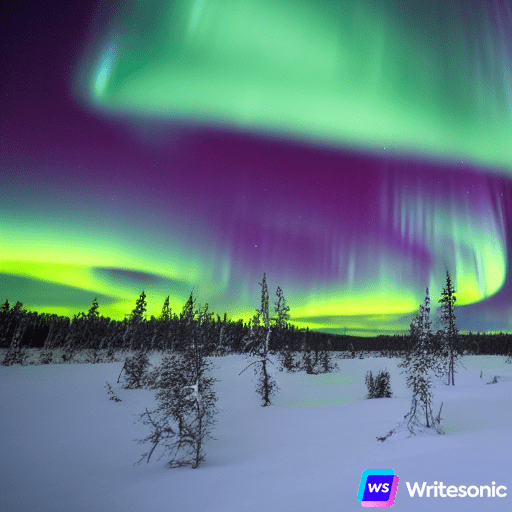 Key Features
Free trial of 5 image credits.
Great blogging solutions for AI-generated content.
Realistic images.
Easy to use and requires no technical skills.
Gives you the creative freedom for different styles of images and art styles.
Pricing
You can try Photosonic for free. Besides, there are paid plans for you when you run out of credits!
Free Trial: $0/month
Basic: $10/month
Unlimited: $25/month
The Future of AI-Based Image Generation
The future of AI-based image generators looks bright. I mean the solutions you can now use for free or for affordable prices have popped out of nowhere.
The quality of AI-generated imagery was on a completely different level a year ago.
The rapid developments in AI will revolutionize most if not all industries in the near future. Technology only keeps getting better and better. You can only imagine what the AI text-to-image generation will look like in 10 years given the giant leap it took in a single year.
Also, AI text-to-video generation will be a huge thing soon. One day you can describe AI and what kind of movie you want to see, and it generates a never-seen block-buster tier masterpiece in seconds. Exciting times, for sure!
Summary
Thanks for reading!
I hope you were able to find the right types of tools for your website, blogging routine, or any other text-to-image generation needs.
To take home, these days there exist a bunch of great AI text-to-image solutions for generating unique images and art. These tools are affordable or even free and can boost your blogging routine, design process, or artistic view in a variety of ways.
Happy exploring!
Read Also