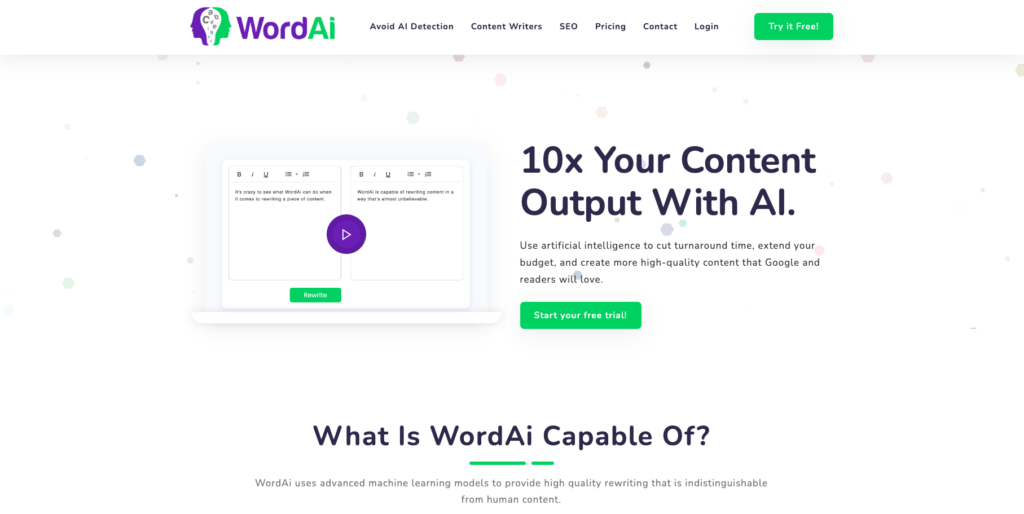 WordAI is your friend when it comes to rephrasing and rewriting text.
It's not just about replacing words with synonyms or mixing up sentence structure – oh no, this tool is a whole lot smarter than that.
It's like having your very own personal content rewriter on hand 24/7, ready to transform your text in innovative ways.
Here's the cool part: WordAI uses the power of artificial intelligence to understand the context and meaning of your text.
It's not just changing words, it's rewriting entire sentences, even paragraphs, while keeping the original meaning intact. This isn't your grandma's thesaurus; this is next-level text transformation.
But does it actually work? In this review, we will figure that out.
Key Features
Let's explore the key features of WordAI
AI Rewriter with 100% Human-Quality Output: WordAI is designed to produce high-quality content that closely mirrors human-written text.
Famous for its "Avoid-AI-Detection" Feature: One of the standout features of WordAI is its ability to rewrite the text in a way that it's not flagged as AI-written by detection tools. This helps make the output appear more 'human'.
Enriches Text and Improves Clarity and Quality: WordAI doesn't just rewrite the text, but it also enhances it to improve its overall clarity and quality.
Complete Sentence Restructuring Tool: The tool is capable of completely restructuring sentences while maintaining their original meaning, which helps to create unique content.
Bulk Rewriting Feature and API: WordAI can rewrite a large volume of text at once with its bulk rewriting feature. It also provides an API, allowing users to integrate WordAI with their own applications or platforms.
Simple and Easy-to-Use Dashboard: Even with its advanced AI capabilities, WordAI maintains a user-friendly dashboard that is easy to navigate and use​1​.
My Experience
WordAI is easy to use. Just sign up, choose a plan, and start rewriting!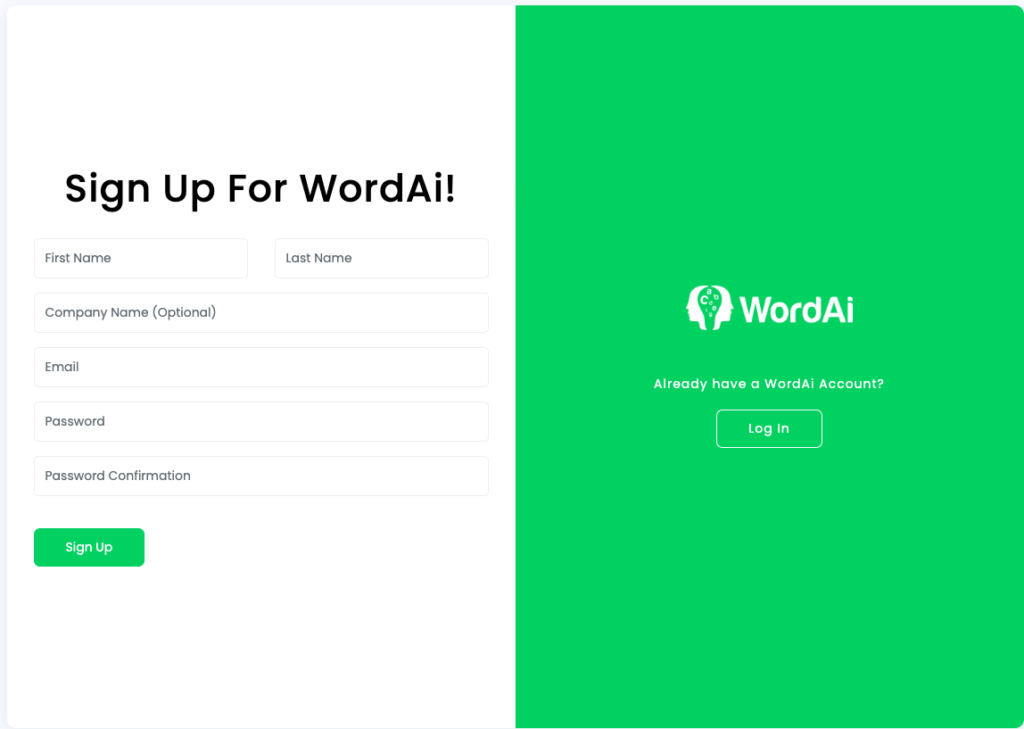 However, unlike many other similar AI tools, WordAI doesn't offer a generous credit-card-free trial.
To use the tool, you need to sign up for one of the paid plans and have a 3-day money-back guarantee.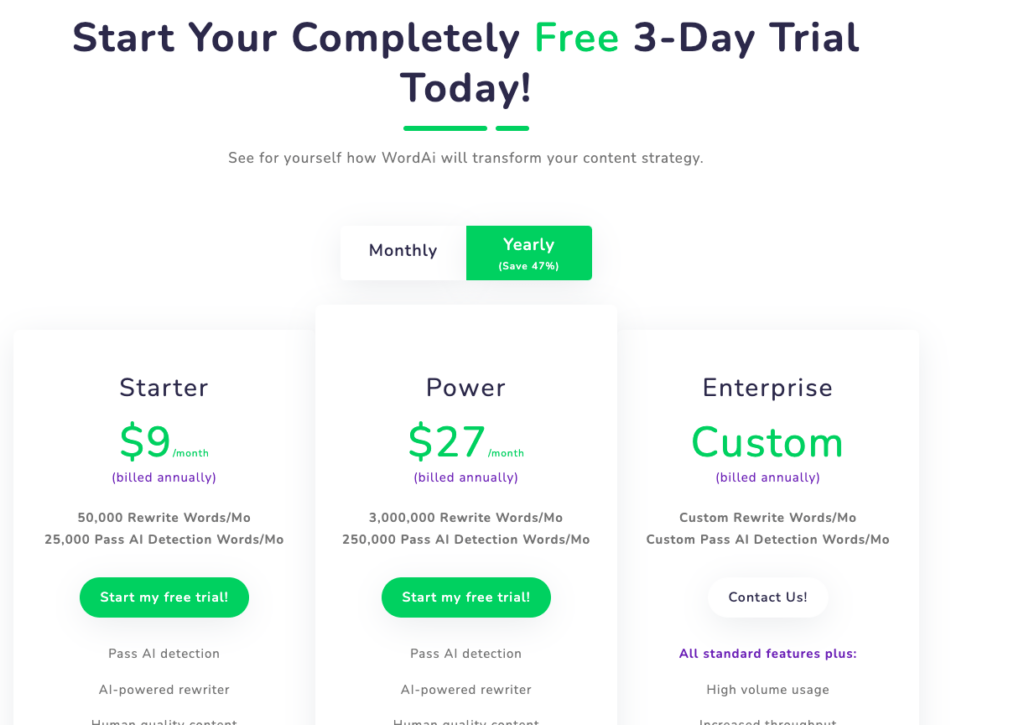 I must say I'm not a huge fan of having to enter credit card information to test an AI rewriter tool… Like other tools, I'd appreciate a full-on free trial, not just a 3-day money-back guarantee.
Nonetheless, I signed up so you don't need to. Let's put the tool to the test!
If you sign up, make sure to check the billing settings as you desire. By default, Word AI bills yearly. You don't want to accidentally pay $300 for a tool you're just testing out…
WordAI in Action
Now, let me show you how WordAI performs.
The main function is the "Rewrite Articles" feature, so let's choose it to begin with.
Here's my example input. This is from one of my blog posts.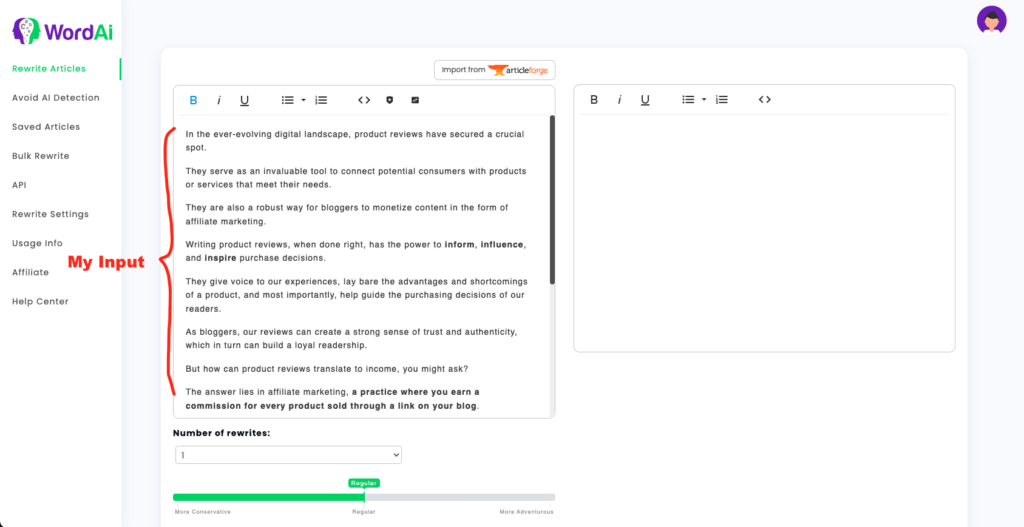 Now let's take a look at the outputs that WordAI generates based on this input.
I try all the different output modes, that is, Regular, More Adventurous, and More Conservative.
Output 1: Regular
It takes about 15 seconds to process the input. After processing, it will return the rewritten text.

Here's the output from the regular mode: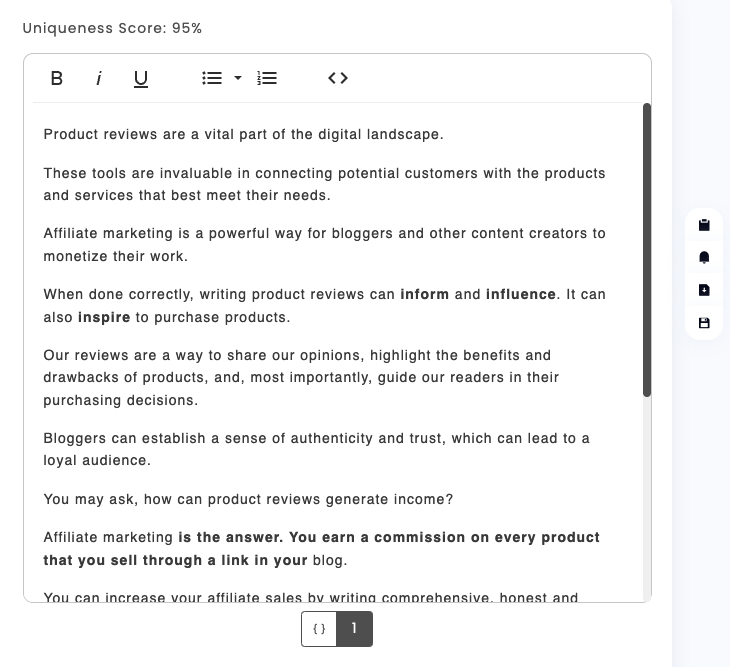 I must say this is pretty impressive. It definitely looks like something I or someone else could've written.
Doesn't look like AI at all.
But right off the bat, I must say that this is no different from all those other AI tools that I've tested, such as ChatGPT.
For example, here's my input to ChatGPT: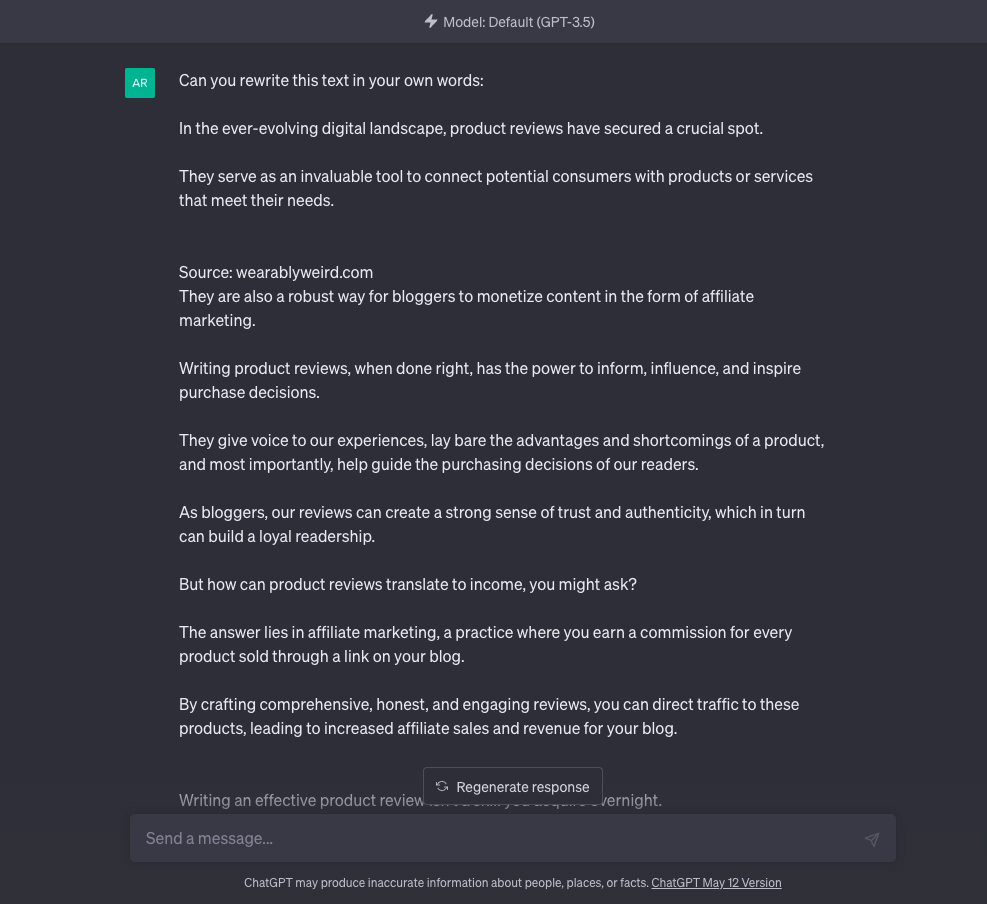 And here's the output: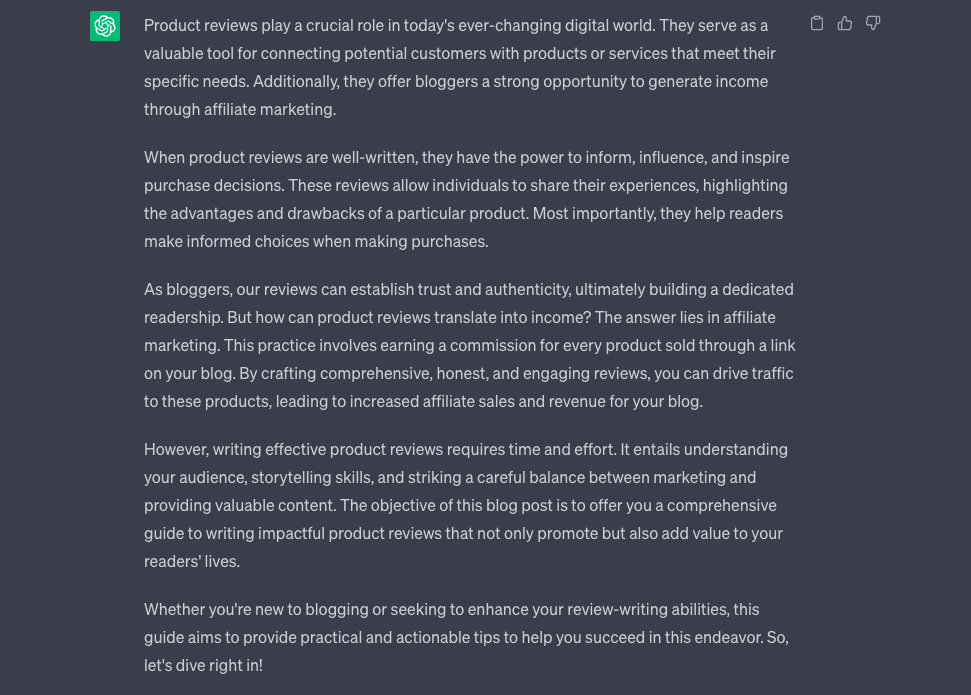 Pretty similar to WordAI, right? Better yet, ChatGPT is free.
Now one thing that worries me about AI rewriting is the plagiarism aspect.
For good measure, let's try the plagiarism score for the WordAI output, just to see that it's not copying the text from me but actually rewriting it.
Good! It gave a 0% plagiarism score. That's what I wanted. 🙂
By the way, there's no autosave mode in WordAI.

If you want to save your rephrased text, you need to do it manually on the top right corner of the output text.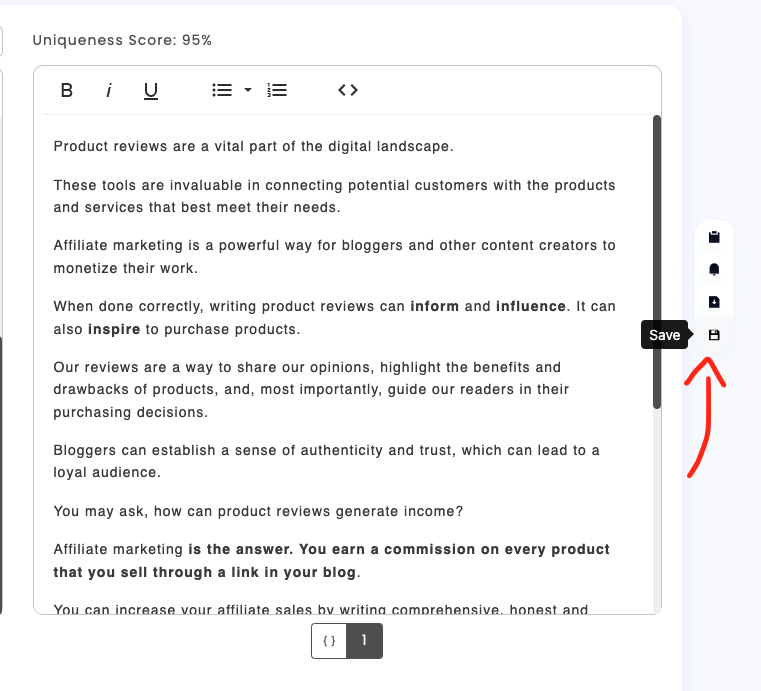 Now, let's try the different rewriting modes!
Output 2: More Adventurous
Now I'll make WordAI a bit more adventurous by enabling the "More Adventurous" mode.
I believe this will make the output rewritten text a bit more creative and perhaps funky.
Let's see what happens: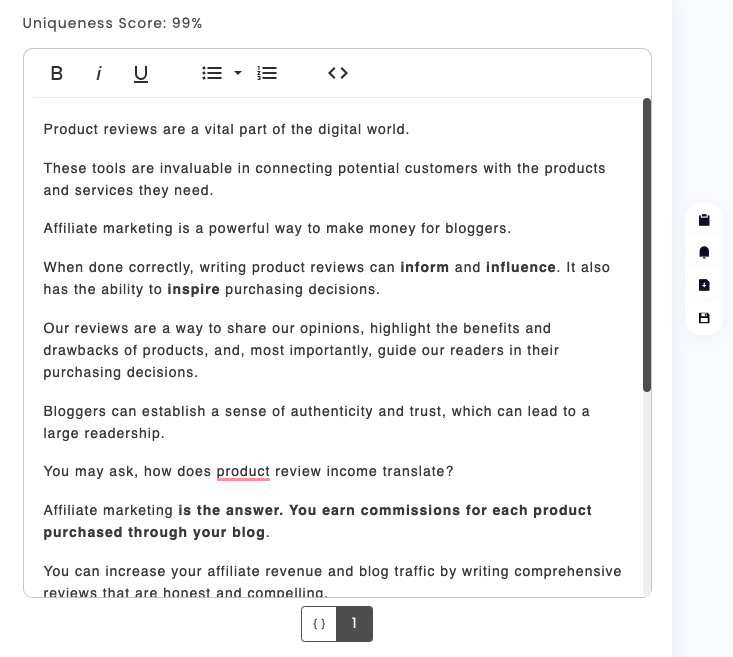 Once again, a really nice output for my text.
This text has the same information my original piece has but doesn't look like the original—which is exactly what I wanted.
However, I don't think the creativity isn't there. The text for sure is a bit more adventurous than the original piece.
Notice that there are only 3 modes to the WordAI rewriter.
If we compare this to ChatGPT—a free tool that can do everything we've done with WordAI thus far, we can see that there are as many writing modes as you want.
So in this sense, WordAI is much, much more restricted than ChatGPT.
Lastly, let's try the More Conservative mode.
Output 3: More Conservative
Last but not least, let's try the conservative rewriting mode with the same input: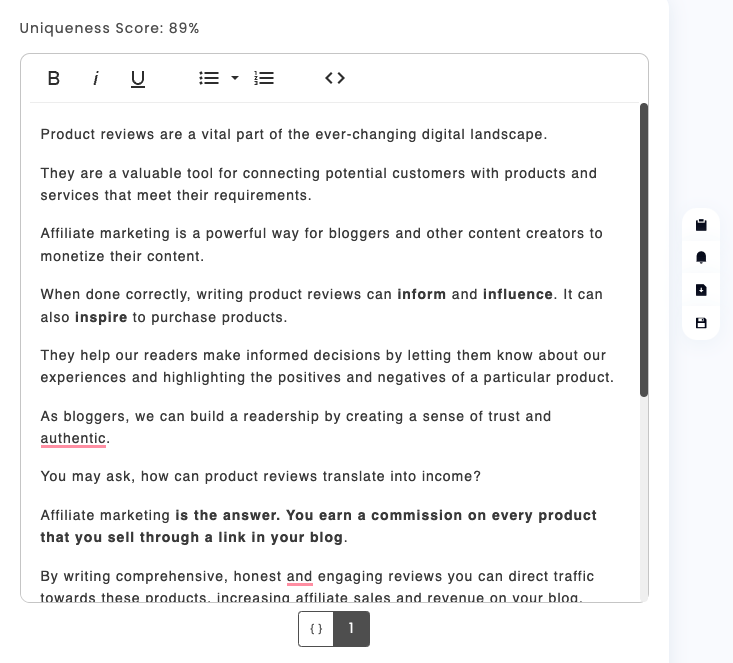 Once again, really nice output! The text is nothing like the input but still delivers the same message I wanted it to. Amazing!

This less conservative mode produced a slightly less creative version of the text I inserted into the tool.
This is just like I expected. 🙂
However, as I already mentioned, the issue is that ChatGPT could do this for free but you're not restricted to only three re-write modes.
Now, let's explore more features of WordAI to see if there's something worth paying for.
Avoid AI Detectors
AI detectors are a "response" to ChatGPT-written or other AI-written content.
These detectors are trained on huge datasets of human and AI-produced text, learning the unique characteristics of each. They then analyze and classify new text based on this learned information.
Some people want to use AI detectors to avoid getting caught for using AI in writing homework and assignments.
Bloggers might use such tools to avoid Google's AI detection to prevent them from ranking high.
However, here's the problem with AI detection. It doesn't really work. ChatGPT and other AI algorithms are capable of producing content that's impossible to tell apart from human-written content.
That being said, there's an "Avoid AI Detector" feature in WordAI.
In my opinion, this feature is useless. It just rewrites some AI-written content. Basically, it uses AI to rewrite AI-written text.

But because AI detectors don't really work in the first place, it doesn't really make sense to try to trick those…
Nonetheless, I gave it a try. I just wanted to see how it rephrases my AI-written text.
Here are the results: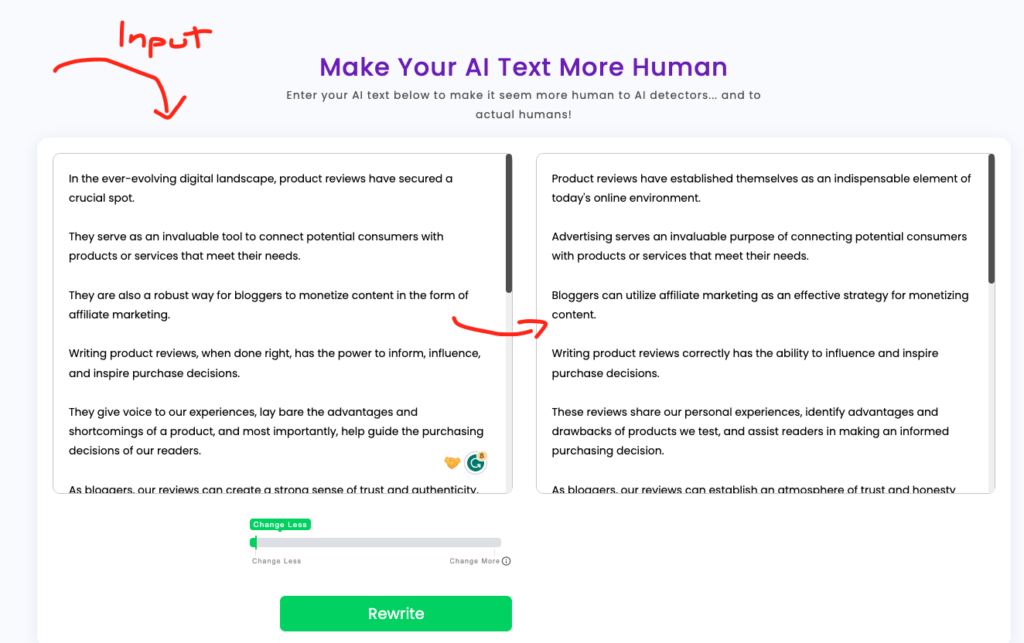 As you can see, the AI rewriter feature rephrased my text so that the message remains but the words are different.
Clearly, the WordAI's AI algorithms understand the meaning of the text and can rephrase it in a natural way.
But as I said, this is in my opinion completely useless as AI detection doesn't really work anymore. Also, why not just use ChatGPT for free to rewrite the text?
Bulk Rewrite
If you have a ton of text content, such as text files, you can bulk rewrite those.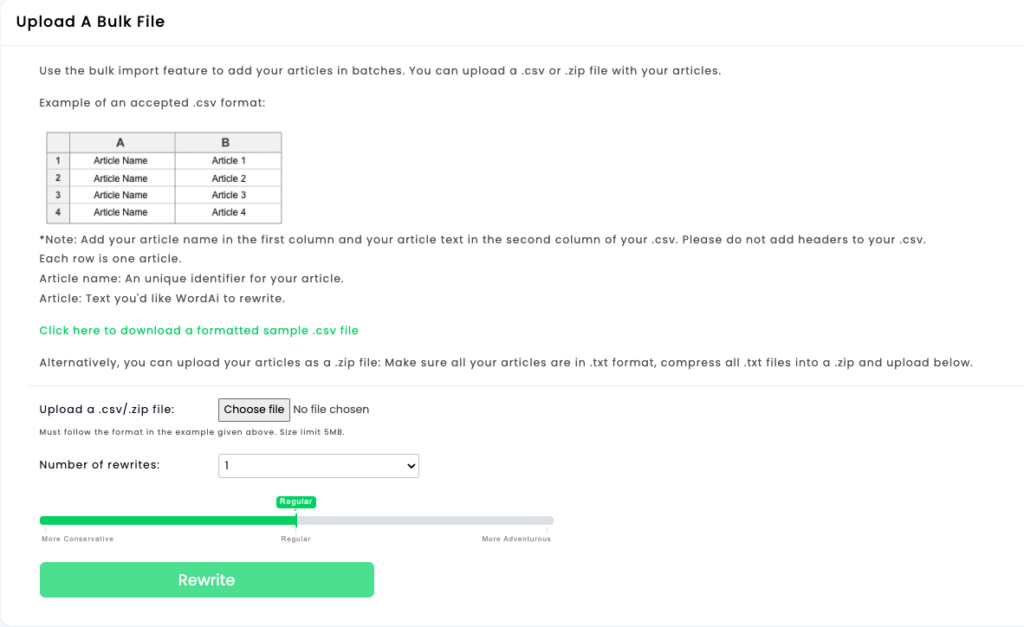 This is a cool little feature that can save some time. By default, this is not an option in ChatGPT.
So this is where WordAI gets some advantage on ChatGPT. It can save time by reading your text files in bunches with a single click of a button.
API
There's an API to WordAI. In case you're not a coder, this is not something you should pay attention to.
But if you have coding knowledge, this might be a cool little feature for you to vibe with.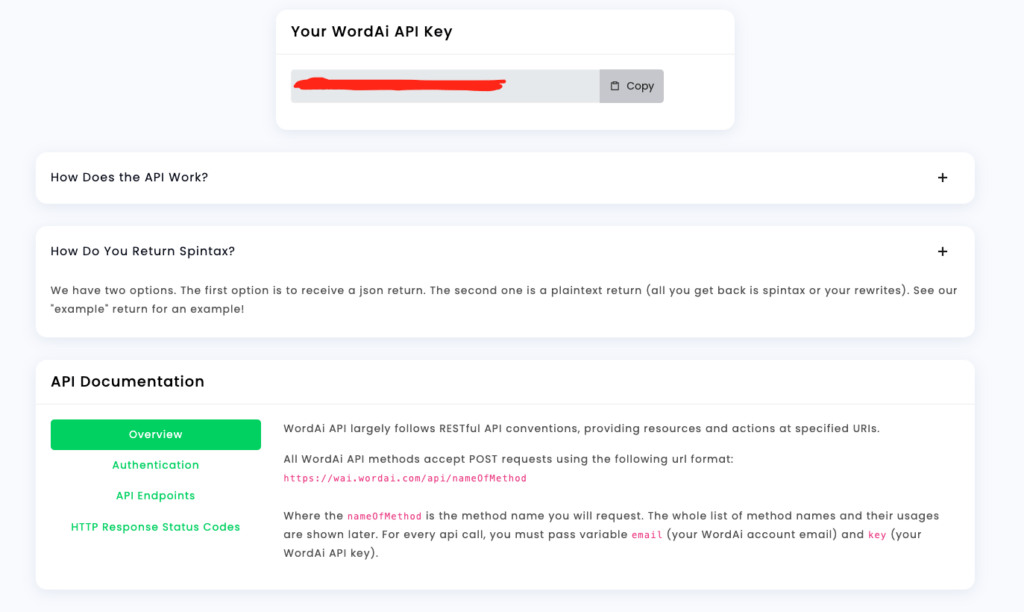 You see, with the API, you can integrate the WordAI rewriting features directly into your applications or programs.
Using the API is quite straightforward and there are clear examples of how to do POST and GET requests to send/receive data from WordAI.
Once again, this is not too different from ChatGPT and OpenAI's API. You can do very similar things with OpenAI, except you're not just limited to rewriting content but you can do a whole bunch more.
Protect Words
Last but not least, if you want, you can protect words and phrases in WordAI.
I understood that this feature avoids replacing these words in the rewritten text chapters.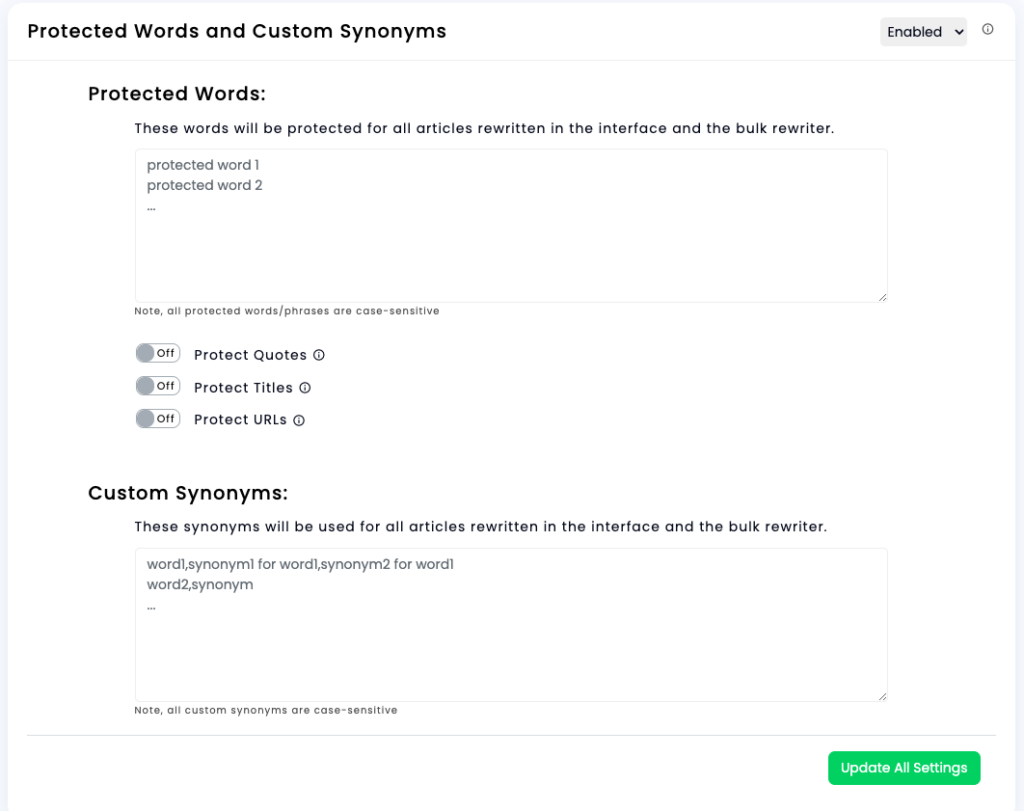 It can be useful if there are some nouns or names you don't want the AI to accidentally replace.

However, I think more often than not, the AI already does a really good job of rewriting the content in a natural way and it doesn't misplace words.
That's also highlighted by WordAI. They also don't recommend keeping this mode enabled because of the limited outputs.
Next up, let's talk about the pros and cons of WordAI.
Pros
Easy to use
Awesome outputs—looks like human-written
Bulk mode for rewriting a bunch of content
3 day money back guarantee
API for developers
Different rewriting modes
Cons
Very pricey
Much less impressive than ChatGPT
ChatGPT can do the same—for free
No auto-save
No free trial
Pricing
Starter: $9/mo
Power: $27/mo
Enterprise: Custom
Final Verdict
I have to be honest here. To me, WordAI definitely did its job perfectly. The text replacements were on point and not robotic at all.
The tool was easy to use and to get started with.
However, it's nothing too impressive these days to have AI rewrite the text.

As a matter of fact, ChatGPT can do the exact same without limitations—for free.
For example, in WordAI there are three rewriting modes. But on ChatGPT, you can just tell it to rewrite the content in any way shape, or form you like.

In this sense, WordAI is a much more restricted tool than ChatGPT—which again is free.
That being said, I would definitely use WordAI if it was much cheaper or free. But because its cheapest plans are $300/year, I'd much rather use ChatGPT.
Wrapping Up
WordAI is a remarkable tool that uses the power of artificial intelligence to rewrite your text.
It's like having a personal editor who's awake 24/7! 🌙☀️
However, with today's AI capabilities, there are free tools like ChatGPT that can do the same.
To take home, make sure to experiment with AI.
It's the future and it starts right now. There might be a day when 99% of the content is written with AI and if you don't know how to use it, you might be left out of the competition.
Make sure to read my Best AI Writers article.
Or if you're looking for better tools than WordAI for rewriting content, make sure to check Best WordAI Alternatives.
Thanks for reading. Happy writing!