Are you looking for blogging tools to boost your content writing workflow to get more visitors with less work?
Let me show you the only blogging tools you'll ever need!
This is not a typical list of blogging tools.
I'll show you a comprehensive guide on how to use each tool on the list.
Also, every tool is free.
These are the only blogging tools I've used to get millions of visitors to my blogs. I believe those expensive SEO tools are completely useless in today's world. Google is clever enough to figure out link-building schemes, keyword stuffing, and such.
Let's jump into it!
1. Google Trends
Name
Pricing 💰
Pros 👍
Cons 👎
Use Cases 🛠
Google Trends
FREE
– Intuitive
– Shows seasonality
– Teaches insights
– Free Google data
– No exact search numbers
– UI lags on mobile
– Keyword validation
– Find rising topics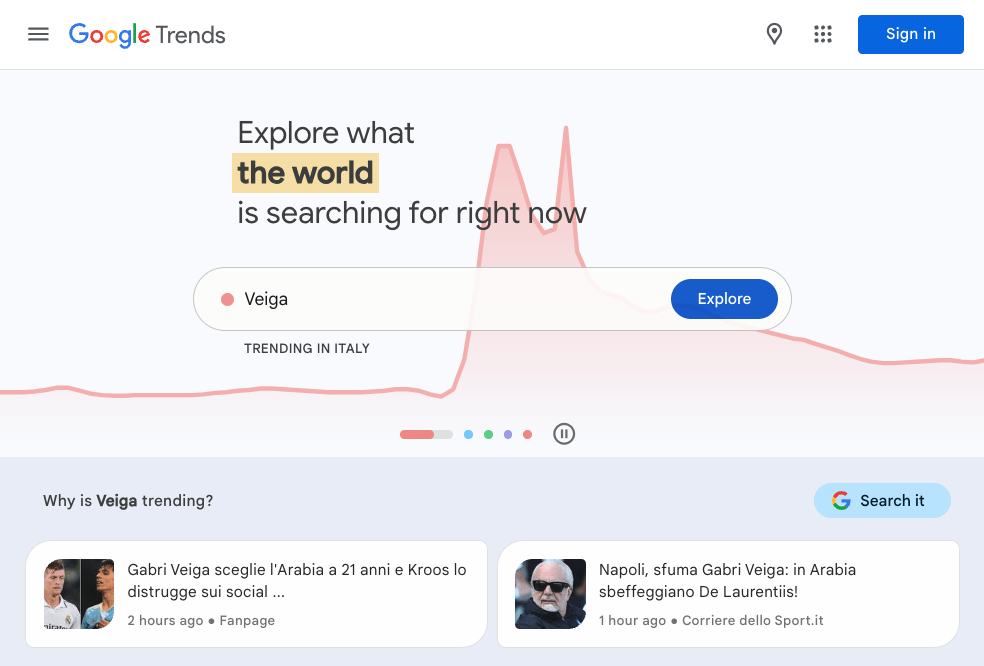 Google Trends is a free tool that allows you to easily see trends in different search topics and keywords.
While it doesn't show exact search volumes for a particular topic, it shows how the topics perform and compare against one another.
This is a great tool that gives valuable insights into different niches and topics.
How to Use
You can use Trends to analyze what people search on Google—easily.
This tool lets you identify seasonalities, compare different keywords in different countries, and set time ranges all the way back to 2004.
You can even use it on YouTube searches.
Here's a complete breakdown of how the tool works.
First, just head over to trends.google.com. You can use it even without signing up!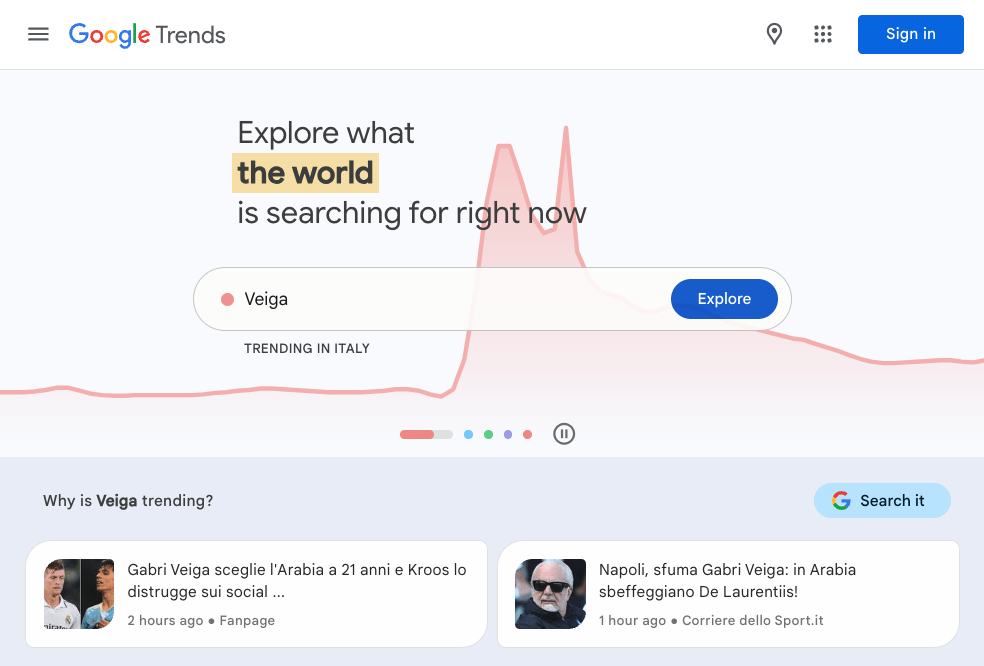 Then you can choose a country.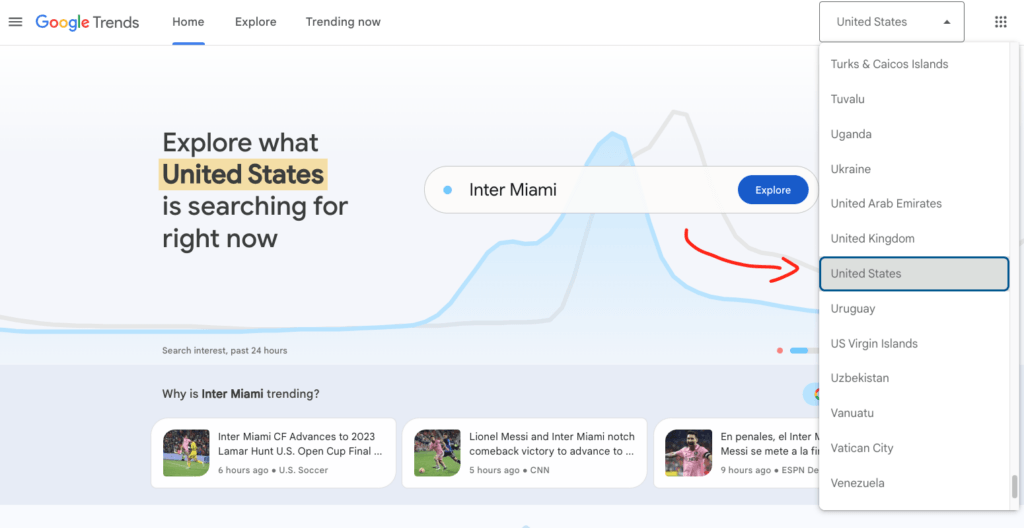 Then search for something, such as soccer.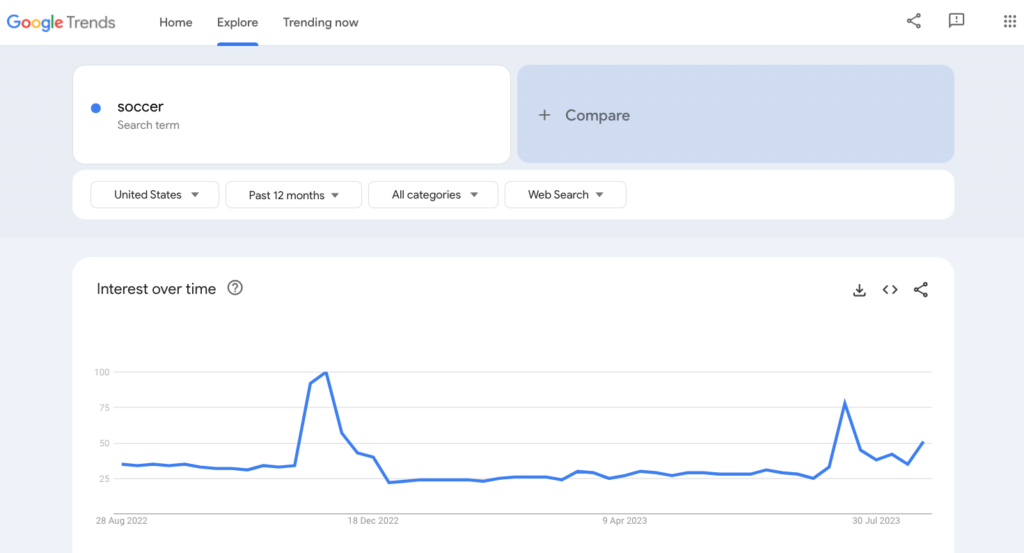 You can tweak the top bar to change country, time range, category, and the type of search.
For example, here I'm searching for trends on "Soccer" on YouTube in the Sports category for the past 12 months in the entire world.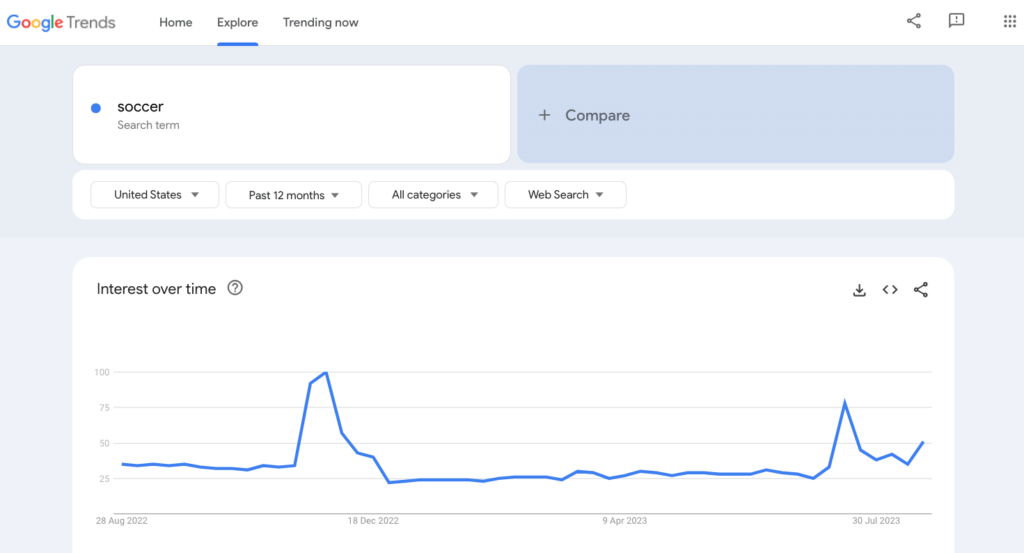 There's a spike around November 2022, which tells me there was probably a notable event (World Cup 2022).
This is the kind of data you get to see on Trends.
Just remember that this tool does not show how many times a search is done! It shows relative search volumes.
In other words, it shows everything relative to the maximum in that time period.
This allows you to compare the searches to find answers like "Summer 2021 was the all-time high".
But you cannot find data like "This search term has 562 searches every month".
But this doesn't matter because there's no tool (free nor paid) that would be able to tell how many reads a blog post could get—not even close.
#1 Validate Search Volumes
Although there's no accurate way to know how many times a search term is searched every month, Trends can give you a very rough idea.
This is useful if you're trying to choose whether you should write a post or not.
If you search for something and it shows some spiky non-continuous graph like below, it suggests there are at least hundreds of searches per month for this topic.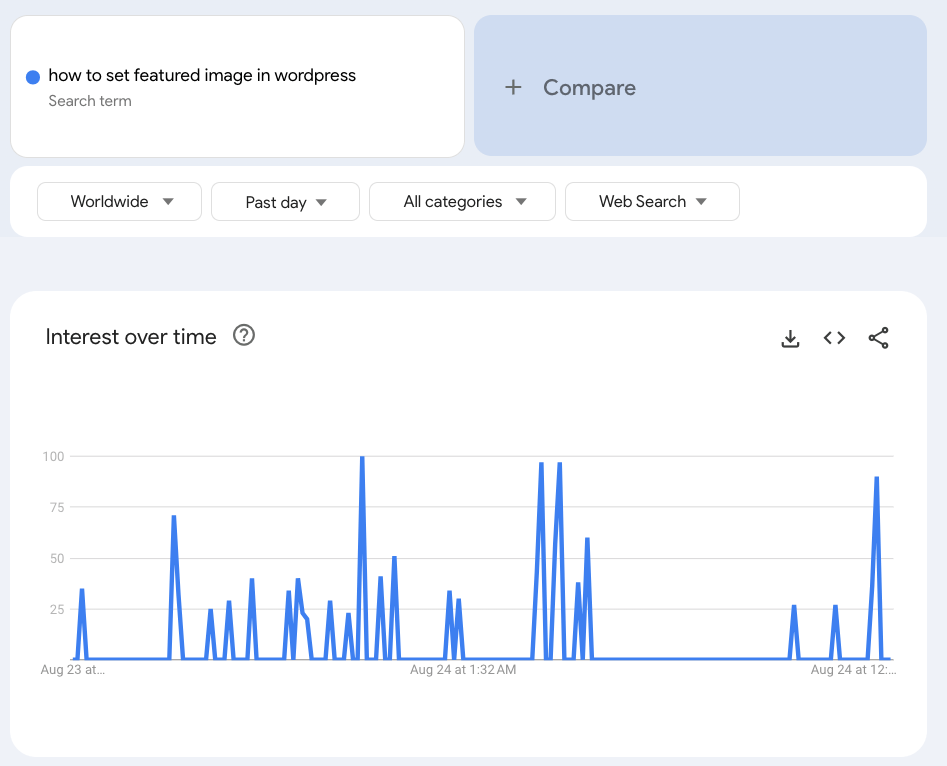 The more continuous the data is, the more searches there are.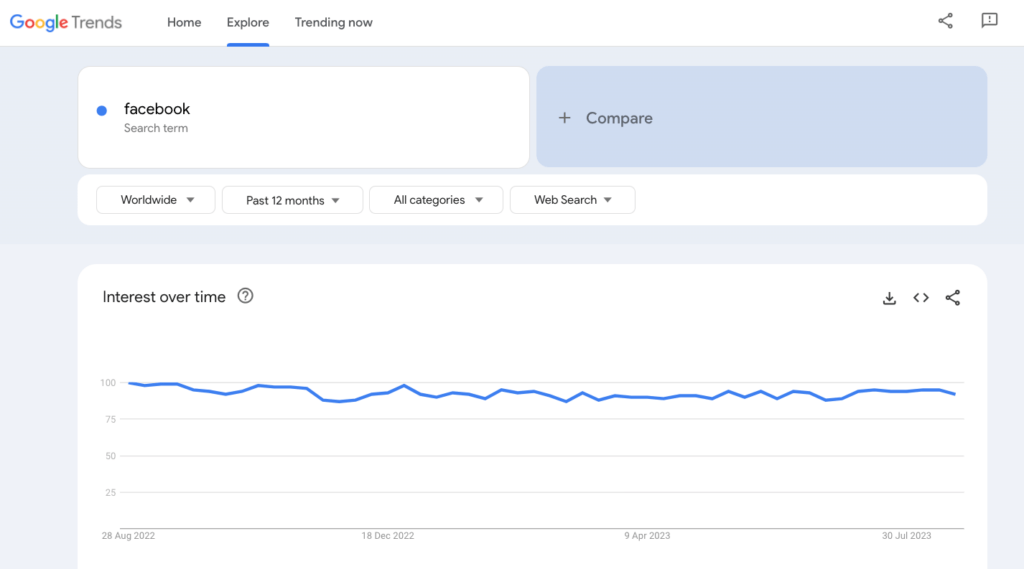 But remember that it's just one keyword.
If you write a post, it might rank for tens or even hundreds of similar related keywords.
Thus, having even a rough idea of how much traffic a search query gets is irrelevant. It's just insightful to see whether there are any searches or not.
For example, here's a topic that most likely gets very few searches every month (less than hundreds, to be a little bit more specific).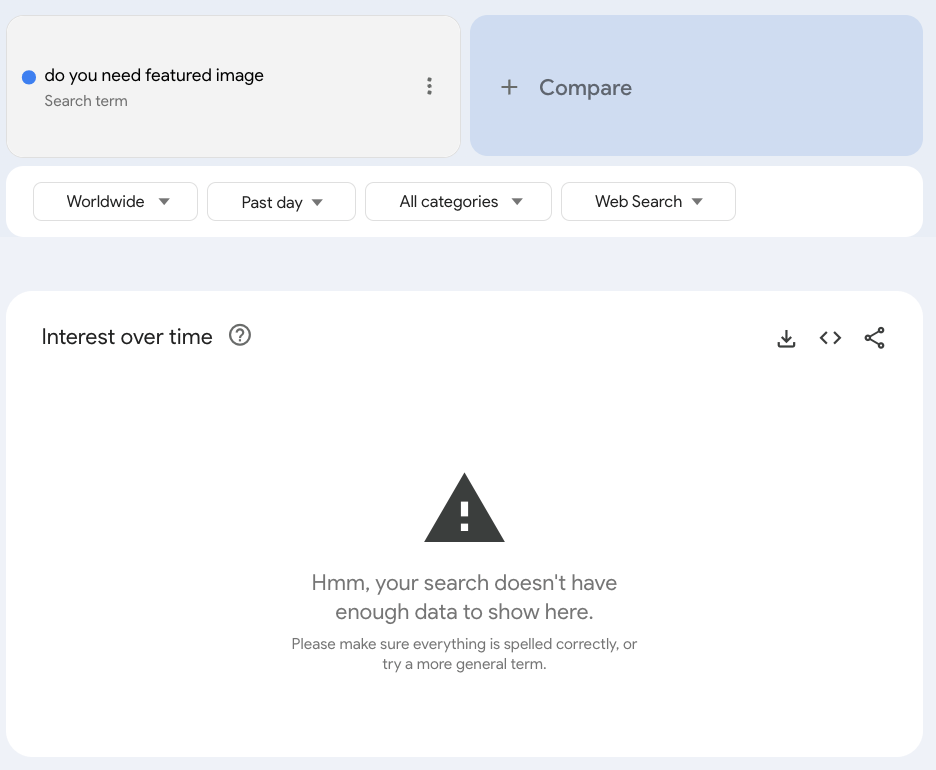 But this isn't absolute and in a make-or-break role!
You shouldn't ditch a blog post idea if there's no search volume on Google Trends.
I've had a post with "Not enough data" rank high and get thousands of monthly visitors!
It just gives you some idea. 🙂
#2 Compare Search Terms
Another cool use case for Trends is to see how keywords perform against one other.
For example, you can see that people Google "soccer" and "tennis" roughly equally as much.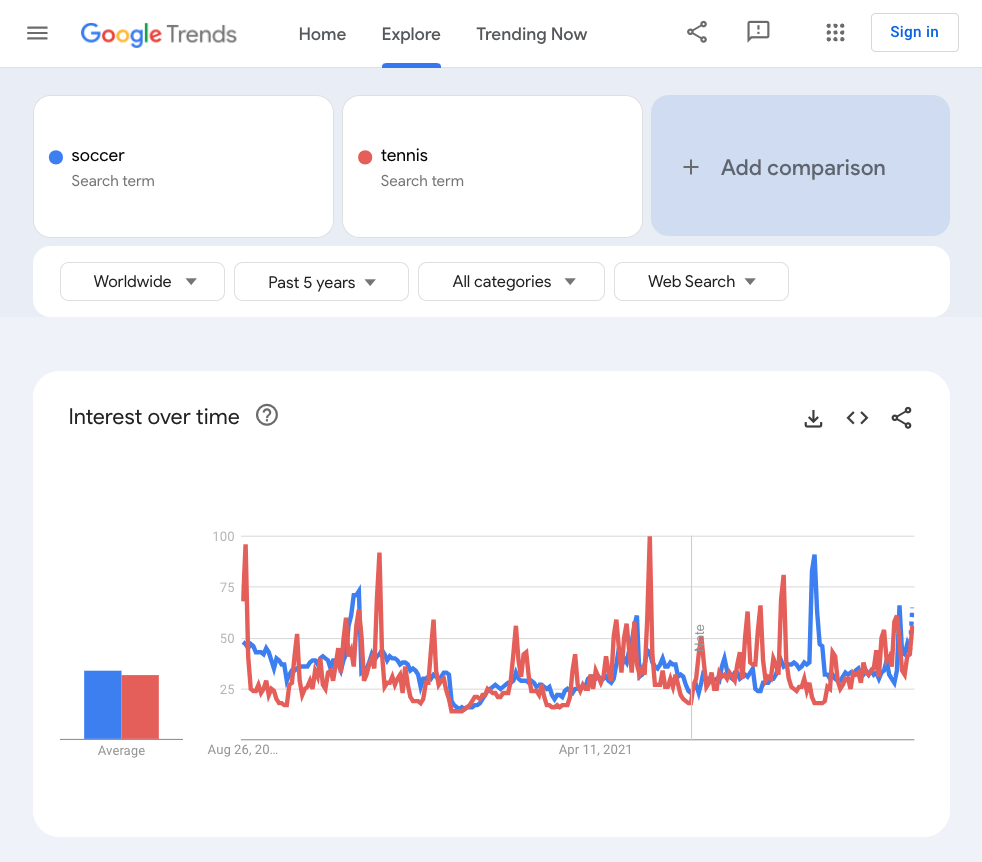 By doing this, you can get a nice idea of how much bigger/smaller keywords are compared to one another.
This allows you to identify things like "Keyword A is 10x less searched than keyword B".
But once again, no accurate search volumes.
#3 Understand the Space
Another awesome way to use Trends is by finding seasonal trends in keywords.
Sometimes these are so obvious that you don't even need Trends.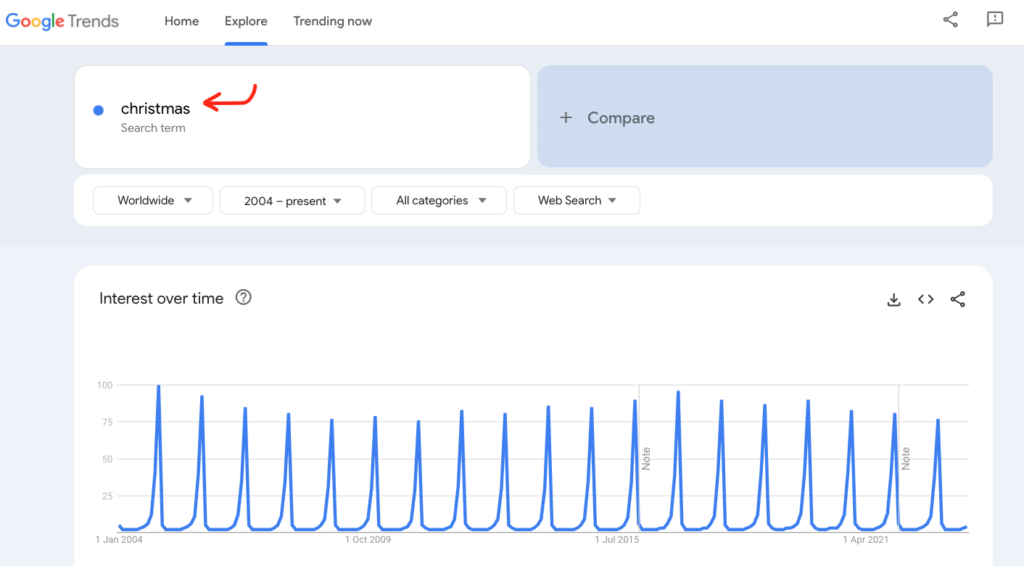 But sometimes those might not be so intuitive and you might find more surprising trends.
For example, let's see how people have searched for "pumpkin spice recipes" during the past 5 years: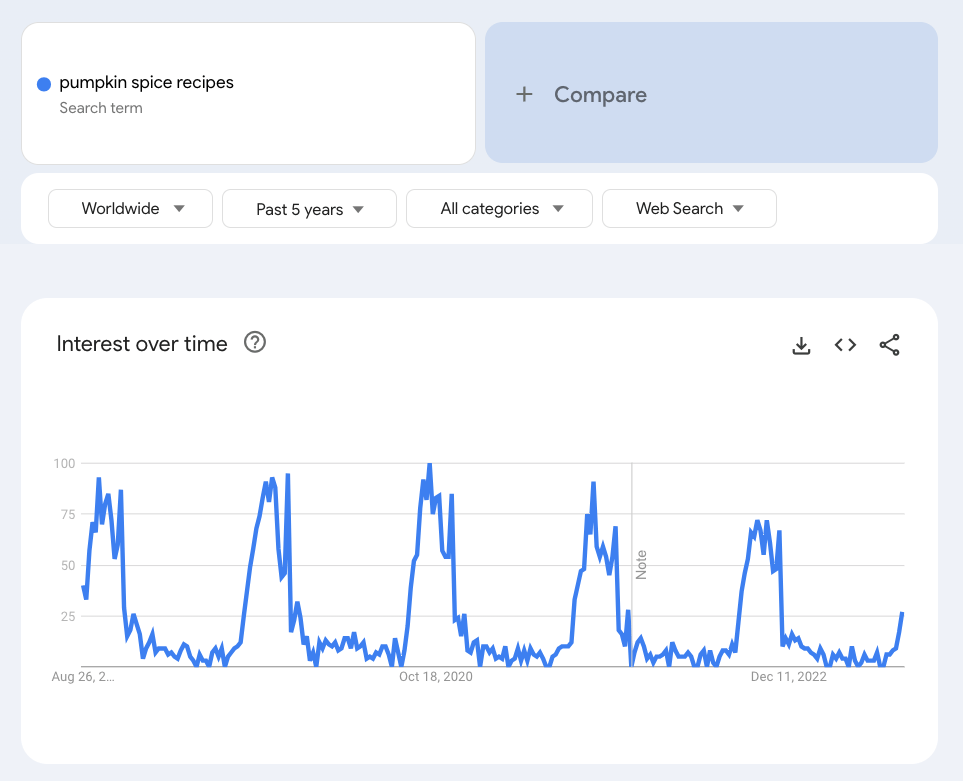 As you can see, there's a spike around October every year. If you had no idea about what a pumpkin is or when it's enjoyed the most, this data could be a surprise.
As autumn arrives, people crave this warm and cozy blend, popularized even more by treats like pumpkin spice lattes. Thus, it makes sense to see those October spikes.
#4 Find Rising Blog Post Topics
Google Trends is also great for figuring out "untapped" or rising keywords to write blog posts about.
It shows topics that are on the rise during a particular time period.
To use this effectively, set the time range for something like 90 days or 12 months.
This way you filter out those quick trends and get the ones that have been going on for quite a while but not long enough to have a ton of competition.
For example, I wanted to see what's going on in the AI writing tool space by searching for "Jasper AI", which is one of the most popular AI-powered writing tools on the market.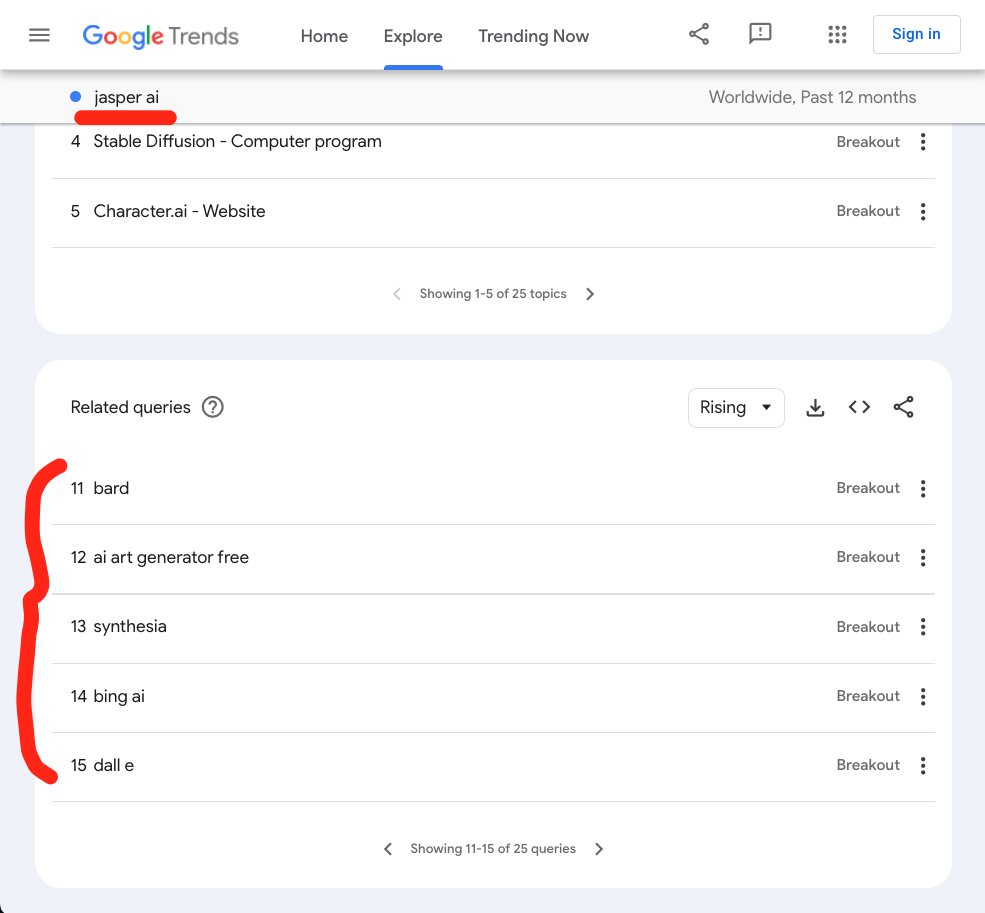 At the bottom of the page, the Related queries "Rising" section shows other AI tools that are in hype now.
There's Google's Bard, Bing's AI, and Dall-E (image generator). These are all something that has a ton of search volumes and have had a huge spike in interest in the past year.
In other words, these might be topics worth writing about.
For example, you could write a comprehensive review of the Dall-E image generator.
There's usually not much competition in the rising topics.
Obviously, the downside is that those trends might still die down quickly. Also, the competition will catch up soon so you might get a traffic spike that will fade away in just months.
2. Google Search
Name
Pricing 💰
Pros 👍
Cons 👎
Use Cases 🛠
Google Search
FREE
– Everyone can access
– Free search data
– Allows to analyze competition
– No exact search volumes
– Meant for search, not for research
– Find keywords to target
– Analyze competition
– Understand search intent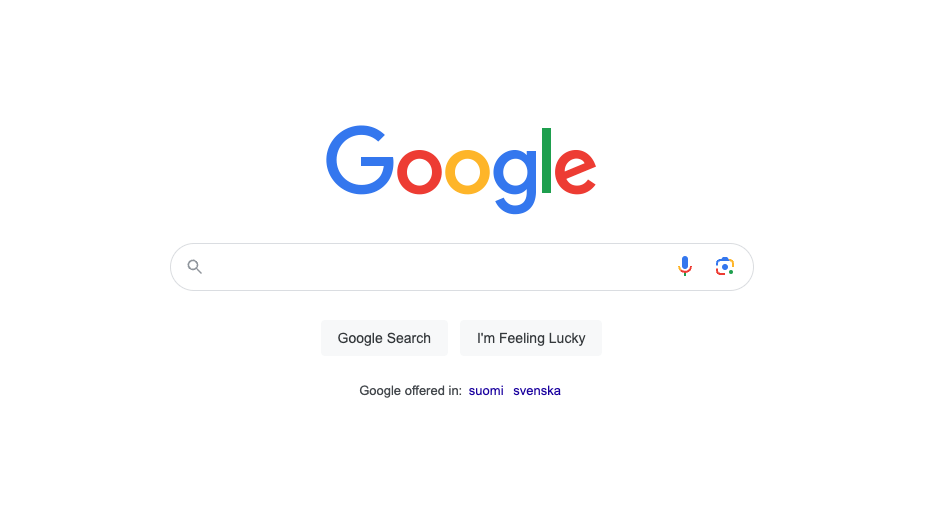 Google search is the blogger's best friend.
This sounds like a no-brainer, but there are use cases that might surprise you!
If there was one tool to take away from this list, it would be Google search.
You can use Google to find blog post topics, analyze competition, learn what kind of post to write, and more.
Let me show you around!
#1 Suggestions
Google search suggestions are awesome blog post topic candidates.
This is because these are keywords that have actual search volume. Those aren't just random predictions!
For example, here's a list of potential blog post topics for a badminton blog: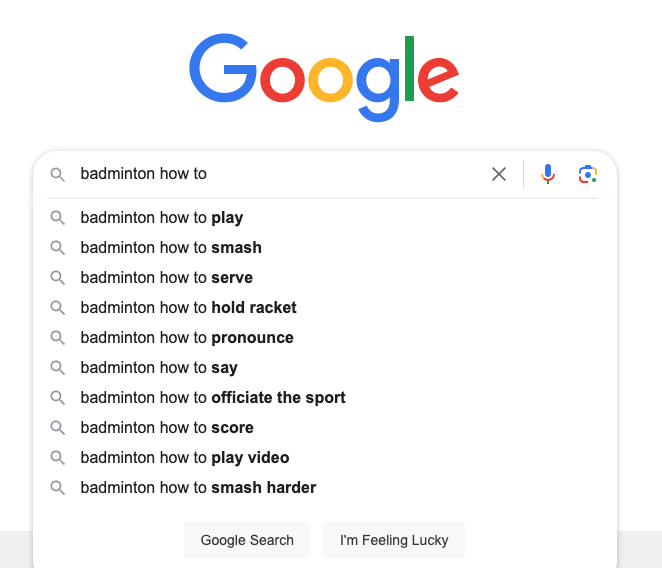 Just remember that you need to do some more research and use common sense before locking these topics.
Nonetheless, suggestions give you a perfect long list of topics.
By the way, if you want to learn more about keyword research, make sure to check my full video about the topic:
#2 PAA Section
If you search for something on Google, you will usually get a "People also ask" (PAA) section.
This shows you related questions that people ask on Google.
In other words, these are also great blog post topic candidates. You can use these as your blog post talking points.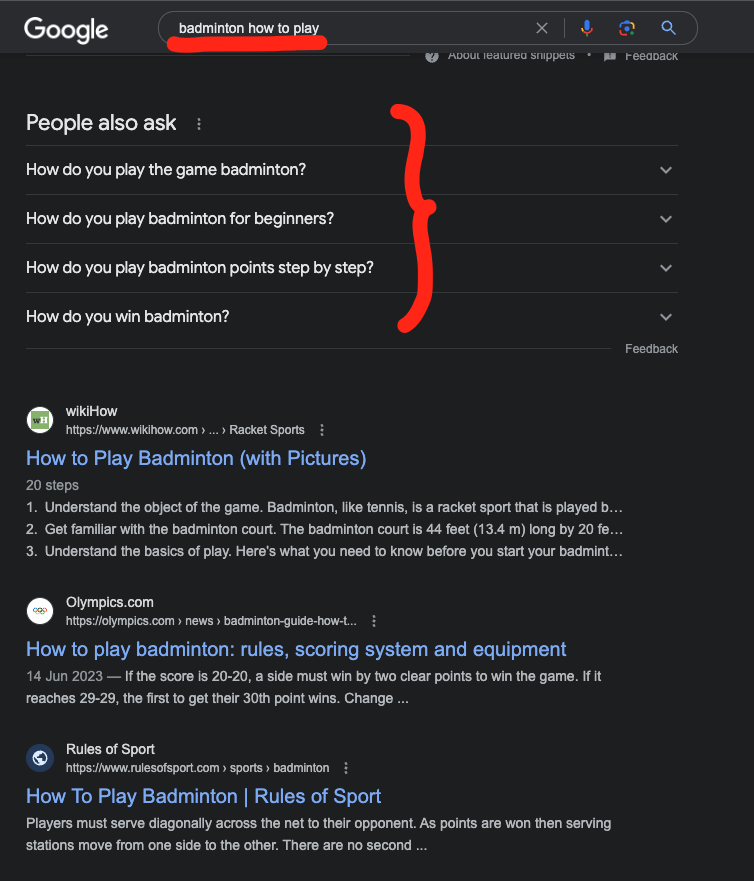 Just remember that keywords don't need to be exact.
If these PAA section suggestions don't make sense or look unnatural, just change those to how they should actually be.
For example, "How do you play badminton points step by step" is a bad blog post topic/talking point.
Instead, you can change it to something like: "How to play badminton: rules, scoring system and equipment".
So the PAA section only gives you an idea of what people search in the space.
But those aren't worded exactly how the searchers would expect to see them in search results.
#3 Related Searches
Do a Google search and scroll down to the bottom of the page.
You'll find a "Related searches" section. These are related keywords that also make nice potential blog post topics.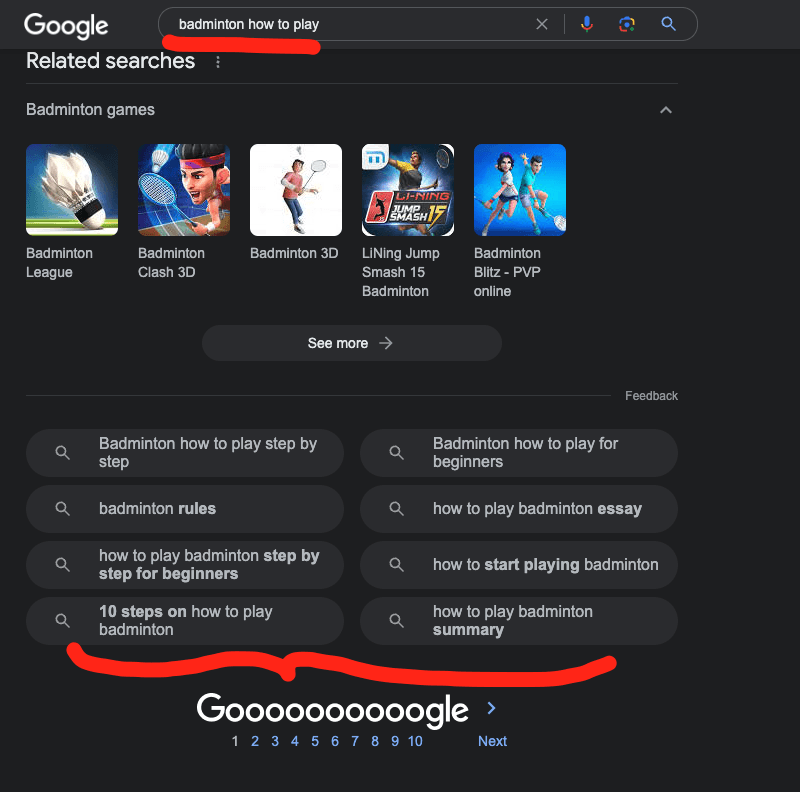 Similar to the PAA section, these suggestions are good candidates. But the wording might be off.
Also, some common sense and further analysis are needed before locking the topic.
#4 Competitive Analysis
Before you write a blog post it's a great idea to check the competition.
This is where you can use Google too!
If you search for your topic, are there highly popular or venerable sites in the top 10?
Or are there smaller sites that are easier to compete against?
By Googling up a topic, you get to see typical characteristics of a blog post in the top 10 for that particular topic.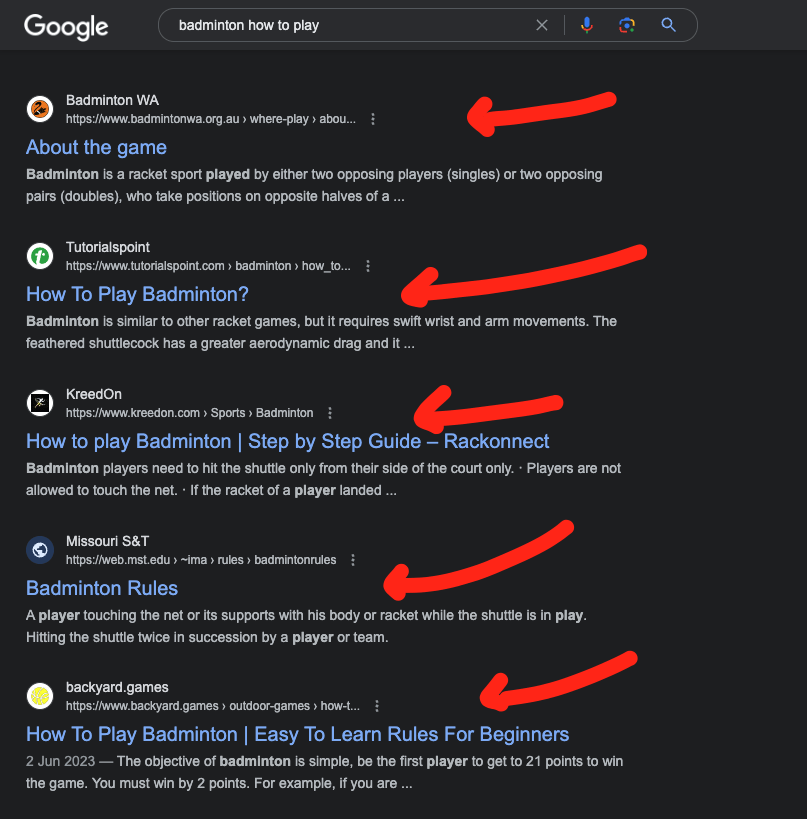 This gives you a nice blueprint for how you should write your blog post.
If all the blog posts in the top 10 are those long and detailed ultimate guides, your story should probably be something like that too!
If every post starts with an image carousel, yours should start with one as well!
But if the posts are very short and concise, writing a 10,000-word guide about that topic might not make any sense.
Nonetheless, before you write, make sure to make every post more detailed and informative than any one of those in the top 5.
#5 Understand Search Intent
Related to the previous point, you can use Google to find the search intent of a keyword.
This tells you what people expect to see when they search for that particular topic.
This sounds intuitive, but it's not always something you might consider before writing.
For example, consider something like "How to play badminton".
The search intent is clearly to see a video instead of reading a blog post.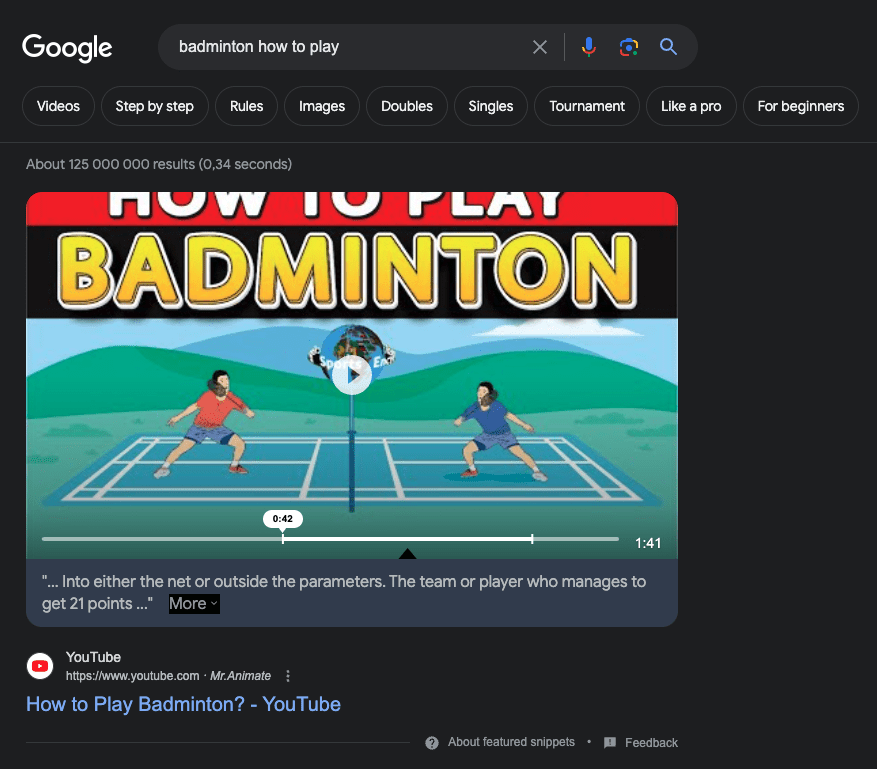 Sometimes the search intent might be so visual that there are practically no blogs in the top 10 results.
In this case, it might be a good idea not to spend time writing a blog post about the topic because it will not rank high due to it being the "wrong type of content".
For example, something like "How to tie shoelaces" is not the best blog post idea because people want to see image guides or videos.
3. Grammarly (Free Version)
Name
Pricing 💰
Pros 👍
Cons 👎
Use Cases 🛠
Grammarly
FREE (premium plan exists)
– 15 seconds to activate and use
– Correct most of the time
– Great forever-free version
– Fully automatic
– Chrome tool

– Paid for power users
– Silly fixes
– UI sometimes shows fixes in the wrong places
– Fix typos
– Fix punctuations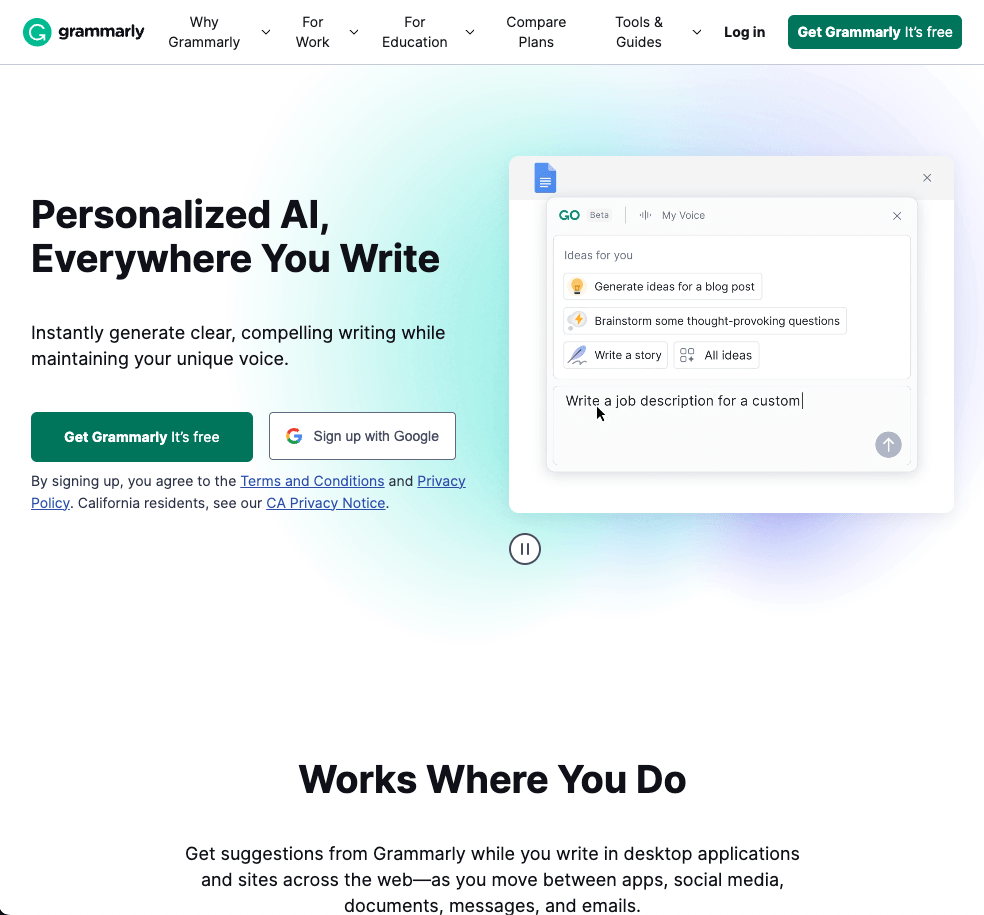 Grammarly is in my opinion a "must" if you care about fixing typos and silly writing mistakes.
The free version is more than enough and it's what I've been using for almost 3 years now.
Grammarly enforces those strange punctuation rules in English by fixing them automatically.
This frees up your brain capacity and allows you to focus on tasks that matter.
I'd say that Grammarly fixes every 25-50th word that I type, so it's definitely important for me.
#1 Install Chrome Extension
Grammarly has an AI-powered web editor. But I think the main use is its Chrome extension.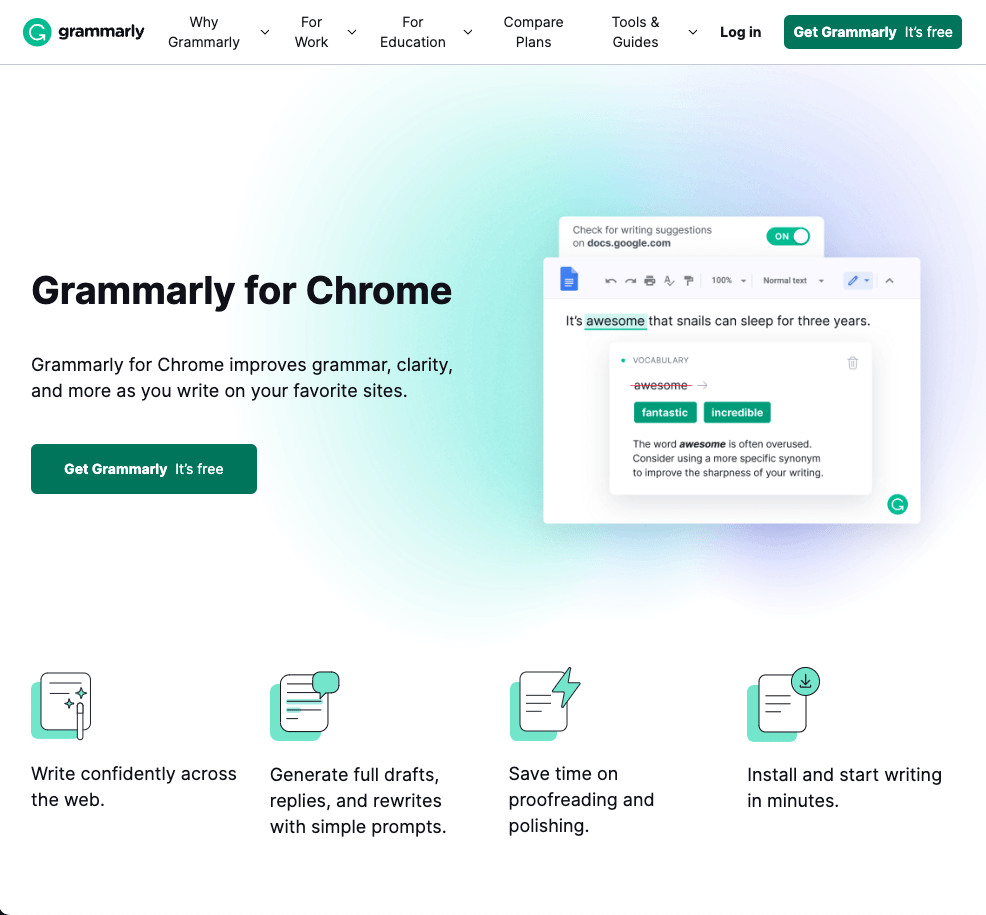 Once you've installed Grammarly, activate the plugin and it will start analyzing written text on any page you visit.

By the way, you can disable Grammarly for specific pages you don't want it to read.
#2 Autofix Typos
Here's an example that shows how Grammarly works.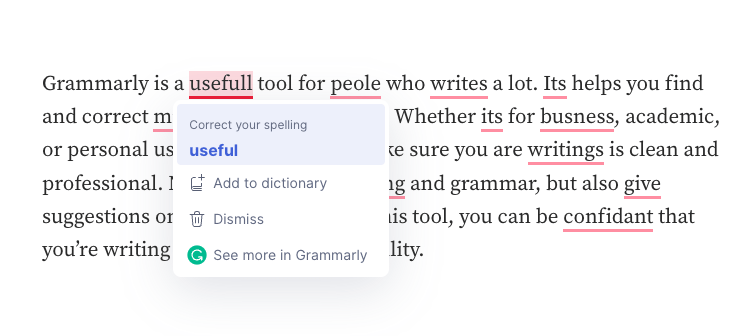 This is a piece of text with a lot of errors. As you can see, Grammarly highlights issues in the text. All I need to do is click on the fix!
Notice that Grammarly is not 100% accurate, but it's very close.
Also, if there are some words that Grammarly doesn't recognize, you can always add those to your custom Grammarly library to ignore them next time.
#3 Use Anywhere
Grammarly is not just for blog post text editors. It works wherever there's a text field on a web page.
For example, you can edit emails with it.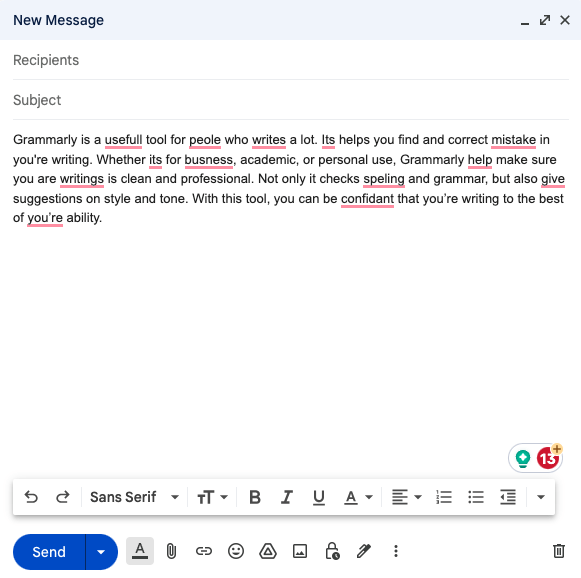 #4 Free Version Suffices
As you probably already noticed, there's also a paid version of Grammarly.
If you find that useful, don't hesitate to upgrade.
However, I've never paid for Grammarly and am super happy with the free version.
The free version fixes the most crucial mistakes. The paid version does more, such as rephrasing sentences, and such.
4. Canva (Free Version)
Name
Pricing 💰
Pros 👍
Cons 👎
Use Cases 🛠
Canva
FREE (Premium plan exists)
– Intuitive, no design skills needed
– Tons of images and assets
– Very generous free plan
– Good for illustrations and featured images
– Some assets are paid
– Some necessary features are paid
– Editor sometimes crashes an image
– Featured image
– Illustrations
– Infographics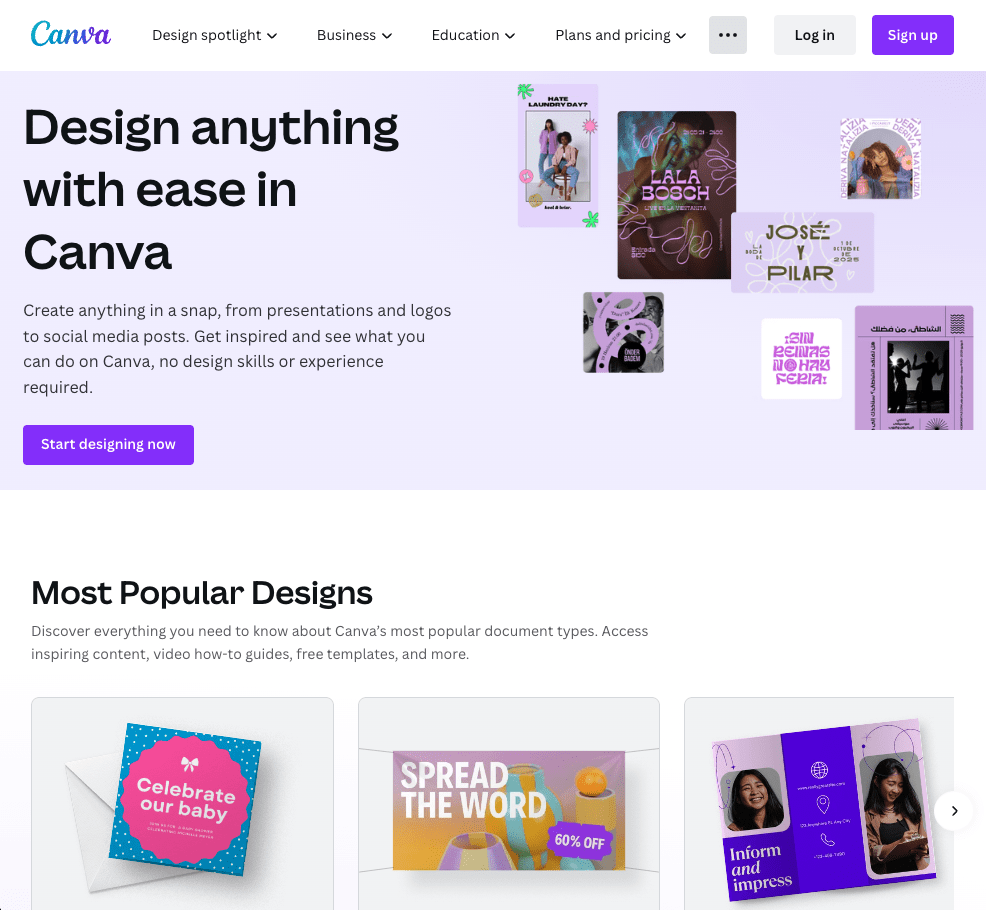 Canva is my go-to illustration tool.
I create featured images, illustrations, and YouTube thumbnails with it.
Read also: How to Use Images in Blogs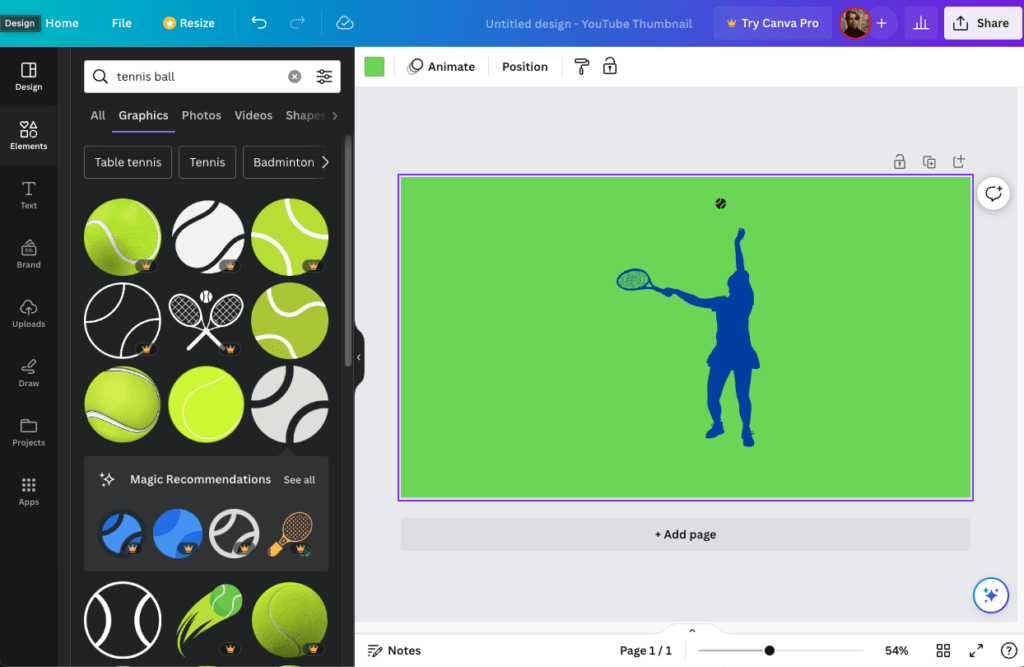 Just open up the homepage and hit "Create". Everything that follows is intuitive.
What I love about Canva is that it has a very well-rounded free version.
I've used it for almost a year now and it's always fulfilled my requirements.
The editor is super intuitive.
My workflow looks like this:
Open Canva
Change the background color
Drag and drop elements
Add some text
Download the image
You need absolutely no design skills to use it.
You'll learn it in 15 minutes.
One thing I absolutely love about Canva is the ready-made assets.
There are tens of thousands of images and assets you can use in your illustrations.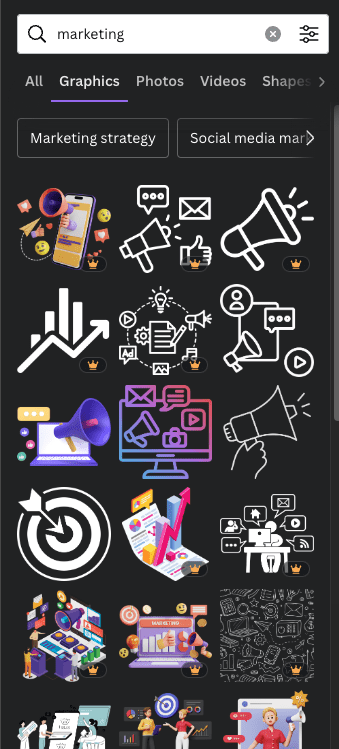 For example, if you want to have a picture about "marketing", you don't need to hire an illustrator or designer.
Instead, you can use those pre-built illustrations that are more than enough for basic and intermediate use.
5. ChatGPT
Name
Pricing 💰
Pros 👍
Cons 👎
Use Cases 🛠
ChatGPT
FREE (Premium plan exists)
– Super easy to use
– Generates accurate text
– Original
– Fast
– Forever free plan is awesome
– Doesn't "add to the internet"
– Cannot make posts rank high
– Misinformation
– Inaccuracies
– Super easy to use
– Generates accurate text
– Original
– Fast
– Forever Free plan is awesome
ChatGPT is an artificial intelligence robot that generates text from scratch from simple instructions.
This can be a great time-saver for bloggers. It can write outlines, titles, and even blog post sections.
Of course, ChatGPT has its limitations but it can certainly speed up blogging workflows when used right.
How to Use
To start using ChatGPT, head over to their website at chat.openai.com.
The GPT-3.5 is the free version you can use which in most use cases is more than enough.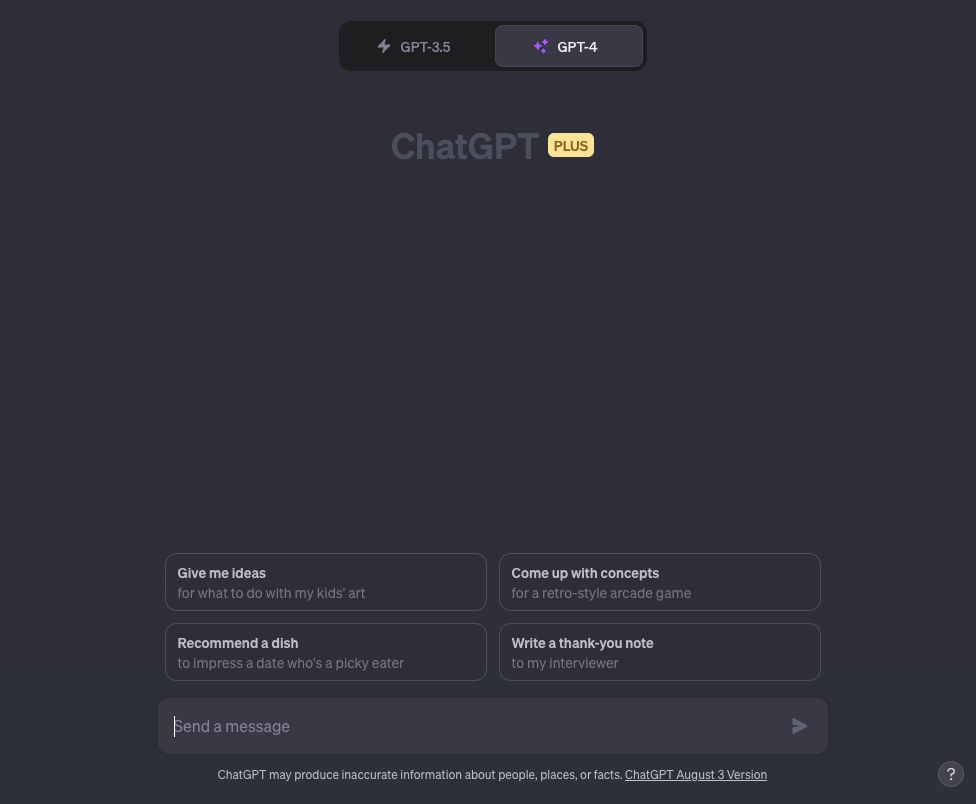 As much as I'd like to say it writes blog posts from scratch, it really cannot.
Its information is sometimes outdated and the facts aren't correct.
Also, it only repeats but doesn't add anything truly unique to the table. But this is kind of expected as it's not a real human that would roam around the world.
That being said, it's very good for simple tasks, such as outlines, simplification, and such.
Let me show you some of my favorite use cases for ChatGPT.
#1 Outlines/Talking Points
One of the main use cases for ChatGPT is that it generates outlines from scratch.
Just tell it to start a blog post outline and it will do it for you!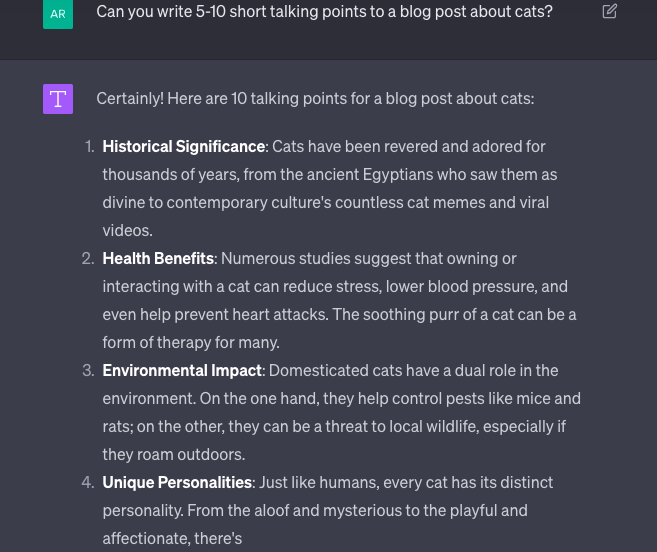 The reason I love this use case so much is because I teach blogging. Some of the things are so familiar to me that I accidentally forget to mention them.
But with ChatGPT, I can be sure to include all the basics in the mix in my posts.
The other day, I wrote a 4,000+ word blog post about keyword research.
I did this thanks to ChatGPT asking me the right questions that I would've had as a beginner.
If it was just me, the post would've become much shorter and less informative because I would've taken so many not-so-obvious things for granted.
#2 Simplify Difficult Text
Another great use case for ChatGPT is its ability to rephrase text.
This is especially useful if you want to simplify some concepts.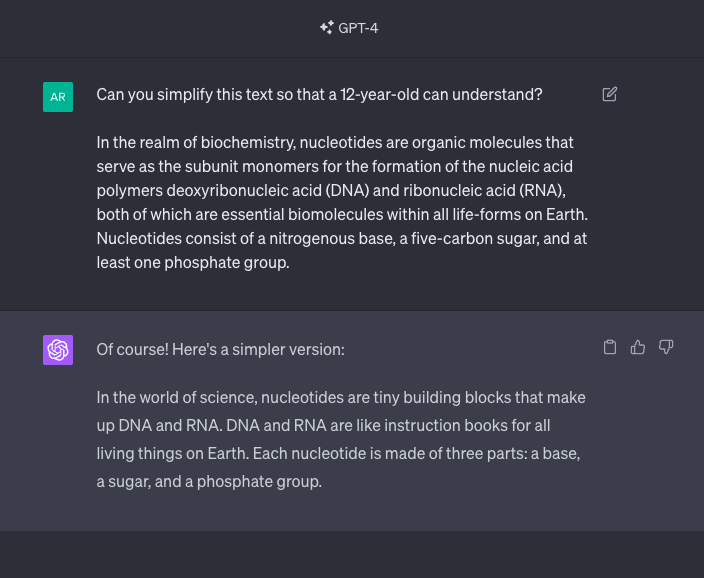 At least I find it hard to explain some topics in clear and concise language.
This is where I can use ChatGPT. I can write the text as ugly as I want and let ChatGPT simplify it.
At the end of the day, every word and sentence in a blog post should be as easy to understand as possible.
The quicker you deliver value, the better. If you use complex words, sentences, or phrases, you can use ChatGPT to get rid of those.
#3 Mind the Limitations
Remember, ChatGPT is an assistant, not an autopilot.
It can in theory write blog posts. But those don't really add anything to the internet.
This is because ChatGPT is not an expert. It doesn't think. It relies on the data it has seen.
It cannot review products. It cannot take supporting images. It doesn't create useful infographics.
It's those things that make blog posts stand out that ChatGPT lacks the skills to.
Wrap Up
And that's it! These are the blogging tools I use in my everyday blogging workflow.
As promised, no paid SEO tools or anything. This is not because I want to save you money—it's because I truly find those useless!
If you only use Google, you will find much greater success than those trying to trick Google's ranking algorithm with SEO tools, keywords, backlinks, and such.
Those worked a long time ago! This list would've been quite different in 2015–2018. But we're already in the 2020s so none of those strategies work anymore.
Thanks for reading. Happy writing!