Are you looking to create a compelling outline for your blog post to make your blog posts stand out?
You've come to the right place.
Let me show you my strategy of creating outlines for blog posts that have led to millions of visitors to my blogs.
Why Outlines, Though?
Creating the outline for a blog post is a great way to make a blog post better in many ways.
The more carefully you plan your content, the better your post, and the more your readers love it.
But it's also easier for you as a writer.
What if I told you to write a blog post about "Tennis Tips" and gave you a blank paper?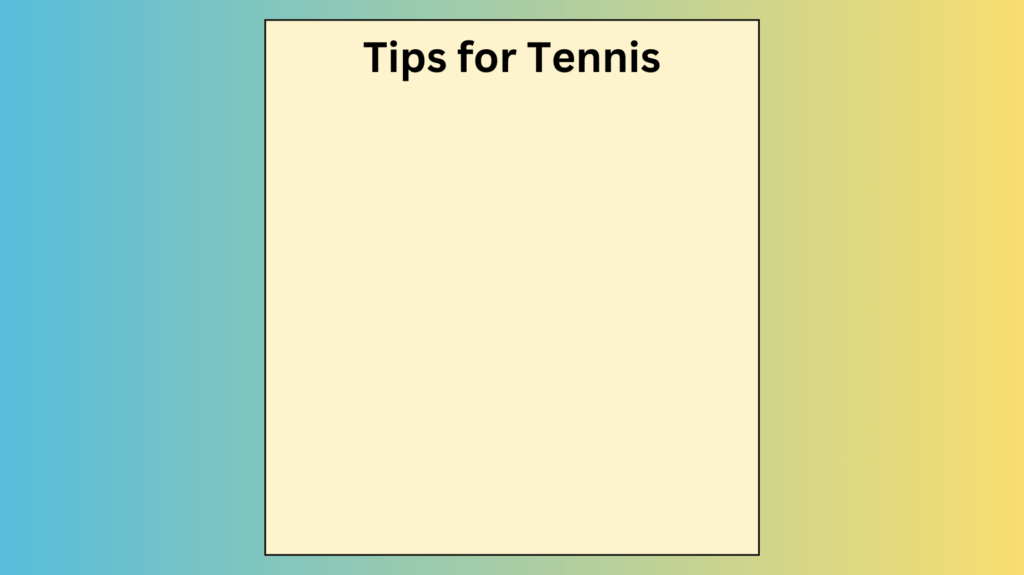 Discouraging, right?
But what if I had laid down all the necessary talking points as an outline?
Much easier!
If I don't create a content outline, I end up saying at least 50% less than what I'd actually wanted to.
However, creating the outline is not all about planning or streamlining.
It's also about solving the right problems.
Every blog post should solve a problem and be the best resource on the internet.
To solve a problem thoroughly, it's necessary to address related questions and solve sub-problems related to the main topic.
To do this effectively, you need to find out what people are looking for when they're searching for that particular problem or topic.
Let me show you exactly how to form an epic blog post outline for maximized search visibility and value.
#1 Find a Topic
Before starting a blog post outline, you need a topic for your post.
If you know your niche and understand the audience's pain points, just choose one and write about it.
But if you're running out of ideas, worry not!
You can use Google in a bunch of ways to find a topic for your blog post.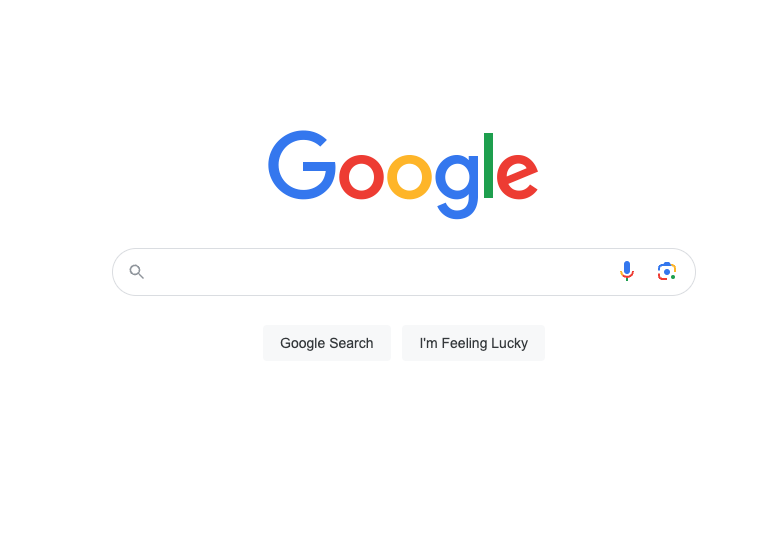 There are three main ways to find a blog post topic on Google:
Google Autocompletion
Google People Also Ask
Google Related Searches
Google Trends
I've written a separate post on how to use these but here's a short recap of what you can do:
1. Autocompletion
One of the key strategies in finding blog post topics is by using Google autocompletions.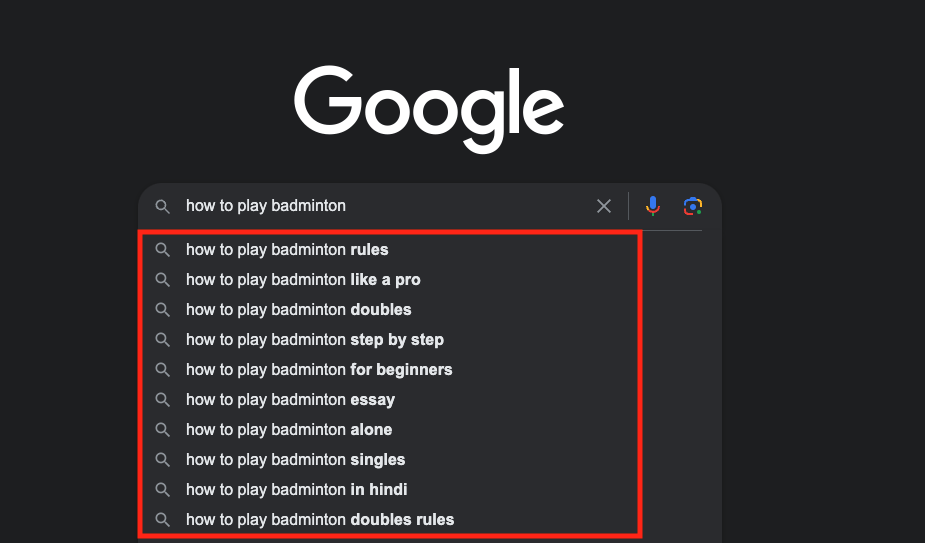 This shows you exactly what people are searching for in your niche.
By writing posts about these, you directly help people in your niche—which is awesome.
This way, you can build trust and reputation in the eyes of your audience.
2. People Also Ask
Another key strategy for finding blog post topics is by using the People Also Ask section on Google search results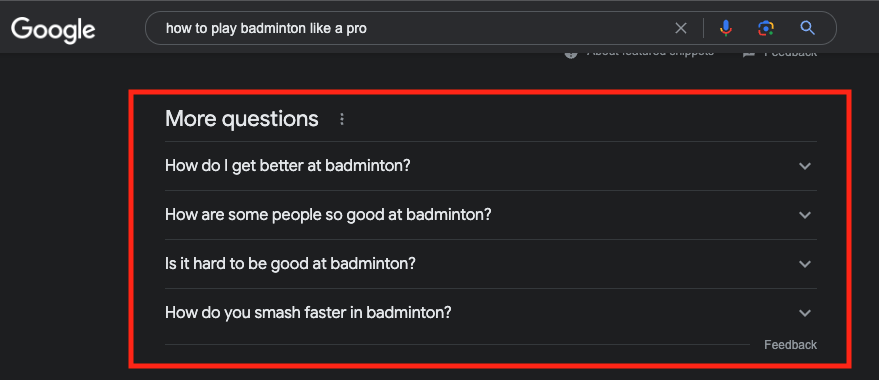 This is a great strategy because this shows you what people are searching for related to a particular topic or problem.
These can sometimes be good additions as talking points to your blog posts. I'll talk about this later in this guide.
3. Related Searches
Another great way to find niche-specific blog post topics is by scrolling to the bottom of the Google search results.
There you can find those related searches.
Very similar to Google's autocompletions, these are topics that people are actively searching for in your niche.
Just remember that sometimes these suggestions aren't logical.
If you see an odd suggestion like "Tennis How Play to Win 2022", that's not a magic "keyword" you should "go for".
Instead, ensure your blog topics make sense in English.
So instead of "Tennis How Play to Win 2022", your post should just be "How to Play Tennis".
The year number doesn't make sense in this context.
And the word "Win" doesn't make sense either. I mean who would want to play tennis not to win?
Use common sense.
Last but not least, a great way to discover rising topics in a niche is by using Google Trends.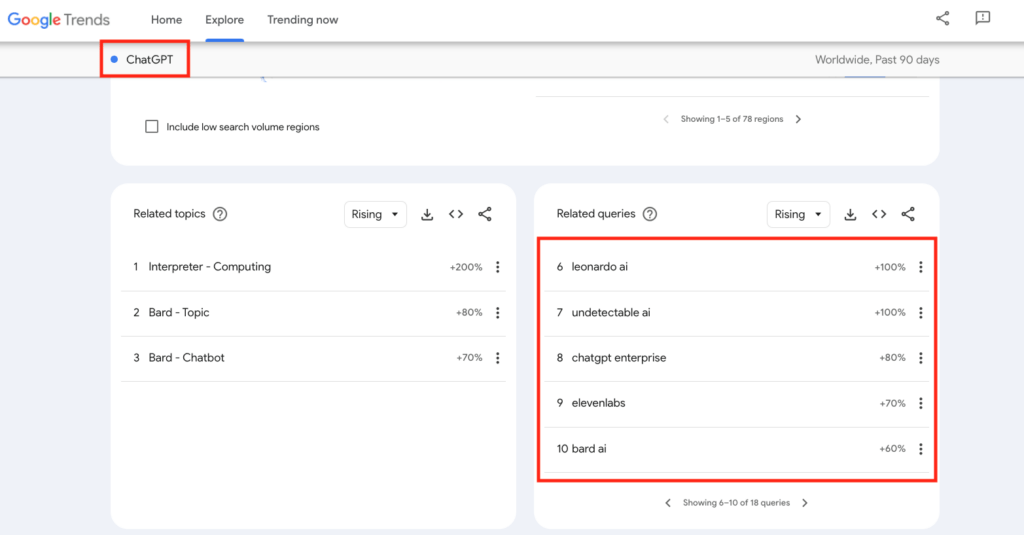 It can show you new products, events, or subtopics in your niche.
I'd go for topics that have been rising for at least 90 days because those shorter ones tend to die down.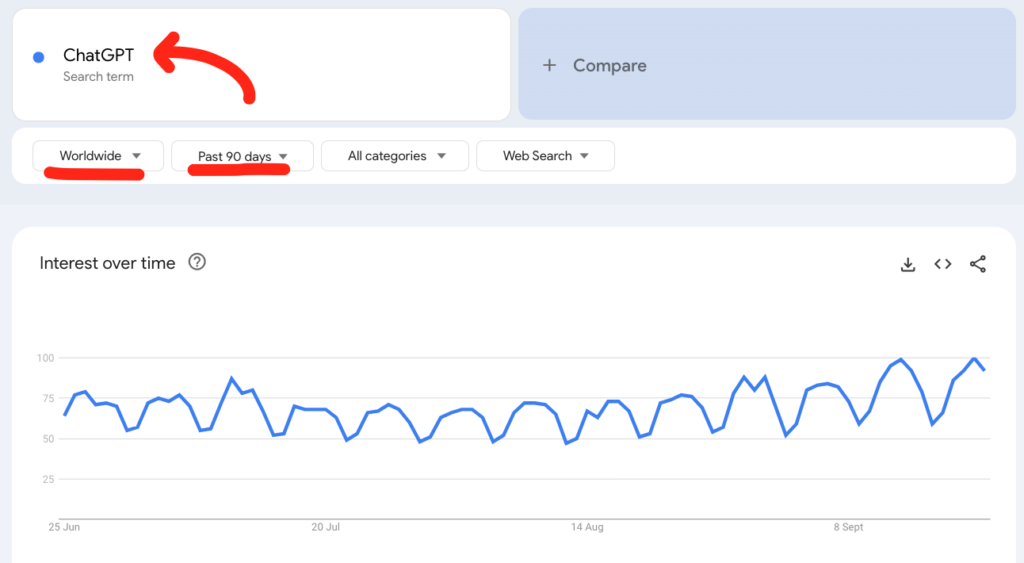 I've used this strategy to find products to review in my niches.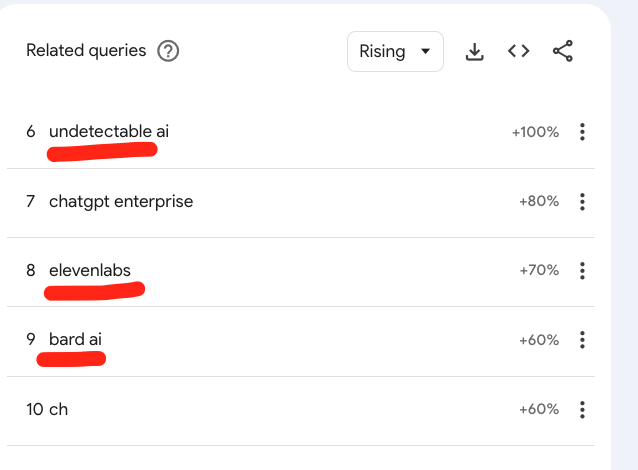 These items can also give outline ideas for your post.
For example, if there's a new trend, you can briefly mention it at the end of your post (or in an FAQ section).
But that's enough for choosing the topic. Now, let's focus more on the outline!
#2 Choose Content Format
To write an outline for your blog post, you need to know the content format.
In other words, you want to know if you should produce a listicle, how-to guide, roundup post, review, or such.
By the way, if you just heard these terms for the first time, don't worry. I'll help you out in just a bit!
Sometimes choosing the format is super obvious—even for a complete beginner.
For example, if you're writing a blog post like "How to win in chess", it's going to be a how-to post.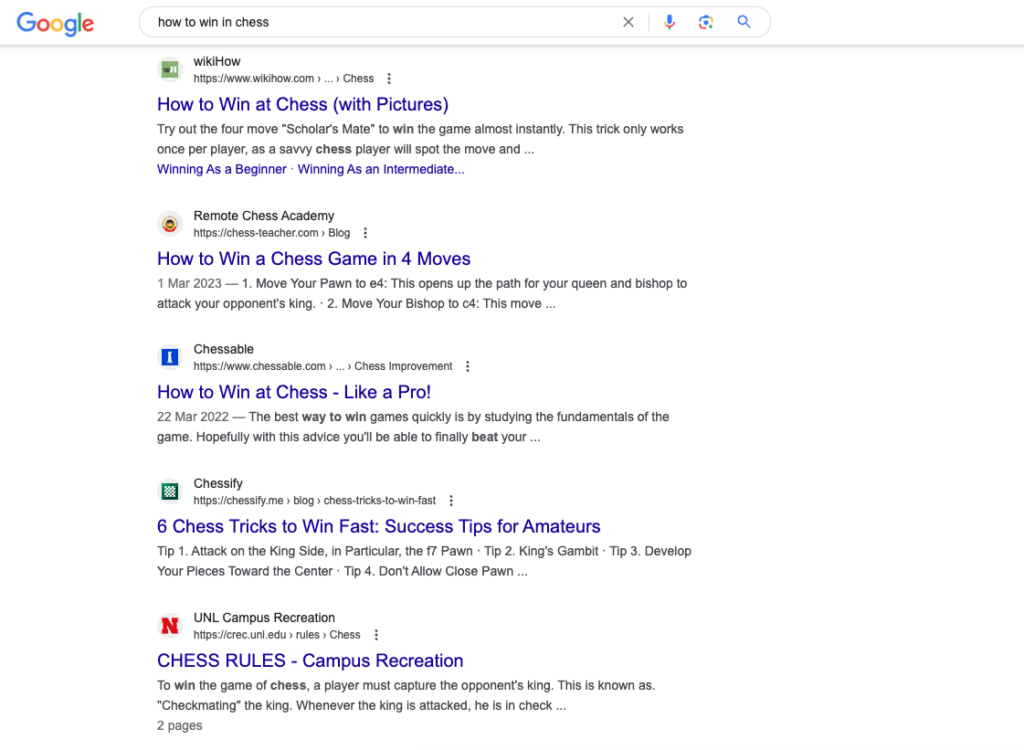 Or if you're writing a post like "Tips for Tennis", it's going to be a listicle.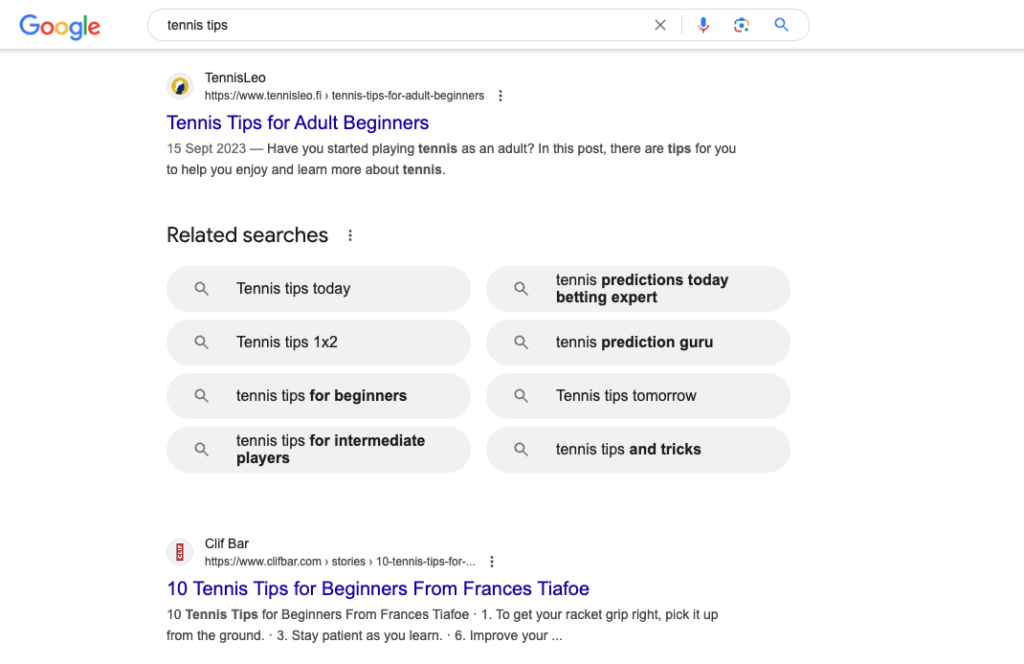 But consider a topic like "Best AI Tool".
There are many content formats this topic could be covered with.
The post could be any one of these:
An opinion-based post
A listicle post about the best AI tools
A review of a specific product
So how do you choose one format over the others?
Use Google to determine which post type it thinks matches the search query best: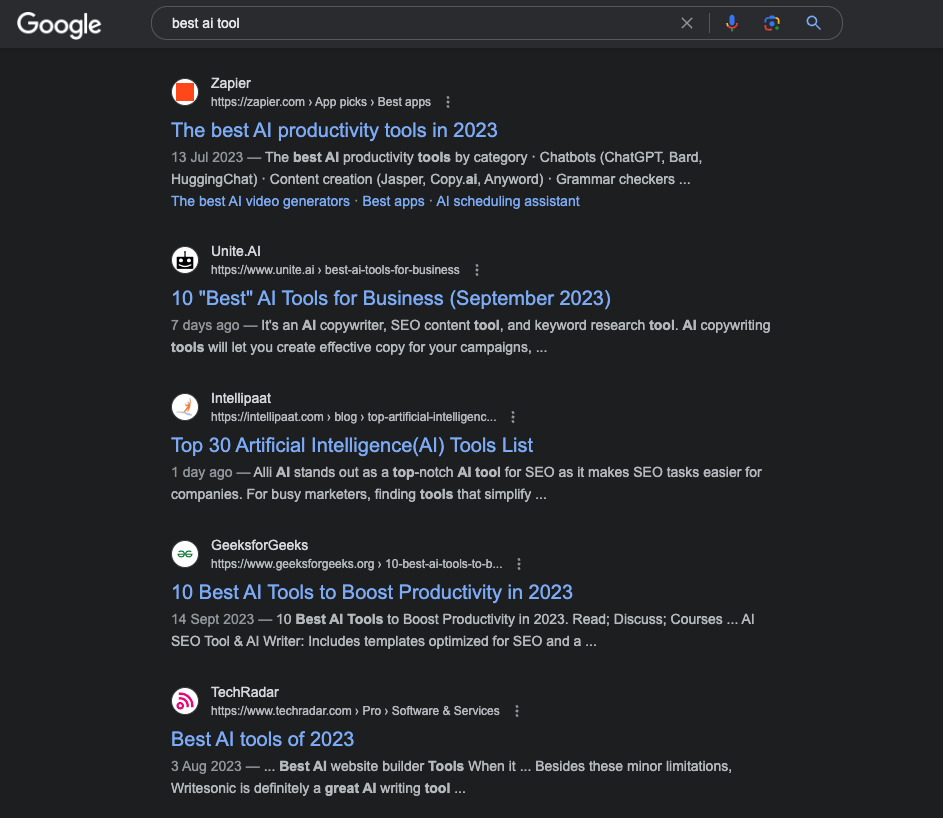 As you can see, all the posts that pop up are listicle posts that list the best AI tools.
You can't see any posts that would just review one piece of software or share a single opinion.
This reveals to you exactly what type of post you should write.
What we just did was to figure out the search intent of the topic.
Although you may have done that already before when finding the topic, it's important to always do it at some point.
You don't want to waste time writing about something that people aren't interested in.
Speaking of search intent, it's always a good idea to check because you don't want to write a post about something where a post is not a good fit at all.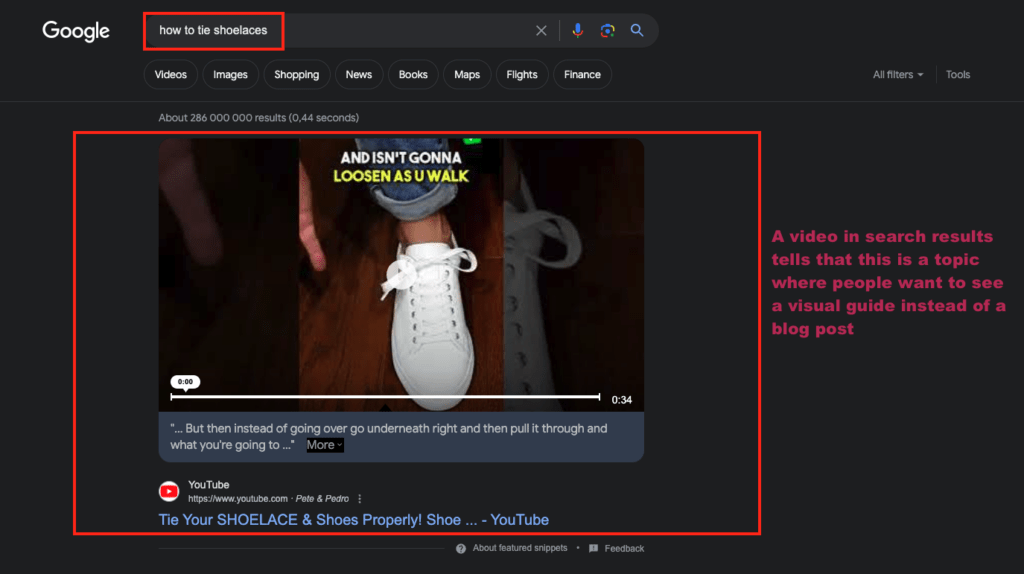 Tip
Most of the time, your blog posts will be listicles, how-to posts, or reviews.
I've made a video about different blog post templates. Make sure to check it out to find the most common blog post types that you might write:
#3 Consider the Audience's Knowledge
Before laying down your outline, learn what your audience knows and what they don't.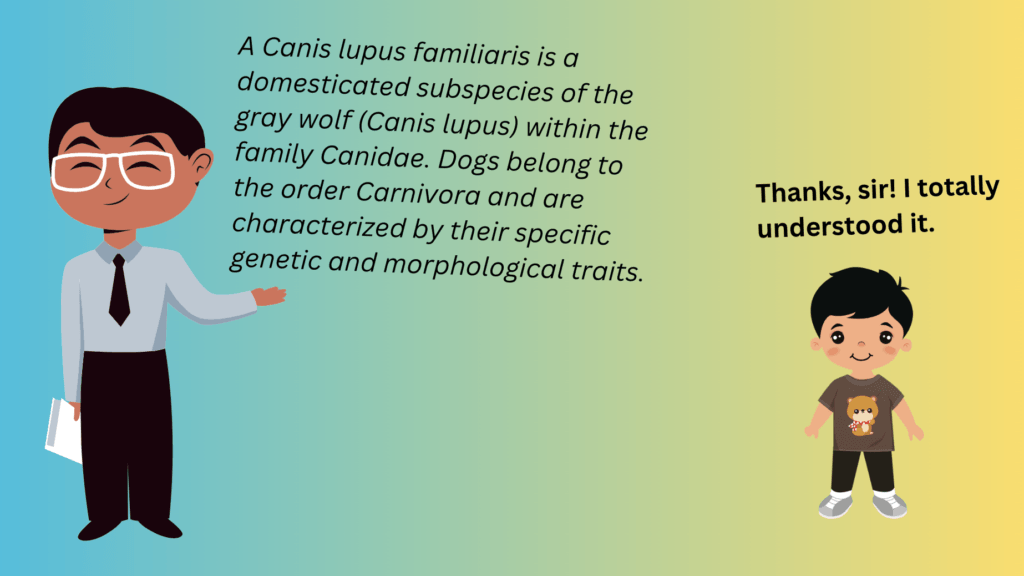 You cannot cover everything in one post—even though your posts should be comprehensive.
If you're targeting beginners, you need to address all potential confusion.
If the post is about something that the audience is familiar with, you can make assumptions.
For example, a blog post about "How to Peel an Apple" does not need "What Is an Apple?" in the outline.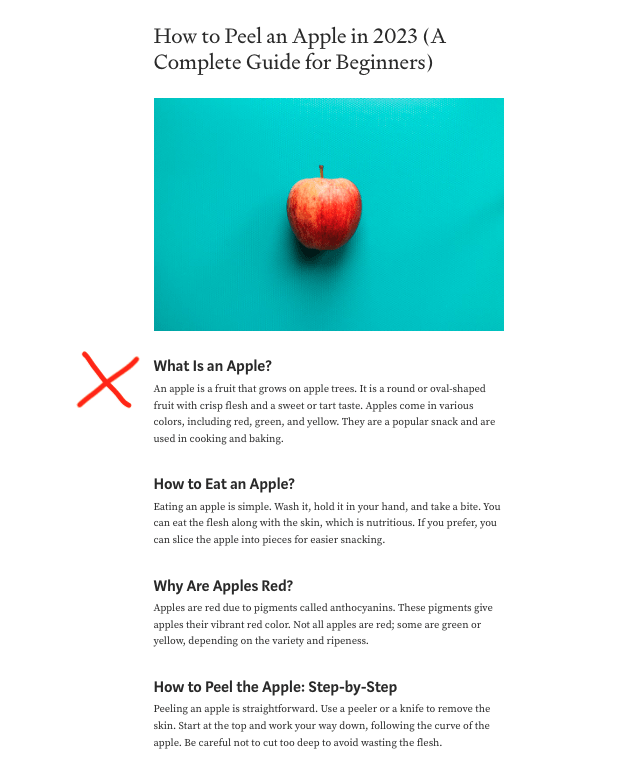 People already know what is an apple.
But let's say you have a blog post where you mention ChatGPT.
If the post targets tech-oriented people, it might be useless to tell what is ChatGPT.
But if the post is geared towards the less technical, it might be a worthwhile addition.
Think about the knowledge level of what your typical reader might have.
Just Google your topic and see what types of posts and outlines pop up.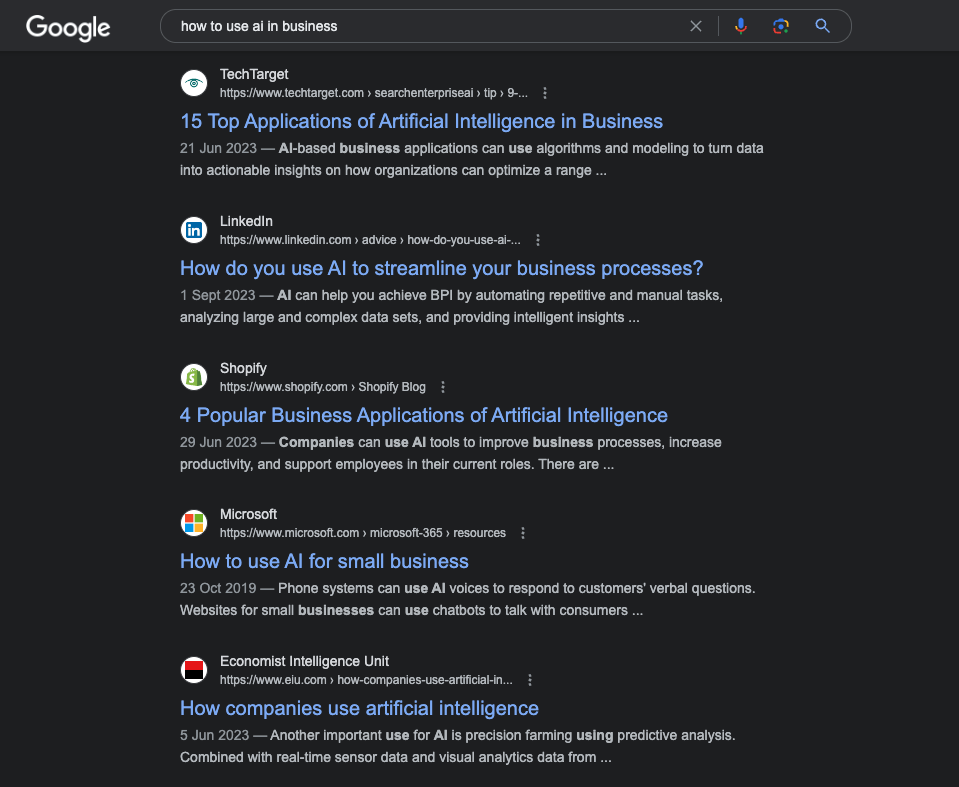 Open up these posts and see what they've included.
This gives you inspiration for your outline and shows what you might not have thought about when drafting your outline.
Of course, not all posts are worth considering.
Some "high-authority sites" rank on Google even with lower-quality posts. Trying to use them as an example won't get you far.
Nonetheless, by analyzing your competitors, you'll learn one important thing: What got them to the top of search results.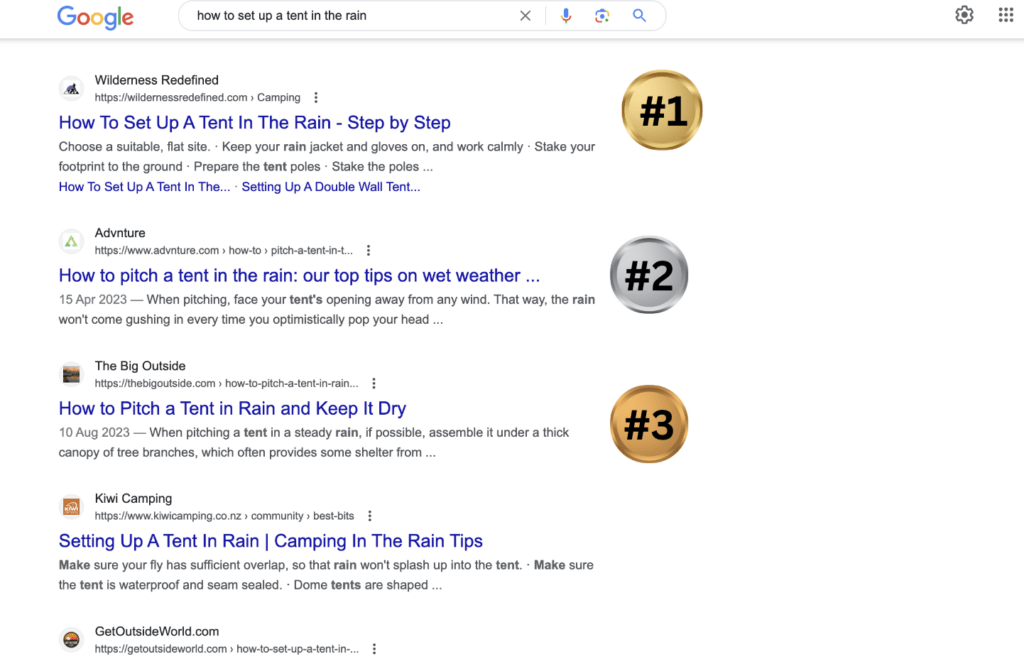 This can be helpful when determining what to include in your outline.
For example, if your competitors have reviewed 10 products in their roundup post, you might want to include 20 or 30 to outperform.
It's perfectly fine to analyze your competitors and take inspiration.
#4 Template
If you look around the internet, you'll see that blog posts follow a similar format or template.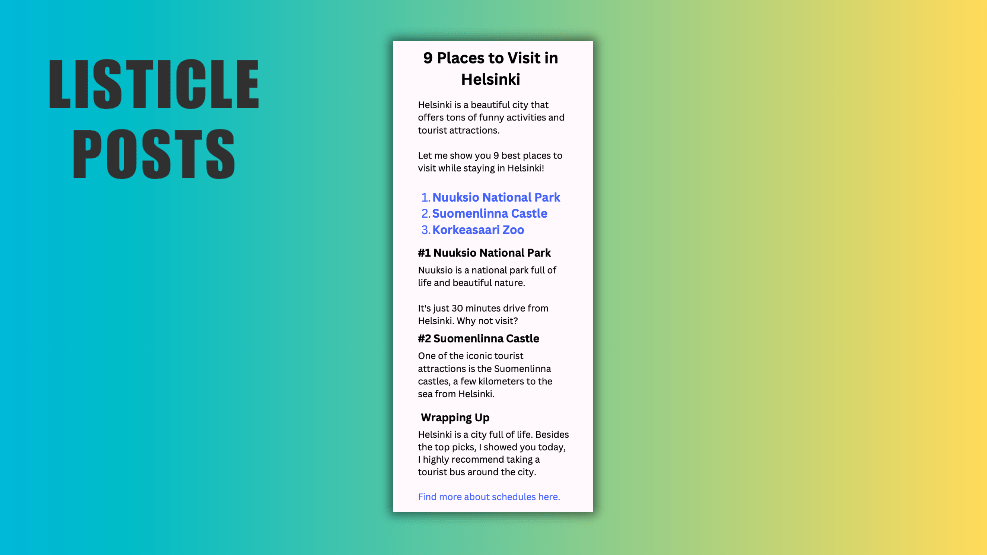 This is not a coincidence.
It's efficient to try to squeeze the content into a roughly similar outline template.
For example, in a traditional listicle post, your outline should be something like this:
Title
Intro
List Items
Wrap Up
These are the static elements that basically belong to all blog posts.
Laying these down can already help before laying down the rest of the talking points of the outline.
As suggested earlier, I recommend checking my blog post template tutorial.
#5 Find Subtopics
Next up, it's time to lay down the subtopics or talking points of the outline.
Instead of writing one long blog post about something, you're going to split it into a bunch of "sub-posts".
This not only makes it more enjoyable to read but also easier to write.
But how on earth do you know what to include in your post?
Firstly, use common sense. What does the reader want to know about the topic?
Then, check what your competitors have written about. Just use Google.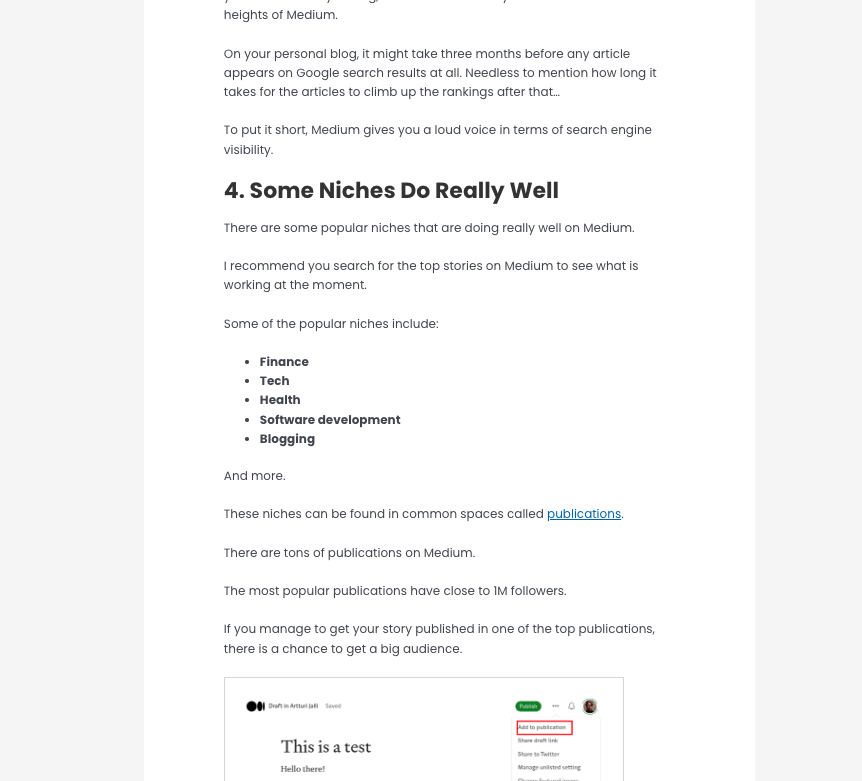 Also, feel free to ask ChatGPT to ask questions from you to help create the talking points. But please, use common sense with this one. Not all points are worth considering.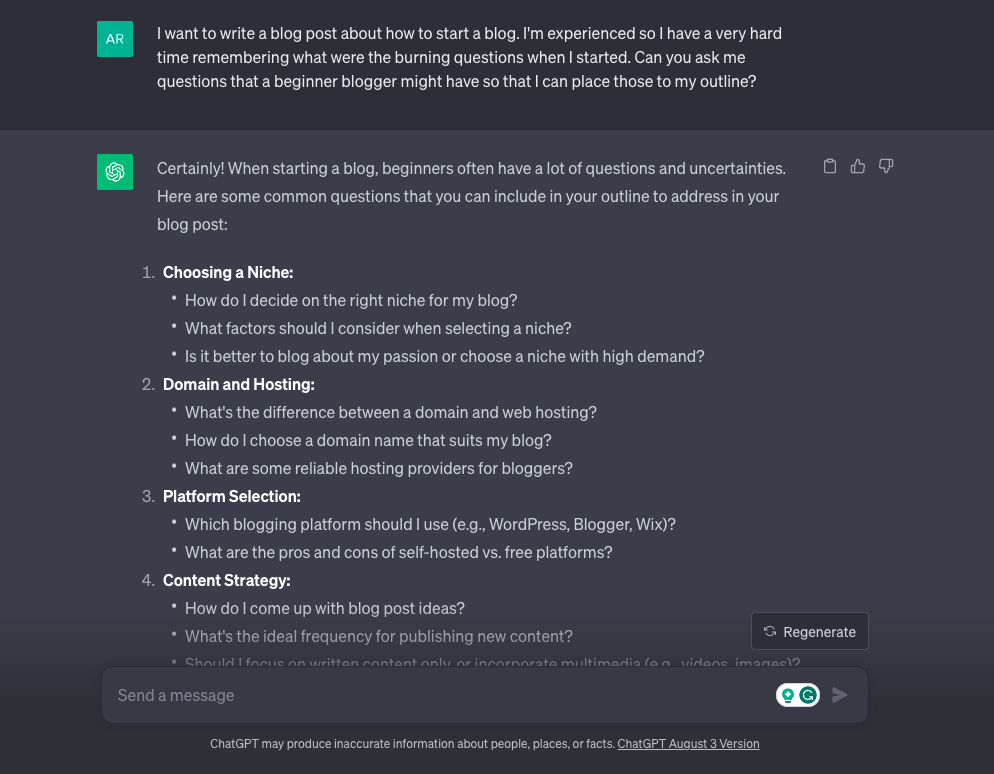 Use Google's people also ask sections to find related questions. You can include those in your post outline or in the FAQ section.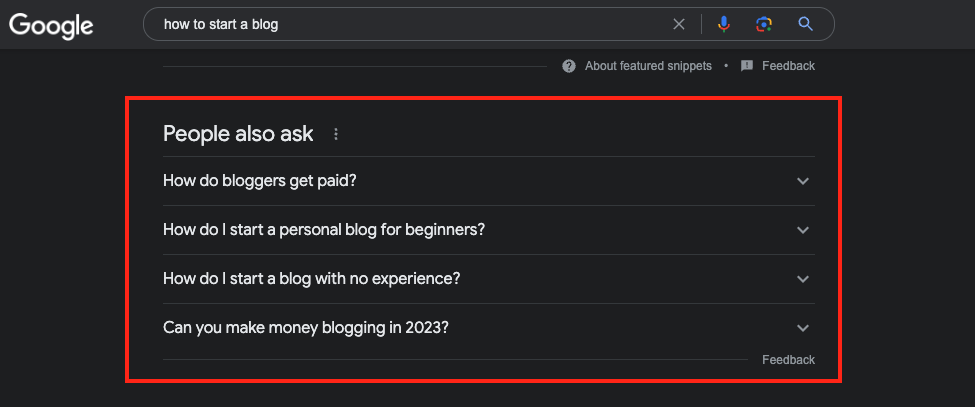 But remember one thing. Make sure to write for humans, not for robots.
All the suggestions that Google makes are not good. The same applies to ChatGPT or any other such AI tools.
So you can't just blindly rely on AI or existing competitors to lay down your outline.
Tip
It's a long process, but try to immerse yourself in your niche as much as possible.
Join communities, interact, and get hands-on experience.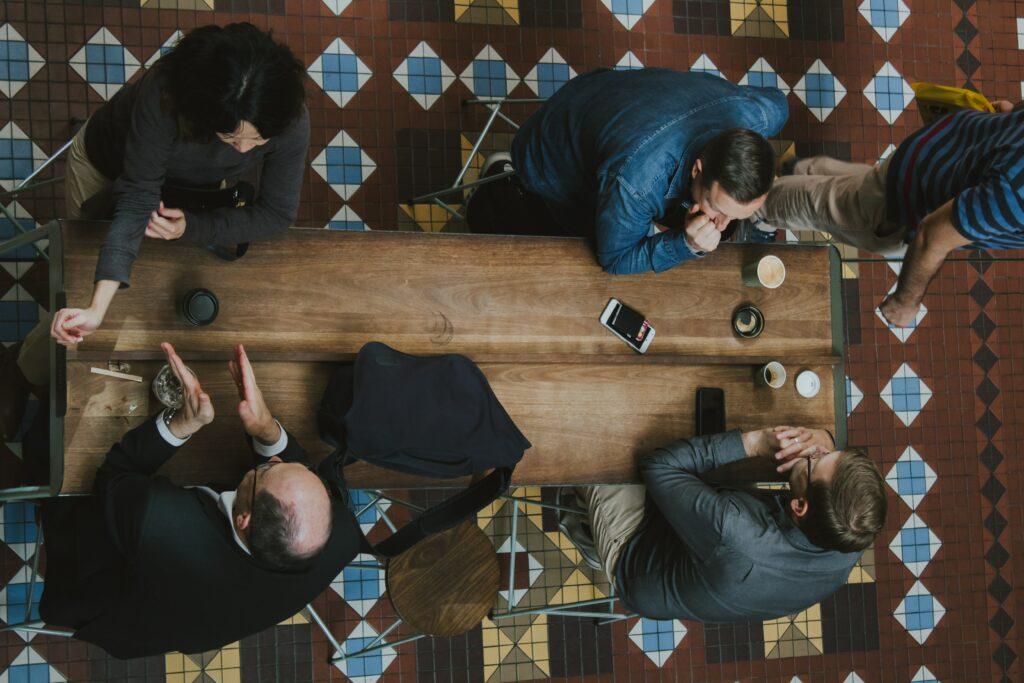 By doing this, you'll understand all the nuances of your niche.
This makes writing easier.
I've built this blog that you're reading right now basically off the top of my head. I can easily write 3,000+ word blog posts in 2-3 hours. This is all because I've been a blogger for almost 3 years.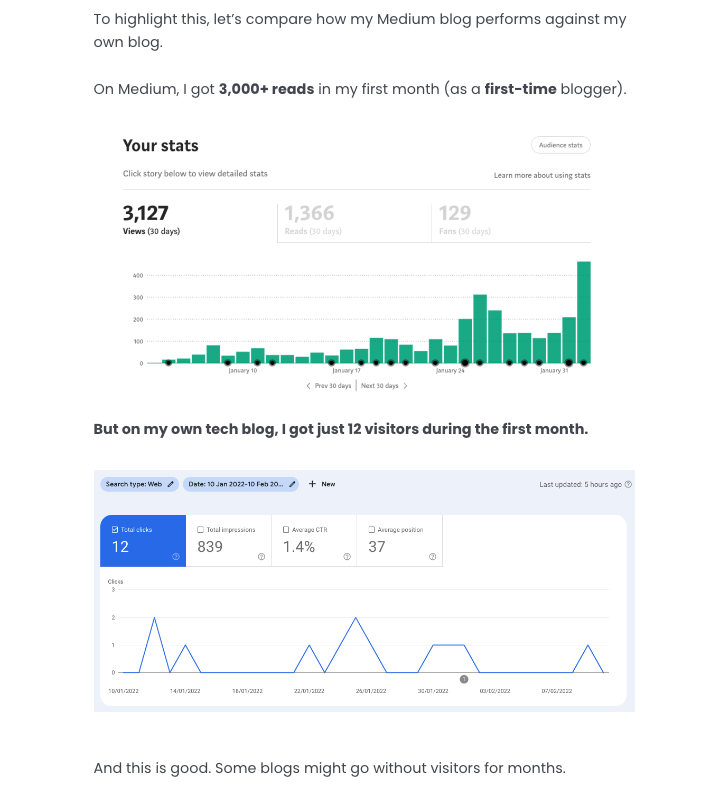 If you have no expertise in your niche, you can still for sure succeed. But this makes the content more shallow as well as much harder to produce.
While it's perfectly fine to start a blog about something you're not good at or know a lot about, your goal should be to become an expert. A person who someone can trust when they need help.
#6 Summarize Talking Points with Bullets
To further help the writing process, remember to summarize the outline subtopics with bulleted lists.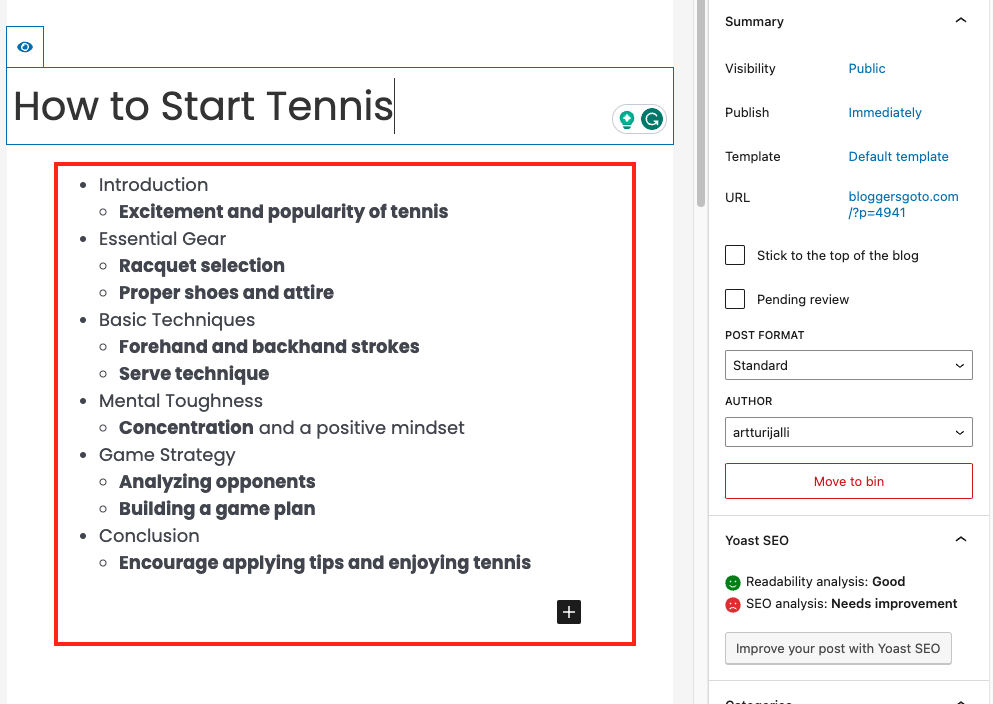 This way you can pour in all your thoughts and main points into the mix before focusing on writing.
These can be your own takes, knowledge, research results, and such. Include everything that makes sense and provides value.
This makes the writing process so much easier. When you have a solid outline, the writing process is like coloring the color book.
Without an outline, you'd just write a lengthy piece of content with no logical structure. That would never perform in the search results.
#7 Don't Forget Intro/Outro
In an ideal world, the intro of a blog post tells exactly what one can expect from a blog post.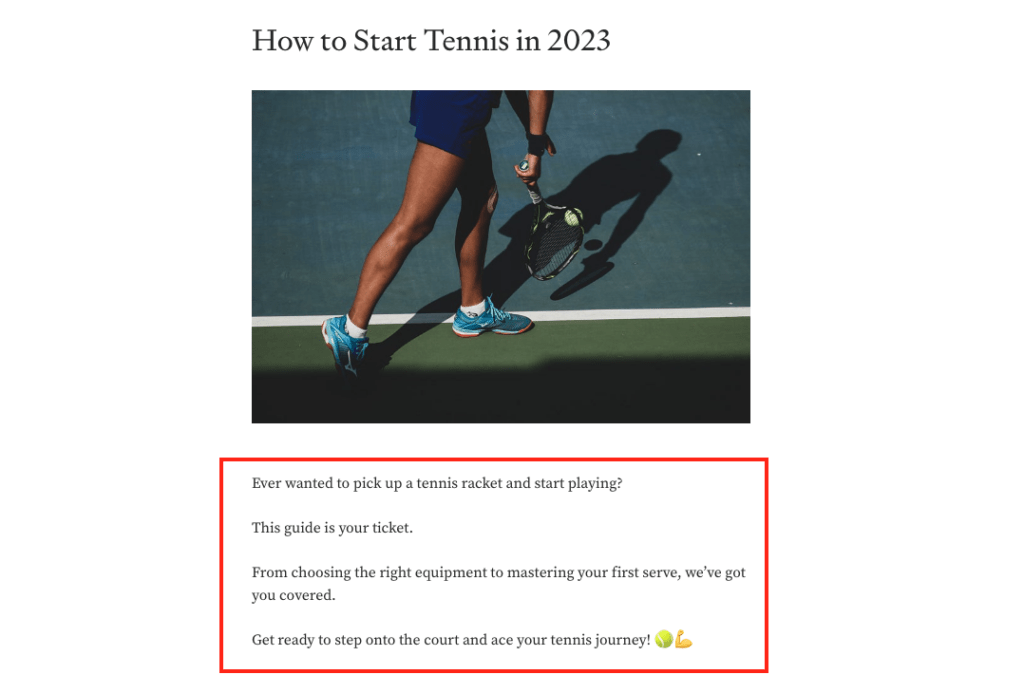 The conclusion, in turn, should tie it all together.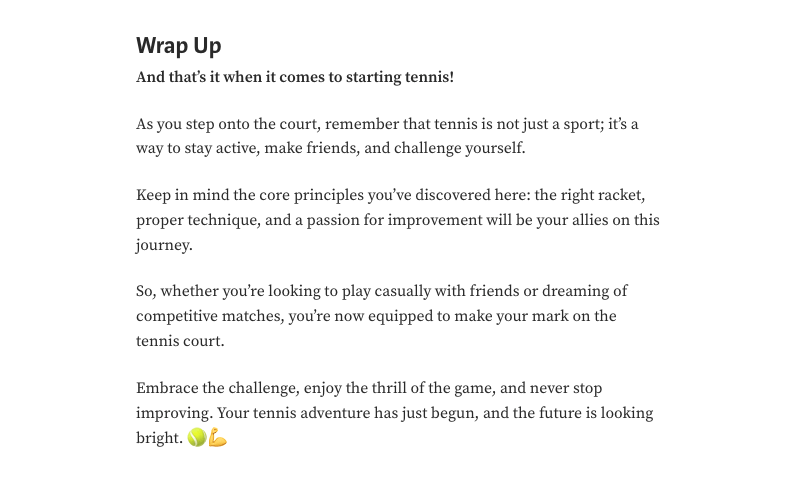 Ideally, a busy reader would only need to read the intro and outro to find their answer.
Before writing the intro/outro sections, you can do some brief planning. Think about these:
What do you want to share in your post? Add a couple of bulleted points.
What's the main outcome of your post? Write it down in the conclusion section with a couple of bullet points.
After you've planned the post with a good outline, it's time to start writing.
Wrapping Up
Creating an outline for your blog post helps the writing process.
Instead of writing one huge junk of text, you get to split your post into smaller "sub-posts".
Plan carefully.
Templatize your work so that you don't need to start from complete scratch every time.
Match the search intent with every post. Mind the skill level of your target audience.
Use Google's free data to find talking points for your outline that people are searching for.
Also, don't forget to check what your competitors have written to get to the top of Google.
Thanks for reading. Happy writing!