Anyone can write a blog post. But which blog posts actually make money and get visitors?
Let me show you 6 amazing blog post ideas and templates that I've used to get millions of visitors to my blogs and earned full-time income for years. I'll also show you how to write those.
Make sure to watch my video about blog post templates:
Let's jump into it.
#1 How-to Posts (Listicle Form)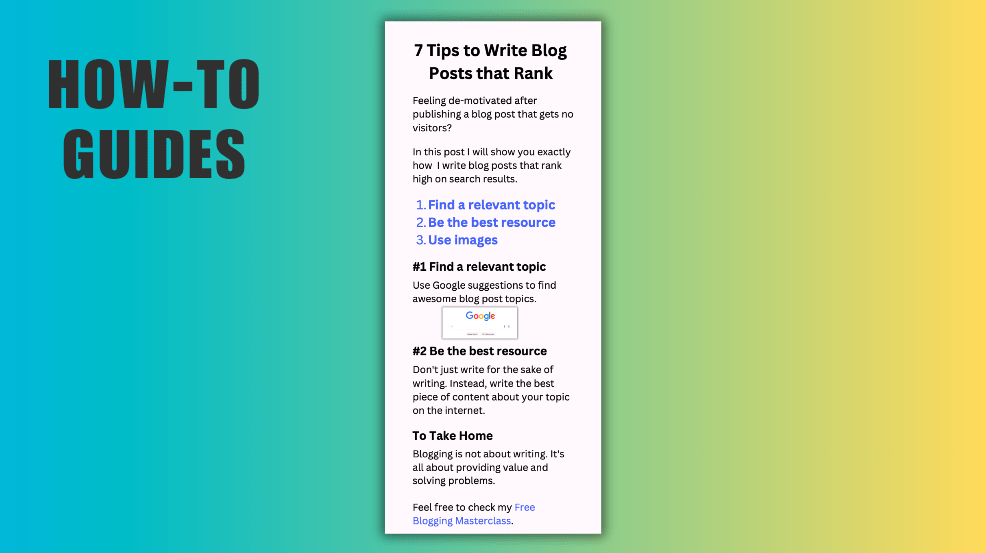 Example Titles
5 Steps to Lose Weight Fast for Summer 2023
7 Tips to Become a Software Developer in the AI Era
13 Ways to Stay Motivated All the Time
Purpose
The purpose of a how-to post is to share valuable and actionable information with a target audience.
This is your go-to blog post type.
As a blogger, your main goal is to solve problems in your niche and establish yourself as a trusted expert in the space.
One of the most effective strategies to do this is by writing action-packed how-to guides.
How-to guides can bring in a ton of traffic to your website, boosting your reputation and credibility. The best part is that these posts can rank high on search results for years and get passive traffic.
But how-to guides aren't necessarily the best money-makers.
Surely, if you get a ton of visitors and show ads, you can earn decently. But I have those real money-making affiliate posts towards the end of this guide.
Now, let's take a look at how you can put together an epic how-to guide.
Writing Process
Putting together a how-to guide is simple. Instead of writing a boring 3,000-word wall of text, split the topic into actionable steps, tips, or tricks.
For example, instead of writing "How to Lose Weight", you should write "7 Steps to Lose Weight".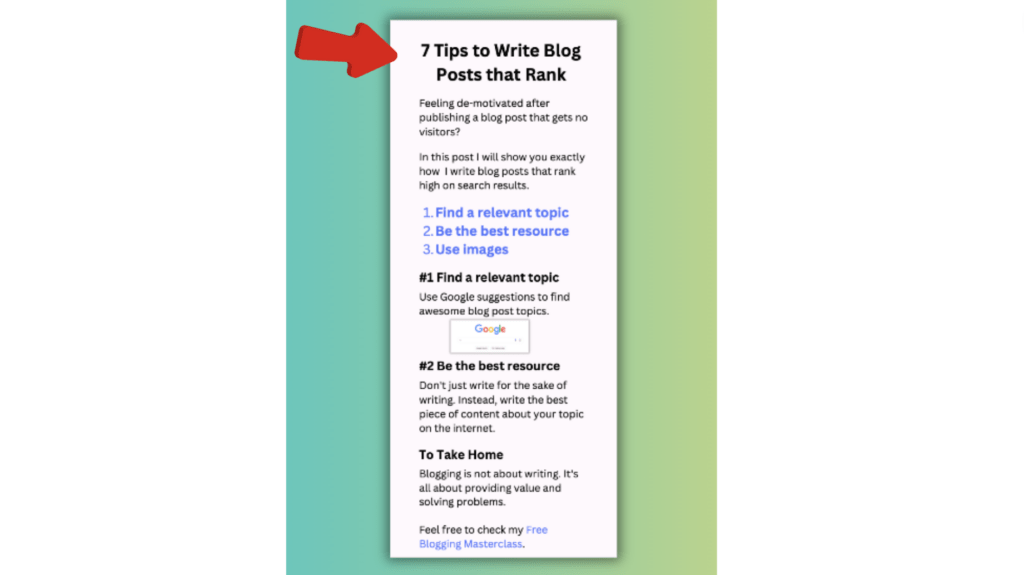 This makes the post more digestible and appealing to people searching online.
Also, this makes it easier for you as a writer. Instead of writing one huge 3,000-word post, you can split it into smaller sub-posts.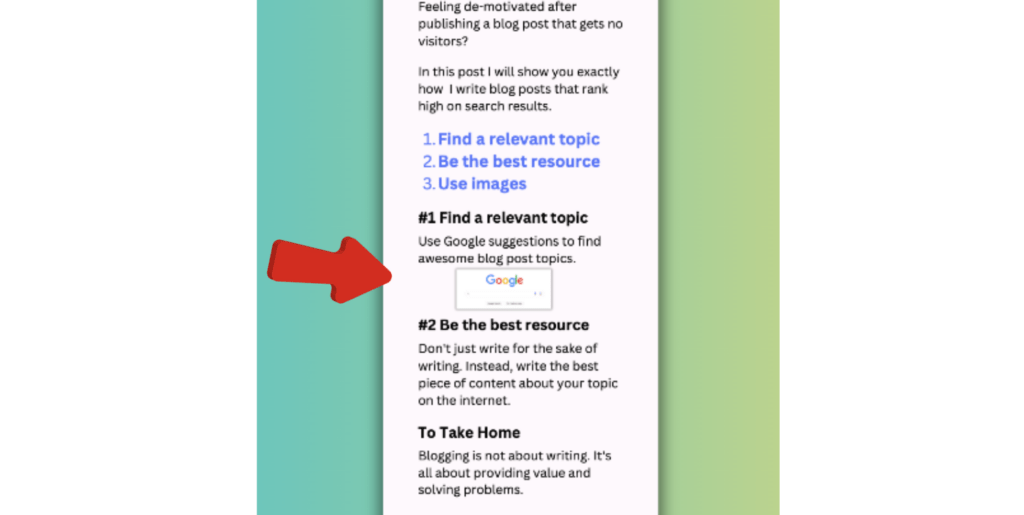 To structure a how-to post, start with a compelling and short introduction. This is where you essentially sell your blog post to your readers.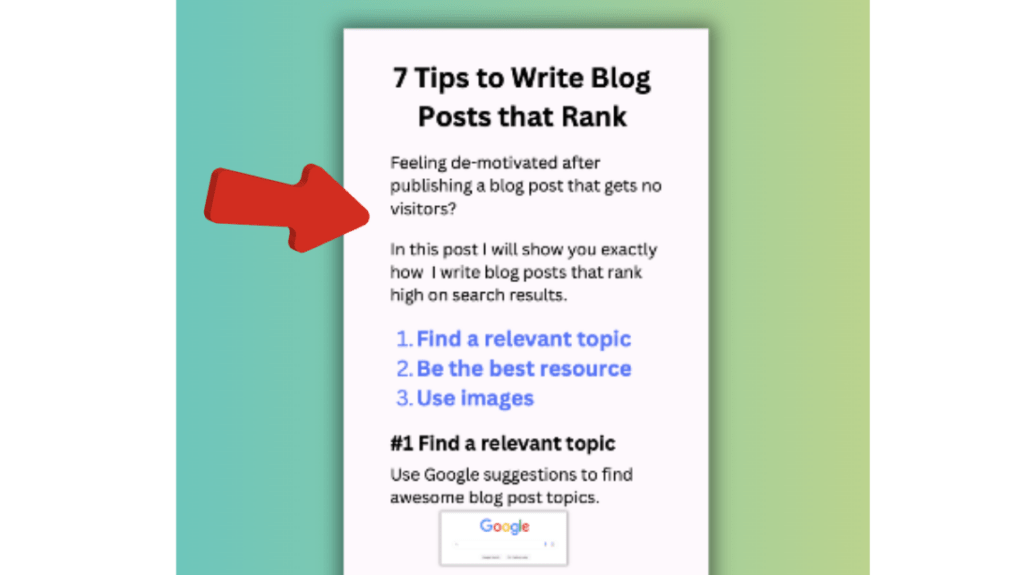 Follow the intro with a table of contents with jump links to the subheadings. This makes it more convenient for the reader.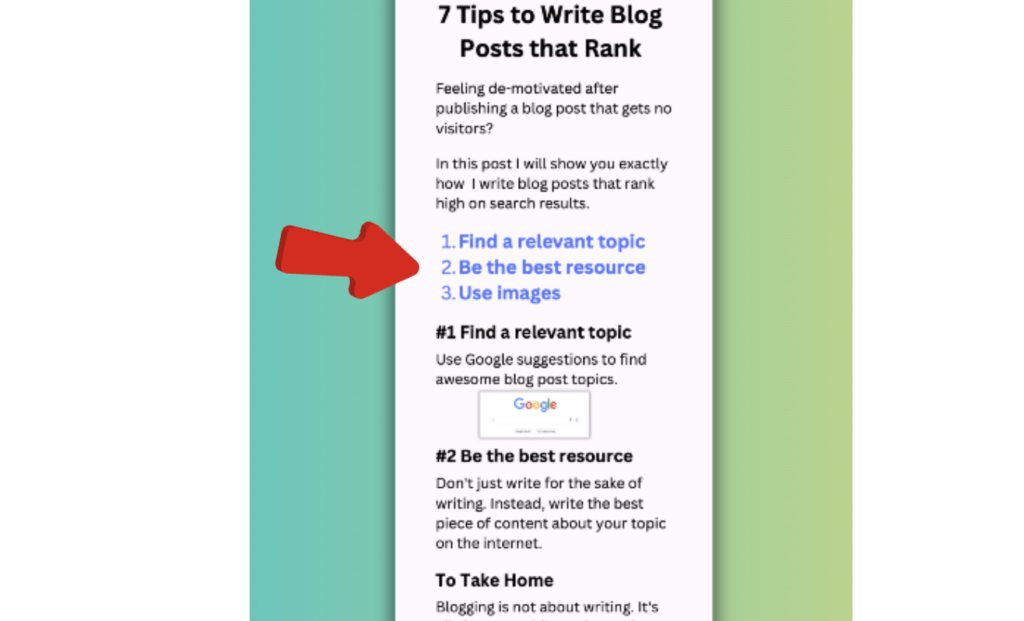 Then write out the numbered subheadings for the post. Remember to use images that support the content and help deliver your message. And not just any images but actually images you've taken yourself.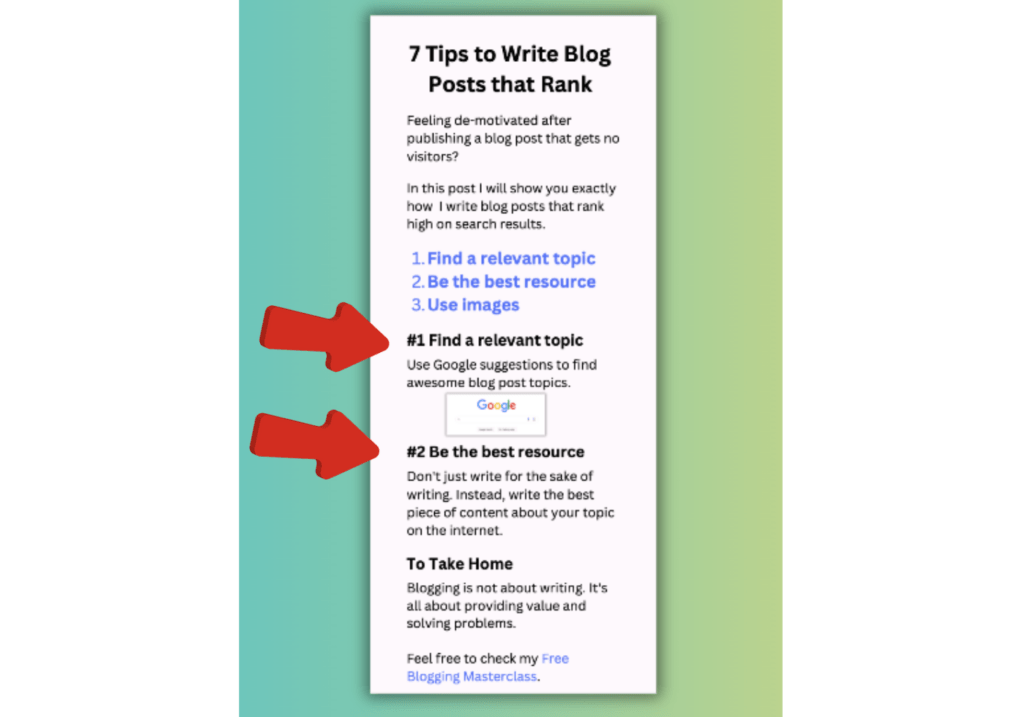 Finish the post with a short takeaway and don't forget the call to action, such as further reading or signing up for a newsletter.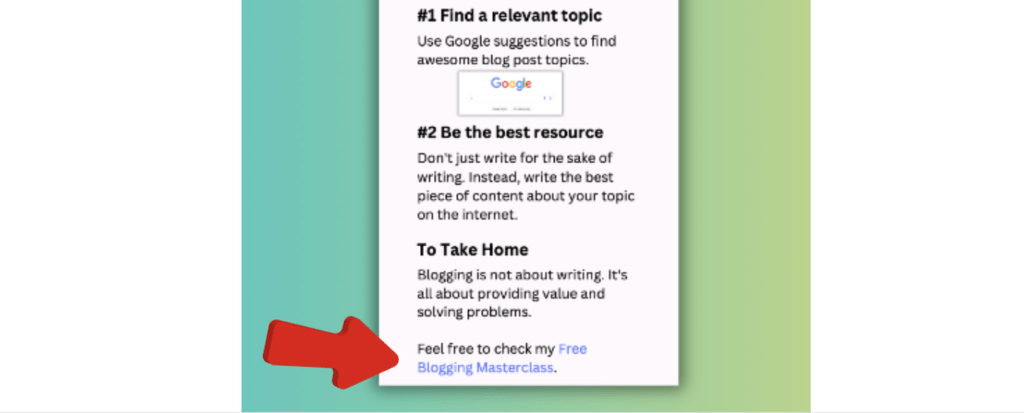 #2 Listicles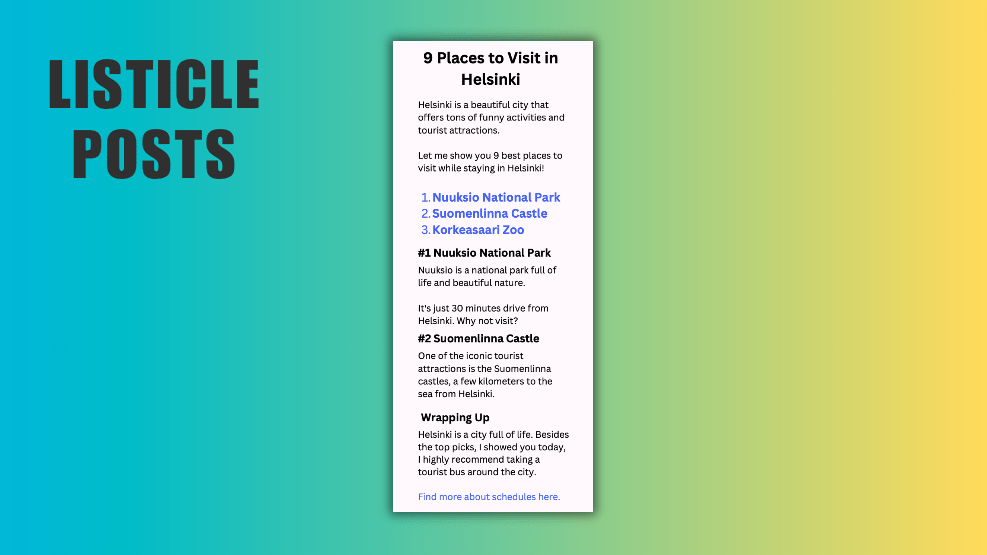 Example Titles
53 Marketing Terms You Should Know in 2023
29 Mom Blogs to Follow in 2023
7 Best Tourist Attractions in Paris
Purpose
As the name suggests, a listicle post consists of numerous topic-specific items.
These could be places, people, products, habits, tips, and the list goes on.
As you already saw, how-to guides are usually listicles by nature as well!
Listicles perform well due to their easy-to-read format, scannability, and shareability.
Writing Process
To write a listicle post in general, start your listicle with a short and compelling intro and a table of contents.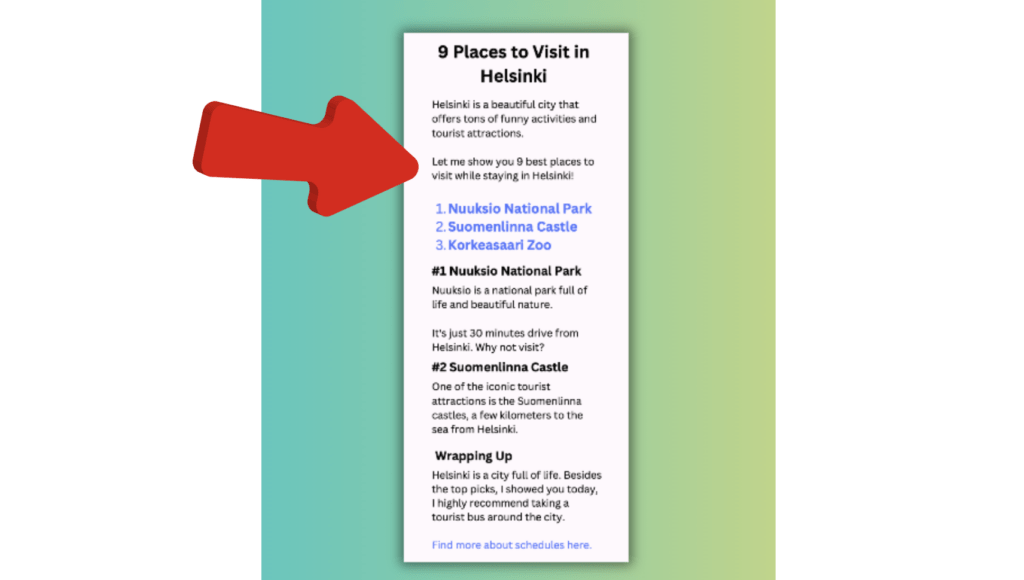 Then lay down the subheadings and briefly explain those to the reader. Remember to add images to support the content.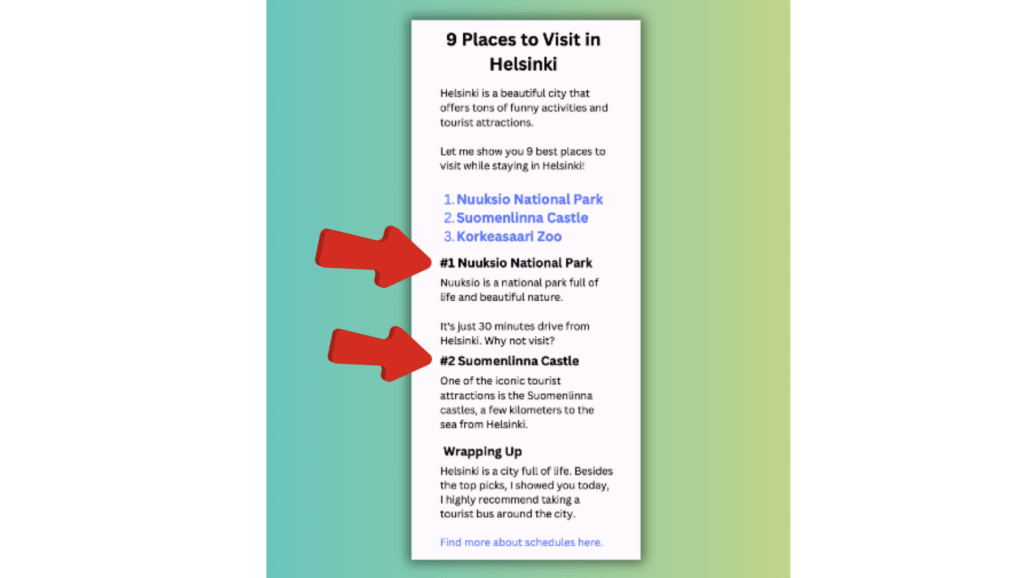 Finish the post with a takeaway and call to action. Once again, the call to action can be to sing up for a newsletter or such.
#3 Answer Posts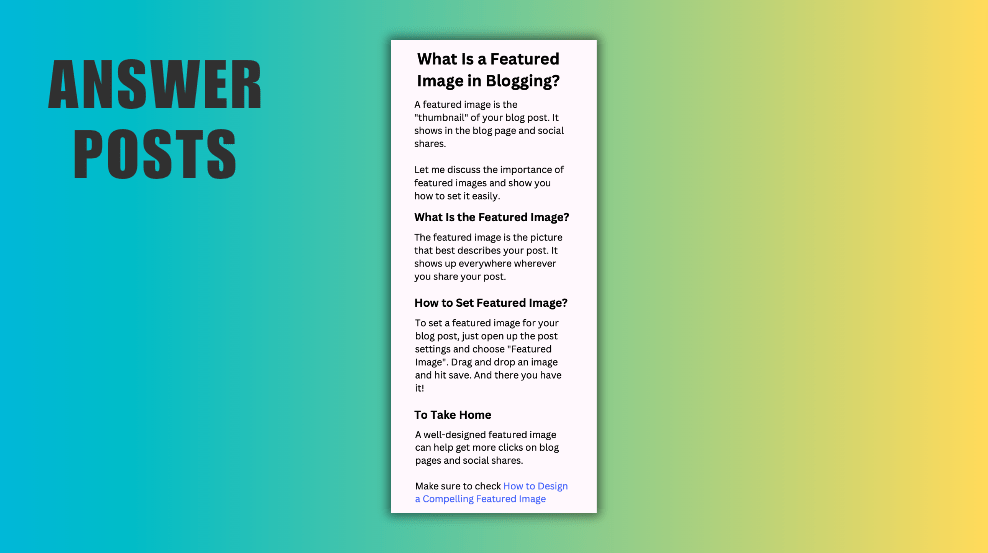 Example Titles
What Is a Featured Image?
Is ChatGPT Going to Replace Content Creators?
Why Is the Sky Blue?
Purpose
The idea of an answer post is to provide a comprehensive answer (or definition) to a particular question in your niche.
Similar to how-to guides, an answer post builds trust and credibility in the eyes of your visitors.
Writing Process
Whenever you write an answer post, aim to answer the visitor's question as quickly as possible.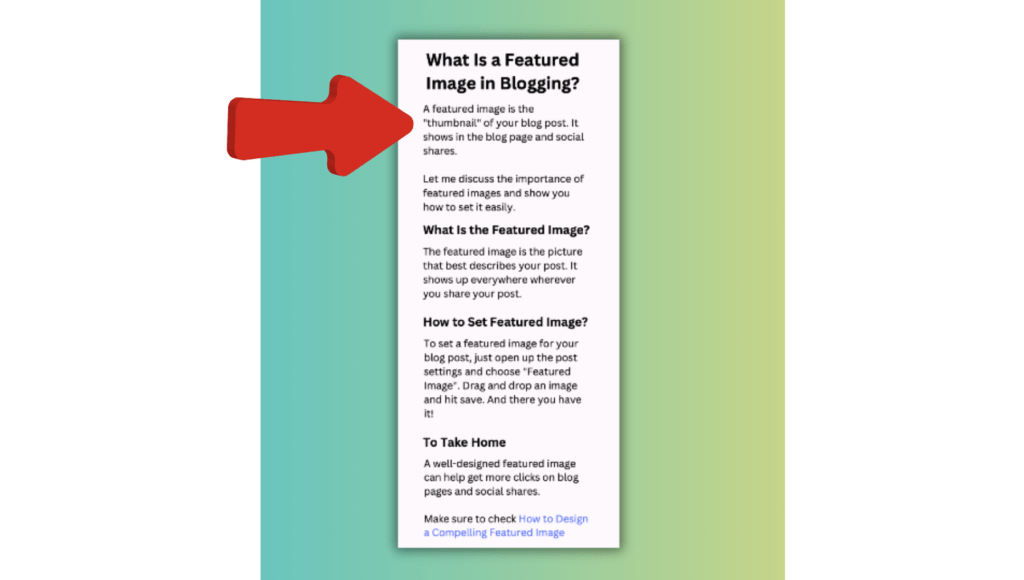 I think the best way to do this is right away in the first sentence of the blog post.
Obviously, a blog post that's just one sentence long isn't going to cut it.
So after you've briefly answered the question, write a short introduction section to the problem.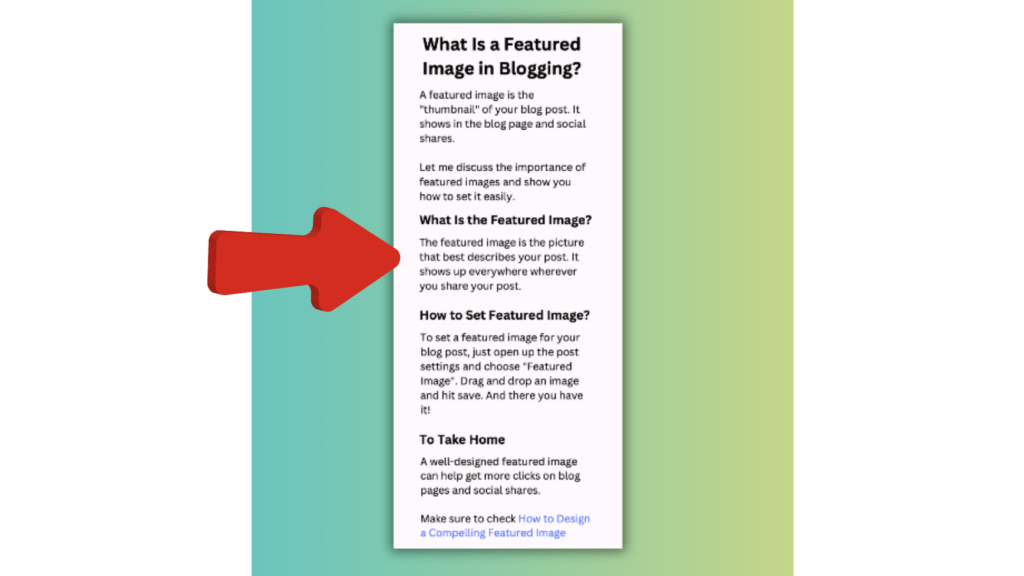 Then, provide a more comprehensive answer to the question your answer post is about.
Also, make sure to answer related questions too! This can be especially useful with those definition posts. Just don't force this and make sure that the related questions actually make sense.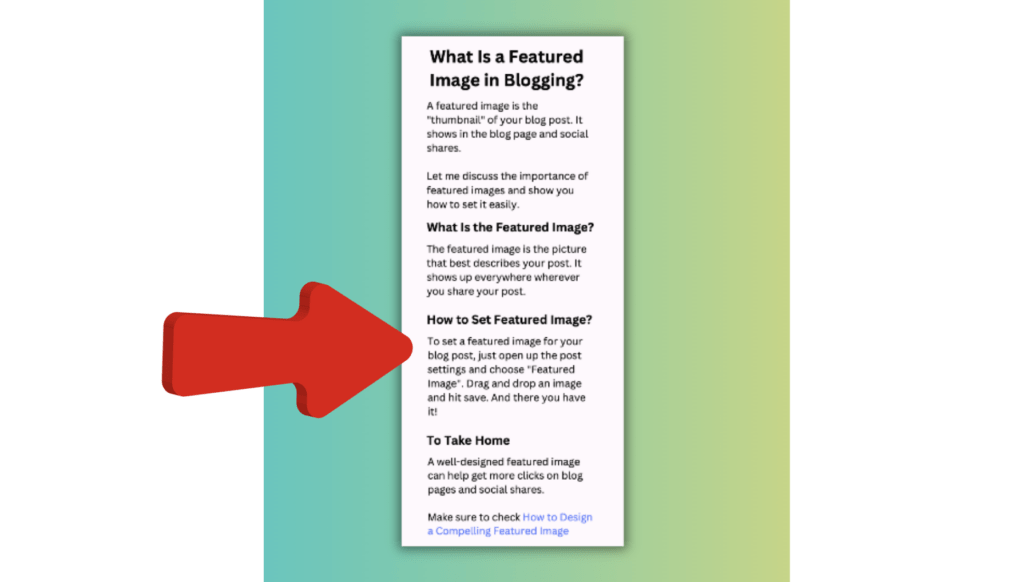 To find talking points for an answer post, Google the topic and see the "Related searches" or the "People also ask" sections. Those are great potential talking points to include.

Finish the post with a takeaway and call to action.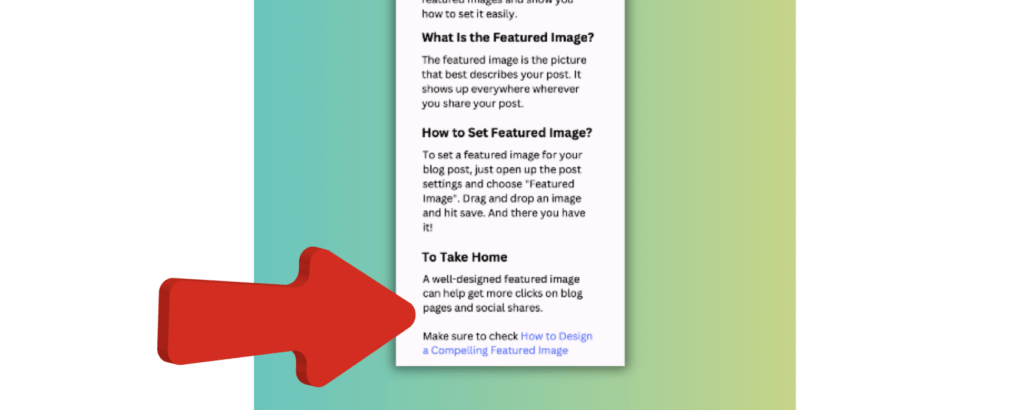 #4 Product Reviews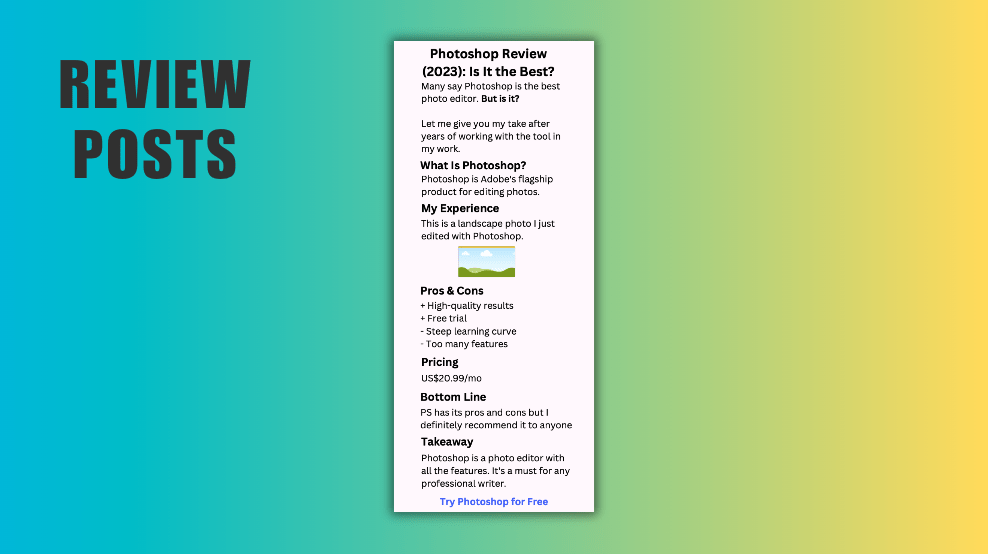 Example Titles
Photoshop Review (2023): Is It the Best Image Editor
Nike Airforce 1 Review: Coolest Shoes in the Town?
Purpose
Product Review is one of the best money-makers in the blogging game.
The idea is simple. You review a product for people that are already interested in buying it.
Then, if your review convinces them to buy the product, you will earn a commission—passively!
This of course assumes that you're a partner with the product you're reviewing.
The power of product reviews is that people are looking for information with credit cards in their hands.
If someone searches for "Nike Airforce 1 review", they're one step away from making a purchase. All they want is to know how others have found the product.
With a product review, you're essentially a mediator between the potential customer and the retailer.
Writing Process
Here's a blueprint for writing an effective product review.
Start with a short intro. Let the reader they've come to the right place.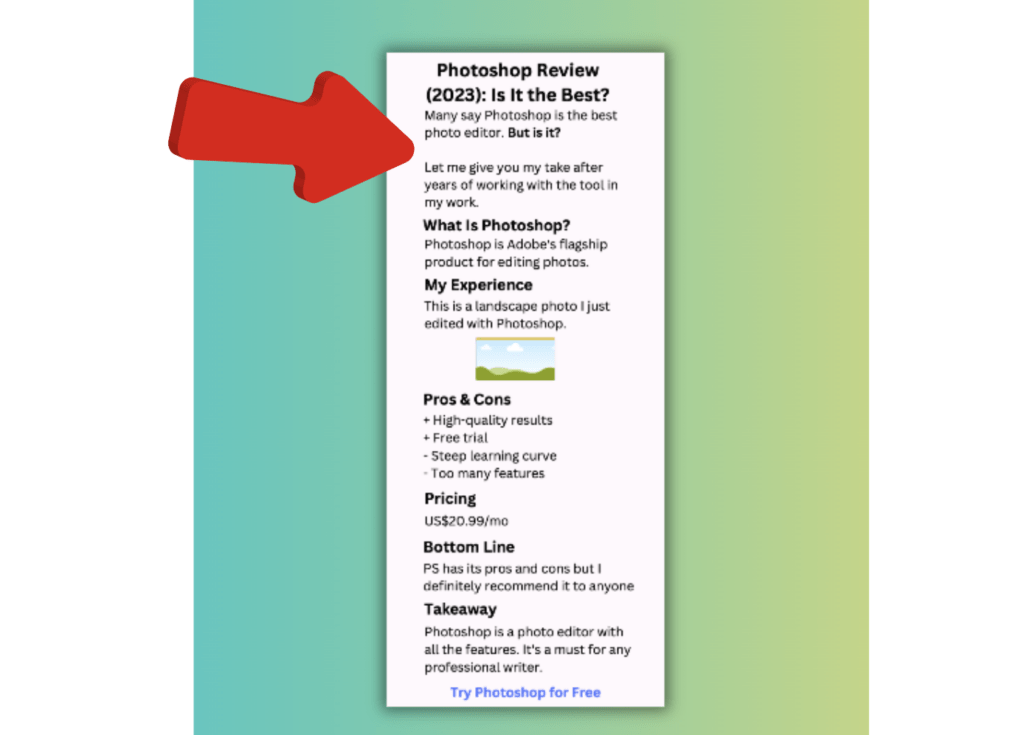 Write a quick primer on the product. You can list some features as well.
This shouldn't be based on your experience with the tool. Instead, this can be the information you can get from the product's website. You will list your experiences later.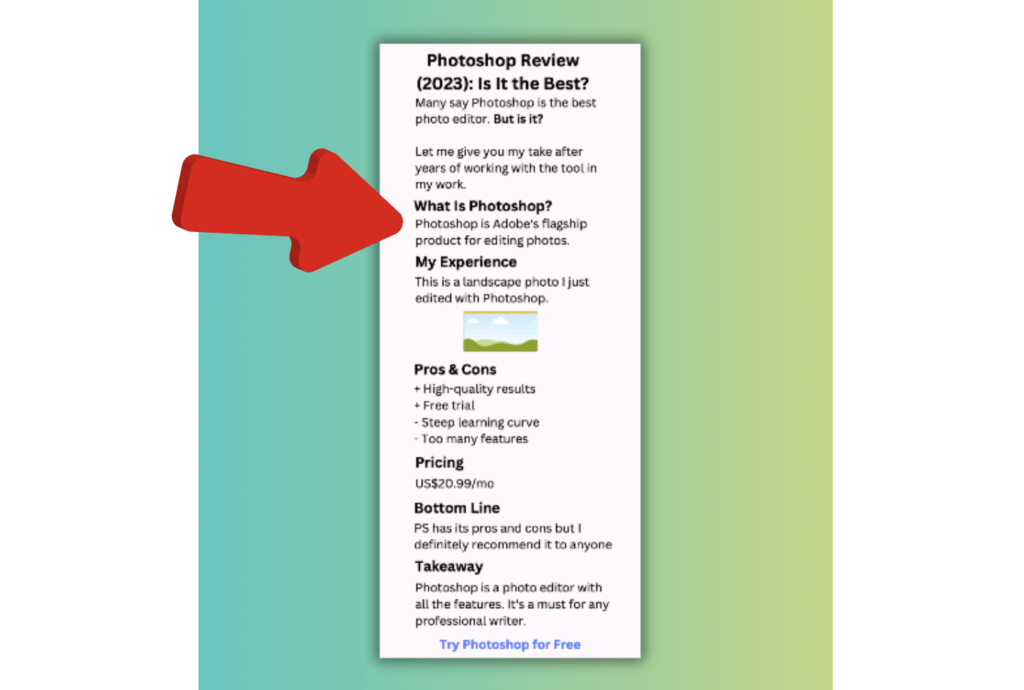 Describe your experience with the product.
Take supporting images where you show yourself using the product. This makes the post feel more authentic and unique.
By using your unique images, experiences, and original takes, you're adding to the internet instead of just repeating what others have told you. This is good in the "SEO sense of things".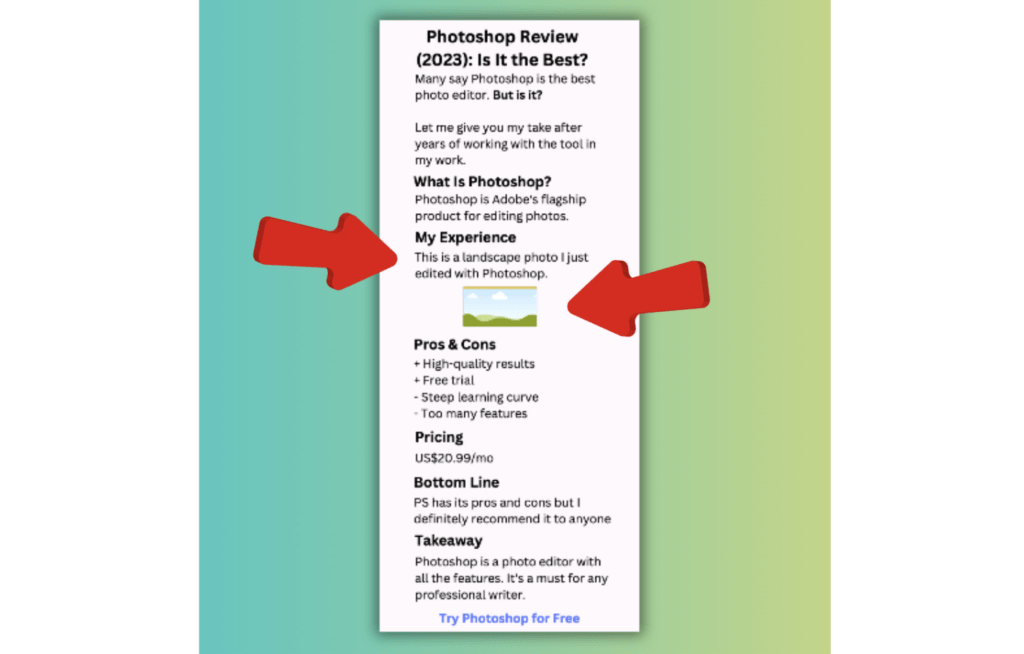 .
Write a pros and cons section and shortly list the pros and cons as bulleted lists. This doesn't need to be anything special. Just a quick list of pros and cons with a couple of words.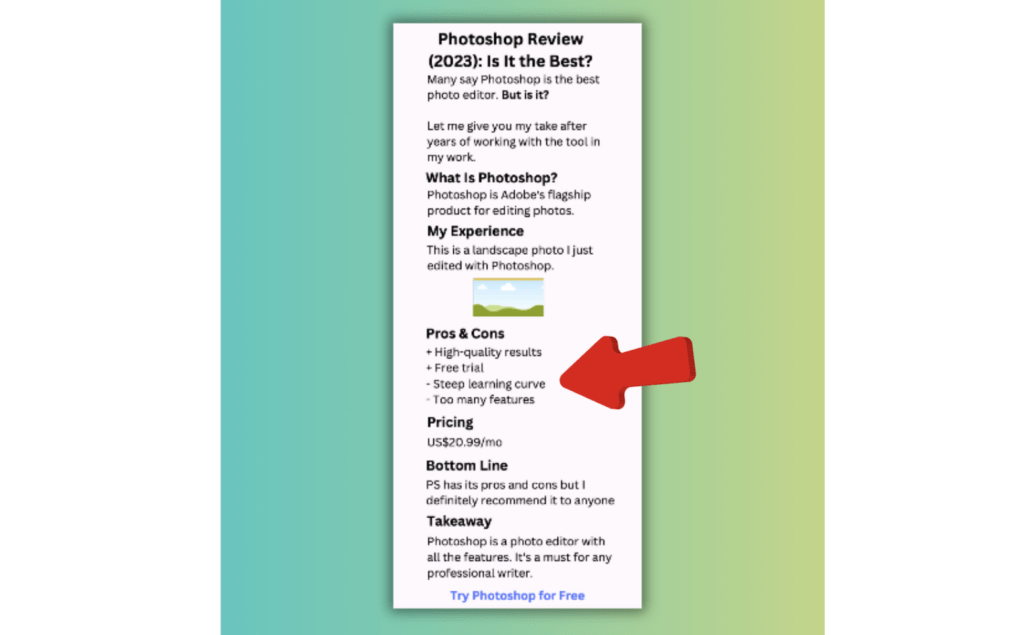 Write a pricing section (add special offers like coupon codes).
Write a bottom line section where you tie it all together ("smash or pass"). Also, you can suggest great alternatives in this section.
Finish with a short takeaway section. If you're an affiliate for the product, add affiliate links to the product throughout the post. Make those buttons so that they stand out when just skimming through the content.
Just remember not to overuse affiliate links.
One idea is to add them to the intro, outro, and then to the bottom line and pricing sections. This is not an exact science, but just don't put those links everywhere.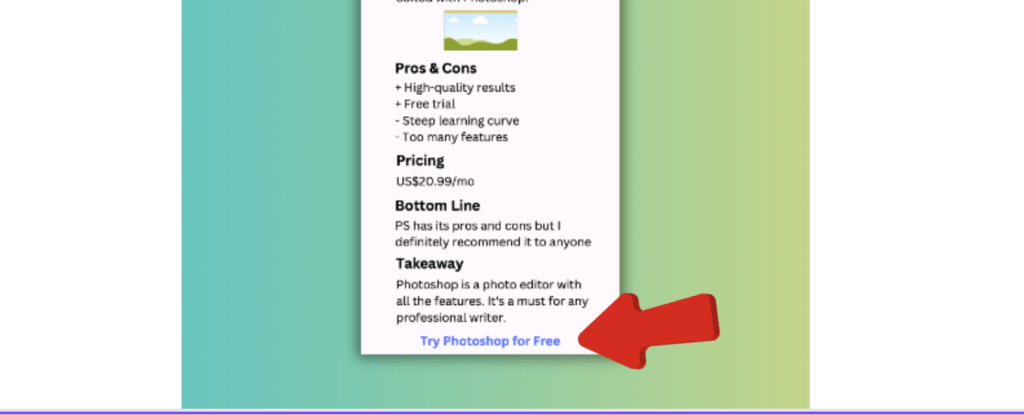 #5 Roundups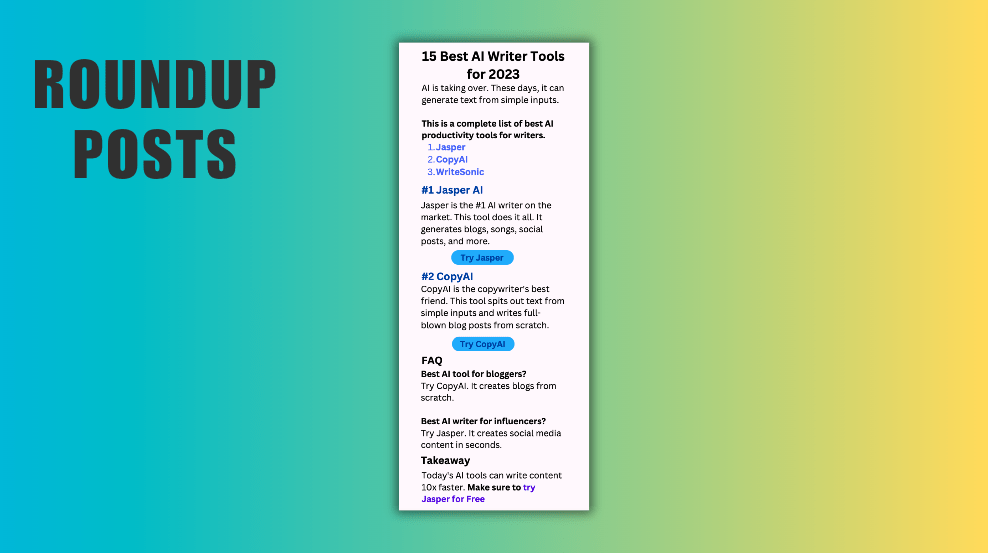 Examples
15 Best Shoes for Squatting in 2023
7 Reliable Video Editors for Post Production Teams
10 Best Music-Making Software for Beginners in 2023
Purpose
A roundup post is hands down the best money-maker blog post.
The idea is to put together a list of the best products in a particular category or niche.
This type of blog post is highly transactional. The visitors that come to these types of blog posts are close to making a purchase.
They already know their needs.
They also know that these types of products exist.
The only thing they're missing is what's the best product for them.
A roundup post is an awesome "last piece of the puzzle."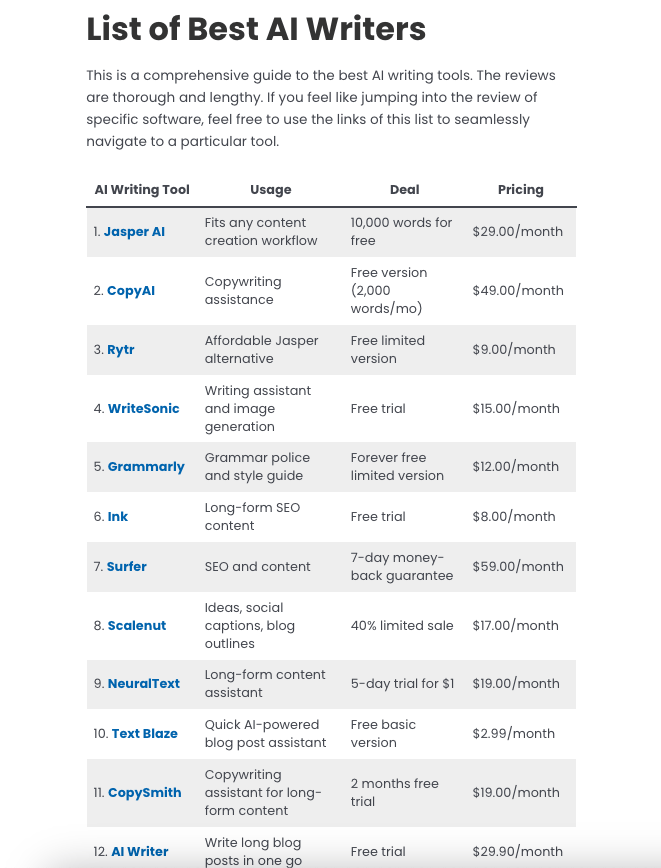 Similar to product reviews, roundups usually include affiliate links to the products. If a reader buys a product, the blogger makes a commission.
I make most of my blog income through roundup posts!
Caution! Roundups and product reviews are great money-makers, but most of your blog content should not fall into this category. Google and other search engines can easily tell if you just want to make money or actually help the readers. Most of your content should be informational!
Writing Process
A roundup post is like putting together a bunch of condensed product reviews.
Start with a short and concise introduction once again. This tells the reader they've come to the right place and that this post is the "missing piece of puzzle".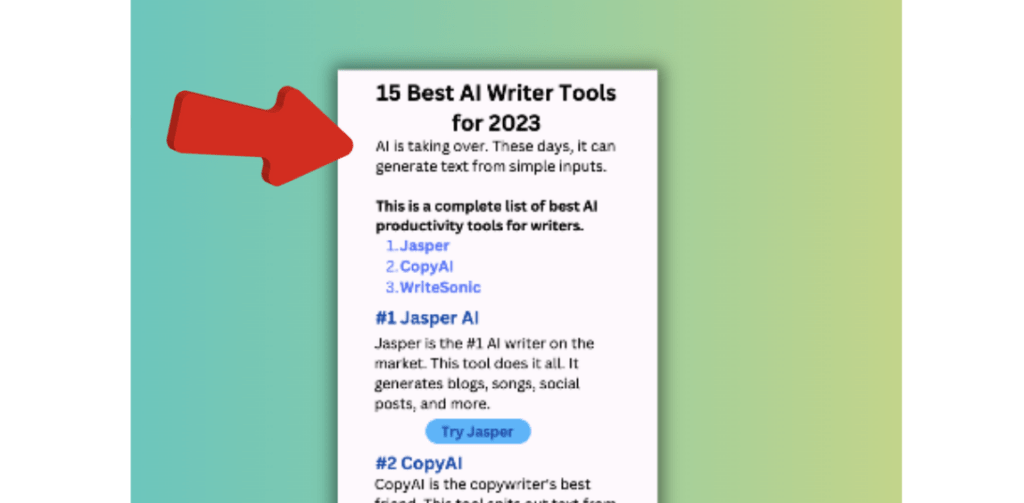 Add a table of contents with jump links to the products. This is once again more convenient for the reader as they can jump to specific products.
Tip: Also add short descriptions for each product in the table of contents already.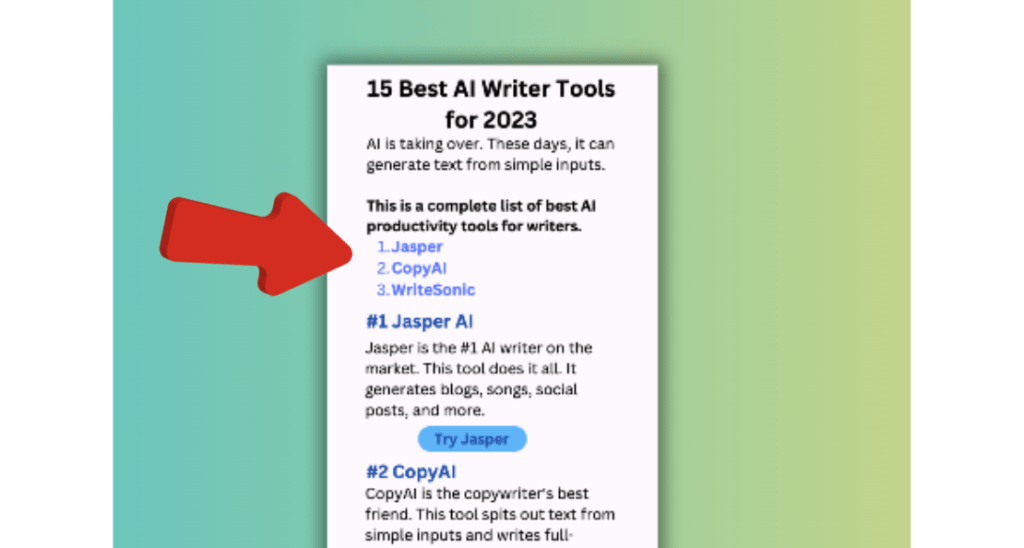 Introduce the products.
For each product, add a short description, features list, your experience, pros, cons, pricing, bottom line, and call to action. So basically, it's just a list of product reviews.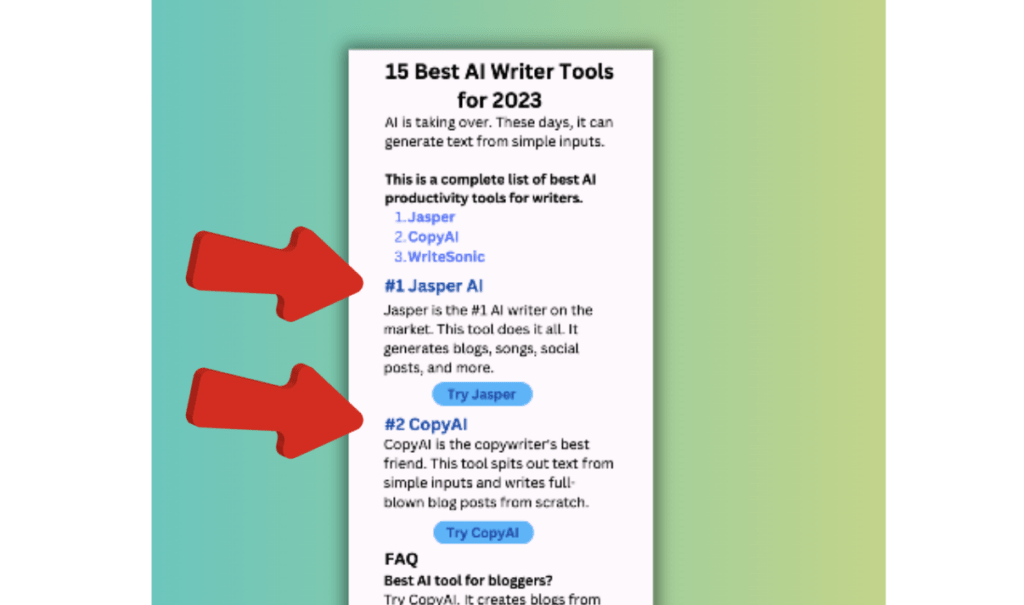 Optional: Add an FAQ section for more specifically answering which product is the best for a specific purpose.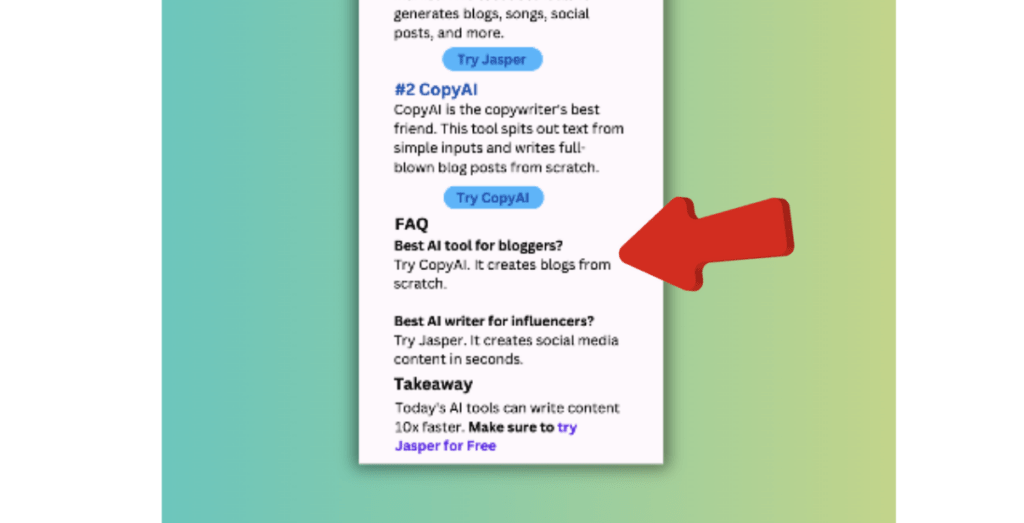 Finish with a short conclusion and call to action.
#6 Alternative Posts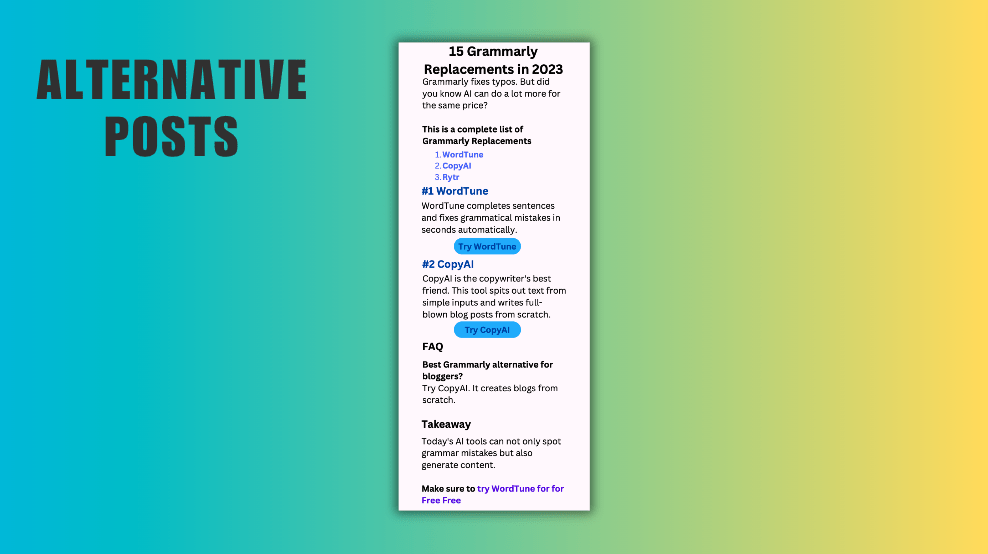 Examples
7 Cheap Photoshop Alternatives of 2023
15 Free Bluehost Alternatives
Purpose
An alternative post is basically the same as a roundup post.
But instead of listing all the best products in a particular group, your goal is to list the best replacements for a particular product.
For example, if there's a product that's pricey, people might look for cheaper alternatives to it.
Alternative posts are also highly transactional.
The readers are well-educated on the topic. They even know a product but weren't quite convinced to buy it or have used it but weren't satisfied.
If your post has a product that's a great match for them, they can easily make a purchase and earn you a commission.
Writing Process
Writing an alternative or replacement post follows the exact formula as a roundup post.
Remember to include products that are actually useful replacements for your main product. So don't just blindly promote related products.
Also, mention in each product why it's a great replacement for the main product.
Wrap Up
And that's a wrap!
To put it short, there are 6 main blog post types you're ever going to write.
Better yet, you don't need to come up with the topics yourself. You get all of that from Google.
I highly recommend reading: How to Write a Perfect Product Review.

Thanks for reading. Happy blogging!