Medium.com is a popular and highly trusted website. Because of this, it can be a great vehicle for boosting your SEO efforts.
This is a complete guide for how to do SEO on Medium.com and to get your articles to rank high.
Without wasting any time, let's jump into it!
Why Medium Is Good for SEO?
When it comes to ranking high on Google, you need to have a website that Google trusts and that covers a niche from A to Z.
Medium.com is exactly that.
Medium is a popular website with tens of millions of blog posts.

Thanks to this, Medium is an established authority site on many topics.
For example, look at how many times the word "gardening" occurs on Medium.com

Almost 100,000 times!
This means there are a ton of blog posts about gardening on Medium.
Thus, it's fair to say that Medium.com has covered that niche from A to Z.
If you were to write a quality blog post about gardening, it has a good chance of ranking high on search results—much quicker than on a new domain.
And notice that Gardening is just one niche in the vast ocean of topics and subtopics on Medium.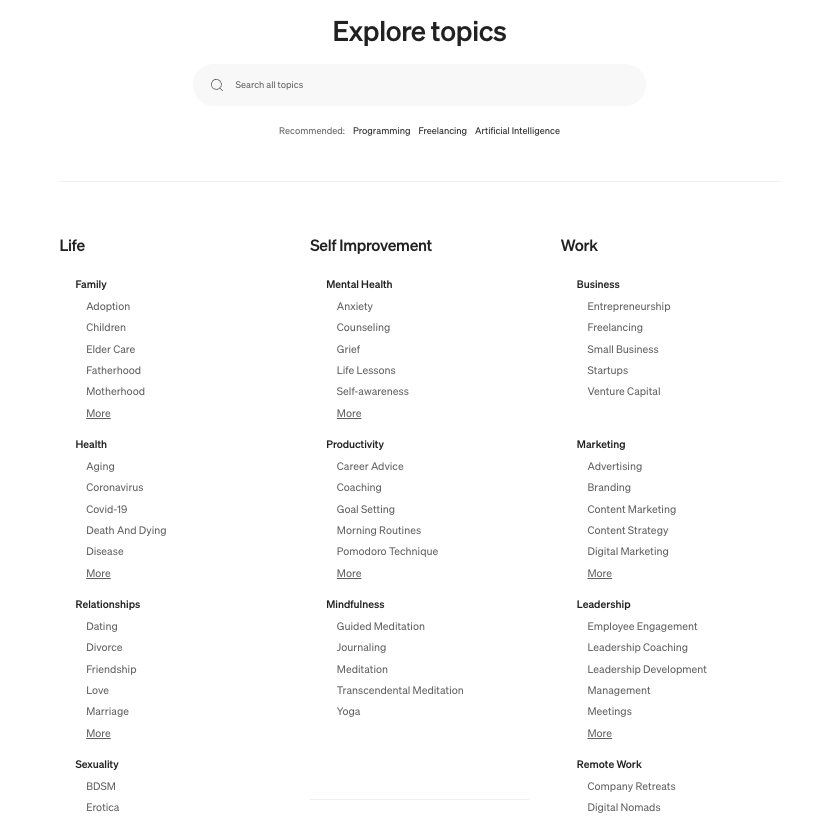 Medium Is Not a Shortcut to Success
Before we move on to SEO on Medium, remember that it's not a shortcut to success.
To rank on Google, you need to write long-form, high-quality content—just like you would need to do on your own blog.
If you want to rank Medium posts high on Google, your blog post needs to be the best result for the searcher.
There's no way around it.
So you can't be like "This is not that great post but if I publish it on Medium, it will probably rank…"
These days, SEO is actually less and less about search engines. It's more about writing quality content people-first.
I've actually made a video about this topic and I highly recommend checking it out!
Medium SEO Checklist
So how do you do effective SEO on Medium?
Here's a quick checklist of things to do and not to do.
#1 Choose a Topic
Use Google suggestions to come up with blog post topics.
These are topics that people are searching for. In other words, they are great blog post topic candidates.
By the way, you can choose a topic in pretty much any niche you ever want.
You can write about cats today and rocket science tomorrow. This is not going to confuse Google.
Medium is an established authority in most of the niches you can imagine, so pretty much anything you tackle has a chance of ranking high.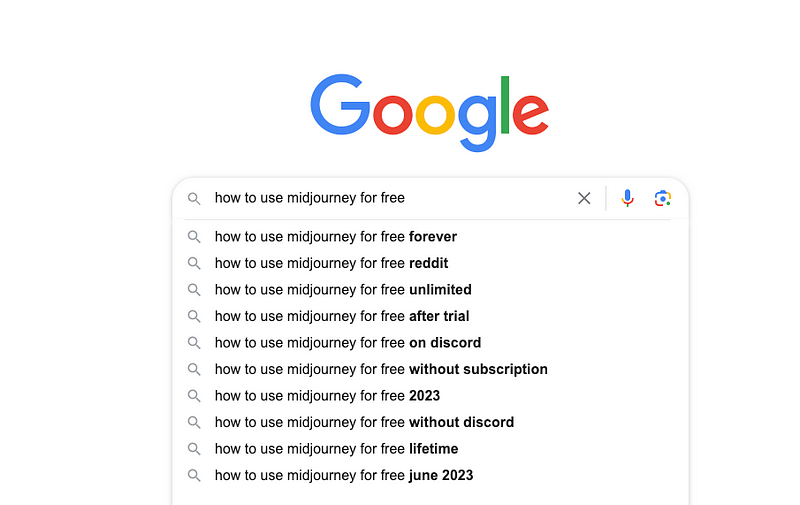 But Why?
If you think about it, Medium is a virality-based social media platform.
To find success inside Medium, you need to write catchy and short stories that people can read in a hurry and that people cannot resist clicking on their feed.
People don't know in advance what they want to read.
But to rank high on search results, you need to do it entirely differently.
To find success, you need to solve problems that people are searching for on Google.
So a topic like "This is the next disruptive AI technology" might work on Medium but not on Google.
On Medium, a story like that could spread like rapid fire.
But on Google, no one's searching for anything like that so it would get no reads.
Instead, on Google you should write posts such as "How to use AI in work".
#2 Write the Best Post
With a list of topics in your hands, it's time to write the post.
To write a blog post that ranks, Google needs to consider it the best answer to the searcher's question.
To have a chance for ranking high with a Medium story, write the best post about that topic on the internet.
But how on earth do you know what is "the best post"?
Well, that's simple. Just see what characteristics your competitors' posts have.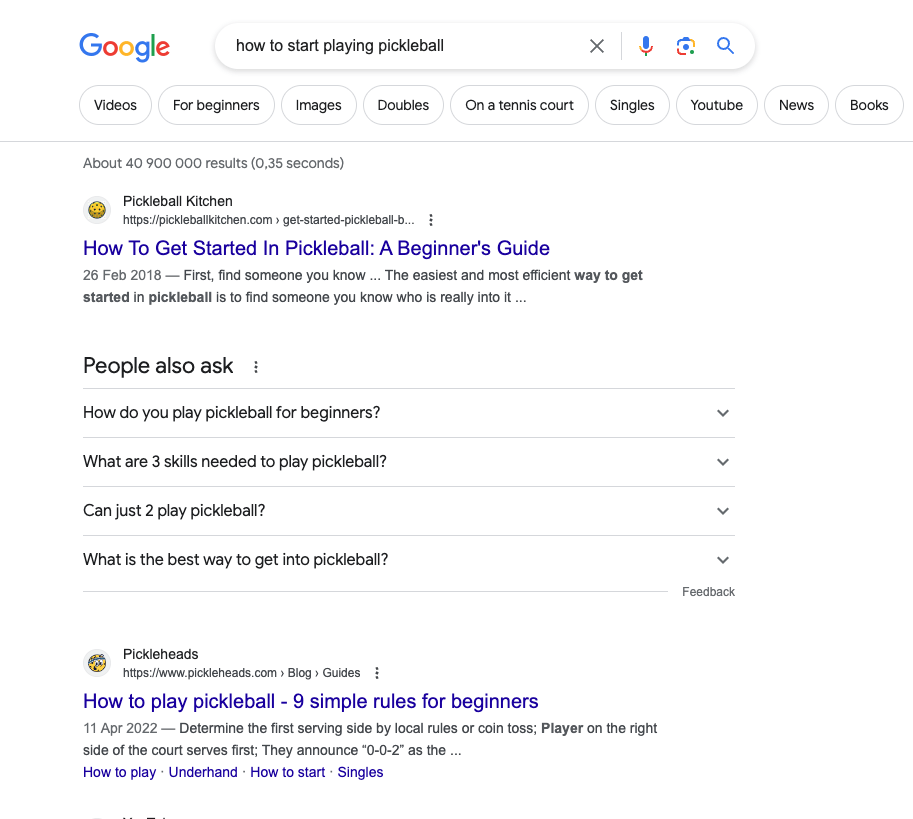 Google your topic, open up the high-ranking search results, and quickly analyze those.
If the highest-ranking posts are 3,000 words in length and have 20 images, your goal is to write a post that's 5,000 words in length and has 30 images.
But it's not just about volumes.
Surely, a successful blog post needs to be detailed and long, but you also need to make sure every word counts and adds value to the internet.
Always add something new to the table. Not just generic jargon many blog posts are full of these days.
So do not use AI tools like ChatGPT to make your story longer…
To make your posts better than others, do the most effort!
If your competitors have spent time and reviewed the 10 best AI tools, your review should include at least 15.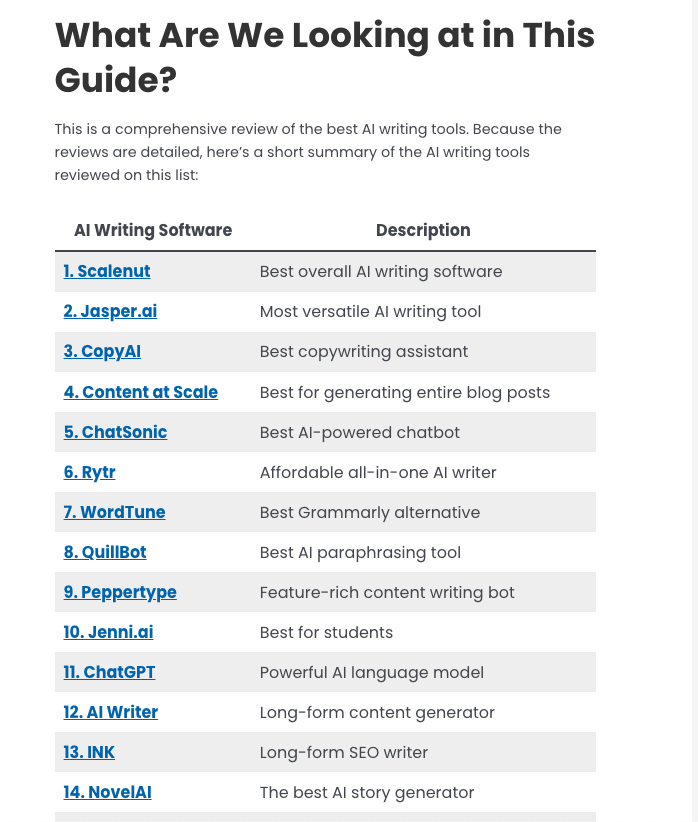 And when it comes to the actual writing process, your post should be organized nicely by using:
Headings
Subheadings
Bulleted lists
Tables
Images
Also, use easy and simple language that even an eighth-grader understands.
But this is not a writing tutorial. I've made a video about how to write blog posts that rank high where I cover those aspects in greater detail.
#3 Don't Use Images from Unsplash
On Medium, there's a cool built-in feature that allows you to choose and use free images from Unsplash.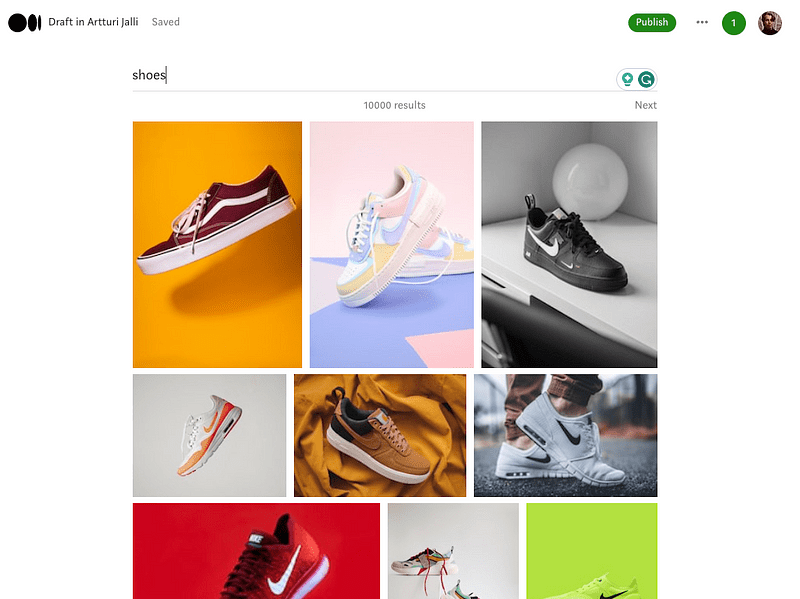 But that's too easy.
To rank high, you should add something to the internet.
By reusing generic stock photos, you're just repeating what's already there.
Take your own images to your blog posts. Those will make Google love your posts.
Look at these images that I took to my post: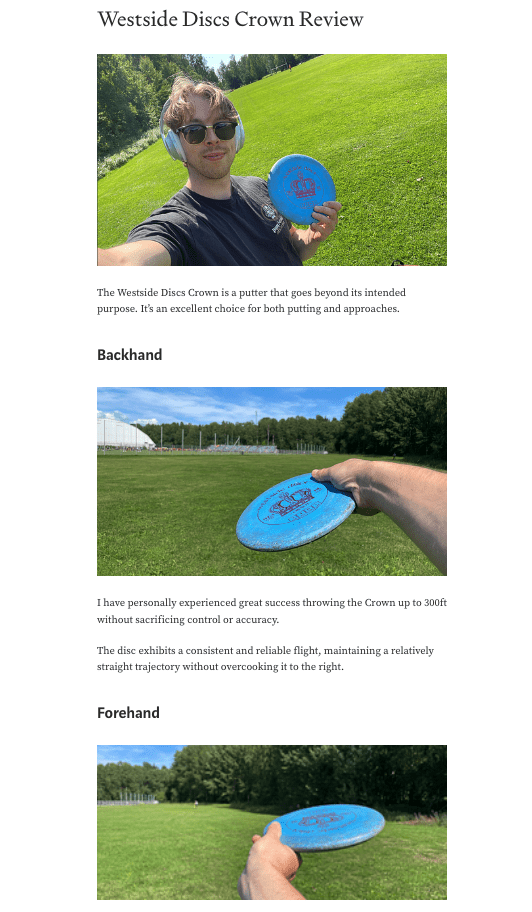 Looks very basic and amateur. You can instantly see that I took these pictures with my mobile device.
But it's not about that quality. It's all about providing real value.
By using my own basic images, the story feels more authentic and relatable. It doesn't feel like generic jargon or an ad.
Instead, it feels like I actually want to help and have put in the time to take supporting images.
Ranking high on Google is all about your readers. It has nothing to do with pleasing the search engines anymore.
I've made a separate tutorial on how to use images in blog posts. Make sure to check it out if you're unsure about your photography skills.
#4 Add Alt Texts
A successful blog post is one that's accessible to the broadest audience possible.
One of the easiest things you can do is add alt texts to your blog post images.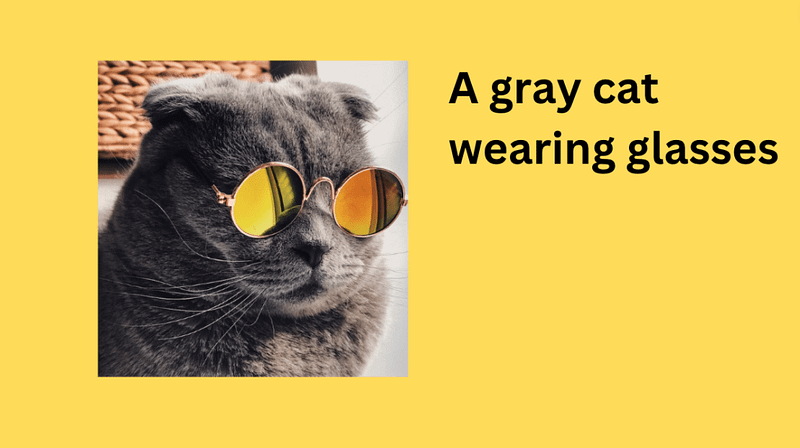 These are quick and accurate descriptions of the images.
Alt texts help people that use screen readers to listen to blog posts.
These can be visually impaired people or just someone that's listening through content while jogging for example.
A good alt text is something short like "A gray cat in the middle of a field during sunset".
Overall, the best alt text is one sentence in which you would describe the images over the phone.
By the way, alt texts also help search engines better understand what happens in the images.
#5 Tweak the SEO Settings
Now here's where it gets interesting.
Medium actually allows you to tweak the SEO settings of blog posts.
(To find these settings, open up one of your stories, click "More Settings" and then choose "SEO Settings")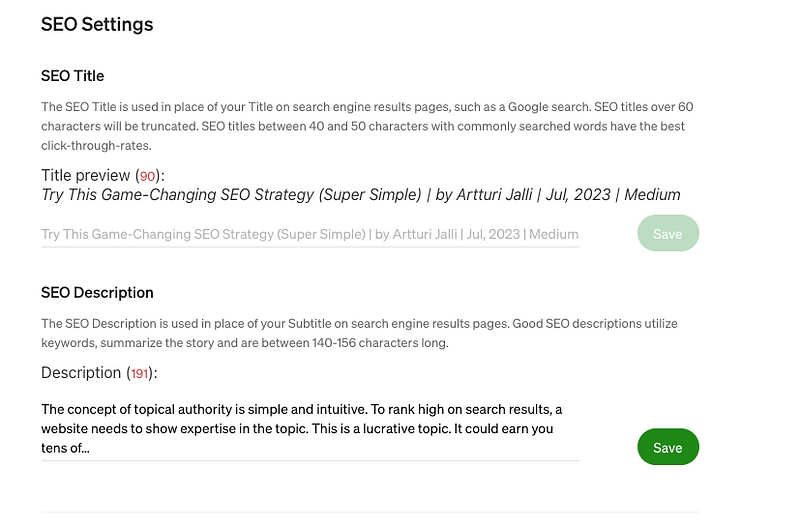 If this is your first time hearing about these settings, you might be like "Aha! This is where the magic happens".
But no.
As a matter of fact, tweaking these SEO settings will probably have no impact on your blog post's success in search results.
But those settings are so easy to tweak that it might be a worthwhile 30 seconds.
So basically, there are three key things you can do:
Change the SEO title of the post.
Change the SEO description of the post.
Change the URL of the post.
The default SEO title and description are longer than the suggested limit. Medium shows this with a red color.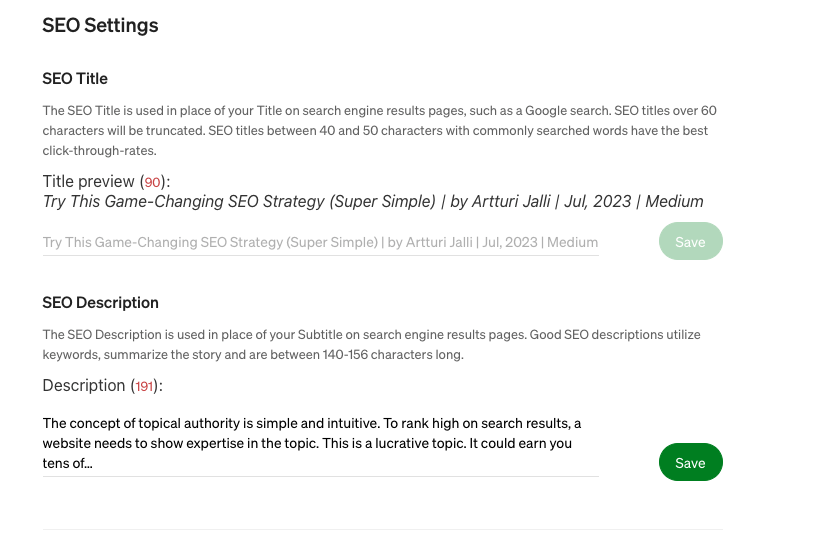 Make sure those are short enough to be in the accepted character limit. So just tweak the title and description until the red warnings disappear.
Then, instead of going with the default URL of the blog post, make it as short and descriptive as possible.
You can find the URL in the Advanced Settings by scrolling down a bit from the SEO settings.
Basically, your story URL should already tell the reader what the post is about. It should also be as short as possible.
So instead of something like "medium.com/story123_393293dfsr3fsfd8f14", it's much better to have "medium.com/blogging-guide".
Notice that Medium appends some characters/numbers story URLs to avoid collisions. You cannot avoid this—even with a custom URL.
#6 Self-Publish!
Before publishing your story, make sure to actually publish it on Medium—not on a publication-specific domain.
If you've used to publish your stories on publications, you might have noticed that publications have their own domain that's not Medium.com.
For example, Better Programming is a popular Medium publication. But its domain is Betterprogramming.pub.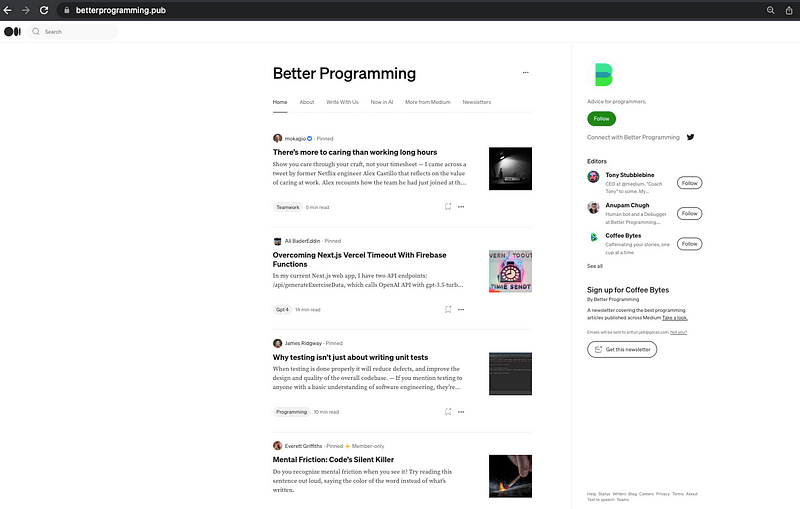 So essentially, this publication has nothing to do with Medium.com when it comes to SEO.
Instead, it's a domain that's much weaker than Medium.com because it has far fewer stories and focuses on a narrower topic.
So, if you're publishing on a small/new publication, chances are that the posts won't perform on Google search results.
But if you self-publish, your stories will end up under Medium.com's domain which is great in an SEO sense.
Remember to check this though. Some publications don't have their own domains but use Medium.com/publication_name instead.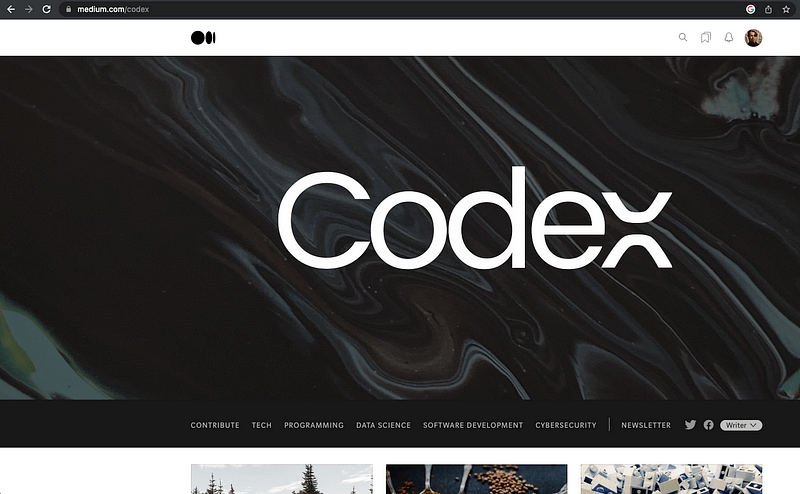 And that's a wrap. Thanks so much for reading! Happy writing!