In affiliate marketing, a commission is a fee that's paid as compensation for referring a customer.
The commission is typically a percentage or a fixed price of a product's price.
Let me show you some examples and some common commission types in affiliate marketing.
Example
Bob is an affiliate of Alice's company called AliceGaming.
Alice has promised to pay a 15% commission for every product Bob sells.
If Bob manages to sell Alice's products worth $100, he will get a $15 commission.
This is how simple affiliate marketing and commissions really are.
But there are many types of commission models out there. Let's take a closer look at those!
Common Commission Structures
There are lots of different affiliate deals with different commission structures. But the most common ones are:
CPS or Cost-per-Sale
Recurring Commission
CPL or Cost-per-Lead
Let's take a quick look at what each of these models means.
Also, I'll show you examples where these models are in use from affiliate programs that I'm part of.
#1 CPS Commission
Cost-per-sale is the most common affiliate commission model.
The idea is simple. A company pays either a fixed or percentage-based amount for every sale made.
You can typically see this commission model in action in blog posts and reviews.
For example, a blog post like "Best tennis shoes" is usually an affiliate post that has affiliate links to each pair of shoes.
Then if the visitor makes a purchase, the affiliate earns either a percentage-based commission or a fixed fee.
Example
Adobe has a CPS commission model for their products. The Creative Cloud subscription has an 85% first-month subscription commission.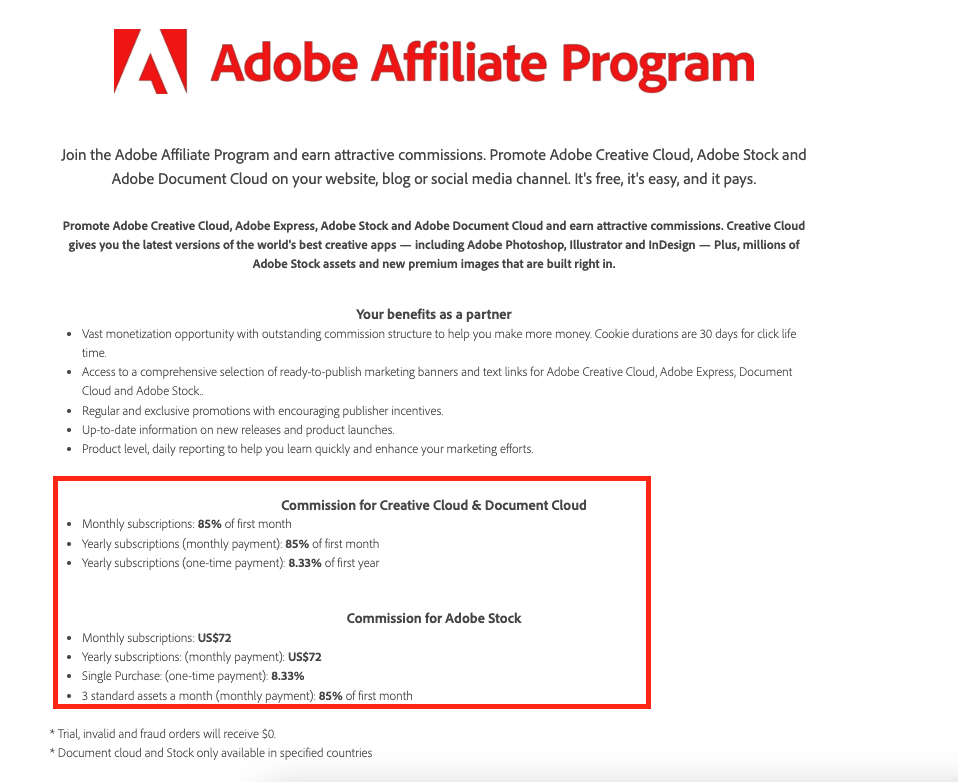 So if I'm able to convert someone and the monthly price of Creative Cloud is $55/mo, I will earn a $46.75 commission once.
#2 Recurring Commission
This is my favorite commission model.
The idea of a recurring commission is to pay a recurring commission for every month the customer stays on a platform.
This is a very common commission model in the software niche where users pay monthly subscription fees.
One thing I also love about these recurring commission models is that they're usually way higher than those CPS models.
In SaaS products, you might find 10-50% recurring commission rates. Speaking of passive income!
Example
Jasper AI, which is an AI-powered writing tool, has an affiliate program that pays a 30% recurring commission.
If I'm able to convert a customer who pays $50/month, I will get $15/month as long as the customer stays subscribed.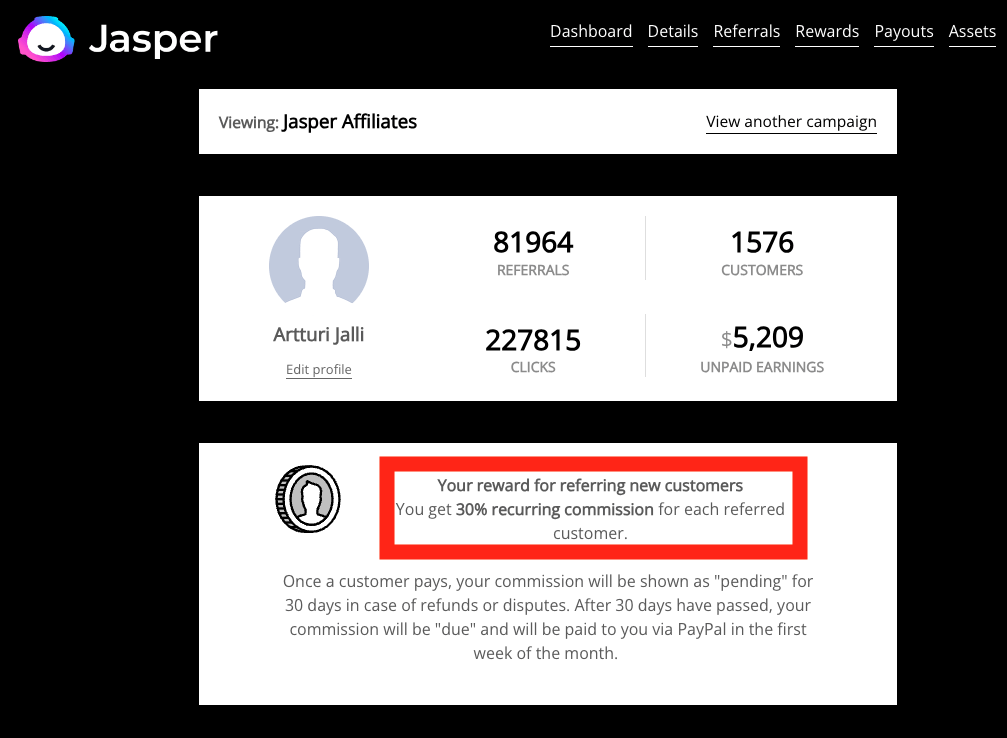 #3 CPL Commission
CPL model is a bit less common, but still quite a typical affiliate commission model.
The idea is to pay for qualified leads instead of purchases.
But what is a lead?
Leads may involve actions such as filling out a contact form, signing up for a newsletter, or requesting a quote.
This is what the host of the affiliate program will decide and clearly state in the affiliate deal.
Example
Grammarly has a CPL commission model for their baseline products.
Every time I'm able to get someone to sign up, I will earn $0.2.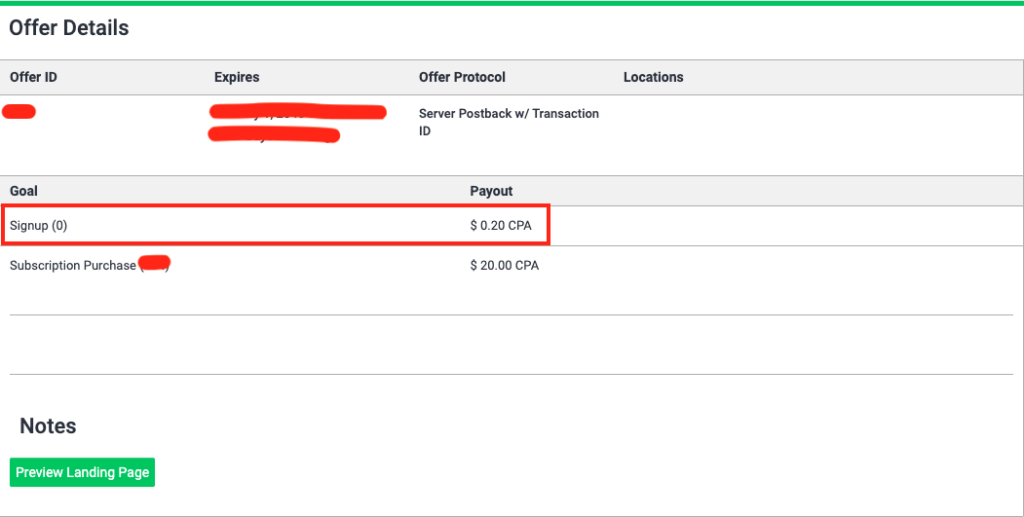 Besides, they also have a CPS commission for every paid plan purchased.
So in this sense, it's not just a CPL model but a hybrid commission model with both CPL and CPS.
If affiliates pay for a desired action, such as signing up or downloading an app, it's sometimes also called a bounty program.
Alternative Commission Models
Then there are those less common but still actively used commission models out there.
Also, in most cases, affiliate deals and commissions are negotiable.
This means there can basically be any type of affiliate commission model you can ever imagine.
Here's a complete list of the affiliate commission models you might encounter.
This list also includes the models I introduced earlier for the sake of completeness.
Cost-Per-Sale (CPS): Affiliates earn a commission when someone makes a purchase from the advertiser.
Cost-Per-Lead (CPL): Affiliates earn a commission for generating qualified leads for the advertiser (defined by the advertiser).
Cost-Per-Click (CPC): Affiliates receive a commission based on the number of clicks their affiliate links generate (regardless of whether those clicks result in a sale or lead).
Cost-Per-Call (CPCall): Affiliates earn a commission when a referred customer makes a phone call to the advertiser using a unique tracking number.
Multi-Tier Commissions: Affiliates earn not only from their referred sales but also from the sales generated by sub-affiliates they recruit into the program.
Recurring Commissions: Affiliates continue to earn a commission for as long as the referred customer remains a paying customer.
Hybrid Commissions: Affiliates can earn commissions through a combination of different actions, such as a combination of CPS and CPL. For example, a fixed amount for generating leads and a percentage for each sale.
Performance-Based Tiers: Advertisers may offer tiered commission structures based on an affiliate's performance. More sales can unlock higher commission rates.
Bounty Programs: Advertisers pay affiliates a fixed amount for specific actions, such as getting a customer to download an app or sign up for a free trial.
Product-Specific Commissions: Some affiliate programs offer different commission rates for different products or categories within their inventory, allowing affiliates to promote products that align with their audience.
Exclusive Deals and Negotiated Commissions: Affiliates with significant influence or specialized niches can negotiate custom commission rates with advertisers.
Wrap Up
Affiliate commission is just the compensation advertiser pays for their partners for sales or desired actions.
The commission amount is usually negotiable.
While many commission models exist, the cost-per-sale, recurring commission, and cost-per-lead are the most common options.
Serious about affiliate marketing stuff? Make sure to watch this 45-minute training:
Thanks for reading. Happy sales!