WordAI is an AI-powered rewriting tool that does a great job of rephrasing content.
Don't get me wrong, Word AI does a pretty stellar job at spinning text.
But as someone who has spent months testing AI writing tools, I could instantly tell much better alternatives exist.
This is a complete list of the best Word AI alternatives.
Let's get started!
Disclaimer: This post has affiliate links at no cost to you. If you make a purchase through one of the links below, I might earn a small commission.
Get 10,000 words for free using this link.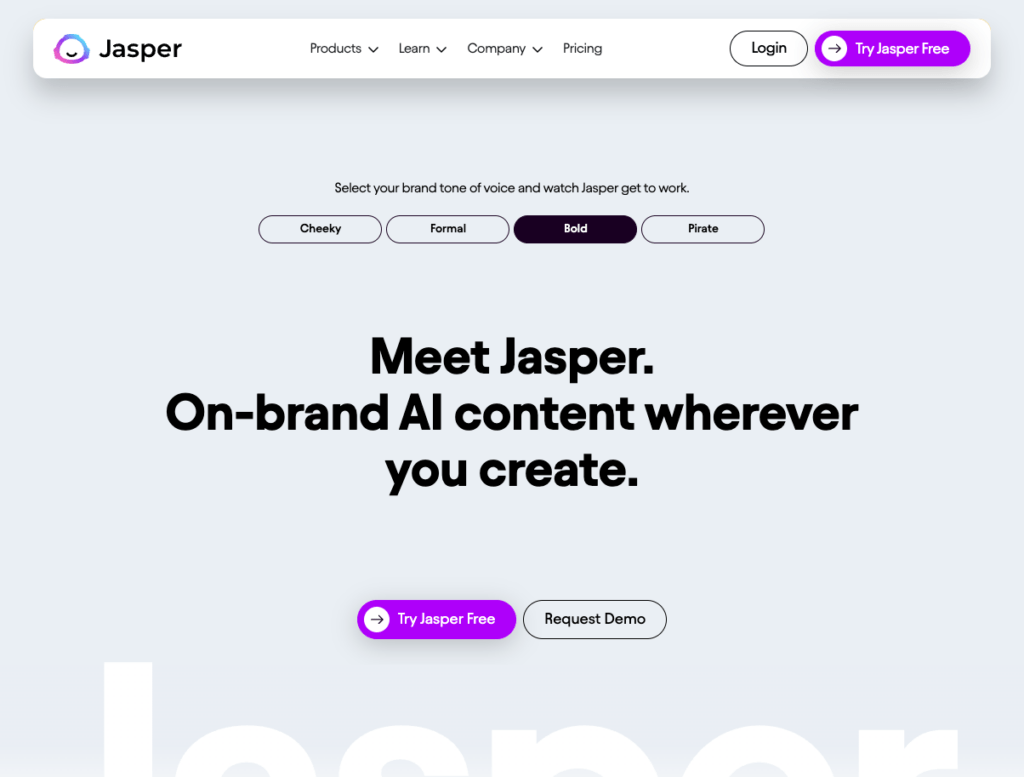 Jasper AI is not just an AI rewriting tool, but a stellar AI content platform.
Many consider it to be the go-to AI content platform on the planet and in my opinion, it is right there as well. 🙂
Jasper has just as good a rewording feature as Word AI (accessible for 10,000 words for free using my link).
But that's just 1% of the software.
Jasper has all sorts of AI capabilities, such as blog post writer, outline writer, marketing tools, An AI chatbot like ChatGPT, and much more.
You can even generate unique AI art.
All this comes with similar pricing to Word AI.
I'd say on Jasper you get 100x more features at more or less the same price with a generous free trial.
Grammarly is my go-to AI rewriting tool for writing blog posts.
I use it all the time. It even fixed a typo in this very chapter you're reading right now. 🙂
Grammarly is a veteran in the AI writing game. It was there long before ChatGPT, Jasper, or other AI tools.
Grammarly uses AI to rewrite and rephrase sentences. It's like a 24/7 grammar police that scans through your content and doesn't get exhausted.
The workflow is simple.
Write something.
See what Grammarly suggests.
Fix the errors with a single click of a button.
For example, here Grammarly shows me issues in my writing: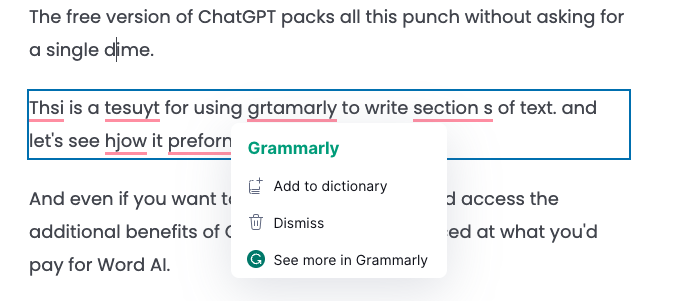 The workflow is simple.
Yet it allows you to focus on writing content and focus less on those mundane grammatical tasks.
The difference between Grammarly and Word AI is that Grammarly is mainly used as a Chrome extension.
It works everywhere you work. It can scan Word documents, blog post editors, and email editors.
Also, Word AI is meant to turn a text chapter into a rephrased piece of content with a single click of a button.
Grammarly, on the other hand, rephrases sentences that it thinks are poorly written or grammatically incorrect.
If you write a lot, I recommend Grammarly.
The best part is that the free version is already pretty good and you might not even need to upgrade to a paid plan.
#3 ChatGPT
ChatGPT offers a spectrum of capabilities that go way beyond just rehashing text.
While Word AI can perform a solid job in its three fixed writing modes, ChatGPT doesn't have such limitations.
The world is your oyster with this tool.
Whether you're asking it to rewrite an article, draft an email, generate ideas for a blog post, or even help you with code, ChatGPT is ready and willing to play along.
ChatGPT can do all of this for free!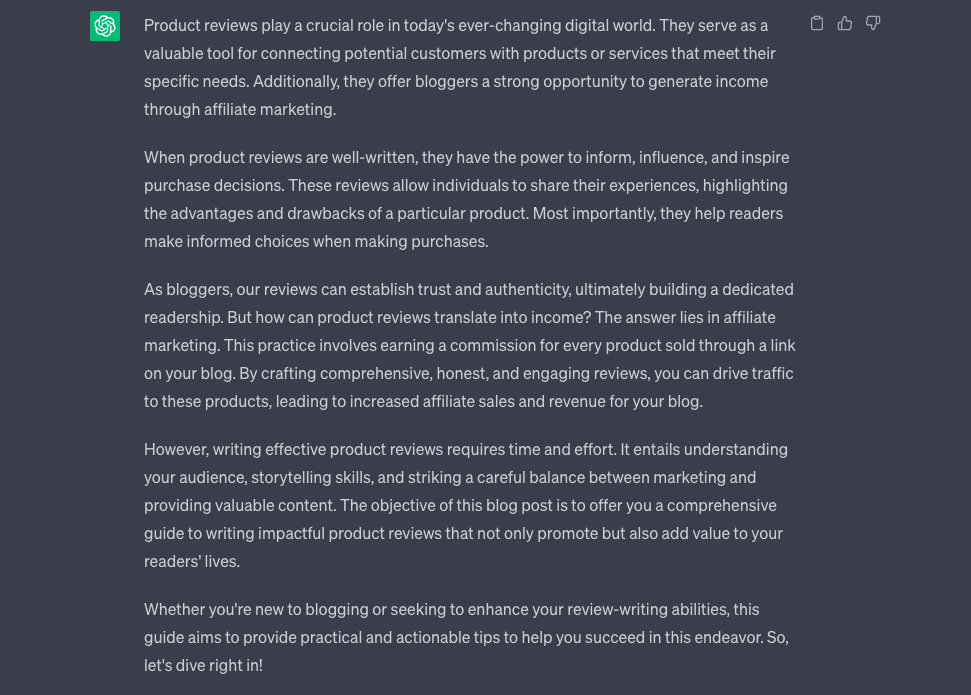 The free version of ChatGPT packs all this punch without asking for a single dime.
And even if you want to step up your game and access the additional benefits of ChatGPT Plus, it's still priced at what you'd pay for Word AI.
As a user of both tools, I've come to view Word AI as a stripped-down version of ChatGPT. It does well in rewriting content, but that's pretty much it.
For the same price, wouldn't you rather have the tool that offers more versatility and room for customization?
Make sure to check my complete review of ChatGPT.
#4 QuillBot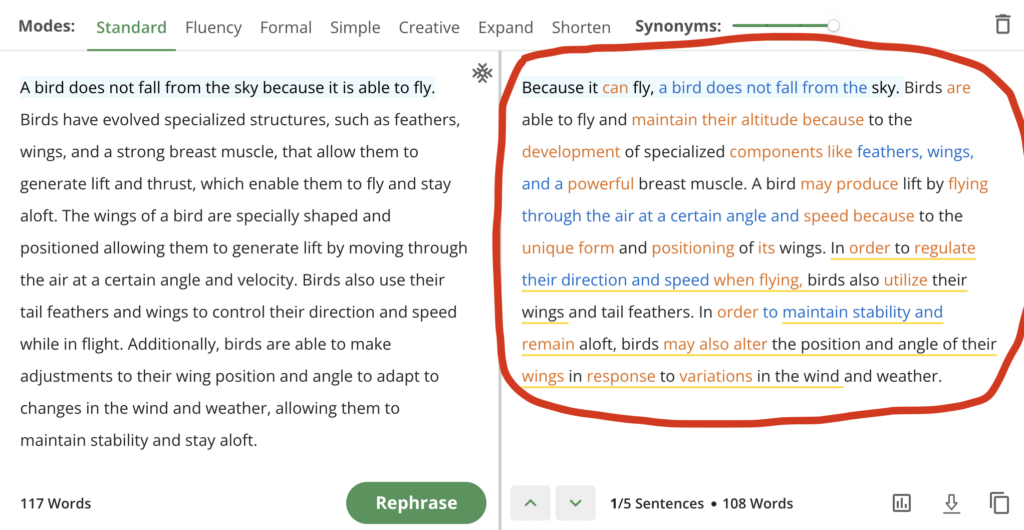 Let's turn the page and introduce you to QuillBot. This handy little tool is an AI-powered rephrasing juggernaut.
What I love about QuillBot is that it serves the same purpose as Word AI – taking your input and spinning it into fresh content.
It's quite nifty with its various modes for rewriting, giving you the flexibility to mix up your style.
It's got a standard version that is forever free!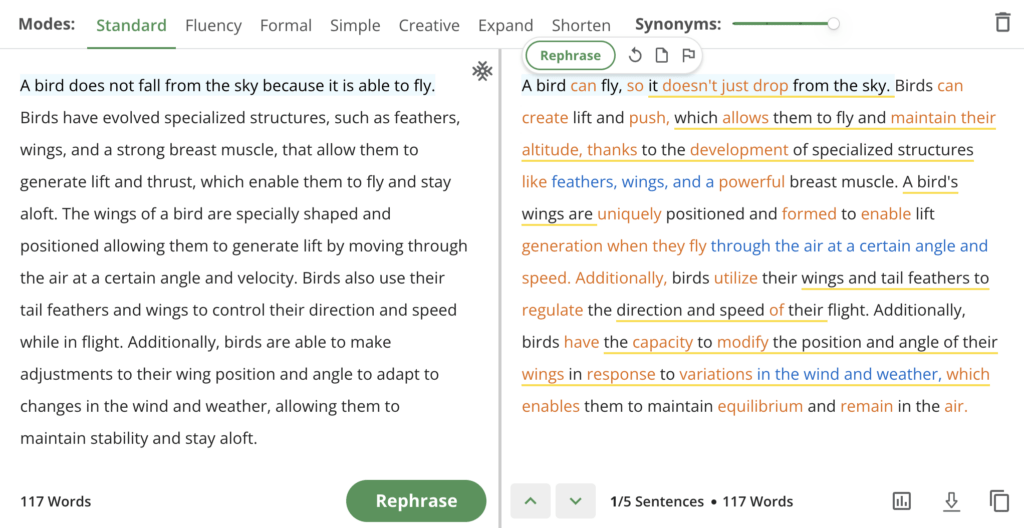 But as thrilled as I am with QuillBot's rephrasing prowess, I still can't ignore the glaring contrast when it's side by side with ChatGPT.
QuillBot does its one job, and it does it well.
But when compared to the multitude of tasks ChatGPT can handle, it's like comparing a racehorse to a unicorn.
Nevertheless, let's not take away from the fact that QuillBot is a solid, no-cost alternative to Word AI.
It's a handy tool for those looking for a quick content spin without the hefty price tag or commitment of sign-up.
So, if you haven't already, it's definitely worth giving QuillBot a shot. Who knows? It might just be the tool you've been searching for.
Make sure to read my complete review of Quillbot.
#5 WordTune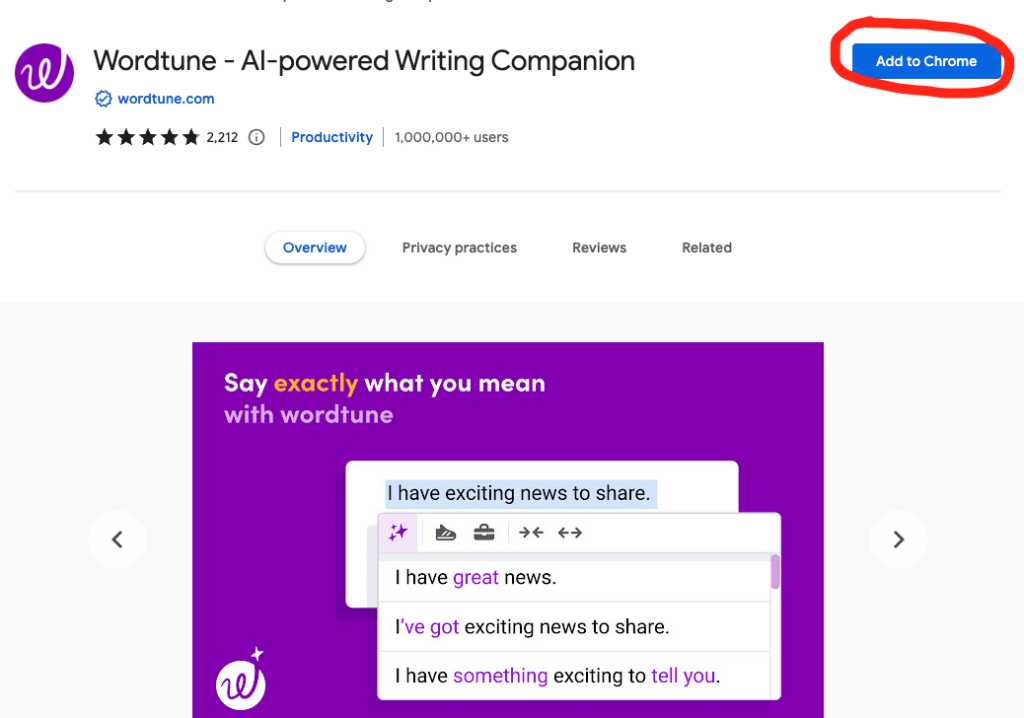 Our journey brings us next to WordTune – a fantastic companion for writers of all sorts.
WordTune strikes a chord by offering more than just a content-spinning tool; it's a grammar guru and style enhancer rolled into one.
In many ways, it's like taking the best of Grammarly and Word AI and putting them into one sleek package.
It's great at pointing out grammatical slip-ups and helping you polish your prose until it shines.
Plus, it's got a handy Chrome extension to tune up your words wherever you're writing on the web.
One more thing that sets WordTune apart from Word AI is its friendly approach to newcomers.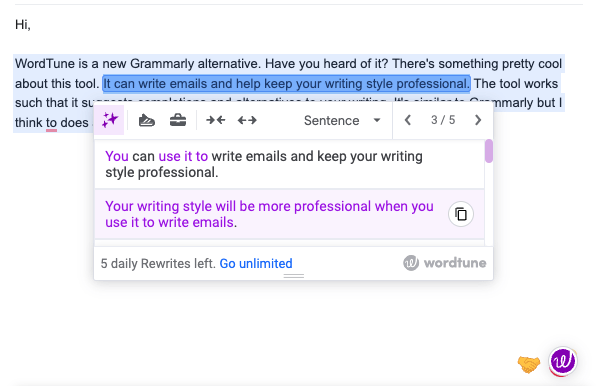 If you're keen to try it out, WordTune offers a free trial that lets you explore its features before you decide to commit.
So, you can dive in and play around without feeling the pinch in your pocket.
WordTune excels in taking care of the mundane aspects of writing that we'd rather skip – the tedious task of rewriting awkward sentences and the eye-straining job of hunting down pesky typos.
It leaves you with more time to focus on the fun parts of writing: creating and expressing.
So, if you're seeking an AI tool that can make your writing journey more tuneful, give WordTune a whirl. It might just be the symphony of assistance you need.
Make sure to read my complete review of WordTune.
Wrapping Up
So that's it for the Word AI alternatives.
We've discovered that there are plenty of innovative tools out there, each offering unique strengths and capabilities 🛠️.
It's clear that Word AI has its merits, but as we've seen, there are more versatile and generous tools available.
Whether you're a blogger 📝, a content creator 🎨, or just someone who loves to write, these tools can help lighten your load, enhance your writing, and maybe even transform the way you create 🚀.
Remember, the best tool for you is the one that suits your writing style and meets your needs 💯.
So go ahead, give these alternatives a spin, and find your perfect writing companion 🎯.
Happy writing, my friends! Until next time 🖋️👋.