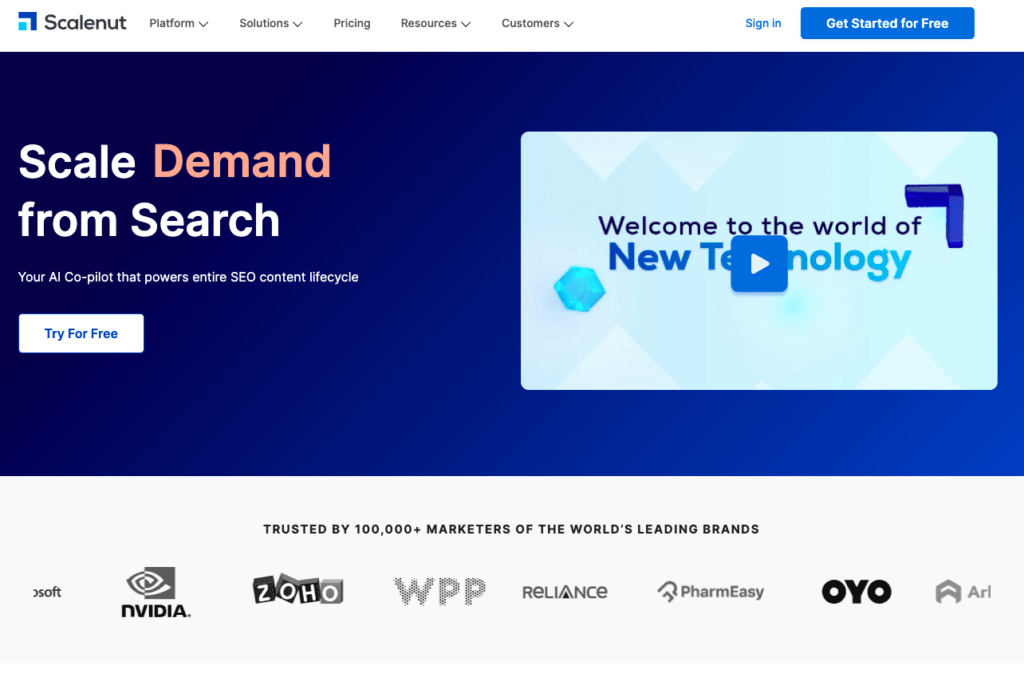 ScaleNut is an AI-powered writing tool that's been making waves in the content creation world.
To put it short, out of the 20+ AI writing tools I've tried, Scalenut is the most customizable, easy to use, and powerful.
If you're tired of spending hours crafting the perfect article, then you're in for a treat.
Here's a quick summary of ratings and other important things about Scalenut:
| | |
| --- | --- |
| Rating | 4.8/5 |
| Price | $23.00/month |
| Ease of use | 4.9/5 |
| Features | 4.7/5 |
| Output Quality | 4.7/5 |
| Mobile App | No |
| Best for | SEO freaks and busy bloggers |
These reviews are my own opinions and compared to the other similar AI writing tools on the internet.
ScaleNut takes your ideas and transforms them into fully-formed, SEO-optimized content, complete with all the metrics and statistics you need to ensure it's a hit with search engines.
So, stick around as I take you through my experience with this game-changing tool and see if it's the right fit for your content creation needs.
Don't forget to check my complete review of the best AI writers.
Let's jump into it!
Disclaimer: This blog post has affiliate links at no cost to you. If you make a purchase through one of my links, I earn a small commission
In a Nutshell
In a Nutshell: ScaleNut is a user-friendly, AI-powered writing tool designed to make your content creation process a breeze.
By taking your ideas and generating high-quality, SEO-optimized articles, ScaleNut saves you time and effort while keeping your content on point.
There are tons of templates to choose from on Scalenut.
With its built-in metrics and statistics, you can be confident that your content is tailored for search engine success.
Simply put, ScaleNut is a one-stop shop for content creators looking to up their game and make their work stand out in the digital world.
PSST! Get 20% off by using promo code FOREVER20.
Key Features
There are tons of features and templates in Scalenut.
Here are the most notable ones:
Powered by the latest advancements in AI and Natural Language Processing
A ton of writing templates to choose from
Cruise Mode for writing blog posts in 5 minutes
Keyword planners and optimizers
Tutorials and documentation
Built-in blog post editor
One-click WordPress export
And much more.
But so far it's been all talk. In the next section, I'll put Scalenut to the test to see if it's actually worth the hype.
My Experience
Let me share with you my experience of extensively testing Scalenut.
Before Moving On…
I've got to be honest with you all;
I'm not a massive fan of going overboard with SEO tactics.
In my eyes, writing content that naturally caters to human readers should be the ultimate goal. Over-templatizing your content and focusing too much on SEO can actually be counterproductive when it comes to ranking higher on search engines.
So, as we dive deeper into ScaleNut, I'll be keeping an eye on how well it balances the SEO aspect with creating engaging, human-friendly content.
Stick around to find out if this AI-powered writing tool strikes the right chord!
Cruise Mode
The main feature of Scalenut is the Cruise Mode—the writing feature that generates articles from start to finish in 5 minutes or less.
While there are tons of templates and bells and whistles, I think this feature as the long-form blog post editor gives you the best idea of the capabilities of the tool.
Let's try it out!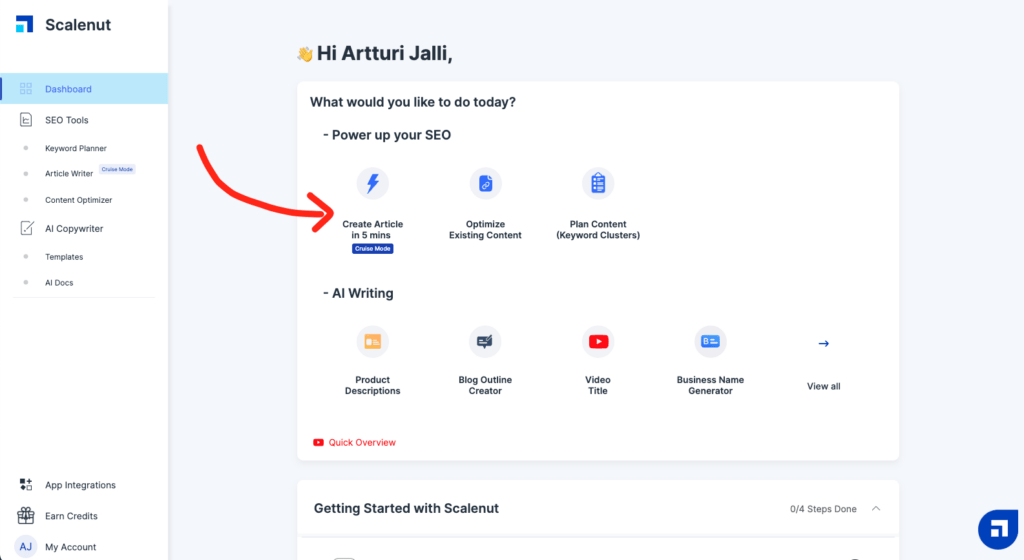 In this mode, you can write a full-on blog post of 4,000+ words in a matter of minutes.
Promising, right?
To get started with the Cruise Mode, you need to type in the search phrases you want to rank for.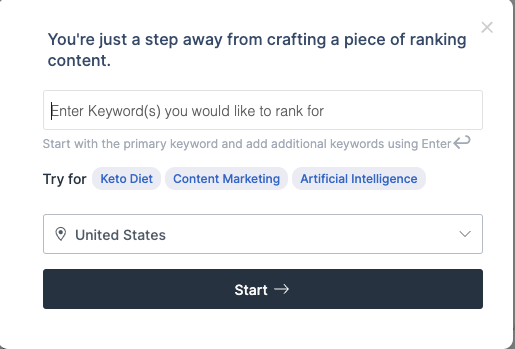 For example, I wrote "How to make money online" as an input to this view.
After locking the main keyword and optional alternative keyphrases, it takes about 60 seconds for Scalenut to lay the foundations for your blog post.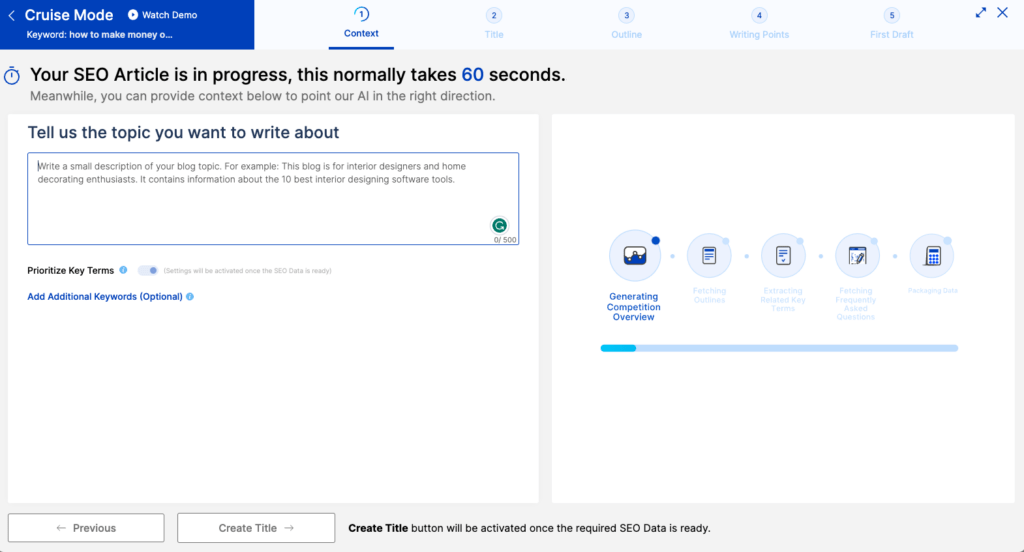 After completion, you can start filling in some necessary details about your post before completing it with Scalenut's AI.
For example, here I enter the details for the article. I describe the piece for the AI so that it understands what I'm trying to write and who I am targeting etc.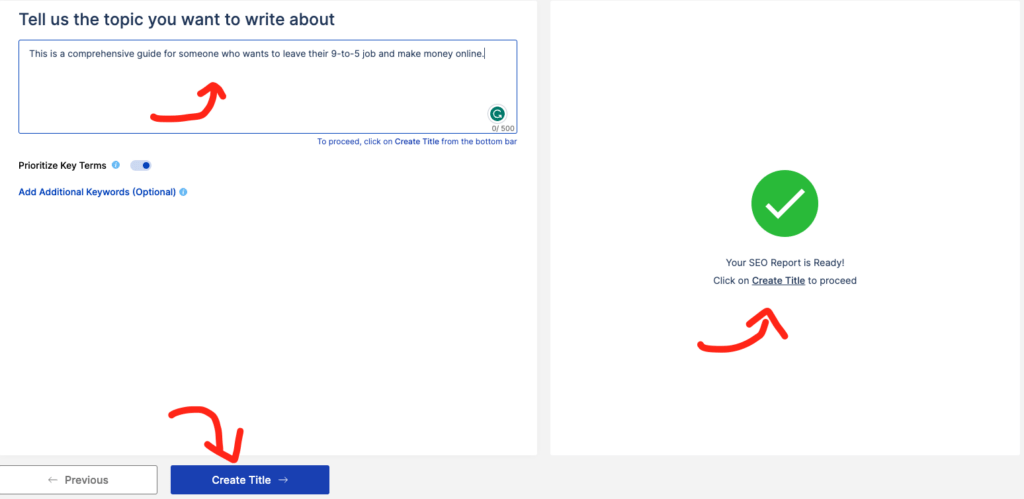 Then it's time to come up with a title. Just kidding! The AI has already done this for you. 🙂 All you need to do is choose the title that looks most prominent to you.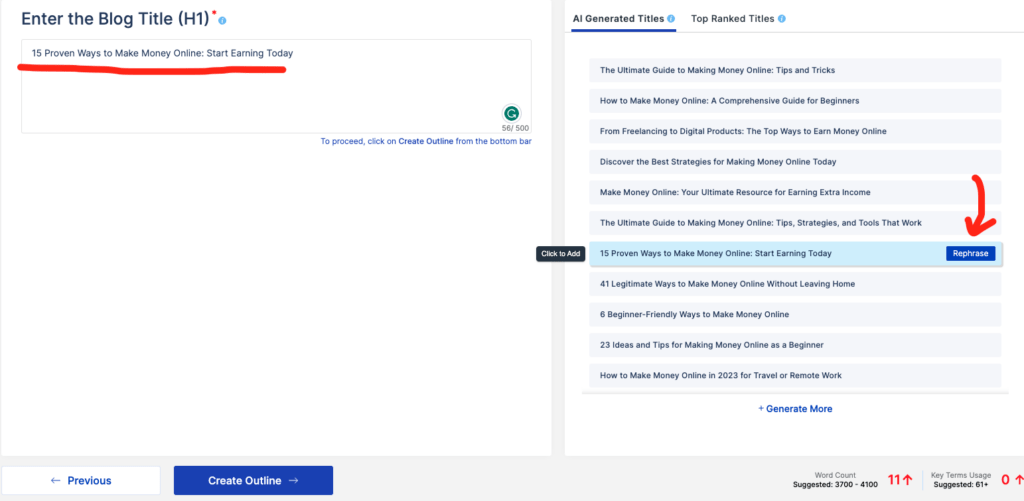 You can even rephrase and edit the titles if there are no good matches.
Nonetheless, after choosing the title, the next step is to let Scalenut's AI generate an outline for your post. This is the part where your blog post's main structure gets created.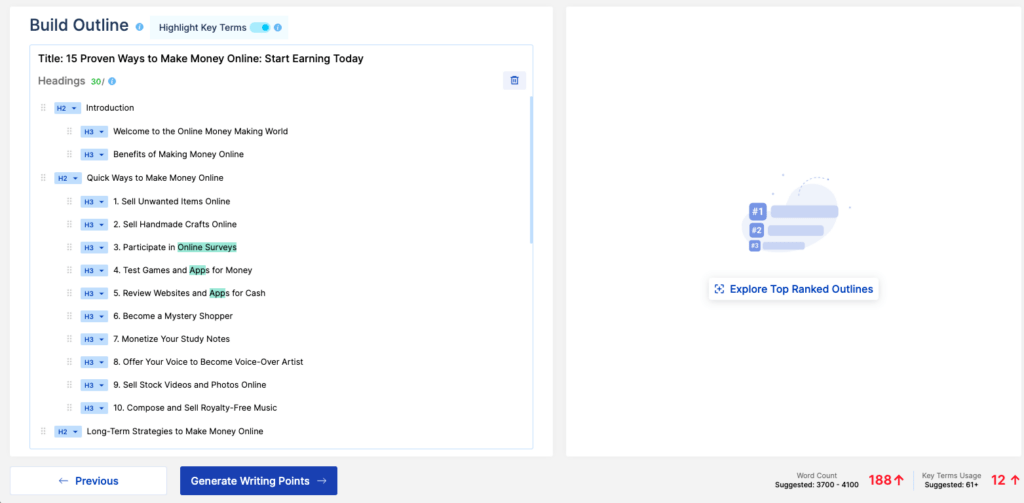 If you don't like the outline or some of the talking points, you can easily tweak the outline by removing/adding talking points to it.
This is what I really like about Scalenut. Everything is easily customizable. It feels much less rigid than most of the AI writing tools I've tested.
Anyways, once you have locked your outline, it's time to let the AI do the hard part, that is, write the content.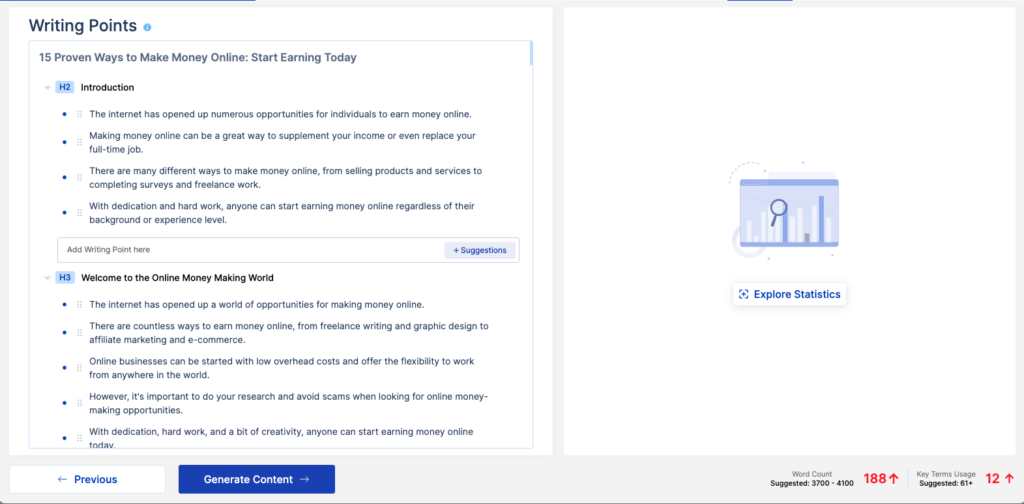 That was a breeze! The AI just generated a nearly 4,000-word blog post in a matter of seconds!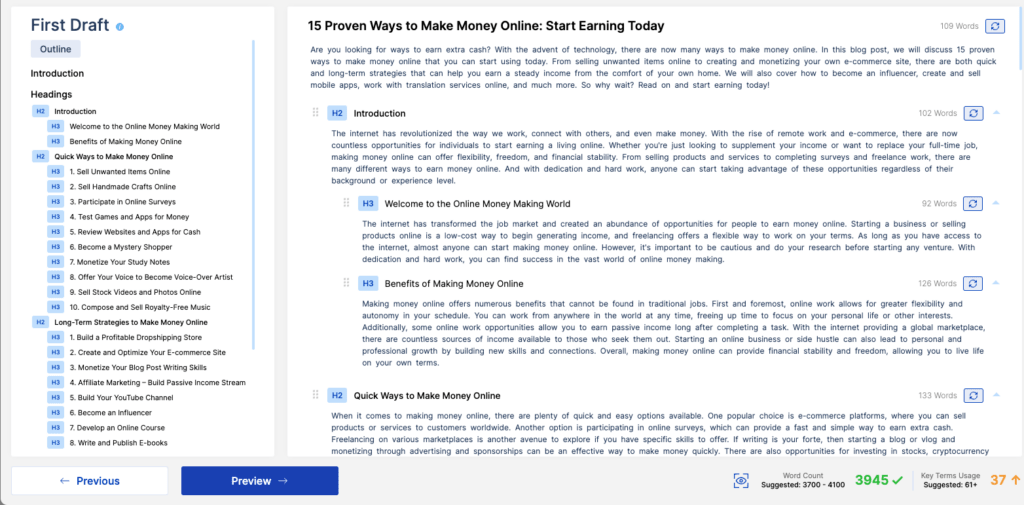 Once this step is complete, you can use AI to rephrase individual chapters and delete unnecessary ones as well.
Again, really neat way to make the tool feel less rigid and more customizable. Thus far, everything I've wanted to tweak I could have tweaked.
Really cool!
After this step, you can move on to the preview of the post. Here's what the post looks like without edits/polishments.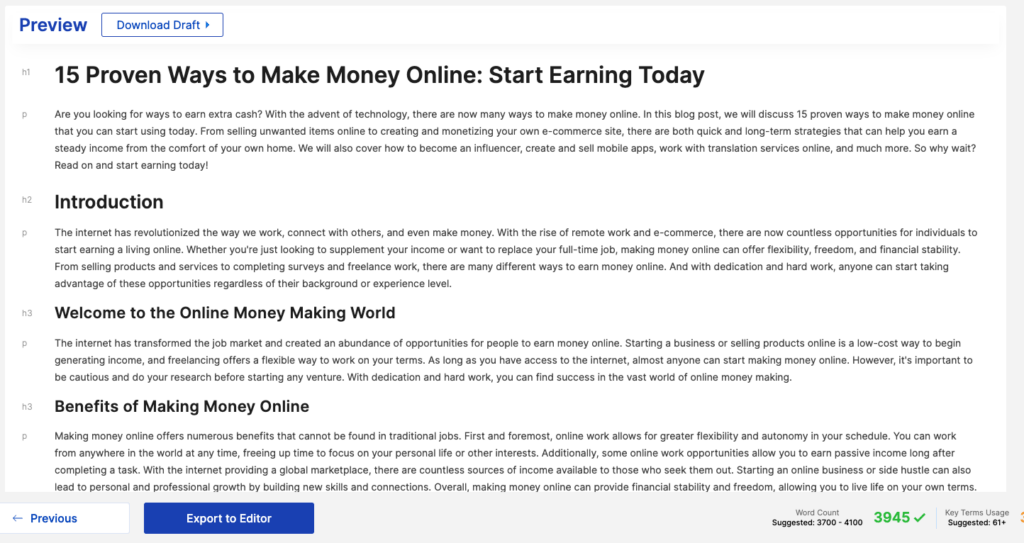 Ok, let's be real. While this post is comprehensive and long-form, it needs a ton of attention to make it actually rank high.
First of all, the topic I chose is so competitive that no matter how good the blog post is, it will probably never rank on Google.
And by the way, I don't really get a clear message about this from Scalenut. So I have to use my years of blogging experience to tell that.
Anyways, to make a blog post rank high, it needs to be formatted nicely and have supportive images.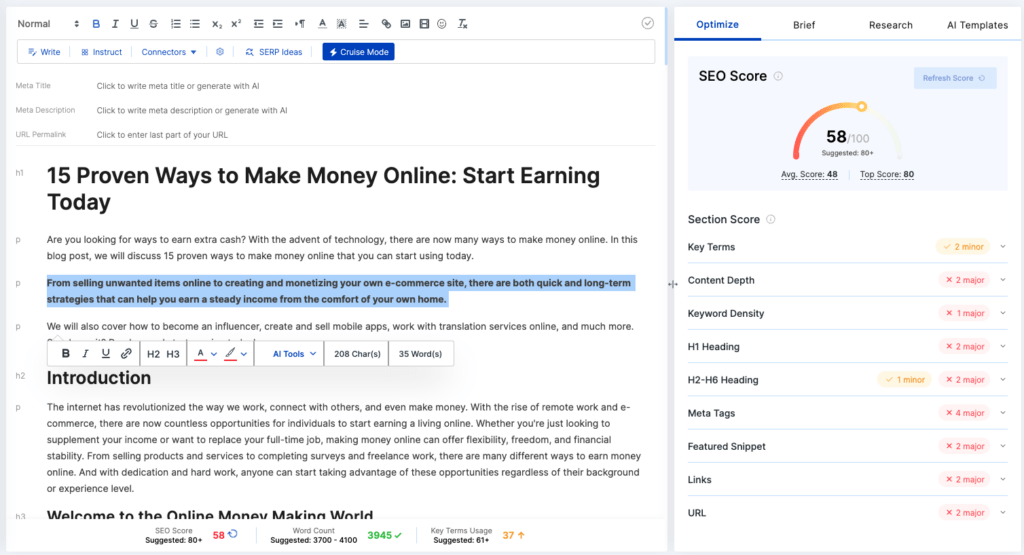 So even though I was able to write a 4,000-word post in 5 minutes, it needs hours of polishments and fact-checking before I can go live with it!
BTW, if you are an SEO freak, you might find the SEO score insightful.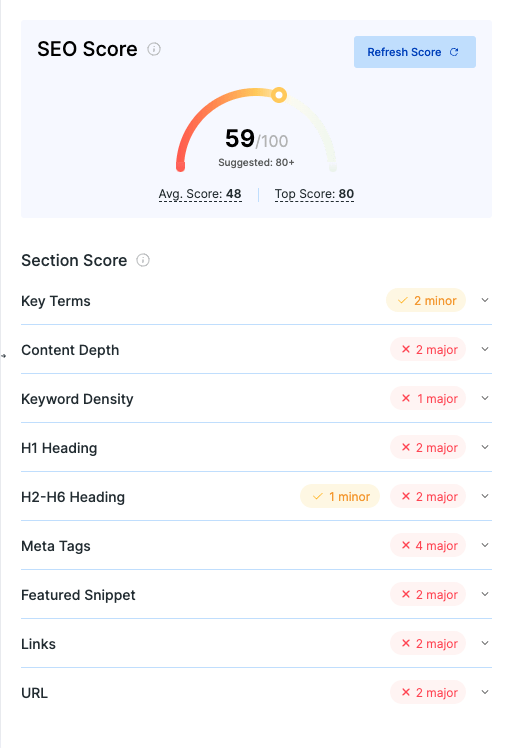 However, I wouldn't look at it too much as writing natural content that solves a problem is the only real way to make blog posts rank high.
Pricing
Get 20% off by signing up with this link and using promo code FOREVER20.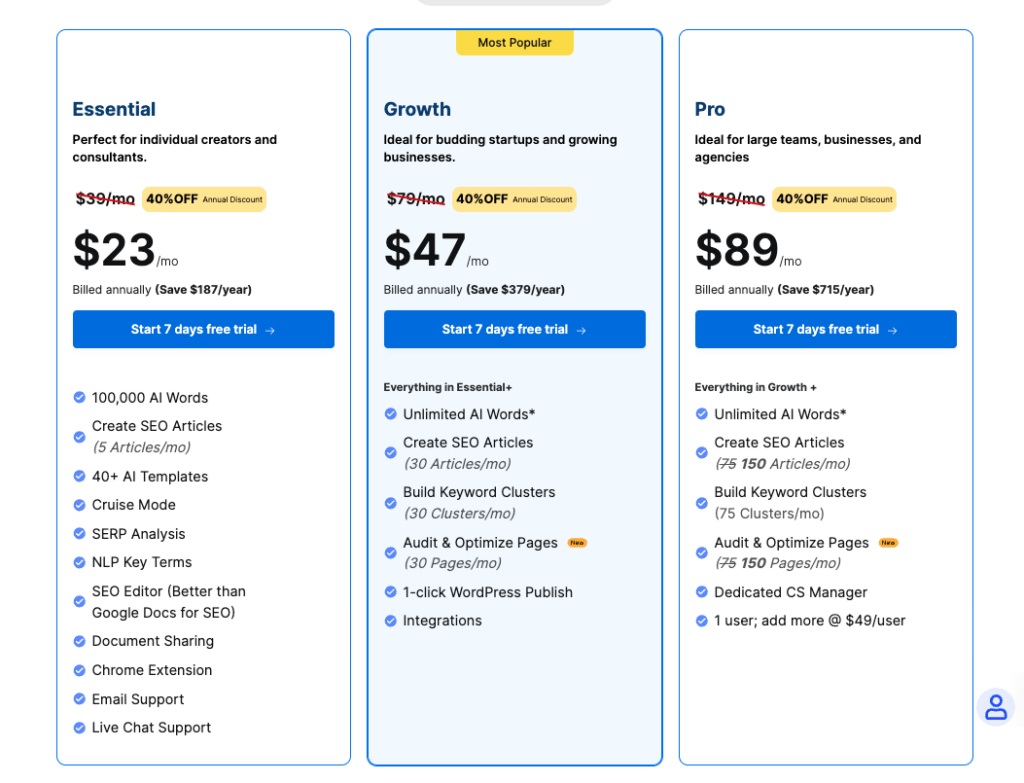 After the free trial, you have three paid plans:
Essential: $23/mo
Growth: $47/mo
Pro: $89/mo
Pros and Cons
| Pros | Cons |
| --- | --- |
| Super easy to use | Needs human intervention |
| A ton of writing templates | Blog posts are walls of text without images/formatting |
| Every step of the way is customizable | Heavy fact-checking required |
| Lots of metrics for data-driven bloggers | Saves time in the initial hassle but you have to spend a ton of time before you publish a blog post. |
| Generous free trial | |
Who Is Scalenut Best For?
I think Scalenut is definitely great for someone who's in a hurry and needs to draft a long-form blog post quickly.
Of course, there are templates for pretty much anything you can imagine. You can use Scalenut to write descriptions for your social media posts or even answer emails.
In this sense, if your job involves any writing, you might find Scalenut useful.
Final Verdict
ScaleNut is a scalable and customizable writing tool that has its pros and cons.
While it can generate content in a matter of seconds, you still need to invest time in formatting blog posts, proofreading, adding images, and fact-checking.
Don't expect it to single-handedly rank your blog posts high just because it has SEO metrics in place—you'll still need to put in the work.
But this is the same with all the state-of-the-art AI writing tools. I have not encountered a single tool that would be able to pass the above.
ScaleNut can definitely boost your productivity by providing compelling outlines, intros, outros, and even some blog content.
It's one of the most intuitive and easy-to-use AI tools I've come across, and it's worth giving it a shot.
The future of AI in content creation is promising, and ScaleNut is sure to improve over time.
It might not be perfect now, but as technology advances, it could become an even more powerful tool in the coming months and years.
So, don't be afraid to keep exploring and experimenting with AI-powered writing tools like ScaleNut—you never know what they might bring to the table next!
Read Also