QuillBot is an AI writing assistant that focuses on paraphrasing your writing. It takes a section of your writing and rewrites it in a more friendly, professional, casual, or another such tone of voice.
All of this takes place with a single click of a button.
QuillBot is powered by AI and it doesn't just mechanically replace certain words. Instead. It understands the entire text similar to us humans and predicts what a better text would look like.
This is a complete review of QuillBot—potentially the best AI rephrasing tool.
I've run some extensive tests so you don't have to. I'll share my results with you and compare them with other AI writing tools. Besides, I'll share my thoughts on rephrasing/paraphrasing in general.
💡 Make sure to read my comprehensive guide to the Best AI Writing Software.
Disclaimer: This article is reader-supported. If you make a purchase through one of the links in this post, I might earn a small commission at no cost to you.
Getting Started with QuillBot
Getting started with QuillBot is super easy. All you need to do is head over to their website and start typing. You can then use AI to rephrase the text even without creating an account.
Here's an example of an email I paraphrased with QuillBot's standard paraphrasing feature.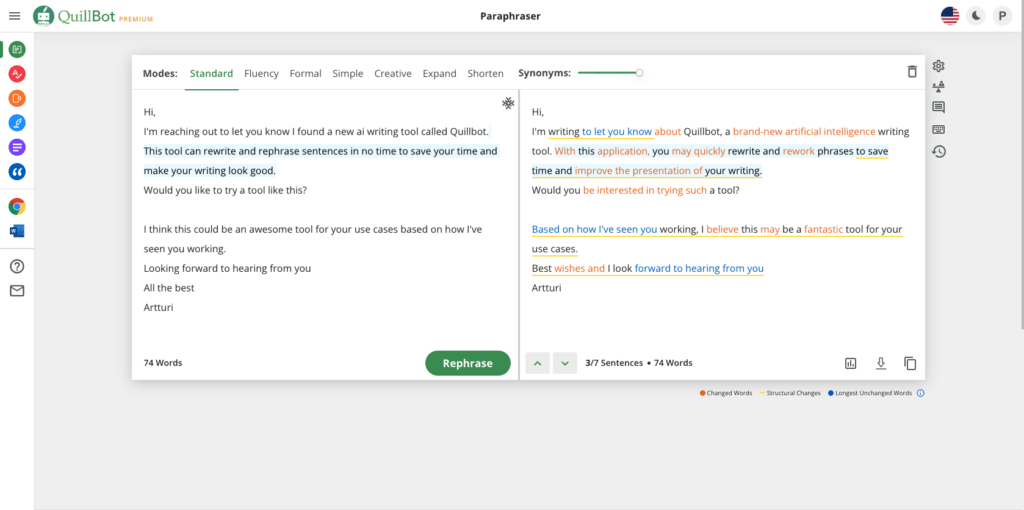 Key Features
Before taking a look at the use of QuillBot, let's quickly go through the key features of this software.
Chrome extension. QuillBot has a Chrome extension. The idea is that QuillBot works wherever you work. No matter what online text editor you are situated in, QuillBot will analyze your content and point out mistakes. Besides, you can use the powerful rephrasing features on any site with a text editor.
Free trial. There's a limited free trial to QuillBot. You don't even need to create an account to activate the trial. This feature gives you an idea of how the tool works.
Rewriting modes. Besides the free standard rephrasing mode, there are many different rephrasing modes in QuillBot. This allows you to get more creative and generate text in different tones of voice. I tried all the rewriting modes and will share the results in just a bit.
Powerful AI. QuillBot is powered by a natural language processing model that predicts the outputs. This means QuillBot doesn't just use simple if-else logic to replace words. Instead, it completely understands your writing and re-writes it as if it was a real human writer.
My Experience
I ran extensive tests with QuillBot both using their web app and the Chrome extension.
In this section, I will share the results of paraphrasing with different rewrite modes. Besides, I use the Chrome extension to fix issues with my email in Gmail's email editor.
Right off the bat, I can tell that the user interface and experience are smooth. I can simply hover over my phrases and ask QuillBot to rephrase them with a single click of a button.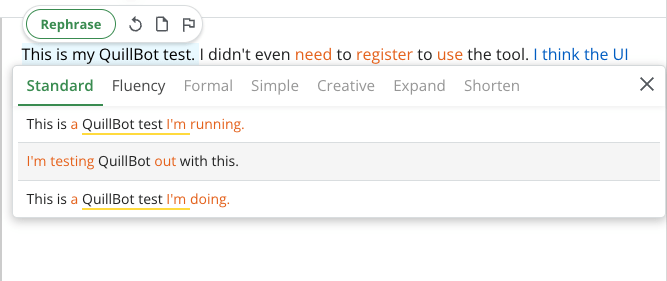 Paraphrasing Modes
There are many paraphrasing modes in QuillBot—7 to be exact.
You can see the modes in the top bar of the QuillBot web app: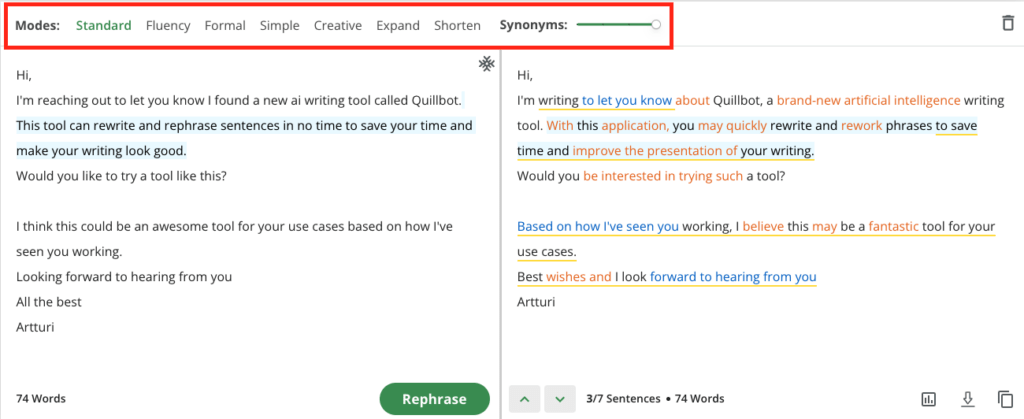 In the free trial, you can do the standard paraphrasing. But with the paid plan, you have an access to all the paraphrasing modes.
Let's take a look at the performance of the individual paraphrasing modes.
1. Standard
The standard paraphrasing mode is available for all users even without signup. It offers you a basic capability to rephrase a section of text.
For example:

2. Formal
For clarity, let's use the input from the previous section in all the rest of the examples.
Here I'm using the formal paraphrase to make the text sound a bit more professional and business.

Although the result is quite similar to the previous one, I think there's definitely more formality in here!
3. Fluency
I'm not quite sure what this feature is supposed to do, but in my tests, it made the text pretty similar to the formal paraphrase mode:

4. Simple
As the name suggests, the simple paraphrasing mode is for those looking to write in plain English.
For example, here QuillBot turns my email into a simple and plain language with as basic vocabulary as possible:

5. Creative
Formality and simplicity aside, let's show the creative side of QuillBot.
In the creative mode, QuillBot's AI uses its creative skills to rewrite your text in a more innovative way.
Here's an example I did with it:

6. Expand
Speaking of being creative, it already takes some effort to expand a piece of text, such as the simple email I've written.
Here I'm using the QuillBot Expand mode to write a longer email based on the short one I just drafted:

You can clearly tell that the content is longer.
But I don't find it that practical. And to be honest, I can't really come up with a clever use case for expanding a sentence without adding more information to it. And because AI can't read our thoughts (yet) expanding sentences just doesn't seem reasonable to me.
That being said, I don't really like the "Expand" mode in QuillBot.
7. Shorten
Last but not least, let's test QuillBot's shorten mode. This mode should be able to turn a lengthy piece of text into a shorter and more concise one without losing information.
Let's see how it performs on the email I wrote:

I think it did a fairly decent job. Although the replacement "Wishing you the best" is actually longer than "All the best" 😉
Anyway, I think this feature clearly cut the word count while retaining the information.
Chrome Extension
Perhaps the best way to use QuillBot is by using their Chrome extension.
This way, you don't always have to come back to the web app to use the paraphraser AI. Instead, the Chrome extension works wherever you work.
Here's an example of me using QuillBot in Gmail.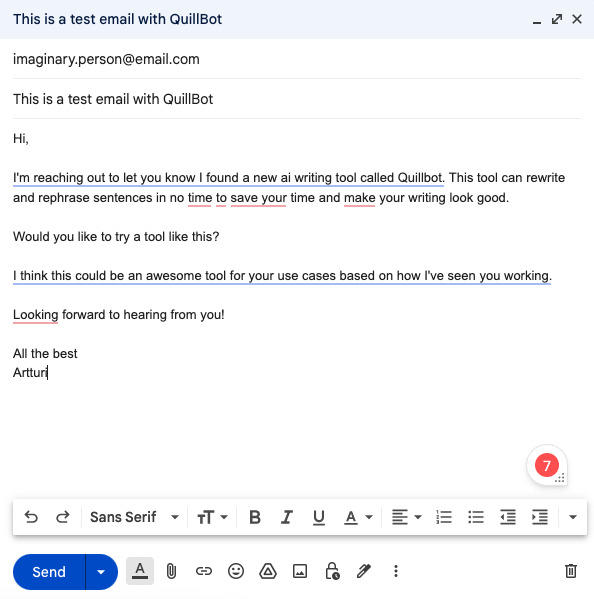 Similar to Grammarly, QuillBot underlines the words and sentences with issues and potential improvements as seen above.
To see the suggestion, all you need to do is click the highlighted piece of text.
For example, here QuillBot suggests I change the first sentence with a better one.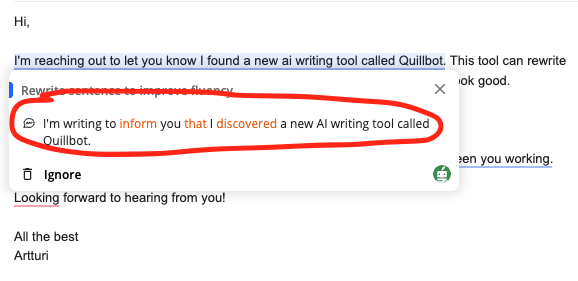 And when it comes to those red underlines, QuillBot has detected grammatical/style errors you need to fix to make the text correct. These fixes also come into effect by clicking the words/sentences with the underlines.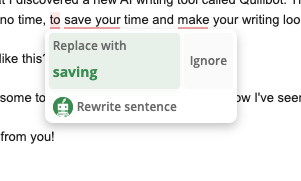 What I found really useful also is that the rephrasing features also work with the QuillBot Chrome extension.
To activate them in wherever you work, just highlight a piece of text and click the QuillBot icon (near the bottom of the text field somewhere).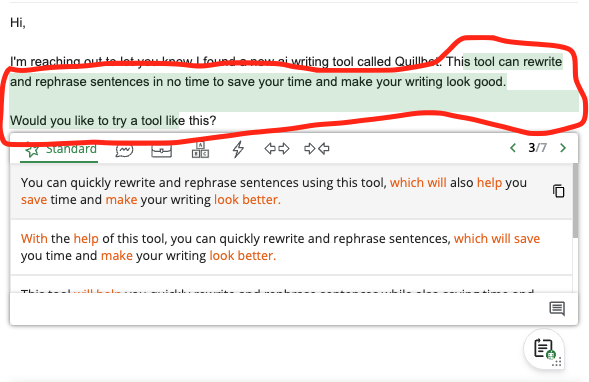 Sadly, I also found a big problem with this feature.
Take a look at the above image. As you can see, QuilllBot has falsely highlighted the wrong parts of the sentence. It leaves some letters out of the image.
Now, even though the suggestions are great, QuillBot makes your text look something like this:

As you can see, this makes absolutely no sense. Here the sentences are cut short and parts of them are left out and replaced by AI in an inconsistent order.
Pricing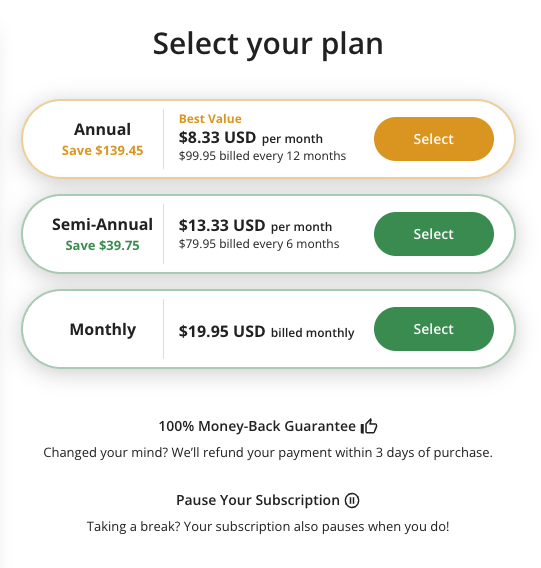 QuillBot has a free no-signup no-credit card free trial. Besides, it has a single plan with three different payment options:
Annual: $8.33/month
Semi-Annual: $13.33/month
Monthly: $19.90/month
What I Like about QuillBot
Free trial. QuillBot has a nice free trial you can experiment with. In the free trial, you can use the standard plan that helps you get an idea of how paraphrasing works with QuillBot's powerful AI.
Simple and easy to use. QuillBot is easy to use. All you need to do is copy-paste text into the paraphrase view and the QuillBot AI takes care of the rest. You can also easily change the tone of voice and some other paraphrasing options.
It actually works. Based on my extensive testing, QuillBot seems to work quite nicely. Although some of the outputs aren't quite there, most of them are and I could use them as-is.
Chrome extension. QuillBot's AI follows you everywhere as long as you use Chrome and activate their extension. This way you don't have to use the web app. Instead, QuillBot works wherever you do.
What I Dislike about Quillbot
Limited free trial and pricey premium plan. While it's good that Quillbot has a free trial, it's in this case quite limited. You can only try the standard paraphrasing features on the limited free trial. Besides, the other paraphrasing tools are quite costly thanks to the pricey premium plan.
Poor quality of some outputs. Meanwhile, I think Quillbot does a great job producing the paraphrased content, it sometimes rewrites the sentences to be worse than the original ones. I wouldn't like this, especially if I had to pay for the service. Nonetheless, most of the time, Quillbot works great
No other features. QuillBot is an AI writing tool that solely focuses on rewriting/paraphrasing. There are basically no other features yet the tool is quite costly. For example, Rytr has similar pricing for paraphrasing + all the other AI features like blog post generator, name generator, and more. But then again, Rytr doesn't only focus on paraphrasing.
Final Verdict
QuillBot is an impressive tool that focuses on paraphrasing content. It does a good or at least decent job of turning sections into completely new ones with new wording that makes sense.
There are no other features than paraphrasing in QuillBot, although there are many tones of voice to choose from.
The best way to find whether QuillBot is the right tool for you is by testing it. The free trial lets you use the standard paraphrasing feature which should give you an idea of how the tool performs.
Use paraphrasing with care. I'd personally use a tool like this to rewrite my own content. Don't spin other authors' content—bring something new to the table instead!
My Take on Content Paraphrasing
Paraphrasing your content can be a good idea if you're not happy with the sentence or section you've produced. I've noticed that sometimes the AI can really improve the sentence—not just paraphrase it. Although, doing this will add no additional information to the table.
One side effect that comes with content paraphrasing is known as content spinning. The idea is that a blogger takes someone else's blog post, puts it through an article paraphrase, and publishes the piece.
While this might work and go unnoticed by Google, it doesn't help rank higher. This is because Google (and other search engines) want you to produce unique content with original research. If you re-write someone else's article, you aren't bringing anything new to the table.
So use AI-powered paraphrasing tools with care. Don't try to misuse them, as it simply doesn't work anymore!
Thanks for reading. Happy writing!
Read Also