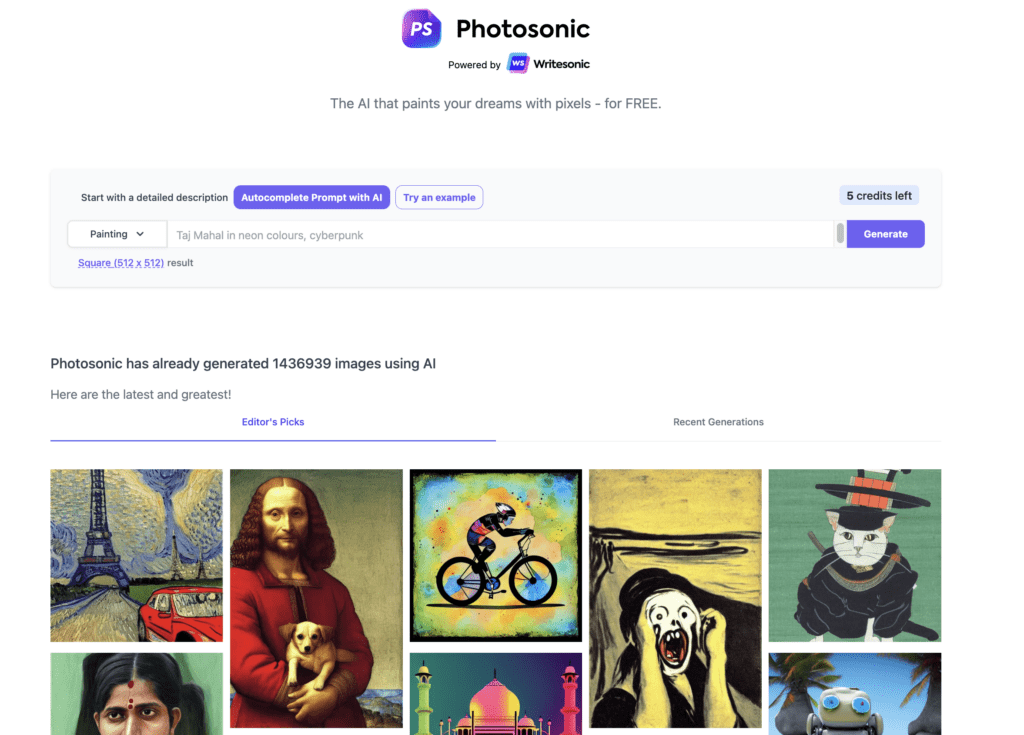 PhotoSonic is an affordable AI art generator that turns words into images. It comes with a free trial worth experimenting with.
The workflow is simple.
Pick an artistic style (e.g. painting).
Describe what you want to see.
Wait for ~15 seconds.
Enjoy your unique piece of art.
PhotoSonic is part of the WriteSonic AI content creation platform.
This is a complete review of PhotoSonic. In this review, you find out how to use the tool and what I think about the results. I test different prompts and artistic styles to get a broad overview of the capabilities of the tool.
Don't forget to check my complete review of the best AI art generators.
Disclaimer: This article is reader-supported. If you make a purchase through one of the links below, I might earn a small commission at no cost to you.
Let's jump into it!
Rating Overview
Here's how I've rated PhotoSonic. This should give you a rough idea of the tool's capabilities before jumping into the details.
| | |
| --- | --- |
| Rating | 4.2/5 |
| Price | $19.00/month |
| Ease of use | 4.9/5 |
| Features | 4.0/5 |
| Output Quality | 4.1/5 |
| Mobile App | No |
| Social Media Features | No |
| Best for | AI enthusiasts looking to try AI art |
PhotoSonic In a Nutshell
PhotoSonic is a new kind of AI art/image generator. It turns your wildest dreams into images within 30 seconds.
PhotoSonic uses cutting-edge AI algorithms to turn text into images.
Unlike many other similar AI art generator tools, PhotoSonic comes with a no-signup free trial of 5 credits. You can use these credits to generate 5 unique images.
Speaking of unique images, the AI art that PhotoSonic generates is unique. No such piece exists in the world. The AI takes your text input, starts with random noise, and arranges the pixels into an image that it thinks best depicts your words.
You can use PhotoSonic-generated images anywhere you want. Although you can't copyright the work, so anyone else can use your art too! Also, don't generate and use images of celebrities or other people without permission.
Key Features
Cutting-edge AI algorithms.
Free trial of 5 images.
Affordable pricing.
AI content creation solutions.
Getting Started with PhotoSonic
Getting started with PhotoSonic is super easy. Just choose a style, give the AI some input, and generate the image.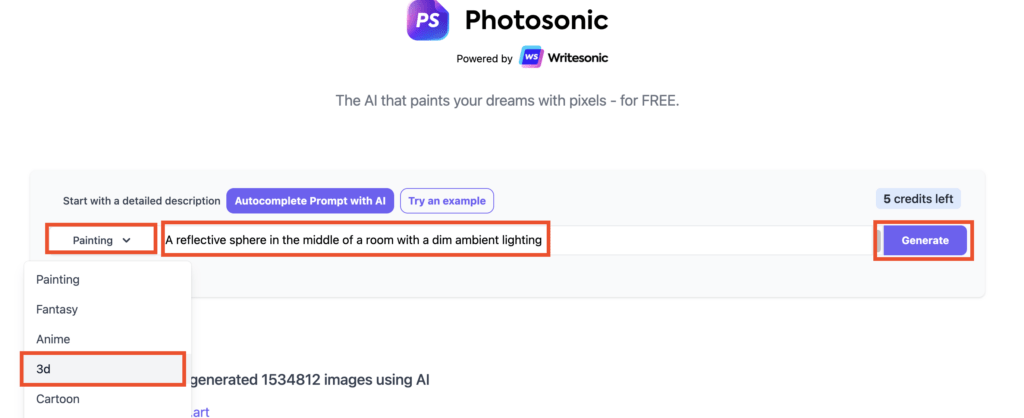 After you've selected the AI art style and input, the image generator takes about 15 seconds to render the images.
Once complete, you can use these images or generate new ones.
Let's have a look at how the tool performs in my hands.
My Experience
I tried PhotoSonic in different AI art modes to see how the tool really performs.
I first generated a painting of a fox in the field and got these awesome results.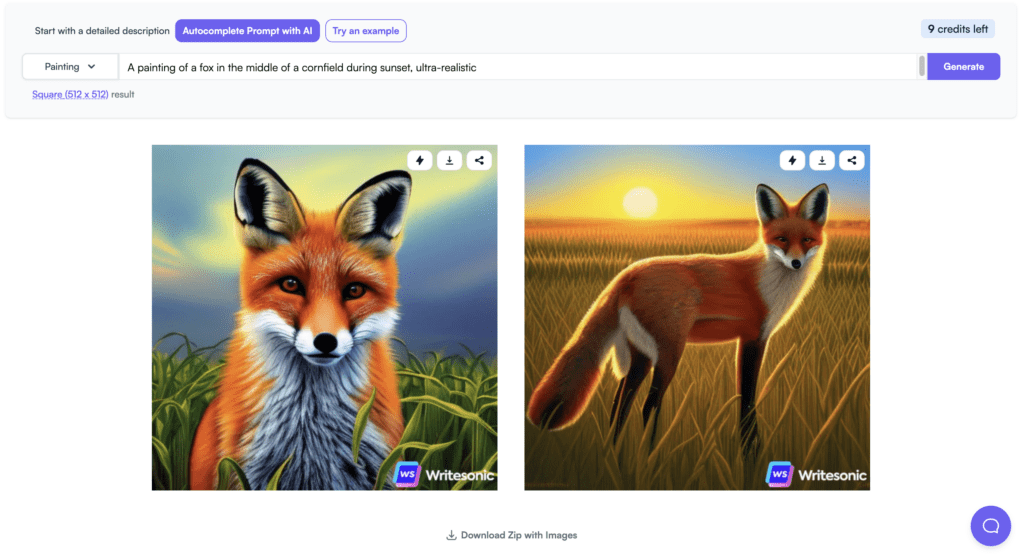 To make this section as easy to follow as possible, I'm going to generate images in the different AI art modes that PhotoSonic offers. For each image, I will use the following input:
a woman walking in the desert, clouds, thunderstorm, darkness, fog
Here are the outputs in each art category I tried.
1. 3D Mode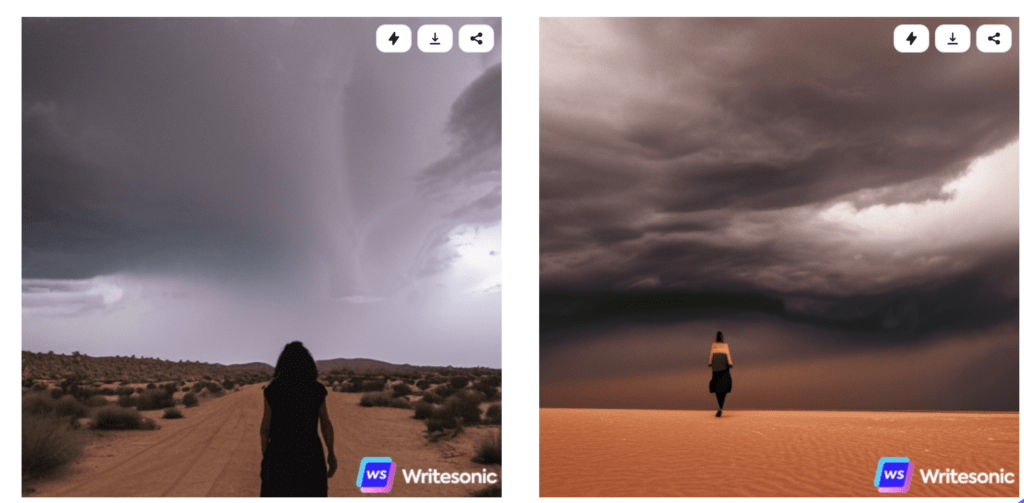 2. Sci-Fi Mode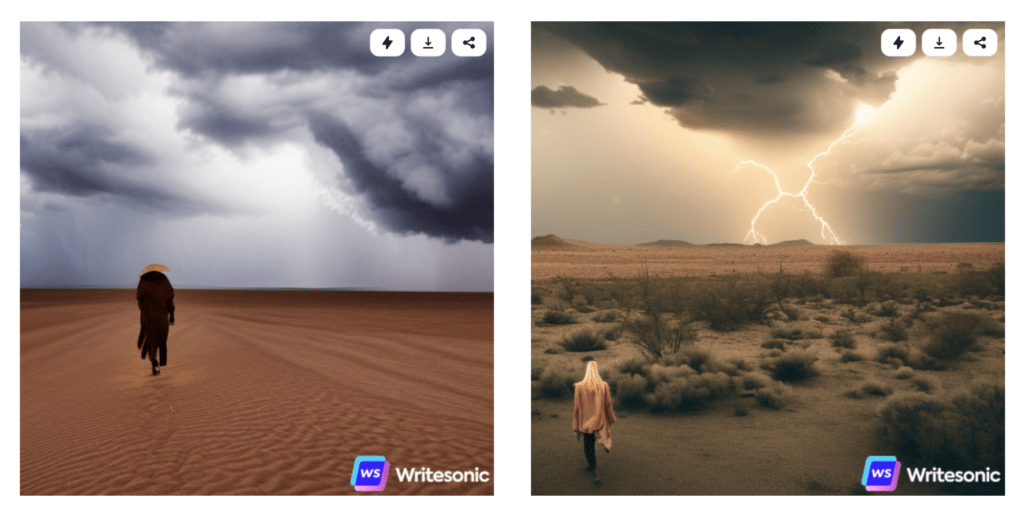 3. Photo Mode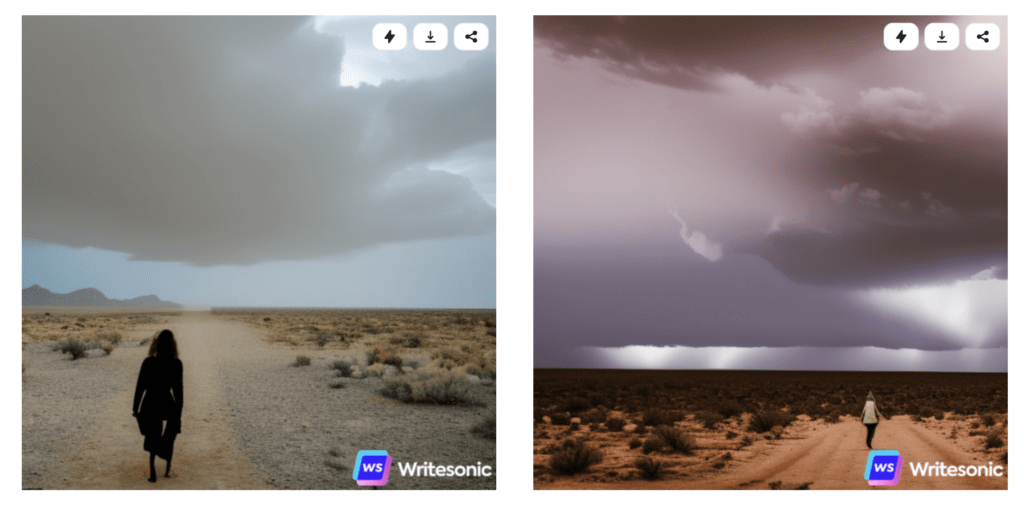 4. Illustration Mode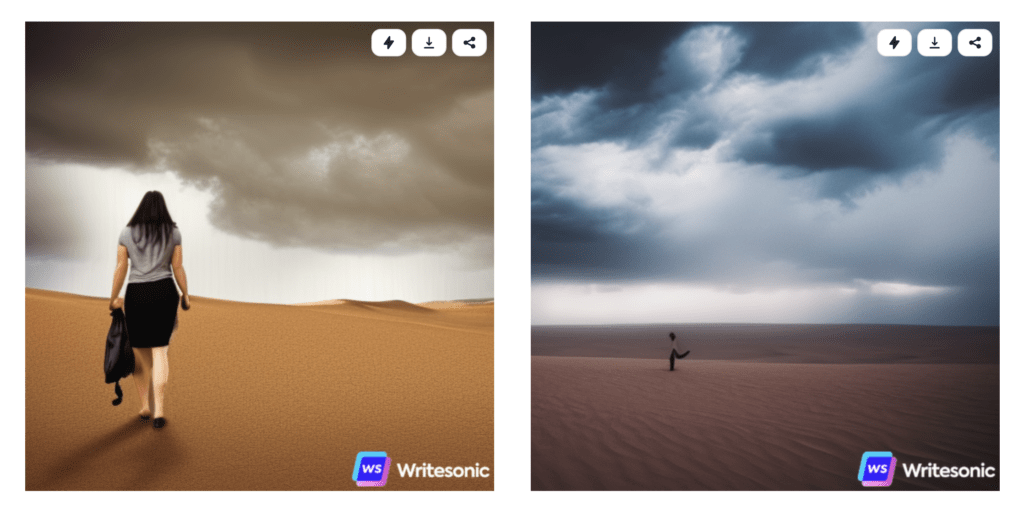 5. Character Mode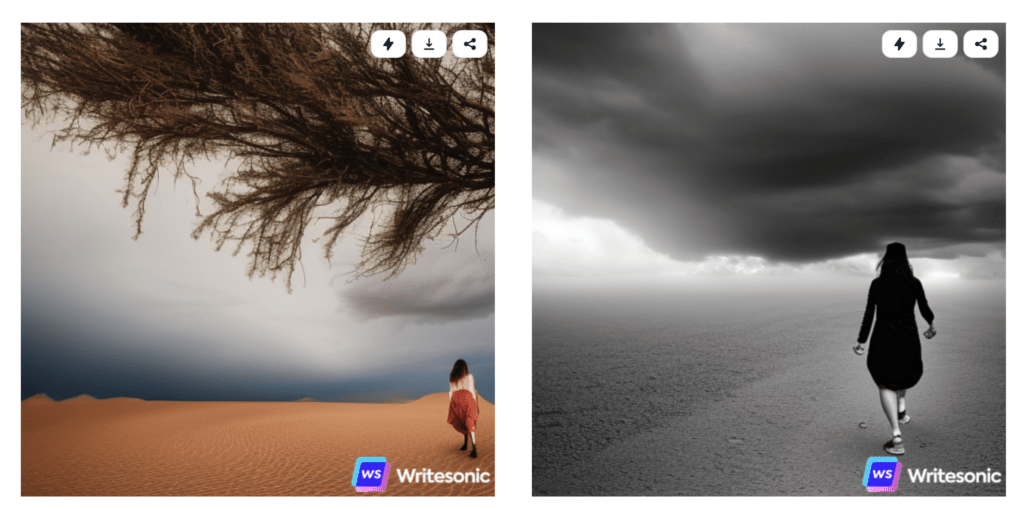 6. Cute Mode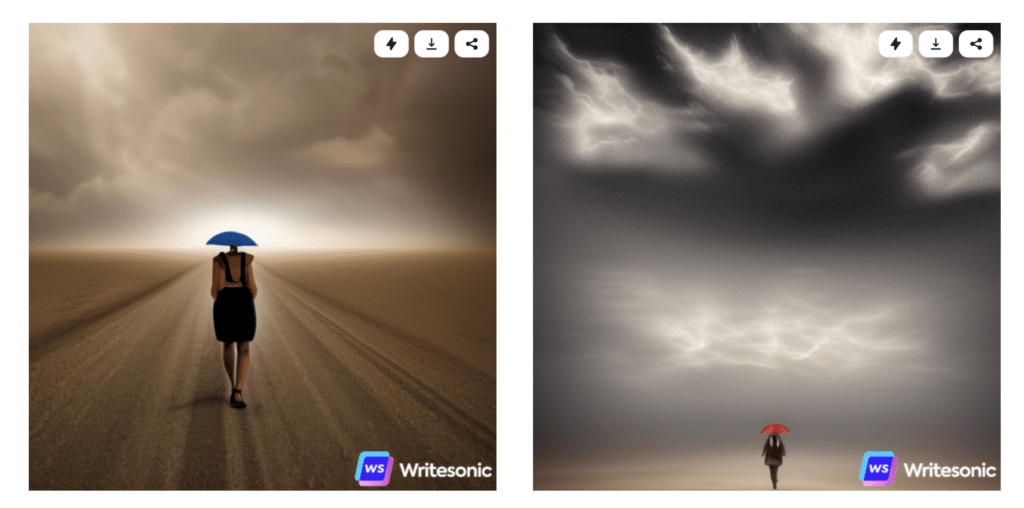 7. Anything Mode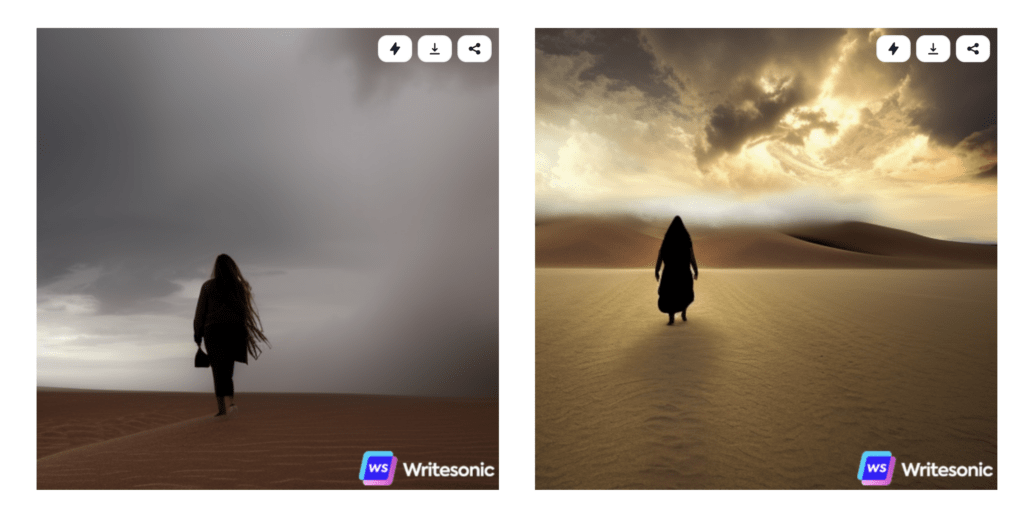 After using the same prompt in different art modes, I must say the tool doesn't get that creative.
To be honest, all the image pairs above look more or less the same. There's always a woman walking away from the "camera". Also, the women don't look realistic if you pay any closer attention to them. Besides, the images above aren't that impressive to me.
Notice that this doesn't necessarily mean that the PhotoSonic AI art generator was bad. To be fair, I've encountered similar behavior in different AI art generator tools. For some inputs, the outputs look terrible and for some, they look amazing.
In my opinion, the best way to use PhotoSonic is by practicing input design skills. With input design skills, you can craft prompts that generate those awesome images you see in the demos. Also, I'd take a look at the images in the PhotoSonic image gallery—you get to see the inputs and try them yourself.
PhotoSonic Restrictions
PhotoSonic can generate all sorts of images. But it's your responsibility to keep the images appropriate.
You don't own copyrights to the images. This means you can use the images you generate wherever you want, but anyone else can use your art too!
Even though AI can generate unique and original images, it doesn't mean every image generated with AI is ok to use. You can't forge other artists' work or depict other people such as celebrities without their consent.
Thanks to the quick developments of AI, the rules and laws governing AI art will be updated frequently. Something that works today might not be ok tomorrow.
Pricing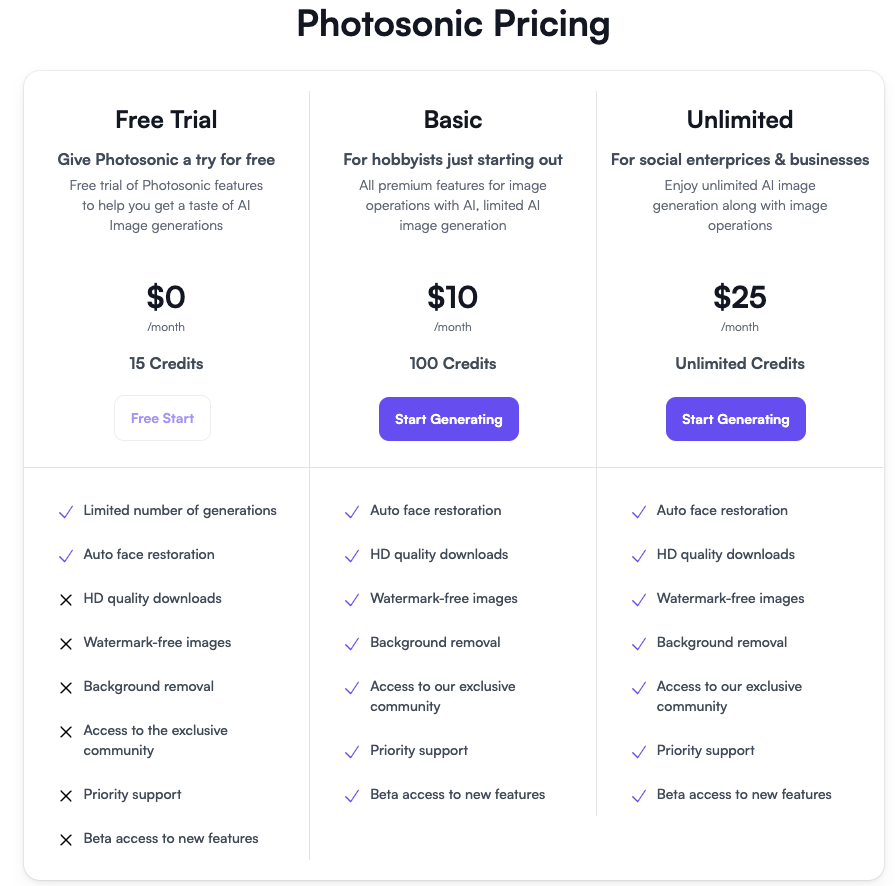 There's a free trial version in PhotoSonic where you get 15 credits per month for free. If you become a power user, you might want to switch to a paid plan:
Basic: $10/month for 100 credits.
Unlimited: $25/month for an UNLIMITED number of images.
Pros and Cons
Like any other AI art generator tool, there are lots of good but also some bad to PhotoSonic. Here's a quick overview of the pros and cons of PhotoSonic.
| Pros | Cons |
| --- | --- |
| Free trial | Feels like "just another AI art generator" |
| Accurate results | Limited features (compared to e.g. NigthCafe) |
| Easy to use | A small number of free credits |
| Community and example images | Requires input design skills |
| Other powerful AI features | |
Who Is PhotoSonic For?
PhotoSonic is an AI art generator tool for anyone looking for a simple way to turn words into images.
Good illustrations and images are needed in many places. These days people are highly visual and don't like to stare at lengthy walls of text.
Generating unique images without having to pay for a license can be useful for:
Bloggers
Small business owners
Video creators
Web designers
eCommerce store owners
Just keep in mind that PhotoSonic is just one of the WriteSonic AI content platform services. In total, WriteSonic offers:
WriteSonic for AI-powered writing.
ChatSonic for AI-based chatbot.
PhotoSonic for AI image generation.
Make sure to try all these services. For example, as a blogger, you might find WriteSonic/ChatSonic useful.
My Art Looks Bad—What Did I Do Wrong?
Using an AI art generator doesn't directly mean you can generate those awesome pieces of art you've seen on the internet.
If you use a simple input like "Cats playing" you might get very generic and poor results that don't meet your expectations. This is because AI can't read your thoughts. The less detailed the input, the more generic/bad the output.
To make AI-generated art look better, you need to design your inputs carefully. The more details and keywords you insert, the better.
For example, here's a bad input to an AI art generator:
A painting of a cat
And here is some good input:
A painting of a furry old cat in the middle of a field during sunset, ultra-realistic, cubism
Input design is not a hard skill to learn. It just takes practice and knowledge to drop the right terms, such as artistic eras, rendering styles, and resolutions into the mix.
Read my complete guide on how to use AI art generators to get better results.
Final Verdict
PhotoSonic is a well-rounded AI art generator that has a free trial and is easy to use. Furthermore, you can get assistance from the PhotoSonic community.
Thanks to the accurate AI and free trial, I think PhotoSonic is worth trying.
But as mentioned before, PhotoSonic is just one of WriteSonic's AI content creation platform services.
Unfortunately, this means that the AI image-generating features are quite limited to tools like NightCafe or Deep Dream Generator. On a higher note, there are other awesome content creation features on PhotoSonic's parent service, WriteSonic.
Read Also