In today's world, mothers play diverse and expanding roles, both within the household and beyond. Moreover, with today's technology, having a blog is becoming commonplace.
So, what does this combination lead to?
A ton of inspiring mom blogs.
These platforms offer an array of stories and invaluable tips for parenting.
In this comprehensive list, we'll explore the finest mom blogs available.
These blogs encompass a wide range of perspectives, from single moms and working moms to moms with different family structures.
Without further ado, let's delve into the world of mom blogs!

Embracing a healthier, more natural lifestyle, Mama Natural is your companion on this journey.
The woman behind this thriving initiative is Genevieve Howland, a childbirth educator, doula, and breastfeeding advocate 👩‍🏫.
With the aid of this website, bestselling books, informative YouTube videos, and well-crafted products, Mama Natural aims to assist families towards healthier lives 🍏.
This platform welcomes anyone who has juggled a baby carrier, breastfed in public, or embraces an eco-friendly lifestyle.
Genevieve, a University of Colorado graduate, is a popular YouTuber with over 120M views.
Her bestselling online course, created alongside Certified Nurse Midwife Maura Winkler, has helped many embrace natural childbirth 👶.
Founded in 2010 by Genevieve and her husband Michael, Mama Natural's work has been highlighted on the Dr. Oz Show, Parents Magazine, and CBS News, empowering millions of women worldwide 🌎.
With Mama Natural, expect laughter, learning, and lots of love! ❤️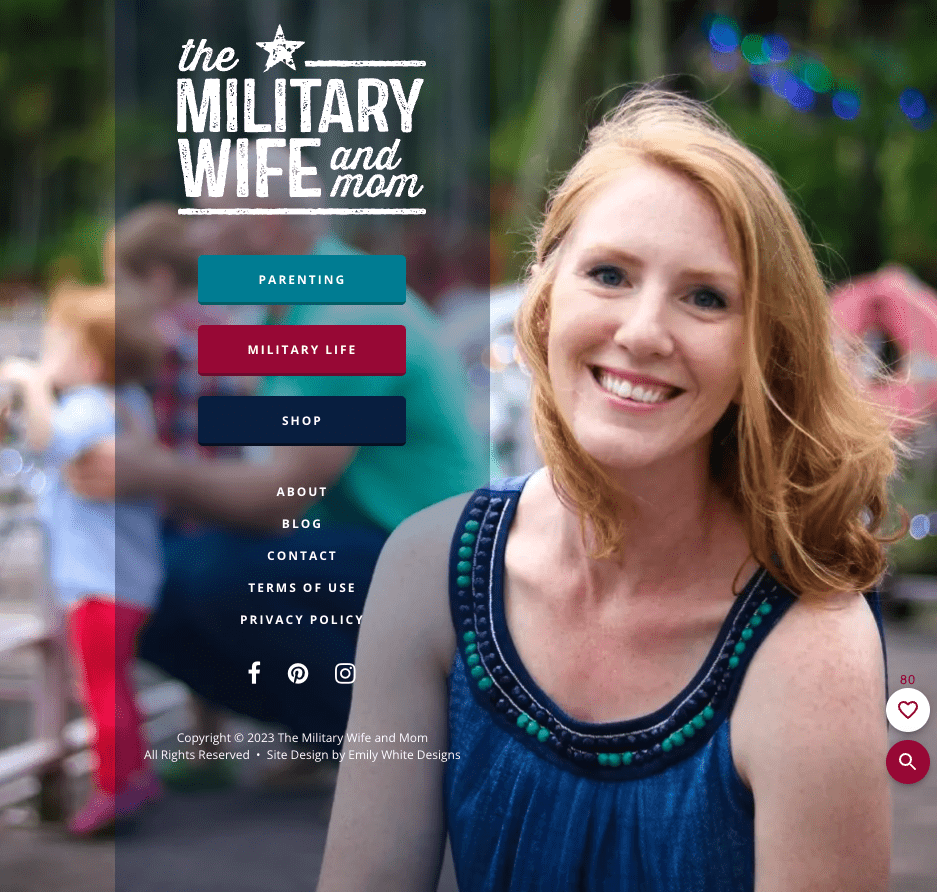 Ever dreamt of a life that fits you as snugly as your favorite pair of yoga pants from Target?
You're in the right place with The Military Wife and Mom blog 🏠.
This platform is more than just a rigid set of instructions.
It provides the tools you need to create a harmonious home, build strong relationships with your kids, conquer deployments, and foster a robust military marriage 💑.
Catering to a wide range of perspectives, you'll access resources and advice from scientists, real moms, military spouses, and experts, helping you carve out a clear path in your parenting or military life journey 🛤️.
The Military Wife and Mom blog empowers you to embrace changes and pursue your goals with determination and grace. The path to a fulfilling life starts here. 👣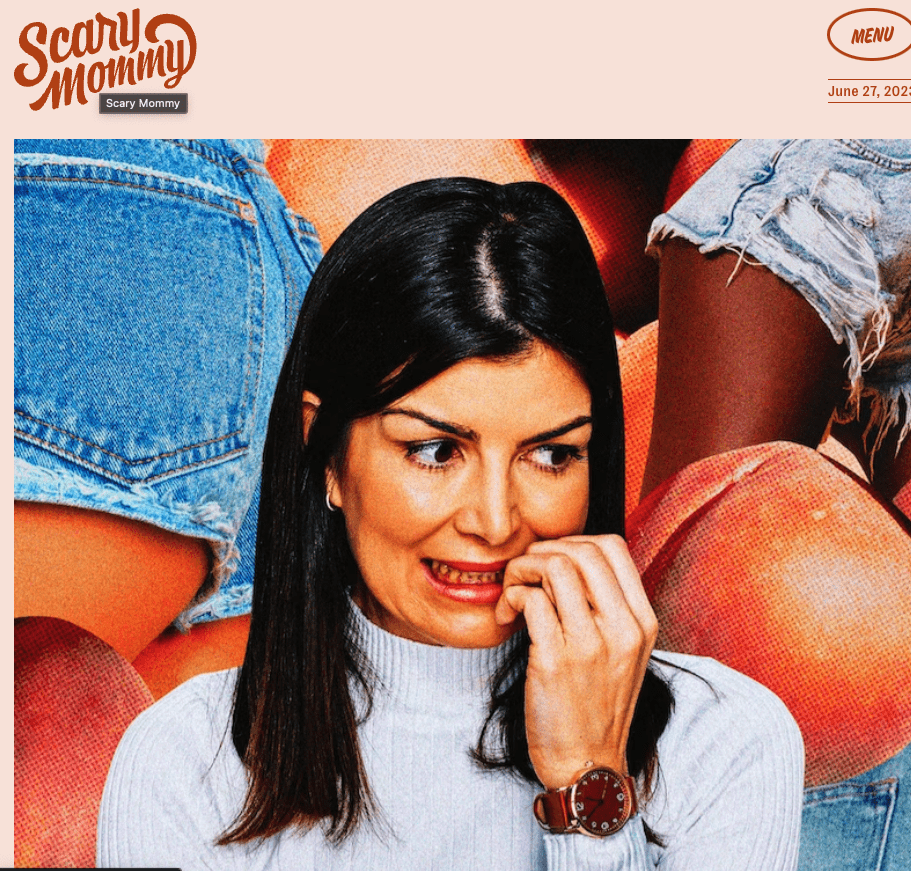 In every aspect of a woman's life, Scary Mommy is there, providing support and celebrating the diversity of motherhood.
With a reach that embraces millions of women – married, single, working, stay-at-home, LGBTQ+, pregnant, or those trying to conceive, this platform understands that we are never "just" moms 🙌.
Scary Mommy's team mirrors the diversity of its voice, with a strong emphasis on inclusion and boldness 🌈.
Not one for sugarcoating or beating around the bush, this platform gives it to you straight.
Embracing imperfections and speaking the truth, even when it's uncomfortable, Scary Mommy is your raw, unfiltered companion on your motherhood journey. Be ready to hear it as it is! 🔊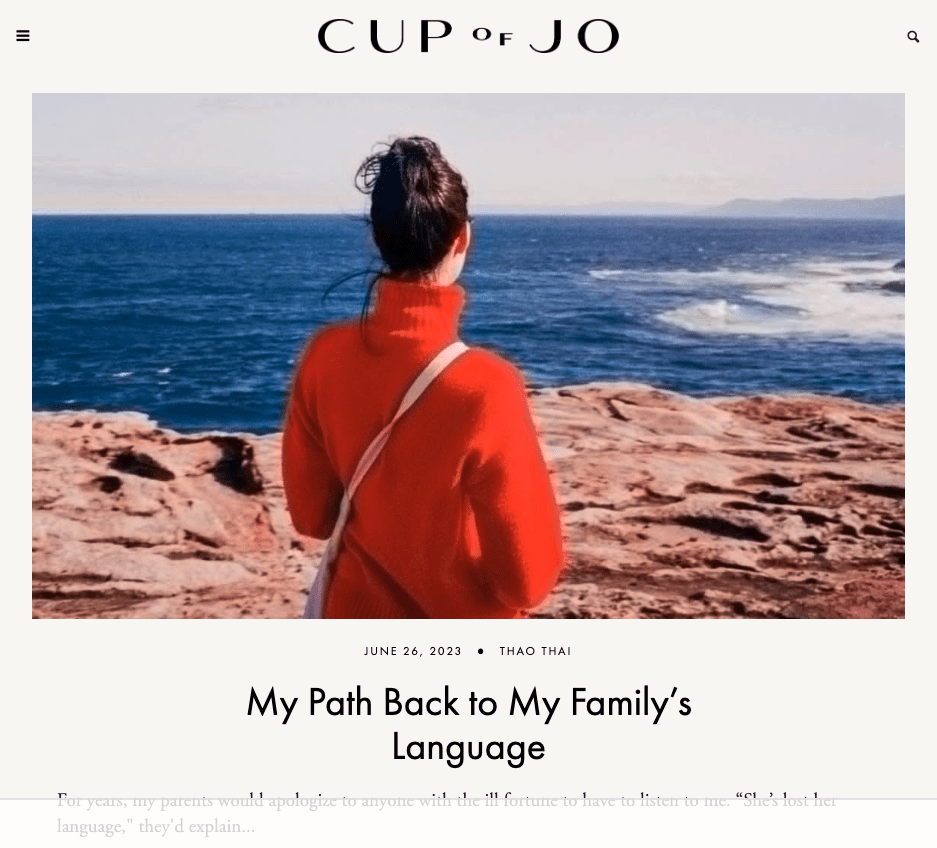 Cup of Jo, launched in 2007, is a daily women's lifestyle hub covering style, culture, food, travel, relationships, and parenting.
This platform is known for its sizable and active readership, and its mantra, "come for the blog, stay for the comments" 📝.
Pulling in over 4 million monthly page views and nearly 1 million unique visitors, A Cup of Jo is an interactive powerhouse.
A socially-conscious blog, it donates a part of its profits to organizations like RAICES, NAACP, Greenpeace, and Planned Parenthood 🌍.
You're always welcome here at A Cup of Jo. Come for a read, and stay for a cupful of enriching discussions. Cheers to a vibrant community! 🎉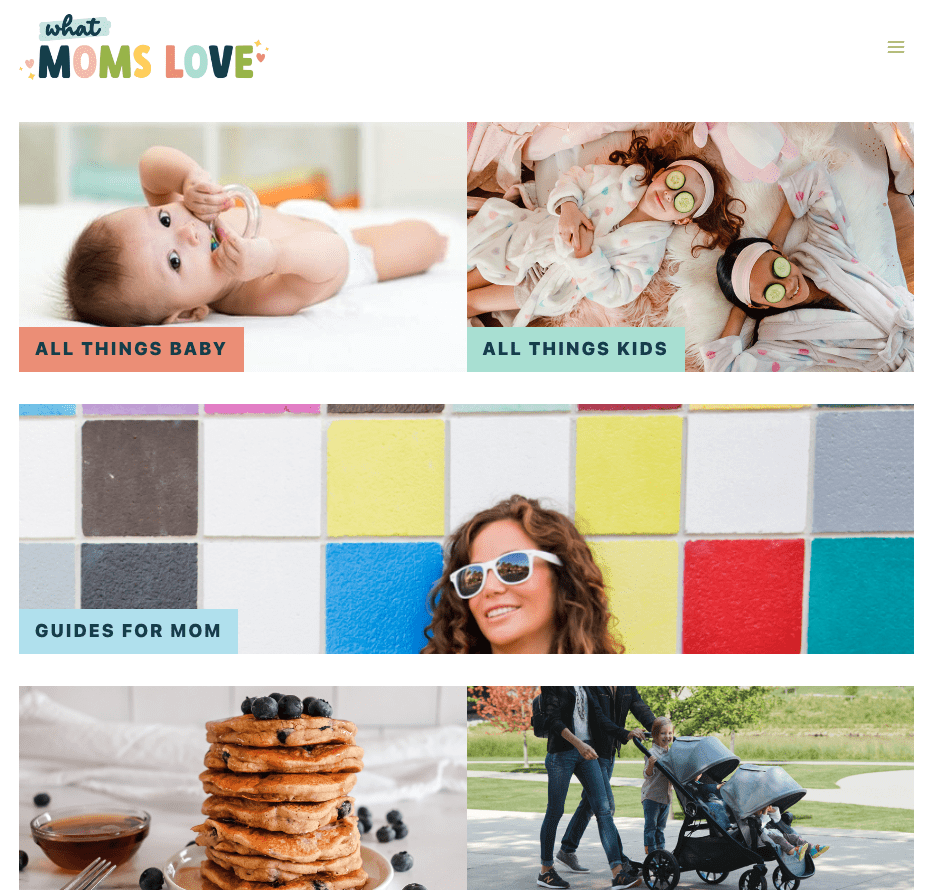 Aly, the brain and heart behind What Moms Love, is a mom of four wonderful kids.
She's hailing originally from England, with a childhood that also spanned Paris and Toronto 🌍.
Her journey led her to Boston, where she graduated from Tufts University with a B.A. in Economics, and later delved into the advertising world, working with big brands such as Volkswagen and Dunkin' Donuts 🎓.
A self-confessed "Type A" personality, Aly felt the need for a trusted resource while preparing for her first child.
She wished for a space where only the best products for moms were featured, cutting through the clutter. And thus, What Moms Love was born 🌟.
An interesting note: Aly loves homemade pistachio ice cream, reality TV, reading Piggie & Elephant books to her kids (she's an excellent Piggie impersonator), and referring to herself in the third person 🍦📺📚.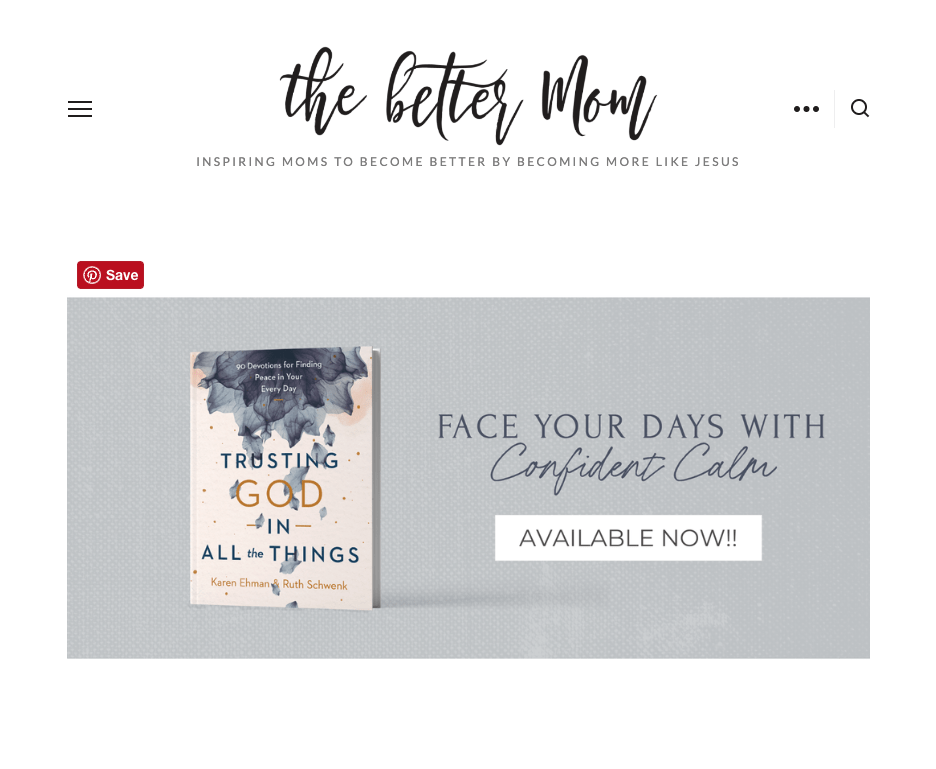 Welcome to The Better Mom Community!
This blog is a haven where moms from all walks of life come together to grow in grace and wisdom 💪.
It's a space for all moms – those with girls, boys, homeschoolers, working moms, cooks, cleaners, new moms, struggling moms, and fantastic moms – all united in their quest to be better mothers.
Ruth, the founder, is a proud pastor's wife and a homeschooling mother to four children, with a degree from the Moody Bible Institute in Chicago 🎓.
She harbors a passion for following God's lead, sharing His love, rescuing orphans, and inspiring families to honor God.
Some fun tidbits about Ruth:
She enjoys city, suburban, and country life, is a lifelong singer and worship leader, loves watching football (Go Blue! 🏈), adores both old and new houses, and is a night owl who also appreciates early mornings (with coffee, of course, ☕️).
So pull up a chair, grab your coffee, and join in the conversation. The Better Mom is excited to have you as part of this vibrant community! 🎈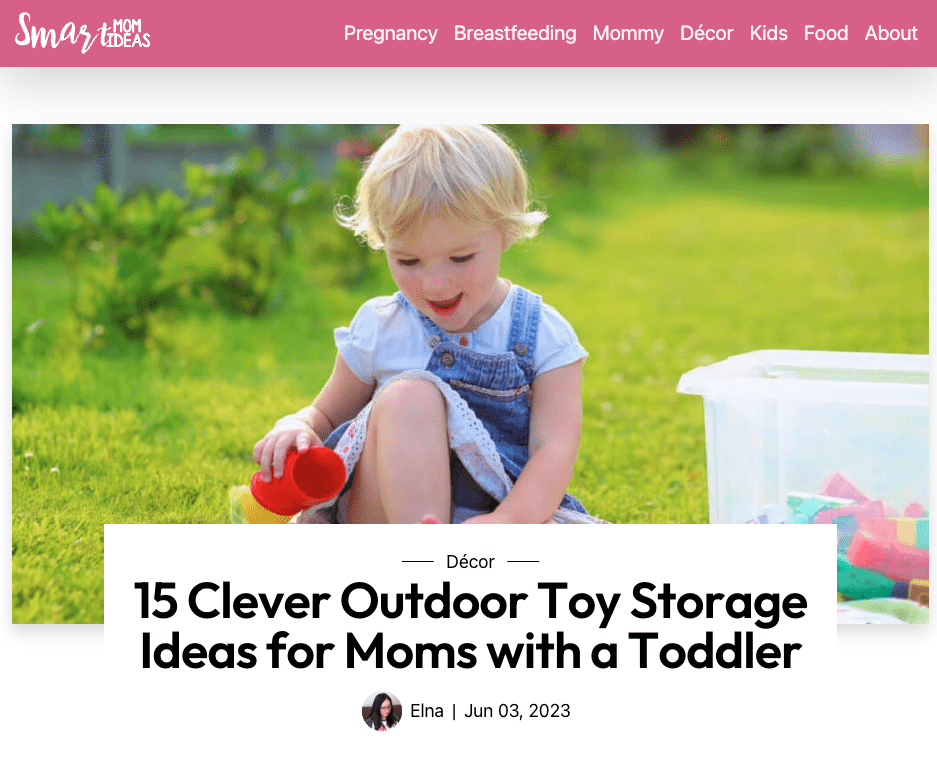 Meet Elna, a SAHM of two, blogger, writer, and a self-proclaimed tired mama who fuels up on coffee and green drinks ☕️🥦.
Known for her other blogs, Elna views Smart Mom Ideas as her exciting new hobby where she can truly embrace her 'mom' identity.
Smart Mom Ideas serves as Elna's platform to share cool mom hacks and all those brilliant ideas she's been eager to write about.
The blog caters to moms seeking a smarter way of life, offering insights from pregnancy to postpartum, and sharing savvy money tips 💰.
Your support is immensely appreciated, as Smart Mom Ideas aims to help moms explore their smart ideas while supporting other mothers!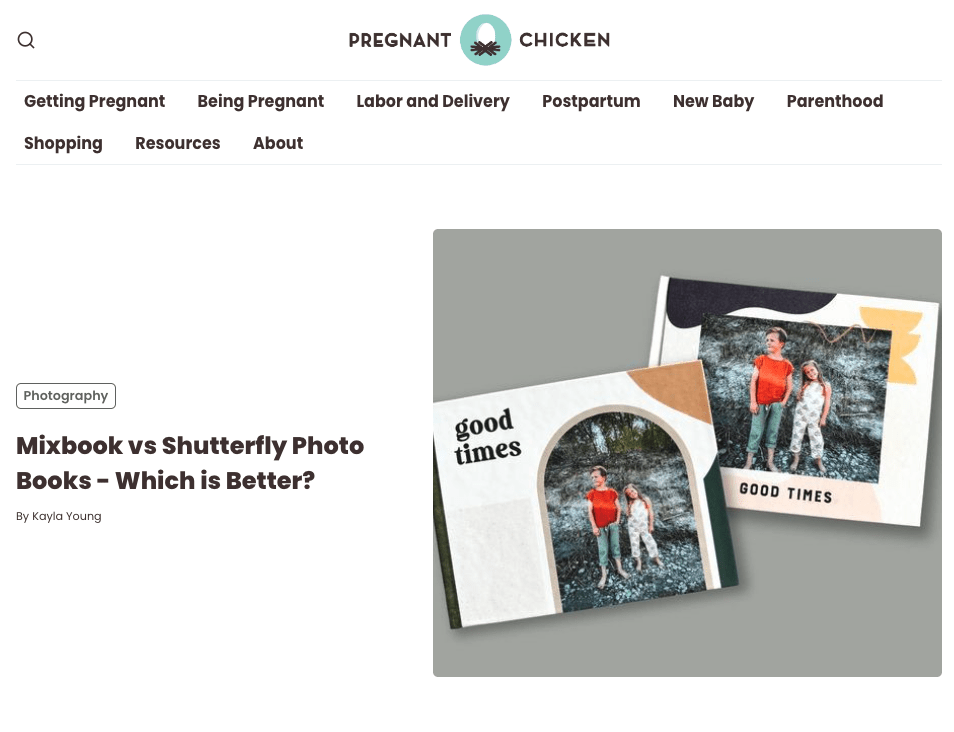 Pregnant Chicken is your go-to guide to making you feel prepared and excited for the big ride into parenthood.
We know that pregnancy and early parenthood can be overwhelming and sometimes scary 😰, and that's why we're here to make things easier.
This blog breaks down medical jargon, simplifies baby gear, and openly discusses those unusual things you're too scared to mention.
While professionals like doctors, midwives, and nurses are amazing resources, they can sometimes forget how unfamiliar this journey can be for newcomers.
That's where Pregnant Chicken comes in – think of this blog as your pregnancy sherpas 🏔️, guiding you through the steep learning curve of bringing a new life into this world.
Yes, it can be a bit of a goat rodeo, but with the right guidance, it's going to be one fantastic ride! 🎢🎉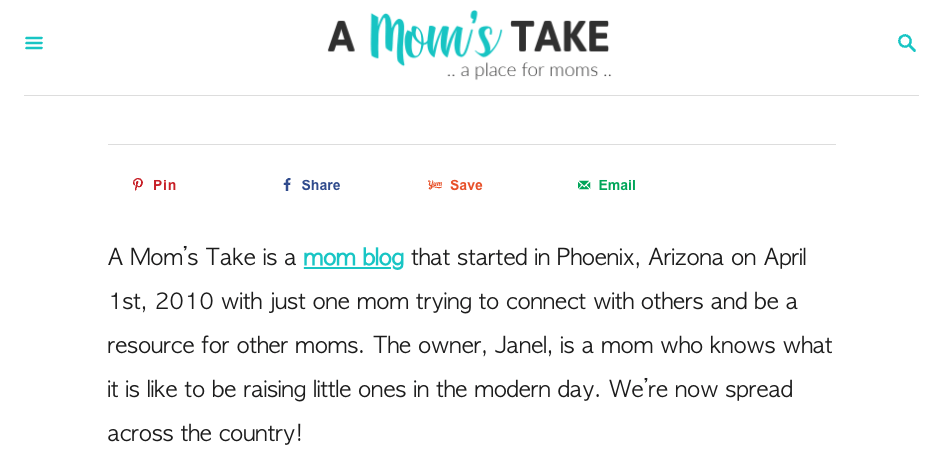 A Mom's Take started as a humble mom blog in Phoenix, Arizona on April 1, 2010, with just one mom, Janel, seeking to connect and provide resources to fellow moms.
Over the years, our reach has expanded across the country, and so has our team of dedicated writers and contributors!
The platform covers an array of topics to inspire, teach, and support moms from all walks of life.
From delicious recipes 🍲, fun crafts 🎨, perfect gift ideas 🎁, practical blogging tips 💻, and exciting travel suggestions 🌎, we have got it all.
The writing team that operates the site is diverse, but what unites them is that they are all real women, sharing their stories, experiences, and opinions.
Make sure to check the community, where people understand and embrace the joys and challenges of motherhood! 💗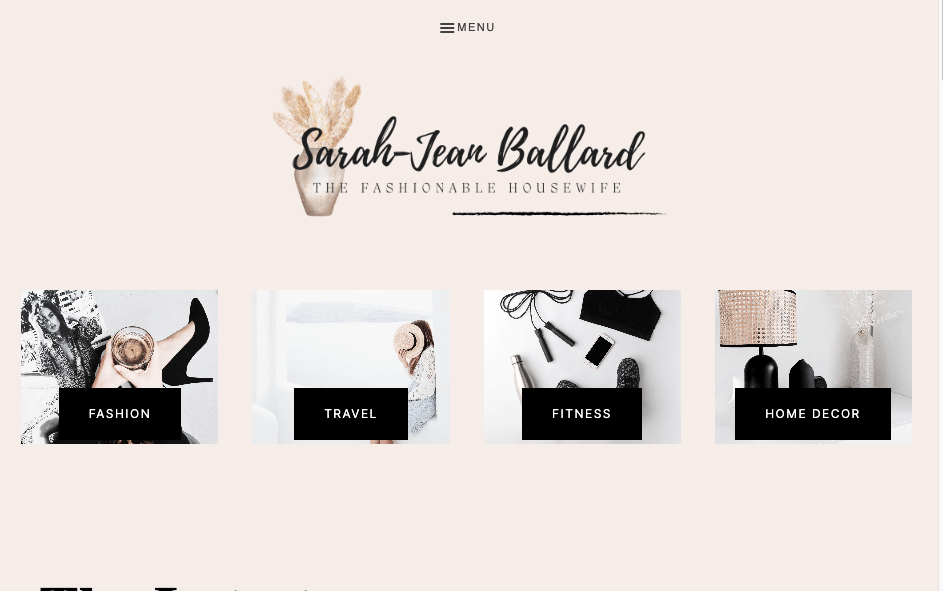 Meet Sarah-Jean Ballard – the powerhouse behind 'The Fashionable Housewife' blog
As a full-time mom of five, she knows the struggle of staying stylish on a budget. Founded in 2005, it's the original mom fashion blog – accept no imitations!
The mission of this site is to remind every mom that style and comfort can go hand in hand – sweatpants are not your only option!
It brings tips on dressing, current trends, budget-friendly finds, and the best sales straight to your screen. 🛒
In her spare time – if she finds any – Sarah-Jean stays active with web design, Pilates, and photography, but it's not all fashion here. Sarah-Jean has a love for health and fitness and is a certified personal nutritionist.🏋️‍♀️
After becoming a mom in 2007, she expanded the blog to include 'The Fashionable Bambino', a sister site focused on maternity wear, natural birth, and kids' fashion.
Then, in 2008, came 'The Fashionable Gal', aimed at budget-conscious teens and young women.💄👗
Since 2006, 'Cool Mom Picks', launched by Kristen Chase and Liz Gumbinner, has been an internet favorite for parents, providing trusted lifestyle advice and product recommendations.
They're regularly featured on major TV shows and magazines, offering insight into parenting trends, online shopping, and mom-run businesses.
The main values of the site are: Make parenting cool, fun, and meaningful!🎈
They champion diverse families and responsible consumerism, and they're committed to supporting women and their businesses. It's a positive space for everyone – from tech-savvy parents to those navigating their teen years.
The folks at 'Cool Mom Picks' aren't afraid of differing opinions, promoting respectful debate while maintaining a no-troll zone.
Their goal is to help women feel good about themselves – through self-care, fitness, body positivity, and even perfect lipstick! 💄
They encourage responsible consumerism and care for the planet. Plus, their mantra is "giving you choices, not judgment". Whether you're shopping from Amazon or an indie bookstore, they respect your choices.📚
Above all, trust and integrity matter most. They're real people, sharing real experiences – including the messy ones – and they work hard every day to earn your trust.
It's not 'Meh Mom Picks', it's 'Cool Mom Picks', where they highlight the cool, not the sucky.🌟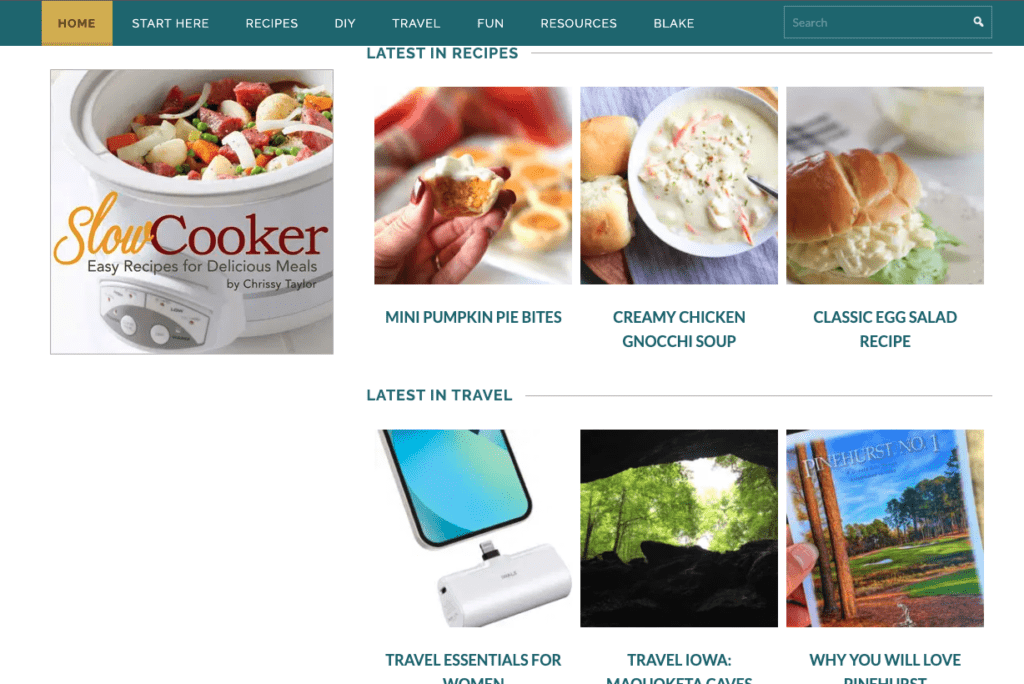 Say hello to Chrissy Miller, the energetic force behind 'The Taylor House'.
Known for her enthusiasm, Chrissy collaborates with brands to promote and endorse them passionately.
Chrissy is more than just a blogger – she's a brand ambassador, product lover, and an active participant in various events.
She goes the extra mile, putting in 110% effort to make campaigns shine.🚀
Her platform includes engaging blog posts, vibrant Instagram and Pinterest images, and thoughtful social media commentary.
If you're looking for someone who wholeheartedly invests in what she promotes, Chrissy is your go-to!💪💕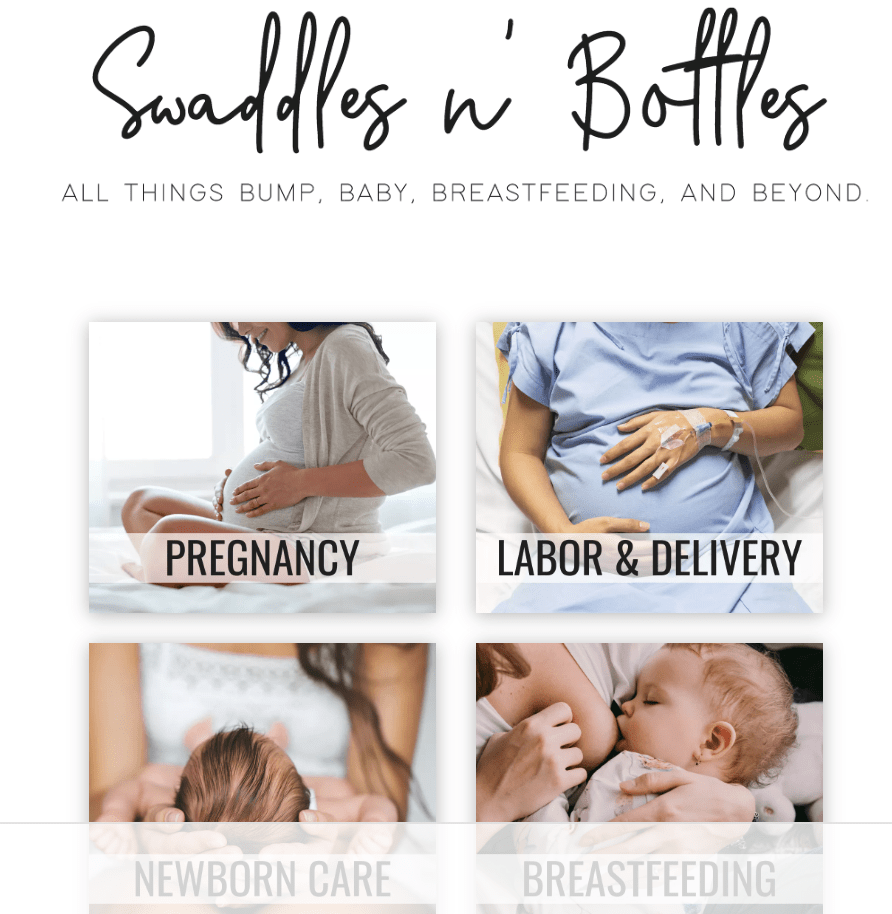 Caroline, the face behind 'Swaddles n' Bottles', is a pro at juggling coffee, baby-wearing, and breastfeeding.
Along with her lively little girl Emmy, they live in Houston, TX, enjoying their urban adventures. She thrives on red wine and productive days filled with mothering and blogging.🍷
Following Emmy's birth, Caroline realized motherhood came without a guidebook.
That was the beginning of 'Swaddles n' Bottles'!
Her blog posts answer questions that she had as a new mom – from helping her baby sleep to breastfeeding tips, and from baby gear recommendations to the reality of the first 10 days at home with a newborn.👶💤
Even though she's not a certified expert, she believes in sharing her personal experiences to assist new moms on their journey.
The Measured Mom' was founded by Anna Geiger, M.Ed., a former teacher turned stay-at-home mom of six.
She's on a mission to support PreK-third-grade educators with educational blog posts, podcast episodes, and high-quality, low-prep student resources.
Anna started 'The Measured Mom' in 2013, following her experience as a teacher where she spent endless hours prepping lessons.
She believes in creating easy-prep, engaging resources that make students forget they're even learning.🎒📚
Anna's experience ranges from teaching 1st to 5th grades, and she holds a Master's degree in Education.
In 2022, she became Orton-Gillingham certified and enrolled in a Science of Reading program.
If you've ever felt overwhelmed searching for the perfect activity or spending too much time preparing your lessons, 'The Measured Mom' is your answer. No more Pinterest fatigue! 💻👍
Welcome to 'Family Felicity', a place that encourages moms to bring more confidence, joy, and intention to their everyday life!
This blog is the brainchild of a mom who, like many others, has experienced her fair share of struggles in her motherhood journey.
The purpose of 'Family Felicity' is to remind moms that they're not alone and that their well-being and happiness are crucial for a thriving family life. 🌈👩‍👧‍👦
It's rooted in the belief that when moms are at their best, their family gets the best.
And that's the ultimate goal, isn't it?
So if you're a mom looking for inspiration, encouragement, or just a reminder that it's okay to prioritize yourself too, 'Family Felicity' is your haven.
Join this growing community of moms committed to intentional living and finding joy in every season of motherhood. 💖👩‍👦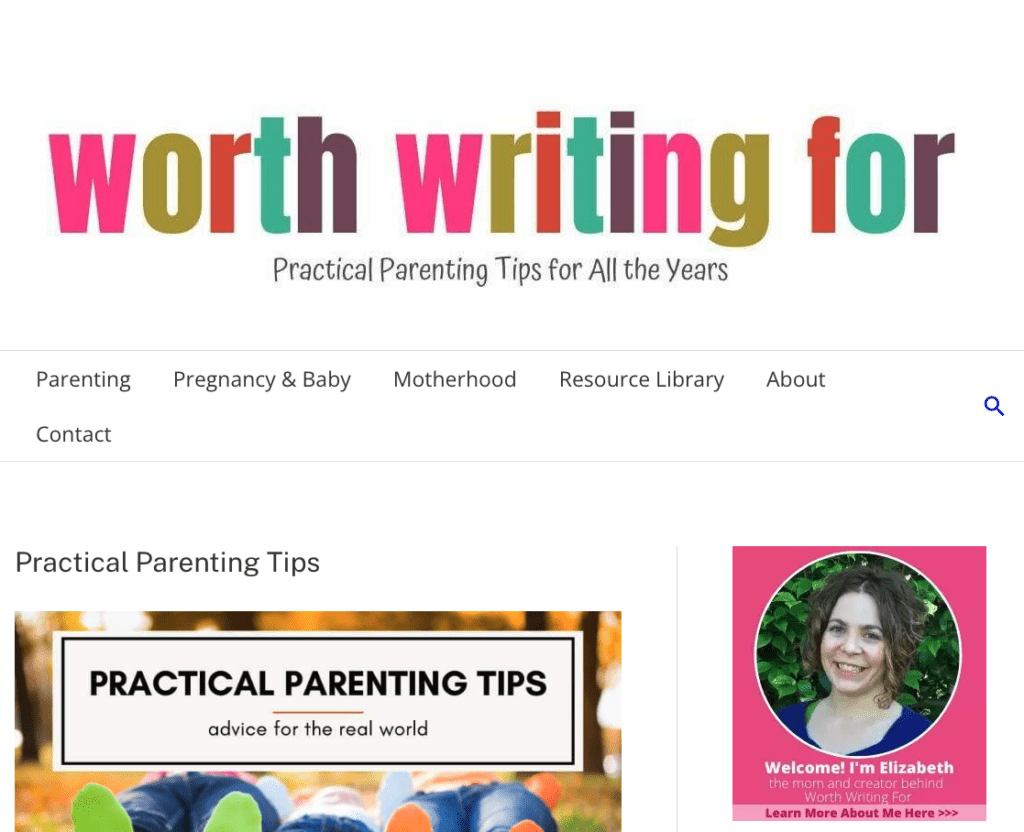 Meet Elizabeth, a real-life super mom 🦸‍♀️, and the face behind Worth Writing For.
She's a hard-working mompreneur who has been juggling parenting and work-from-home life with finesse.
Coming from a small town in Oregon, her real-life experiences make her advice practical and easy to follow.
Worth Writing For isn't just a blog, it's a community 🤝, a haven for parents looking for advice, tips, and a dash of laughter amidst the beautiful chaos called parenting.
Elizabeth offers a rich resource library 📚 filled with free printables, kids' activities, and helpful parenting tips – all aimed at making you the confident and joyful mom you strive to be.
And she is always eager to share her own struggles, triumphs, and effective hacks that could simplify life for you and other parents.
You'll find her blog posts packed with nuggets of wisdom, stemming from her background in childcare and freelancing. Plus, she has been featured on platforms like Motherly and Organized Mom, just to name a few.
So, if parenting feels like a rollercoaster ride 🎢 and you could do with some camaraderie, hit up Elizabeth at Worth Writing For.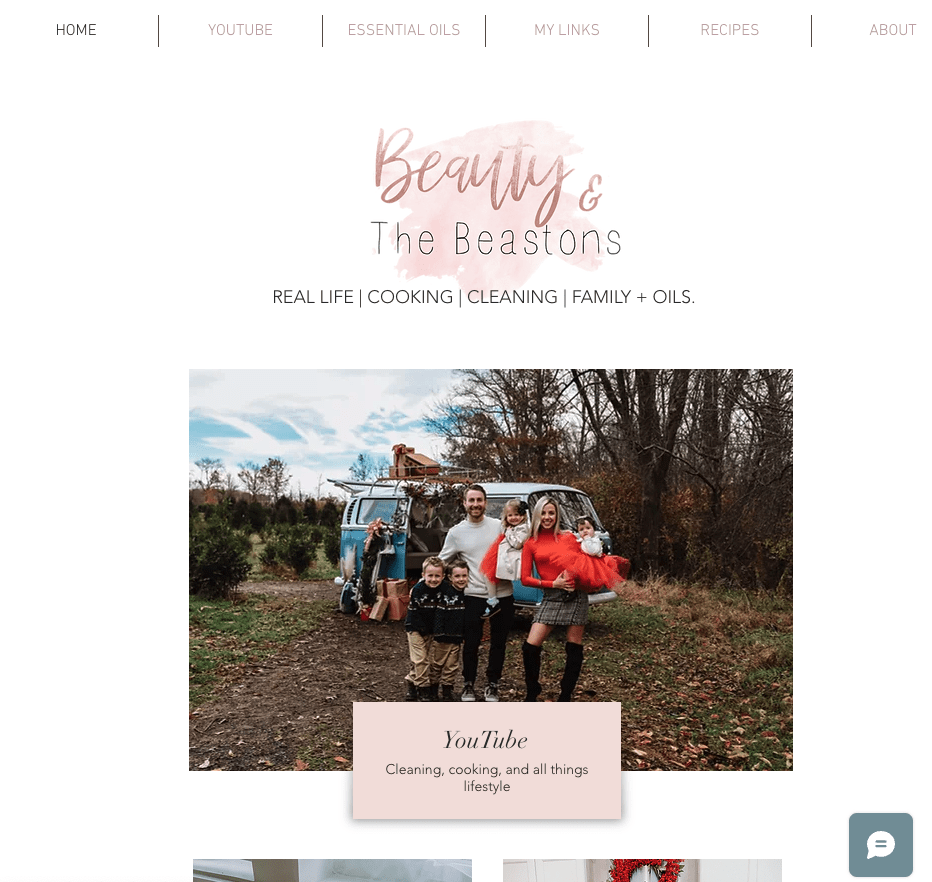 Welcome to Tiffani Beaston's vibrant family world! 🌈
Tiffani, a devoted mom of four and a nurse turned YouTuber, began this community as a haven for moms who needed a friend.
Four years later, it flourished beyond her wildest dreams, and it's all thanks to her followers.
Tiffani and her husband Chris run their family channels from Pennsylvania, offering a peak into their life filled with parenting, homemaking, and wellness journeys.
They are the proud parents of Carter, Tanner, Ella, and Everli, plus they have two canine companions, Rookie and Rylan 🐶.
They carry their angel pup, Romeo, in their hearts every day.
On her channel, Beauty and The Beaston, you'll find Tiffani sharing decorating ideas, motivational videos, and tips to get it all done, while Chris provides a daily scoop of family life on Beaston Family Vibes.
They also helm a thriving Young Living team, fostering their love for natural wellness. 🌿
For Tiffani, there's no place like home, and she's excited to invite you into hers.
Join the Beauty & The Beaston community for a dose of warmth, inspiration, and motivation!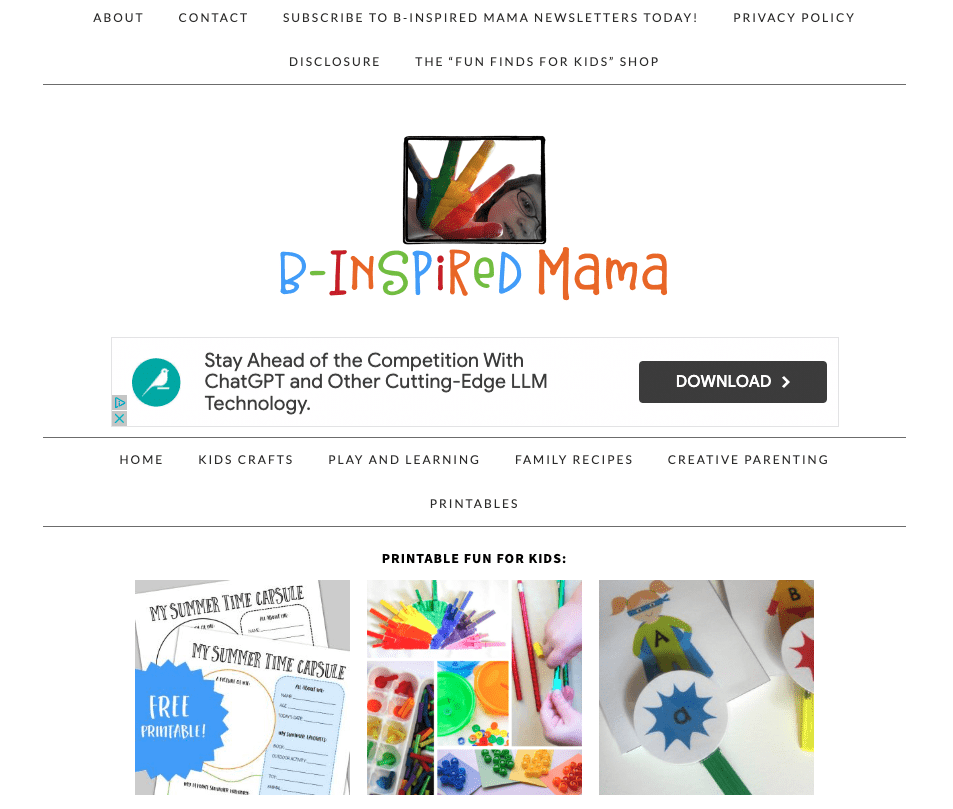 Krissy, the heart and soul behind B-Inspired Mama, is a former art teacher turned full-time mama and blogger.
Motherhood brought out a fresh burst of creativity in her, leading to the birth of her blog during nap times and late-night baby rockings 🌙.
Her journey wasn't smooth sailing, with life tossing her some major curveballs.
She transitioned from a bustling art teacher in Pennsylvania to a stay-at-home mom and then to a single mom navigating the struggles of low-paying jobs and juggling childcare, all while nurturing the spark of B-Inspired Mama.
Then Clifford walked into her life, embracing her and her kids with open arms 💕.
Together, they expanded their family with baby J.C., and B-Inspired Mama started growing from a glimmer of an idea into a promising venture.
Now, Krissy dedicates her full time to B-Inspired Mama, juggling school runs and family life while sharing her wisdom and creativity with the world.
B-Inspired Mama is your one-stop destination for kids' crafts, learning resources, family recipes, and a fresh take on parenting!
Join Krissy in her fun-filled, inspirational journey.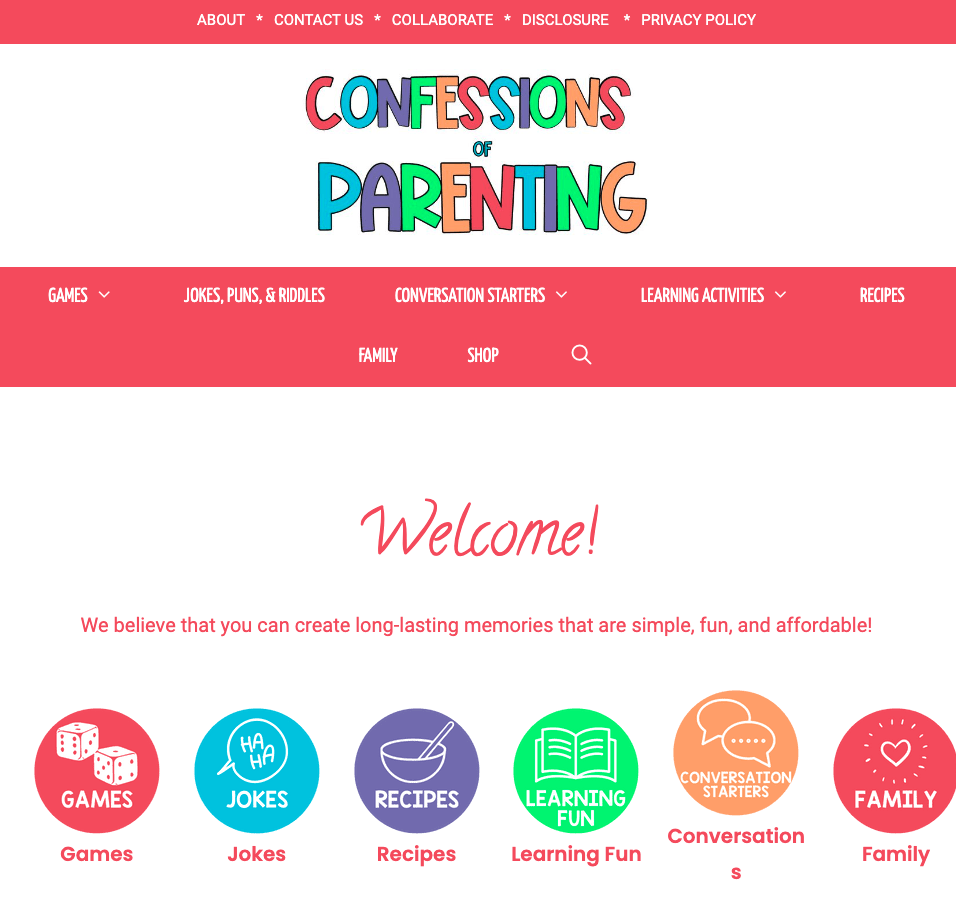 Meet Michele, the heartbeat of Confessions of Parenting.
She's your kindred spirit who understands the exhaustion of trying to be a 'perfect' mom while juggling work, kids, and screen-time battles 👩‍👧‍👦.
Michele knows all about the guilt that comes with feeling like you're not doing or being enough.
But she's here to tell you – you're not alone, and it doesn't have to be that way! 🤗
Her mission is simple: help you create lasting memories with your kids without draining your time or wallet.
Say goodbye to 'mom guilt' and hello to a childhood filled with fun, laughter, and love. ✨
As a wife and mom of five, Michele transformed from a 'hot mess' mom to a family memory-making pro.
Now, she wants to guide you along the same path, using simple, affordable, and fun ideas.
Join the Confessions of Parenting community, and dive into a resource-filled world that will help you leave 'mom guilt' in the dust.
Here, you'll find:
Easy recipes for family dinners 🥘
Fun desserts to bake with the kids 🍪
Games, jokes, riddles, and more for endless fun 🎲
Helpful tips for the hard times
Creative ways to celebrate holidays 🎉
And so much more!
With Michele's help, you can craft a home filled with laughter, intentional moments, and beautiful memories. Grab your favorite drink (Michele's is a Diet Coke!), and get ready to make some magic.
How to Start a Mom Blog
#1 Choose a Niche
When considering starting a mom blog, it's important to take into account the specific niche or target audience you want to cater to.
While a common choice would be to begin a parenting blog as a mom, it's not the only option available. There are numerous types of mom blogs with various niches that revolve around fatherhood-related topics.
For instance, as a mom blogger, you could specialize in areas such as:
Single Mom's Journey
Cooking for Kids
Tech and Gadgets
Traveling with Kids
DIY Projects and Crafts with Kids
And such.
Just remember to choose a niche that actually targets a group of people and that is relevant.
Parenting a lacrosse player in Finland might not be a blog many people would read.
It's also worth noting that you don't have to limit yourself to a single niche right from the start. Your main focus is the mom blog, but the specific subcategory can be flexible.
However, it's essential to eventually aim for comprehensive coverage within your chosen niche. This helps establish trust with search engines, enabling them to rank your blog posts higher in search results.
A good niche is one that you can monetize, enjoy writing about, and genuinely care about. To determine this, conducting research by exploring other mom blogs and analyzing their performance is necessary.
#2 Choose the Domain Name
Select a distinctive and unforgettable domain name that corresponds with the niche of your blog.
Ideally, the domain name should be concise, simple to spell, and directly related to your blog's content.
Ensure that the domain you have in mind is not already taken. You can employ tools like Instant Domain Search to check its availability.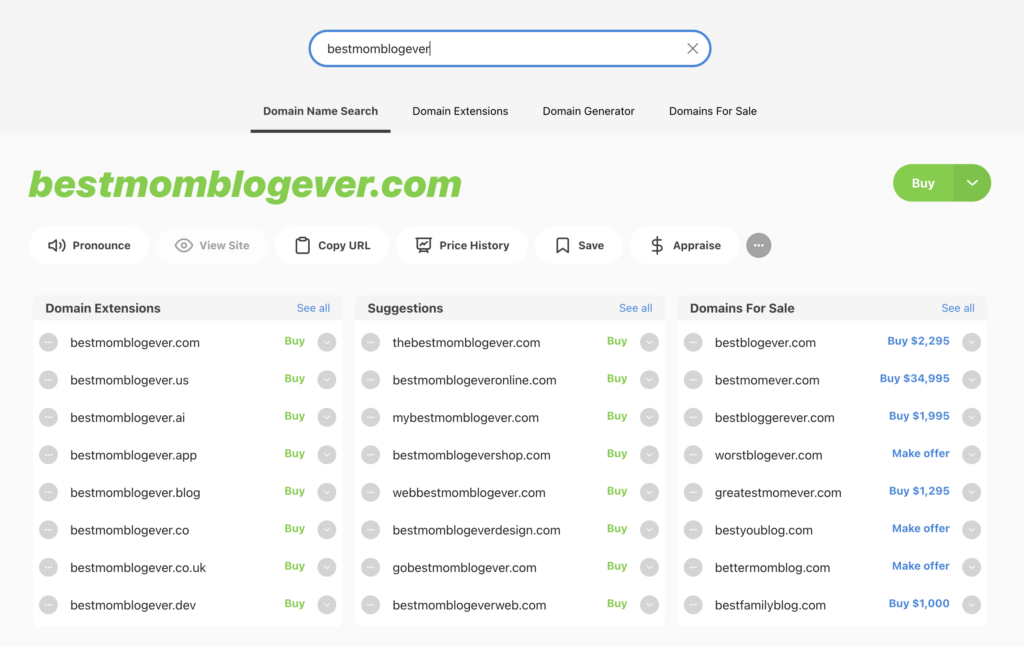 Before proceeding with the purchase of your chosen domain, be sure to read the following section!
#3 Set Up Your Blog
Choose a suitable platform for hosting your blog, with popular options including WordPress.org, Blogger, and Squarespace.
When making your decision, take into account factors such as user-friendliness, customization capabilities, and scalability.
If you aim to grow your mom blog business and expand its potential, I highly recommend selecting a WordPress.org blog. This platform is widely used by numerous prominent websites.
However, it's important to note that you can't simply go to WordPress.org and create a WordPress site directly.
Instead, you will need to purchase a domain and a web hosting plan from a domain host provider like DreamHost. They will install the WordPress website builder onto your blog and ensure your site is up and running.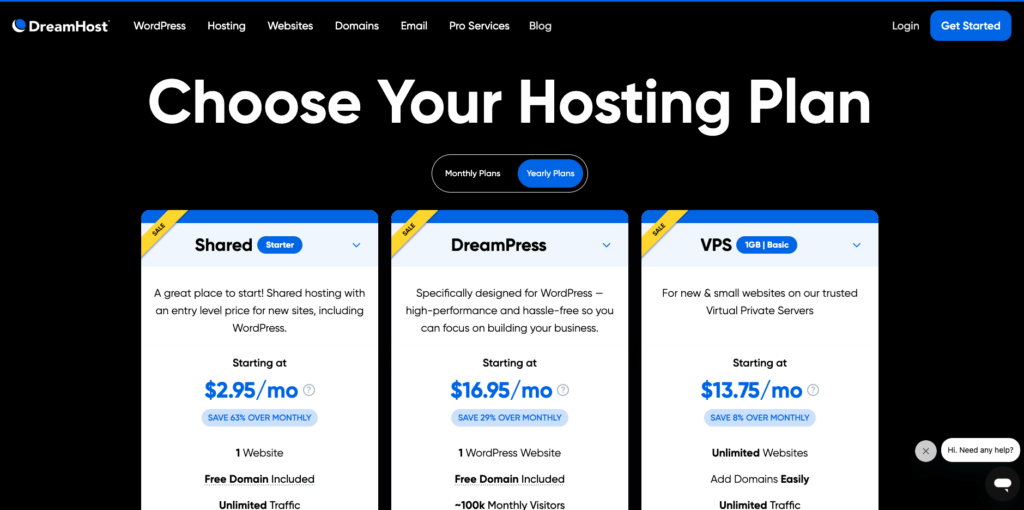 If you have already chosen your domain name, this process of setting up your blog typically takes around 15-30 minutes.
#4 Create Compelling Content
Now comes the challenging part. Before your mom blog gains visibility, you must generate a substantial amount of content for it.
This entails crafting blog posts on carefully selected topics that people actively search for online.
And here's the key: let Google be your guide in topic selection. Simply open up Google and enter something relevant to your niche, observing the suggested search queries. These suggestions can serve as excellent blog post topics.
Gone are the days when blogging was solely about sharing personal stories. Instead, the focus now lies in providing value and addressing problems for your visitors.
Of course, it's ideal if you can infuse your experiences, expertise, and knowledge into your writing. However, remember that your mom blog shouldn't revolve around you or your children; it should primarily concentrate on solving problems for other parents.
To ensure that people discover your blog, it's crucial that your blog posts rank high on Google search results.
To achieve this, you need to create exceptional content about your chosen topic that surpasses anything else available on the internet.
The great thing is that you don't require any technical skills for this (disregard the SEO jargon that's often discussed—it's not effective these days either).
Simply identify what people are searching for online and craft your content accordingly.
Before you begin writing, analyze the competition to ensure that your post stands out as the best piece of content when compared to the top 10 search results for the same topic.
#5 Monetization Strategies
To generate a decent income from your blog, you'll need to produce numerous high-quality posts.
Your blog should aim to establish itself as a trusted authority in your niche, covering all aspects comprehensively and becoming the go-to resource on the internet.
Once you've gained momentum, it's time to focus on monetizing your blog.
However, it's wise to ensure there is actual potential for profitability before even starting your blog.
Based on research, it appears that mom blogs typically generate income through advertisements and affiliate marketing.
Therefore, your blog's monetization options could include display advertising, sponsored content, affiliate marketing, or even creating and selling your own products or services.
Take the time to investigate the most suitable methods of monetization for your specific niche and target audience.
Essentially, observe what other similar blogs are doing. It's not necessary to be excessively innovative in this regard. If a particular monetization strategy has not been implemented by other blogs, it's likely not a viable option for you either.
#6 Learn from Analytics
Set up an analytics tool such as Google Analytics to monitor the performance of your blog.
Keep in mind that when you're starting out, it may take a few months before you see any significant traffic to your site. This is because it takes time for Google to develop trust in your website.
However, once you have published a substantial number of posts, it's essential to integrate Google Analytics and Google Search Console into your site. These tools will help you track the number of page views and visitors from Google to your blog.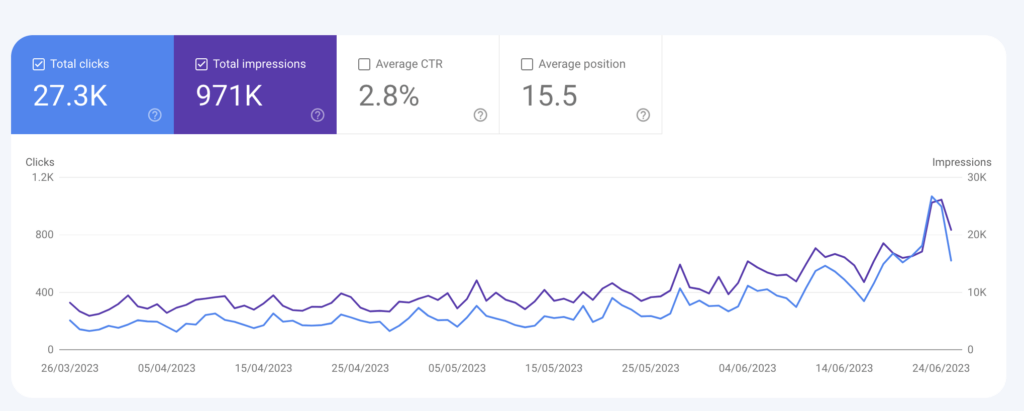 By analyzing the data provided, you can gain insights into your audience's behavior, identify popular content, and make informed decisions to enhance the reach and engagement of your blog.
#7 Establish a Name for Yourself
One of the challenges mom bloggers often face is the fact that people won't stumble upon their blogs by accident.
It requires strategic efforts to ensure that your blog posts rank high in search results and effectively address common problems faced by parents.
To overcome this challenge, it's important to focus on creating high-quality blog posts that not only provide valuable information but also demonstrate expertise in your niche.
By consistently producing content that ranks well and offers solutions, you increase the chances of attracting and retaining readers.
In addition to optimizing your blog posts for search engines, it's wise to establish an online presence elsewhere to expand your reach.
Consider leveraging social media platforms such as Instagram, Facebook, or Twitter to connect with a wider audience.
Engage with other parenting communities, share snippets from your blog posts, and provide valuable insights and tips.
If you're comfortable with video content, creating a YouTube channel can further enhance your visibility and allow you to connect with viewers on a more personal level.
Furthermore, it's crucial to actively work on growing your audience and building a mailing list.
Encourage visitors to subscribe to your blog or newsletter so that they receive updates whenever you publish new content. Cultivating a loyal following of readers who eagerly anticipate and devour each of your blog posts is an invaluable asset.
To attract more people to your mom blog, consider implementing the following strategies:
Guest Blogging: Write guest posts for other established blogs or websites in your niche. This exposes you to a wider audience and helps you establish credibility as an expert in the field.
Collaborations: Collaborate with other mom bloggers, influencers, or experts in related fields. This can include co-authoring blog posts, hosting joint webinars or podcasts, or participating in interview exchanges. Collaborations allow you to tap into each other's audiences and cross-promote your content.
Optimize for search: Research and incorporate relevant keywords in your blog posts to improve search engine rankings. This increases the likelihood of your content appearing in search results when parents are looking for solutions to their problems.
Engage with Your Audience: Encourage comments on your blog posts and promptly respond to them. Create a sense of community by engaging with your readers on social media platforms and fostering conversations around your content.
Offer Freebies and Resources: Provide valuable free resources such as e-books, checklists, or printable guides that cater to the needs of your target audience. This not only helps establish your authority but also encourages visitors to stay connected with your blog.
Also, one of the best ideas is to see what other similar mom bloggers are doing. That's free data right there. 🙂
The ultimate goal is to grow your audience and mailing list, creating a dedicated group of individuals who eagerly anticipate each blog post you publish.
By consistently delivering valuable content, engaging with your audience, and employing strategic promotional tactics, you can establish yourself as a trusted and sought-after mom blogger.
Wrapping Up
And that's a wrap! 🎉 Here you have a list of the top mom blogs to follow, along with a comprehensive guide on starting your very own mom blog. 📚👩‍💻
I hope you found it enjoyable and informative. Happy reading! 🌟📖
Make sure to also read my complete guide to starting a blog.
And make sure to read best Dad Blogs for further inspiration.