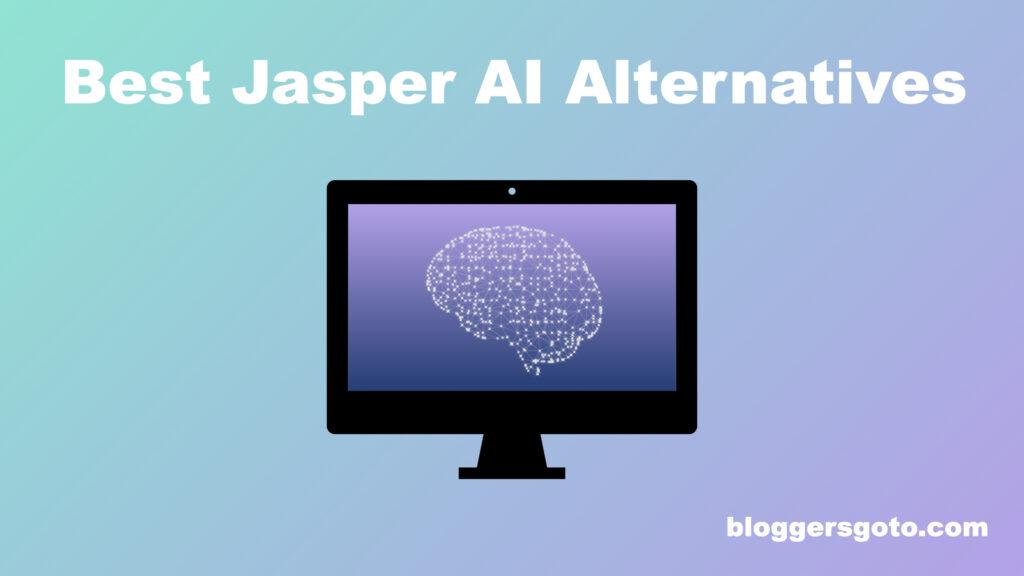 Choosing the best Jasper AI alternative is important if you want to find a more affordable tool for your content creation pipeline. Even though Jasper is the leading AI content platform on the market, there are many great competitors that might even outperform Jasper in some use cases.
This is a complete review of the best Jasper AI alternatives. I've extensively tested these AI writing tools and used them in different contexts to give you the best results and comparisons. To keep it short, I've not included everything in this guide. You'll find the associated reviews for each tool in this article.
Let's jump into it!
Disclaimer: This article is supported by readers. If you choose to make a purchase through one of the links below, I may earn a small commission at no cost to you.
Rytr is the overall best Jasper alternative. It's way cheaper but is up to par with most of Jasper's powerful features.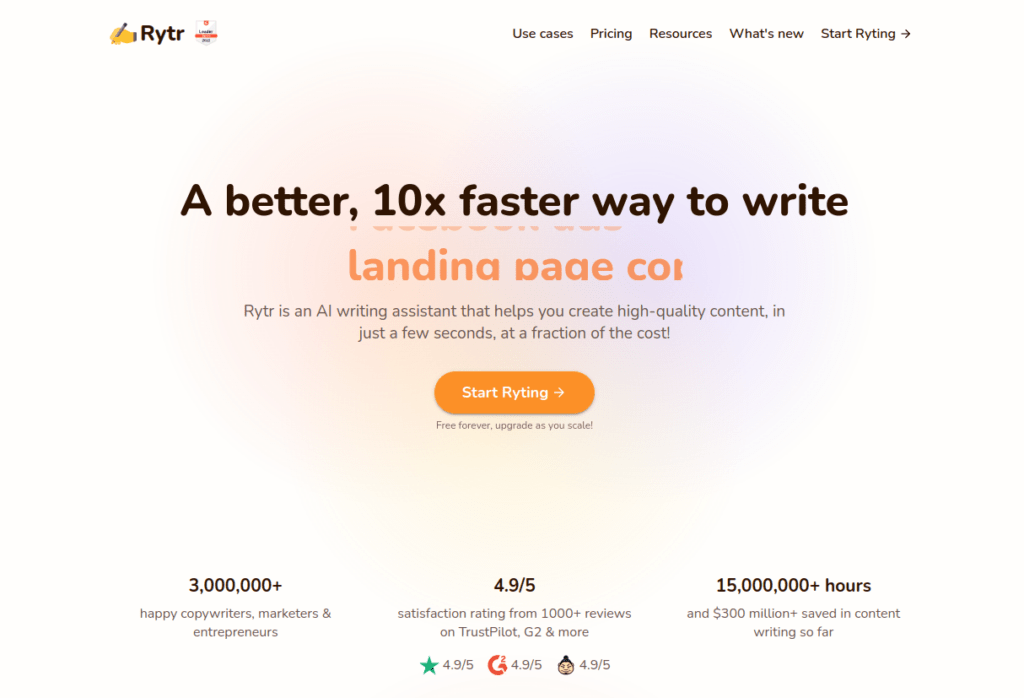 Rytr is an AI writing assistant that turns your ideas into full-blown text chapters. You can use Rytr in all sorts of writing from emails to blog posts to song lyrics.
Rytr uses AI to produce text. It's powered by the latest advancements in AI technology. This makes the tool accurate, fast, and easy to use.
The workflow with Rytr is simple:
Choose a use case (e.g. a text message).
Write a short brief.
Choose a tone of voice.
Let the AI turn your idea into text.
Thanks to the AI that powers Rytr, it creates unique and original text.
Rytr has a free trial version and very affordable paid plans as opposed to Jasper.
Read my complete Rytr review.
Key Highlights
AI-powered text generator that turns your simple text inputs into professional-looking text.
Templates for different use cases, such as blog post outlines, emails, ads, bios, and more.
Rytr is not only an English-speaking AI writer bot. It knows many more languages such as Spanish or Portuguese.
Rytr stores all your content in the history tab where it's easy for you to come back later on.
Pricing
Free: $0/month (has word limits)
Saver: $9/month (has word limits)
Unlimited: $29/month (no word limits)
Content at Scale is among the most impressive blogging tools out there. Unlike Jasper or Rytr, Content at Scale can write a blog post from start to finish in one go.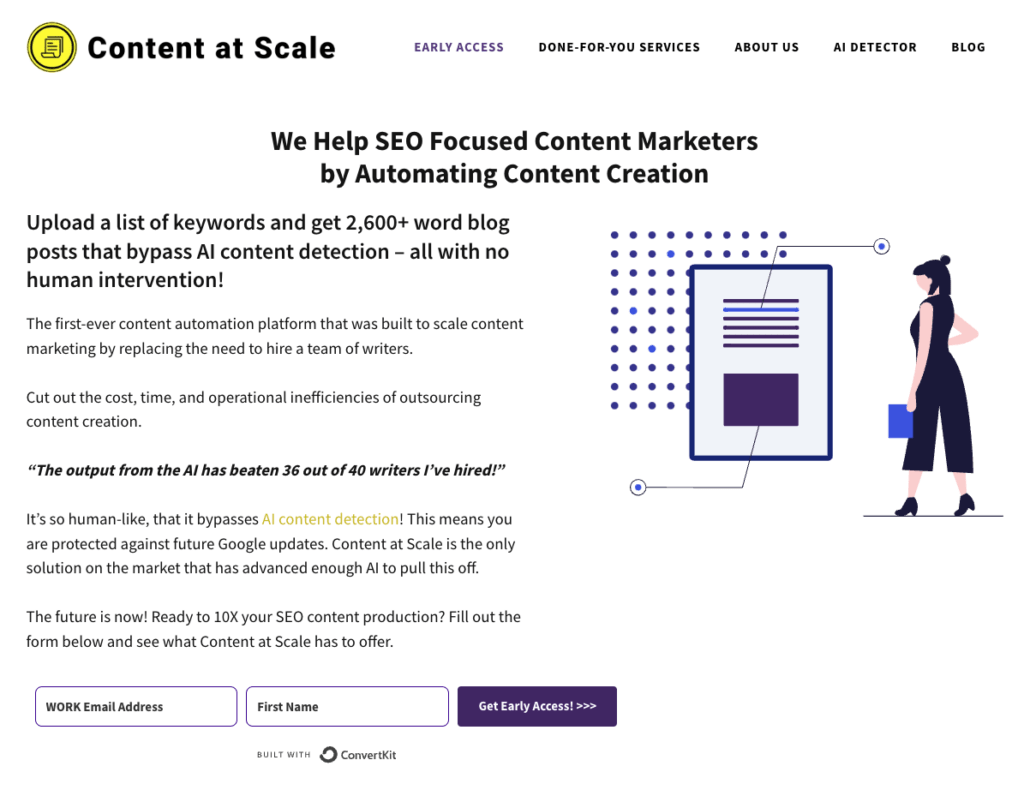 The workflow of Content at Scale is straightforward:
Create a project for your website.
Create a new blog post.
Describe your blog post briefly with a couple of sentences.
Let the AI do the work.
Enjoy your blog post!
I've written a comprehensive Content at Scale review where you get to see the performance and quality of output closer.
Read my Content at Scale review.
But to put it short, the quality of the blog post is impressive—much better than any other AI writing tool I've tested. It's close to the quality of a decent freelance writer.
Of course, you still need to do some fact-checking as well as add images, do some small edits, and make sure the overall style looks great. Nonetheless, when used right, Content at Scale can be a huge timesaver for creating blog posts and informational content.
You can access Content at Scale through a waiting list. By using my link, you get up to 20% more credits to your plans!
Key Highlights
AI-powered blog post writer that writes a blog post from start to finish in minutes.
Duplicate checker for doubling down the originality of the content. Because AI uses randomness, there's always a small chance of duplicate text.
AI detector for checking that the content looks human-written.
Usage dashboard that shows you how many words you've generated and how much money you've saved in freelance costs.
SEO optimization features.
Pricing
Starter: $500/month for 20 blog posts per month.
Scaling: $1000/month for 50 posts per month.
Agency: $1500/month for 100 posts per month.
CopyAI is an AI-assisted copywriting tool for bloggers and copywriters. This tool has a ton of useful templates and creativity features for writing both short and long-form content.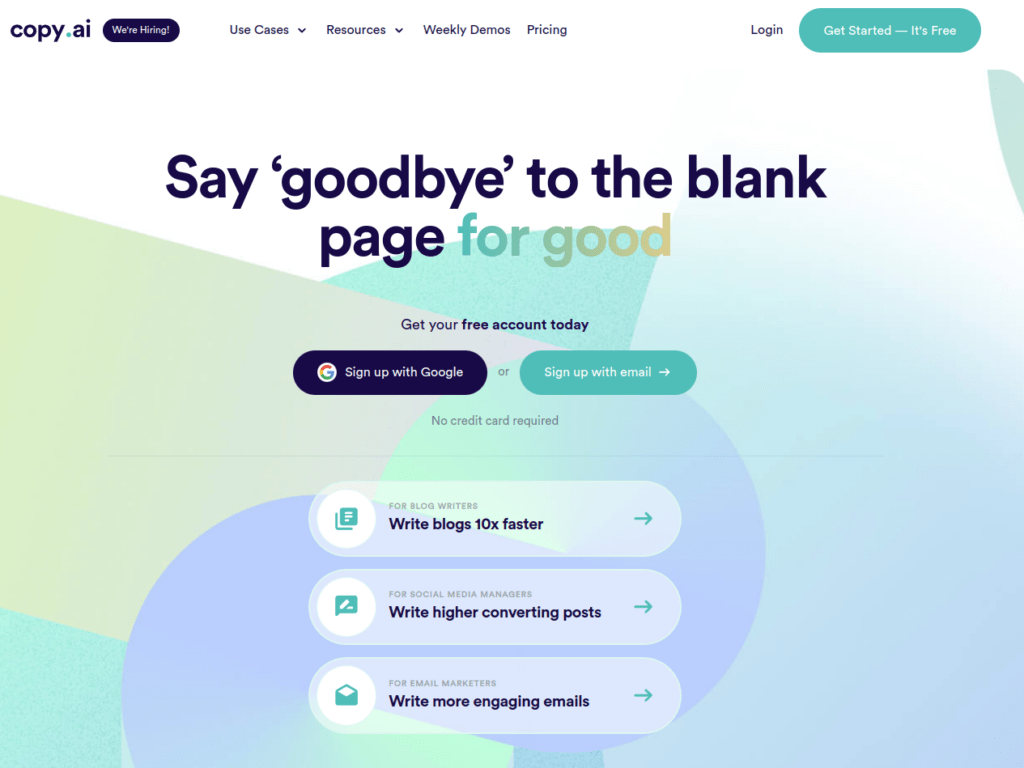 Thanks to the powerful AI features, CopyAI is a great tool for all sorts of writing tasks, such as emails, blog posts, blog outlines, profile bios, job applications, and more.
Similar to Jasper, CopyAI works by taking short inputs and turning them into text based on your use case.
What makes CopyAI a great Jasper AI alternative is the feature parity and a forever-free plan. In my eyes, CopyAI is nearly as powerful a writing tool as Jasper, yet it has an entirely free (limited) plan.
Read my complete CopyAI review.
Key Highlights
CopyAI is easy to use and you'll get the hang of it in minutes. You can see some useful examples in my complete review.
There is a vast array of different copywriting modes, such as the blog outline generator, email generator, social feed post generator, and more.
24/7 customer support services to help you if you get stuck or have questions about the tool.
There's a Google Chrome extension for CopyAI—so the tool works where you work.
CopyAI has a plan for generating an unlimited number of words unlike Jasper or other alternatives.
Pricing
Free for $0/month (limitations)
Pro for $49/month for unlimited words generated
ChatSonic is not only a great Jasper alternative but a cool ChatGPT rival. This tool is part of WriteSonic's AI content creation platform.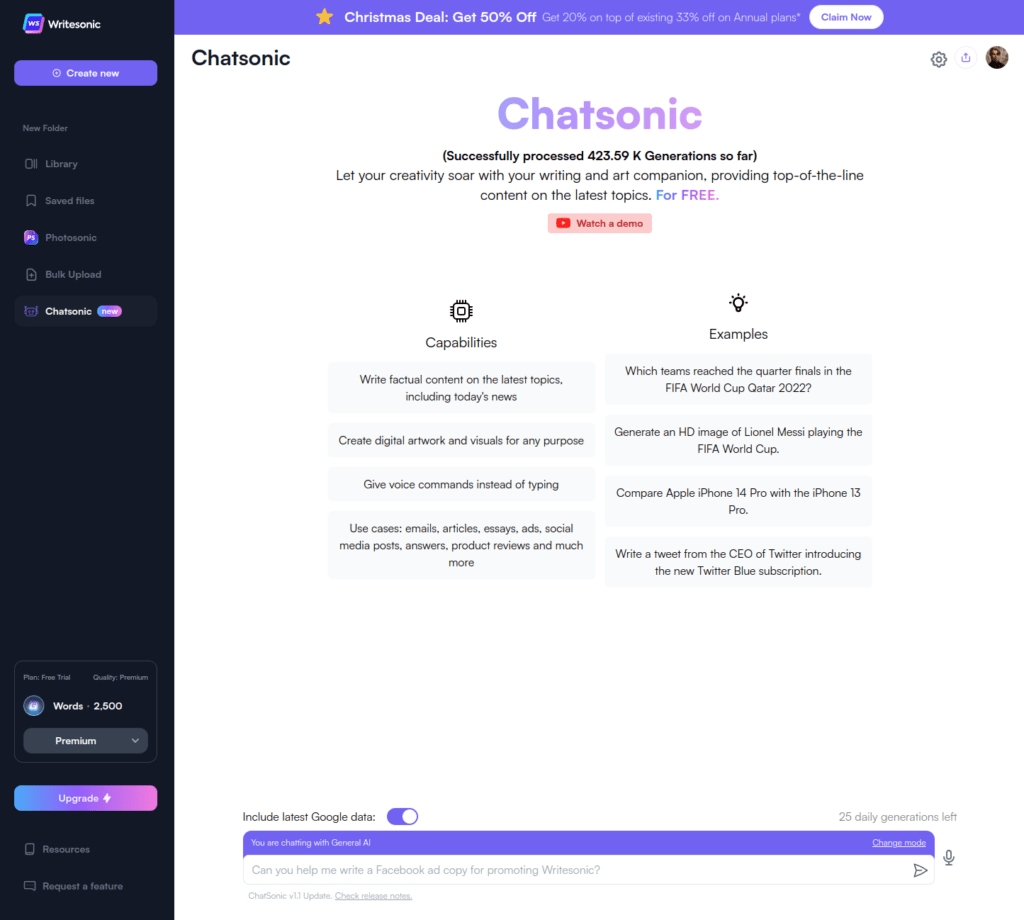 ChatSonic works similarly to ChatGPT. It can answer questions about anything. You can even ask it to generate original images or even write some code.
Unlike Jasper AI where there are a ton of templates and features, ChatSonic is just a chatbot that you can ask about anything. This makes the usage even smoother than Jasper AI.
Read my complete ChatSonic review.
Key Highlights
A well-rounded AI chatbot that knows the answers to practically anything.
Image-generating capabilities for creating stock photos or other imagery to supplement your content.
Natural conversation with AI. ChatSonic mimics the way ChatGPT works as it allows you to message with the AI like you were talking to a real person.
There's a free trial to ChatSonic which means you can talk to AI for free right now!
Pricing
The pricing of ChatSonic depends on your use.
As an example, generating 160,000 words a month costs $66/month.
There's a slider on ChatSonic's landing page where you can slide the word count to get the best possible plan for yourself.
5. QuillBot
Quillbot is an online paraphrasing tool. This is a great alternative to Jasper AI if you're only looking to rephrase sentences instead of generating fresh content. In Jasper, you can for sure do similar tasks, but QuillBot is a robot that's mainly designed for paraphrasing.

QuillBot takes your input text and rephrases it in a natural and smooth way. It analyzes your content and understands it the same way a human reader would. This means it doesn't make silly replacements that make the text look robotic. Instead, it mainly replaces words with equally good or even better word alternatives.
There are many different rephrasing modes you can choose from. For example, you can tell QuillBot to be casual or creative in the rewording.
Read my complete QuillBot review.
Key Highlights
QuillBot has an online rewording tool but the main use is the Chrome extension that works on every online text document.
QuillBot is powered by an intelligent AI that can replace words in a sophisticated way.
There are multiple paraphrasing modes to choose from. You can go casual or professional, just to name two.
QuillBot has a forever-free plan that you can use to do some standard rewording.
Pricing
Annual: $8.33/month
Semi-Annual: $13.33/month
Monthly: $19.95/month
6. PepperType
PepperType is a top competitor and a great alternative to Jasper AI as an AI-assisted content platform. Depending on your use case, you may get up to a 1000% boost in your writing speed with PepperType's AI features.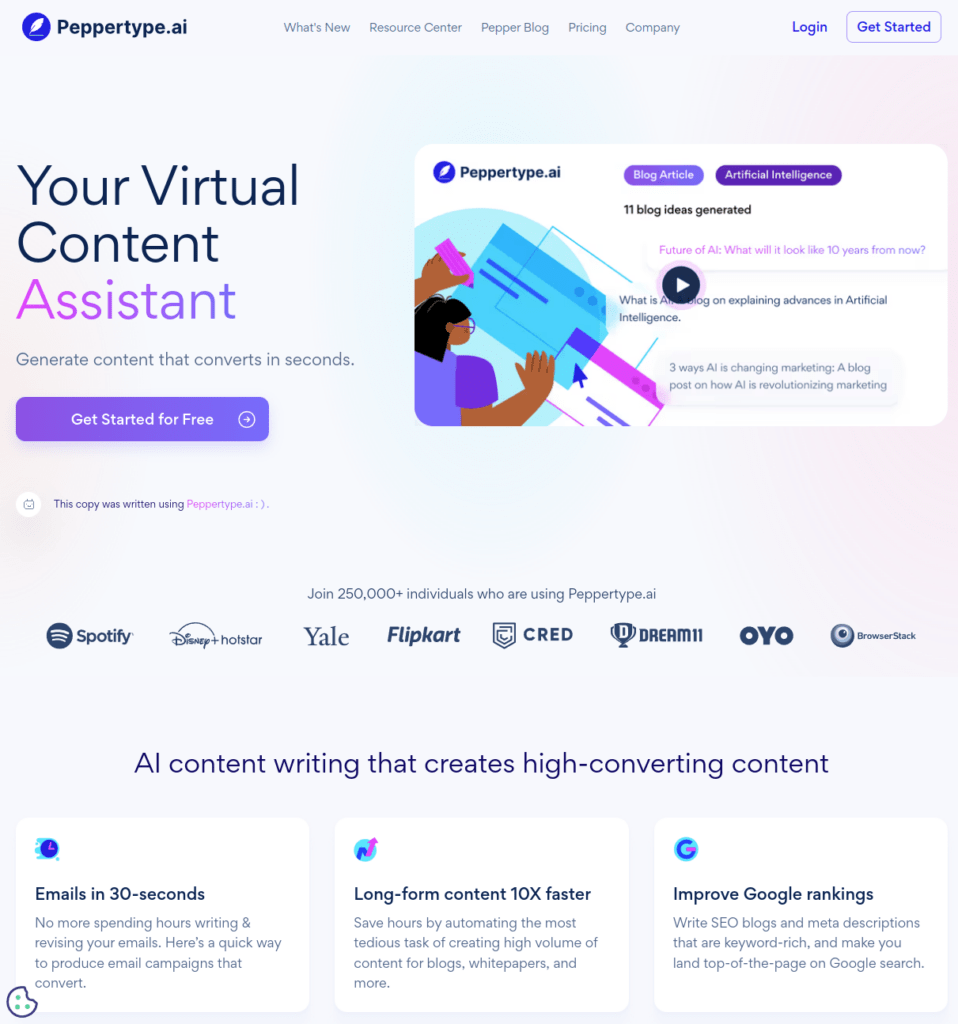 With PepperType, you can generate unique and original content in no time. Because of the powerful AI features, PepperType content is plagiarism-free to the highest degree.
But because it's AI and it uses randomness, there's always an ever-so-slight chance for duplicate content. For this reason, you should always do some plagiarism checking (this applies to all AI writers, by the way!)
In PepperType, there are templates you can use to get over writer's block. For example, you can use a blog post template when you want to generate a new blog post.
Remember to use PepperType as an AI assistant. It's powerful and clever, but it cannot generate entire blog posts with all facts in place without your assistance.
Read my complete PepperType review.
Key Highlights
PepperType uses the latest advancements in AI to generate content in seconds from simple text inputs.
There are templates and other features that can help you generate content even more efficiently in different contexts and use cases.
PepperType is great for blogging. It supports generating long-form content that ranks.
Thanks to AI, PepperType generates original and plagiarism-free content.
Pricing
Personal plan with 1 user seat is $35/mo
Team plan with 5 user seats is $199/mo
7. WordTune
WordTune is not only a great Jasper AI alternative, but a solid competitor to Grammarly, which is a veteran in the AI writing game.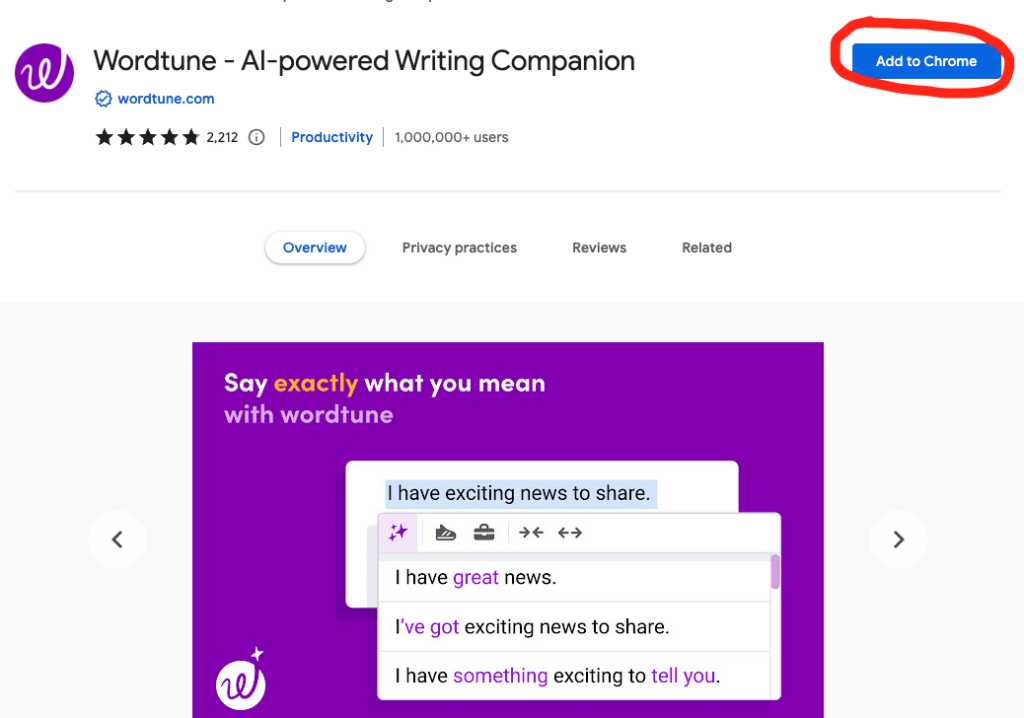 WordTune works by scanning your writing and pointing out style errors, clumsy sentences, and more. It has a Google Chrome extension that works on every online text document, such as an email editor.
WordTune literally tunes your words. With a tool like this, it's easier for you to focus on writing content and let the AI do the boring work with grammatical issues and style problems.
The workflow of WordTune is simple. Just write a piece of text and see what WordTune has to say about it (if anything). If there's an error or improvement, you can just click to accept the fix and update your text.
Read my complete WordTune review.
Key Highlights
There's a web-based online editor where you can paste your text and use AI to fix the sentences.
The main use is the Chrome Extension which allows you to work on any text editor online, such as an email writing form.
WordTune uses AI to suggest better wording, and fix style issues, and grammatical incorrectness.
You can also completely change the tone of voice in your writing with WordTune.
Pricing
In WordTune, you get 10 free credits every day.
If you become a power user, upgrade to the $9.99/month paid plan with unlimited use.
8. Jenni.ai
Jenni.ai is a simple yet powerful Jasper AI alternative. It definitely lacks all the bells and whistles that come with Jasper. But on the other hand, it's a simple and easy-to-use AI writing assistant with a smooth workflow and powerful AI.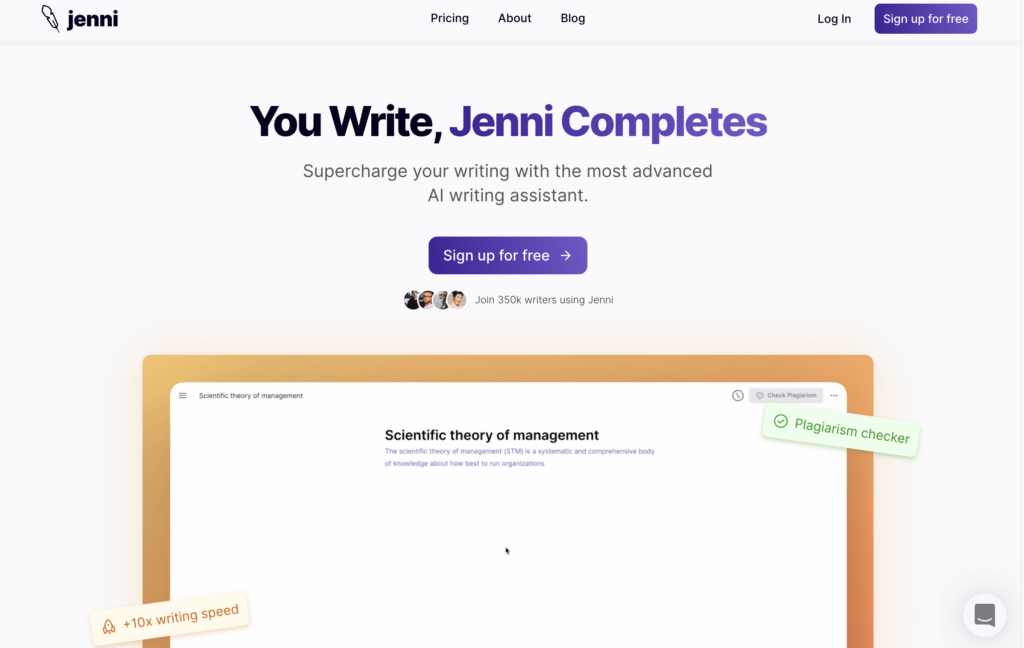 As the landing page says, you write, Jenni completes. This is the main use of Jenni.ai. You can start by writing a sentence and then hit a shortcut key to use AI to generate the rest of the sentence.
You can use this strategy to only complete sentences when you feel like getting stuck. But you can also repetitively use this feature to write entire blog posts without typing hardly anything.
Read my complete Jenni.ai review.
Key Highlights
Online text editor with AI superpowers for writing blog posts, research papers, emails, and more.
There's also a plagiarism checker in Jenni to double down on not generating duplicate content.
Unlike many other Jasper alternatives, Jenni can do citations to back up the facts from actual resources.
You can also use Jenni as a rephrasing tool for rewriting parts of your text.
Pricing
The pricing depends on the number of words you want to use every month.
3,000 words/mo for $6.00
6,000 words/mo for $12.00
12,000 words/mo for $21.00
24,000 words/mo for $39.00
48,000 words/mo for $71.00
96,000 words/mo for $128.00
9. NovelAI
If you're a fiction writer, you might have used Jasper before. It surely does a great job of generating novels or short stories.
But why use Jasper in writing novels or poems because there's NovelAI?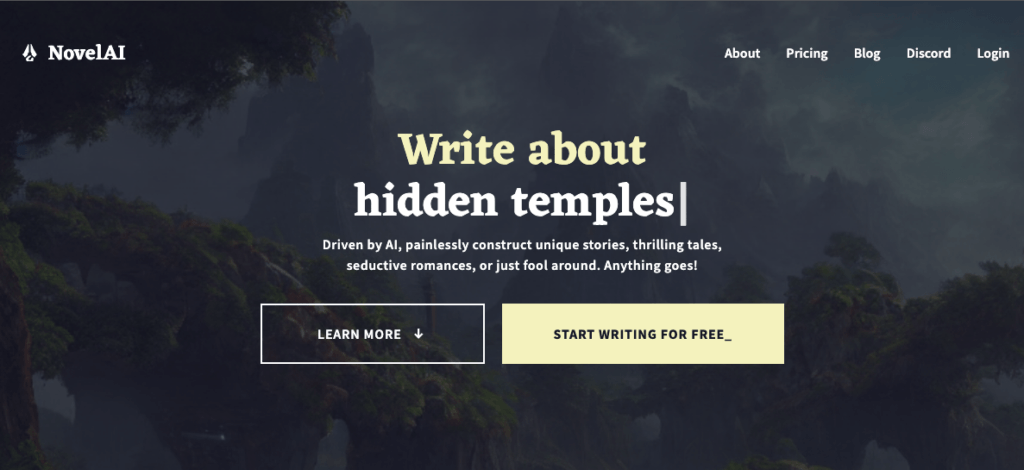 NovelAI turns your ideas into compelling stories. It also includes features to improve your creativity and productivity. One of the best ways to use AI is to use it in non-factual content where "mistakes" don't matter.
You can try NovelAI for free to generate a short story or two. There's also an AI-powered text game where the AI plays the game in a unique and original way that is not coded anywhere beforehand. Really cool!
Read my complete NovelAI review.
Key Highlights
The storyteller mode uses state-of-the-art AI algorithms to generate compelling stories and novels.
The text adventure mode offers a text game like no other. The AI comes up with the completion on the fly and those are not coded anywhere beforehand.
Unlike most Jasper alternatives on this list, NovelAI has also an image generator that generates images from text. This can be a nice addition to a novelist or short story author.
There is a free trial version you can use to test the storyteller and text game mode.
There are many writing styles you can choose from to make the text sound like it was written by one of your favorite authors.
Pricing
Tablet: $10/month
Scroll: $15/month
Opus: $25/month
Wrap Up
Today you learned what are the best Jasper AI alternatives.
To recap, Jasper AI is a powerful online AI content platform. It offers an AI writing assistant that completes text in seconds and can save you a lot of time when writing blog posts, emails, or pretty much any other type of written content.
But Jasper is not the only company using the same AI tech stack. There are many great Jasper AI alternatives that might be a better fit for your use case. Or perhaps you're just looking for tools with AI powers that are less costly.
One of the best Jasper AI alternatives is Rytr. Besides the free plan, it has super affordable pricing and matches almost all of Jasper's features.
Another top pick is Content at Scale. It's definitely a pricier solution but it can write entire blog posts from start to finish in a matter of minutes.
Thanks for reading. Happy writing!
Read Also