INK is an SEO-focused AI content-writing platform. Based on short user inputs, it generates entire blog posts, emails, and other types of written content by using artificial intelligence.
INK gives you a ton of writing templates as well as image-generating capabilities for creating engaging blog posts that rank high.
INK has received a ton of hype thanks to its feature-packed software, sleek UI, and AI-powered content creation features.
This is a comprehensive review of the INK AI content creator. I ran some extensive testing on INK's main features so you don't have to. I will talk about my experience and thoughts on INK as an AI writing tool.
💡 Make sure to read my comprehensive guide to the Best AI Writing Software.
Let's jump into it!
Getting Started with INK
Thanks to the free trial and easy-to-navigate UI, it's very simple to start using INK in your writing.
You can start using INK by signing up for a free trial on the homepage of the tool.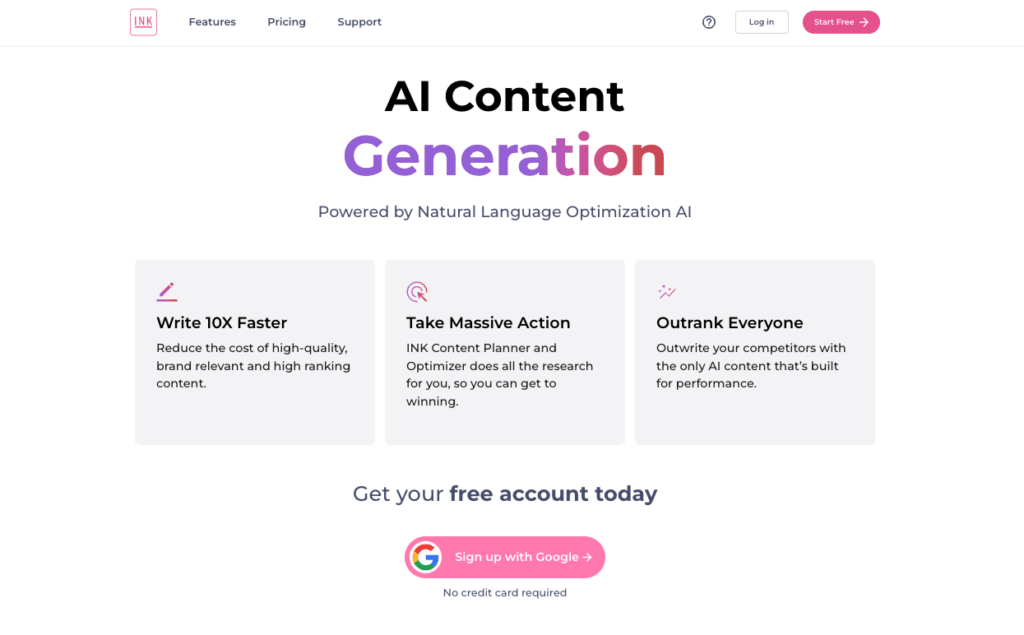 After signing up, INK asks for some details as to how you are planning to use the tool and such. Nonetheless, you'll be up and running in a matter of seconds.
After you've signed up, you will land on this page. It's the INK dashboard from where you can start generating content and choosing the features to use.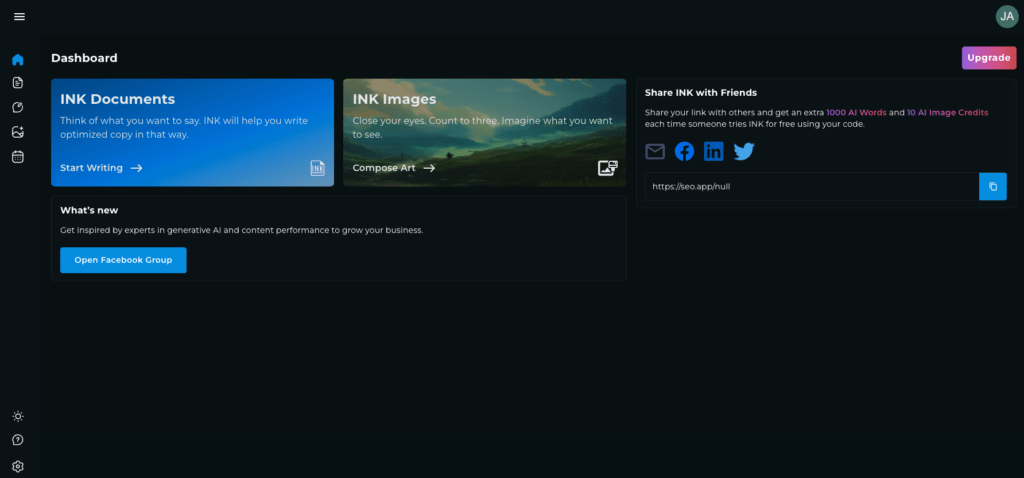 You can also explore the vast array of features INK has: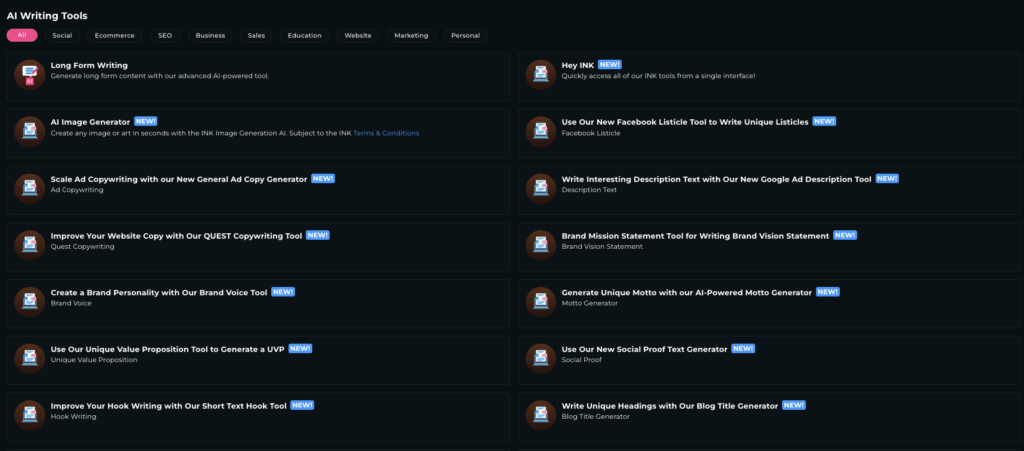 INK Features
Speaking of features, let's quickly go through the most notable INK features.
Templates. There are lots of writing templates to choose from varying from blog posts to ad descriptions to emails.
AI-generated content. INK uses AI to generate unique content based on simple user-specified input.
AI-Image generator. INK also has an AI image generator that produces unique images from text inputs.
Free trial. You can try INK for free to get the best idea of why the tool might or might not work for your use cases.
SEO. INK is the AI writer for SEO freaks. In addition to the long-form capabilities, the tool enforces you to use the best SEO practices.
My Experience with INK
Thus far, it's been all jargon. Let's run some extensive tests to see if INK is truly worth the hype and if the features are really that great!
Text Generation
It's said that INK is one of the best SEO-optimized content creation platforms. In other words, INK generates content that ranks.
Disclaimer: I don't buy any of today's SEO advice. I built a blog from 0 to 800,000 monthly visits without SEO in 1.5 years and I'm strongly against SEO tools and tricks. Just know that there's a slight bias to the SEO side of things 🙂
To start writing with INK's powerful AI, head over to the INK dashboard and click "Start writing" in the INK Documents section: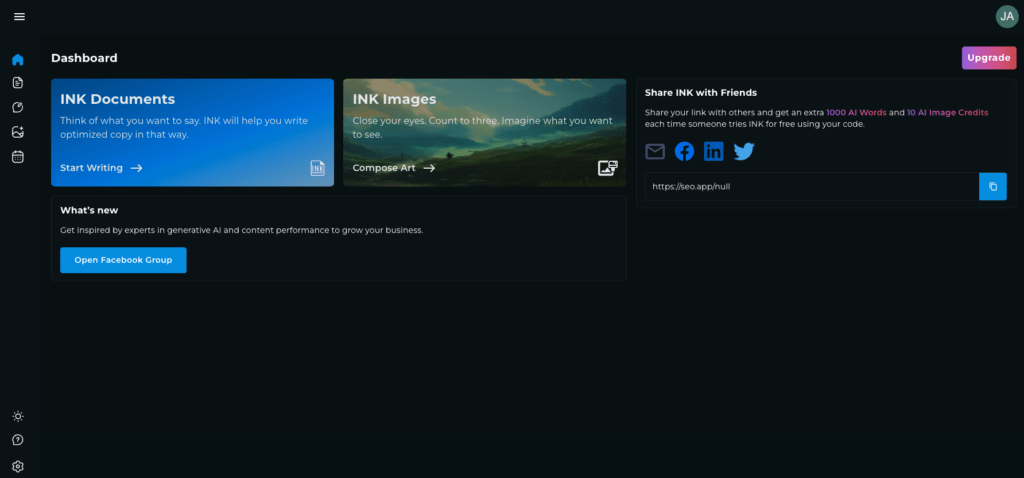 Before you write, INK asks you whether you want to activate the SEO feature or not. I clicked yes and specified a keyword around which I want to optimize the content.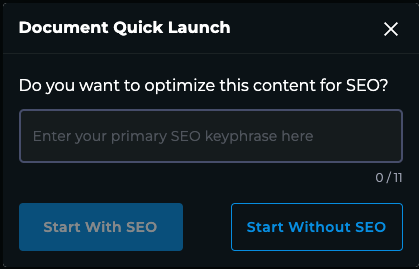 After enabling the SEO feature, you're going to see a sidebar with the SEO tips and issues: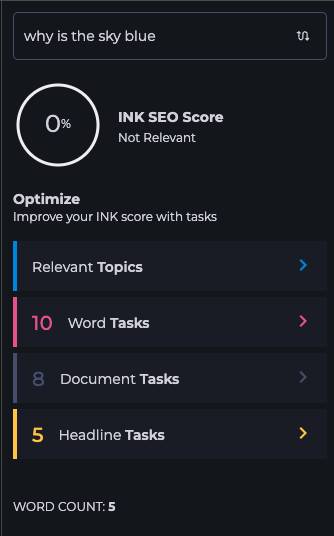 So now, I guess we're ready to start writing content.
I'm going to start by generating a blog post about why is the sky blue. If you've read my other reviews, you already know this is a topic I really like to test AI.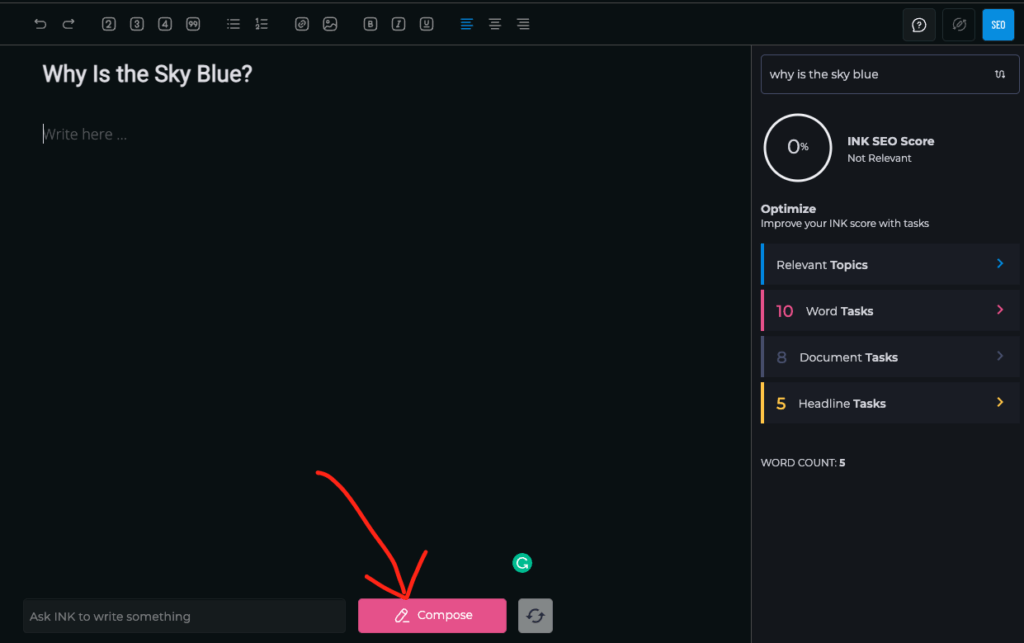 Here's what INK generated for me: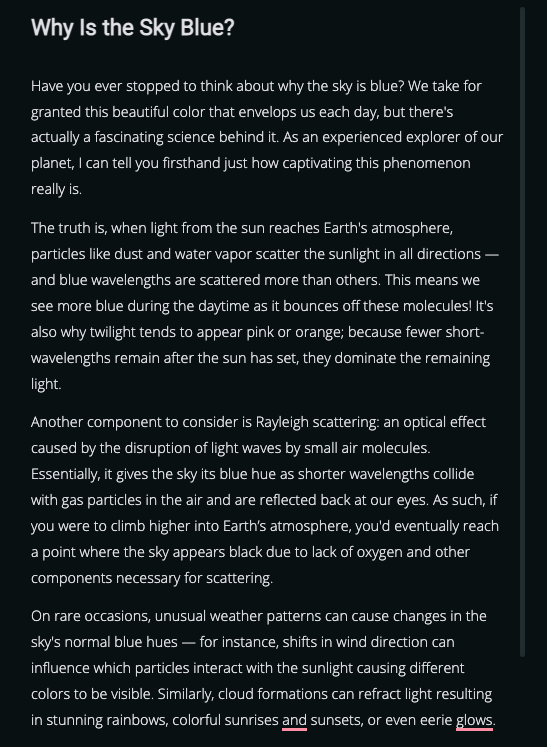 By a quick look, this looks great.
But by taking a deeper dive into what it says, the problems become more apparent. Although there's some truth to the content, there's something that really points out to me.
Take a look at this chapter:

Here INK claims that the wind can cause shifts in the color of the sky which makes no sense to me. Surely, wind can push clouds in front of the sun to make the sky dark, but it doesn't affect the hues of the blue sky.
The worst part is that INK says this in a really convincing tone of voice. If you're unfamiliar with the topic, you might think this is actually true.
So based on this very short text I generated, I must spend a long time checking whether the content actually makes sense. This just slows the process down.
Given the above text generation, here's what the SEO feature says: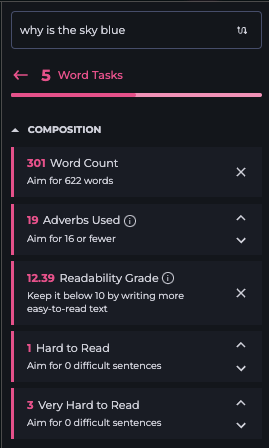 These SEO tasks make little to no sense either. I mean where does it get that "Aim for 622 words" from? The text should be long enough to cover the entire topic in detail to make it useful for the readers.
Word counts don't matter when you focus on details and bringing value.
Also, all the other details in the SEO output make little to no sense. Although they might give some guidance about your content, resolving those issues is not what makes your blog post rank… When it comes to blogging, there's no equation to follow.
Just try to keep your readers in mind and write easy-to-read content that covers entire topics.
I think the INK SEO feature is useless. It just slows down your process and makes you write for robots, not for humans.
So if I had to grade INK when it comes to writing blog posts that rank, I'd have to give it 1.5/5. This is because the content has a ton of mistakes. Besides, the SEO advice makes little to no sense anymore.
INK Outline Generation
Let's try something else with INK. I'm going to write an outline for my new blog post: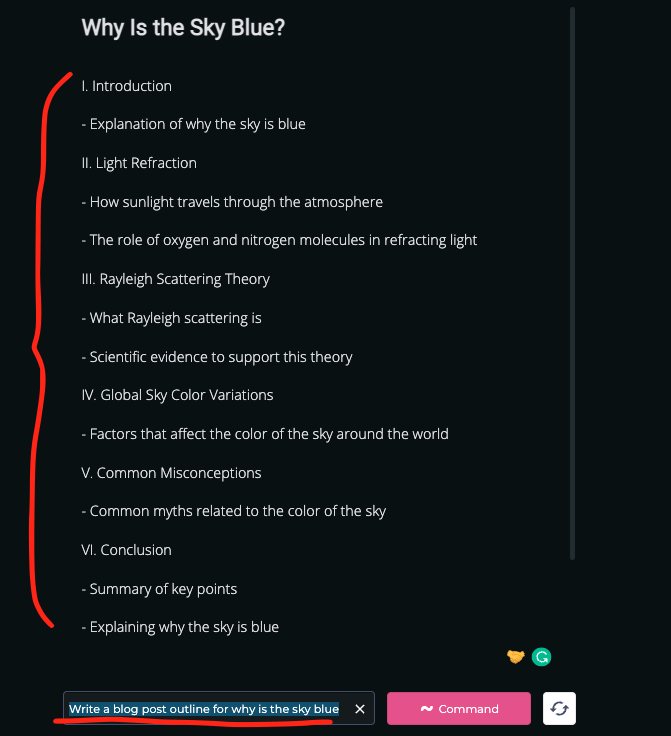 This looks promising to me. Although some of the talking points might make no sense, most of them do. Besides, I can always regenerate or edit the generated outline to match my needs better.
Based on this experiment, I'd say INK is great for writing shorter-form content. Besides, it can give you some ideas about what you should write about. This can be useful if you hit writer's block.
Rewrite Email
As another example, let's write a bad email and ask INK to re-generate it to make it more professional: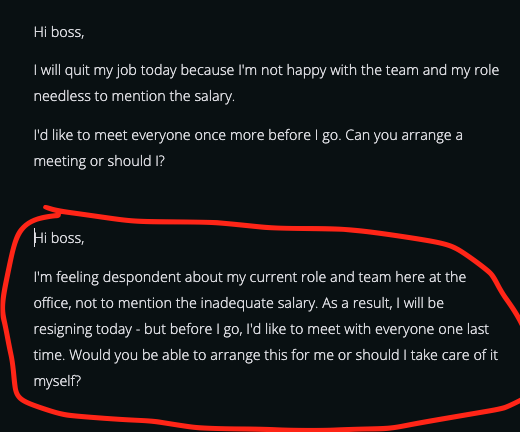 I like it!
The email I generated was something that a kid would write, but the INK-generated piece is much better. Of course, none of these emails would be a great resignation email but the latter one would definitely be more polite and friendly.
Hey INK Feature
Last but not least, let's give Hey INK a try. This feature is a general chat feature where you can ask INK AI to generate answers to pretty much anything.
In a sense, this feature captures all the built-in features and templates written to INK.
Let me demonstrate by asking INK to write an outreach email by giving some details: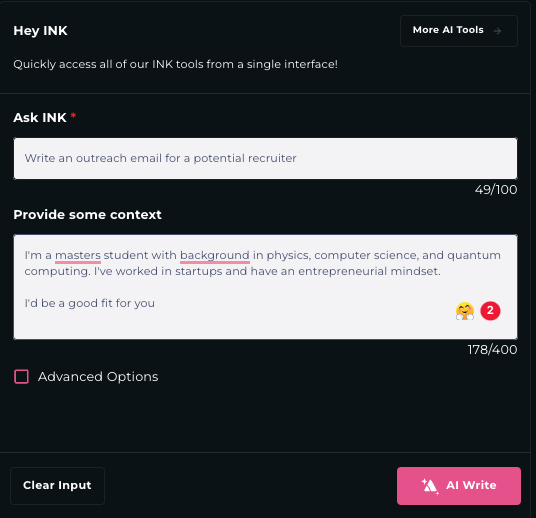 Here's the outcome: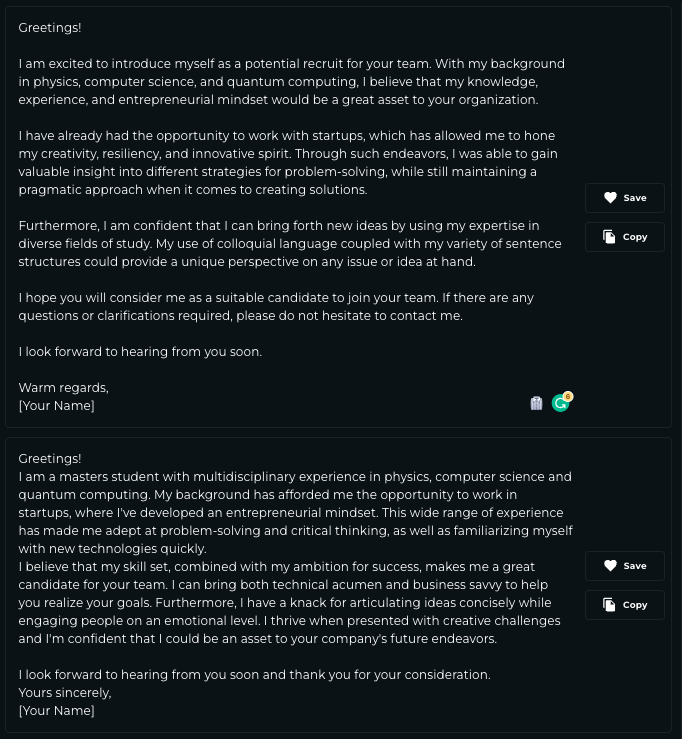 Not only is there one piece of email, but INK gave me three variants (two of them are visible in the above image). I think these emails look good to me.
A lot of jargon but hey that's the name of the game, isn't it?
To me, it seems INK is marketed as a long-form SEO tool. But when I ran extensive tests on INK, I think the long-form capabilities aren't that great. Instead, I think INK does a great job with shorter content like emails, outlines, and similar.
Image Generation
Last but not least, let's give a try to the image generator in INK. Even though this is directly not related to AI writing, many bloggers might find an image generator useful—it can enrich the outlook of a blog post by generating stock images.
Here's an example input and art style I gave INK in hopes of generating a nice piece of art: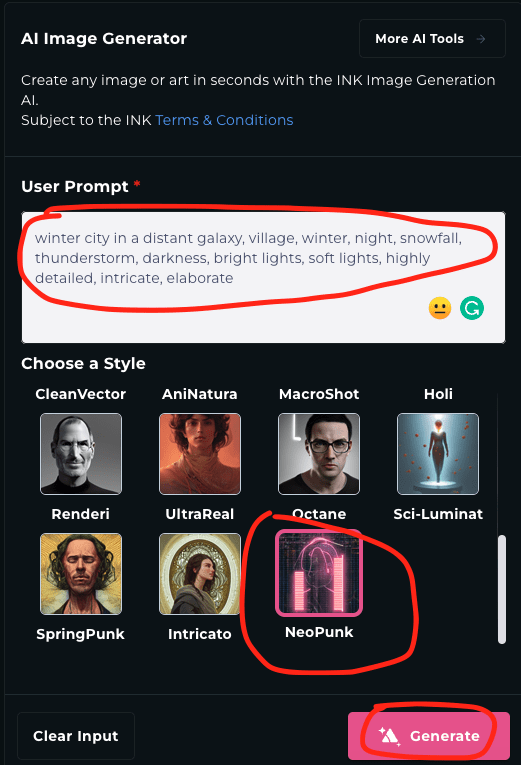 But for me, the INK AI image generator didn't work at all :(.
I even tried to disable my AdBlock as well as reset and rewrite a shorter prompt. The result was empty images with no content.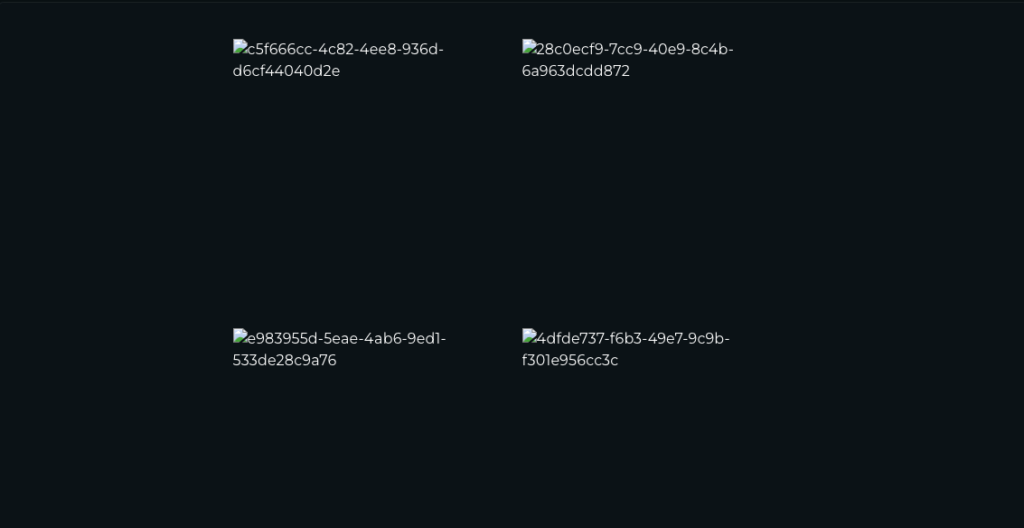 That's inconvenient! I'm sure based on the image galleries I saw that the generated images would look cool. Perhaps I need to try again another day.
Pricing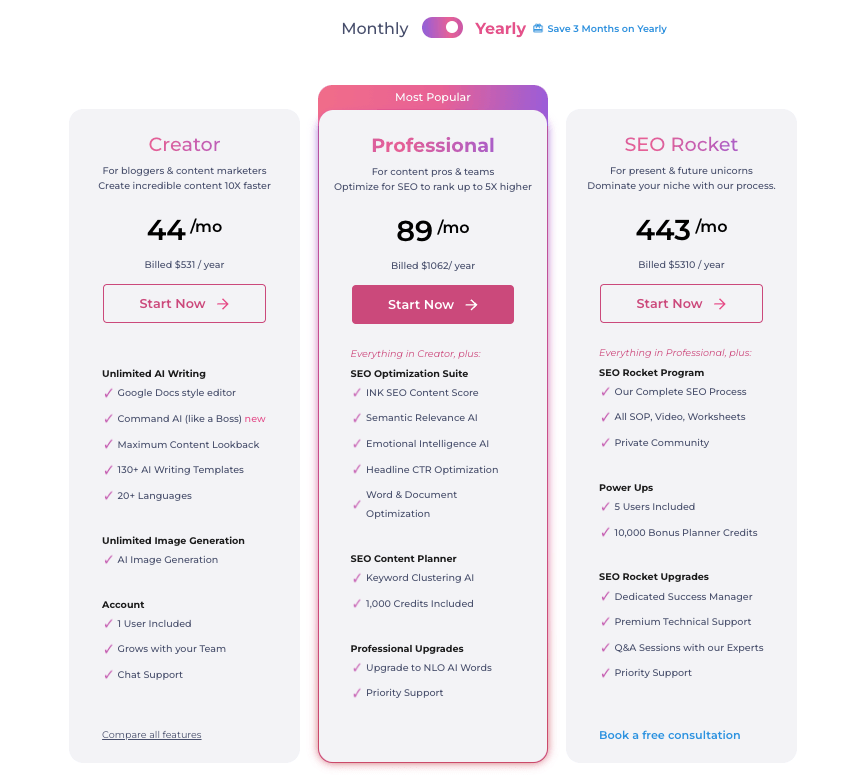 INK comes with a free trial. Besides, there are three paid plans:
Creator: $44/month
Professional: $89/month
SEO Rocket: $443/month
What I Like about INK
Free trial. INK has a free trial that offers the means for you to experiment with the tool to find out whether it's a good fit or not.
Easy to use. INK is also super easy to use. You'll get the gist of it in a matter of seconds. All you need to do is provide INK with input and it will take care of the rest.
Works well with short-form content. INK is great for short-form content such as emails, blog outlines, social bios, and similar.
A lot of features to give inspiration. INK is one of the most feature-packed AI writers I've tested. It has templates for almost any use case you can ever imagine. This gives you a nice efficiency boost and assistance in many areas of writing you might not have considered before.
Nice UI. INK also has a bunch of themes that look sleek and easy for the eyes, such as the dark theme.
What I Dislike about INK
A lot of SEO jargon. A lot of the hype around INK revolves around the idea that INIK is an SEO tool that produces content that ranks high. Based on my tests, however, the SEO advice is outdated and the long-form content is really generic and contains a ton of mistakes. Definitely not a great SEO/blogging tool in my books.
Makes mistakes. As stated before, the tool makes a ton of factual mistakes. It says things that aren't true—yet it does it in a convincing manner, which makes it hard to detect.
Pricey. INK is one of the priciest tools on the market. You will find a better alternative with a 50-75% cheaper pricing model.
Final Verdict
INK is an easy-to-use AI writer tool that helps generate short-form content and save you time. The tool has a nice free trial you should experiment with. Besides, if you're looking for a tool with a pleasant and powerful UI, INK might be your choice.
But the SEO and blogging capabilities aren't that great, to be honest. The tool gives you decent output that sometimes has factual incorrectness. The SEO advice is all outdated, so I wouldn't have high hopes of ranking high with INK-generated content.
Read Also