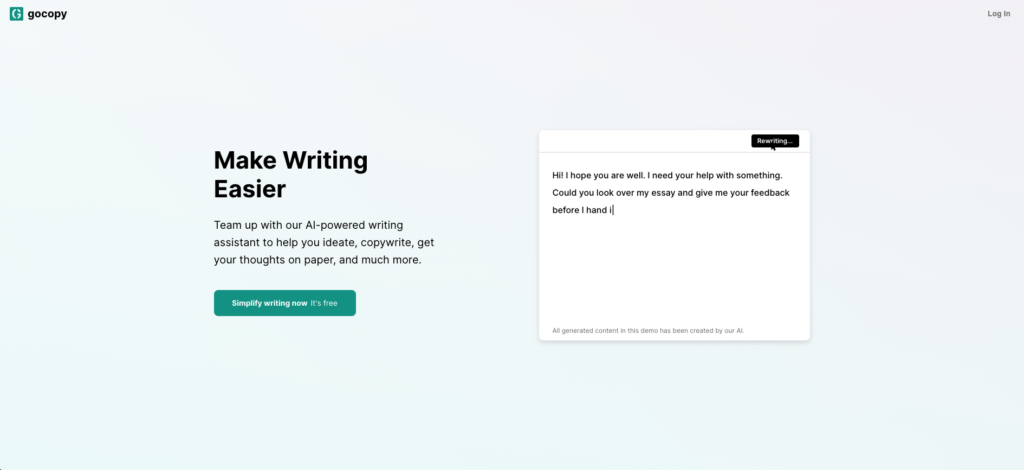 GoCopy (gocopy.io) is an AI writing generator tool. It allows you to generate content with simple text inputs.
This tool is best for writing short-form content, like blog post outlines, social media bios and captions, and such.
This is a complete review of GoCopy.
I purchased the trial so you don't have to. In this review, I go through the AI writing capabilities of GoCopy by using it in 4 different use cases and assess the performance.
Don't forget to check my complete review of the best AI writing tools.
Rating Overview
| | |
| --- | --- |
| Rating | 2.8/5 |
| Price | Starts at $79.00/month |
| Ease of use | 4.4/5 |
| Features | 3.6/5 |
| Output Quality | 2.6/5 |
| Mobile App | No |
| Best for | Short content and overcoming writer's block |
Key Features
14-day trial for $7.
AI-writing templates.
Uses AI to turn simple inputs into text chapters, outlines, and more.
Easy to use.
Getting Started with GoCopy
The signup process for using GoCopy is probably one of the trickiest signups I've ever had to do for paid software. Also, there's no free trial for the software!
To start using GoCopy:
Apply to GoCopy with an application form (took about 2 minutes).
Get accepted right away.
Pay $7 to start a 14-day trial.
Create an account (yes, in this order…).
Start using the tool.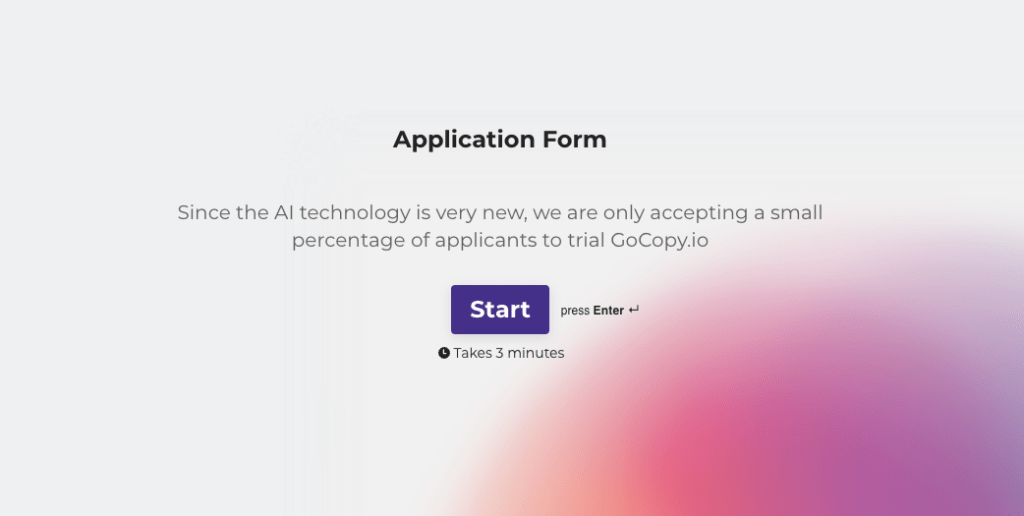 After you've filled in the form, you'll get accepted into the program. I got in automatically and I bet that's the case for you too! I think in the past, they've had to filter applicants but don't do it anymore.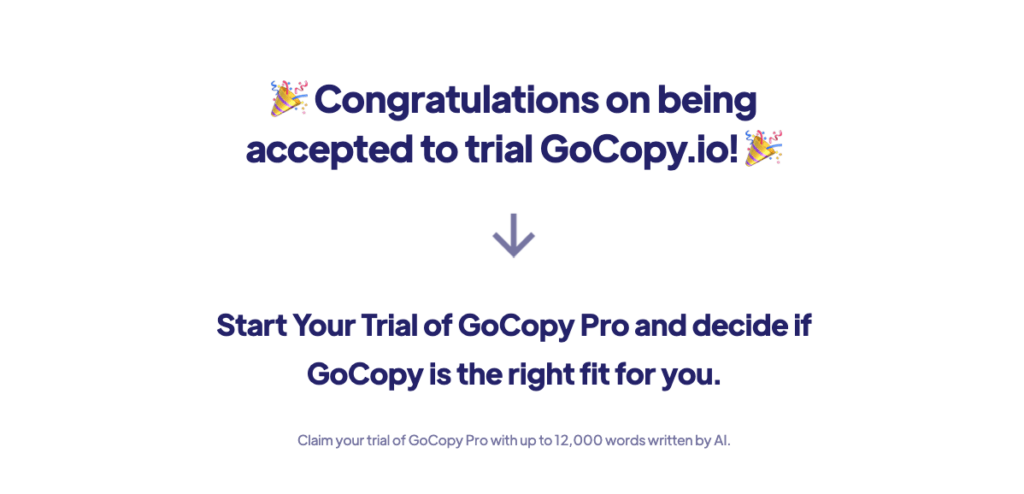 Once you see this screen, start your trial by entering your credit card details and creating an account.
After activating the trial, you'll land on the homepage where you can start writing.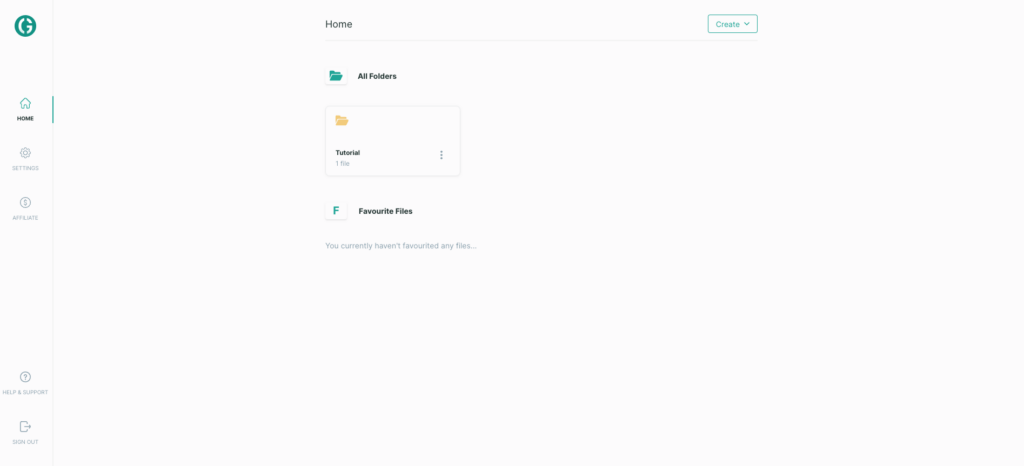 My Experience with GoCopy
Now I'll share my experience with GoCopy and compare it with 20+ AI writing tools I've used in the past 2 years.
First of all, the home UI is wonderful. Unlike Jasper, CopyAI, or other similar tools, this one looks actually clean and easy to start using. It doesn't look like the cockpit of a fighter jet.
Example 1: Essay
I'm writing an essay with GoCopy about why the sky is blue and show you the process and share the results and thoughts.
First, let's create a new document for the essay.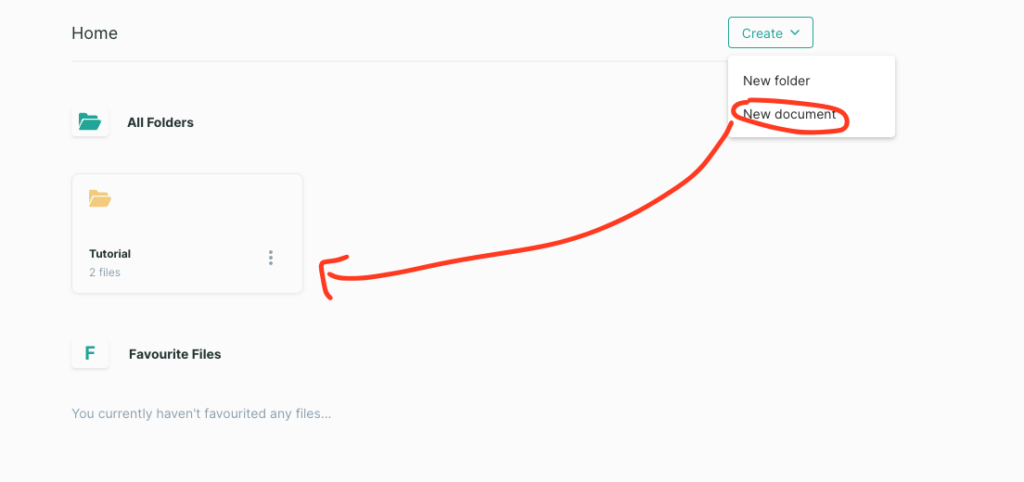 GoCopy AI doesn't write blog posts from start to finish. Instead, it offers you blogging capabilities like coming up with topics, outlines, or intros.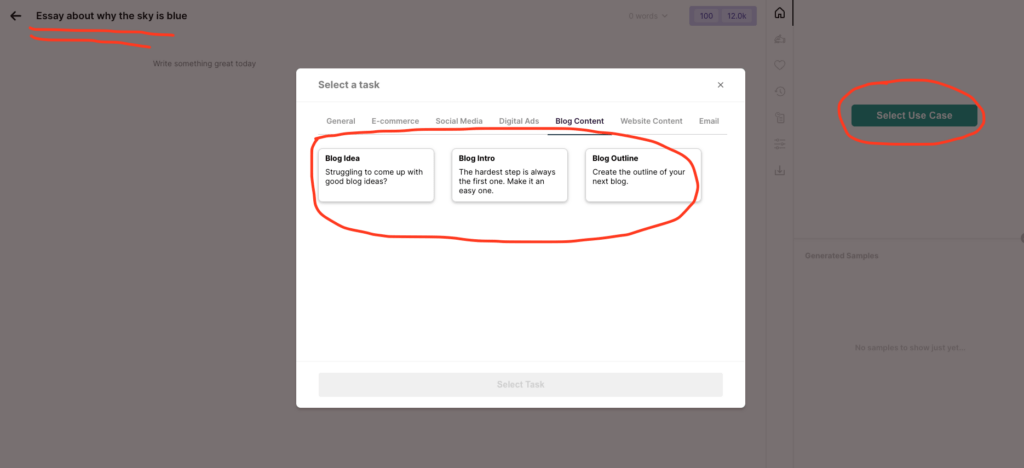 I'm going to use the Blog Outline template.
Here's what the tool comes up with: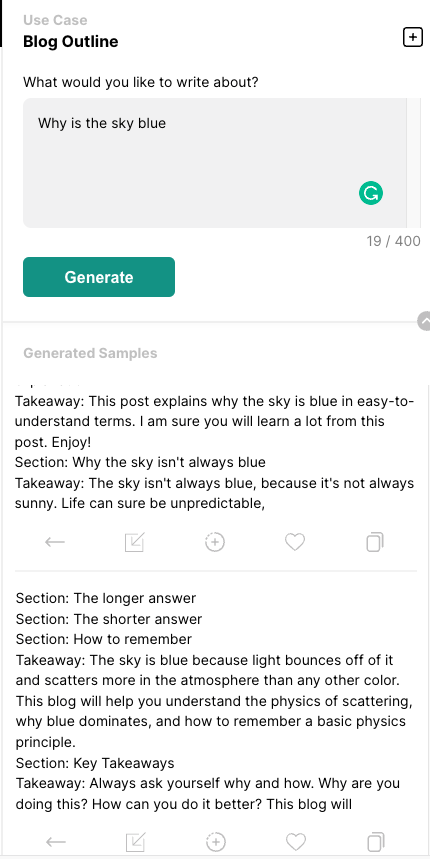 Unfortunately, these don't look like good outlines to me. If you look at the sections in the above images, those make little to no sense. It doesn't help me write a blog post in any shape or form.
Mission failed!
But this is just one of the features of GoCopy AI. Let's give other features a shot to see how they perform.
Example 2: Bullet-Point Expander
As an example, let's try the bullet point expander.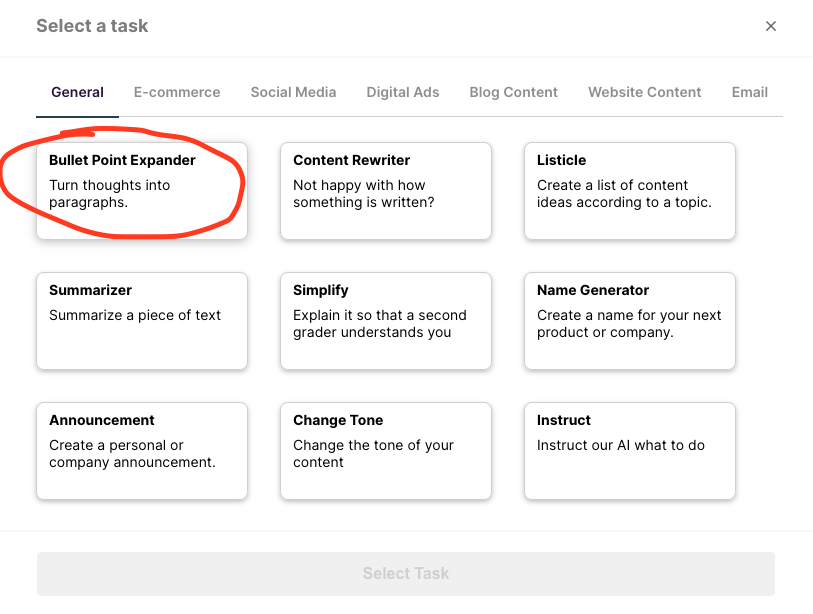 Here I've given a simple input to the tool and it has nicely expanded the input: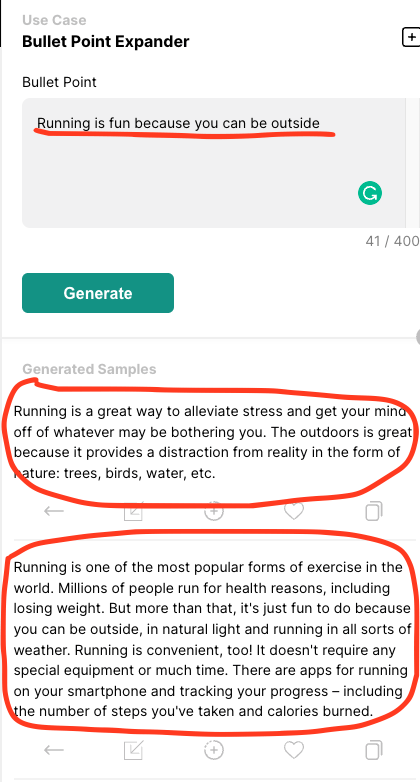 These outputs are definitely great. In case I'm stuck and don't know what to say about something, I can just ask GoCopy to fill in the details.
Notice that this is completely unique text and not just copied from somewhere. So I can use these in presentations, essays, or blog posts.
Example 3: Name Generator
As another use case, let's test the name generator features. I'm trying to generate a name for my AI image generator software company.
Here's what GoCopy created: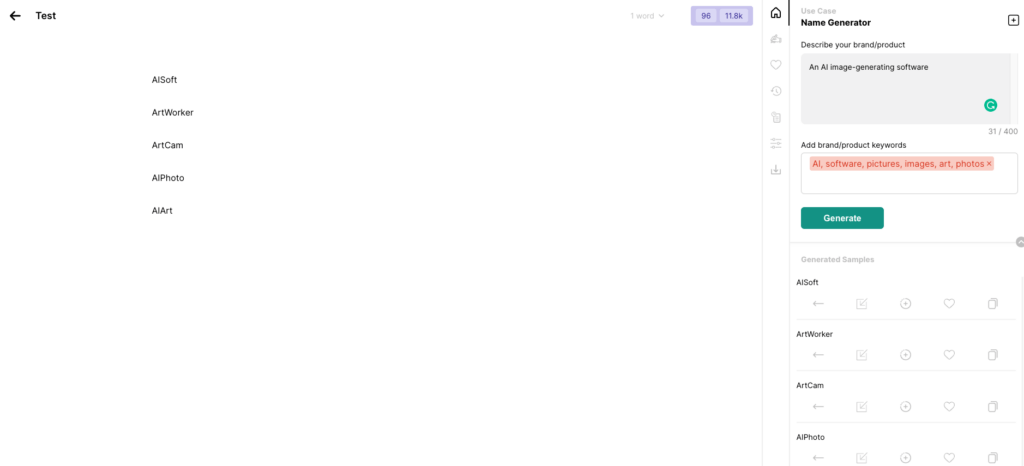 Example 4: Social Media Posts
Last but not least, let's try the social media post feature.
Here I've asked GoCopy to write some social media post captions given my input.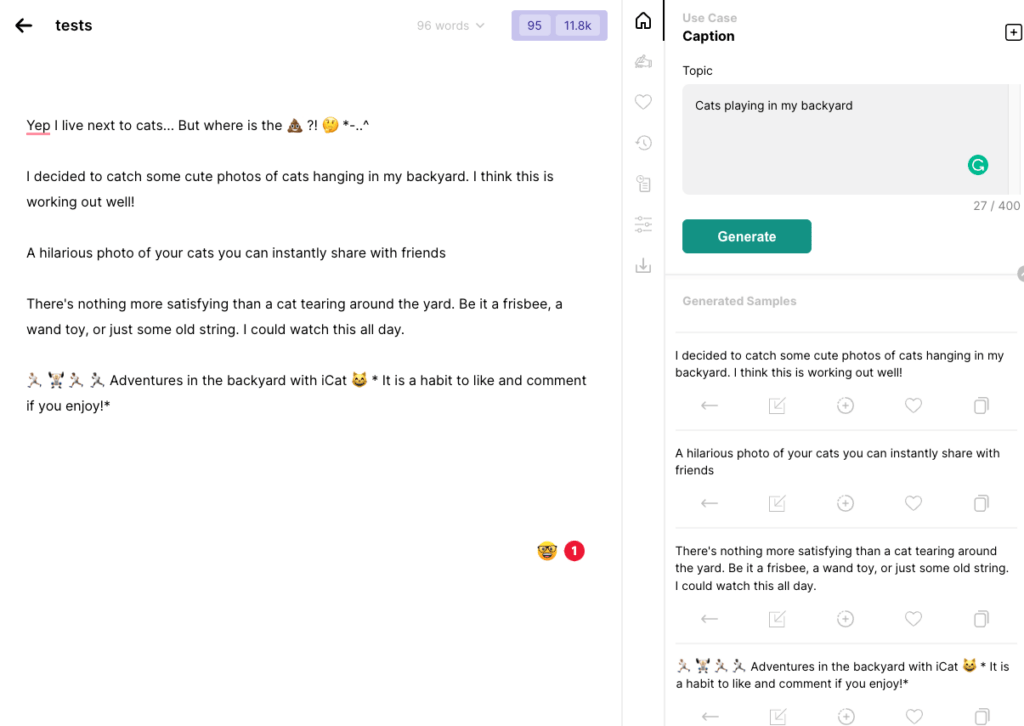 Some of these are ok but some of these are bad, to be honest.
My Take
I think the tool was able to produce some decent short-form outputs, such as the names in the name generator or the expanded bullet points. But I think this tool does lots of mistakes.
As a blogger, I cannot really find use cases for a tool like this. But there are tons of features I didn't show you (there are literally 30+ of them) to keep it short.
When it comes to giving this tool a grade, it's definitely not the best AI writing tool out there. But it has a nice and easy-to-use UI with a ton of use cases you still might want to try.
Last but not least, I don't like the fact that you have to pay $7 to start a 14-day trial. Most AI writing tools offer completely free trials but GoCopy doesn't.
I'll give GoCopy a solid 2.8/5.
Make sure to also read my best AI writing tools guide.
Pricing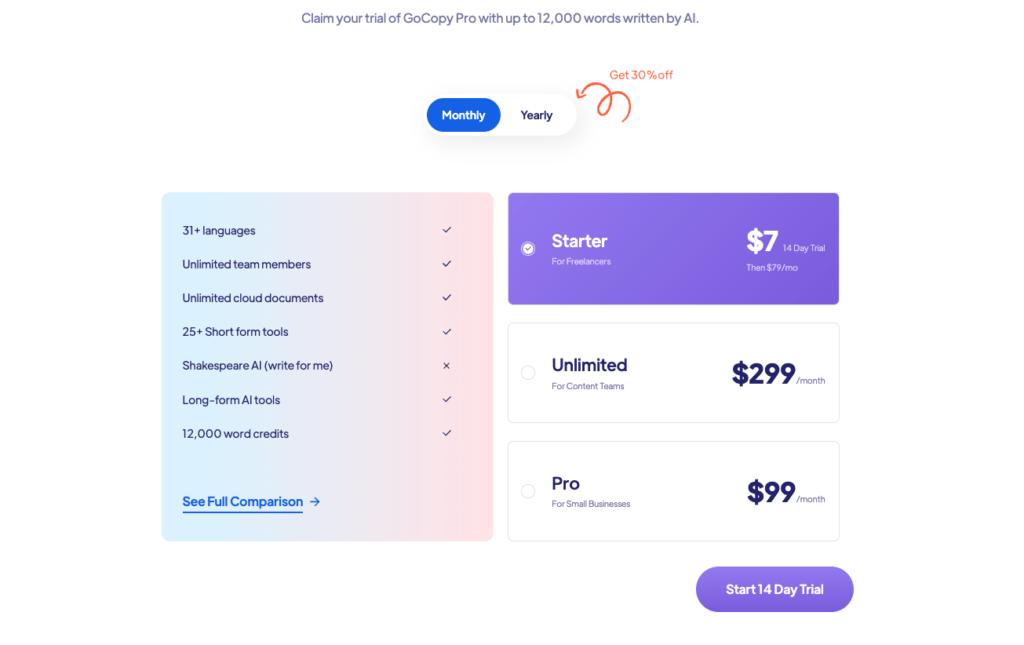 Starter: $7 for a 14-day trial ($79/month after 14 days)
Pro: $99/month
Unlimited: $299/month
Pros and Cons
| Pros | Cons |
| --- | --- |
| Easy-to-use UI and smooth UX | A paid trial |
| Powerful AI features that generate short-form content | Very expensive |
| A ton of templates to choose from | No long-form content capabilities |
| | Makes mistakes and has inconsistencies in the generated content |
| | Difficult sign-up process |
Final Verdict
GoCopy is a cool AI writing tool for generating short-form content like paragraphs, names, or social media posts. There are tons of templates to choose from.
But the tool is super pricey and isn't even close to the quality of some of the other AI writing tools.
For example, if you try Rytr, it's 90% cheaper and produces much better content.
Read Also