During the past couple of decades, fatherhood has changed entirely.
These days, dads take more and more roles in household duties.
Also, thanks to the recent developments in technology, starting a blog or a website is getting easier and easier.
Combine these two and what you will find? A bunch of awesome and inspirational dad blogs. From these websites, you can find stories and useful tips for parenting.
This is a comprehensive list of some of the best dad blogs out there. These blogs range from single dads and domestic dads to two-dad families.
And by the way, if you're looking for inspiration to perhaps even start your own blog, don't restrict yourself to parenting only. There are dad blogs about games, adventures, traveling, work-life balance, etc.
Nonetheless, here are the best and most inspirational dad blogs out there.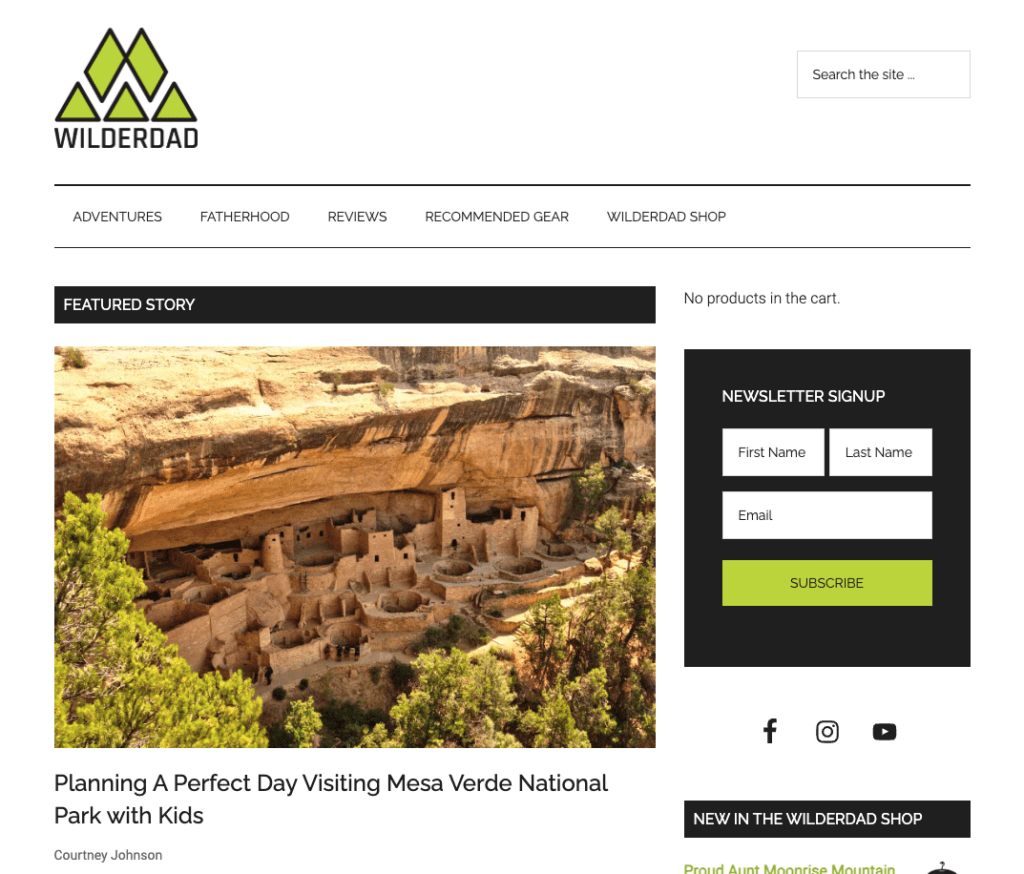 The Wilder Dad is here to make your journey through fatherhood less choppy and more adventurous.
Created by Steve Lemig, this blog's mission is to support dads who might feel out of their depth (just like Steve did!).
Wilder Dad offers inspiring stories, practical advice, and motivation through outdoor gear. This is not your old-school, Scotch-drinking dad blog. It's for the new generation of fathers who balance work, play, and family time – including watching that favorite Pixar movie for the 112th time.
This community of real dads believes in the power of the outdoors for building happy families and teaching essential life skills. If you resonate with this, congratulations, you're a Wilder Dad too! Catch you in the wild!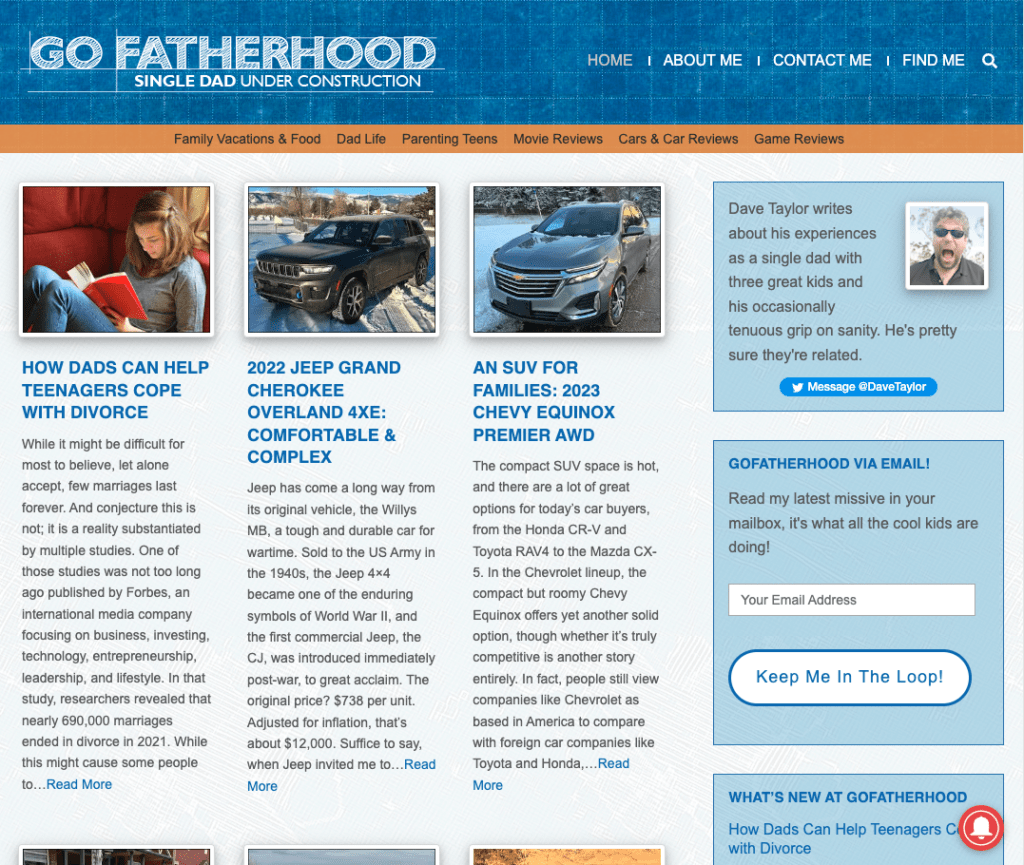 Dave Taylor of Go Fatherhood is a single dad with three kids, sharing real-life insights about parenting post-divorce.
With children aged 14 to 21, Dave's experiences are diverse and eye-opening.
He writes candidly about the challenges of single parenting, navigating relationships with his ex, and the societal expectations that men often face as fathers.
But it's not all tough times; he also values the wisdom shared by other single parents and those on their second or third marriages.
Please note, you won't find photos or names of his kids on the blog due to his strong belief in protecting their privacy.
So if you're looking for an honest take on parenting, Dave's your man.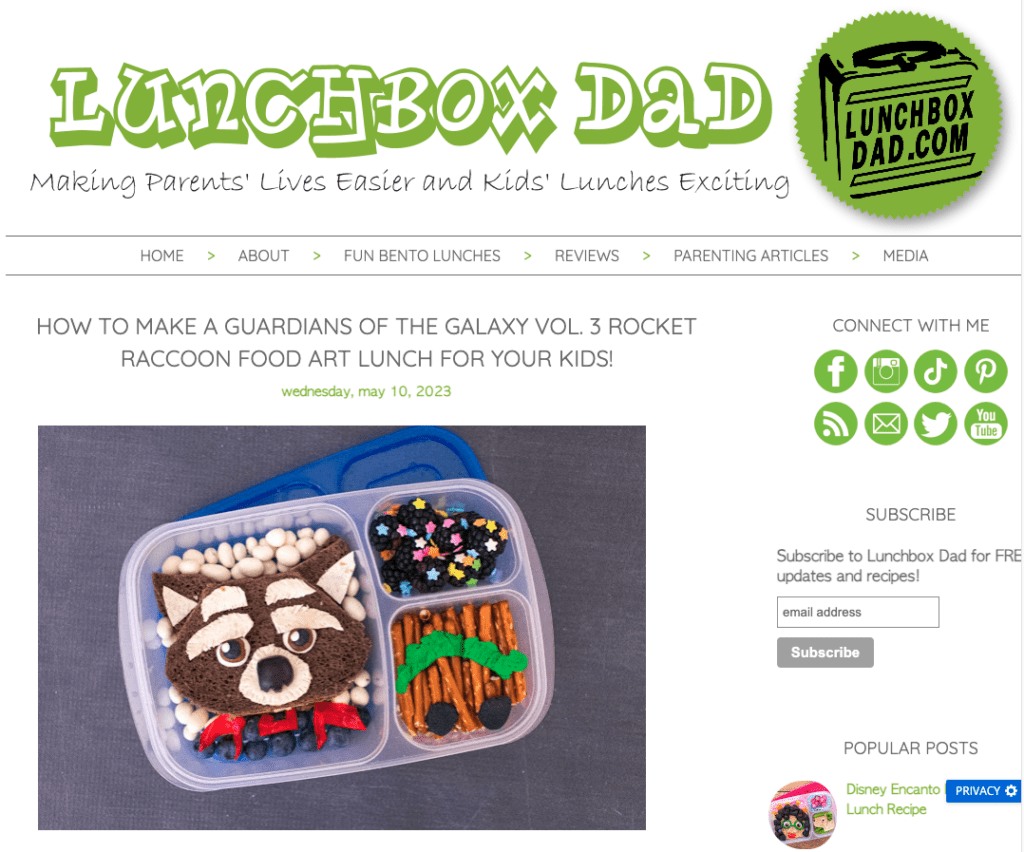 Meet Beau, the creative force behind The Lunchbox Dad. He's all about making lunchtime fun and parenting easier for you.
His blog overflows with imaginative recipes and hilarious pics. He's no newbie to the spotlight either, having been featured on Good Morning America, The Steve Harvey Show, and even in People Magazine.
Beau's not just a blogger, he's a hands-on dad of three, juggling a full-time job while living in Oklahoma City.
Besides his own blog, he also pens down his thoughts for The Huffington Post and LifeOfDad.com.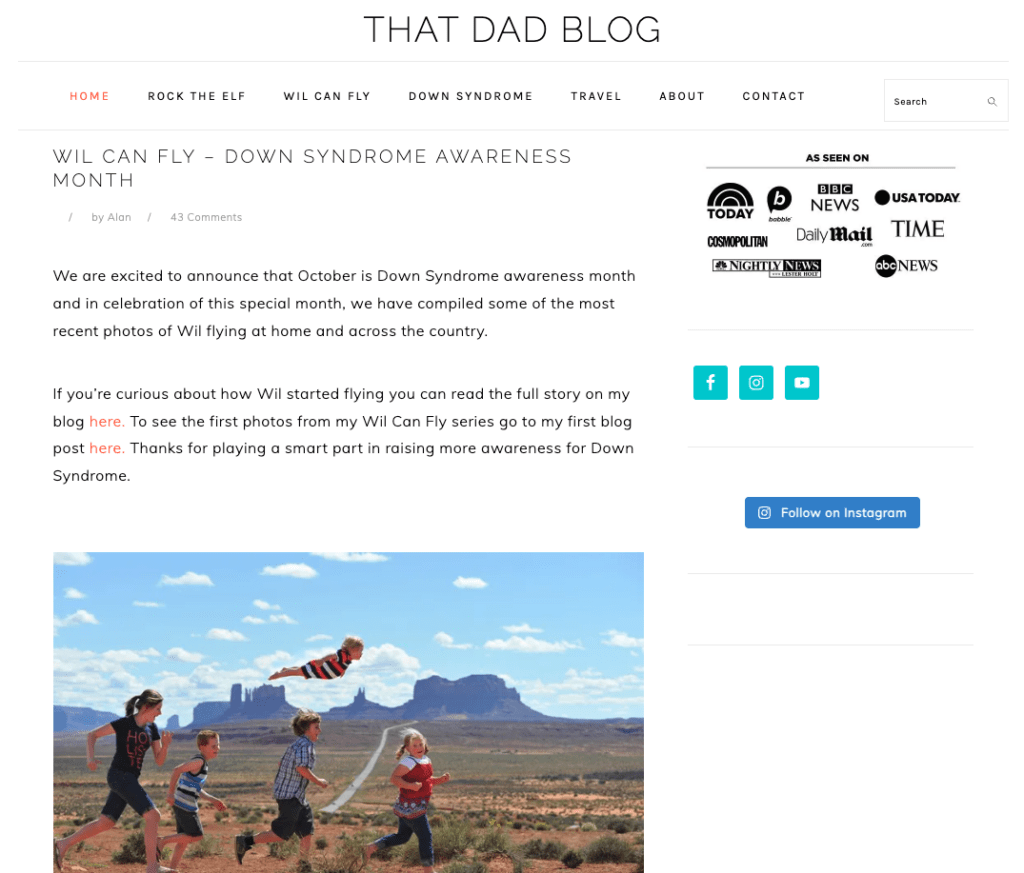 Meet Alan, the multi-talented dad behind That Dad Blog. Father of six, amazing wife's husband, art director, web designer, photographer, and videographer – he's wearing quite a few hats.
Oh, and he once won a horseshoe-throwing contest!
The blog is Alan's creative outlet, where he shares the highs and lows of fatherhood.
He's always got a camera at his side (he gets anxious without it) and enjoys a good serving of salsa and chips every night.
If you're interested in the blend of creativity and fatherhood, you'll love what That Dad Blog has to offer.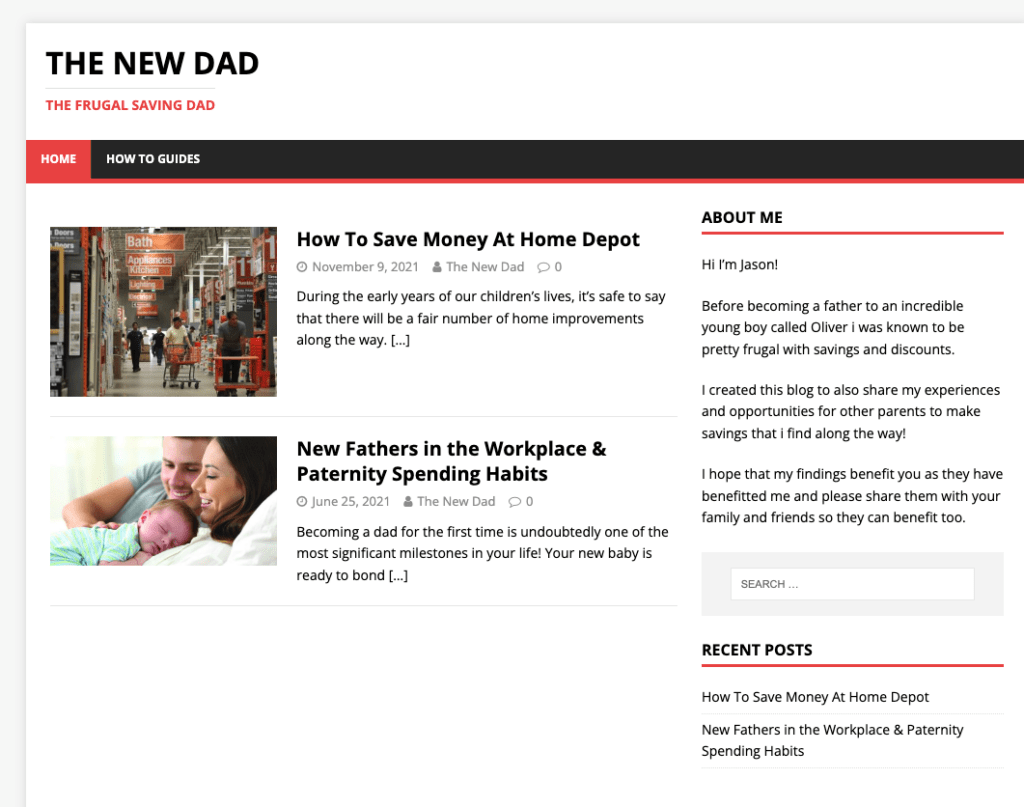 Welcome to The New Dad, brought to you by Jason, proud father to a young lad named Oliver. Known for his knack for frugality, Jason decided to create this blog to share his wisdom and opportunities for savings with other parents.
His goal is to help your family benefit from his budget-savvy findings. So if you're looking to make your pennies stretch further, this is the blog for you. Don't forget to share Jason's tips with family and friends so they can benefit too!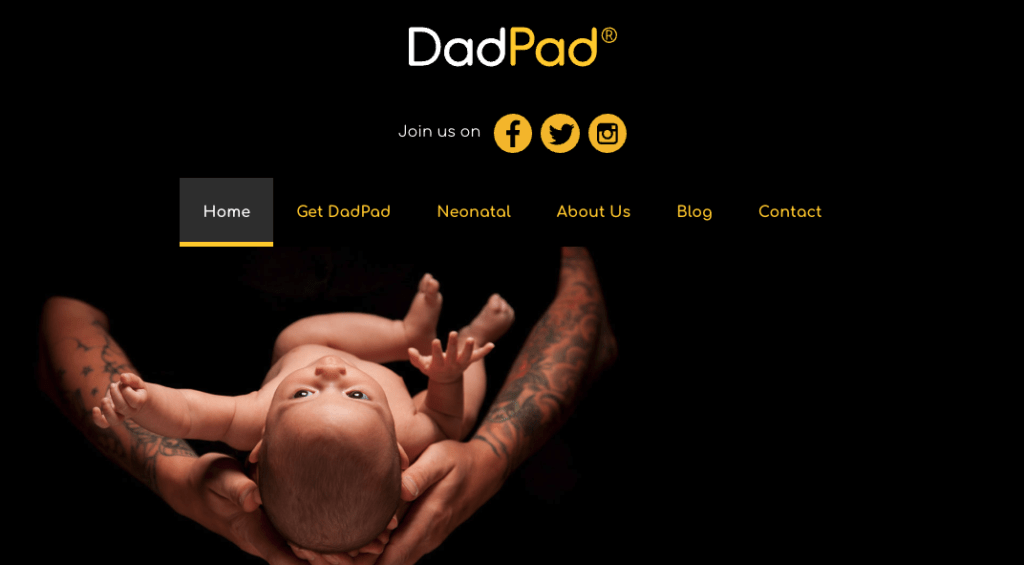 The Dad Pad, brought to you by Inspire Cornwall CIC, is a fantastic resource created to help new dads navigate the whirlwind of parenthood.
This social enterprise listens to what dads, their partners, and professionals want and need, and puts all that wisdom into a handy guide.
The Dad Pad has even received a National Lottery-funded grant to pilot specialized DadPads for fathers of newborns needing neonatal care.
This isn't just a blog, it's a project built on community feedback.
So, get a Dad Pad, use it, gift it, and then share your thoughts to make it even better!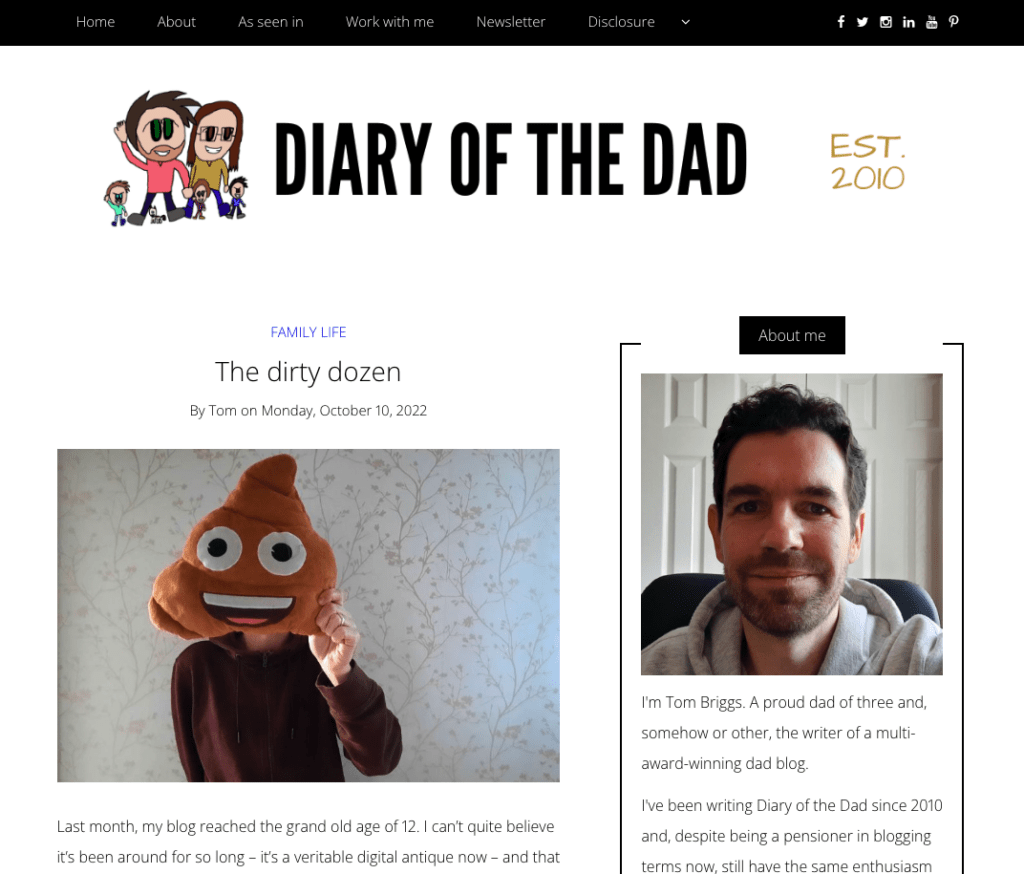 Welcome to The Diary of the Dad, one of the UK's longest-running dad blogs, penned by Tom Briggs.
Since its inception in 2010, this blog has grown from a small hobby into an award-winning platform.
Here, you'll find Tom sharing his journey as a father to his three children – Dylan, Xander, and Amelie – and his musings about parenthood.
From their unique antics to their exciting milestones, Tom captures it all with the same enthusiasm he had when he started.
He's pretty sure his kids will find this embarrassing when they grow up, so future best men and maids of honor, take note!
Enjoy the read!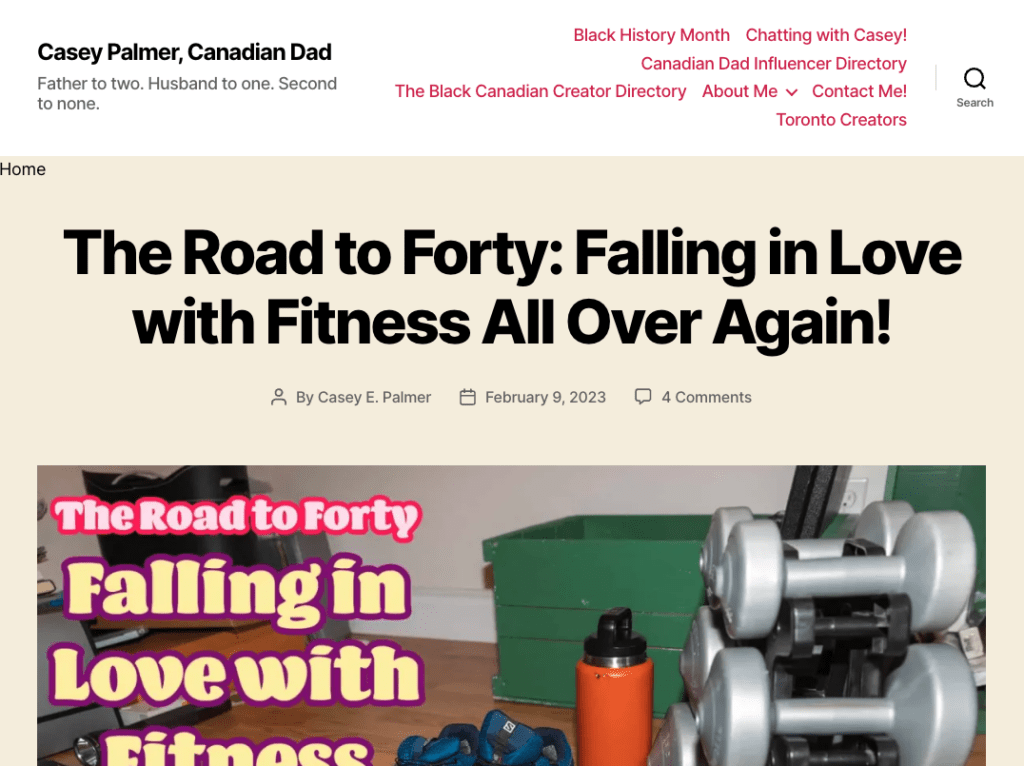 Meet Casey Palmer, the man behind the Canadian Dad blog.
A devoted husband and father of two, he's all about balancing passion, family, and work.
His digital journey started in 1998, evolving into a space for him to voice his experiences, including his reflections on his Blackness.
Casey's blog is a product of his constant quest for improvement, and you'll find in it a blend of compelling narratives and practical insights.
His wife, Sarah, and their kids add depth to his content, ensuring that everything he creates serves a purpose.
From managing spreadsheets by day to crafting content by night, Casey's dedication shines through.
Discover his exciting exploits and get in touch with him for a more personal connection!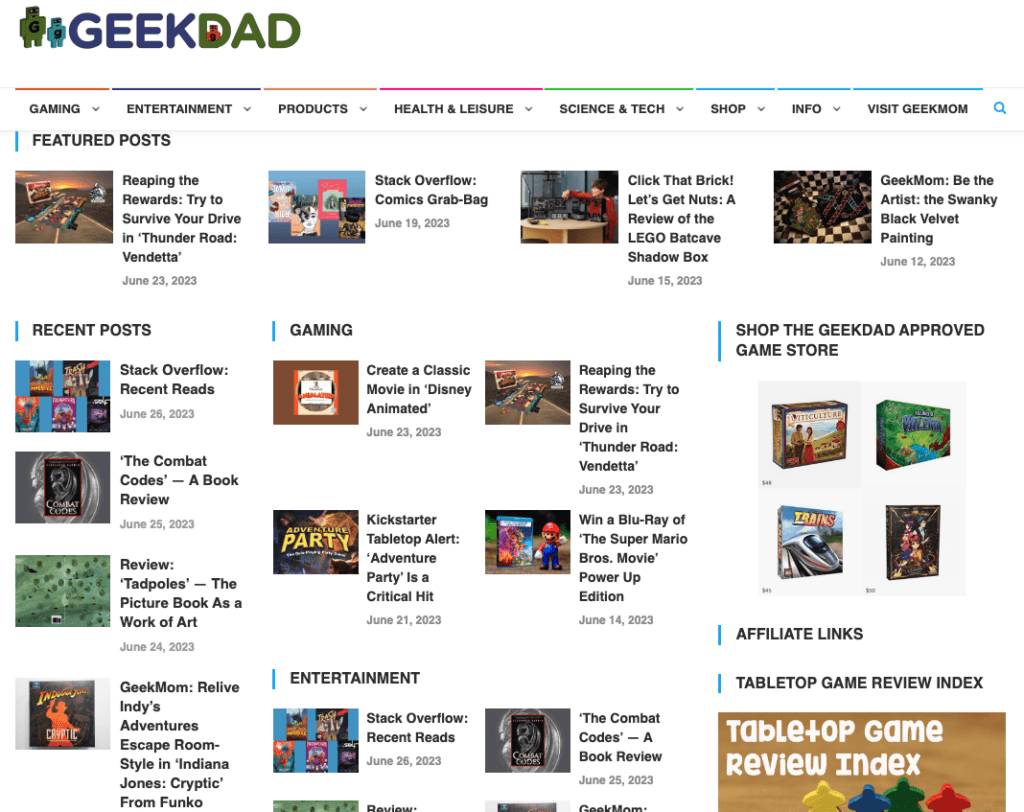 GeekDad is a blog for parents with a penchant for technology, culture, and geekiness.
Launched in 2007 by Chris Anderson and later owned by Ken Denmead, the blog is managed by a diverse group of contributors who aim to entertain, inform, and educate geeky parents wishing to raise their kids in a similar vein.
Their team has been delivering daily content for over a decade.
Their work has not gone unnoticed – GeekDad was named one of the "10 Best-Written Blogs" by Computerworld in 2008, one of the "Best Blogs on the Internet" by Time in 2010, and received a Webby "People's Voice" award for best parenting blog in 2013.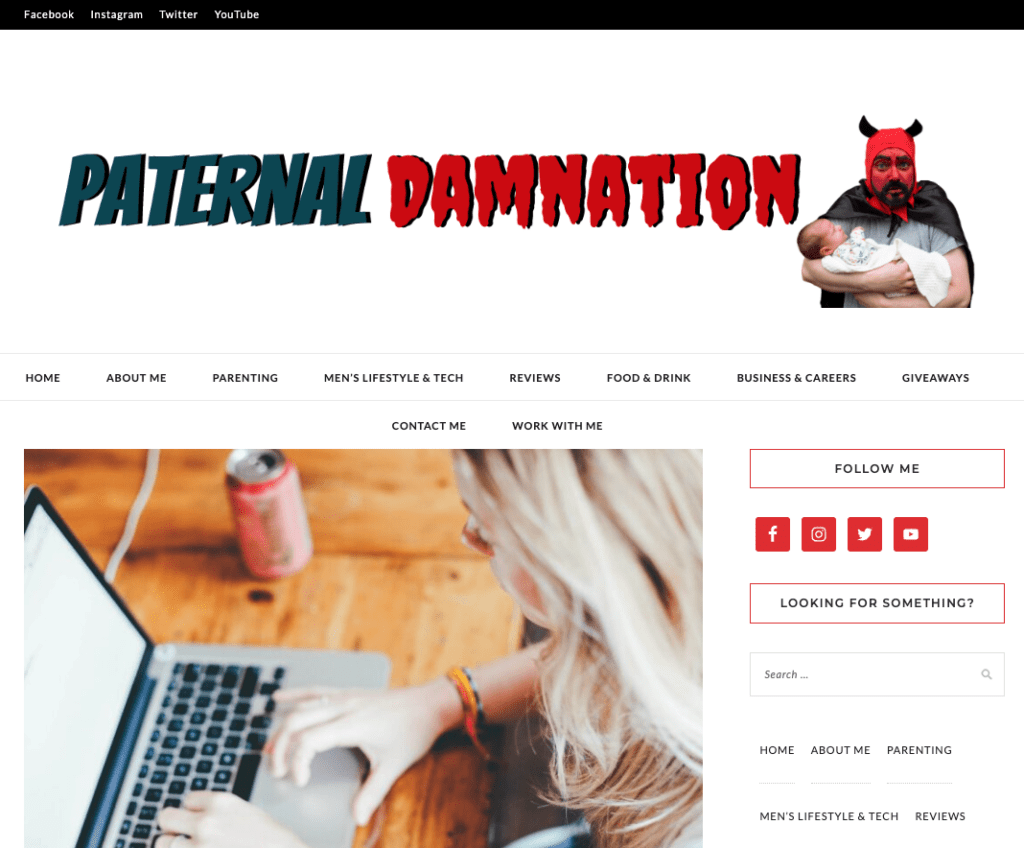 Meet Robbie, a 30-something dad who turned his experiences of fatherhood into entertaining musings on his blog, Parental Damnation.
A former sports journalist turned full-time dad blogger, Robbie's life transformed with the arrival of his son and daughter, and not forgetting his stepdaughter.
From a toned physique to a proud dad bod, from all-day parties to all-night feeding sessions, his journey is nothing short of relatable.
Parental Damnation offers not just the trials and tribulations of parenting, but also a good dose of men's lifestyle content.
It's recognized among the top dad blogs in the UK by MyBump2Baby, Feedspot, Man of Many, and Vuelio.
Got a collab in mind? Feel free to reach out to Robbie – he's always eager to hear from his readers! 📩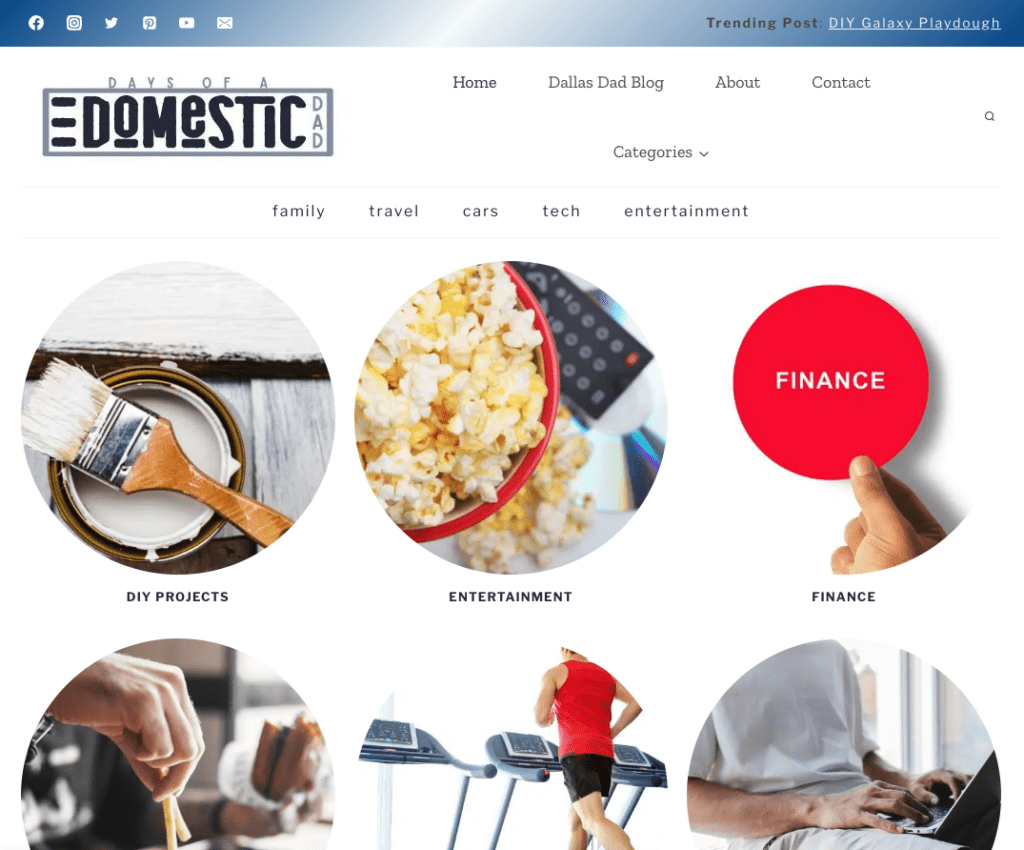 Meet Colby, the man who swapped his corporate suit for the all-encompassing role of a stay-at-home dad back in 2012.
Teaming up with his high school sweetheart and successful blogger wife, Staci, he has since navigated the rewarding journey of parenthood with their five diverse and dynamic kids, ranging in age from 11 to 25.
His blog, "Days of a Domestic Dad," reflects his multifaceted life at home, tackling everything from cooking and cleaning to caring for the kids, along with product reviews, car experiences, and travel adventures.
Instead of traditional gender roles, they approach chores as a collective effort. Join Colby's engaging universe where the life of a domestic dad takes center stage.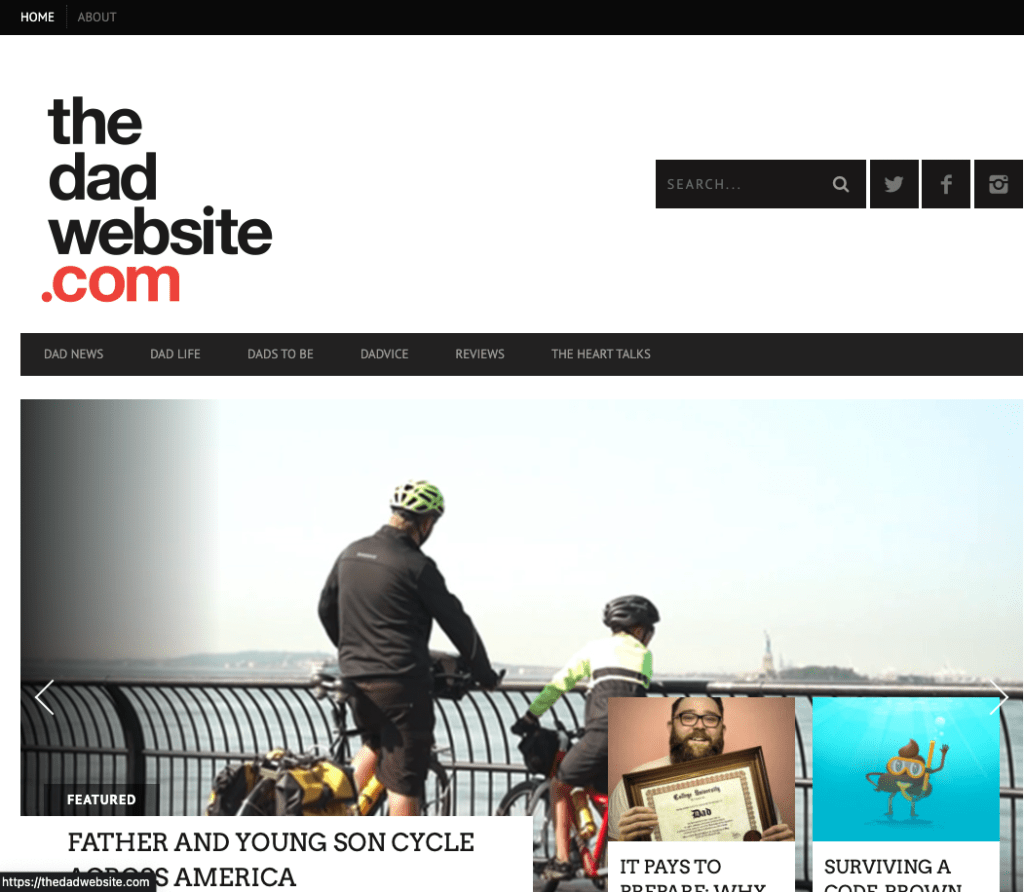 "The Dad Website" started as a platform for three dads with six (now seven) kids, but it's grown into an expansive community for modern, hands-on fathers.
The founders, Fergus, Daniel, and Phil, use their own experiences and unique backgrounds, from surviving the advertising industry to love for Star Wars and Lego, to create content that resonates with dads everywhere.
Being a dad isn't easy in an ever-changing world, and there's always something to worry about. This blog takes those shared worries and flips them into relatable stories, helpful advice, dad jokes, and heart-to-heart conversations.
They believe in the power of camaraderie, the magic in shared experiences, and the simple joy of just being in each other's company, just like grilling a Barbie or enjoying a ballet recital.
So come and keep these guys company. Experience the highs, lows, and delightful detours of fatherhood together. Because being a dad can be wonderful, especially when you have the right company.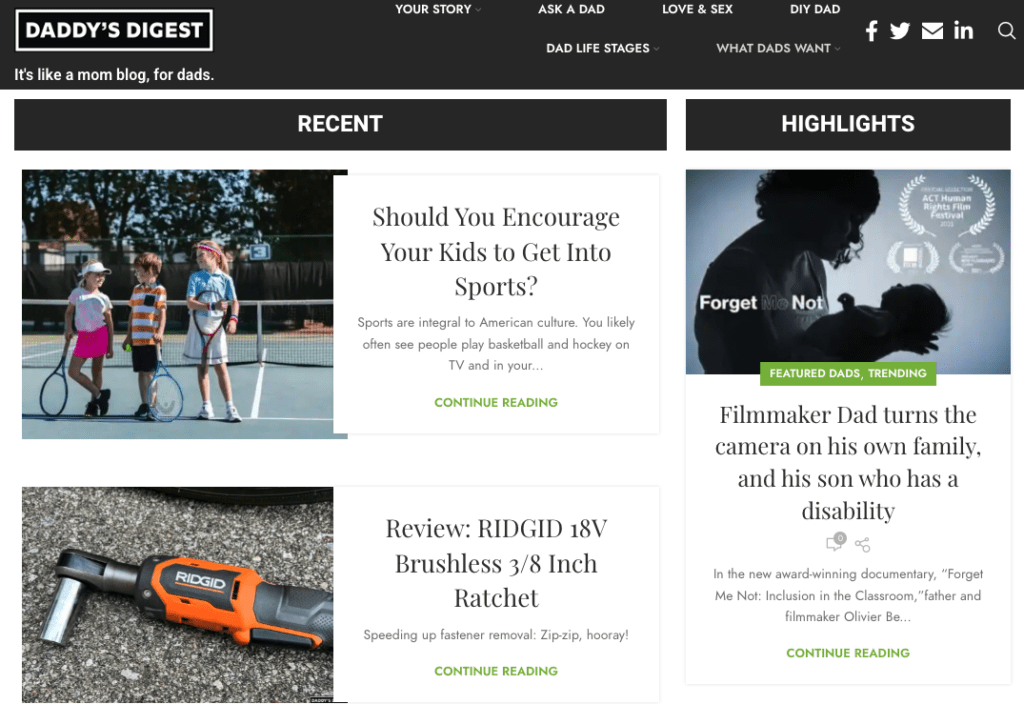 "Daddy's Digest" is an all-encompassing hub for fatherhood and family dynamics.
More than just an online magazine, it combines articles, videos, and audio content to deliver rich experiences and insights into the realm of parenting.
From current affairs to popular culture and human dynamics, they ask the tough questions, predominantly featuring opinion pieces and editorials penned by real fathers.
Under the leadership of Canadian CEO Zoe Share, in collaboration with the founder Vickram Agarwal, "Daddy's Digest" serves up daily curated and original content featuring personal stories, expert advice, and in-depth features.
Their mission is to help everyone be better partners and parents.
Garnering recognition from renowned platforms such as Media in Canada, The New Indian Express, Firstpost, and Yahoo!, their blend of humor and profound discussions reach a wide audience.
Their contributions extend beyond text, with the funniest tweets showcased on platforms like HuffPost Life and BuzzFeed.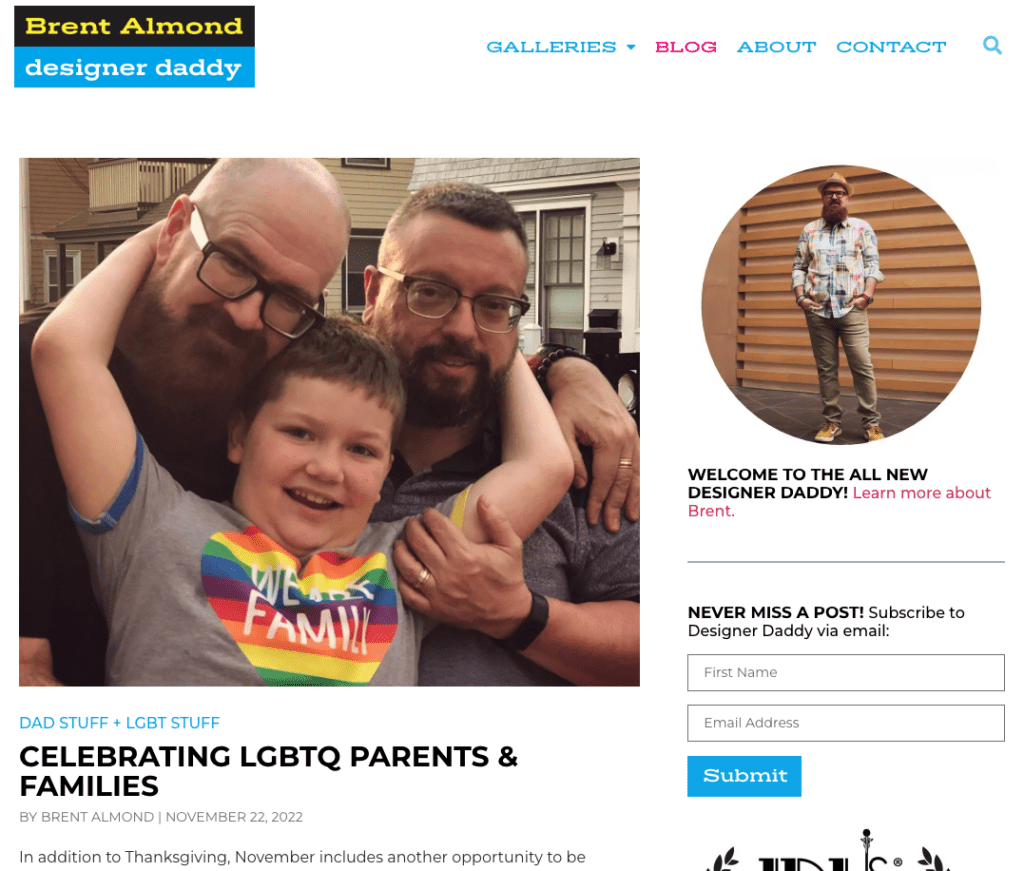 In the artistic realm of the internet, Designer Daddy stands out.
With a career spanning over three decades as a graphic designer and illustrator, this creative dad enriches every aspect of his life with a touch of beauty and fun.
Not just a designer, but a dad too, he shares his experiences of fatherhood, adopting his son, and being a part of a two-dad family.
His love for superheroes and pop culture shines brightly on his blog, and he often includes his craft projects and his son's lunchbox notes, famously known as SuperLunchNotes.
A champion for the LGBTQ community, he focuses on their struggles for equality and visibility.
He's been featured on renowned platforms like Parents, ABC.com, and Huffington Post, and is a three-time Iris Award winner.
He aspires to write and illustrate children's books that depict same-sex parents, aiming to teach children about the diversity of our world.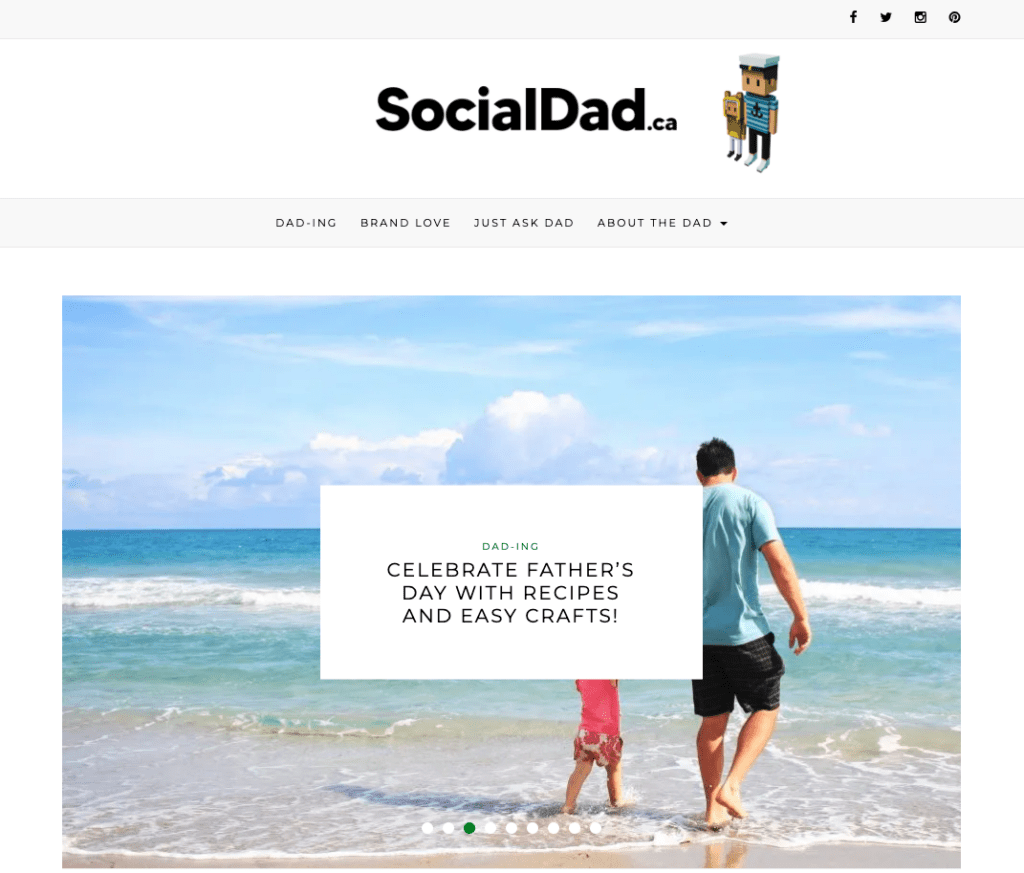 Say hello to James, the man behind Social Dad.
As a newcomer to fatherhood, he's navigating this exciting journey with a sense of humor and candid honesty.
Unafraid of admitting that he's learning as he goes, he shares his dad adventures in his relatable blog posts.
In addition to his dad tales, James brings in his professional expertise in social media to offer a unique blend of content.
From industry updates to opinion pieces, he sprinkles his blog with valuable insights.
If you prefer to focus on his fatherhood experiences or his social media insights, use the category headers to tailor your reading.
All in all, Social Dad is your go-to blog for a fresh and authentic perspective on parenthood and the social media industry.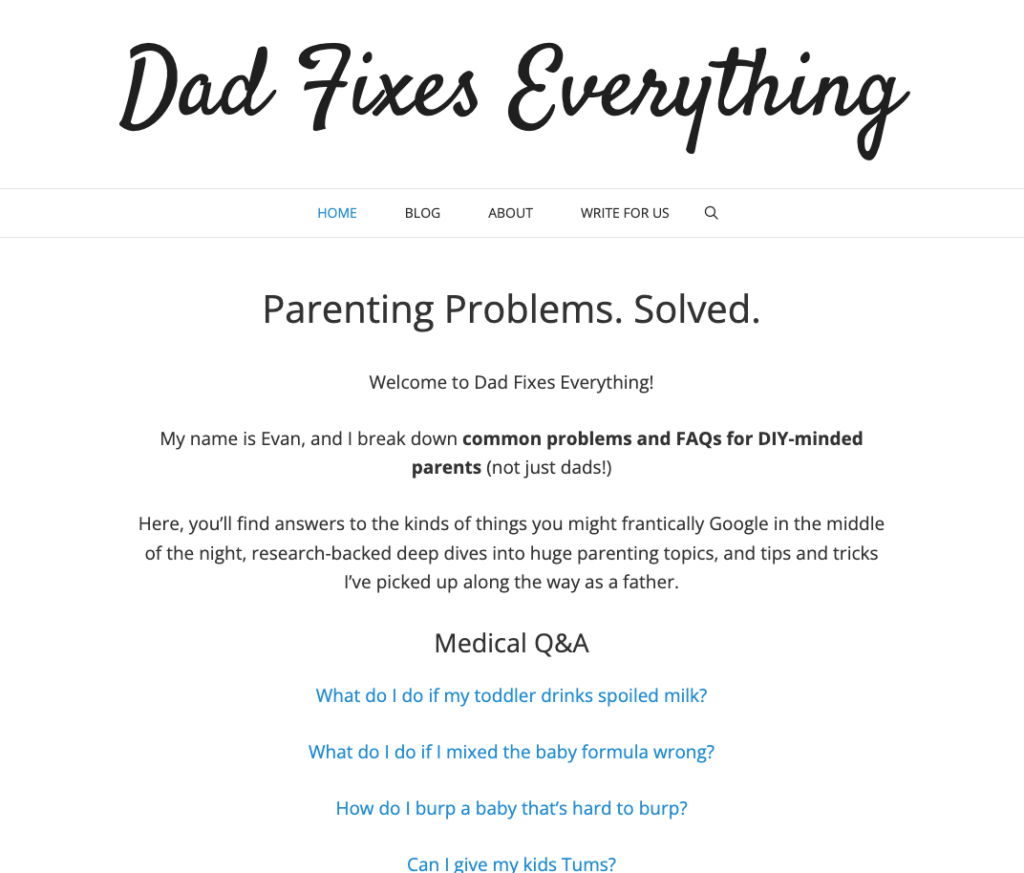 Meet Evan, the man behind Dad Fixes Everything.
Father to two girls, he's experienced firsthand the confusion and unexpected challenges of parenthood.
Realizing that most parents share the same boat of endless questions, he started his blog to provide the answers he once sought but couldn't find.
His blog isn't filled with long anecdotes about his life. Instead, it's packed with practical solutions to common parenting issues – no fluff, just useful information.
It's the resource he wishes he had when he was grappling with the curveballs of fatherhood.
In addition to being a dad, Evan is a professional writer with a B.S. in Psychology from Towson University.
His work has appeared on notable platforms such as Upworthy, Mindbodygreen, Lifehack, Healthline, Huffington Post, and AskMen.
Therefore, when you visit Dad Fixes Everything, you'll find expertly written, psychology-backed solutions to your parenting conundrums.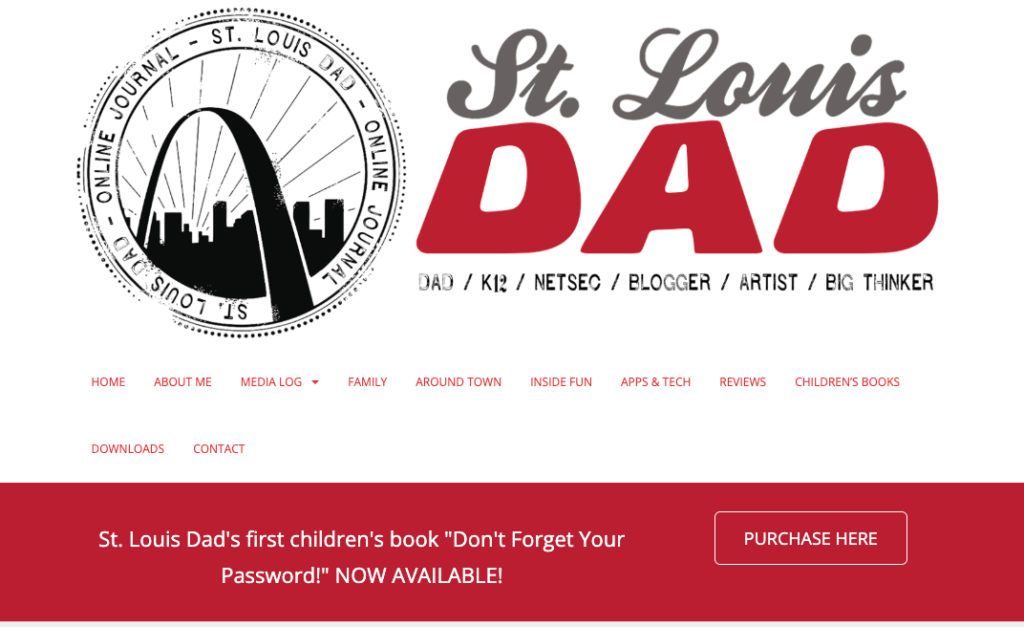 Welcome to the world of St. Louis Dad, where Richie shares his journey of fatherhood, offering a fresh paternal perspective to both new and experienced parents.
As a dad to two children, he and his wife Destiny navigate the thrills and challenges of parenthood together, sharing their experiences on this lively blog.
Based in St. Louis, they cherish their city as much as they cherish their family.
The blog not only includes personal anecdotes but also features reviews of products that parents might find useful. In addition, you can find information about local events that are worth checking out.
Richie's day job is as a network administrator, but by night, he engages in various creative pursuits like illustrating books, designing websites, and creating music. Yet, most of his evenings are dedicated to his family.
He has learned much about parenthood over the years, and he's ready to share these insights with you.
So, drop by St. Louis Dad to find a blend of personal stories, helpful reviews, and engaging content.
How to Start a Dad Blog?
Are you interested in launching your own dad blog? These days, setting up a blog is easy. It takes 15 minutes with a ready-made website builder.
But that's the easy part. The hard work starts from there. To succeed as a dad blogger, you need to write a ton of useful blog posts. Also, you might need to establish a social media presence or even start a Youtube channel to support your blog in the day and age of AI.
But starting the blog is an amazing first step.
I've written a separate, more comprehensive guide on how to start a blog in general. If you're serious about dad blogging, I highly recommend reading that post—everything in it is useful for dad blogs.
But here's a short step-by-step guide.
#1 Choose a Niche
Even if you want to start a dad blog, you should still consider the niche or the target audience of your blog.
One common choice would be to start a parenting blog as a dad.
But that's by no means the only option. There are many types of dad blogs out there with different niches related to being a father.
For example, as a dad blog, your niche could be:
Single Dad's Journey
Cooking for kids
Tech and gadgets
Traveling with kids
DIY projects and crafts with kids
Also, don't worry about locking one niche right now. Your main niche is the dad blog, but the subcategory can be up in the air.
One thing I must mention, though, is that as a blogger, your goal is eventually to cover a niche entirely. This way, you build trust in the eyes of search engines and they can rank your blog posts high on search results.
And a good niche is something you can monetize, enjoy writing, and care about. This requires you to do some research by just looking up other dad blogs and analyzing how they're doing.
#2 Choose the Domain Name
Choose a unique and memorable domain name that aligns with your blog's niche.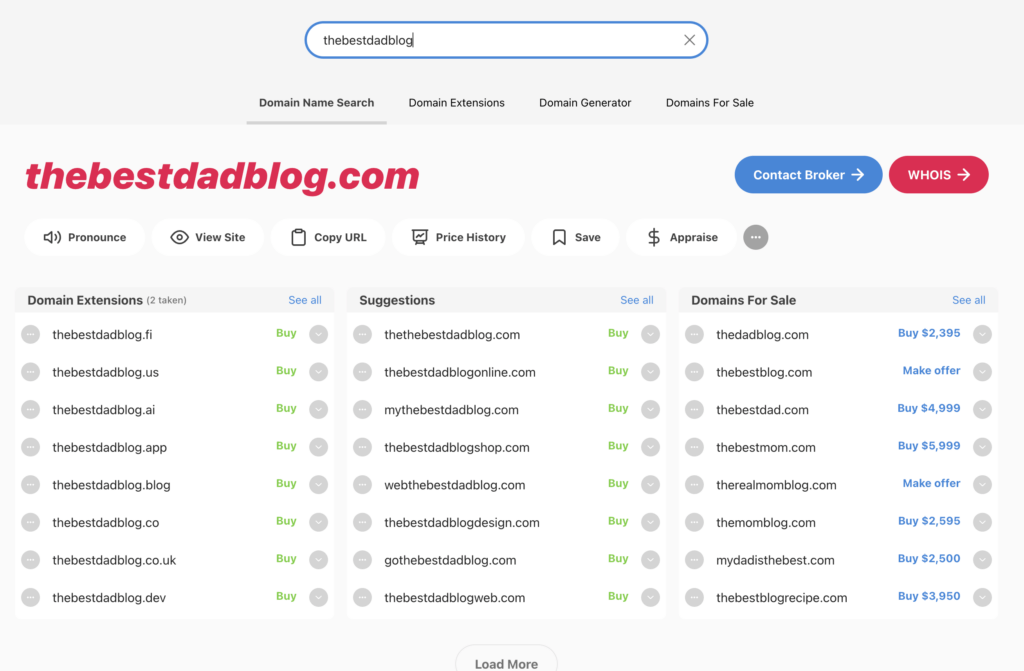 Ideally, it should be short, easy to spell, and relevant to your content.
Make sure your domain is available. You can use tools like Instant Domain Search to figure this out.
Before you purchase your domain, make sure to read the next section!
#3 Set Up Your Blog
Select a suitable platform to host your blog. Popular options include WordPress.org, Blogger, and Squarespace.
Consider factors such as ease of use, customization options, and scalability when making your choice.
If you want to have a chance to scale your dad blog business, I highly recommend choosing a WordPress.org blog. Basically, this is the most popular website builder that a ton of big sites use.
But you cannot just head over to WordPress.org and start a WordPress site.
Instead, you need to buy a domain and a web hosting plan from a domain host provider such as DreamHost. They will install the WordPress website builder to your blog and get your site up and running.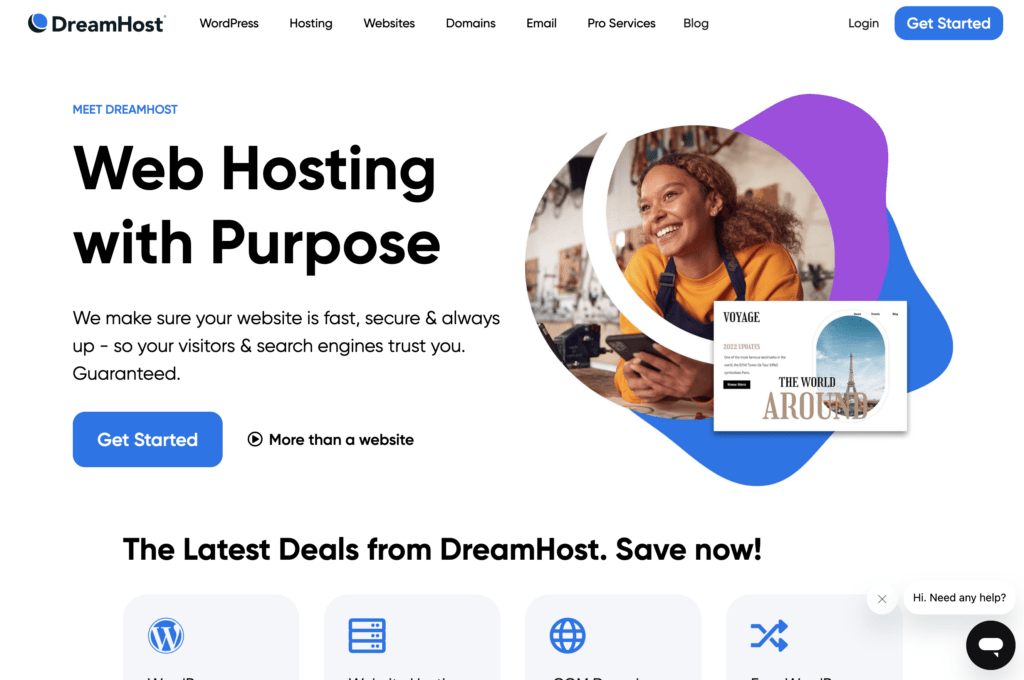 If you already decided on your domain name, this blog setup phase takes about 15-30 minutes.
#4 Create Compelling Content
Now, this is where the hard work starts. Before anyone discovers your dad blog, you need to write a ton of content to it.
This means writing blog posts on strategically chosen topics that people actively search for on the internet.
And yes, you should not choose the topics yourself. Everything comes from Google.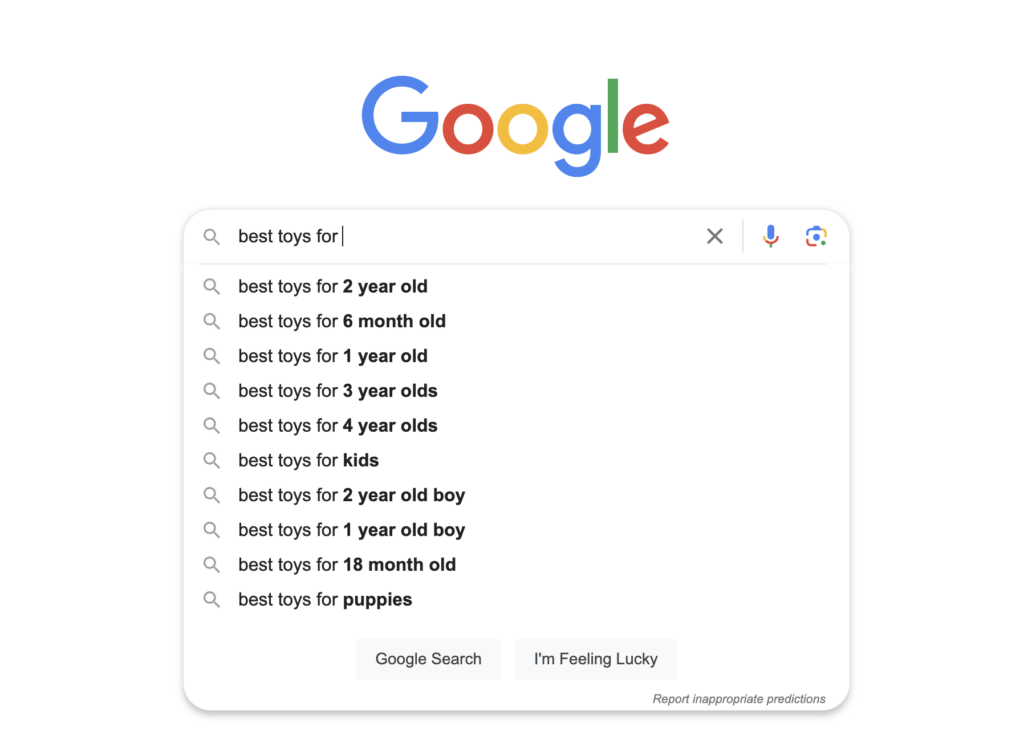 Just open up Google, then type in something related to your niche and see the suggestions. These are good blog post topics.
Also, you can check what other dads are writing about and write better versions of their posts!
Blogging is not about sharing your personal stories anymore. Instead, it's all about providing value and solving problems for your visitors.
Of course, if you can mix in your experiences, expertise, and knowledge, that's perfect. But remember, your dad blog is not about you or your kids. It's all about solving other parents' problems.
Anyways, to make people discover your blog, your blog posts need to rank high on Google.
To do this, you need to write the best pieces of content about your topic on the entire internet.
What's cool is that you don't need any technical skills to do this (forget about SEO fluff that everyone talks about, it doesn't work these days either).
Just find out what people are searching for on the internet and write about those.
Before you write, analyze the competition to make sure your post is the best piece of content compared to the top 10 search results for the same topic.
#5 Monetization Strategies
You will need to write hundreds of quality posts before you can make a decent income from your blog.
The blog needs to become a trusted authority in your niche. It needs to cover the niche from A to Z and be the best resource on the internet.
But once you get the ball rolling, it's time to start monetizing the blog. And before you even start your blog, it's wise to make sure there's actually money to be made.
Based on research, I can see that dad blogs typically make money with ads and affiliate marketing.
So, your blog monetization could include display advertising, sponsored content, affiliate marketing, or creating and selling your own products/services.
Research the most suitable monetization methods for your niche and audience. Basically, see what other similar blogs are doing.
Don't try to get too innovative here. If there's a monetization strategy that hasn't been implemented by other blogs, that's probably not going to work for you either.
#6 Learn from Analytics
Install an analytics tool like Google Analytics to track your blog's performance.
Although if you're just starting, there won't be any visitors to your site for the next couple of months. This is because it takes time for Google to start trusting your site.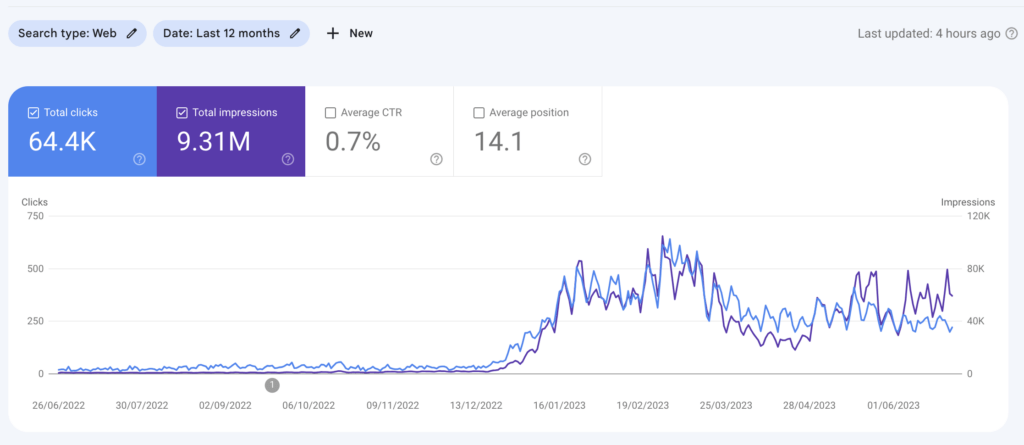 Anyways, once you've published a bunch of posts, it's time to install Google Analytics and Google Search Console to your site to track the number of page views and Google visitors to your blog.
Analyze the data to understand your audience's behavior, identify popular content, and make informed decisions to improve your blog's reach and engagement.
Wrapping Up
And that's a wrap! There you have the best dad blogs to follow as well as a guide on how to start your own dad blog.
I hope you enjoyed it. Happy reading!
Make sure to read also my complete guide on how to start a blog.
Also, don't forget to check best Mom Blogs for even more inspiration.