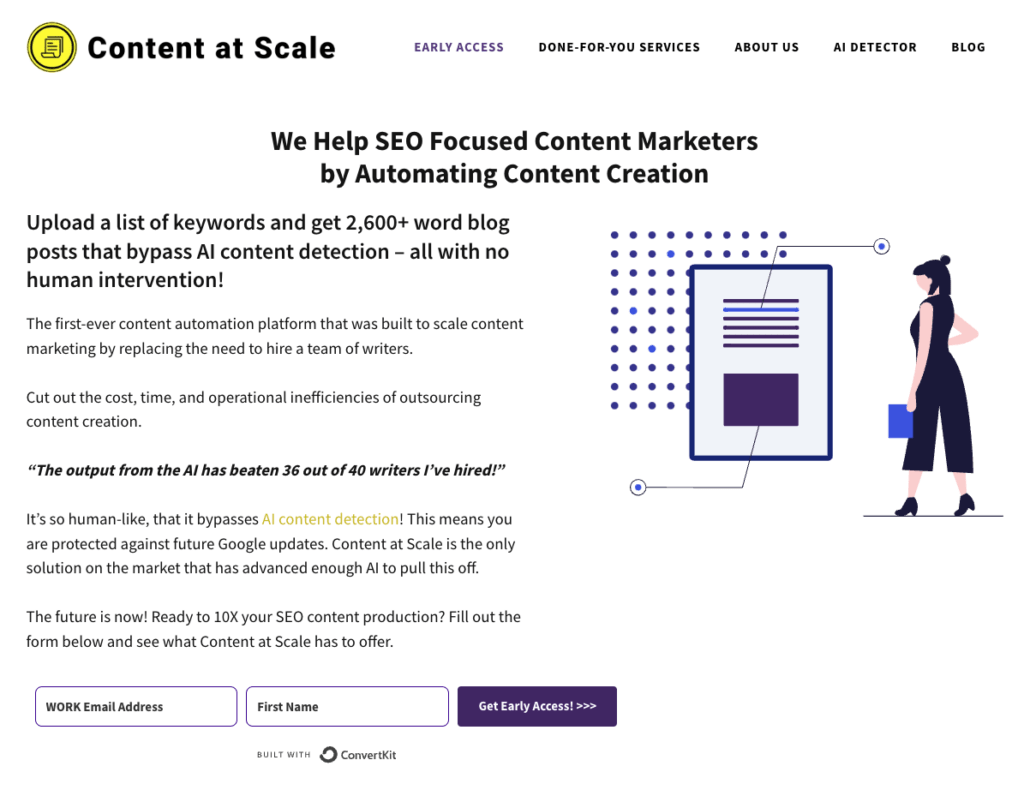 Content at Scale is an AI writing software that turns your idea into a full-on blog post in seconds.
The tool asks you for a blog post topic, description, and length. Then, it uses advanced AI algorithms to write the entire post. After the post is ready, you can review and edit it in the Content at Scale editor.
Content at Scale provides you with AI-powered unique and original content—you can verify this by using their plagiarism checker.
This is a comprehensive review of Content at Scale.
For this review, I wrote an entire blog post with Content at Scale. You can read it here. The goal of this review is to assess the quality of Content at Scale blog posts. Besides, I'll show you how to use it and what are some of its pitfalls.
Don't forget to check my complete review of the best AI writers.
Get 20% more credits to your Content at Scale plan with the link below.
Let's jump into it!
Disclaimer: This article is reader-supported. I may earn a small commission at no cost to you if you make a purchase through one of the links in this post.
Quick Overview
To get an overall idea of Content at Scale, here's a quick overview of its capabilities and quality:
| | |
| --- | --- |
| Rating | 4.1/5 |
| Ease of use | 4.2/5 |
| Features | 4.1/5 |
| Output Quality | 3.8/5 |
| Price | $25.00/blog post |
| Best for | Bloggers and copywriters |
Content at Scale In a Nutshell
Content at Scale is an AI-powered blog post writer software.
Unlike Jasper or other popular AI writers, Content at Scale writes your entire blog post in one go.
The workflow of Content at Scale is simple. All you need to do is provide the tool with the title of your blog post and a description. Then, after waiting for a minute or two, Content at Scale spits out an original and unique blog post.
Content at Scale offers a free plagiarism checker tool to make sure the post is original.
Besides, you can edit the blog post with the Content at Scale editor. For example, you might want to add some images to your articles to make them more reader-friendly.
Key Features
AI-powered blog post writer.
Duplicate checker.
AI content detector.
SEO features.
Usage dashboard.
Getting Started with Content at Scale
To get started with Content at Scale, use this link and request early access.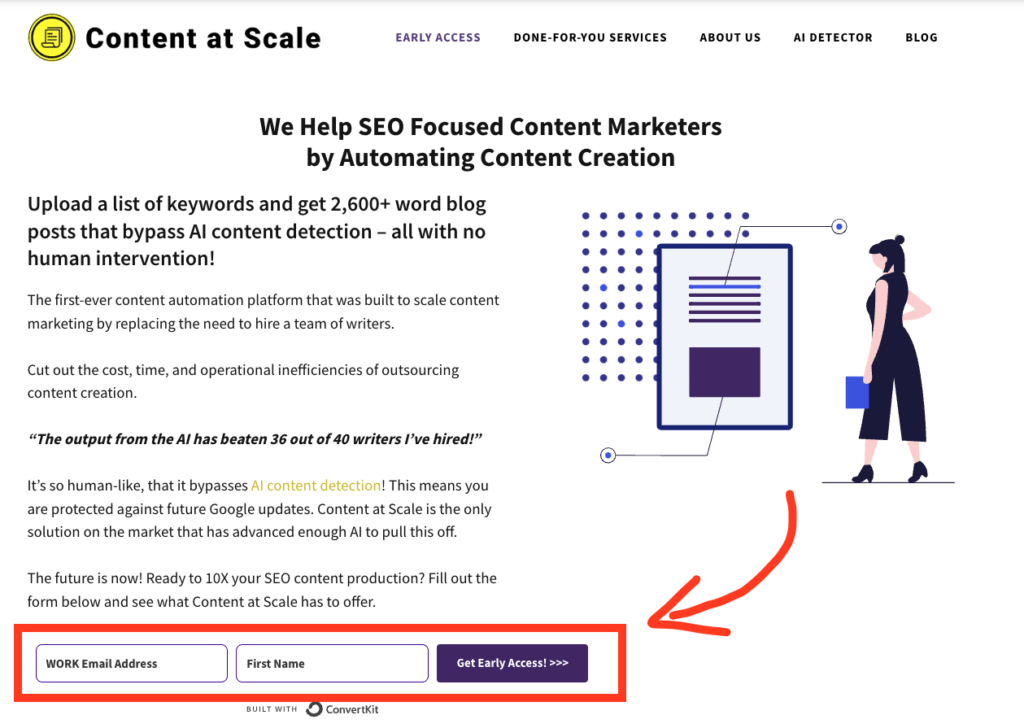 You get 20% more credits to your account by using the above link or by clicking the link below.
My Experience
In this section, I create a blog post "How to start a successful blog" with Content at Scale for review purposes.
You can read the ready blog post here.
The idea of this section is to show you how Content at Scale works and how you can start using it. You can find my take on the results after this section.
1. Starting a New Post
Starting a new blog post requires you to create a project first. This new project represents your website or blog.
For example, I wrote a blog post to this, bloggersgoto.com so I created a new project called BloggersGoTo.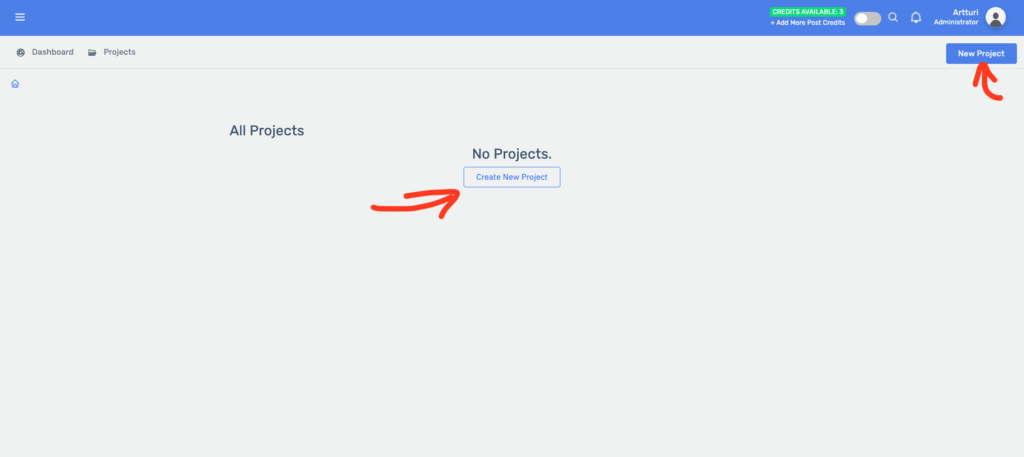 Make sure to fill in the project fields as accurately as possible. This helps the AI tools generate more accurate content for your target audience.
Here's what I told Content at Scale about my website for now: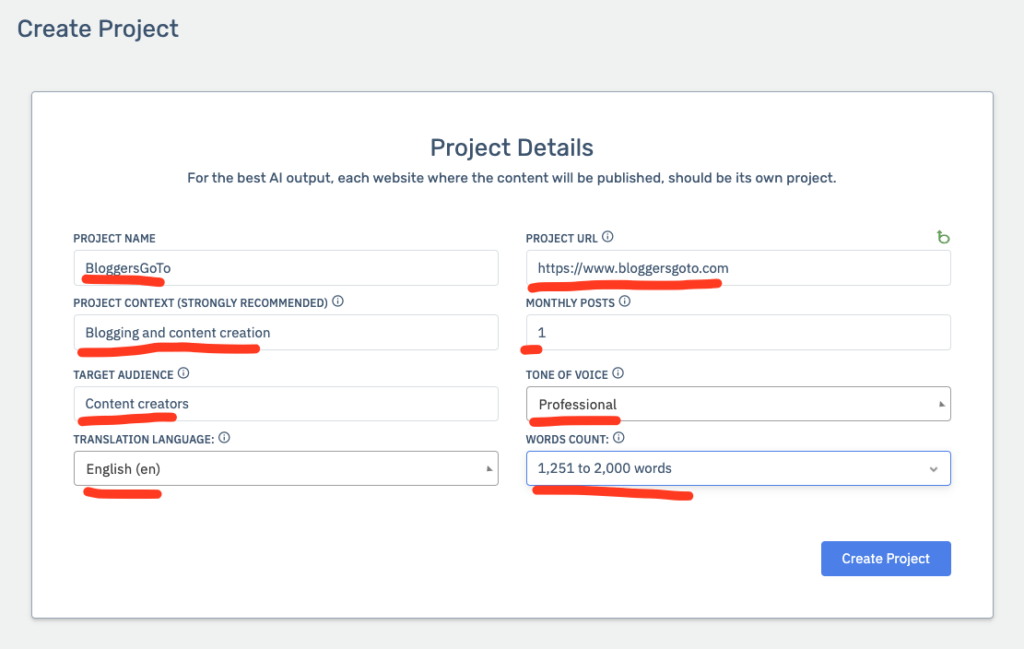 Now that you've created a project to represent your blog, let's write a post to it.
2. AI Writing Process
After creating a project for your site, it's time to write the first blog post. You can do this by clicking "Add Content" in the project you just created: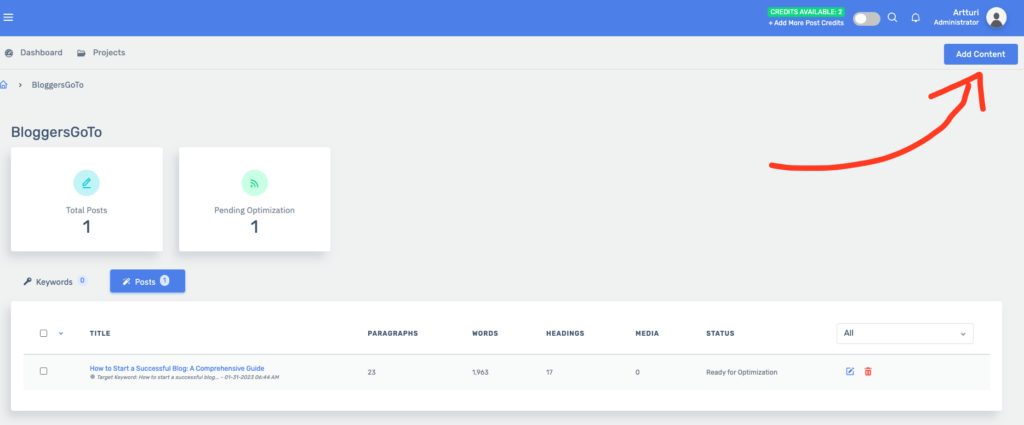 Now all you need to do is come up with the topic of the post, give a description of the content, and choose the word count. Once you are ready, just hit "Create Content Now" and the AI starts writing your post behind the scenes.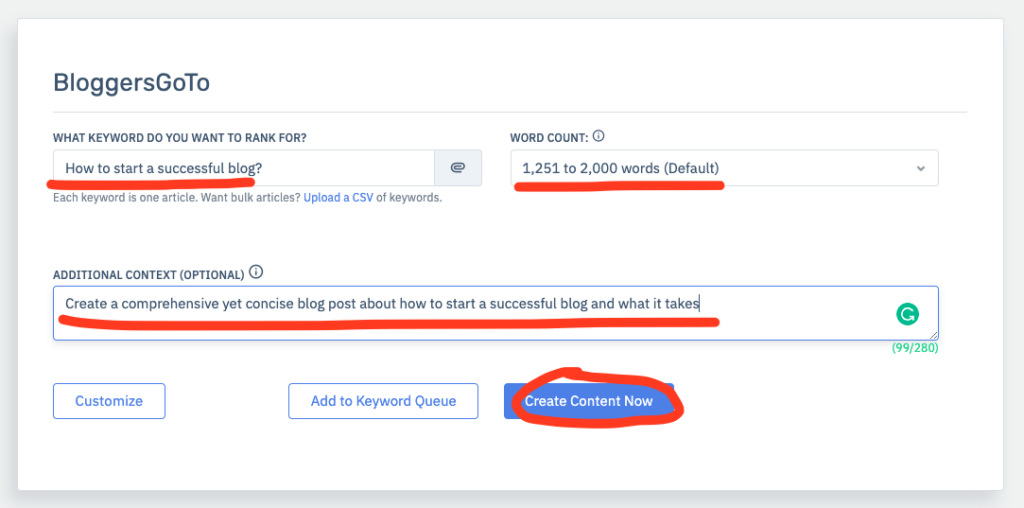 There's a green alert box that should appear on your dashboard after you've started the AI content generator. This suggests that the AI is now writing the post.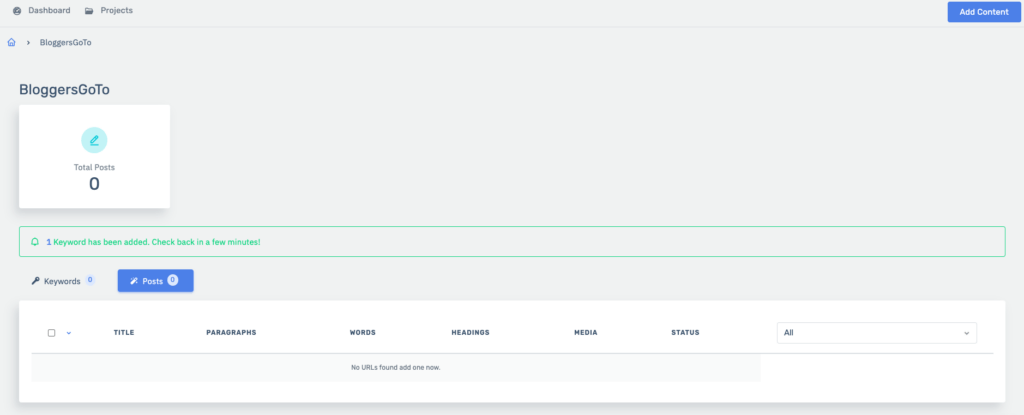 In my case, this view was a bit clunky. It doesn't really show you any loading bar or queue. Even worse, you have no idea where the newly generated content is.
At this point, I suggest waiting for a minute or two and then refreshing the page.
After refreshing the page, you should see your article in the dashboard. You can click the AI-generated post to see it for the first time. (If you don't see it or can't click it, the writing process is still going on).

Clicking the blog post opens up an editor view of where the AI-written blog post is!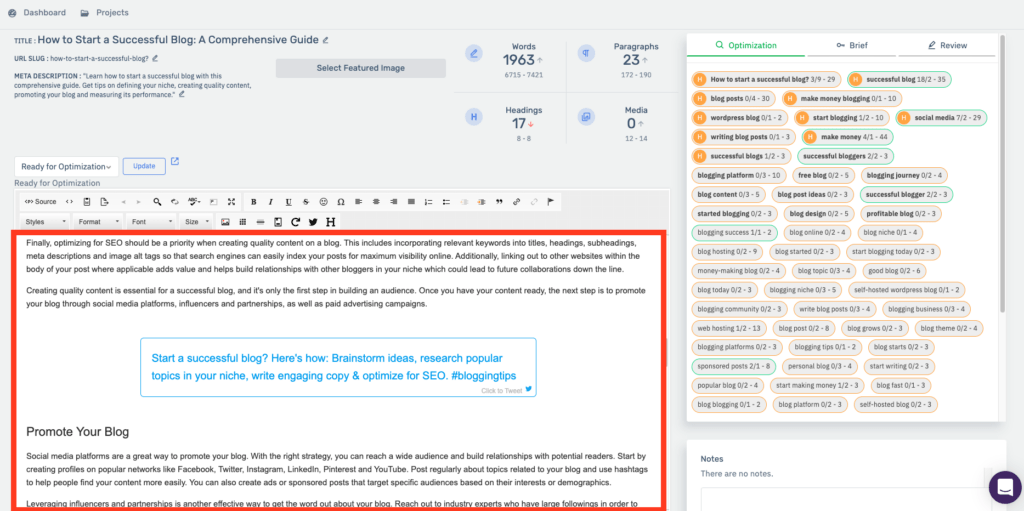 From this view, you can see the word count, paragraph count, keywords, and more. More importantly, you can read and edit your blog post.
3. Optimization Overview
Let's take a quick look at the right sidebar of the blog post editor view. You can choose between the Optimization, Brief, and Review tabs.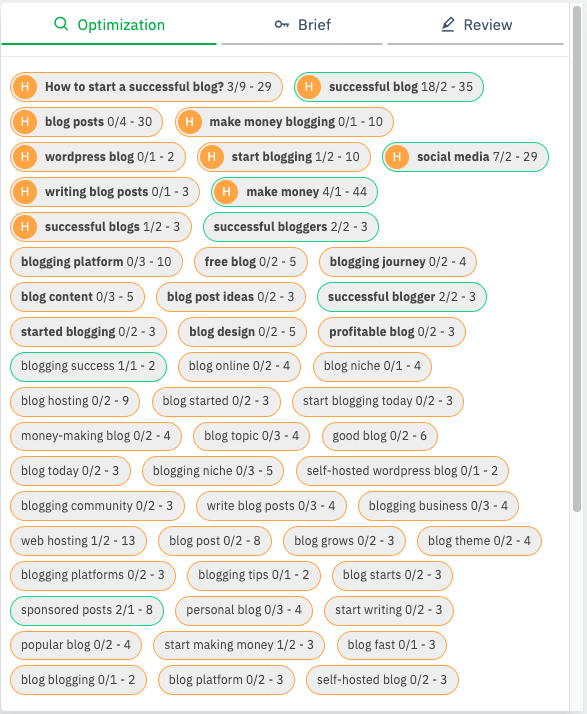 The Optimization tab shows the keywords that ended up in the blog post. By scrolling a bit, you can see a small SEO checklist that warns you of missing keywords and more.
The Brief view shows other similar blog posts and resources.
The Review page asks you if you want to run a plagiarism check on the content. I ran it and got a 0% plagiarism score—awesome!
4. Dashboard
Last but not least, you can take a look at your Content at Scale dashboard to see metrics about your AI usage.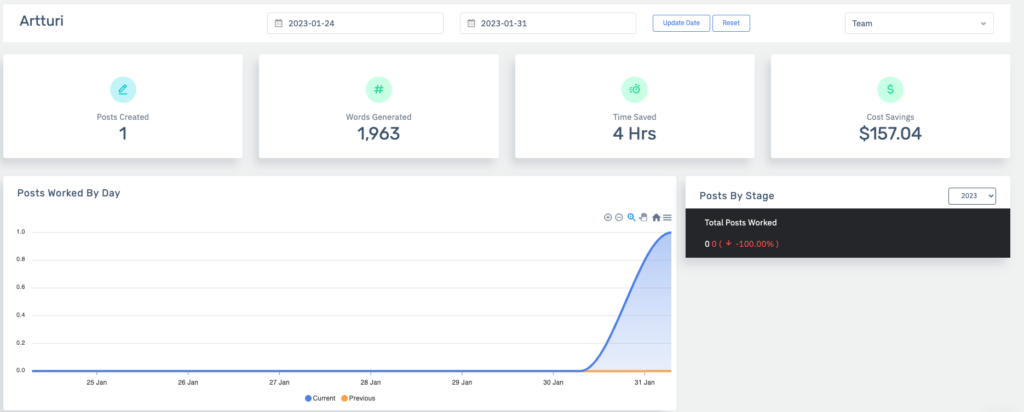 For example, the ~2,000-word post I just wrote saved me ~$157 of freelance expenses.
My Take
Now that I showed you how to generate a blog post with Content at Scale, it's time to give it a verdict.
Make sure to read the post I generated first.
⭐ To put it short, I was a bit surprised by the output quality. I think Content at Scale is the best AI blog post writer on the market. It's not just another writing tool that uses GPT-3 to write content.
1. Content Quality
Content at Scale was able to turn my blog post idea into a full-on blog post in minutes. Besides, it's formatted nicely and includes a table of contents.
⚠️ But that being said, there's still a problem that no AI writing tool has been able to solve—not even Content at Scale: Providing actual value with the content.
The content I generated was shallow and not actionable. Also, the lack of images makes the text super boring to read. Besides, the post was missing crucial information about the topic and had some mistakes in it. If you're not familiar with the topic, you need to spend time fact-checking the content.
To me, it feels like the content is an averaged-out version of everything I've ever read over the internet. It summarizes the topic nicely and gives some idea about the topic. But at the same time, the content is generic and not too valuable for a reader.
2. User Experience
When it comes to user experience, Content at Scale does a decent job.
I like the dashboard and project structure. But at the same time, I was confused about where my AI-generated blog post went once I hit the "Generate Content" button.
But I believe the tool will only improve its UI/UX as it's still relatively new.
3. SEO Features
👎 The Content at Scale SEO feature is not good in my eyes.
To be honest, you don't need to think about keywords or keyword densities in your writing. Google is becoming increasingly good at detecting if the content is written for humans or not. Stuffing keywords won't help you rank higher.
That being said, I don't think the keyword optimization tool provides any extra value for the users.
4. Overall Thoughts
As I said, I think Content at Scale is the best blog post writer. It takes a minute or two to turn your idea into a blog post with nice structure and formatting.
I think the quality of the post is what a decent freelance writer would produce. It's significant because this is the only tool I've seen pull it off.
But because the content lacks original research and images, you need to do some editing. Also, you need to be careful with factual mistakes—because the tool can't think, it might make mistakes that are hard to detect.
Pricing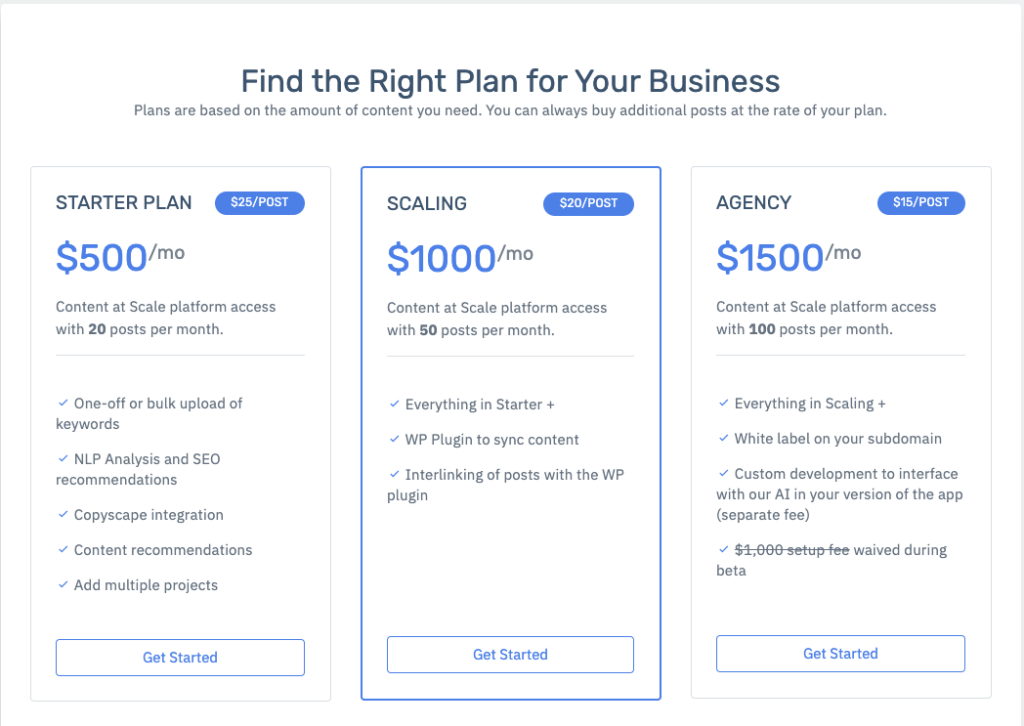 Content at Scale comes with the following plans:
Starter: $500/month for 20 blog posts per month.
Scaling: $1000/month for 50 posts per month.
Agency: $1500/month for 100 posts per month.
Pros and Cons
| Pros | Cons |
| --- | --- |
| Fast content creation | Clunky and confusing UI |
| Structured workflow | Generic output |
| Better output quality than most AI writers | Pricey |
| Plagiarism and AI detectors | Wall of text—no images or charts |
Who Is Content at Scale Best For?
This tool is best for bloggers that are looking to automate content creation for their site.
Although I don't believe Content at Scale can fully replace bloggers, it can surely get you halfway there!
To use Content at Scale, you need to find the right balance. For example, you can let the AI generate a 3,000-word post where you make small edits, add images, and check facts.
This means the tool is not 100% automated, but it can save a ton of time, for sure!
Thanks for reading. Happy writing!
Read Also