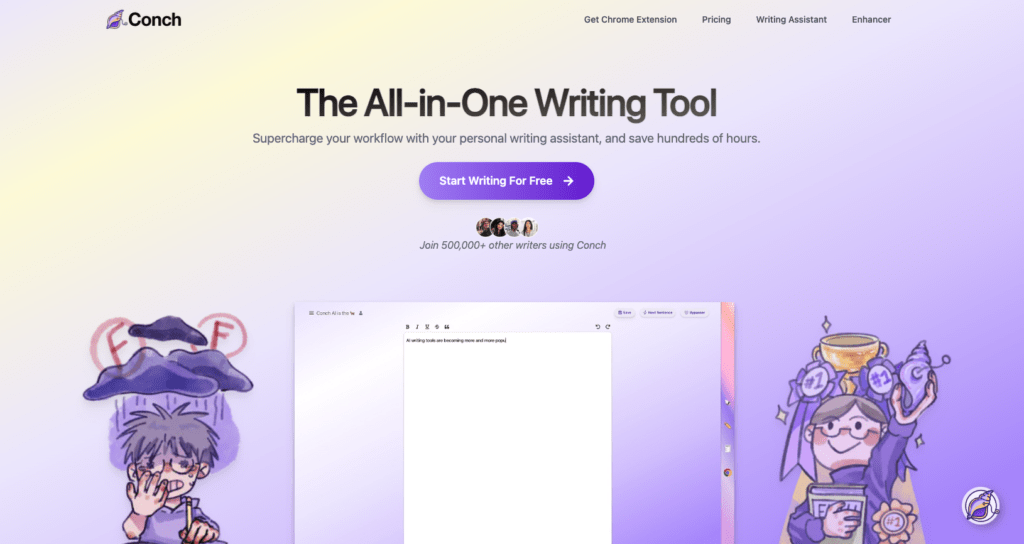 Conch AI is a new kind of AI writing tool that turns simple text inputs into full-blown text chapters.
It has a ton of hype, but is it actually working and worth using?
TLDR; I have used 30+ AI writing tools. Conch is not even close to other similar AI tools at the same price.

I highly recommend trying Rytr instead, you can find a generous free trial here.
If you're looking for truly the best AI writing tools, make sure to read Best AI Writers.
Conch AI Writing Tool
In a digital age where artificial intelligence (AI) increasingly intersects with our daily lives, the sphere of content creation is no exception.
Today, we delve into an exciting application of AI in the realm of writing—Conch AI. Conch AI is forging new paths in the way we think about and generate written content.
From bloggers to professional writers, marketers to educators, Conch AI is touted as a game-changer that promises to transform the writing landscape.
It's designed to turn text inputs into coherent, well-crafted pieces, all while maintaining the user's unique voice and style. But does it live up to the hype?
In this comprehensive review, we'll explore the ins and outs of Conch AI, dissecting its features, evaluating its strengths and weaknesses, and ultimately determining its place in the vast landscape of AI writing tools.
Whether you're a seasoned writer looking for an efficient assistant, a content creator seeking innovative ways to streamline your process, or simply an AI enthusiast curious about the latest developments, this review is for you.
Features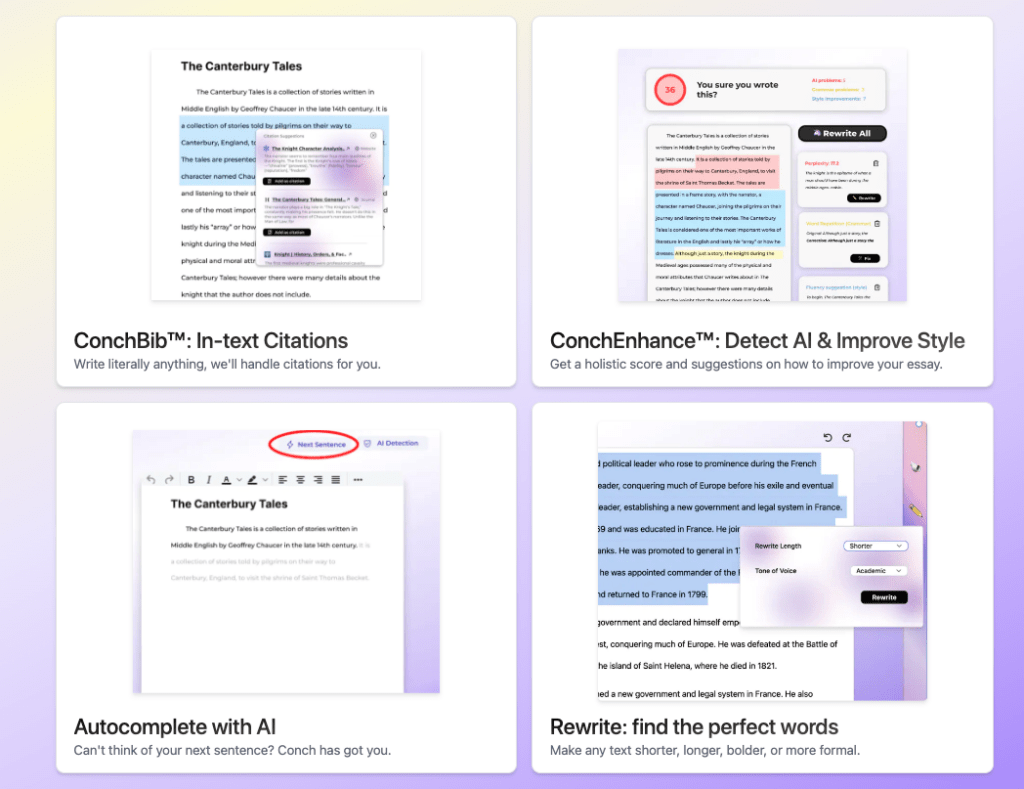 The key features of Conch include:
ConchBib for generating citations for your essays and writing.
Autocomplete for generating the next sentences to your content.
ConchEnhance to detect AI in your writing and to improve your writing style.
Rewrite feature to make your text shorter, longer, or to change wordings around.
My Experience
It's really easy to start with Conch. There's a simple tutorial you can check to master your Conch AI skills in no more than 2 minutes.
Also, apparently, the tool is free to use at least to some extent.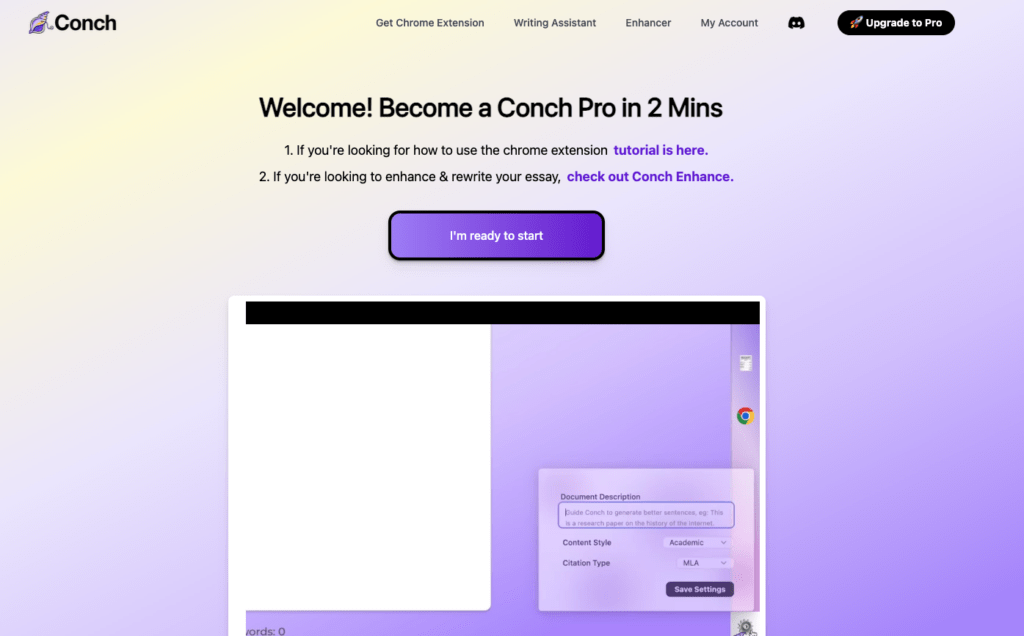 Once you've watched the tutorial, just click "I'm ready" and you will jump right into the AI-powered content editor.
Now, let me show you an example of me using the tool. My goal is to solve my homework of "Write an essay about why is the sky blue".
I'll input this to the Conch AI content editor and click Next Sentence to let the AI do the work.
Here's what the output looks like. I've highlighted the parts I've written myself with red and the gray color is the AI-generated content.
The first sentence looks promising…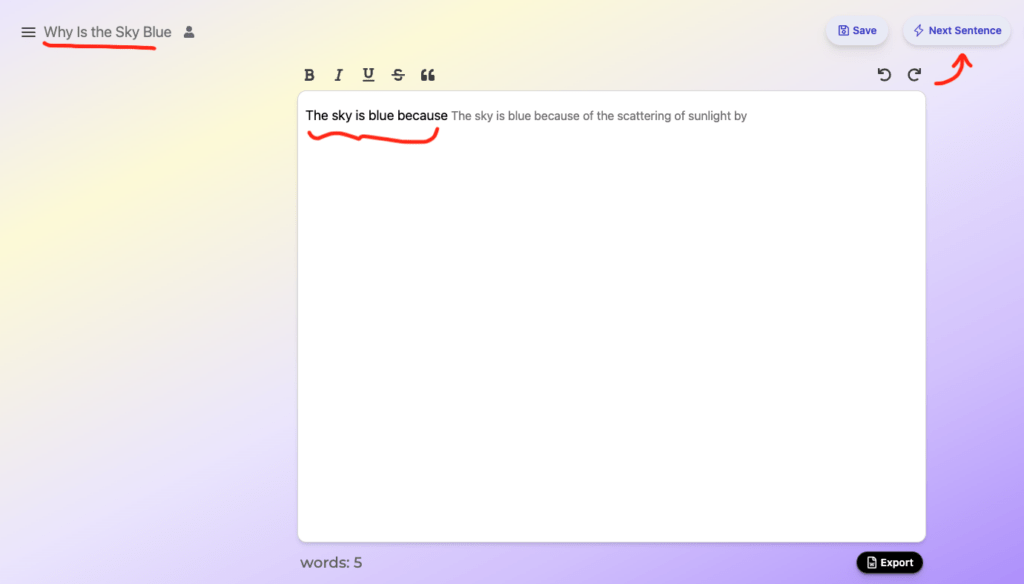 But then, to my disappointment, I'm already out of credits… I got placed to a 30-second queue.
So I was literally not able to generate even one sentence with the free trial of Conch.
At this point, I can already tell far better tools exist with generous free trials.
One example that pops up in my mind is Rytr. It's cheap, it has 10x more features than Conch, and it has a generous free trial.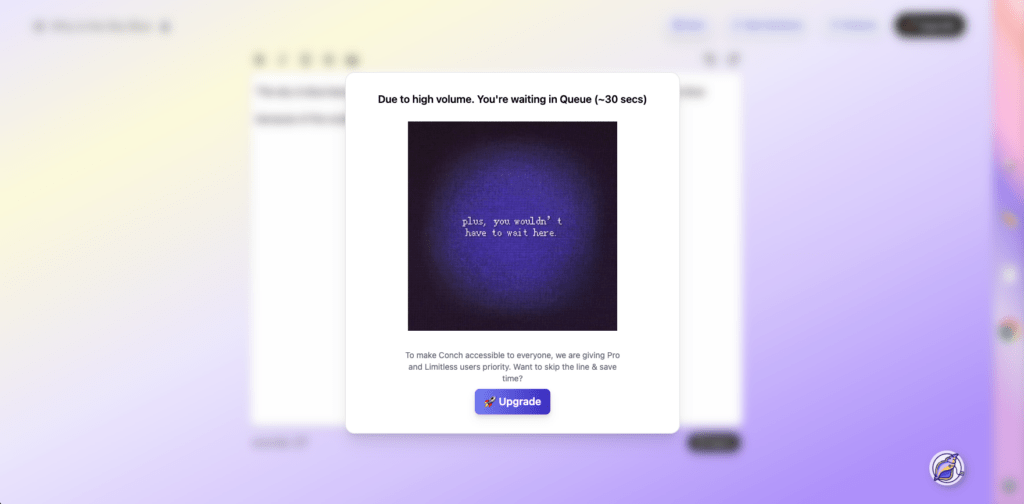 After waiting for 30 seconds, it just refreshed the page and offered me to complete more text. But when I did, I couldn't even complete the next sentence as the 30-second queue popped back up…
I'd not invest in a tool like this. With the free trial, I could complete one sentence of the essay.
For example, with Rytr or Jasper, you can generate thousands of words for free to see if the tool is really worth the hype. I'd personally never pay for a tool that doesn't offer a full-fledged free trial.
Pricing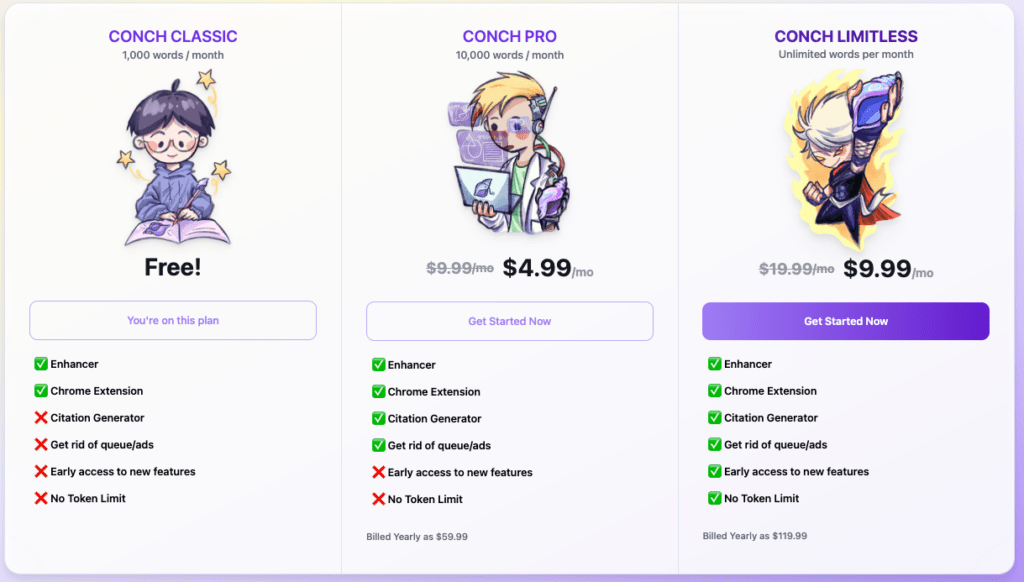 Free: $0/month (with very limited access)
Conch Pro: $59.90/year
Conch Limitless: $119.99/year
Final Verdict
I liked the simplicity and the UX of Conch. It has soothing colors and themes covering it.
However, I didn't like the fact that the tool has 10x fewer features than some alternatives like Rytr or Jasper that you can try for free.
Also, Conch AI free trial wasn't impressive. I could only generate one sentence. For example, on Rytr, you can write a bunch of essays or blog posts with the free trial before making a purchase. 🙂
Wrapping Up
And that's it for the Conch AI review. I'm sure this tool works and it's definitely not a rip-off. However, based on my experience, there are so many better tools that I'd rather try something else.
If you want to solve homework, write research papers, or do blog posts, make sure to read my complete guide to Best AI Writing Tools.