Choosing the best AI essay writer tool is useful if you want to speed up your essay writing as well as boost productivity.
These days, AI is clever enough to write full-on essays that are compelling and look human-written. You can use AI to either generate the essay from start to finish or to just do parts of it.
This is a complete guide to choosing the best AI essay writer. There are tools that write essays from start to finish without your intervention.
Then there are also tools that only check your writing style and grammar leaving you with more control over your work.
| Rank | Tool | Description |
| --- | --- | --- |
| 1. | Jasper AI | The best AI content platform for writing essays |
| 2. | Rytr | Affordable Jasper alternative for essay writers |
| 3. | CopyAI | The best copywriting tool for essays and blog posts |
| 4. | WordTune | Style and grammar checking tool for improved essay writing |
| 5. | Jenni.ai | Best AI tool for writing scientific essays |
| 6. | PepperType | AI-powered tool for generating outlines and full essays |
| 7. | AI Writer | Essay writer from start to finish |
| 8. | ChatSonic | Creative chatbot that can help with essay topics and writing |
| 9. | ChatGPT | The most advanced chatbot that writes, rewrites, and helps with essays |
I've extensively tested every tool on this list and have written separate more comprehensive reviews of each tool. You can find links to these specific reviews in the introduction of each tool.
Disclaimer: This article is reader-supported. I might earn a small commission at absolutely no cost to you should you make a purchase through one of the links below.
Let's jump into it!
Jasper is the number one AI content creation platform. This web-based tool allows you to generate any written content from essays to blog posts.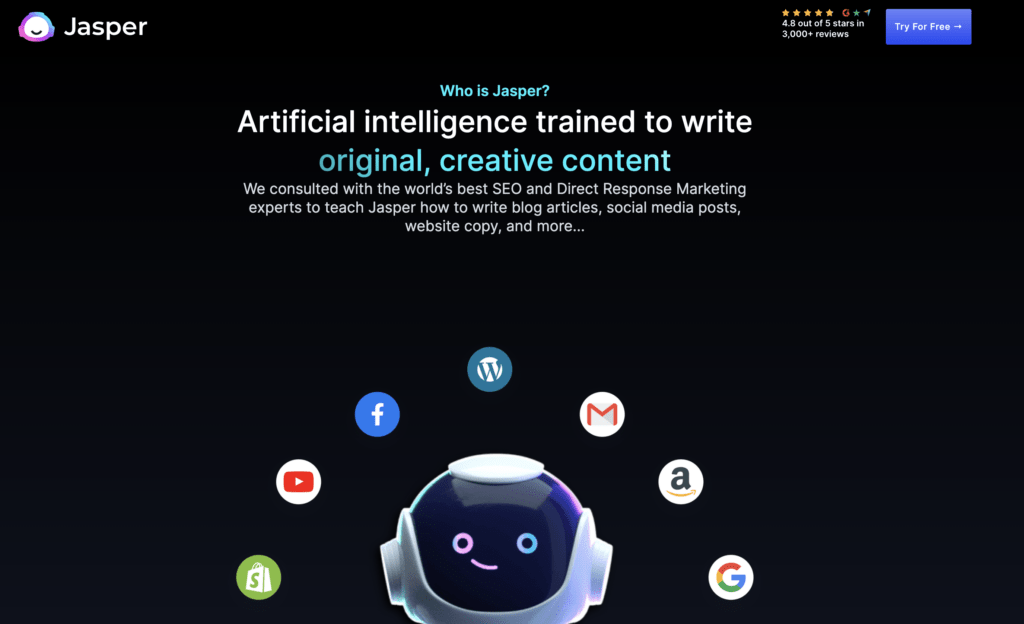 Jasper is super easy to use. Just write a short text prompt and title for your essay and it will take care of the rest.
To write essays with Jasper, you need to activate the Boss Mode plan. This is because it comes with long-form content capabilities. After activating the Boss Mode, you can choose the long-form content editor from the templates and start writing essays with AI.
💡 Jasper was among the first AI writers on the market. When OpenAI released GPT-3 in 2020, Jasper quickly created a suite of AI writing features on top of it. Now, Jasper is a VC-backed unicorn and the #1 AI writer on the market. This tool might become the go-to AI writer—the "Photoshop of writing".
Read my complete Jasper review.
Key Highlights
Jasper uses the latest AI technology to turn simple ideas into full-blown essays.
The long-form content editor in Boss Mode is perfect for writing essays.
There's a free 10,000-word trial you can activate here.
Jasper has a customer support chat where you can ask for assistance.
Pricing
Starter: Starts at $29.90/month
Boss Mode: Starts at $59.90/month
Rytr is a great Jasper alternative when it comes to essay writing. This tool is mostly up to par with Jasper's features but is much cheaper to use.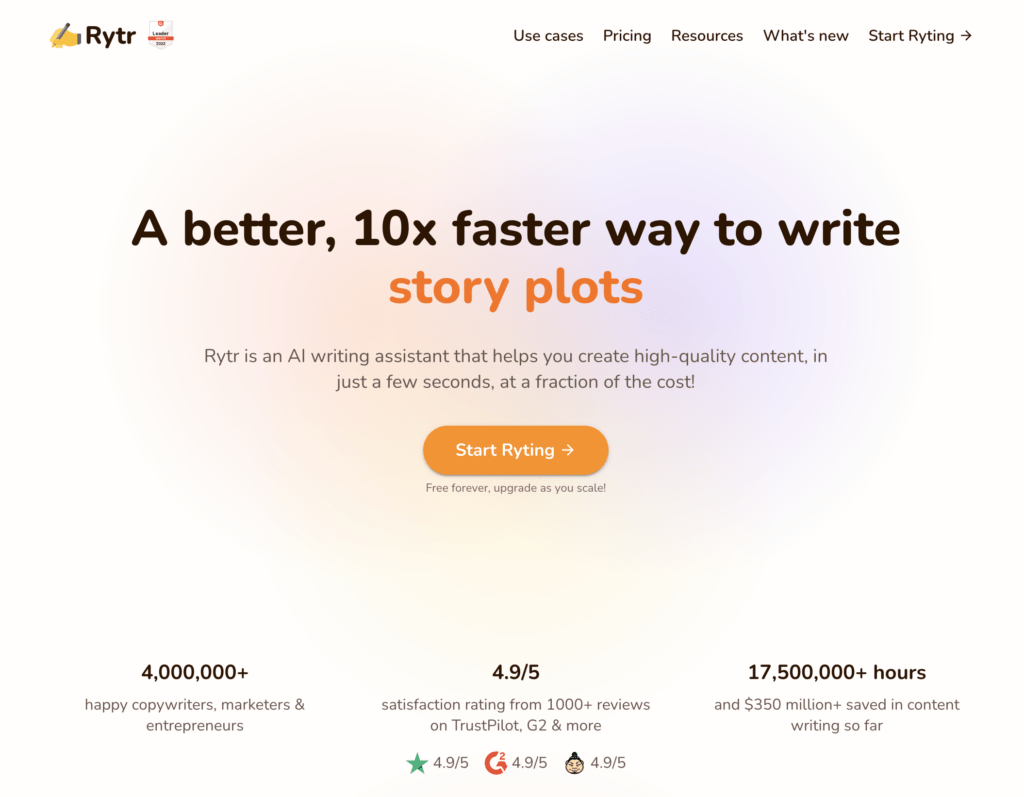 Rytr can help you write essays with AI. This tool uses the latest advancements in AI to generate text from simple text inputs.
One of the features that Rytr lacks as opposed to Jasper is long-form content capabilities. If you're looking to generate essays from start to finish only using AI, you find it a bit more difficult with Rytr.
On the other hand, Rytr has a completely free plan you can experiment with. Besides, you can use Rytr for creating ideas for your blog posts and write entire sections to it. This human-AI combination can speed up the essay writing process and offer unique words and ideas you wouldn't have thought of.
Read my complete Rytr review.
Key Highlights
Powerful AI that generates sections to your essays and stories in a matter of seconds.
Free version for limited writing capabilities.
Rytr's affordable plans are among the cheapest in the entire AI writing market.
There's an unlimited plan where you can generate as many words as you want. This kind of feature is not present in most AI essay writers.
Pricing
Free: $0/month (has word limits)
Saver: $9/month (has word limits)
Unlimited: $29/month (no word limits)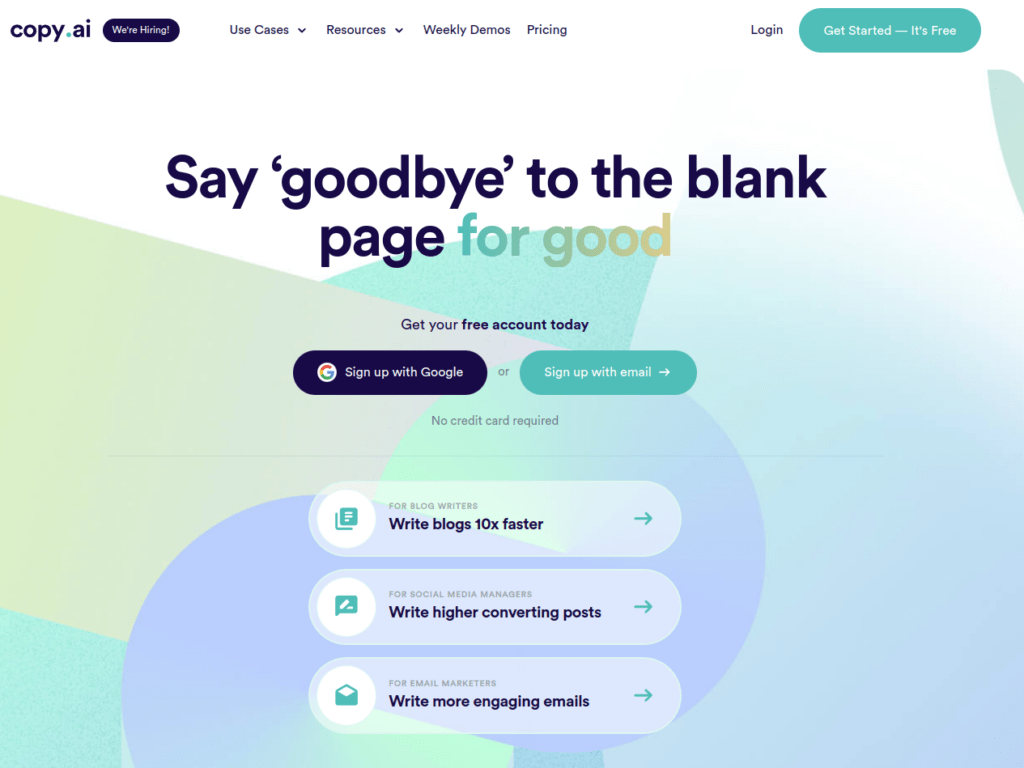 CopyAI is a powerful AI writing tool for creating essays and other types of writing with AI.
In my eyes, CopyAI sits between Jasper and Rytr. It's nearly as powerful as Jasper but not as cheap as Rytr.
Nonetheless, you can use CopyAI to generate essay ideas, outlines, and even full-blown essays from start to finish.
To accomplish this, you need to describe to CopyAI what kind of content you want to generate and what to include in the essays.
This is super easy because CopyAI uses a powerful AI algorithm behind the scenes. The AI that powers CopyAI understands your intent and is capable of producing unique and well-thought essays.
Read my complete CopyAI review.
Key Highlights
A forever free version with a limited number of words you can generate for your essays.
There are over 100 writing templates to choose from. If you're not only about to write essays, there are lots of use cases you can find CopyAI useful too.
Similar to Jasper and Rytr, CopyAI uses the latest AI technology to power the AI writing tool. It generates essays from simple text inputs.
CopyAI has an easy-to-adapt workflow that you'll get used to in a matter of 5 minutes or so.
Pricing
Free for $0/month (with some limitations)
Pro for $49/month for an unlimited number of words
4. WordTune
WordTune is an AI assistant that takes care of your grammar and writing style.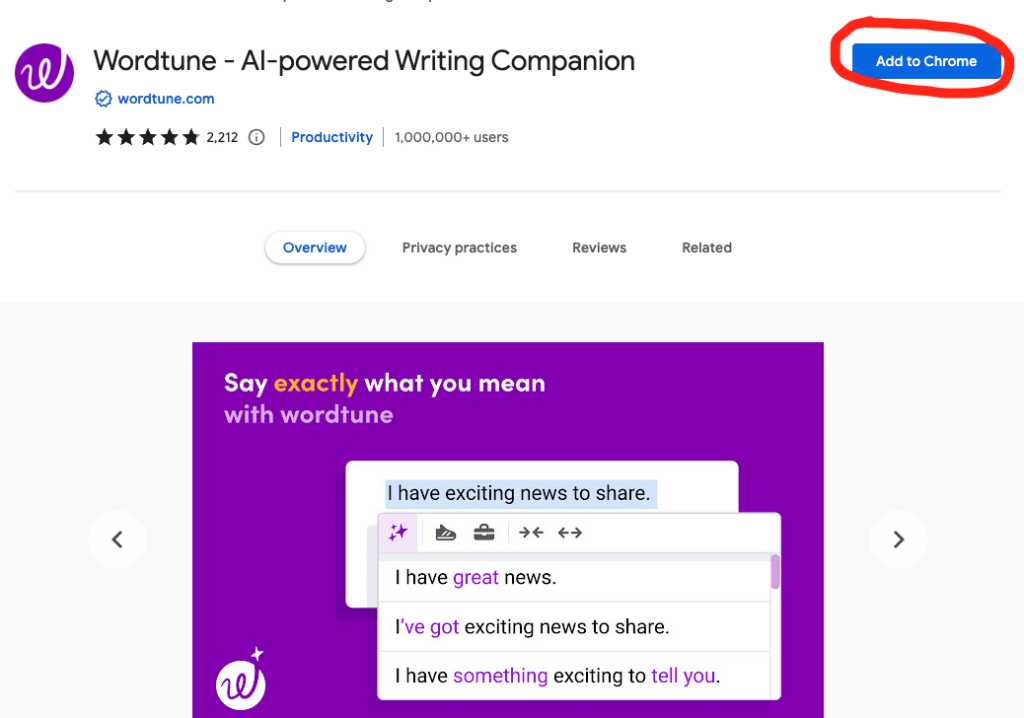 Unlike Jasper, Rytr, or CopyAI, WordTune does not generate text from scratch. Instead, it lets you focus on writing while taking care of grammatical mistakes and clumsy sentences
In case you've heard about Grammarly before, WordTune is a really similar software. There's a Google Chrome extension to WordTune you can activate to use the AI in every online editor you ever visit.
When you're writing essays, you need proofreading. WordTune is your AI companion that acts as a proofreader when it comes to grammar, sentence structures, and wording.
If there's a mistake you've made, WordTune points it out and you can fix the mistake with a single click of a button.
Read my complete WordTune review.
Key Highlights
Google Chrome plugin that works on every online editor.
AI assistant that constantly analyzes your writing and corrects your mistakes.
Web-based editor for editing your essays in WordTune.
A free trial that refills your credits daily.
Pricing
Free trial with 10 credits every day
$9.99/month with an unlimited amount of generations
5. Jenni.ai
Jenni.ai is one of the easiest AI writer tools to use. It's simply a text editor with AI superpowers.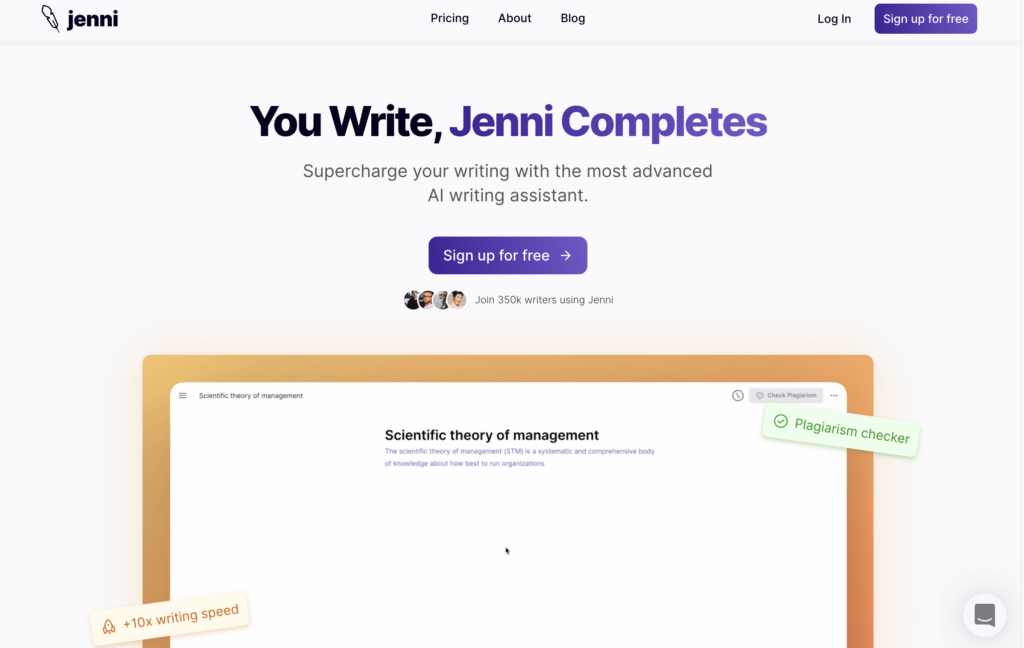 You can use Jenni as a traditional text editor where you just write and format your essays. But then there are those AI powers you can use to make the writing much faster and more creative.
With Jenni, you can start typing a sentence and hit enter to complete the sentence with AI. I know this doesn't sound impressive alone, but you can continue completing the sentences as long as you want.
I think the best part about Jenni is that it minimizes the use of AI in vain. This is because you can instantly tell if it's going in the wrong direction in your essay and correct it with your input.
Jenni also doesn't have all the bells and whistles that other AI writing tools typically have. This makes it a clean and concise solution for writing essays.
Read my complete Jenni.ai review.
Key Highlights
Simple text editor that uses the latest developments in AI to complete your sentences and sections.
Easy workflow—just write something and let Jenni complete it!
Free trial version with limitations.
Pricing
3,000 words/mo for $6.00
6,000 words/mo for $12.00
12,000 words/mo for $21.00
24,000 words/mo for $39.00
48,000 words/mo for $71.00
96,000 words/mo for $128.00
6. PepperType
PepperType writes your essays 5-10 times faster. This tool uses artificial intelligence to produce original and rich content for your essays in no time. You need to give it some input and let the tool come up with outputs.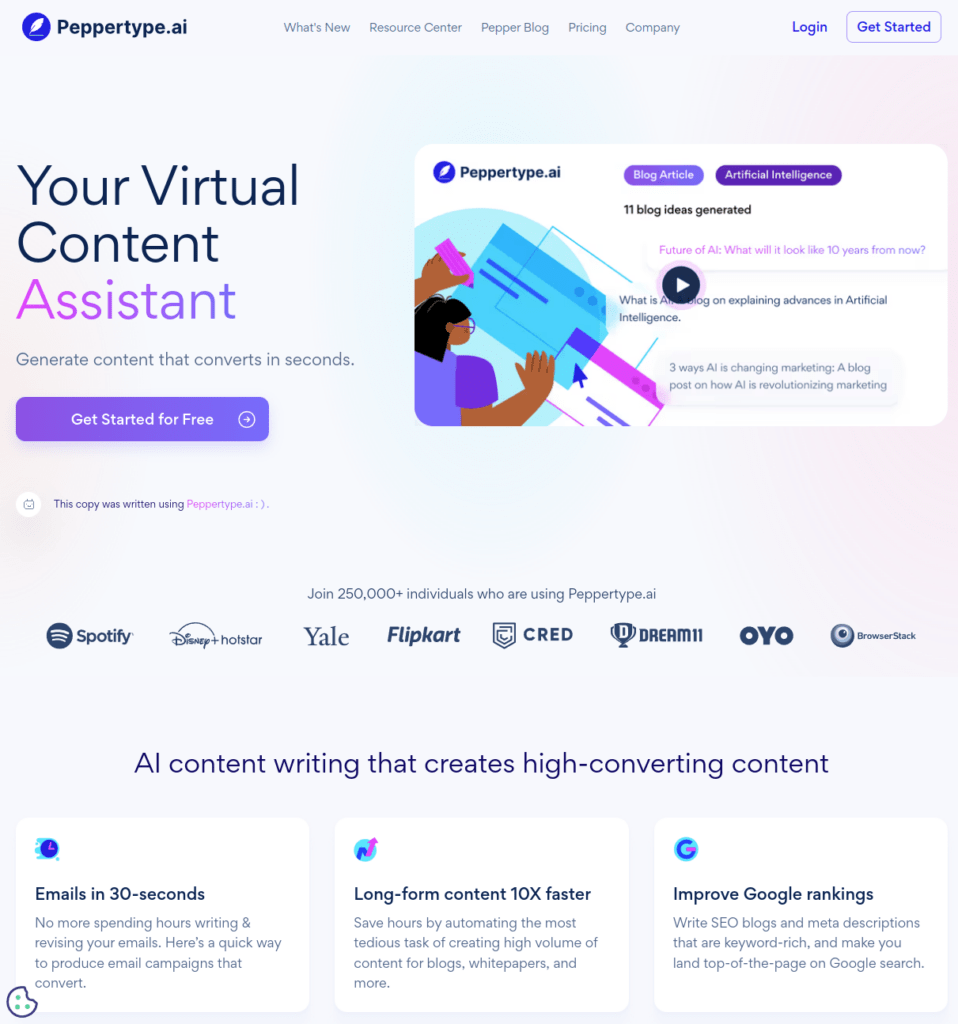 PepperType is a great alternative to Jasper. Its UI and workflow are very similar to Jasper and the features are a close match to Jasper.
When you write essays with PepperType, use the long-form content editor and:
Come up with the topic of your essay (or a section of it).
Describe the outcome you wish to see.
Wait for a couple of seconds for the AI to work on your project.
Review and edit the end result.
Remember to treat PepperType as your AI assistant. It can do impressive things alone but it cannot write complete essays from start to finish without your assistance.
Read my complete PepperType review.
Key Highlights
Generates original content in little to no time with simple input.
There's a free trial that allows you to experiment with the tool nicely.
There are many writing templates to choose from. These might be useful in other use cases than essays too!
Pricing
Personal plan with 1 user seat is $35/mo
Team plan with 5 user seats is $199/mo
7. AI Writer
AI writer is unlike any other tool on this list. Instead of just writing parts of your essays, it can write them from start to finish.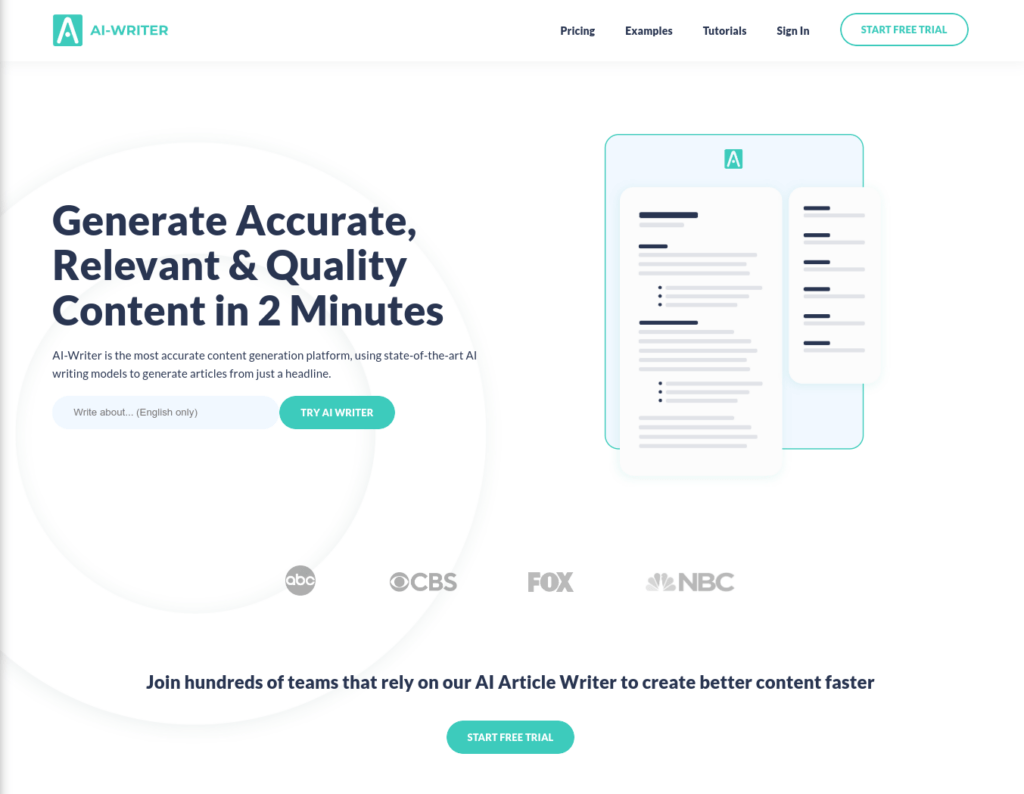 Notice that AI Writer is mainly targeted to bloggers and SEO content creators. But it can definitely write essays too.
The workflow of this tool is simple. Just describe your content, wait 2-5 minutes, and enjoy the result.
Even though this tool generates your content in minutes, you still need to read it through and make some edits. I recommend giving this tool a try or two because it's free to use for the first couple of essays.
Read my complete AI Writer review.
Key Highlights
Generates essays from simple input from start to finish using AI.
A free trial that lets you generate a couple of essays without having to pay for anything.
Generates unique and original content.
You can use the rephrase tool to reword parts of your content to make it sound better.
Pricing
Basic: $29/month
Standard: $59/month
Power: $375/month
8. ChatSonic by WriteSonic
ChatSonic is an AI-powered chatbot you can ask anything. It can write essays, give essay ideas, proofread essays, and more. It's a great replacement for ChatGPT (also on this list) as it knows about events past 2021, unlike ChatGPT.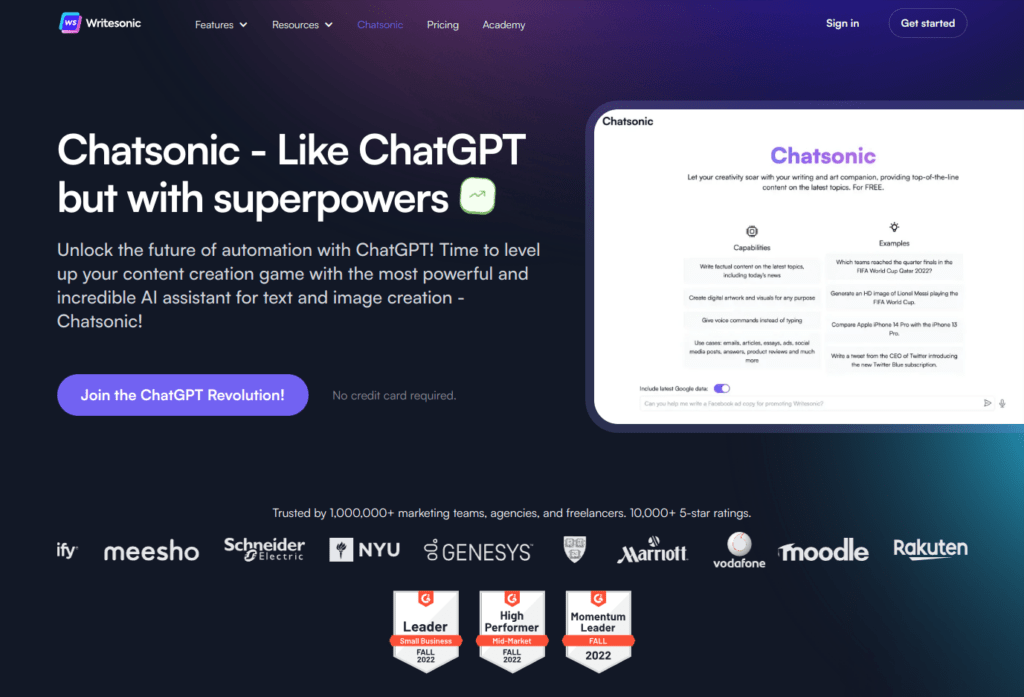 To use ChatSonic, you must write a message and send it to the AI. Because ChatSonic is a conversational AI, you can send messages like you'd send to a friend.
Naturally, there are many use cases for a chatbot like this. One of which is the ability to create compelling essays with it.
When it comes to writing essays with ChatSonic, you can ask it to:
Generate essay topic ideas.
Complete sections of your essays.
Correct/reword some sentences of your essay.
Write an essay from start to finish.
By the way, you can also use ChatSonic to generate images. Just send it a message describing the image you'd like to see and it uses AI to generate one.
All the content created by ChatSonic is original and unique.
Read my complete ChatSonic review.
Key Highlights
A free trial that allows you to experiment with chatting with AI.
You can ask ChatSonic to write essays, proofread, or come up with topics.
There's a free trial you can get your hands on to try the chatting feature.
ChatSonic is part of the WriteSonic AI content platform with many useful features.
Pricing
Free trial: $0/month.
Long-form: Pricing depends on use. For example, 160,000 words/month is $66/month.
9. ChatGPT
Last but not least we have ChatGPT which is a multi-purpose AI language model. This language model is capable of producing unique text from essays to even writing code.
I think ChatGPT is one of the most impressive use cases of AI that humanity has seen.
The reason for placing this tool at the bottom of this list is that it's not necessarily a tool but technology.
For example, Bing uses this technology in their search engine. Also, a lot of AI writing software (Jasper, Rytr, etc.) uses ChatGPT or GPT-3 (by OpenAI) to power their tools.
That being said, you will see a whole bunch of businesses built on top of ChatGPT by OpenAI and similar technologies built by Giants like Google or Microsoft.
Read my complete ChatGPT review.
Key Highlights
You can ask ChatGPT about anything—it knows the answers to most questions.
ChatGPT can write essays from start to finish with some input.
ChatGPT remembers your conversations and can improve your writing from previous messages.
This technology might just change the world. It has a bunch of use cases and a ton of potential.
Pricing
ChatGPT has a free version (with limitations, at capacity)
$20/month for faster completions and less downtime (available for the US users first, and then to the general public)
Wrap Up
Even though there are tons of other AI-based essay writers, I think this list has everything you need.
To take home, you can use a tool like Jasper (or a cheaper alternative Rytr) to generate ideas and write sections of your essays with AI. All you need to do is provide the tool with some input and let it take care of the rest.
If you want to have full control over your writing, you might want to write the essay yourself but use a spell-checker and style enforcer like WordTune to proofread your content with AI.
If you're feeling super lazy, you can use a tool like AI Writer, ChatSonic, or ChatGPT to generate your essay from start to finish based on your simple input.
Thanks for reading. Happy writing!
Read Also