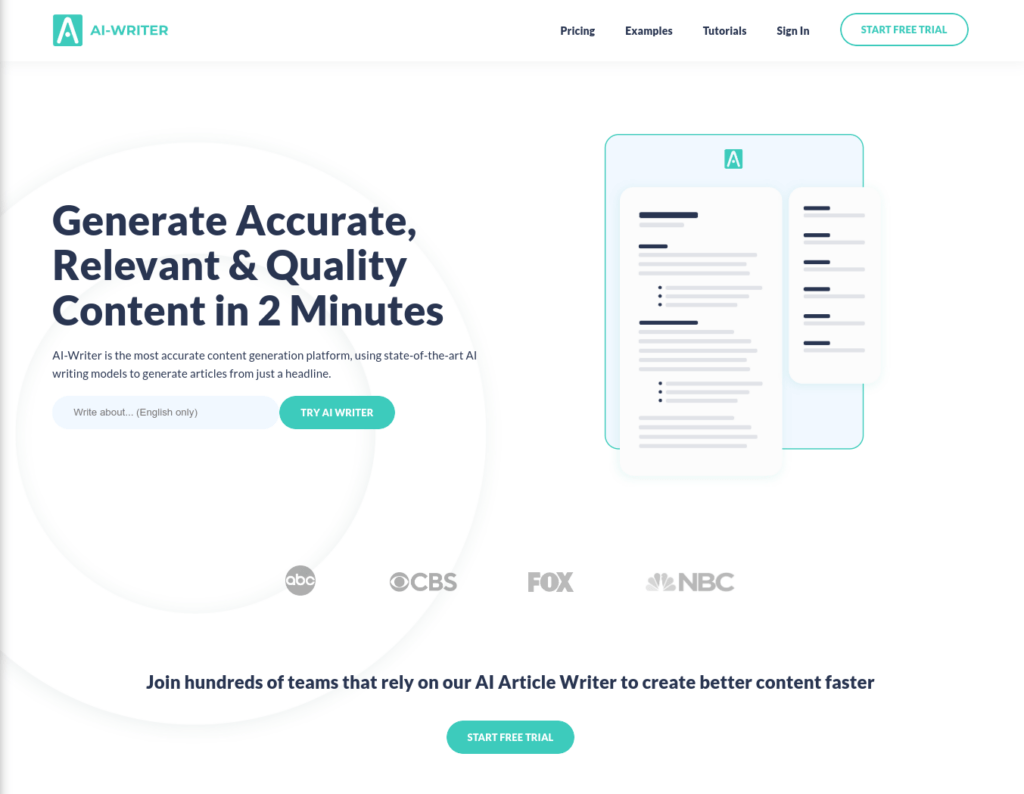 AI Writer is a new type of AI writing service that produces entire blog posts in a matter of minutes. It uses the latest advancements in AI to generate unique and plagiarism-free content.
This is a comprehensive review of the AI Writer. They say it's the most accurate content-generation platform and I'm going to put it to the test today. Besides, I'll talk about the accuracy and performance of the tool as opposed to other similar tools.
💡 Make sure to read my comprehensive guide to the Best AI Writing Software.
Let's jump into it!
What Is AI Writer?
AI Writer is as the name suggests, an AI content creator. It has the ability to turn a few sentences into full articles, blog posts, or similar. AI Writer uses the latest advancements in AI to generate text based on your simple input.
AI Writer makes sure you will never write alone again. When you're running out of ideas, or topics, or are otherwise feeling a bit lazy with your content, you can use AI Writer to overcome the obstacles. AI Writer can complete sentences, rephrase a sentence, or write a full-on blog post from start to finish.
Getting Started with AI Writer
There is a free trial for AI Writer.
You can activate it by signing up (no credit card needed). I think this is great because you should be able to experiment with the tool to figure out if it really fits your needs before investing.
On the AI Writer home page, you can start the free trial by clicking the "START FREE TRIAL" button:

My Experience with AI Writer
Let's have a detailed look at the performance of the tool in my hands. I'm going to pay attention to the quality and speed of the tool and compare it to how one would perform without the tool.
1. Picking a Topic
When you start your free trial, the tool asks you to come up with the topic for your article/blog post. Besides, it asks you for your email where it will send the end result and create your new account at the same.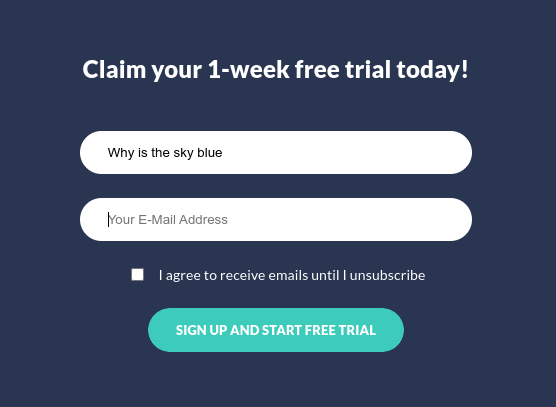 Once you've entered the topic and initiated your account, you need to verify the account by clicking a link they send in your inbox.
After this step, you can log in to AI writer and start using it. Once you log in, you'll see this view: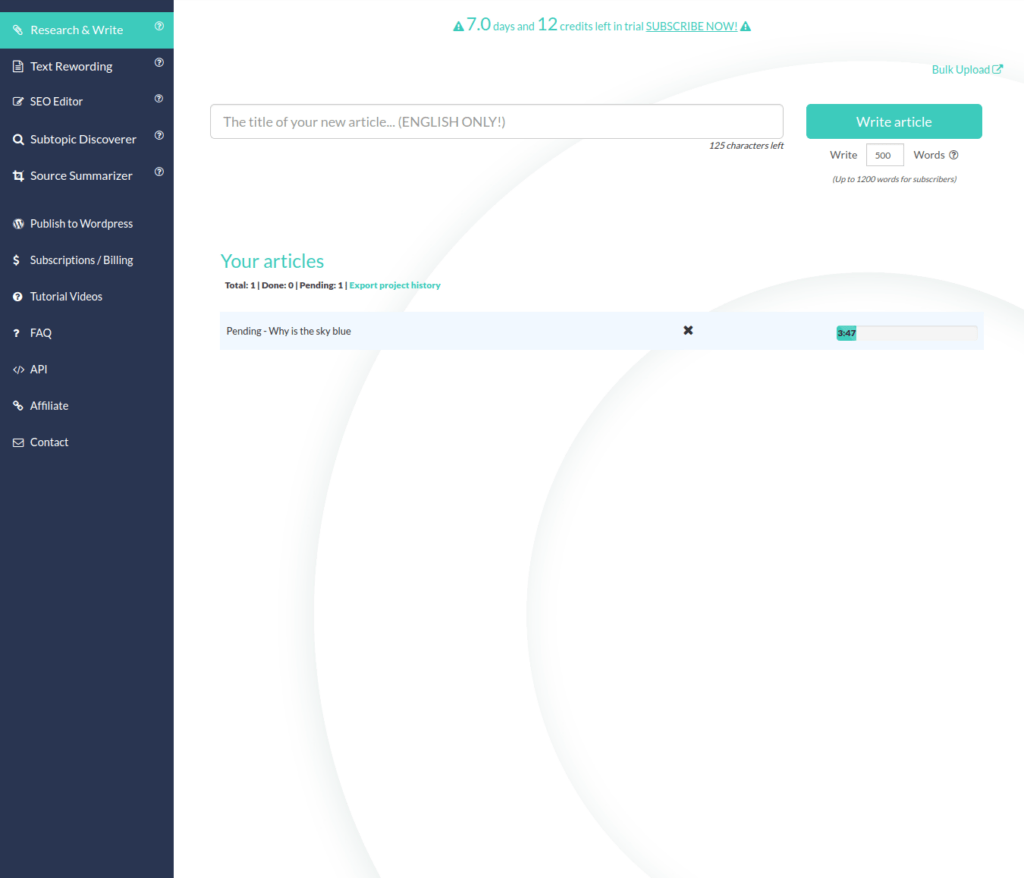 But how about the article topic you just gave AI Writer upon signing up? If you take a closer look at the dashboard, you can see that AI Writer is currently working on your article:

In my case, the waiting time was 4 minutes, which by the way is super annoying in my opinion. I'm not sure if this is an issue that has to do with the popularity of the tool or if it's some queue for the free trials. But at this point, I'm a bit confused.
A Few Moments Later…
After waiting for 5 minutes or so, AI Writer finally finished my blog post.
Here's the result (had better be worth the waiting):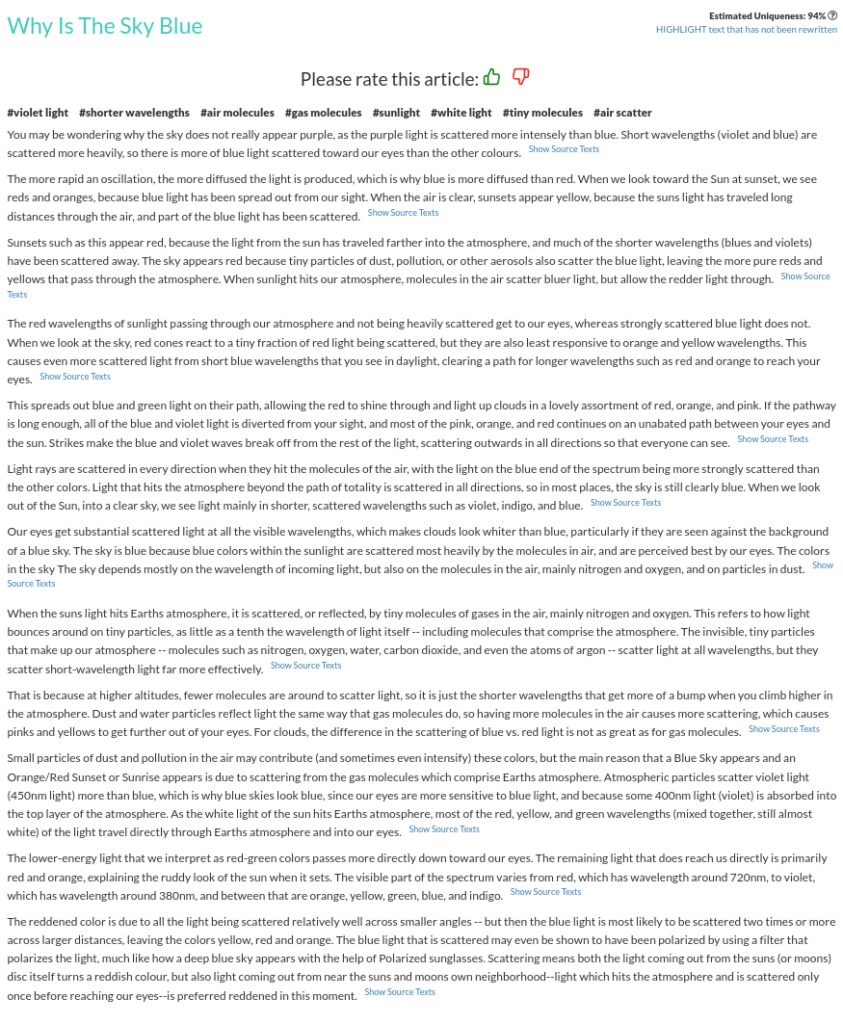 Not only is this a long-form blog post but it also has source citations that you can find at the end of the article:
This is really impressive. Although I can instantly tell one issue with the content: This is a wall of text that no one these days wants to read. Also, there are no subheadings, bullet points, or anything visual. This is something I need to fix as a writer before publishing.
2. Originality Check
How about the originality of the generated content? How can I tell it's not just a plagiarised version of some other's blog post like Wikipedia or such?
AI Writer has a built-in plagiarism checker that I assume is used when generating the content.
Now, let's use a free tool called DupliChecker to see whether the content is original or not: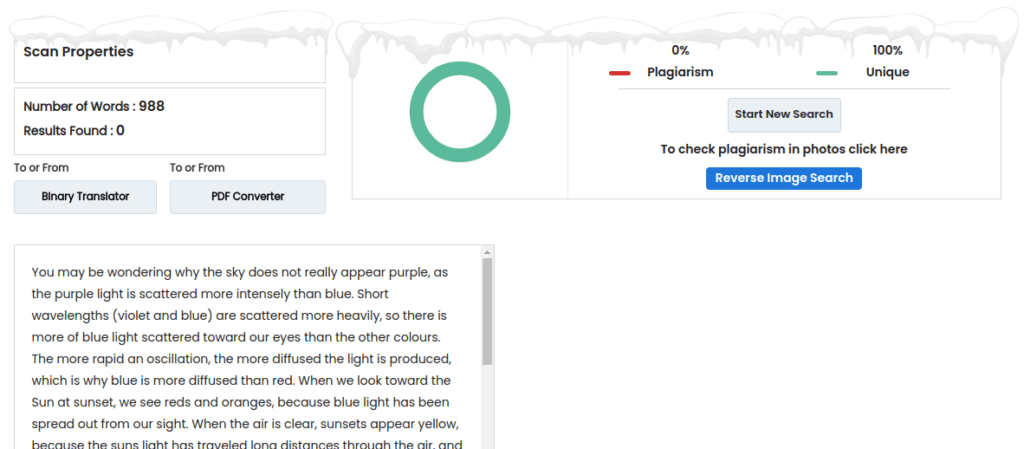 Awesome! The content is 100% unique so no issues there.
3. Accuracy and Quality
Now, let's assess the quality of the content. This is not a physics lesson, so we are not going to take a too-deep analysis of whether the physics is correct, though.
But let's have a look at the very first sentence:
"You may be wondering why the sky does not really appear purple, as the purple light is scattered more intensely than blue. Short wavelengths (violet and blue) are scattered more heavily, so there is more blue light scattered toward our eyes than the other colors." Show Source Texts
To me, this sentence is not a great opener for the topic. It starts by talking about why purple is not the main color… But we are interested in why the sky is blue.
But the bigger issue is that the entire paragraph is wrong. First, it says purple is dominating blue in the sky. Then it says both blue and purple are dominating the skies. And lastly, it says this causes blue light to be more dominant… Absolutely nonsense!
The worst part is that this is hard to tell because the tool is laying these claims in a convincing manner and by using really good language. So if you were new to this topic, you'd probably blindly accept these as facts even though it's far off.
I have a degree in physics and I read this post through entirely. There was actually a lot of correct information too. Surprisingly much, to be fair. But I'd have to spend at least an hour or two researching/correcting/editing this piece before making it go live. And even for me who's somewhat familiar with the topic, it's really hard to tell where the tool got it wrong.
So I think it would probably be even quicker to write the post from scratch!
To be honest, this issue is present in most AI writing tools. The content looks good but sometimes makes no sense. And this is a fact you need to understand before using these tools.
You can use AI writing tools like AI Writer as your assistant but you shouldn't fully rely on them.
If you're writing song lyrics, jokes, business ideas, or such, then the inaccuracies aren't that big of a deal.
But if you're writing blog posts or news articles, you need to nail the facts and this is what AI simply can't do reliably enough.
4. Rephrasing Tool
Let's try the Reworder tool that AI Writer has.
This is supposed to rephrase your text such that the information remains but the wording is original and unique.
Here's my input: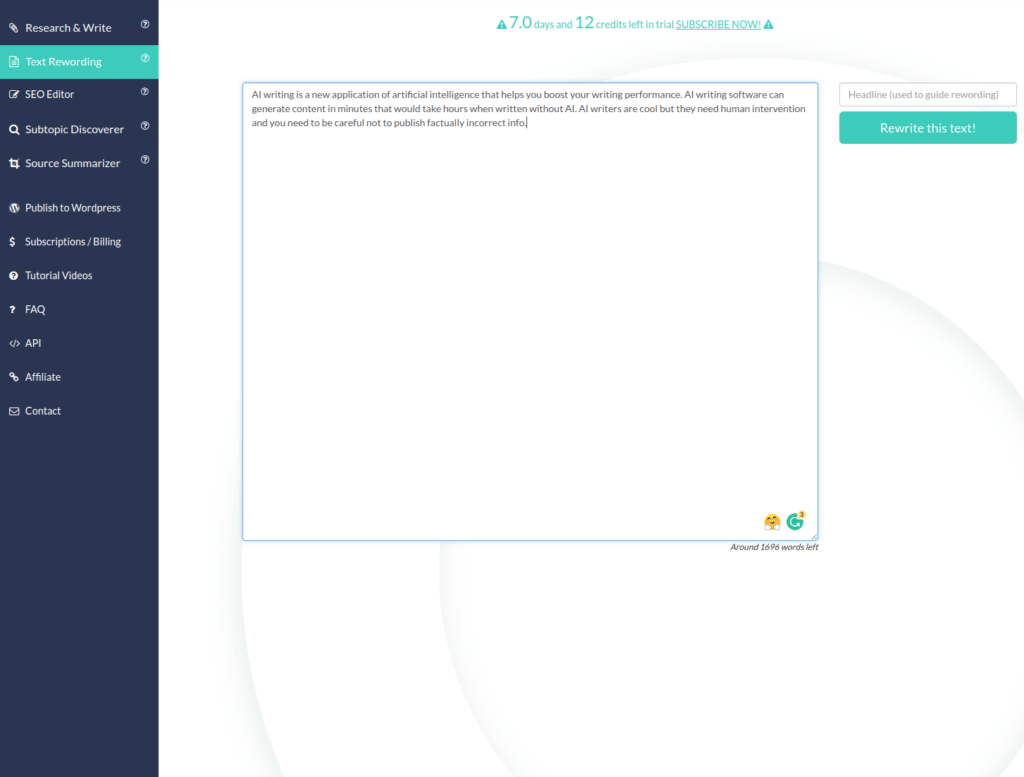 If you're reading on a small screen, here's the input from the above image:
AI writing is a new application of artificial intelligence that helps you boost your writing performance. AI writing software can generate content in minutes that would take hours when written without AI. AI writers are cool but they need human intervention and you need to be careful not to publish factually incorrect info.
After waiting for a couple of minutes, AI Writer finished processing the text. Here's the output that AI Writer generated: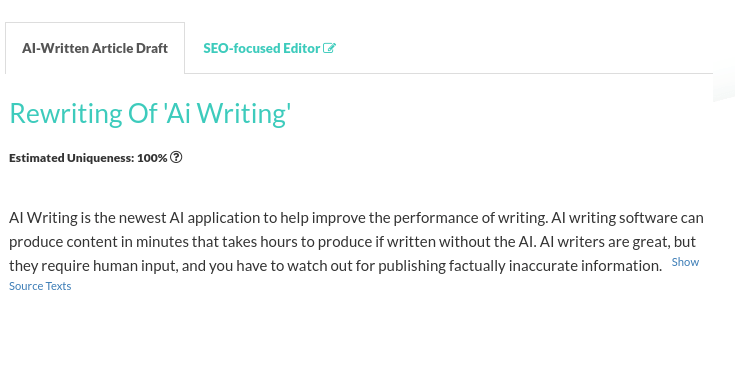 Ok, so this one is pretty good! I could definitely use this rephrased version of the text.
I think here AI Writer did a great job. (Although it once again took like 2 minutes for it to complete as opposed to a tool like Jasper which only needs a couple of seconds.)
5. Subtopic Finder
Last but not least, let's give the subtopic finder a try. This is a feature that could be really useful for someone fighting the blank page syndrome.
Here's the input gave the AI Writer: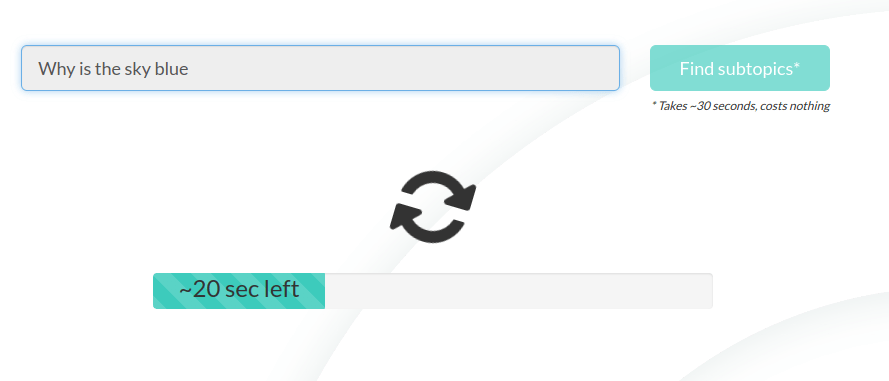 Once again, it takes about 30 seconds to find topics. But this feature costs nothing so it's a great addition for your convenience.
Anyway, here are the results: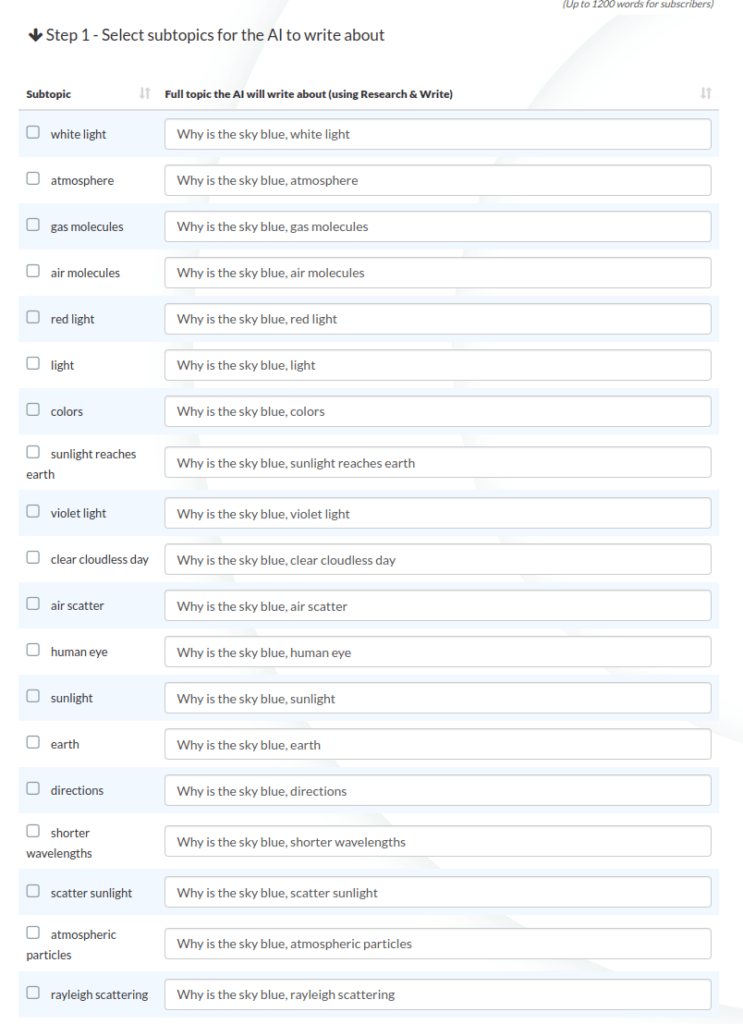 I like these! Mostly, these would make sense in the context of talking about why the sky is blue. Also, some of these would make a great blog post, not just a subheading.
I'm really happy with the performance of this feature. Although you still need to assess these subtopics as to whether you want to include them and in which order. So even though this shortcut saves you some time, you still need to do some work.
Pricing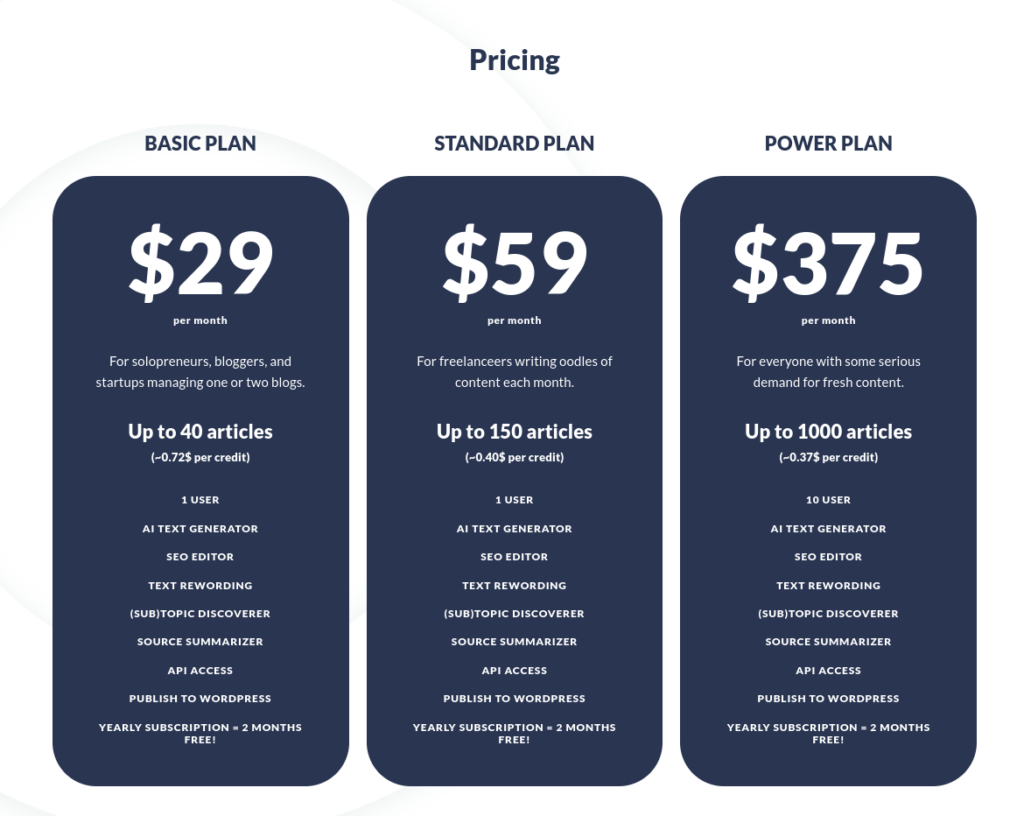 AI Writer has three paid plans:
Basic: $29/month
Standard: $59/month
Power: $375/month
And as mentioned earlier, there's a free trial you should experiment with!
What I Like About AI Writer?
1. Easy to Use
AI Writer is easy to get started with. All you need to do is sign up for a free (no credit card) trial.
Besides, the tool is extremely simple to use. To generate content with the AI, you just need to give the tool some input, such as "A blog post about cats" and it will take care of the rest.
Also, there are a couple of easy-to-use AI writing services, such as the rephrase, source summarizer, or SEO editor.
2. Free Unlimited Trial
Before paying for AI writing software, it makes sense to be able to review the tool yourself.
This is made easy by AI Writer because there's a free trial you can use. And not only is the trial free but also pretty much unlimited as you can get a full idea of the core features by using them without having to pay.
3. Great AI-Generated Content
Although the long-form content generated by AI Writer wasn't that great in my opinion, it can give you some direction and ideas.
But the shorter content such as the rephrasing works really nicely with AI Writer. For example, if you want to summarize a thought, chapter, or idea in a few words, you can use AI Writer's rephrase tool to make the text nice and clean.
What I Dislike About AI Writer?
1. Makes Mistakes
AI writing is not there yet. The state-of-the-art AI makes a ton of mistakes as it writes. This issue is not only related to AI Writer but most of the AI writing services on the internet.
This means that even though you can create a 1,000-word blog post in 5 minutes with AI, it doesn't mean the post would be ready to be published. Not only is the content just a huge wall of text without images or formatting, but it also contains mistakes and factual incorrectnesses.
This means you need to spend hours to make the content stand out.
Also, I don't like the fact that AI Writer has very little control, that is, you give it an input and it gives you the output in one big chunk.
On other tools like Jasper or Jenni, you have the ability to control individual sentences. Those tools, this makes the process much smoother and gives you more control as you can tweak individual sentences.
2. Slow
AI Writer takes minutes to generate content for you.
Unlike Jasper or ChatGPT, where you get the input in seconds, AI Writer needs its time because it does the entire content creation all in one big chunk instead of splitting it into parts.
So from the first time you sign up, it can take as much as 5-10 minutes before you get to see your first AI-generated pieces. This, in my book, is not the best way to use AI writers.
Of course, the upside is that this tool then has the entire content ready. But as pointed out earlier, it doesn't really make a difference because mistakes/tangents are inevitable. You don't want to spend time/credits only to find out you need to rewrite the entire piece.
3. SEO Editor
Last but not least, AI Writer has an SEO Editor.

In my humble opinion, this is misleading. Users might think "I can make a blog post rank by entering it into the SEO editor and just generate and publish the content".
The problem is that SEO is not about keywords these days. It's about quality content, such as doing original research, adding images and infographics, and much more. This is unfortunately something AI is not capable of doing (at least not yet).
So saying that there's an SEO Editor that makes blog posts rank is simply not true. You need to put in the hours to make the posts look great, contain useful information, and more. There's really no way around it.
I don't see how the AI Writer's SEO Editor would help you rank higher in any possible way.
Final Verdict
AI Writer is a comprehensive AI writing tool that can generate full blog posts in minutes. Besides, you can use it to find subtopics or even rephrase written content.
The problem with AI Writer is that it creates your content in one go instead of doing it in small steps like Jasper or CopyAI. This means you might have to wait 5-10 minutes for content that is not of high quality.
In my humble opinion, AI Writer is a decent AI writing tool and you should give it a try (especially because of the free trial.) But you need to be careful with the content it produces as it can contain misinformation and lots of mistakes.
In other words, AI Writer can help with writing, but you still need to do the work!
Make sure to check the Best AI Writers to find great alternatives.
To Take Home
AI Writer is a powerful AI writing software that can help you generate full blog posts in minutes.
But you need to be careful when using the tool. It creates your blog posts with a single input and you can offer it no guidance. This means the AI is going to make a lot of mistakes and talk about topics you might not want it to. This, in turn, means you need to do lots of research and edits to the ready piece before going live.
Make sure to read my comprehensive guide to the pros and cons of AI writing. This guide has a lot of useful information as to how you should use AI writers and what they can/cannot do.
Thanks for reading. Happy writing!
Read Also